The first year or so with a baby is when most parents think of an empty crib at night. That means no pillows, bumpers, or toys until the baby can safely roll over. As your child transitions from a crib to a toddler bed, it makes sense that your tiny human should also have a pillow.
But how can you choose a quality pillow for a child that fits the bill and checks all the boxes? There are many products on the market – from good quality products from reputable companies to cheap Chinese items that we wouldn't recommend to our worst enemy.
That's why we created LightSleeper – to help you choose the product that is right for you and you alone and help you make that choice along the way. Companies can never pay to feature their products on LightSleeper, nor are we getting paid to recommend one product over the other – we are an independent resource, and we only recommend products that have passed our tests, and we feel that are the best in their category.
So without further ado, let's see what we think are the best kid's pillows on the market today and why:
1. Panda Bamboo Kids – Editor's Pick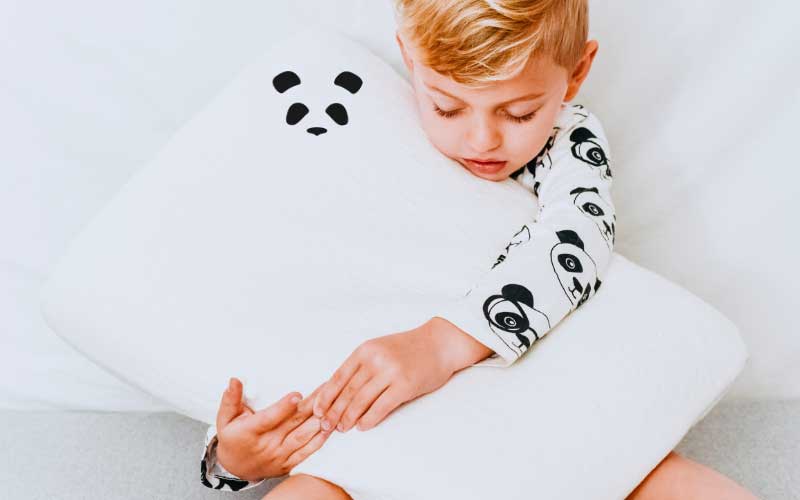 The Panda Kids Pillow will be your child's new best friend and your saviour at night! It's made from the latest technology with a 3rd generation of memory foam, which is uniquely supportive and fits every individual without losing its shape or density over time.
Panda has designed a built-in pillow protector, which is a stitched strong and breathable mesh fabric around the pillow. You also get a breathable bamboo cover that is naturally antibacterial and inhospitable to microorganisms and parasites like dust mites and bed bugs. It's also sustainable and hypoallergenic.
Overall, the Panda Kids is an excellent option for 4+ year olds. The brand provides you with a 30-night trial period and a 10-year warranty that further proves the quality of its products.
2. Koala Babycare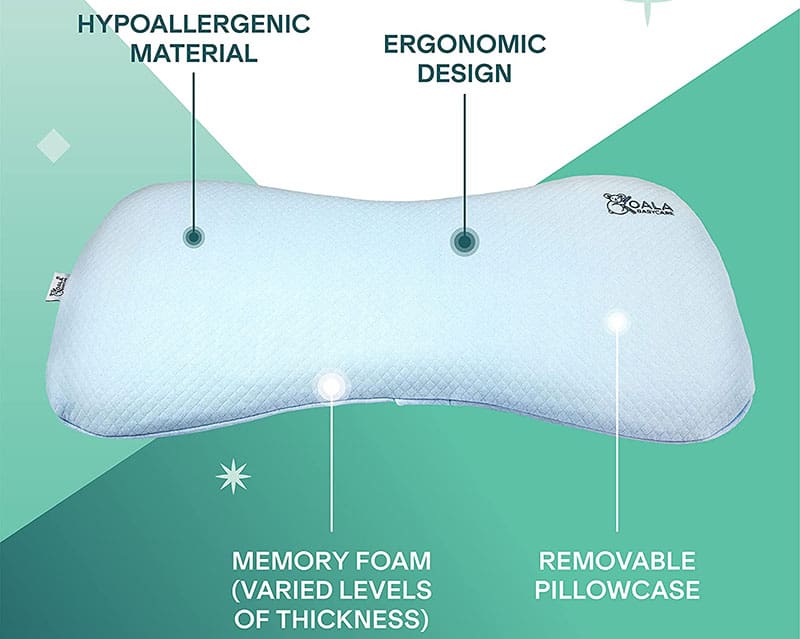 Next on our list, we have one of the most recommended by paediatricians and osteopaths baby pillows on the market – the Koala Babycare plagiocephaly baby pillow. It is an amazing product designed to protect the head of your loved one from the very early stages of his life.
It comes with two removable pillowcases and a plethora of certifications and accolades from various organisations. It features an ergonomic design to prevent any deformities, like a flat head, due to incorrect sleeping positions or spending too much time on its back or one side.
The Koala Babycare pillow can be used up to 36 months of age. It features a 100% cotton cover and it is filled with BASF-made memory foam. It is hypoallergic as well, and Oeko-Tex certified.
3. Silentnight Safe Nights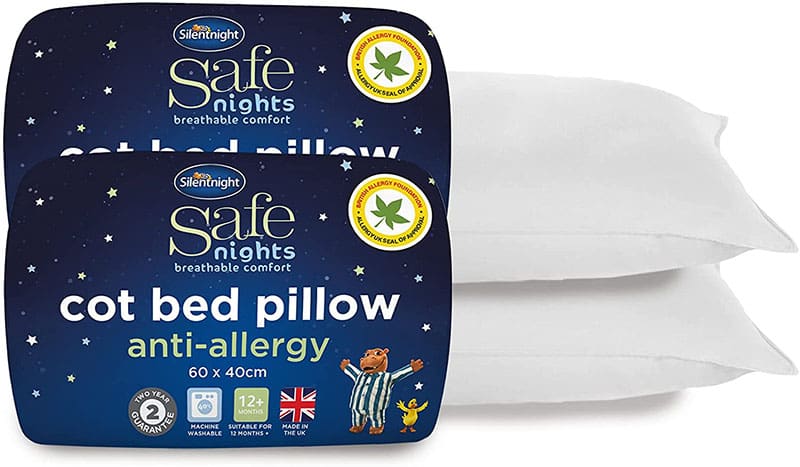 Our next suggestion comes from Silentnight, with an affordable price tag of 60 x 40cm. This cot bed pillow was designed with your little one's comfort in mind. This extra soft pillow is lightly filled with anti-allergy fibres for a comfortable, hygienic sleep. The anti-bacterial fibres protect your tiny human from bacteria that may ordinarily live in their cushions.
Silentnight has also come up with a breathable polycotton cover that can be machine washed at 30°C and tumble dried on low heat. This item is part of Silentnight's award-winning Safe Night collection, which has created safe and breathable products for many babies.
It's suitable for children over one and can be what your baby needs to sleep through the night.
4. KeaBabies Toddler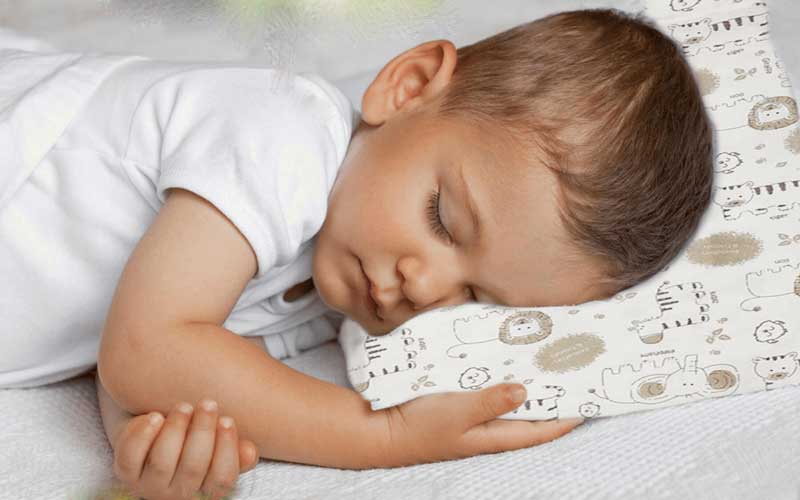 If you're looking for a comfortable and supportive pillow with fun designs and patterns, you might want to take a look at KeaBabies Toddler Pillow. They are made with natural cotton and come with a pillowcase, safe for newborns and toddlers.
The KeaBabies pillow has a size 45 x 33cm and nine beautiful designs to choose from. Some of them include dinosaurs, spaceships, princess castles, unicorns, cars and other fun options. This item is ergonomically designed and tested on toddlers for the best spinal support without compromising on their comfort.
Its size is suitable for travelling and napping in a new environment. It's ideal for year-round use and can be put in the washing machine so that your toddler's bedding is always clean and fresh.
5. ClevaMama ClevaFoam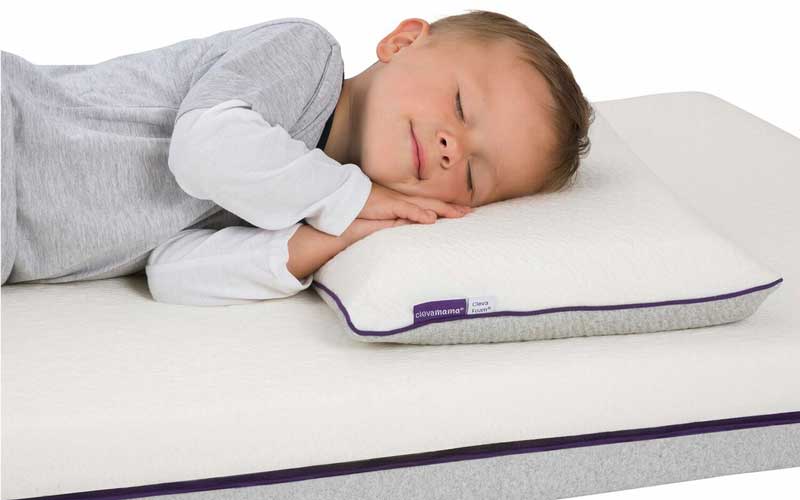 Last but not least, we have a suggestion from ClevaMama, which is suitable for kids over 12 months. This luxurious pillow will keep your child's head and spine in comfortable alignment while providing superior comfort to the body and neck.
It is constructed from ClevaFoam, which is a scientifically proven foam that prevents flat head syndrome. It comes in one size 50 x 30 and has an ergonomic design suitable for most sleeping positions and children. ClevaMama's pillow is breathable and hypo-allergenic with an open-cell structure ideal for babies who suffer from asthma and allergies.
You get a removable zippered cover that will protect your children's face. The brand also offers a deal in which you get a cool pink or blue cloud pattern pillowcase.
How to choose a pillow for your kid?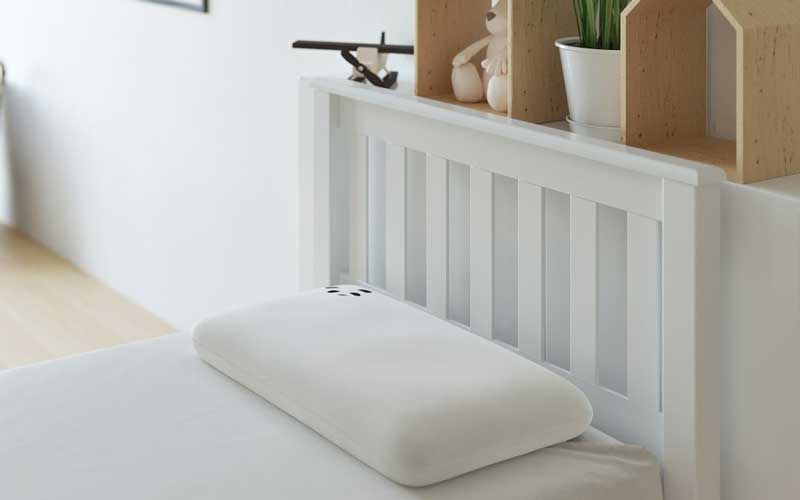 The best toddler pillow should provide the right amount of fill, support, comfort, firmness, and so much more. Nothing is more important than the safety and comfort of your child, which is why you should know what to look for before making a purchase. Here are some of the essential factors you have to consider:
Materials
The fabrics and filling used in a product for children are crucial to their comfort and support. When we talk about filling, you want to make sure that your kid's neck and head are at the correct angle to encourage proper spinal alignment. That will depend on the quantity of fill and the type of fill.
Options can vary from natural materials, like cotton and fibre, to synthetic, like foam and polyester. Some options are better than others, so it's up to you to decide. However, it would be best to keep in mind that our tiny humans have more sensitive skin. Choosing the wrong material can cause itchiness and allergic reactions, which may prevent your child from getting the rest they need.
We highly recommend looking for skin-safe and hypoallergenic materials to reduce your toddler's exposure to environmental triggers such as dust, bacteria, etc. Don't forget about cleanliness as well.
Firmness
Generally speaking, toddlers usually sleep without pillows, meaning that when it's time for them to get accustomed to one, it's better if it is firmer. Firm options will retain their shape and lift for consistent spinal support, which is one of the most important things we need from a pillow. If you want to learn more about the right time to introduce a pillow to your child, check out our guide on it.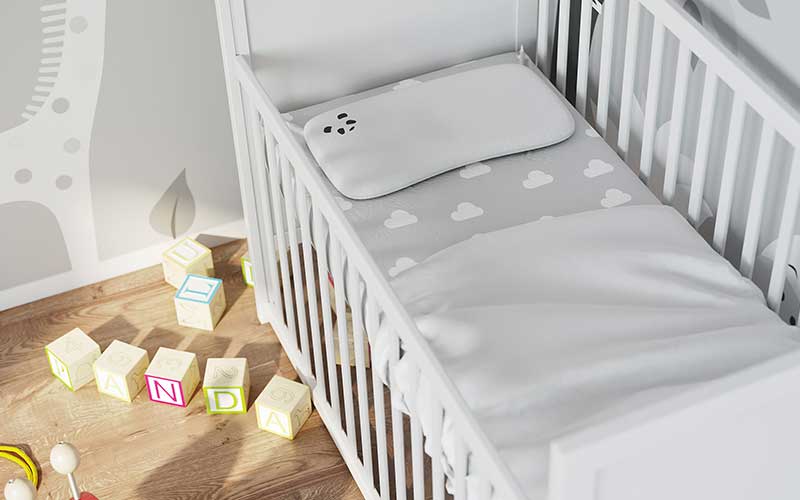 Certifications
Safety is crucial regarding our children, which is why it's best if you purchase an item that proves your kid won't be exposed to harmful substances. You can buy products with specific certifications such as CertiPUR-US, GREENGUARD Gold, and OEKO-TEX 100. These certifications show that your choice is free of harmful chemicals, heavy metals, and other substances.
Support
When shopping for the best kids' pillow on the market, support is important because it promotes good or bad sleep posture. Soft pillows might not support a toddler's growing neck and spine, whereas firm options may be uncomfortable and force the head upwards. With support, you want to find something in the middle.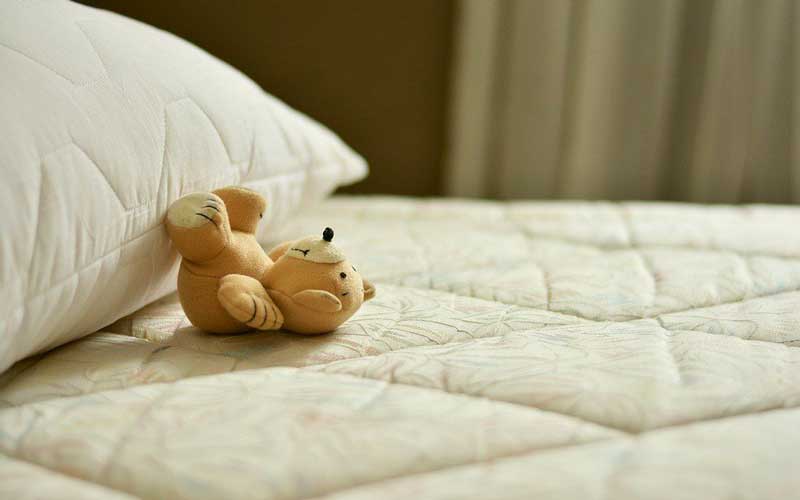 Size
Children as smaller than us. Thus they can't use the same size products grownups do. Too large of a pillow might overwhelm your child and potentially cause entrapment, so you want to select an option with an average size of 30 x 45cm. If you get a more compact size, you can take your child's pillow with you when you travel, go to the daycare and more.
Care Requirements
You can't prevent all the leaks and spills when you have a small child. That's you finding a pillow with easy maintenance can save you a ton of time and effort. Look for machine washable products, or at least if their cover is. Don't forget to read the recommendations on the label when you decide to clean it!
While it's safe to give a toddler a pillow, there are some factors you should still think about. For example, one of the bigger concerns can be choosing the wrong size, which can bring discomfort since a child won't feel as comfortable with an adult-sized pillow.
Another issue can be allergens and, more specifically, down feathers, so you should find an alternative like cotton or polyester as a filling.
Last but surely not least, you have to pick the right firmness level for your child. You don't want anything too for or soft since both can negatively impact you. Staying in the middle is where you want to find yourself, preferably with a fibre-filled product that will retain its shape.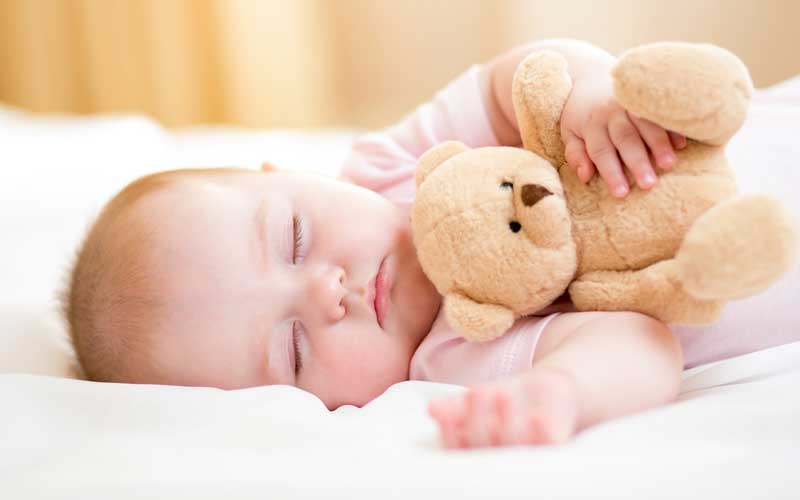 Final Words
Finding the right pillow can be hard, but finding the best pillow for your child can be even more overwhelming. That's why you should be mindful of your child and their safety. Read some reviews and check the product's description to ensure it is entirely safe for your child's needs and requirements.
All of the bed products we listed above have great customer reviews and are well-received. We hope you could find what you were looking for in our guide regarding the best toddler pillow the market has to offer.
Brands in the bed industry frequently change, as do the products they offer, so we will continue to provide you with the most up-to-date information. We hope this article was helpful and you could find what you are looking for.
Now it's our turn to hear from you if any questions regarding the subject were left unanswered. We would gladly hear about it in the comments below if you want to share some information.