According to AllergyUK, 44% of adults in the UK suffer from at least one allergy, and the number has increased in recent years. Bedding can be one of the causes of these allergies because of the dust mites found in it.
That's why we've come up with a list of the top five anti-allergy duvets on the market to give you an idea of what products are out there so you can make a well-informed decision and hopefully get rid of your allergies!
But how can you choose a quality product that fits the bill and checks all the boxes? There are many models on the market – from high-quality products from reputable companies to cheap Chinese items that we wouldn't recommend to our worst enemy.
That's why we created LightSleeper – to help you choose the product that is right for you and you alone and help you make that choice along the way. Companies can never pay to feature their products on LightSleeper, nor we are getting paid to recommend one product over the other – we are an independent resource, and we only recommend products that have passed our tests, and we feel that they are the best in their category.
So let's see what we think are the best anti-allergy duvets on the market today and why.
1. Panda Cloud – Editor's Pick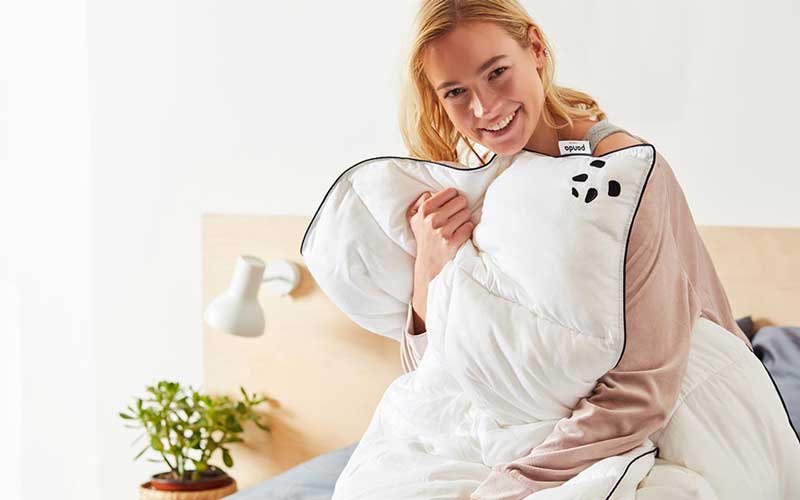 First on our list is the Panda Cloud duvet with over 4,000 reviews and quality materials, easily winning the Editor's pick in this category. Designed to be light and fluffy for the most comfortable night's sleep, the company has tried to achieve the down feather feeling without any animal cruelty involved.
Made from 50% bamboo and 50% nano microfiber, this product is hypoallergenic and antibacterial. Bamboo is a material that will stay fresher for longer and protect your skin, but it will also reduce humidity in the bedroom and wick moisture away from your body. The outer cover has a 300 thread count and is machine washable.
This top-quality item will work all year round with its middle of the road 10.5 Tog rating. Another positive is the lack of cold spots due to the pockets sewn in the item. Panda's duvet is Oeko-Tex Certified and can be purchased in four sizes (from single to super king).
Overall, this Panda product reduces allergies, wicks away moisture, comes with a 30-night trial period and a 5-year warranty that's topped off with free delivery in the UK. If you're searching for a temperature-controlled and eco-friendly option, you don't have to look any further!
2. Simba Hybrid Duvet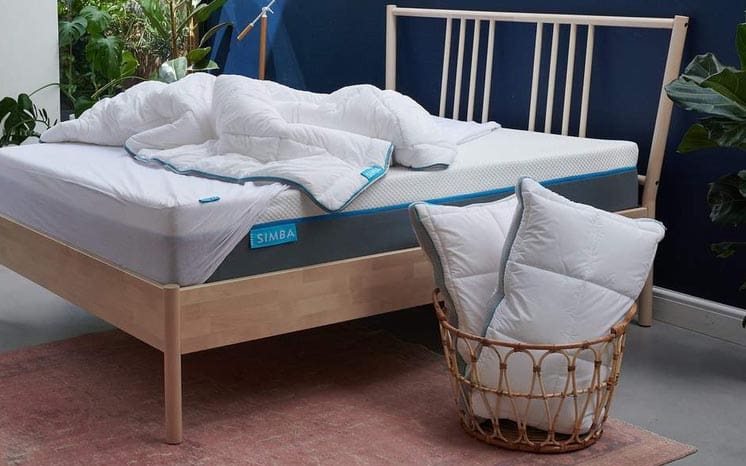 If comfort and quality are your main priority, the luxurious Simba Hybrid is an option to consider. The brand has designed a product that isn't only comfortable but also ensures a cool night's sleep on hot summer nights, which's also great for allergy suffers.
Simba's item is filled with 100% Aerelle Cool Night polyester fibre, which has been stitched evenly into pockets. Those pockets ensure the lack of lumps and bumps as the filling stays in place. Its cover is made from BCI cotton with a Stratos finish.
The breathable Simba Hybrid duvet will bring you a blissful night's sleep, created with active temperature regulation and fibres that dissipate heat. You get to pick from several sizes, which are all 100% recycled and hypo-allergenic. We know it is on the higher end of the scale, but 4,000 reviews with a 5-star rating show a lot.
3. Silentnight Anti-Allergy Duvet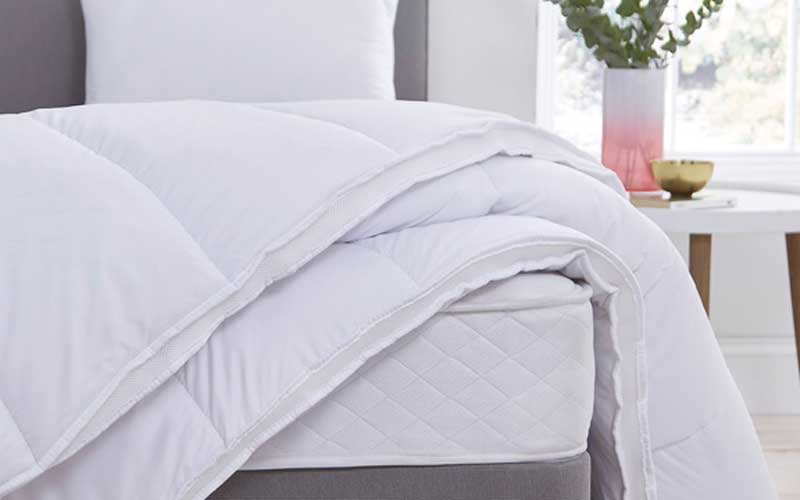 If you are on a tight budget but still want to find a healthy, relaxing sleep and conquer your allergies, we have Silentnight's Anti-Allergy Duvet. This item is filled with anti-allergy hollow fibre that actively prevents the build-up of bacteria and dust mites.
Each Silentnight duvet is encased in a microfibre cover that is soft to the touch and will provide prolonged comfort for a relaxing and allergy-free night's sleep. It is easily removable and can be machine washed.
This product stands out because it's filled with anti-bacterial, anti-allergy fibres that actively protect against bacteria and help to prevent allergies while keeping your duvet feeling fresh and clean. Silentnight's suggestion is 10.5 tog, meaning it's suitable for use all year round.
Silentnight's choice comes in various sizes between single and king, all made in the UK with a 2-year manufacturer's guarantee.
4. Slumberdown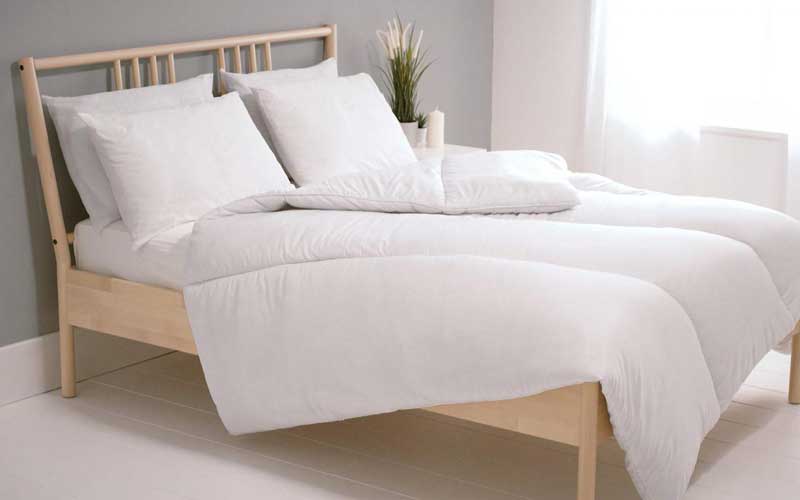 Next, we have a product from the Slumberdown Anti-Allergy range that is made with an anti-allergy filling to help reduce the build-up of dust mites and bacteria, so you and your family can sleep easily throughout the night.
Slumberdown's product can be purchased in three sizes: single, double and king with a 10.5 tog, which is designed to give you a balanced comforting night's sleep all year round. This option is a washing machine and tumble drier friendly, so you can keep it clean at all times and get it back on your bed as quickly as possible.
Slumberdown is part of the John Cotton Group, a family-owned and run business established in 1916 that has been creating quality products for decades. They have been recycling textile waste for over 60 years and have achieved zero landfill status, making them environmentally friendly as well.
5. Snuggledown Freshwash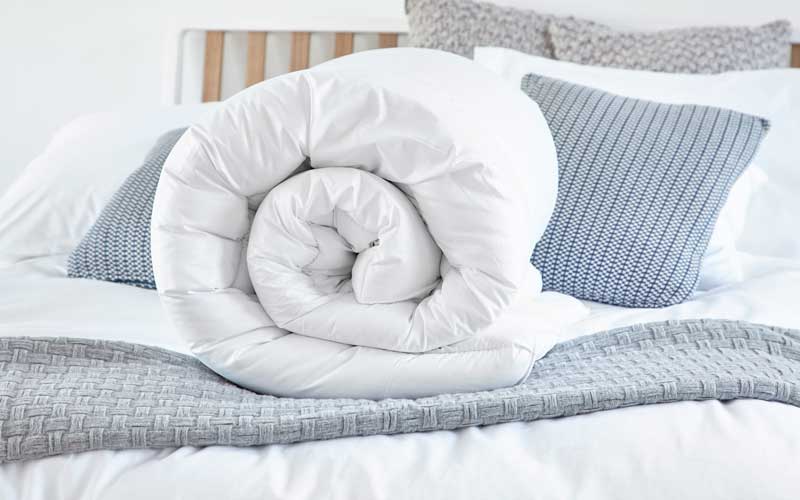 Last but not least, we have a suggestion from Snuggledown Anti Allergy Range called the Freshwash that will help keep your allergies at bay. This brand understands that everybody and every bed is different, which is why they've designed a duvet for allergy suffers that can suit most.
Snuggledown's item can be bought in sizes from single to a super king with a 10.5 tog. You can also purchase this white dream in a bundle with two anti-allergy pillows. The brand's products use an anti-allergy filling to help reduce the build-up of dust mites and bacteria that can be triggered from our sweat, body oils and dead skin cells.
You'll find it encased in a 100% cotton cover that can be machine washed and tumble dried, so you can keep it clean and fresh all year round. Overall, the Snuggledown doesn't contain materials that are likely to cause allergies or irritate sensitive skin.
How to choose a duvet if you have allergies?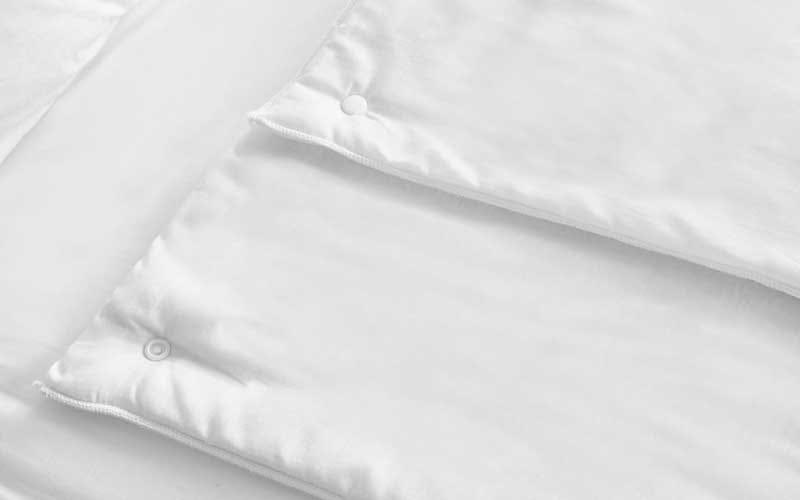 A warm and cosy duvet is a must-have for any bedroom! However, most of them are a breeding ground for dust mites and other nasties, which can be a considerable issue for allergy sufferers and people with asthma.
That's where anti-allergy duvets come in and save the day since they are typically filled with fibres that combat bacteria and allergens. However, when looking to purchase one, that's not the only factor to think about. Here is what you need to look for:
Filling
When we talk about hypo-allergenic or anti-allergy products, they are usually filled with either hollow fibre or microfibre. For example, hollow fibre duvets are breathable and light because of the space between their knotting.
In comparison, microfibre items are tightly woven, without hollow spaces to keep you warm in the colder seasons. They often have an anti-allergy coating, making them a popular choice. They are pretty similar to a down-filled duvet and are pricer than hollow fibre options.
Tog
A tog is essentially a measure of how effectively a duvet insulates heat. The higher the tog, the warmer you will be. Your tog will depend on the season you'll be using it for (unless you want a year-round option) and if you're a hot sleeper or you like to be warm at night.
Some people prefer to have a different duvet for each season, whereas others want a year-round solution. If you're looking for a summer item, you should stay between 1-7 tog and above 15 for the winter. But if you want one product for all four seasons, we recommend you get a 10 or 10.5 tog since it's best for year-round use.
Price
Everyone has a different budget, which is understandable, but what we highly recommend you do before setting a budget is to read some reviews and check out the average price ranges. This way, you will make an informed decision that's realistic and accurate.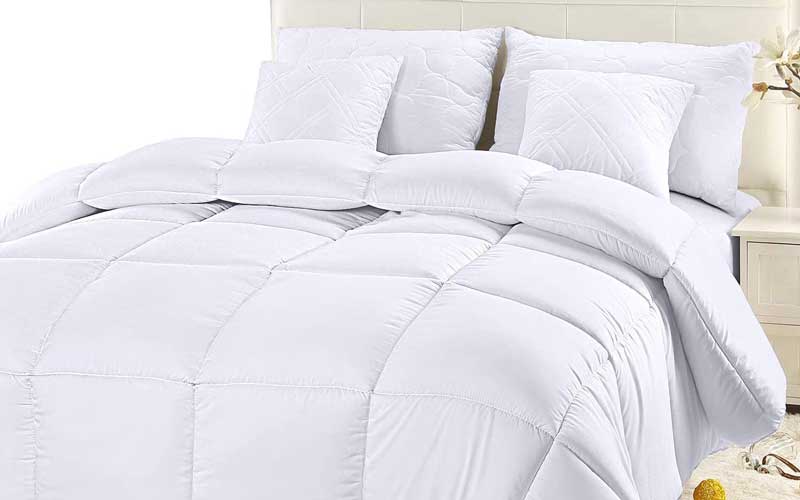 What causes allergies?
Generally speaking, allergies are caused by allergens, which trigger off a reaction from nuts, pollen, mould, dust, etc. Essentially, an allergy occurs when the body's immune system identifies one (or more) of these allergens as a threat.
It is possible that you come into contact with an allergen multiple times with no reaction, and one day your body might decide to flag that allergen as a threat. That's when your body will overreact and develop antibodies that typically trigger your allergic reaction.
With that said, it is unclear why certain people develop specific allergies, which can be triggered in any period of their lifetime. What you can do is change the aspects that can worsen or improve them. A great way to start is by keeping your bedding clean and dust mite free! If you want to learn more about allergies and how to manage them, you should take a look at the NHS page.
Hypo-allergenic or anti-allergy?
Nowadays, there are many brands and numerous amount of products that claim to be "hypoallergenic" or "anti-allergy." However, for someone with an allergic condition, making the wrong choice can be a severe health risk and an expensive mistake.
Let's talk about the difference between the two. "Anti-allergy" means that the item you are using has been treated to combat the development of dust mites or offer protection against their allergen. At the same time, "hypo-allergenic" means that your purchase is less likely to trigger allergies but won't necessarily protect you from them.
How duvets contribute to allergies?
Most people don't think about the effect a duvet can have on their allergies and how that can affect the quality of their sleep. Dust mites are tiny micro creatures that breed and thrive in dark, humid places like your bed and bedding.
While we sleep, we leave behind body oils and dead skin cells, which gives dust mites plenty to feed on. Dust mite excrements produce an allergen that we humans are prone to getting. It is very tiny, and it is also easily inhaled, causing common allergy symptoms.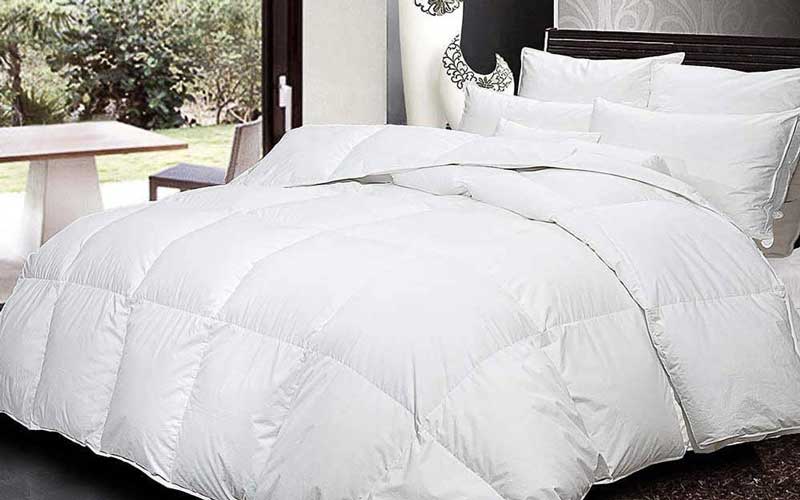 How often should you change your bedding?
Most people live a busy and fast passed life in which we don't make it a priority to change our bedding. However, most of your bedding products should be replaced weekly (including duvets and, more specifically, their covers) so it doesn't become becomes a breeding ground for bacteria and dust mites. A clean and healthy sleeping environment can significantly improve our overall sleep and help us wake up refreshed in the morning!
Bottom line
Although we researched deeply into the topics of allergens, preventing dust mite build-up, we strongly recommend you also do your research and, if necessary, speak to a professional to further understand your allergies and how they can be treated.
Please, keep in mind that we aren't medical professionals, and these are only our recommendations. All of the products we listed above have great customer reviews and are well received. We hope you could find what you were looking for in our guide regarding the best anti-allergy duvet the market has to offer. To simplify your shopping experience, we've selected the top five duvets for this year.
Brands in the bed industry frequently change, and so do the products they offer, which is why we will continue to provide you with the most up to par information. We hope that this article was helpful, and you could find what you are looking for.
Now it's our turn to hear from you if any questions regarding the subject were left unanswered. If you want to share some information, we would gladly hear about it in the comments below.