In the vast expanse of bedroom decor and design, two giants shape our decisions: budget and space. Navigating this dynamic duo, you soon realize the dire need for shrewd storage solutions and ingenious organizational tricks. A pivotal player in this space-saving game? The humble bedside table.
Their compact form may deceive you, but these diminutive nightstands perform a multitude of tasks, from cradling your morning coffee to housing your alarm clock, illuminating your world with a bedside lamp, safeguarding your reading glasses, and so much more. Today, we take you on a journey through the top ten bedside tables available in the market, matching your unique style and budget.
The trick, however, lies in picking the gold from the gravel. With the market teeming with products from trusted brands to not-so-great knock-offs, how do you find that perfect piece? Fear not, that's exactly why we, at LightSleeper, are here for.
We are your beacon of unbiased advice, guiding you towards the product tailor-made for you and your needs. Our allegiance is to you, not manufacturers. We don't feature paid products or get paid for recommendations – we stand as an independent resource. Our endorsements are reserved solely for products that withstand our rigorous tests, emerging as the best in their league.
So, shall we delve into the world of top-tier bedside tables and uncover why we consider them the best? Join us and discover your perfect night-time companion!
1. Cox & Cox Camille Bedside Table – Editor's Pick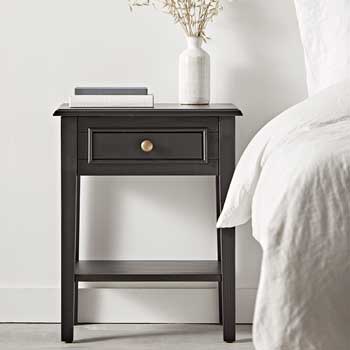 Stealing the spotlight at number one on our list is the Cox & Cox Camille Bedside Table. Its acclaim echoes through countless glowing reviews and the coveted title of Editor's Pick in its category.
The Camille stands out with a sleek and stylish design, offered in three sophisticated hues: a sultry black, a classy grey, and a rustic limewash. Each colour lends an air of elegance and can seamlessly blend into any decor scheme.
Crafted meticulously from sturdy pine, the table's dimensions stand at H59 x W48 x D43cm, striking a balance between compact design and generous space. The painted finish, charming and flawless, accentuates the minimalistic yet purposeful structure of the table.
Featuring a slim drawer adorned with a round metal handle, the Camille provides ample room to stow your nighttime necessities. Adding to its functionality, an additional shelf offers extra space, perfect for books, chargers, or decor accents.
Resting comfortably against your wall, the Cox & Cox Camille Bedside Table doesn't just deliver on practicality but also brings a dash of understated elegance to your sleep sanctuary.
2. Graham & Green Gem Cladded Bedside Table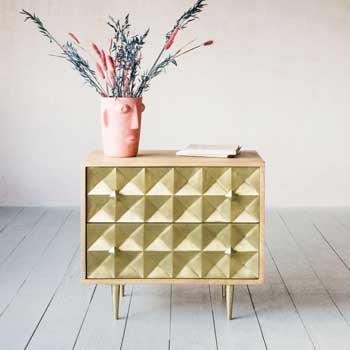 If you're a fan of luxury, we have a premium offer from Graham & Green, and that's their Gem Cladded Bedside Table. This lavish item comes in one colour, and that's gold, so you and your bedroom can shine through.
Graham & Green's product is designed from wood, brass and MDF, measuring at H62 x W58 x D38cm. This option is handmade and features a geometric bevelled design and handles that will add a subtle art deco touch to any room. It is an opulent choice with a brass effect finished front that will stand out in every interior.
3. Argos Copenhagen Floating Table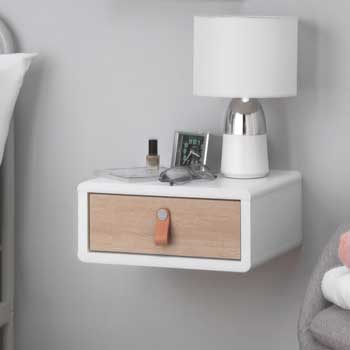 If you're looking for a budget-friendly option that doesn't take to much space while still look stylish and modern, we have a solution for you, and that's the Argos Copenhagen Floating Bedside Table. This contemporary product is available in white with some wooden details.
Argo's choice is constructed from MDF and foil and has a 2-year manufacturer's guarantee. It measures H15 x W34.5 x D29.6cm and has one drawer with metal runners. Finally, the trendy accent real leather handle gives it both a decorative and distinctive look like no other.
4. Dunelm Rumi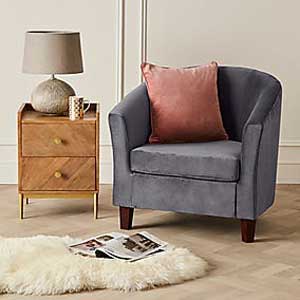 Next, we have a suggestion from Dunelm, and that's their Rumi bedside table. This rustic option is available in one colour and which is light wood. It is simple yet ultra-stylish with is beautiful diagonal grain effect design with a natural finish.
Dunelm has used Mango wood, MDF, and metal in its construction and incorporated a beautiful diagonal grain effect design with a lovely finish. The products dimensions are H 54 x W 40 x D 35cm, and you'll see two drawers that will fit many of your personal belongings.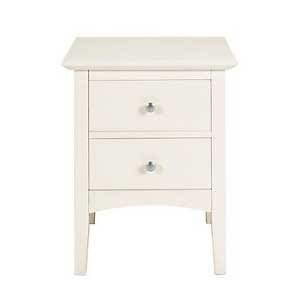 5. M&S Hastings Bedside Table
Another stylish solution is the Marks and Spenser Hastings Bedside Table. M&S's item is available in one size (H 58 x W 47.5 x D 43cm) and colour, which can be the final touch your bedroom needs. It is crafted from sustainable solid pine and fibreboard.
Marks and Spenser's option is finished in a soft white ivory colour with round chrome handles that give it a minimalist look, suitable for most interiors. The brand strongly believes in the products they put out, which is why you receive a 10-year warranty that further proves its quality.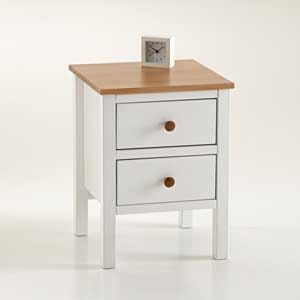 6. La Redoute Ronda vintage style bedside table
Our next suggestion is very sophisticated and elegant, it is from the brand La Redoute, and that's the Ashin 2-Drawer Bedside Cabinet. The Ashin bedside cabinet brings a quintessentially British feel into your bedroom with a sleek white colour.
La Redoute's option comes with two drawers, and its dimensions are W38cm x H50.5cm x D38cm. It's made from white lacquered MDF with a nitrocellulose coating with lovely wooden handles that are the cherry on top.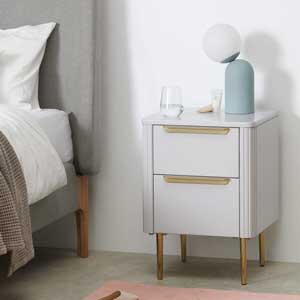 7. Made Ebro Bedside Table
We all love some gold detailing, and we can have that with Made's Ebro Bedside Table. This lavish-looking item can be purchased in three beautiful colours, which are grey, blue and peacock green. Ebro does the unexpected with its modern twist on traditional elegance.
It's designed from brass-plated steel, engineered wood, and lacquer. You get two spacious drawers, and their total size is H 60 x W 40 x D 43cm. Made's product brushed brass detailing and ridged and rounded edges will perfectly contrast with a contemporary colour palette.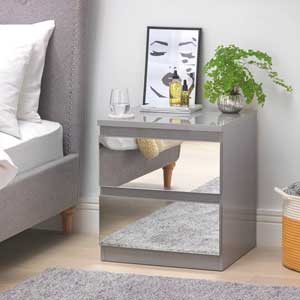 8. Habitat Jenson Bedside Table
Next, we have Habitat's Jenson Bedside Table available in two neutral colours (grey and white). And if you want to spice up your décor, they can be purchased with a gloss, mirror-looking option. This product is designed with clean lines and a mimimalist smooth handless design.
It's constructed from FSC certified timber and has two drawers with metal runners. This bedside chest is finished in a luxurious, white glossy sheen for a sleek and chic look measuring at H 53.1 x W47.5 x D45cm. And if that's not enough, Habitat has added a 1-year manufacturer's guarantee.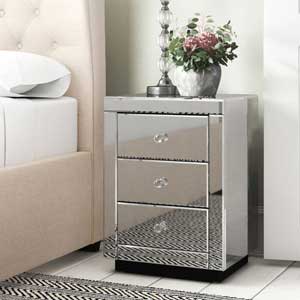 9. Wayfair Kayden Bedside Table
If you're looking for that extra oomph in your bedroom, we have found it for you, and that's the Wayfair Kayden Bedside Table. This beauty is available in silver colour. It sits well alongside all house styles and looks from neo-classical to contemporary.
It's crafted from manufactured wood, with the top material being mirror (glass). Wayfair product measures H 60 x W 44 x D 39cm and has three drawers, which is rare for a nightstand. Its handles are clear in order to adorn any room and space.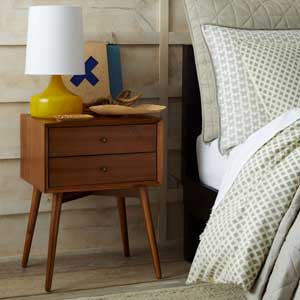 10. West Elm Mid-Century Bedside Table
Last but not least, we have West Elm Mid-Century Bedside Table. This rustic nightstand is available in two colours (acorn and pebble) and come with free delivery in UK's Mainland. It is constructed from made from FSC-certified materials (Eucalyptus wood and Acacia veneer).
The Mid-Century bedside table from west elm offers convenient storage in a clean-lined design that references a retro American influence with two drawers. West Elm's item has the set dimensions: H61 x W46 x D38cm.
Bottom line
Yes, nightstands aren't a must, compared to your bed frame or mattress, but they hold your personal belongings and offer storage space. A bedside table can be the final touch you need to finish the design of your bedroom.
All of the products we listed above have great customer reviews and are well received. We hope you could find what you were looking for in our guide regarding the best bedside tables the market has to offer. To simplify your shopping experience, we've selected the top 10 options for this year.
Brands in the bed industry frequently change, and so do the products they offer, which is why we will continue to provide you with the most up to par information. We hope that this article was helpful, and you could find what you are looking for.
Now it's our turn to hear from you if any questions regarding the subject were left unanswered. If you want to share some information, we would gladly hear about it in the comments below.