As the seasons change, layering in the bedroom can be the key to getting a good night's sleep. The idea of a bedspread you can pull over your duvet is a great way to transition into the colder months.
Plus, when it comes to aesthetics, you won't get a clean-lined finish with a duvet set, meaning if you're after that crisp, hotel bedding look, you should pick a top layer that covers the entire bed and drapes it beautifully, for that final touch you need in your bedroom.
But how can you choose a quality bedspread that fits the bill and checks all the boxes? There are many models on the market – from high-quality products from reputable companies to cheap Chinese items that we wouldn't recommend to our worst enemy.
That's why we created LightSleeper – to help you choose the product that is right for you and you alone and help you make that choice along the way. Companies can never pay to feature their products on LightSleeper, nor we are getting paid to recommend one product over the other – we are an independent resource, and we only recommend products that have passed our tests, and we feel that they are the best in their category.
So let's see what we think about the best bedspreads in the UK today and why.
1. Soak & Sleep Classic Cotton – Our Pick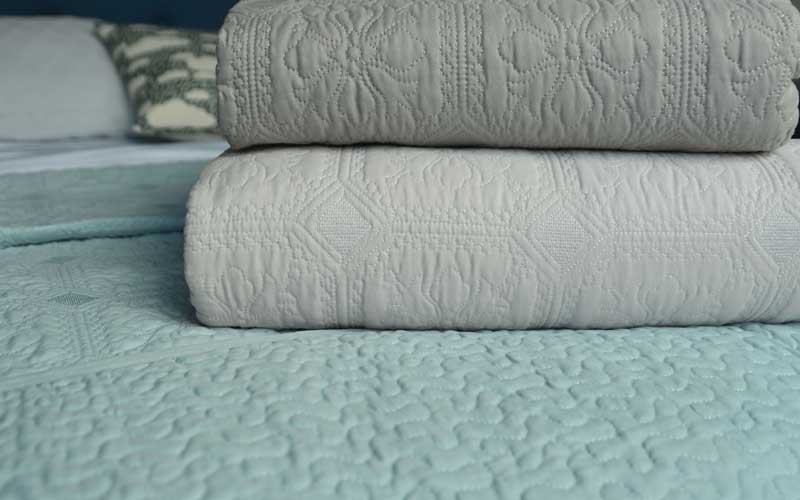 Our winner in today's list comes with a 4.8 rating and great customer reviews. That's the Soak & Sleep Classic Quilted Cotton Bedspread available in four colours (white, mid-grey, stone and duck egg) and three different sizes (single, double and king).
This Soak and Sleep product is made with 100% cotton fabric for a classic finish that feels soft and smooth and is easy to care for. It feels beautifully soft and smooth to the touch with a quilted intricate circular design that complements a range of decor schemes. The cotton it's made out of is breathable and has moisture-wicking capabilities. Finally, it is finished with curved corners to complement the circular quilting and a bound edge hem that offers extra durability.
2. The White Company Florian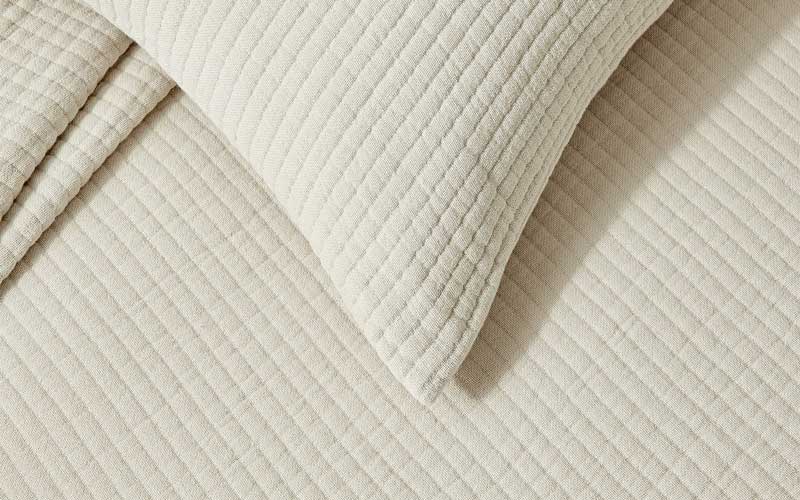 If you're a fan of premium products, we have an excellent suggestion for you, and that's The White Company Florian Bedspread & Cushion Cover Set. This item is available in two colours: white and natural, and five sizes varying from single to emperor.
The set includes a bedspread and a cushion cover (medium or large square), both made from 100% cotton. These minimalist pieces pair perfectly with any style of the bedroom while offering a lovely warmth. The White Company provides free delivery in the UK on all orders over £50. This brand offers all types of bedding, which can be the perfect addition to your bedroom!
3. Bedsure Quilted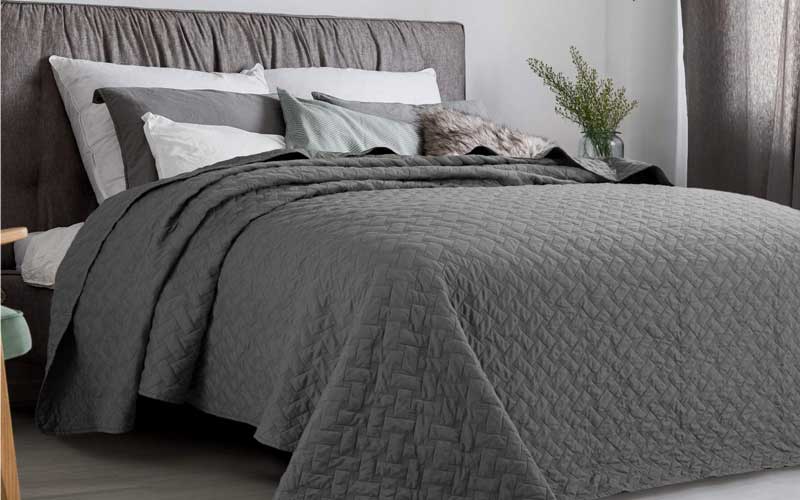 Another excellent suggestion that is accompanied by a 4.7 rating comes from Bedsure. Their quilts are available in white, cream, light and dark grey, making them an elegant option for any space. You get to pick from two sizes, which are double (220 x 240cm) and king (240 x 260cm).
Bedsure is a suitable choice for all-year-round use and comes with two matched standard (50x75cm) pillowcases. It's made from 100% microfiber with a basket-weave deluxe texture that will add subtle sophistication to your bed. And if that's not enough, you can also machine wash and tumble dry them.
4. Catherine Lansfield Canterbury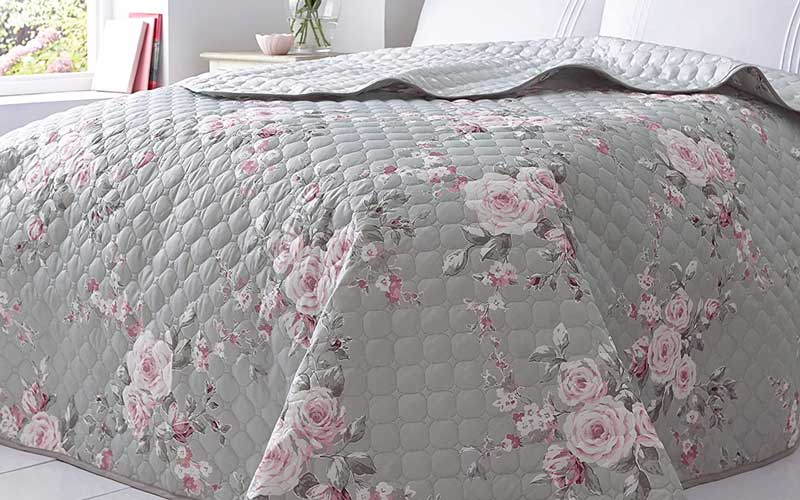 Are you a fan of floral designs? If the answer is yes, the Catherine Lansfield Canterbury bedspread is what you've been searching for! This product is available in five colours, all surrounded by a flower pattern. This piece of bedding can be purchased in one size only, and that's 240x260cm.
Catherine Lansfield is a renowned brand with a timeless design of a large bouquet with contrasting polka dot reverse, developed and designed in Great Britain. It's made from polyester, an easy-care fabric that can be put in your washing machine and requires minimal ironing.
5. Restmor Reversible Spread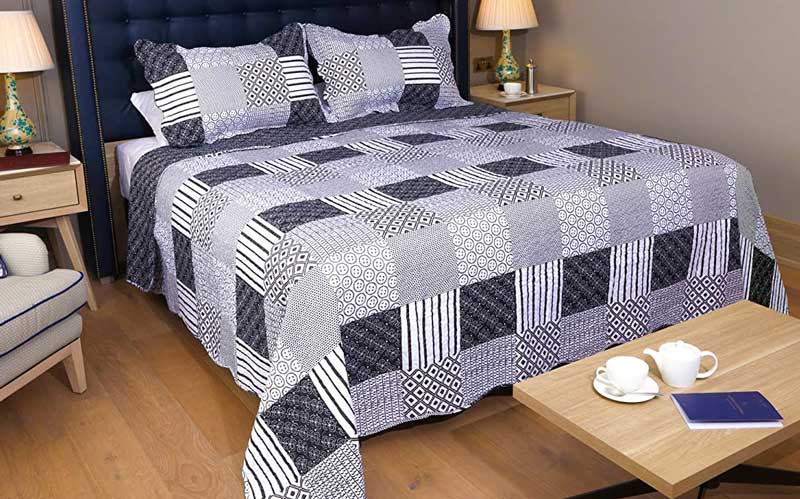 Next, we have another bed set from a brand called Restmor. This high-quality bedspread is offered in five designs or patterns in three sizes (single, double and king). The brand has crafted several fantastic designs that vary from patchwork to unique floral arrangements.
The Restmor set also includes two pillow shams (one for the single size) with a decorative border in the same design as the bed cover. They are made from 100% microfiber, and the filling is 200GSM Holofiber that makes the product last longer while keeping your bed nice and comfortable.
How to choose the best bedspread for your needs?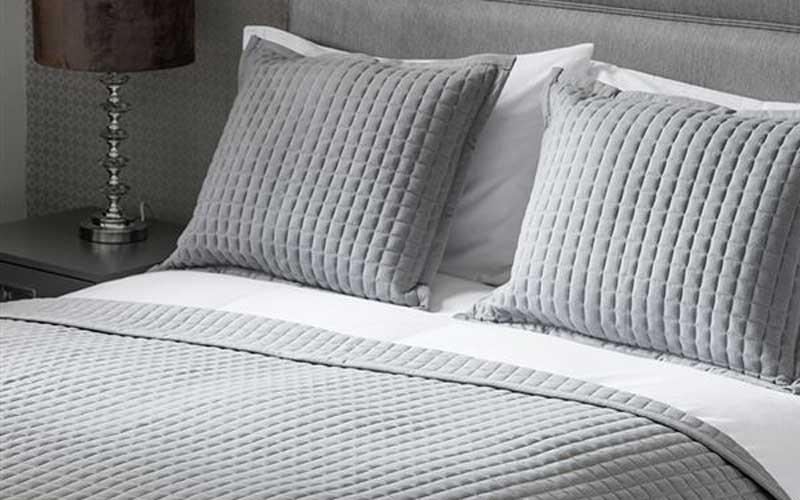 There are several factors to keep in mind when choosing the best bedspreads to suit all styles and budgets. They are the following:
Size
There are a variety of sizes of bedspreads that are generally accepted and they are:
Twin bedspread
Twin XL bedspread
Double bedspread
Queen bedspread
Standard king bedspread
California bedspread
Material
The material used to create a bedspread will have a lot to do with how well you can clean it and if it meshes with the existing decor. For example, cotton has a soft texture and is easy to care for. It's also easy to wash, and it resists wrinkling better than other materials. Plus, this fabric is durable and a worth-it investment if you are looking for a long-term purchase.
Fill Power
Fill power refers to the fluffiness of the bed cover. However, a higher fill power number isn't a good indicator of how warm a comforter will be. Just because it has the highest fill power number doesn't mean it will be the warmest product, which is why fill power is only one of the factors.
Aesthetic
Most bedrooms' aesthetics focus on the bed. It is possible to pick a bedspread that will complement or contrast with the bedroom's existing furniture. There are many styles to choose from. For example, vintage charm can be found in tufted bedspreads. Farmhouse designs can be an excellent choice for rural homes, and urban dwellers might approve of geometric patterns or welcome Euro-centric Scandinavian styles.
If none of these tickles your fancy, maybe you are an artistic soul that's looking for vibrant multicoloured patterns. Or maybe you want floral prints that can work with just about any decor? Regardless of the aesthetic theme, a bedspread colour or pattern should be available for every person's preference.
Price
Bed covers aren't a necessity when it comes down to bedding, but having a luxurious bedspread will not only keep you warmer, but it will also provide a finished look to your bedroom aesthetic. With that said, you still want a product that will fit your specific budget. The easiest way to decide how much to spend on an item is to look at multiple options and see their price points, so your budget is made from a well-informed perspective.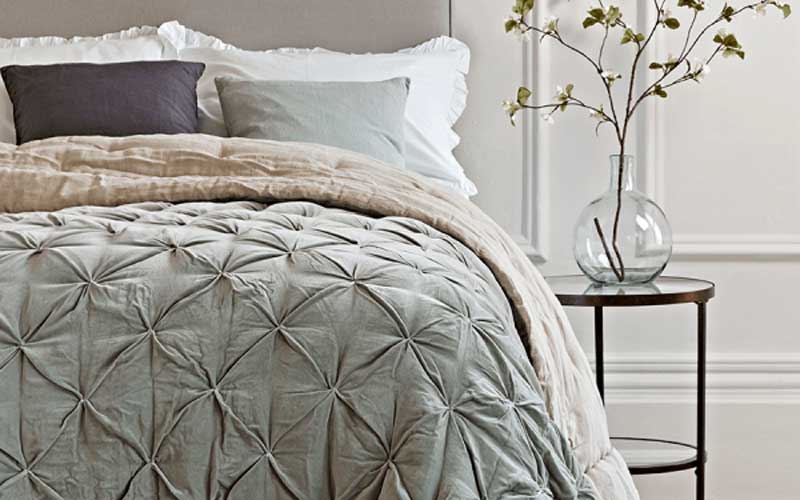 Bottom line
A bedspread can be the final touch you need for your bedroom. It is aesthetically pleasing and works great to cover your bedding. They work great as an additional layer for colder weather, which you can easily throw over your duvet and bedding.
All of the products we listed above have great customer reviews and are well received. We hope you could find what you were looking for in our guide regarding the best bedspreads the market has to offer. To simplify your shopping experience, we've selected the top 10 options for this year.
Brands in the bedding industry frequently change, and so do the products they offer, which is why we will continue to provide you with the most up to par information. We hope that this article was helpful, and you could find what you are looking for.
Now it's our turn to hear from you if any questions regarding the subject were left unanswered. If you want to share some information, we would gladly hear about it in the comments below.