If you're looking for the perfect space-saver for room-sharing, bunk beds are the way to go. Nowadays, the market has numerous options and various designs with built-in slides, shelves and even indoor treehouses.
This type of bed can be an excellent choice for any kids or a spare room that can fit more people in less space. Finding the right one, especially if it's for your child, can be tricky and overwhelming, which is why we've created this guide.
But how can you choose a quality option that fits the bill and checks all the boxes? There are many options on the market – from good quality products from reputable companies to cheap Chinese items that we wouldn't recommend to our worst enemy.
That's why we created LightSleeper – to help you choose the product that is right for you and you alone and help you make that choice along the way. Companies can never pay to feature their products on LightSleeper, nor we are getting paid to recommend one product over the other – we are an independent resource, and we only recommend products that have passed our tests, and we feel that they are the best in their category.
So let's see what we think are the best bunk beds on the market today and why.
1. Happy Beds Solid Pine – Editor's Pick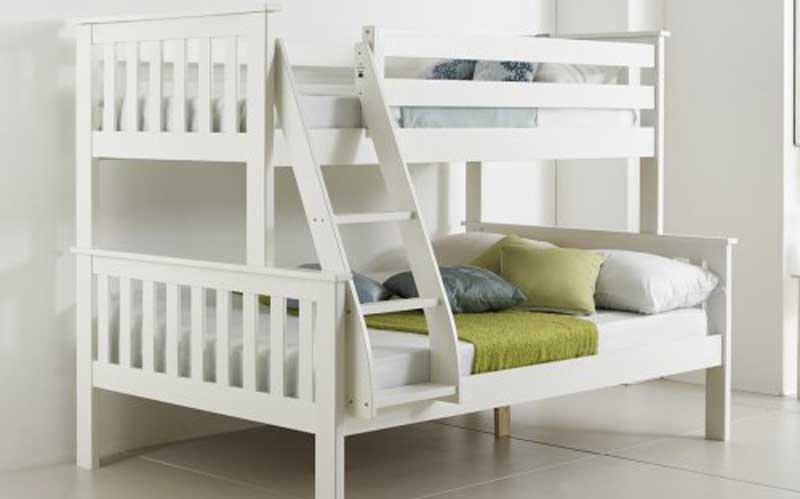 Today's winner is the Happy Beds Solid Pine Wooden Bunk, which is designed for children and adult sleepers.
It's constructed with a solid slatted base that provides maximum comfort and prolongs a mattress' life. Happy Beds option has an elegant white finish giving it a clean exterior, suitable for most bedroom aesthetics.
With slatted side panels and a subtle curve to the headboard and footboards, the Happy Beds product is complete with safety barriers for security with an integrated ladder for easy access to all beds. It's delivered flat-packed and prepared for easy self-assembly, with detailed instructions included in your purchase.
This Happy Beds bunk bed comes in one size: H 160 x L 203 x W 100 cm with a 79cm distance between bunks. However, what makes this item stand out is its flexible design, which allows you to separate it into two beds for versatile functionality.
2. Dreams Erin Bunk Bed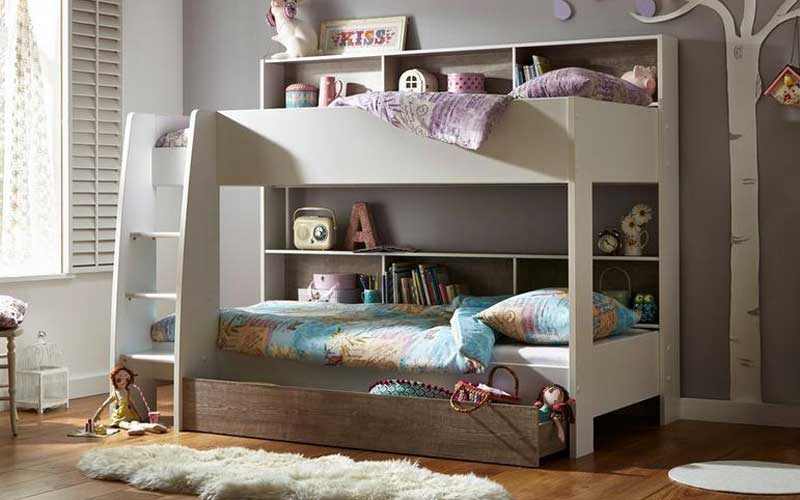 We have another Dreams alternative called the Erin Bunk Bed. This option is made from robust foil-wrapped particleboard with double shelf storage for your children's belongings.
The shelves are a great feature acting as the equivalent of a bedside table where you can store books, teddies and night lights at close range. It comes in a classic white colour, suitable for any décor. If you want even more space for your things, Dreams offers an underbed storage drawer at an additional cost.
You have excellent safety guards with a strong fixed ladder. This item is recommended for kids over six years for safety reasons.
Dreams bed measures H 165 x L 209 x W 132cm and is suitable for a standard single mattress with a maximum depth of 15cm. This retailer provides you with a 1-year guarantee and free delivery on all orders.
3. Happy Beds Saturn Grey Fabric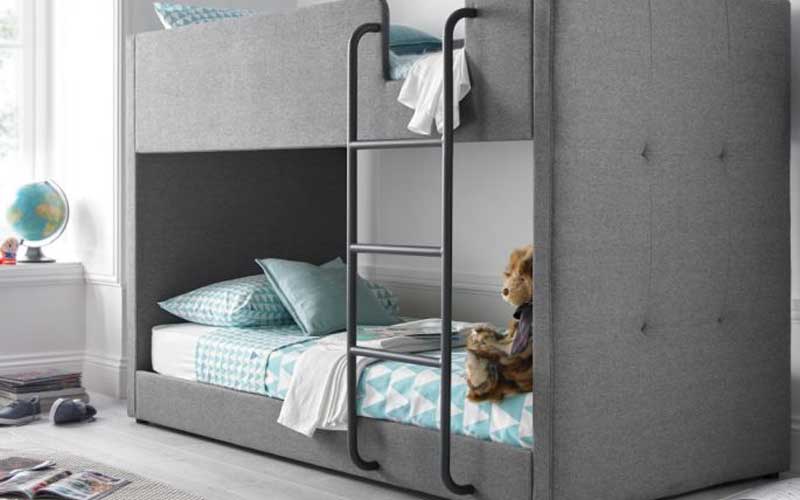 Last but not least, we have another Happy Beds suggestion in the eyes of the Saturn Grey Fabric Bunk Bed.
This is a beautiful modern kids bed upholstered in soft to the touch fabric available in either oatmeal or grey. It comes with stunning button-effect side detail and can sleep two individuals, one on top and one on the bottom.
The fabric upholstery gives soft edges and comfort, while the sturdy sprung slatted base provides support. Dreams bed has a simple and elegant three-step ladder and a safety paramount with a lipped top bunk frame design.
It measures at H 135 x W 106 x L 205 cm with a 75 cm distance between bunks. The Saturn bed has a five-year warranty and free delivery available to UK Mainland.
4. Willow Fabric Bunk Bed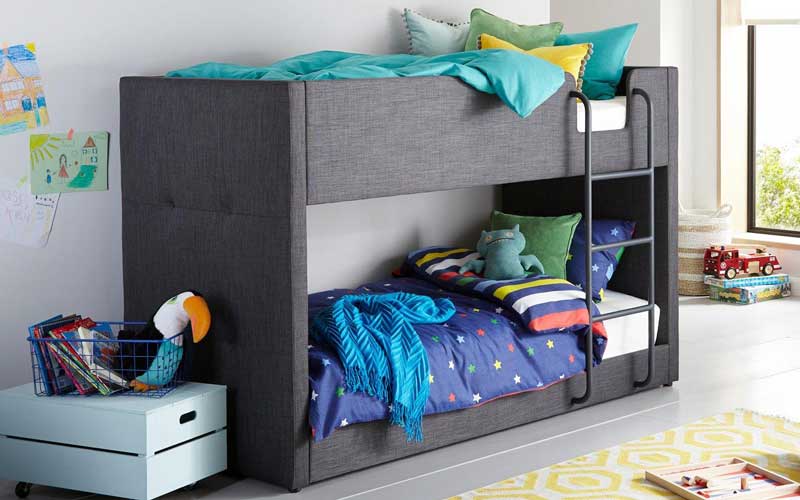 Our next suggestion comes from Dreams and is called the Willow Fabric Bunk. The Willow bed has a tactile design due to its soft-touch upholstered finish.
It's constructed with a sturdy frame is upholstered in sleek grey fabric with a buttoned detailing feature on the head end and foot end. With this contemporary design, we can safely say that the Willow bed can be an excellent addition to your child's room.
This option is recommended for ages six and over. It is easily accessible and quite sturdy because of the strong fixed metal ladder and its safety guards.
The Willow Fabric is suitable for a standard single mattress with a maximum depth of 15cm. The bed itself measures H 135 x L 205 x 97cm with 76cm space between bunks. Dreams provides you with a 1-year warranty and a free delivery service on all orders.
5. Habitat Detachable Bunk With Frame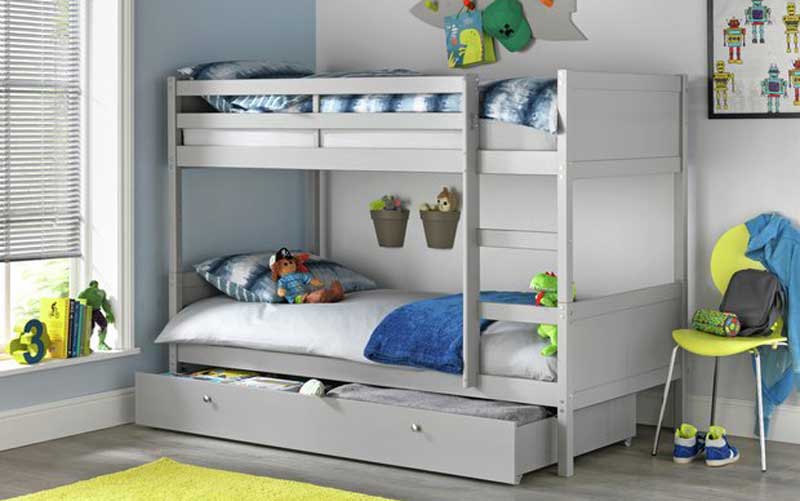 Our budget-friendly option today is the Argos Home Bunk Bed, available in either white or grey colour.
It's made from solid pine and has a sturdy wood frame, which is designed to last. Argo's option is detachable and comes with a versatile choice your kids will love. This sleek item can separate into two single beds with the same height when your kids want a space of their own.
Argo's product measures L 195.3 x W102 x H144.4 cm with 81cm height between bunks. The maximum depth of mattress to be used on the top bunk is 16cm. The brand has recommended this bed for children over six with a total user weight per bunk of 120kg.
You receive a ladder that can be positioned on either side of the bed, and if your product is over 60 cm high, it must be securely attached to the wall to prevent overturning.
The head and footboards are also reversible so that you can choose either a panelled effect or a smooth one. You can purchase the Argos Furniture Care for a small fee and get a 3-year Accidental Damage Only for your bed frame.
How to choose a bunk bed?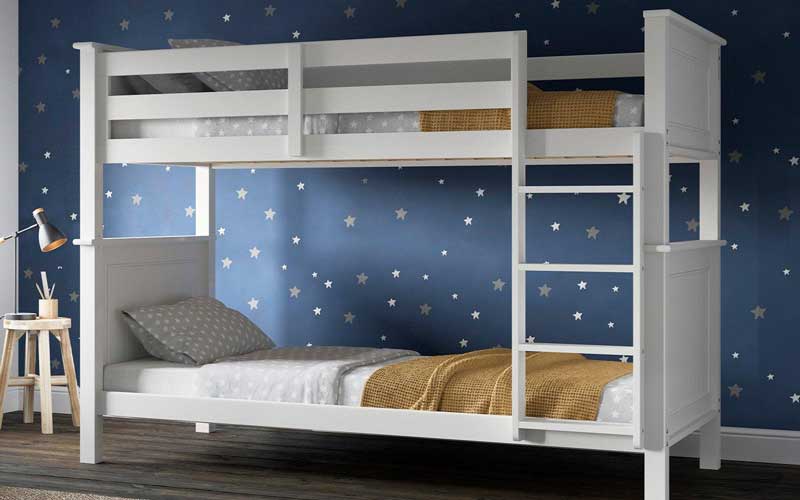 Parents often purchase bunk beds for their children, and we all know that everyone wants the best for theirs. In order to find the best product on the market, there are a few factors you need to feature in. They are the following:
Safety
When it comes down to bunk bed safety is the number one factor. Your best bet is to purchase a product that conforms to the current safety regulations for children's furniture. These regulations can include things like weight restrictions and minimum rail height.
Assembly
This type of bed isn't the easiest to assemble by any means, especially the upper level. If you're not too good with tools, we strongly recommend checking if the chosen retailer provides an assembly service. Usually, most do, and if the company puts it together, your warranty won't be voided due to assembly. However, if you decide to do it on your own, carefully read all the instructions and ask someone to help you.
Mattress
In general, mattresses aren't included in the purchase of a bed bunk. The first thing you need to do is check whether they're standard or non-standard size and after that, make sure the mattress thickness and weight are also suitable. Lastly, don't forget to put the purchase of one or two mattresses in your budget.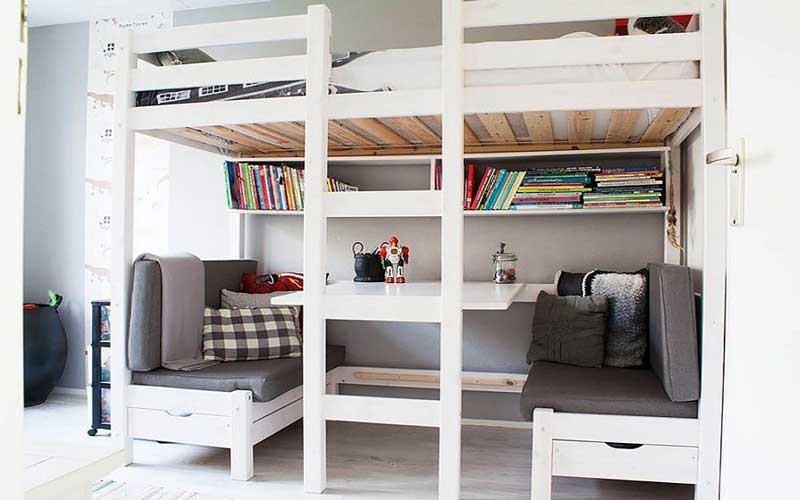 Size
Bunk beds are designed to save you space, but some are a lot bigger than others, which is why you shouldn't forget to check the dimensions of your kid's bedroom or your spare guest room. Most options fit a standard single mattress, but their construction can still be quite large. Some products might have a desk or storage, so always measure before you buy!
Ladder
Pretty much all bunks come with some sort of a ladder. You have three options for fixation. Your ladder can be fixed to either the left or right side, or it might be interchangeable, meaning you can decide what side you want it on. We strongly suggest you double-check if it was firmly secured to the side of the bed after the assembly has been done.
Storage
Storage is an additional feature that not all beds offer. However, have extra space for your children's belongings is always a plus. There might be under-bed storage or a wall shelf, but no matter what is it, built-in storage is advantageous.
Bottom line
Bunk beds are great at saving space in your home. Most are designed for children but can be used for adults as well. Check the maximum weight and length before buying one, and don't forget about a mattress' thickness.
As you've probably seen, there is an impressive selection of bunks, which is why we created this guide. All of the bed products we listed above have great customer reviews and are well received.
We hope you could find what you were looking for in our guide regarding the best bunk bed the market has to offer. To simplify your shopping experience, we've selected the best five products on the market today.
Brands in the bed industry frequently change, and so do the products they offer, which is why we will continue to provide you with the most up to par information.
We hope that this article was helpful, and you could find what you are looking for. Now it's our turn to hear from you if any questions regarding the subject were left unanswered. If you want to share some information, we would gladly hear about it in the comments below.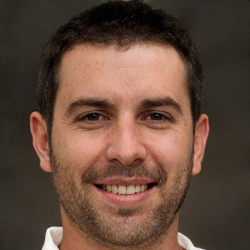 Latest posts by Martin Harris
(see all)