We've all been there. You have limited space in a bedroom but must accommodate multiple sleepers. Maybe it's for your growing kids, for guests, or perhaps you're looking to optimize a vacation rental. Finding a bed that is both space-saving and comfortable seems like a daunting task.
And it's not just about space. You've heard stories of bunk beds that squeak with every turn, ones that don't feel stable, or even worse, ones that aren't safe for children. The fear of making the wrong choice, investing in a subpar bed, and witnessing the discomfort or dissatisfaction of those using it can be deeply frustrating. No one wants to compromise on quality, especially regarding something vital to sleep.
Enter our comprehensive guide on the best bunk beds. We've done the legwork for you, comparing five of the top-rated bunk beds in the market. Each one has been rigorously tested for stability, comfort, and safety. In this article, we'll delve into the unique features of each bed, ensuring you find the perfect fit for your needs. Say goodbye to sleepless nights and hello to space-saving comfort and style.
1. Happy Beds' Solid Pine Wooden Bunk Bed – Editor's Choice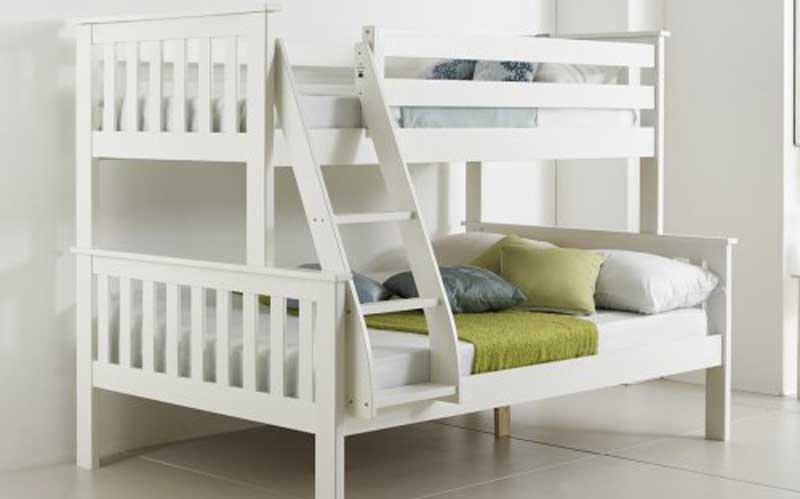 The Happy Beds Solid Pine Wooden Bunk Bed is ideal for adult and young sleepers, boasting safety barriers for added security. Its solid slatted bases ensure maximum comfort and extended mattress life. The bed showcases a simple yet elegant white finish that enhances the aesthetic of any room.
This bunk bed stands at dimensions of H 160 x L 203 x W 100 cm, with a 79cm distance between bunks, making it a spacious option. The integrated yet removable ladder facilitates easy access to the top bunk, ensuring safety and convenience.
The unique selling point of this bunk bed is its flexibility in design; it can be separated into two beds, making it a practical choice for evolving needs. This feature, along with the easy self-assembly, positions the Happy Beds bunk bed as a top pick in its category, reflecting a blend of functionality, safety, and style.
Pros
The versatile design allows separation into two beds.
Safety features include safety barriers and a removable ladder.
Solid slatted bases for enhanced mattress life and comfort.
Suitable for both children (aged six and over) and adults.
Easy self-assembly with detailed instructions provided.
Cons
The white finish may show dirt and stains easily.
Being flat-packed, assembly is required, which may be a challenge for some.
The design may be too simplistic for some tastes.
Only available in one size and colour, which may limit options for different room aesthetics and requirements​.
2. Dreams Erin Bunk Bed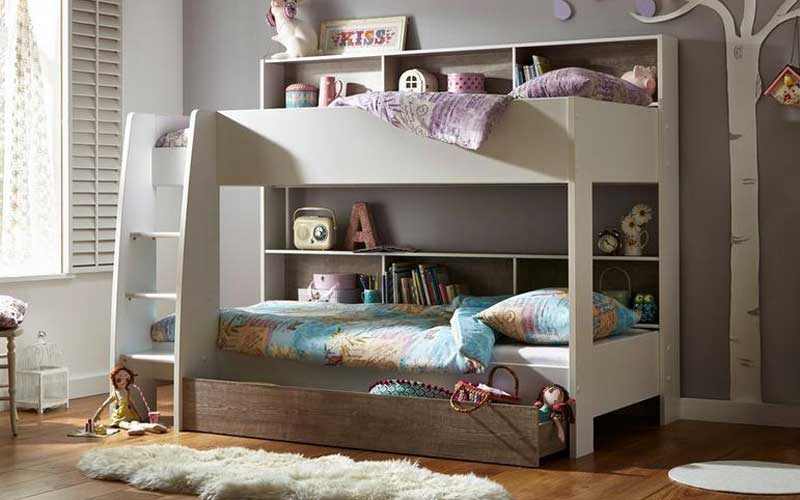 The Erin Kids Bunk Bed from Dreams encapsulates a blend of functionality and aesthetic appeal, making it a worthy investment for families. Built from durable foil-wrapped particleboard, this bunk bed promises a robust framework that can withstand the playful antics of children. Its classic white hue exudes a clean, timeless look and allows it to blend seamlessly with any room décor. The bed's H 165 x L 209 x W 132cm dimensions are adequate, providing a snug fit for standard single mattresses with a maximum depth of 15cm.
One of the standout features of the Erin Bunk Bed is the double shelf storage incorporated within its design. This addition is an excellent substitute for a bedside table, offering a convenient spot to place books, teddies, and night lights within arm's reach. For families requiring extra storage space, Dreams offers the option of an under-bed storage drawer at an additional cost, which can be a lifesaver in managing clutter, especially in a children's room.
Safety is a priority in the design of the Erin Bunk Bed, with excellent safety guards and a sturdy fixed ladder ensuring easy and secure access to the upper bunk. This bed is recommended for children aged six and above, adhering to safety standards that prioritize the well-being of the young ones. Moreover, the 1-year guarantee and free delivery offered by Dreams add a layer of assurance and convenience to the purchase. Overall, the Erin Bunk Bed is not just a piece of furniture but a thoughtfully designed space that accommodates the needs and safety of children while offering a touch of elegance to the room.
Pros
Durable Construction: Built with robust foil-wrapped particleboard.
Convenient Storage: Features double-shelf storage and an option for an underbed drawer.
Safety Measures: Equipped with safety guards and a sturdy fixed ladder.
Cons
Age Restriction: Recommended for kids over six years of age.
Extra Cost for Additional Storage: The underbed storage drawer comes at an extra cost.
Fixed Ladder: Limits flexibility in room arrangements.
3. Happy Beds' Fabric Bunk Bed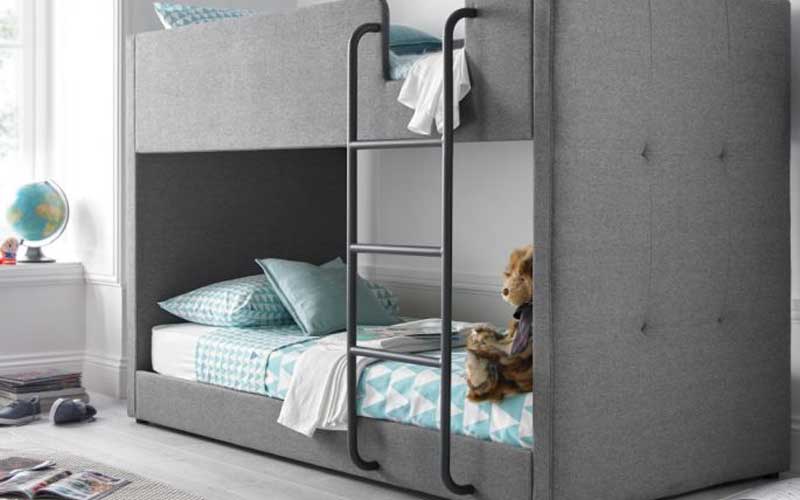 The Happy Beds Saturn Grey Fabric Bunk Bed is a quintessential blend of modern design and functionality. The grey fabric upholstery adds a contemporary charm and provides soft edges for safety and comfort. The unique button-effect side detail enhances its aesthetic appeal, making it a beautiful addition to any child's room.
Safety is a paramount feature of this bunk bed. The lipped top bunk frame design ensures the sleeper remains securely in bed. The three-step ladder, though simple, is sturdy and provides safe access to the top bunk, making it suitable for children aged 6 and over.
The practical design doesn't compromise on comfort. The sprung slatted base offers ample support, promoting a restful sleep. Moreover, the versatile grey colour of the upholstery makes it adaptable to different room decors. With a blend of aesthetics, safety, and comfort, the Saturn Grey Fabric Bunk Bed is a worthwhile investment for families.
Pros
Modern, aesthetic design with grey fabric upholstery.
Safety features include a lipped top bunk frame and a sturdy three-step ladder.
Sprung slatted base for added support and comfort.
Cons
The ladder is fixed to the right of the frame, limiting layout options.
The grey fabric may be susceptible to stains and may require regular cleaning.
Assembly may be required, which could be a hassle for some​1​.
5. Argos Habitat Detachable Bunk Bed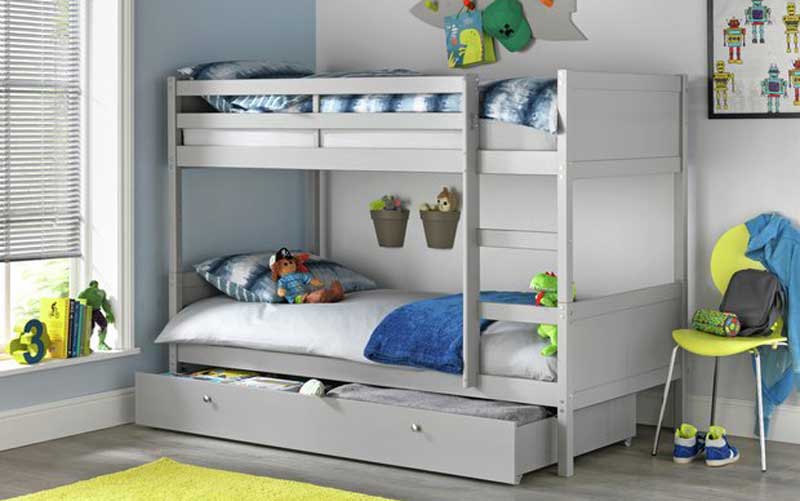 The Argos Habitat Detachable Bunk Bed Frame with Drawer is a durable and versatile furniture designed to cater to growing family needs. Constructed from solid pine, this bunk bed is built to last, making it a reliable choice for your children's bedroom. The bed can be separated into two single beds, which is a feature that adds to its versatility. Moreover, it comes with a full-width drawer on durable castors, making underbed storage a breeze. The simple and timeless design, enhanced by the reversible head and footboards allowing for a panelled effect or smooth finish, adds a touch of elegance to the room.
Transitioning the bunk bed into two single beds requires a bit of reassembly, specifically moving the longer legs to the headboards to ensure both beds are of the same height. The detailed step-by-step instructions provided facilitate this process, making it less daunting. The provision to position the ladder on either side of the bed is an additional feature that lends flexibility to room layouts. When separated, the ground clearance on both beds is identical, ensuring a coherent look when placed side by side.
In terms of dimensions, the bunk bed frame measures L195.3, W102, and H144.4cm with a safety rail height of 32cm and a clearance between the floor and underside of the bed at 24cm. The height between bunks is 81cm, providing ample space. Notably, the bed weight is 56kg, and the maximum user weight per bunk is 120kg, making it suitable for children (ages 6 and over) and adults (safety tested to 100kg). The manufacturer offers a 2-year guarantee, a testament to the product's quality.
It's recommended that mattresses used on the top bunk should not exceed a depth of 16cm for safety purposes. The self-assembly requirement is a factor to consider, with a recommendation of two people for the assembly process. Overall, the Argos Habitat Detachable Bunk Bed Frame with Drawer is a practical, stylish, and sturdy choice for families looking to maximize bedroom space and functionality.
Pros
Versatile Design: The ability to separate the bunk bed into two single beds provides flexibility as family needs change.
Underbed Storage: The full-width drawer on durable castors maximizes underbed space utilization.
Durable Construction: Built from solid pine, the bed is designed to withstand the test of time.
Reversible Head and Footboards: This feature allows for a personalized look to match room aesthetics.
Cons
Assembly Required: Transitioning between the bunk bed and single beds and initial assembly might be cumbersome for some.
Mattresses Not Included: The additional cost and effort to find suitable mattresses could be a drawback.
Height Requirement for Top Bunk Mattress: The top bunk requires a mattress with a maximum depth of 16cm for safety, which might limit mattress choices.
Attachment to Wall: If the product height exceeds 60cm, it must be securely attached to the wall to prevent overturning, which could be a limitation in some settings.
What to look for when choosing a bunk bed for kids, teenagers and adults?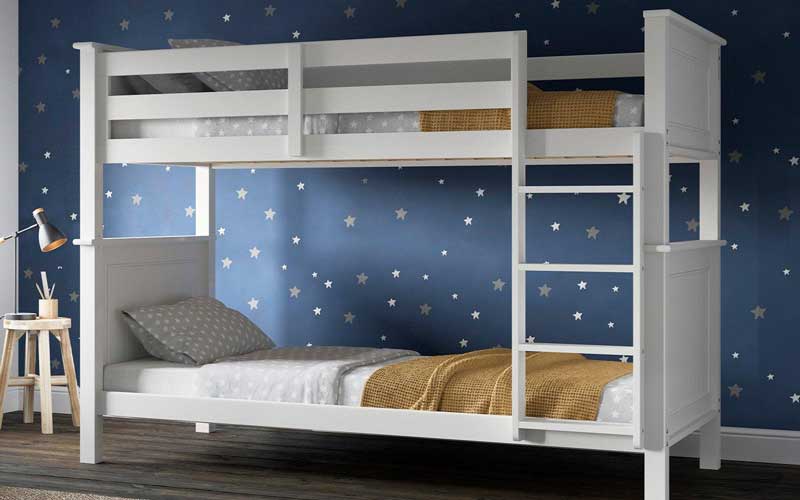 Bunk beds are a popular choice for parents looking to save space while providing a comfortable sleeping area for their children. When on the market for the perfect bunk bed, it's paramount to prioritize factors that ensure the safety and convenience of your little ones. Here's a structured guide to assist you through the selection process:
Safety
Safety reigns supreme when it comes to choosing bunk beds. Opt for models that adhere to the latest safety standards governing children's furniture. These standards include weight capacity, minimum railing height, and the gap between slats to prevent entrapment hazards. Ensuring that the bunk bed conforms to these safety regulations will provide peace of mind, knowing your children are safe.
Assembly
Bunk beds can be quite intricate to assemble, particularly the upper bunk. If DIY assembly isn't your forte, it's advisable to inquire if the retailer offers professional assembly services. Most reputable retailers provide this service, and having the company assemble the bed ensures your warranty remains intact. If you choose to assemble the bunk bed yourself, ensure you follow the instructions and enlist a helping hand to make the process smoother.
Mattress Selection
Typically, mattresses are sold separately from the bunk bed frame. It's crucial to determine whether the bed requires standard or non-standard-size mattresses. Additionally, check the recommended mattress thickness and weight to ensure they align with the bed frame's specifications. Depending on your needs, budgeting for one or two mattresses is essential to avoid any unwelcome surprises.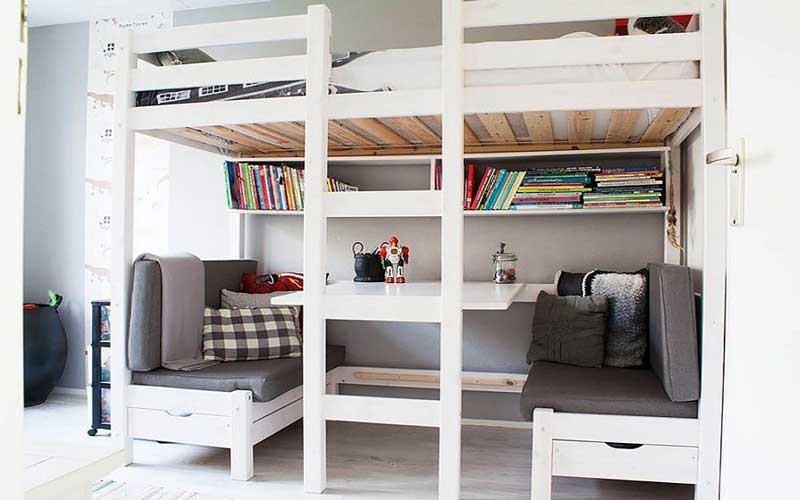 Size
While bunk beds are space-savers, their dimensions can vary significantly. Measuring the room where you plan to place the bunk bed is prudent to ensure a good fit. Most bunk beds accommodate standard single mattresses, but the overall structure might be larger, especially models with additional features like desks or storage compartments. So, a thorough measurement beforehand is a wise step.
Ladder
Nearly all bunk beds come with a ladder for accessing the upper bunk. You typically have three fixation options: the ladder can attach to either the left or right side, or it might be interchangeable, allowing you to choose the side. Confirming the ladder is securely fastened to the bed frame post-assembly is highly recommended to prevent any accidents.
Storage
Not all bunk beds have built-in storage, but extra storage space is undoubtedly beneficial. Some models offer under-bed drawers or integrated shelves, providing a handy place for your children's belongings. When storage is a priority, seek bunk beds with these added features to maximize the functionality of the space.
Following these guidelines will aid you in navigating the bunk bed market, ensuring you make a well-informed decision that caters to your family's needs and spatial constraints.
Final Words
Bunk beds offer an excellent solution for optimising space within your home. While primarily designed for children, many are robust enough to cater to adults. It's essential to verify the maximum weight capacity and dimensions before purchasing, alongside considering the thickness of the mattress.
As witnessed in this guide, the diverse range of bunk beds reflects the variety in design and functionality to suit different needs. Each bed product highlighted above has garnered positive customer reviews, indicating good customer satisfaction.
Through this guide, we aimed to streamline your bunk bed shopping experience by showcasing the top five available products. As brands in the bed industry evolve with their product offerings, we commit to keeping you updated with the most current information. We trust this article has been insightful, and we hope you've found the ideal bunk bed per your requirements. Your feedback and further inquiries are welcome; feel free to share your thoughts or ask questions in the comments below.