Best Electric Blanket – Reviews & Advice
Last Updated on July 18, 2021
Nothing is more inviting than a warm bed on a cold night, especially with UK's long and chilly winters. That's where heated blankets come in. Your bed is pre-heated, warm and extremely cosy. Nowadays, you don't have to worry about the old behemoths your grandmother used since there are modern electric blankets that are much nicer and safer.
But how can you choose an electric blanket that fits the bill and checks all the boxes? There are many products on the market – from good quality models from reputable companies to cheap Chinese knock offs that we wouldn't recommend to our worst enemy.
That's why we created LightSleeper – to help you choose the product that is right for you and you alone and help you make that choice along the way. Companies can never pay to feature their products on LightSleeper, nor we are getting paid to recommend one product over the other – we are an independent resource, and we only recommend products that have passed our tests, and we feel that they are the best in their category.
So let's see what we think are the Best Electric Blankets in the UK today and why.
1. Silentnight Alexa Enabled – Editor's Pick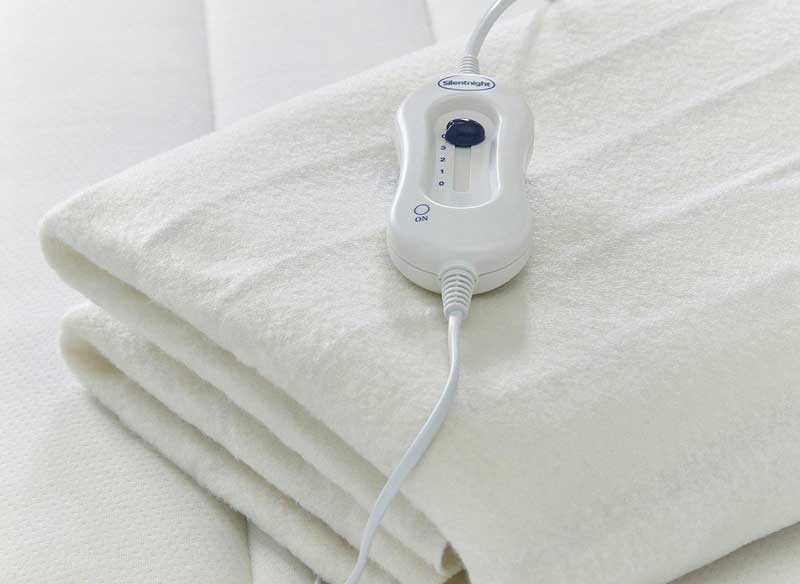 First on our list is Silentnight Alexa Electric Blanket, with which sleep is the number one priority, easily winning the Editor's pick in this category.
Silentnight's model is available in three sizes: single (65 x 135 cm), double (120 x 135 cm) and king (137 x 165 cm). It has a Smart Wi-Fi plug compatible with Alexa or the Silentnight app with your smartphone and tablet (iOS 8 or higher), with which you can automatically power your blanket on and off.
It's made from polyester, which means you can machine wash it and tumble dry it. Silentnight also offers a 3-year manufacturer's guarantee and overheat protection, making this blanket a top competitor.
2. Dreamland Heated Mattress Protector – Runner Up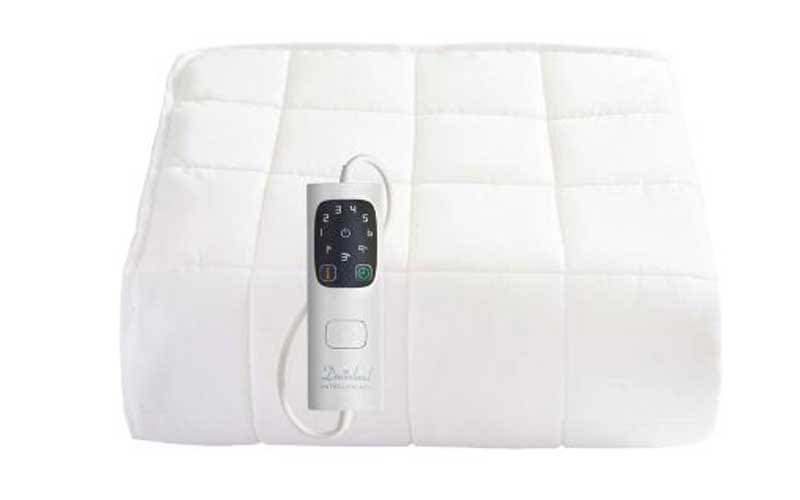 Our following recommendation is the crème of the crop. The Dreamland Heated Mattress Protector is a luxurious solution to any cold bed.
It's available in four sizes: single, double, king and super king. What makes this Dreamland product stand out is its dual control (not included in the single size). Two individuals can choose from 6 temperature settings with the two control units, including fast-heat, separately.
Dreamland's cover is made from 100% pure cotton, and its filling is quilted with bounce-back polyester. The protector has an easy-fit elasticated skirt that's 38cm deep. The controllers have a timer with auto shut-off for either 1, 3 or 9 hours to suit your needs.
3. Cosi Home® Throw & Over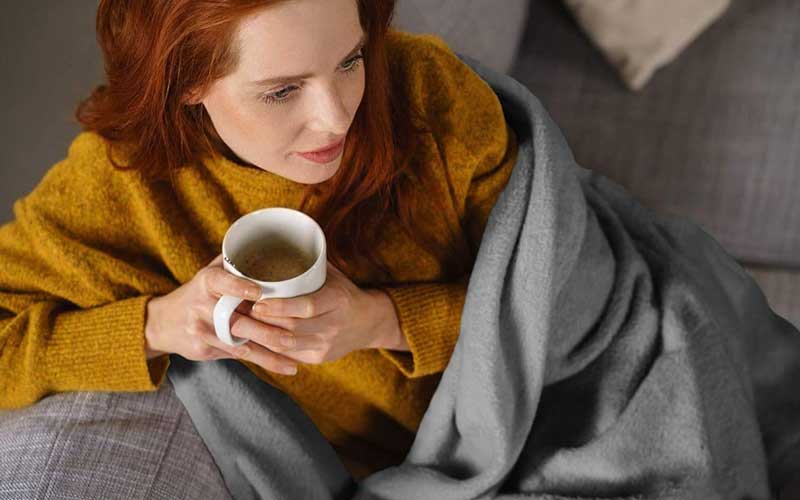 Next, we have a budget-friendly suggestion, and that's the Cosi Home® Throw & Over Heated Blanket. This Cosi Home product comes in four lovely colours: cream, grey, navy and brown in one size 160x130cm.
Cosi Home's item is made from luxury microfleece, perfect for keeping you cosy on the sofa and in bed. This heated cover has nine adjustable settings, letting you achieve and maintain your ideal level of warmth.
The Cosi Home blanket has a built-in timer with auto-off features that allows you to set a time from 1 to 10 hours, and for total peace of mind, the company has built-in the 'Overheat Protection' system. Finally, this Cosi Home option is 100% machine washable. All you have to do is unplug the cord and place it in the washer.
4. Mia&Coco Heated Blanket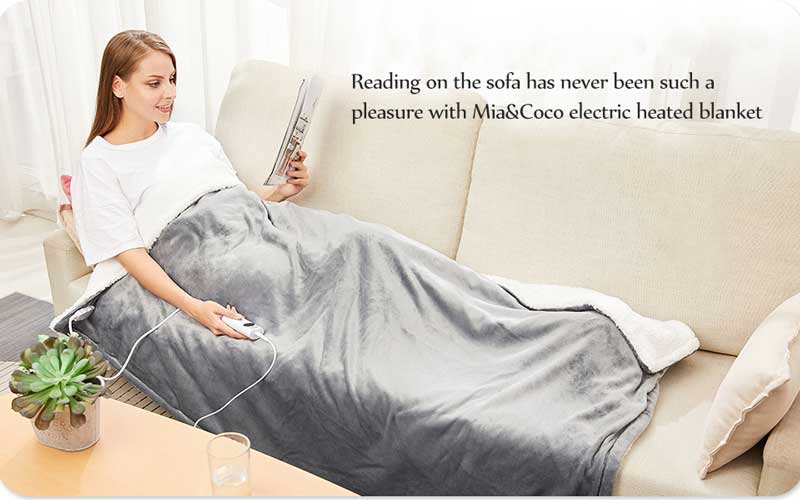 We have another affordable alternative with the Mia & Coco Electric Blanket. This snug suggestion comes in one size 120x160cm and one colour, which is grey.
The Mia & Coco cover is made with flannel and Sherpa, offering you excellent warmth performance and a skin-friendly experience like no other. It is designed with 10 heat settings and 9 levels of an auto-off timer, where you can select a temperature from 25°C to 53°C, while the timer allows you to set hours to shut it off.
Mia & Coco's product comes with an ETL-Certificate, meaning it's safe to use, made from premium quality materials. This cosy cover is machine washable, after the detachment of the cord.
5. Slumberdown Multi-Zone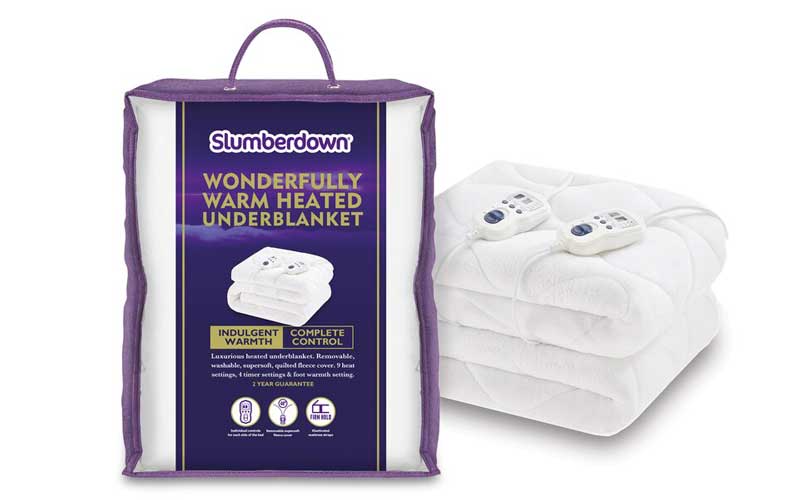 Our next Amazon suggestion comes from Slumberdown and their Multi-Zone electric cover. Slumberdown comes in a plush white colour, available in single, double, king and super king sizes.
This heated underblanket has dual controls (single has only one), so you will get your own controller on your side of the bed for individual heating, making it the ideal blanket for couples. Slumberdown has nine different heat levels that feature multi-zone heating areas, allowing the heat to be different on each quarter of the bed.
It has a super soft comfort layer that has been deep filled with quilted fleece and premium fibres for an indulgently comfortable yet supportive sleeping surface. Slumberdown also comes with elasticated straps that will keep the blanket firmly in place on your mattress.
6. Bielay Warmness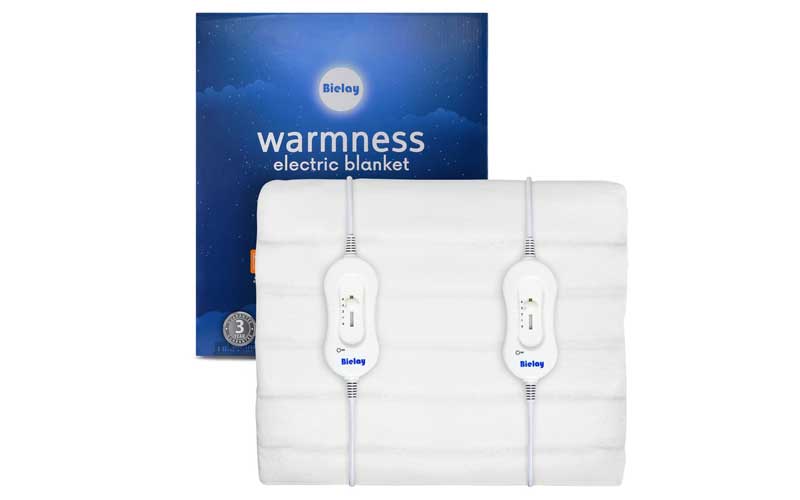 If you're worried about electricity bills, you don't have to be with the Bielay Warmness cover. This product has low energy consumption (70 watts). It comes in white and can be purchased either in a double (135 x 120cm) or king (165 x 137cm) size.
What makes Bielay great is the fact that it's suitable for any bed, it's even compatible with a memory foam mattress. Bielay comes with a digital remote control that has 3-heat settings, with a soft touch slider that is easy to control.
This brand provides you with a three-year manufacturer's warranty. Lastly, you don't have to worry about keeping the Bielay clean and fresh since it is machine wash and tumble dryer safe.
7. Wärmer Fitted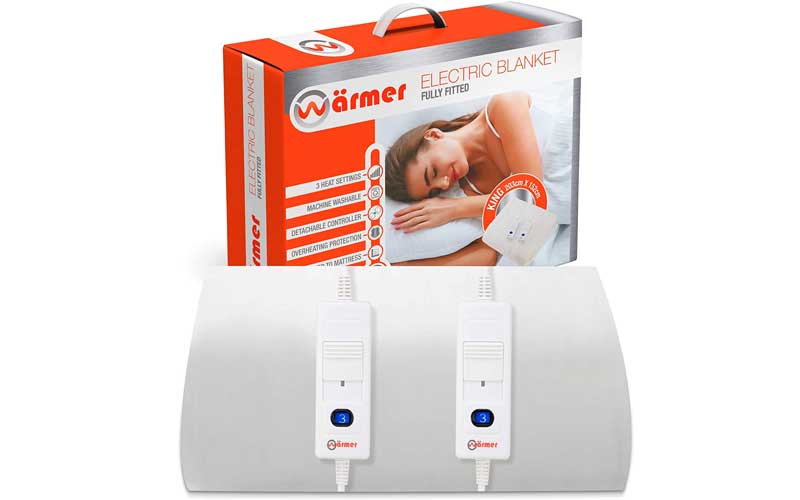 If you want proper heat distribution, look no further! The Wärmer electric cover is here to stay! This wonderful suggestion comes in larger sizes(193 x 91; 193 x 137; 203 x 152; 203 x 182cm) for full body coverage.
With this dual settings option, you can finally get the extra foot warmth you've been searching for. This cover features three different heat settings operated by the dual remote system, meaning different sides of the bed can be heated to different temperatures.
Wärmer provides you with a 365-day warranty for this 100% polyester item, which can be machine washed at low temperatures.
8. Entil Heated Throw & Over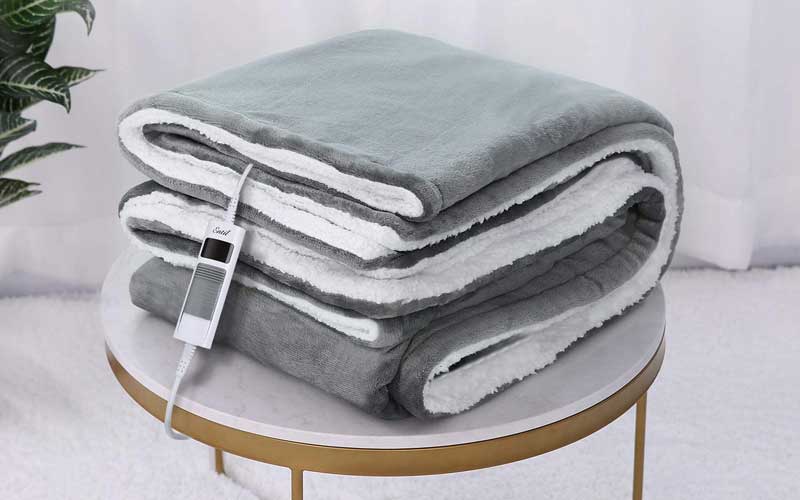 Regular blanket are out, and the Entil Heated Throw blanket is in! Entil is made of skin-friendly double-faced plush with one side of flannel and the other side of generic Sherpa, making it soft, smooth and comfy.
This flannel blanket features 6 heat settings to fast heat up within 5 minutes while having overheating protection that will shut off automatically after 6 hours of working. Entil soft blanket has even spread of heating wire for achieving even body temperature with fast heat-up time.
It comes in a grey colour with a size of 130 x 180cm. Entil provides a 2-year quality assurance service where they can help you with any questions. This item can be machine washed on a cold setting, but it can't be tumble dried.
9. Schallen Luxury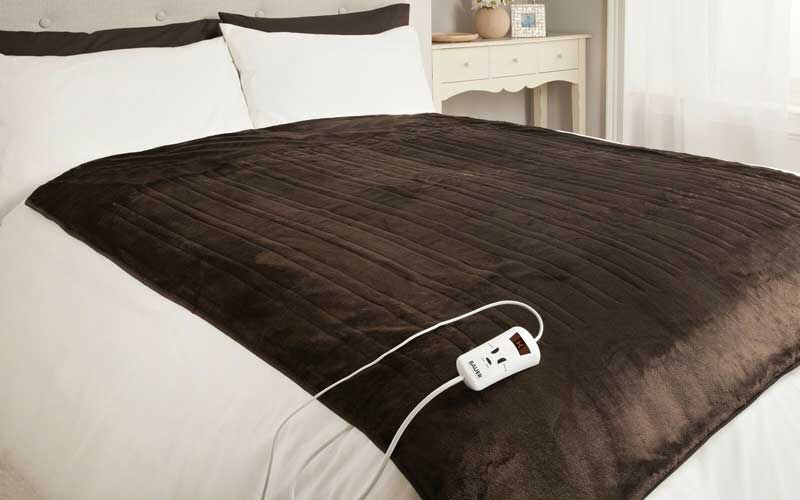 Forget about the hot water bottle you are putting in your bed every night and get yourself the Schallen Luxury Soft heated cover. This Luxe choice is available in four lovely colours: cream, pink, grey and brown in size considered a large double (120x160cm).
With the Schallen, there are ten different heat settings to choose from to ensure you receive the perfect temperature. Schallen has a built-in overheat and overcurrent protection system and timer that can be set between 1-9 hours to allow you to sleep easy.
It's made from warm, soft fleece for both an extremely comforting feel and stylish look. The brand has also included a year guarantee.
10. SHINE Supreme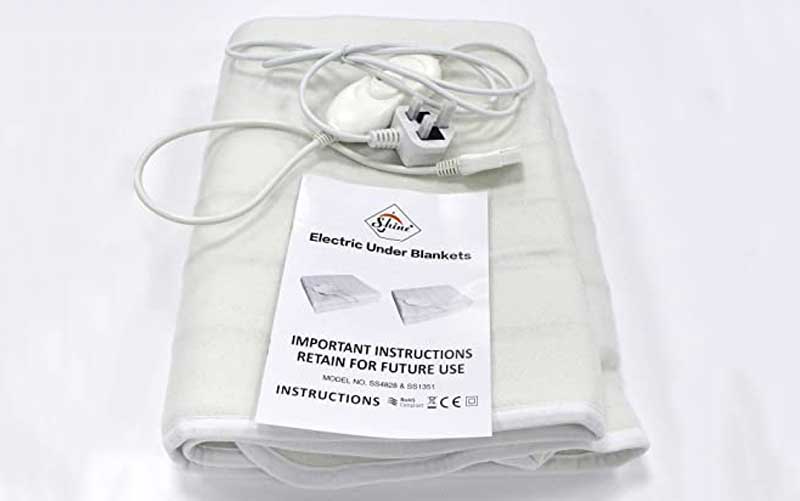 Last but not least, we have the SHINE Supreme Electric underblanket in white colour, available in two sizes: single (150×80 cm) and double (107×120 cm). This product has low energy consumption (60 watts).
The SHINE Supreme comes with over 800 reviews, most of which are with a five-star rating. This item is soft yet durable, suitable for all-year-round use. It has two heat settings, with a detachable controller, making it machine washable.
SHINE can be used all night because of the overheat protection system, but if you want to learn more, you can always read instructions for further use.
How to choose an electric blanket?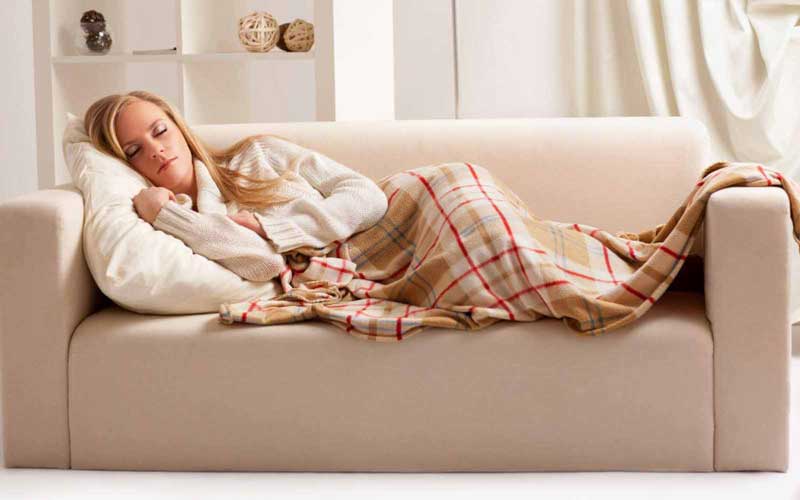 If you want to find a heated blanket that will keep you warm and safe, there are some features you have to consider. They are the following:
Material
Material is always an essential part of a choice. Blankets are made from a variety of different materials, from cotton to wool and from faux fur to microfleece. You have to take into consideration your personal preference and find a fabric that will match your needs.
Heating Time
Many forget to turn their blanket on in advance, which is why you need to find a model with a fast heating time. Some products can heat up in five minutes, while others might need an hour. We recommend the fast heating ones so that you are warm and toasty in no time.
Timers
Inbuilt timers allow you to run your electric blanket for a set period of time before you get into bed or once you've settled in for the night. Once the timer ends, the blanket will automatically switch off.
Overheat Protection
Most people are afraid of purchasing electric blankets because of safety reasons. Some brands have solved that issue by design an overheat protection, which automatically switches off when it becomes too hot, so you don't have to worry about it on your own.
Energy
If you plan on using the blanket throughout the whole night, you might as well find an energy-efficient model. It may save you a few dollars, but in general, the electric cover comes with low energy usage.
Size
No matter the type of electric blanket (fitted, non-fitted or a heated throw) you're searching for, you need to make sure it's large enough for your needs. Always check the dimensions of the blankets you're considering, so you don't regret it later.
Thickness
Depending on your budget, you can opt for a blanket made from a thicker material that can provide additional cushioning. An excellent example of great cushioning are quilted options since they reduce the likelihood of feeling the heating elements while you sleep.
Antibacterial & Hypoallergenic
Many individuals struggle with allergies and asthma, and if you or your loved ones fall into that category, you should consider blankets made from antibacterial and hypoallergenic fabrics. This way, you have a better chance of a good night's rest.
Care
We all want fresh bedding, so being able to wash your blanket is important. There are many brands and models that can be washed after detaching all necessary electrical components. Make sure to check the product's description so that you can keep your blanket clean and hygienic.
Are electric blankets safe?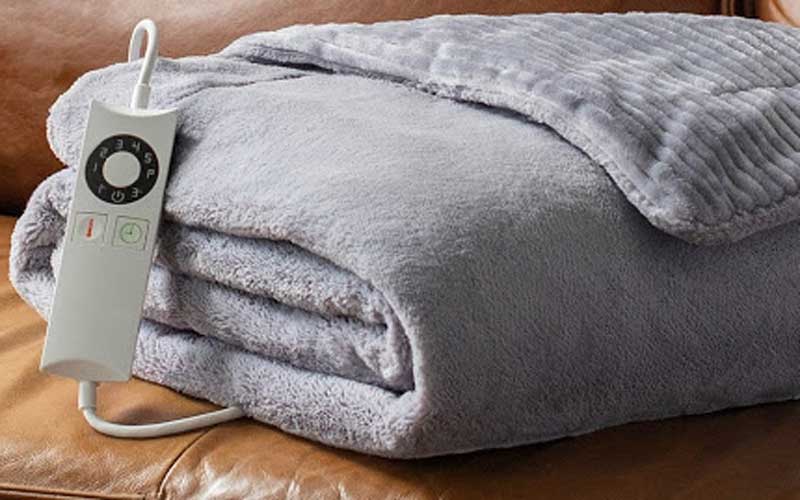 Yes, we remember the days where old electric blankets were seen as fire hazards, but that's old news. Today most models feature auto cut-off or overheat protection, and some are even machine-washable without damaging the product while bringing all the benefits. However, if you want to be sure, check if your blanket has passed BEAB checks.
Although they are far less hazardous than they were ten years ago, heated blankets still need to be appropriately used. Here is what the UK's Fire Service gives as instructions:
Only use a heated cover, which has the UK Safety Standard mark
Never use electric under blankets as electric over blankets, and vice versa
Try to keep the blanket flat to avoid any excess heat
Only leave a blanket switched on all night if it has automatic turn-off and overheat protection
If you're blanket gets wet, don't switch it on to dry it
Always turn off your blanket when not in use
How much do electric blankets cost to run?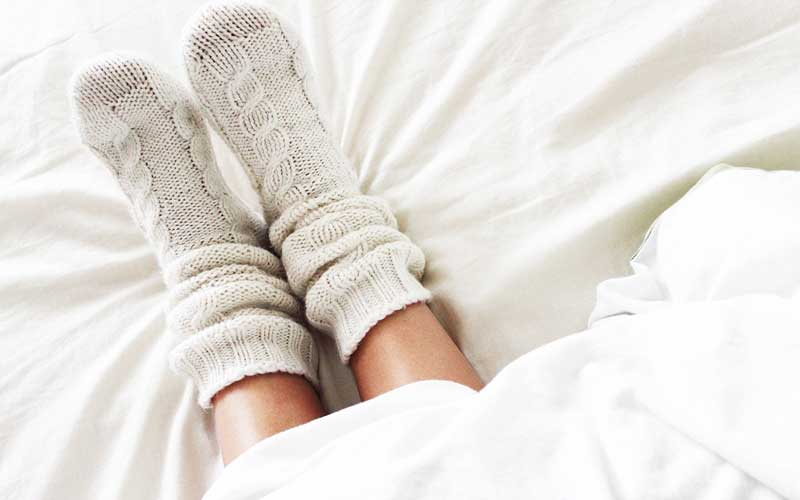 Overall, the price you pay for an electric blanket will depend on your usage. It can either be kept on all night on a low setting or used for a short amount of time before you get into bed. We checked with the comparison website Energyhelpline and they tested a 60 watt and a 70 watt blanket for seven hours a night over six months.
With the 60-watt, the annual cost ended up being £14.60 (8p a night), and the 70-watt one cost £16.42(9p a night), which is not too bad considering the comfort it offers, especially if you end up using it from time to time.
How can you clean an electric blanket?
Yes, we all want a warm and fuzzy blanket during the cold winter nights, but we also want it to be fresh and clean. That's why we advise you to always check the manufacturer's instructions first before putting it in the washer.
Most models can be machine washed after the controls have been removed at 40 degrees with a mild detergent. Depending on the brand and product, some can even be tumble dried, but typically none can be ironed.
You can see our guide on how to wash an electric blanket too!
Final Words
Nowadays, there are so many electric blankets that you need to know what you're looking for to find one that suits your needs. There are fitted models, non-fitted ones, some that have overheat protection, and others come with dual controls.
It's up to you to decide in order to keep yourself and your loved ones warm at night. The safety of electric covers has improved massively, which is why you should invest in one and always feel snug.
All of the bed products we listed above have great customer reviews and are well received. We hope you could find what you were looking for in our guide regarding the best electric blanket on the market has to offer. To simplify your shopping experience, we've selected the top 10 models for this year.
Brands in the bed industry frequently change, and so do the products they offer, which is why we will continue to provide you with the most up to par information. We hope that this article was helpful, and you could find what you are looking for.
Now it's our turn to hear from you if any questions regarding the subject were left unanswered. If you want to share some information, we would gladly hear about it in the comments below.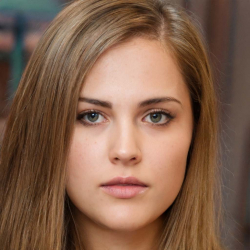 Latest posts by Isabelle Harris
(see all)