Looking to up your cosy game this season? You've come to the right place! Our team of experts has put in the time and effort to evaluate over 30 electric blankets meticulously, so you don't have to. Our in-depth research and analysis ensure we bring you only the best of the UK's electric blanket market.
As real sleep experts, we understand that warmth, comfort, and safety are the key ingredients for a perfect night's sleep. That's why we have carefully curated a list of the top 5 electric blankets that will keep you toasty and snug and offer the ultimate peace of mind.
Stay with us as we reveal our top picks, uncovering the ins and outs of each blanket's design, technology, and performance. By the end of this blog post, you'll be able to choose your next electric blanket with absolute confidence, knowing that you've made an informed decision backed by expert advice.
Ready to elevate your sleep experience? Let's dive in!
1. Mia & Coco Electric Heated Blanket – Editor's Pick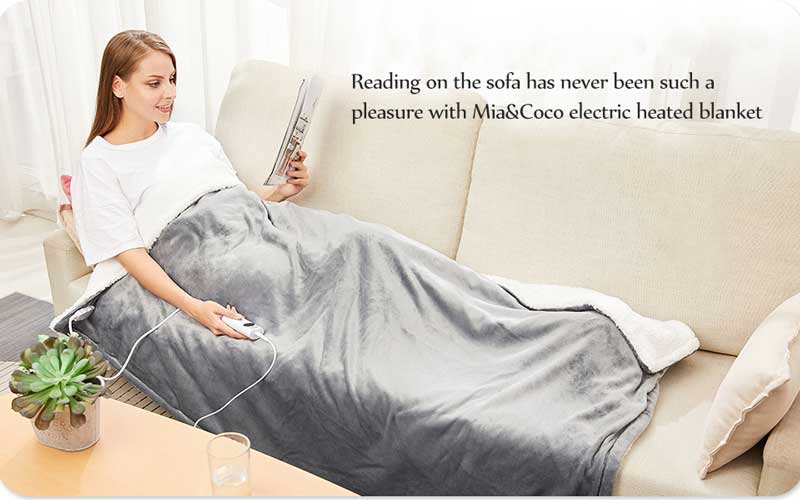 Introducing the Mia&Coco Electric Heated Blanket, the perfect solution for chilly winter nights. With a spacious 120x160cm size, you can be sure to stay warm from head to toe. Say goodbye to cold, drafty nights and hello to ultimate comfort.
This electric heated blanket is made with flannel and Sherpa, providing soft and comfortable warmth. Whether snuggled up on the couch or in bed, you'll immediately feel the difference in comfort. And, even when the heating is not turned on, the blanket remains soft to the touch.
With ten temperature settings and a 9-hour auto-off timer, you can customize your warmth experience. The easy-to-use controller allows you to select the perfect temperature, ranging from 25°C to 53°C. And, with the timer, you can set the blanket to shut off after a set number of hours, ensuring safety and energy savings.
Your safety is a top priority for Mia&Coco, which is why the Electric Heated Blanket is ETL-certified. Made with premium materials, you can use this blanket confidently, knowing it's built to the highest standards.
And, when it comes time for cleaning, the Mia&Coco Electric Heated Blanket is machine-washable. Detach the cord and follow the instructions in the user manual for a hassle-free cleaning experience.
In conclusion, the Mia&Coco Electric Heated Blanket perfectly combines comfort, customization, and safety. So, enjoy a warm and cosy winter with this amazing electric heated blanket by your side.
Pros
Safe to use
Soft and snuggly fabric
Machine washable
Auto-off timer
Premium feeling
2. Cosi Home Heated Throw – Runner Up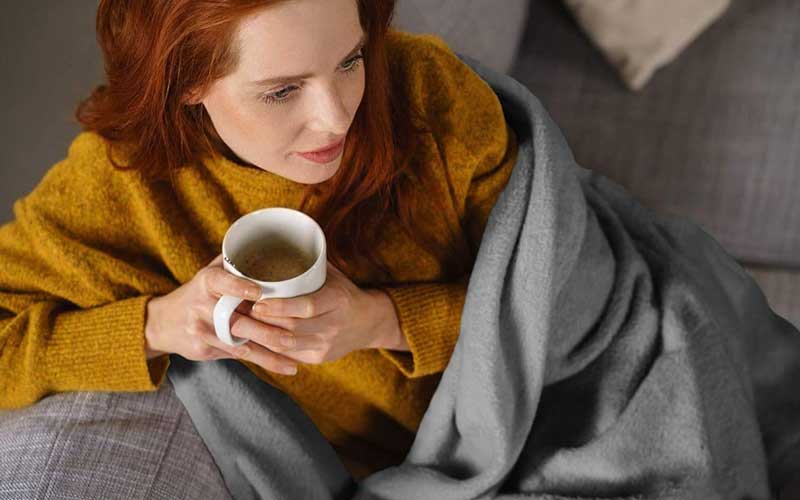 Introducing the Cosi Home Electric Heated Throw, the perfect solution for staying warm and cosy all year round. Made with a luxurious micro-fleece fabric, this double-sided and soft-touch electric heated throw is perfect for keeping you comfortable on the sofa, settee, or in bed. This heated throw has covered you whether it's a cold winter night or a cooler summer day.
With a 9-hour programmable timer function and automatic cut-off feature, this heated throw will turn off after a desired period, giving you peace of mind and saving energy. The nine adjustable heat settings provide complete temperature control, setting perfect warmth for your needs.
At 160x130cm, this extra-large heated throw is large enough for two adults, allowing you and another person to wrap yourselves up and stay warm. The integrated heating elements woven into the soft-touch fabric deliver consistent and efficient heat, perfect for relaxing or soothing aching muscles and joints.
The Cosi Home Electric Heated Throw is 100% machine washable for your convenience. The remote control and cable are fully detachable, allowing you to wash the throw repeatedly, ensuring the fabric remains clean and fresh for many years.
Safety is paramount, so all Cosi Home heated throws and electric blankets feature an advanced overheat protection system and are fully CE compliant with UK and European regulations. With a maximum temperature of 45-50°C, a heated wire length of 22.5m, and a timer range of 1-9 hours, this heated throw provides complete control and peace of mind.
In conclusion, the Cosi Home Electric Heated Throw is the perfect combination of comfort, control, and safety. So, enjoy a warm and cosy winter with this electric heated throw by your side.
Pros
Machine washable
Cosy microfleece cover
Machine washable
Durable build
Safety timer
Energy efficient
Cons
Single size only
Costlier than others
3. Slumberdown Wonderfully Warm Blanket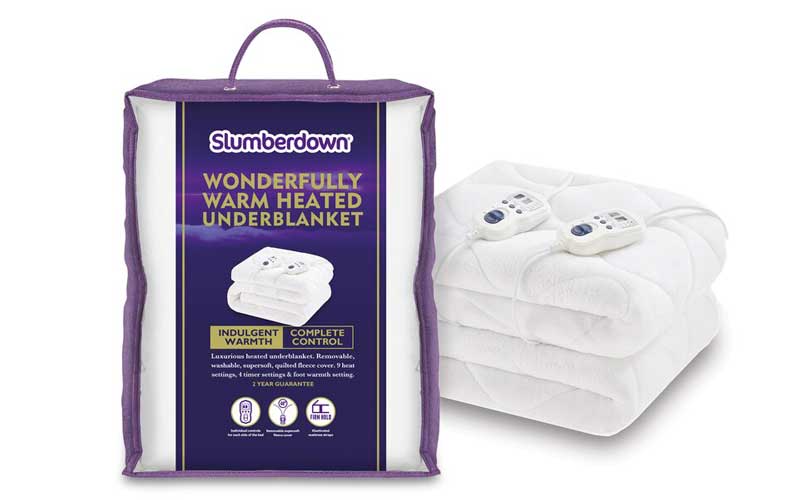 Introducing the Slumberdown Sleepy Nights heated blanket – the perfect solution for chilly nights! This blanket is designed to keep you warm and cosy with three heat settings that can easily adjust to your preferred temperature. The single controller makes it easy to use, so you can switch it on and enjoy a good night's sleep.
The Slumberdown Sleepy Nights heated blanket is king-sized, measuring 142cm in length and 150cm in width, making it perfect for a standard UK king-sized bed. It features elasticized corner straps that keep the blanket firmly in place, so you won't have to worry about it slipping or sliding around during the night.
Not only is this blanket comfortable and warm, but it is also energy-efficient. You can save on your overnight heating bills with an average energy consumption of just 1p per night (based on 8 hours of use). The blanket is machine washable, so you can easily keep it clean and fresh. Place it in the washing machine on a 40° cycle and hang it to dry.
The Slumberdown Sleepy Nights heated blanket is also designed with safety in mind. It features an automatic shut-off function that prevents the blanket from overheating, giving you peace of mind while you sleep. The blanket is BEAB approved so you can be confident in its quality and safety.
Slumberdown is part of the John Cotton Group, a family-owned business based in West Yorkshire, UK. With over 60 years of experience in the bedding industry, Slumberdown is dedicated to providing high-quality products and excellent customer service. The company is also committed to sustainability and actively works to reduce its impact on the environment.
In conclusion, the Slumberdown Sleepy Nights heated blanket is the perfect addition to your bedding collection. With its three heat settings, easy fit, machine washable design, and energy-efficient features, you can enjoy a warm and comfortable night's sleep without any worries.
Pros
Made in the UK
Energy efficient
Automatic shut-off function
Machine washable
Cons
Made of polyester
Durability concerns
Quality issues with some batches
4. Silentnight Comfort Control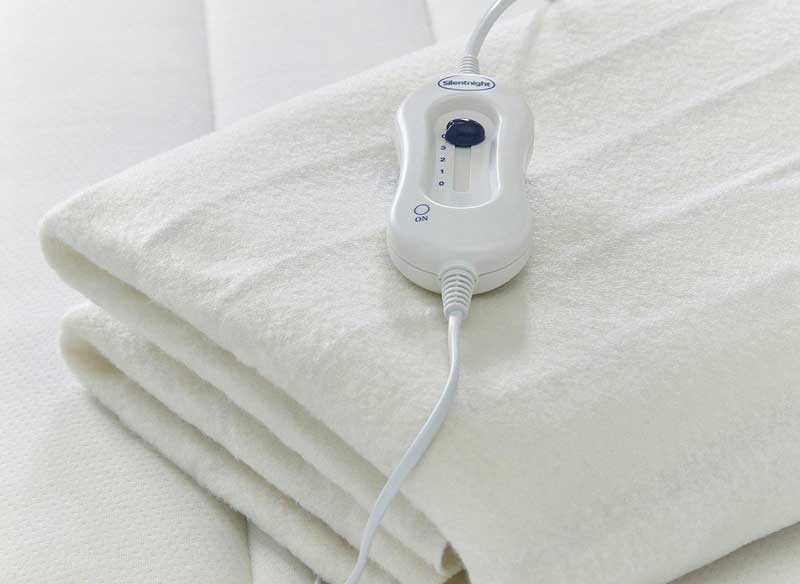 Introducing the Silentnight Comfort Control Electric Blanket – the perfect solution for those chilly nights when you want to stay warm and cosy in bed. This blanket is made from super snuggly fleece material in three sizes – double, king, and single- to keep you extra warm and comfortable.
Control your comfort with ultra-fast heat-up and three heat settings. With just the touch of a button, you can choose your desired level of warmth, making it ideal for those who feel the cold more than others. And with a cost of just 1p to heat your bed, you can afford to keep it cosy and warm without breaking the bank.
The Silentnight Comfort Control Electric Blanket is super cosy and prioritizes safety with overheat protection, providing total peace of mind while you sleep. The double measures 135 cm x 72 cm, and the blanket sits neatly away from the edges to remain flat, ensuring maximum safety for you and your family.
The easy-fit straps provide an easy, secure fit, and the blanket is machine washable for clean, cosiness week after week. With over 75 years of sleep expertise, Silentnight is the UK's most trusted sleep brand, and we want to change how people sleep for the better. We create quality products that you can trust, time and time again.
Here's the energy consumption:
Size
Wattage
Setting 1
Wattage
Setting 2
Wattage
Setting 3
Single
12W
23W
40W
Double
22W
40W
70W
King
28W
51W
90W
Investing in the Silentnight Comfort Control Electric Blanket is investing in a good night's sleep. Whether you're looking for a cosy night in or need to warm up during those chilly winter nights, this electric blanket is the perfect solution. Trust Silentnight for all your sleep needs and experience a comfortable and restful night's sleep.
Pros
Reliable brand
Great snuggly fleece cover
Very fast to heat up
Easy to fit
Machine washable
Cons
Issues with longevity
Sizing might be incorrect
Introducing the MONHOUSE Heated Throw, the ultimate solution for your cold and sleepless nights. The heated throw is made with the highest quality materials to ensure you experience ultimate comfort and warmth every night.
Measuring 160cm x 130cm, the Monhouse is the perfect size to keep you cosy and warm from head to toe. The luxury 250gsm thick fleece is soft and comfortable, ensuring you experience ultimate warmth and comfort.
With its 9-hour timer and auto-off feature, you can have peace of mind knowing that you'll be warm and safe throughout the night. The detachable remote control allows you to adjust the temperature to your desired level, and with nine adjustable heat settings, you can easily find the perfect temperature for your comfort.
Our heated throw also has an overheat protection system, ensuring you can use it throughout the night without worrying about overheating. It is perfect for those cold winter nights or those who suffer from aches and pains, as the warmth from the throw helps relax muscles and joints.
The MONHOUSE Heated Throw is also incredibly easy to care for. It is machine washable at 40°C, and the remote control and cable are fully detachable, making it easy to clean and maintain.
Pros
200 thread count
Fast To Heat Up
Decent safety system
Machine washable + tumble dry
Cons
A bit expensive
Remotes are finicky
Reports of poor heat output
1.5-meter cord
How did we test?
As seasoned sleep experts with more than 20 years of combined experience, we have tested a range of electric blankets in different sizes, materials, designs, and types. Our objective was to provide you with a comprehensive review, so we tried under blankets, mattress protectors, over blankets, and throws to assess their performance.
To ascertain their effectiveness, we used the blankets on particularly cold nights while sleeping, watching TV, and working from home at a desk. We evaluated the blankets based on their quality and ease of use but also assessed how quickly they heated the distribution of heat, and control options. Safety features were also a crucial factor in our review.
After thorough testing, we have identified the top electric blankets to invest in for a warm and cosy winter. Trust our expertise to guide you in choosing the right electric blanket that suits your needs.
How to choose an electric blanket?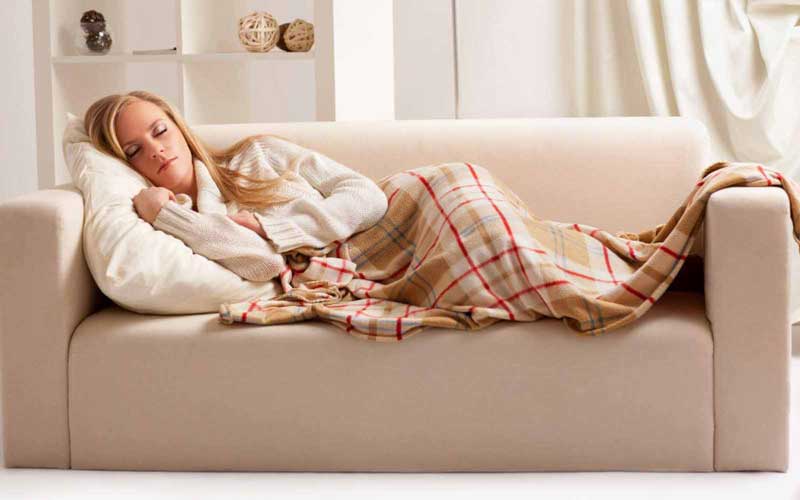 To find a heated blanket that will keep you warm and safe, you must consider some features and benefits. They are the following:
Material
Material is always an essential part of a choice. Blankets are made from various materials, from cotton to wool and faux fur to microfleece. You must consider your preference and find a fabric matching your needs.
Heating Time
Many forget to turn their blanket on in advance, so you need to find a model with a fast heating time. Some products can heat up in five minutes, while others might need significantly more. We recommend the fast-heating ones so that you are warm and toasty in no time.
Timers
Inbuilt timers allow you to run your electric blanket for a set period before you get into bed or once you've settled in for the night. Once the timer ends, it will automatically switch off.
Overheat Protection
Most people are afraid of purchasing electric blankets because of safety reasons. Some brands have solved that issue by designing an overheat protection that automatically switches off when it becomes too hot, so you don't have to worry about it on your own, greatly improving your safety.
Energy
If you plan on using the blanket throughout the whole night, you might as well find an energy-efficient model. It may save you a few dollars, but the electric cover generally has low energy usage.
Size
No matter the type of electric blanket (fitted, non-fitted or a heated throw) you're searching for, you must ensure it's large enough for your needs. Always check the dimensions of the blankets you're considering, so you won't regret it later.
Thickness
Depending on your budget, you can opt for a blanket made from a thicker material that can provide additional cushioning. Quilted options are excellent examples of great cushioning since they reduce the likelihood of feeling the heating elements while you sleep.
Antibacterial & Hypoallergenic
Many individuals struggle with allergies and asthma, and if you or your loved ones fall into that category, you should consider blankets made from antibacterial and hypoallergenic fabrics. This way, you have a better chance of a good night's rest.
How much do electric blankets cost to run in the UK?
The cost of running an electric blanket in the UK will depend on a few factors such as the wattage of the blanket, the amount of time it is used, and the cost of electricity in your area.
On average, electric blankets typically range in wattage from 50 to 150 watts. If you assume an average wattage of 100 watts and use the blanket for 8 hours per night, this would result in a total energy consumption of 0.8 kWh per day.
The average cost of electricity in the UK is around 16p per kWh, so running an electric blanket for 8 hours per night would cost around 12.8p per day. Over the course of a month, this would amount to approximately £3.84. However, this is just an estimate and your actual cost may vary depending on your usage and electricity rates.
It's important to note that some electric blankets have an automatic shut-off feature which can help reduce energy consumption and costs. Additionally, using a timer to limit the amount of time the blanket is on can also help to save energy and money.
Are electric blankets safe?
Electric blankets can be safe when used properly and according to the manufacturer's instructions. However, some potential safety risks associated with electric blankets should be considered.
Firstly, electric shock is risky if the blanket is damaged or worn and the wiring is exposed. It is important to regularly check your electric blanket for any signs of damage or wear and to stop using it if any damage is found.
Secondly, there is a risk of fire if the blanket is left on for too long or if it is folded or bunched up, causing overheating. It is important to follow the manufacturer's instructions regarding usage and never leave the blanket on for an extended period or while unattended.
Thirdly, there is a risk of burns if the blanket becomes too hot or if it is used on someone unable to adjust the temperature themselves, such as a young child or an elderly person.
To reduce the risk of these potential hazards, it is important to choose an electric blanket tested and approved by a recognized safety organization, such as the British Standards Institution (BSI) or the Underwriters Laboratories (UL). It is also important to follow the manufacturer's instructions regarding usage and to never use the blanket on anyone unable to adjust the temperature themselves. Finally, it is recommended to replace your electric blanket every ten years or as soon as any signs of wear or damage are noticed.
How to wash an electric blanket?
It is important to always refer to the manufacturer's instructions before attempting to wash an electric blanket, as different types and models may have specific care instructions. However, the following are general guidelines for washing an electric blanket:
Unplug the blanket: Before washing the electric blanket, ensure it is unplugged, and the controls are detached, if possible.
Check for damage: Inspect the blanket for any signs of damage, such as frayed wires or tears in the fabric. Do not use the blanket if any damage is found.
Pre-treat stains: If there are any stains on the blanket, pre-treat them with a stain remover or a mixture of baking soda and water.
Hand wash or machine wash: Depending on the manufacturer's instructions, the electric blanket can either be hand washed or machine washed. If machine washing, use a gentle cycle and cold water.
Use mild detergent: Use mild detergent to wash the blanket. Do not use bleach or fabric softener, as they can damage the heating elements in the blanket.
Rinse thoroughly: Rinse the blanket thoroughly to remove all soap residue.
Air dry: Hang the blanket or lay it flat to air dry. Do not put the blanket in the dryer, as the heat can damage the wiring and heating elements.
Re-attach controls: Once the blanket is dry, re-attach the controls and plug the blanket back in.
Again, it is important to always check the manufacturer's instructions before washing an electric blanket to ensure you do not damage the blanket or its heating elements.
Can you use an electric blanket on a memory foam mattress?
Yes, you can use an electric blanket on a memory foam mattress. However, it is important to follow a few guidelines to ensure that the blanket does not damage the mattress or affect its performance.
Firstly, ensure the electric blanket is placed on the mattress rather than underneath it. Placing the blanket underneath the mattress can cause the foam to compress and may affect its ability to contour to your body.
Secondly, do not fold or bunch up the electric blanket, as this can cause it to overheat and potentially cause a fire hazard.
Thirdly, use the electric blanket on a low to medium setting, as memory foam mattresses can retain heat and may become uncomfortably warm if the blanket is set too high.
Finally, always follow the manufacturer's instructions for the electric blanket and ensure it is in good condition before use. If the electric blanket is damaged or worn, do not use it on the mattress.
Following these guidelines, you can safely use an electric blanket on a memory foam mattress without damaging it or compromising its performance.
How do electric blankets work?
Electric blankets work by using a heating element woven into the blanket's fabric. This heating element is usually made of thin wires from a conductive material such as copper.
When the electric blanket is plugged into a power source and turned on, an electrical current flows through the wires, which heats the heating element. This heat is then transferred to the blanket, which warms up and provides heat to the user.
Final Words
Nowadays, there are so many electric blankets that you need to know what you're looking for to find one that suits your needs. There are fitted models, non-fitted ones, some that have to overheat protection, and others that come with dual controls.
It's up to you to decide how to keep yourself and your loved ones warm at night. The safety of electric covers has improved massively, which is why you should invest in one and always feel snug.
All the blankets we listed above have great customer reviews and are well-received. We hope you can find what you were looking for in our guide regarding the best electric blanket on the market has to offer. To simplify your shopping experience, we've selected the top 10 models for this year.
Brands in the bed industry frequently change, as do the products they offer, which is why we will continue to provide you with the most up-to-date information. We hope this article was helpful and you could find what you are looking for.
Now it's our turn to hear from you if any questions regarding the subject were left unanswered. We would gladly hear about it in the comments below if you want to share some information.