Have you ever been excited to host an overnight guest, only to be embarrassed by the lack of a comfortable sleeping space? Or perhaps you've been searching for a versatile sleeping solution that's space-saving and suitable for impromptu sleepovers. The traditional mattresses we often turn to are bulky, expensive, and inconvenient for every space or situation.
In summary:
We've all been there – the air mattress that deflates halfway through the night, leaving your guest or yourself flat on the ground. The frustration of making do with a makeshift bed, like stacking blankets or using a saggy sofa, only to wake up with aches and pains. It's more than just discomfort; it's about the embarrassment, the inconvenience, and the inability to provide a decent night's sleep. Your guests deserve better, and so do you.
Enter the world of floor mattresses – the game-changing solution to all your sleep-related woes. Here's how our range of floor mattresses can alleviate your problems:
Convenience: Designed for easy storage and transport, our floor mattresses can be rolled or folded away when not in use, freeing up space in your room.
Comfort: Crafted with high-quality materials, these mattresses provide the perfect balance between softness and support, ensuring a restful sleep.
Versatility: Whether you need an extra bed for guests, a cosy spot for reading, or a portable bed for camping trips, our floor mattresses have covered you.
Affordability: Unlike traditional mattresses that cost a small fortune, our floor mattresses are reasonably priced without compromising quality.
In the vast market of the UK, our floor mattresses stand out as the ultimate solution to the common problems faced by homeowners and renters alike. By choosing our product, you're not just buying a mattress; you're investing in comfort, convenience, and peace of mind. Say goodbye to sleepless nights and hello to a world of comfortable, flexible sleeping solutions.
So, let's see what we think are the best floor mattresses today and why.
1. Milliard Foam Folding Mattress – Our Pick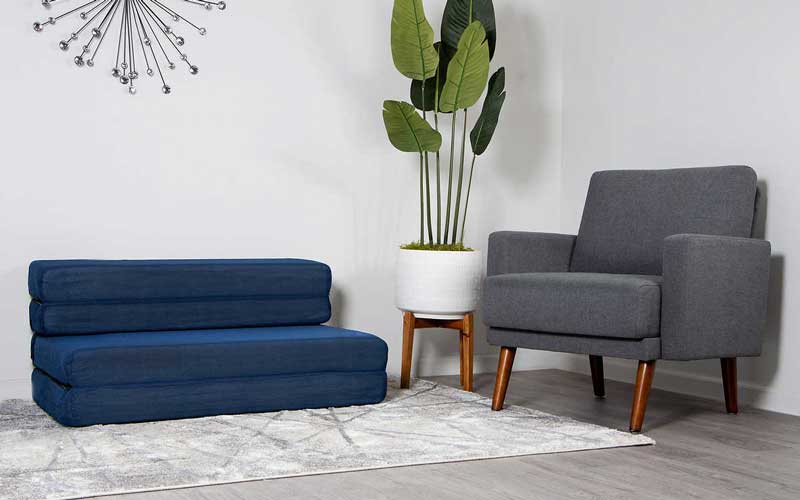 The Milliard Tri-Fold Folding Mattress is a perfect blend of functionality and luxury. Designed elegantly, this floor mattress seamlessly doubles as a sofa bed, making it an ideal choice for those with limited space or those who often host guests. Available in single and double sizes, it offers flexibility in choice based on individual needs.
One of the standout features of the Milliard mattress is its construction. Made from CertiPUR US-certified high-density foam, it promises both comfort and durability. This also makes the mattress highly portable, perfect for those always on the move or for stowing away when not in use. Its compact design, when folded, ensures it doesn't become an eyesore or take up unnecessary space, a boon for those with smaller living spaces.
A highlight of the product is the removable 3D mesh cover. Crafted from 100% polyester, this cover is not only breathable but also easy to maintain. The convenience of being able to zip it off and wash it ensures the mattress remains fresh and inviting for each use. For those who travel frequently, purchasing an additional carry case is a thoughtful touch, simplifying the transportation process.
In conclusion, the Milliard Tri-Fold Folding Mattress is not just a mere alternative to a traditional bed. It's a testament to how modern design can merge with functionality, offering a solution that is both space-saving and luxurious. Whether you're looking to optimize your living room space or seeking a comfortable and portable bedding option, Milliard has you covered. It is highly recommended for its premium quality and ingenious design.
Pros
Dual Functionality: As both a mattress and a sofa bed, optimizing space.
High-Quality Material: Made from CertiPUR US-certified high-density foam for comfort and durability.
Space-Saving: Compact design when folded, ideal for smaller living spaces.
Removable & Washable Cover: Comes with a breathable 3D mesh cover that's easy to maintain.
Cons
Additional Cost for Carry Case: The useful carry case is not included and comes at an extra expense.
Limited to Floor Use: This might not suit those who prefer elevated beds.
Potential Wear Over Time: Foam might lose its shape or firmness with prolonged use.
Size Limitations: The available sizes might not cater to all bed size preferences.
2. Inofia Folding Memory Foam Mattress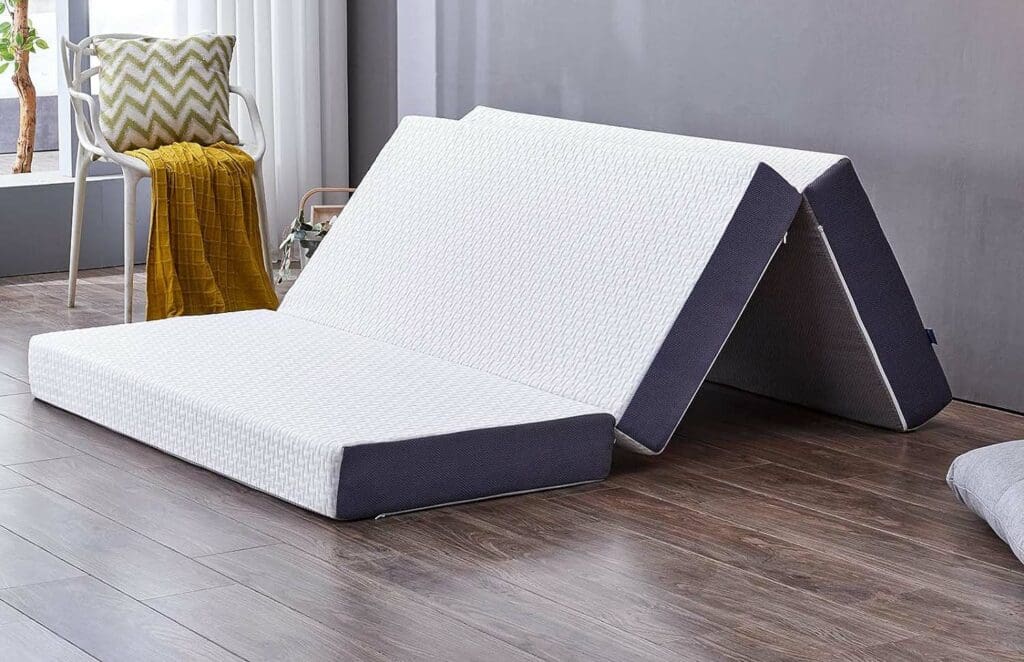 The Inofia Folding Mattress is a game-changer for those needing a versatile sleeping solution. With a foldable design, it offers the convenience of a compact and portable mattress, ideal for various scenarios, from unexpected guests to camping trips.
Crafted meticulously with premium Gel memory foam, the Inofia mattress is not only CertiPUR-US certified, ensuring it's free from harmful chemicals, but it also boasts a gel layer for effective heat dissipation. This feature addresses one of the main concerns with memory foam mattresses, ensuring a cool and comfortable night's sleep. The mattress's 6-inch thickness promises superior comfort, effectively relieving pressure points like the shoulders, hips, and back. Whether for an adult, toddler or even a baby, this mattress adjusts well, ensuring it neither sags nor sinks.
A standout feature is the ultra-soft, breathable cover atop the mattress. It not only ensures coolness but also protects the mattress from dirt and wear. And the convenience doesn't stop there – this cover is machine-washable, making maintenance a breeze. Paired with a non-slip bottom, it's evident that Inofia has thought of everything to enhance the user experience.
The "Bed in a Box" concept further simplifies the buying process. The mattress arrives compressed, rolled, and boxed, ready to fit any bed frame or floor. While it does require a 72-hour expansion period, the wait is well worth it.
In conclusion, the Inofia Folding Mattress seamlessly blends convenience with comfort. With a risk-free 100-night trial, it's evident that Inofia stands by its product, and rightly so. For its price point, this mattress offers an array of features that are hard to overlook—highly recommended for those searching for a flexible, comfortable, and transportable bedding solution.
Pros
Versatile & Portable: Easily foldable design suitable for various scenarios, from unexpected guests to camping.
Safe & Comfortable: Made from CertiPUR-US certified Gel memory foam, ensuring safety and providing superior pressure point relief.
Easy Maintenance: Features a machine-washable, ultra-soft, breathable cover for easy cleaning.
Risk-Free Purchase: Comes with a 100-night trial, offering confidence in the purchase.
Cons
Expansion Time: Requires 72 hours for the mattress to fully expand after unboxing.
Weight: At 12.9 kilograms, it might be considered heavy for some users to move or transport frequently.
Price Point: While offering multiple features, the mattress might be pricier for some budgets.
Size Variations: The various size options and thicknesses might confuse some buyers.
3. Leewadee Rollable Floor Mat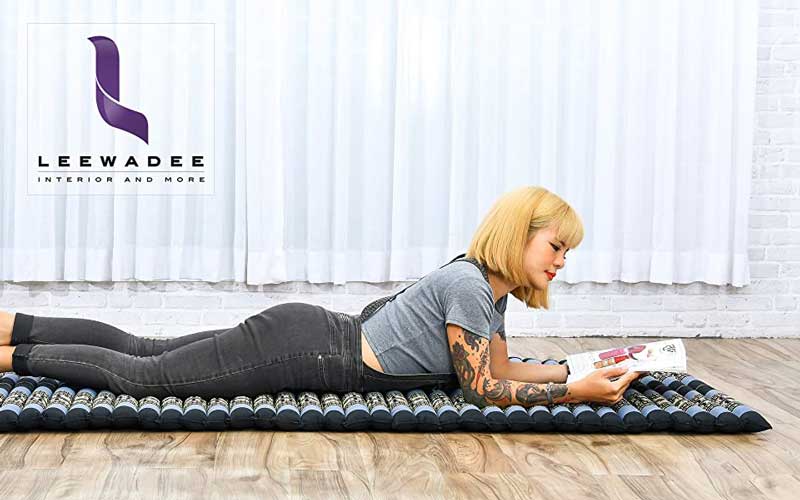 The Leewadee Rollable Floor Mat offers a harmonious blend of traditional Thai craftsmanship and modern functionality. Measuring 190 x 70 x 5 cm when fully spread, this mat is a testament to the convenience of design, allowing users to roll it up post-use for easy storage or transportation.
One of the standout features of the Leewadee mat is its authentic filling of natural kapok. This eco-friendly choice not only reflects a commitment to sustainability but also ensures the mat is breathable, offering a comfortable seating or lying experience. Kapok, known for its heat-regulating properties, ensures that users remain cool and comfortable, making the mat versatile for indoor and outdoor use.
Further enhancing its appeal is the durable cotton cover adorned with double seams. This thoughtful addition not only amplifies the mat's aesthetic appeal but also promises increased durability and steadiness. Whether you're using it for yoga, relaxation, or even as a makeshift guest bed, the mat ensures a pleasant experience, thanks to its supportive design that's gentle on the knees and ankles.
The Leewadee brand, synonymous with sophisticated design, ensures that each product is a testament to traditional Thai craftsmanship. This rollable mat is no exception. From its handcrafted construction to its use of 100% natural kapok fibres and cotton, every detail speaks of quality.
In conclusion, the Leewadee Rollable Floor Mat is more than just a mat; it's an experience. Whether meditating, practising yoga or relaxing, this mat promises unparalleled comfort. With its eco-friendly materials, traditional craftsmanship, and versatile design, it is a valuable addition to any home. For those searching for a reliable and authentic Thai mat, Leewadee is a brand that stands tall in its commitment to quality and sustainability.
Pros
Versatile Use: Suitable for yoga, meditation, relaxation, or as a guest mattress, both indoors and outdoors.
Eco-Friendly Materials: Filled with natural kapok and covered in 100% cotton, ensuring breathability and comfort.
Durable Design: Double seams and a sturdy cotton cover increase the mat's longevity and steadiness.
Space-Saving: Easily rollable design facilitates convenient storage and transportation.
Cons
Size Limitations: Some users might prefer larger dimensions for more expansive activities.
Hand Wash Only: The mat requires hand washing, which might be less convenient for some users.
Price Point: It might be considered pricey for those on a tight budget.
Potential Variations: Manual work and natural materials could lead to slight variations in size, shape, and colour.
4. Visco Therapy Badenia Bettcomfort Invitated Mattress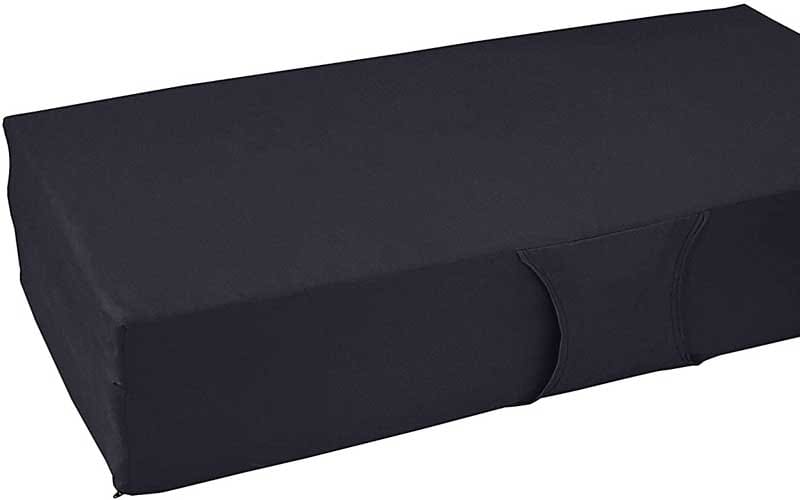 The Visco Therapy Badenia Bettcomfort Invitated Mattress presents a harmonious blend of comfort, functionality, and practicality. Designed for the modern nomad, this mattress, with its 3-invitated folding design, ensures a restful sleep, whether at home or on the move.
A standout feature of this mattress is its all-foam construction, which guarantees no uncomfortable coils pressing against you. The foam, described as air fibre foam, promises a medium firmness, striking the right balance between softness and support. This ensures not just a comfortable sleep but also facilitates good air and moisture exchange, keeping the mattress fresh and free from dampness.
The convenience of the Visco Therapy mattress extends to its maintenance as well. The microfibre cover, which is 100% polyester, is not only soft to the touch but also removable and machine-washable at 40°C. This makes it incredibly easy to keep the mattress clean and hygienic, a boon, especially if it's frequently used by guests or on travels.
Speaking of travel, the mattress's foldable design is a game-changer. It can be folded and stored in compact spaces like wardrobes or under the bed, and when it's time to hit the road, its lightweight design, weighing a mere 2.68 kilograms, ensures it's no hassle to carry along.
In conclusion, the Visco Therapy Badenia Bettcomfort Invitated Mattress is an excellent choice for those seeking a versatile sleeping solution. Whether for unexpected guests, a camping trip, or just a comfortable portable bed for yourself, this mattress delivers on all fronts. With its competitive price point, easy maintenance, and emphasis on comfort, it's a purchase that promises value for money—highly recommended for those who value comfort and convenience.
Pros
Versatile Design: A 3-invitated folding mechanism makes it perfect for travel, guests, or daily use.
Maintenance Ease: Features a removable, machine-washable microfibre cover for simple cleaning.
Comfortable Foam: All-foam construction ensures medium firmness, providing a balance of comfort and support.
Lightweight & Compact: Weighing only 2.68 kilograms, it's easy to transport and store.
Cons
Limited Size: At 60×190 cm, it might be narrow for some users.
Medium Firmness: Might not cater to those who prefer a very soft or very firm mattress.
Material Durability: The long-term durability of the air fibre foam is uncertain.
Target Audience: Primarily designed for kids, might not be ideal for all adults.
5. MeMoreCool Roll-Up Floor Mattress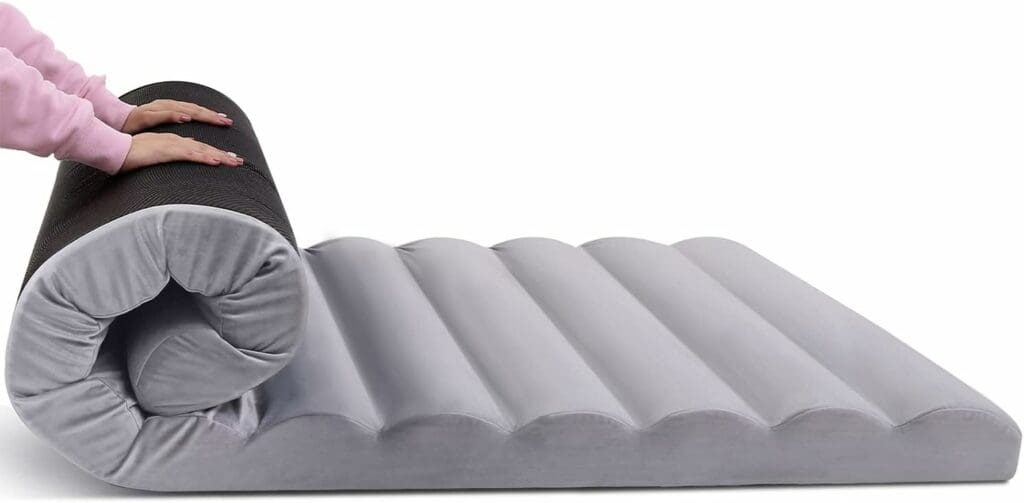 The MeMoreCool Roll-Up Floor Mattress is a stellar blend of comfort, convenience, and durability. Perfectly sized at 190cm x 90cm x 10cm, this mattress offers the assurance of a restful night or a rejuvenating nap, whether in the confines of your home or amidst nature.
Constructed with high-density foam, this mattress ensures your body receives the support it deserves. Its unique wave-shaped design not only provides a massage-like comfort but also distributes body weight evenly, ensuring that the mattress retains its shape and resilience over time. The 10cm thickness is neither plush nor firm, striking the right balance for optimum comfort.
The portability of this mattress is another significant plus. With separate straps for easy roll-up and a complimentary travel storage bag, it is an ideal companion for varied activities, whether camping, hiking, or just a spontaneous night under the stars. Its versatility extends to its usage; it can seamlessly transform from a floor mat for babysitting to a yoga mat or even a comfortable guest bed.
Maintaining the MeMoreCool mattress is a breeze. The velvety plush cover, which is soft to the touch and resilient, can be effortlessly removed and machine-washed. The thoughtful inclusion of a non-slip bottom ensures the mattress stays on a smooth floor, in a tent, or even in an RV.
In essence, the MeMoreCool Roll-Up Floor Mattress is a perfect blend of form and function. Whether planning a trek, expecting guests, or just wanting a comfortable lounging option at home, this mattress promises to deliver. With its competitive pricing and rave ratings, it's a purchase that offers both comfort and value for money. It is an absolute must-have for those who prioritise quality sleep and convenience!
Pros
High-Density Foam: Offers optimum support and retains shape over time.
Versatility: Suitable for multiple uses like camping, guest beds, yoga, and more.
Easy Maintenance: Removable, machine-washable cover with a robust zipper.
Portable Design: Lightweight with roll-up straps and a travel bag for easy storage and transport.
Cons
Expansion Time: Requires 3-5 days to revert to its original thickness post-unpacking.
Size Limitations: It might not be spacious enough for larger individuals or couples.
Material Sensitivity: Not water-resistant, necessitating care during outdoor use.
Weight: At 7 kilograms, some might find it slightly heavy for frequent transportation.
What to consider when buying a floor mattress?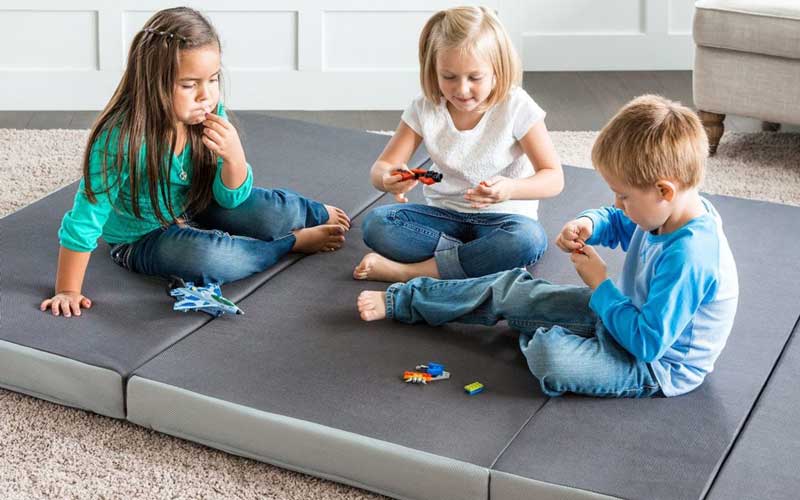 Purpose of Use
Before diving into the specifics, it's essential to understand why you need a floor mattress. Is it for guests, daily use, outdoor camping, or meditative practices? Identifying its primary use will guide the features and type of mattress you should aim for.
Material
The material determines comfort, durability, and support. Common choices include memory foam, high-density foam, latex, and cotton. While memory foam adjusts to your body's contours, latex offers a firmer feel. Choose a material that aligns with your comfort preference and intended use.
Thickness
The thickness of a mattress can greatly influence its comfort. While a thicker mattress generally provides better support, if you prioritize portability, you might opt for something slimmer that's easy to roll up and transport.
Size
Floor mattresses vary in size from single to king. It's essential to consider the space available in your room and how many people will use the mattress at once. Ensure it fits your space without overwhelming it.
Portability
For those on the move, a lightweight, easy-to-fold mattress is a boon. Features, like carry handles or bags, enhance portability, making the mattress ideal for camping or frequent shifting.
Durability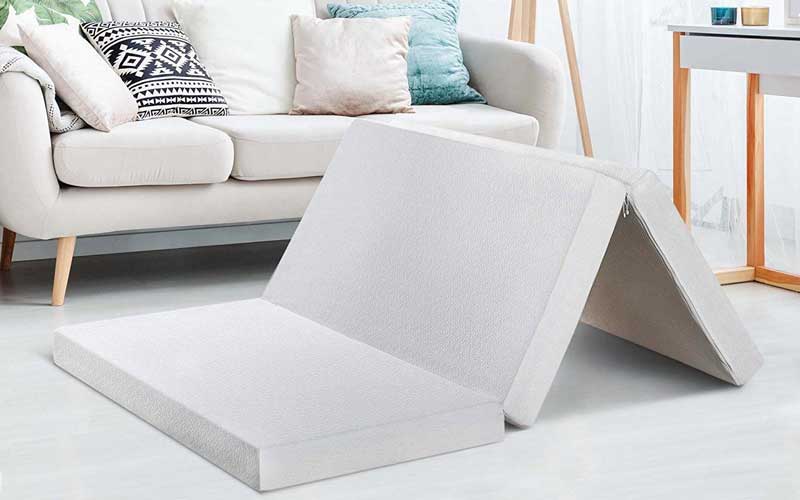 A mattress's longevity is determined by the quality of its materials, stitching, and zippers. Investing in a durable mattress ensures it stands the test of time and offers consistent comfort.
Cover
A quality cover can enhance a mattress's lifespan. Look for removable and washable covers for easy maintenance. Some even feature non-slip bottoms, ensuring the mattress stays put on smooth surfaces.
Comfort
Comfort is subjective and varies among individuals. It's advisable to test the mattress if possible or rely on user reviews to gauge its comfort level.
Safety
Safety should never be compromised. Opt for mattresses free from harmful chemicals. Certifications, like CertiPUR-US for foam mattresses, can be a reliable indicator of a product's safety standards.
Storage
Consider how the mattress will be stored when not in use. Some come with compression bags or straps, ensuring they remain compact and are easy to store.
Price
While setting a budget is crucial, remember that a higher price doesn't always equate to better quality. Aim for a mattress that offers the best balance of cost and features.
Warranty and Return Policy
Manufacturer warranties or trial periods can be beneficial. These provisions offer a safety net in case the product doesn't match your expectations.
Reviews
Lastly, always consult reviews. Real-world experiences from other buyers can provide invaluable insights into the mattress's overall quality and comfort.
T
Final Words
We hope by now you have a much better idea of what to look for when choosing a floor mattress. However, if you have any concerns regarding floor mattress safety, check our guide.
There are so many models available, but we hope our recommendations fit the bill for most people. If you decided to do your research and found something truly outstanding, please drop us a line and let us know about it – we'd love to get it for a review.
We hope this article was helpful, and if any questions regarding the subject were left unanswered, we would gladly answer them in the comments below.