Best Floor Mattress – Reviews, Advice & Comparison
Last Updated on July 19, 2021
If friends or family are coming to visit, but your place doesn't have all the beds to accommodate them all, you might need to considerate a temporary solution that will be comfortable enough to enjoy like a floor mattress, for example.
But how do you choose a floor mattress with so many options on the market? Some are foldable, others are not. Some fold along the length of the mattress, others don't. Some can fold into an improvised sofa, others would be easy to store when you don't need them. So how do you choose?
That's why we created LightSleeper – to help you choose the product that is right for you and you alone, and help you make that choice along the way. Companies can never pay to feature their products on LightSleeper, nor we are getting paid to recommend one product over the other – we are an independent resource and we only recommend products that have passed our tests and we feel that they are the best in their category.
So let's see what we think are the best floor mattresses today and why.
1. Natalia Spzoo Fold Out Mattress – Editor's Pick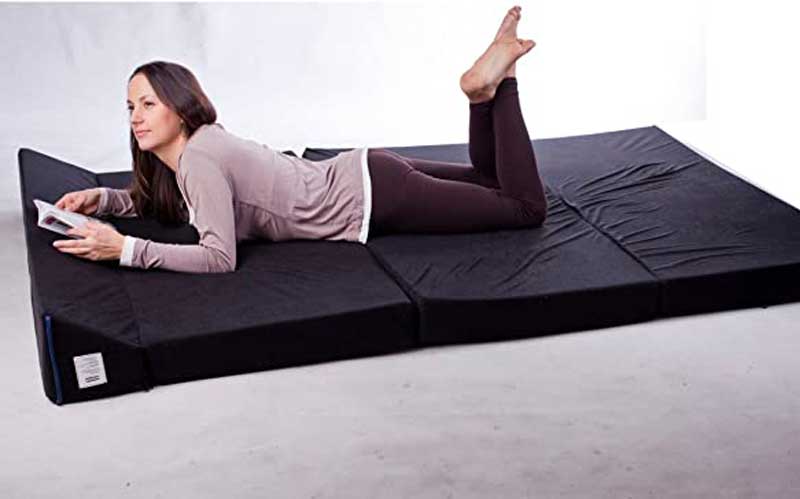 The Natalia Spzoo Fold Out is hands down our winner. This fantastic product not only is an excellent floor mattress, but it also doubles up as a chair.
We can safely say that Natalia Spzoo offers the best of both worlds, creating a comfortable and portable choice for a guest bed. You can fold it out in a matter of seconds into a bed or an armchair, and you get to choose from eight beautiful designs.
When you unfold the Natalia Spzoo it sits at 200 cm long x 70 cm wide x 10 cm high. It is made from foam with a density of up to 22kg and a 100% polyester cover with a zipper that makes it removable. This is great because you can wash it after every use or visit, so no bacteria stick to it.
We strongly recommend the Natalia Spzoo for anyone looking for a comfortable option that can come in handy when people come to visit.
Key Features:
Foam core
100% polyester cover
Doubles as a chair bed
8 colour options
Size: 200x70x10cm
2. Milliard Folding Floor Mattress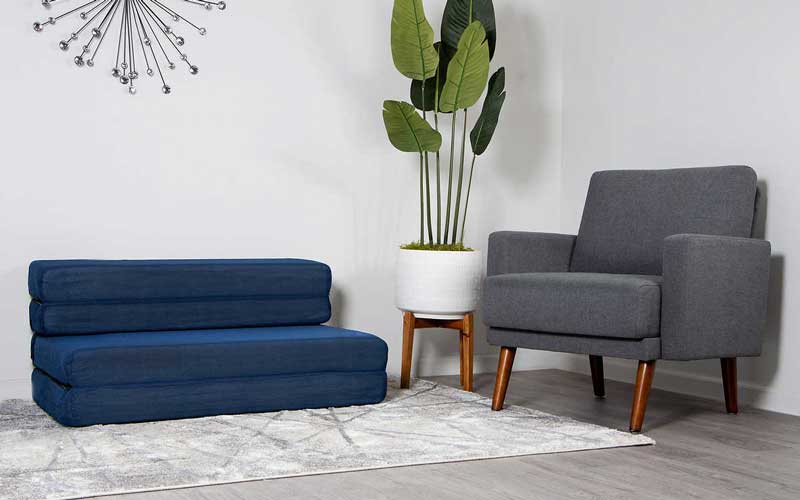 The Milliard Tri-Fold is a luxurious floor mattress that can also act as a sofa bed. With an elegant design and two available sizes: single (90 x 190cm) or double (135 x 190cm), this is a premium choice.
If you don't have space for an actual bed, this sofa option will blow you away. It's made from CertiPUR-US certified high-density foam, making it ideal for travelling and storing in your attic. When folded, the Milliard doesn't take too much space, creating a perfect option for those who have regular guests.
You receive a removable 3D mesh cover made of 100% polyester, which you can zip off and wash, so it stays clean and fresh for every new guest. For an additional cost, you can purchase a carry, that will make it a lot easier for you to transport when you're on the road.
Milliard is an incredibly suitable alternative to a bed, which can easily fit into your living room and transform without taking up too much space.
Key Features:
CertiPUR-US® certified high-density foam
machine-washable 100% polyester cover
Tri-Fold Sofa
Carry (additional price)
Size: 190x90x12cm or 135x90x12cm
3. Beautissu Campix Folding Mattress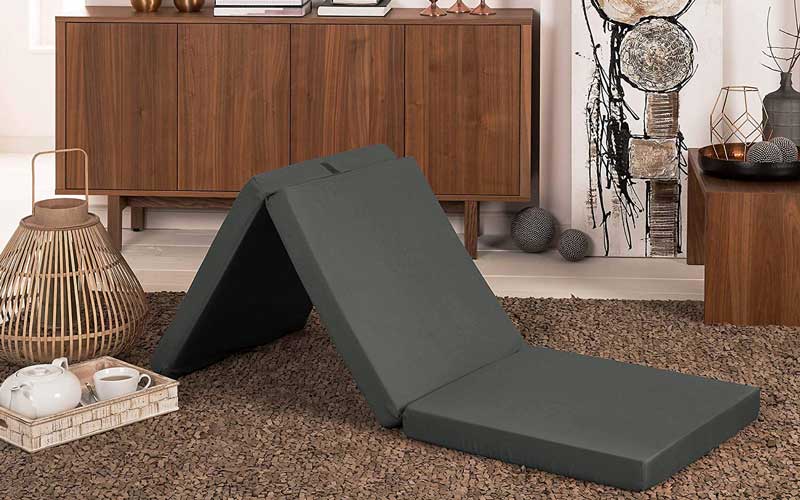 If you constantly have people visiting, but no place for them to stay and a low budget, the Beautissu is the one for you!
This affordable product is the ultimate solution for any expected guests or sleepovers. It is constructed from medium-hard foam core that adapts to the body as you sleep and a removable microfiber cover made from 100% polyester.
Beautissu Campix comes in three sizes: 60 x 190cm, 80 x 195cm and 120 x 195cm and all three are lightweight and easy to carry. Designed with a tri-fold system, which is excellent for storing, you get to pick from three lovely colours that put the final touch to this modern style product.
Cheap and easy to use, the Beautissu floor mattress can be the perfect companion for unexpected guests!
Key Features:
Machine-washable 100% polyester cover
High-quality foam padding
Zip & Handles
Foldable z-bed (tri-folding)
Size: 195x120x10 cm
4. Leewadee Roll-Up Thai Mattress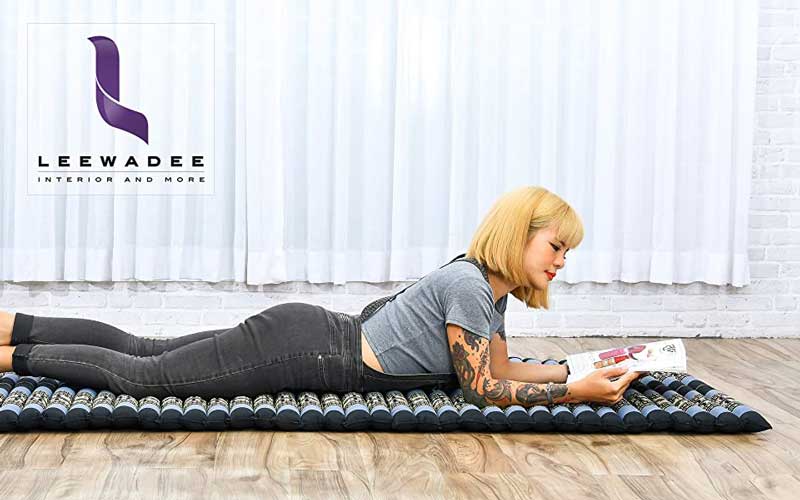 Next, we have an intriguing product similar to an air mattress, but without putting in the work to blow it up.
The Leewadee Roll-Up is an awesome alternative to a bed for your guests to have a good nights sleep. It comes in four sizes: 200 x 50cm, 200 x 76cm, 200 x 105cm and 200 x 145cm and various colour combinations. Leewadee is 5cm thick and handmade.
Inside it's filled with 100 % kapok, which is a lightweight and water-resistant textile fabric. It also comes with a cotton cover that adds to the overall comfort of the sleeper. Leewadee has been made sustainably and responsibly within the OTOP (One Tambon One Product) project in Thailand.
It is durable and easy to store. Also, it's suitable for smaller spaces. Lastly, Leewadee is a high-quality option at an affordable price that can be very useful when some needs a place to crash.
Key Features:
100 % kapok filling
Cotton cover
Roll up mattress
Handmade
Size: 4 options
5. Badenia Bettcomfort Mattress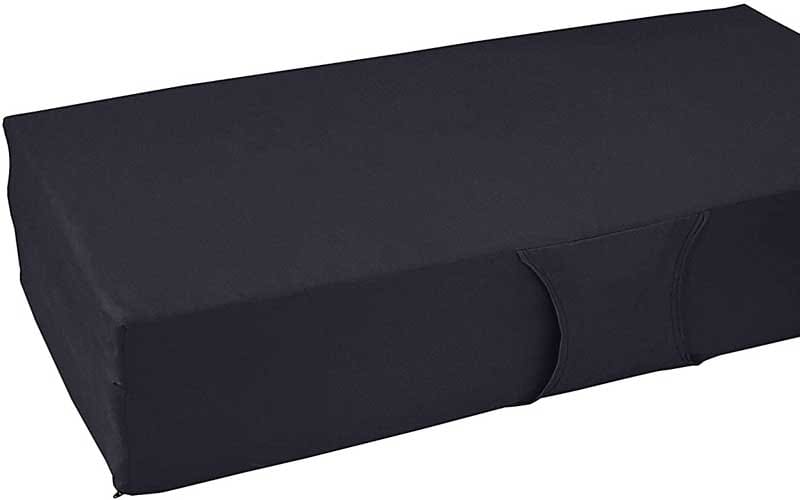 The Badenia Bettcomfort is possible one of the best folding floor mattresses. It is a great alternative to inflatable beds, and it has a modern look that will work in any living space.
You can purchase this beauty in one size, which is 196 x 65cm in black. Badenia folds up into a small cube, making it suitable for storing. It's constructed from medium-firm foam for extra support and great air and moisture exchange.
This Badenia product has a machine-washable 100% polyester cover that has an attached zipper for easy removal. It has handles attached to it, which are excellent for transportation and moving around, especially if you are going camping.
Badenia is worth checking out, with many positive reviews and affordable price!
Key Features:
Machine-washable 100% polyester cover
High-quality foam padding
Zip & Handles
Foldable z-bed (tri-folding)
Size: 190x60x7cm
What to consider when buying a Floor Mattress?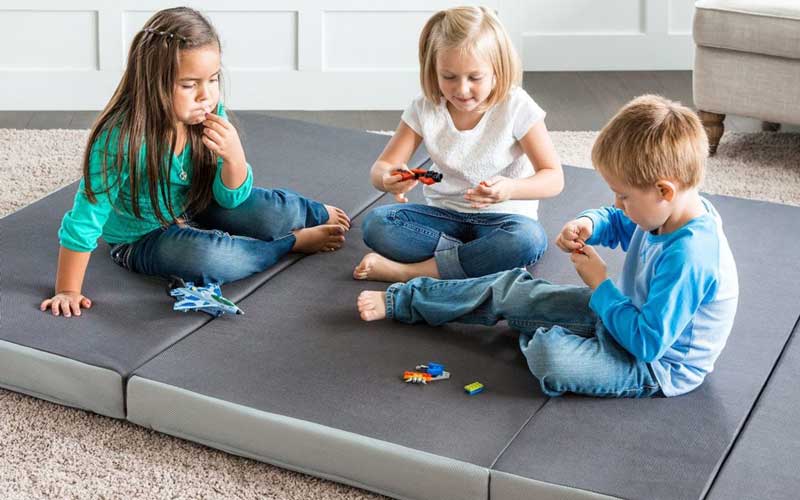 Today we can be overwhelmed with the variety of mattresses and brands. But just because there are many, doesn't mean they are all a good option. Here are a few factors you will want to weigh in before buying one yourself:
Type
There is a whole range of options to choose from when it comes down to mattress type. You can get a foam option, an innerspring, a hybrid and even an airbed. However, you need to be informed about your choices and select the one that will suit your preferences the best. For more information, you can check our guide on "How to Choose a Mattress."
Size
People are different and so are their preferences. Some might be okay with a narrow bed, but others may want lots of space. You can decide on the size by the type of sleeper that you are. Usually, there are three common options, and they are side, stomach and back.
Firmness
The level of firmness is closely linked to your weight. Therefore, a lighter person would often prefer a softer option, whereas a heavier one will most likely stick to a firmer model for more support. However, you shouldn't get a product that's too soft since it may contribute to pressure build-up and discomfort. You'll need to make sure that your mattress is well suited to your body before you buy it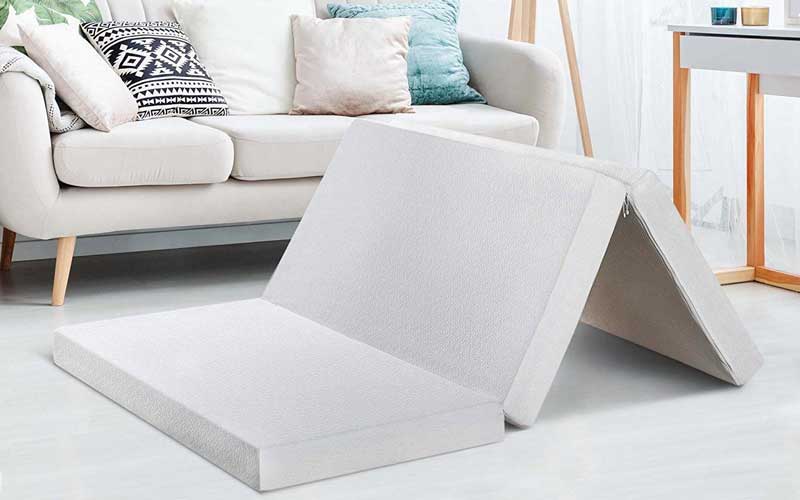 Ease of moving
Since we are talking about floor beds, you should think about its easy transportation from one place to another. Dragging a heavy and huge item doesn't sound like fun, especially since you want it to take as little stress and energy as possible. Therefore, looking at foldable floor products might be a great idea.
Price
Most people have a budget, which shows how much are they willing to spend. However, the budget decision shouldn't be made before you've looked at products and seen their price. Even though money shouldn't be the most crucial deciding factor, you still have to have an idea in mind, so you don't overspend. We highly recommend that you don't trade money for quality and comfort.
Warranty & Lifespan
No one wants to spend their money on somethings at fails after a short time of use. That's why you should read some reviews, check the products return policy and see if they have a warranty or not. This way, you would have made a well-informed decision about an item's projected lifespan before you buy it.
What floor mattress types are there?
Generally, most floor mattresses that are sold nowadays fall into one of two categories. Those categories were generated on how they are stored:
Foldable floor mattresses
This type of mattress has which allow them to be stacked for storing. Usually, they will either have a bi-fold, with one crease and a surface that folds in half or tri-fold with two creases and a body that folds into thirds. Sometimes those creases can be an issue for people that have problems falling asleep.
Rollable floor mattresses
The other option is the rollable mattress, which tends to be thinner than the one above. That's so you can easily roll it into a cylindrical shape. They will often have built-on tie straps or a portable overnight bag to fit it for easy storage.
Both the foldable and rollable floor mattress have distinct characteristics and features, which we will further discuss in the questions below.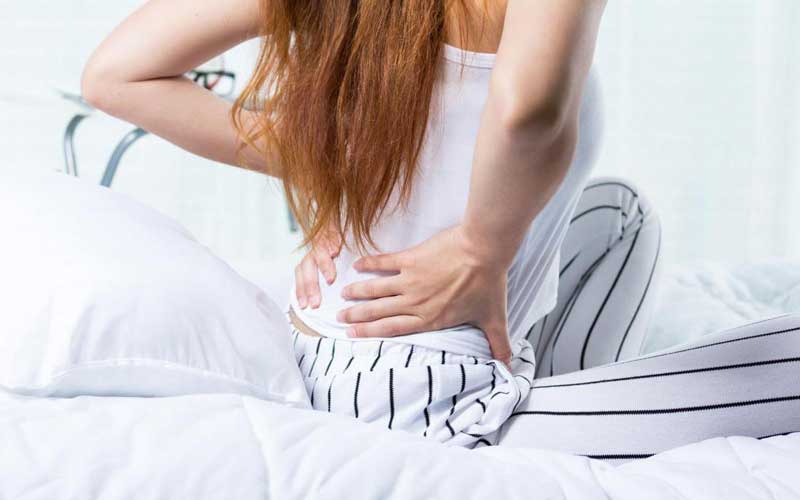 Can I use a floor mattress if I have chronic pain?
In general, floor mattresses are suitable for most sleepers, even those with pain issues. They can work even for people with chronic back pain.
However, we strongly advise you to get a mattress topper to put on it. This way, they can work in tandem and might help sleepers with chronic pain symptoms. With that said, you have to understand that severe back pain is no joke, and a floor mattress might not provide enough comfort.
Is it safe to sleep near the floor?
Well, that depends entirely on you. Yes, it is safe to sleep on the floor if you keep your sleeping area clean. Make sure that both the floor and the mattress are cleaned from time to time. And don't forget to keep the floor clear of residue, dirt and debris.
Should I get a rollable or foldable mattress?
This is a question with more than one answer since it depends on your personal preference.
For example, foldable options are typically thicker and have multiple layers, which offer more comfort for the people sleeping on them. However, they are heavier, making them harder to store, and they might have creases that make them feel uneven.
Whereas rollable ones are both thinner and lighter. They are stored a lot easier and usually cost less than the ones above. But just like the foldable mattress, the rollable one has its own disadvantages. If you're looking for strong support and comfort, they may not be what you're looking for.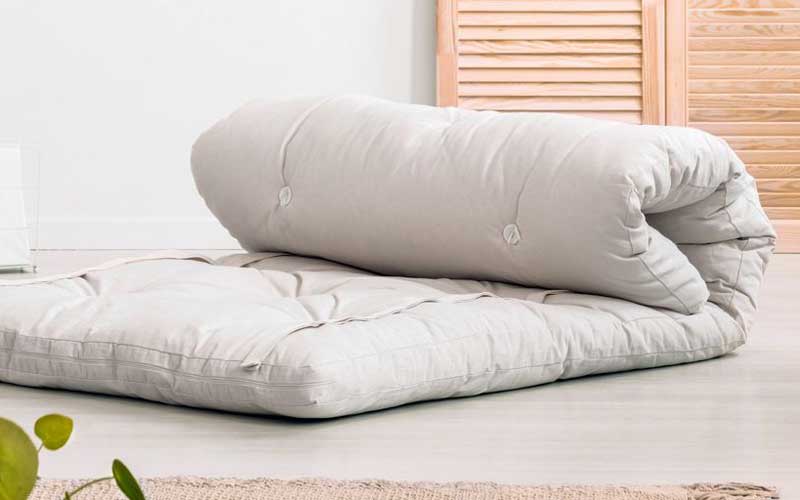 What thickness does my floor mattress need to be?
This is also something that should relay on personal preference. If you're someone who experiences pains and aches in your back, shoulder or neck, your best bet for a floor mattress is a memory foam option.
We recommend that you try and find a product that is at least 10cm, even if you don't have major sleeping issues. Sometimes you may be able to opt for a rollable mattress that is about 7 or 8cm, but the thicker, the better.
What's the difference between floor mattress and a mattress topper?
There is a significant difference. A mattress topper offers extra cushioning for an already existing surface. It is also used to adjust the thickness/ firmness of a product to your needs.
Whereas, a floor mattress functions as a standalone bed. You don't need a frame, bed or any existing surface, it can go right on the floor. But if you want more support and comfort, you can always combine the two.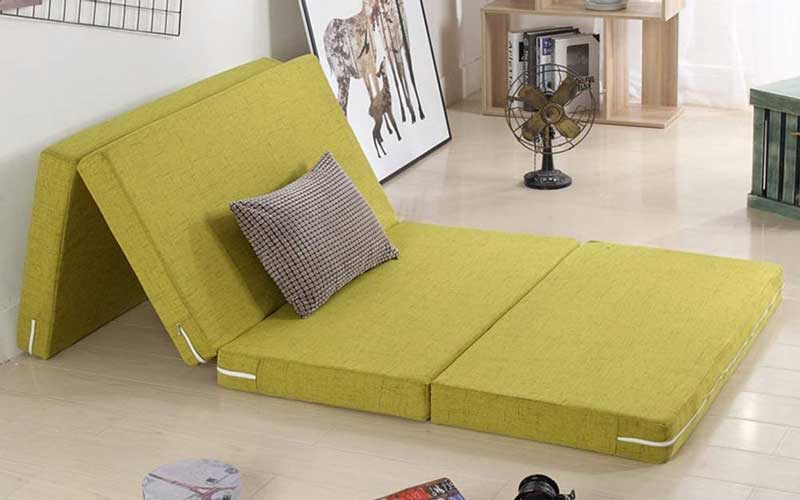 What are the disadvantages of sleeping on the floor?
A floor mattress can come in handy for several situations, but that doesn't mean there aren't some health risks associated with sleeping near or directly on a floor. They can be the following:
Dust
As you probably know, mattresses are notorious dust collectors. And since these don't have a base to stand on, they come into contact with more dust. As a result, the risk of attracting dust mites is a lot higher. That can trigger a possible allergy or even heave health risks for sleepers with certain medical conditions like asthma.
Bacteria & Mould
A bed frame or base provides they airway buffer between your mattress and the floor. They also prevent any direct contact with germs from floor surfaces. However, when we eliminate our buffer, we become more susceptible to bacteria that cause mould growth.
Animals & Insects
Even though this might not be something you want to hear, sleeping on the floor comes with a higher risk of coming into contact with fleas, spiders, cockroaches, and other insects. And depending on the area you stay at, you may even encounter mice, rats, snakes or other larger animals.
The best thing you can do is always clean the mattress after each use or visit, to prevent bacteria and dust from building up. You should also keep your floor and space clean so that you don't attract any unwanted company.
Final Words
We hope by now you have a much better idea of what to look for when choosing a floor mattress. There are so many models available but we hope our recomendations fit the bill for most people. If you decided to do your own research and found something trully outstanding, please drop us a line and let us know about it – we'd love to get it for a review.
We hope that this article was helpful, and if there are any questions, regarding the subject that were left unanswered, we would gladly answer them in the comments below.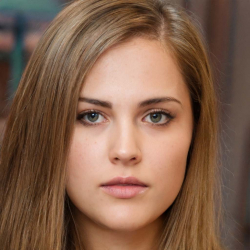 Latest posts by Isabelle Harris
(see all)