When you're choosing a new mattress for your bed, comfort and support are key features, which start with finding the right level of firmness. Firmness is more important than you might think since it can greatly influence the quality of your sleep, how your body feels in the morning and even if you wake up refreshed and well-rested or not.
But how do you choose? There are so many different mattresses, all claiming to be the bee's knees but we all know that not all of them are great and some are simply a marketing hype without much to back it up. With such a saturated market it is getting increasingly hard to choose the one product that will be great for you and you alone
That's why we created LightSleeper – to help you choose the mattress that is right for you and you alone, and help you make that choice along the way. Companies can never pay to feature their products on LightSleeper, nor we are getting paid to recommend one product over the other – we are an independent resource and we only recommend products that have passed our tests and we feel that they are the best in their category.
So let's see what we think are the best medium firmness mattresses in the UK today and why:
1. Ergoflex 5G – Editor's Pick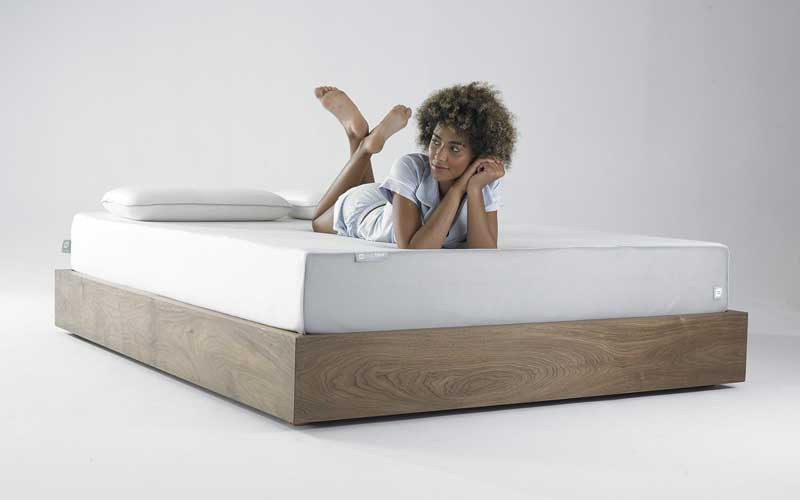 First, on our list, today is the ErgoFlex 5G, an award-winning medium-firm mattress, with a five-layered sleeping system that easily won the Editor's pick in this category.
The Ergoflex 5-layer mattress is designed with premium materials, working in harmony, creating the most supportive, comfortable and pressure-relieving mattress. On top, you'll find Ergoflex's TENCEL® outer cover, providing a luxurious, natural and breathable surface, while the micro-fine inner cover protects the whole mattress.
Next, we have the 9cm of 5th Gen True HD ACPT™ Foam for class-leading performance and longevity, followed by Ergoflex™ 5cm Cool-Sleep™ airflow system for improved temperature regulation. Finally, we have a 9cm high resilience impact-resistant foundation layer that ensures perfectly weighted support for the upper layers and performance longevity.
Ergoflex 5G will contour and shape beneath you, to provide a beautifully supportive environment that will cradle your entire body, and you get to choose from six available sizes.
It's never been easier to test Ergoflex™ for yourself, with a risk-free 30 night trial period and free next day delivery in the UK. Ergoflex is the only brand that has been in business longer than its warranty, which in this case is ten years.
We've selected this as our winner because it is designed to support your body, relieve pressure, disperse heat more efficiently and provide an uninterrupted night of blissful rest!
2. Simba Hybrid Pro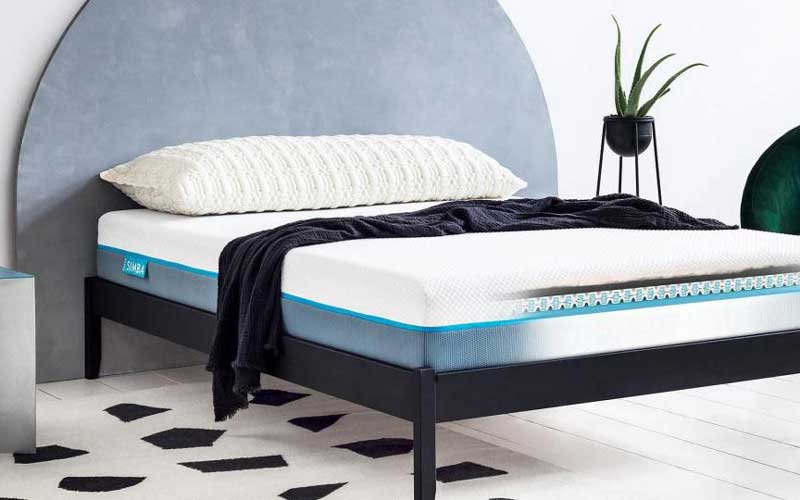 While not exactly a 100% wool mattress, the Hybrid Pro model comes with a massively comfortable top wool layer that competes for the "best wool mattress" category.
The Simba Hybrid Pro is the top of the range coil spring mattress with over 5000 25mm titanium springs and seven layers of comfortable goodness. The top layer is a soft, breathable surface similar to other Simba models. The second layer is a breathable natural wool layer on top of a patented foam open-cell Simba-Pure layer.
The two layers of springs are in the middle, sitting on top of another high definition Simba-Pure foam layer with edge support. All this is wrapped into a hypoallergic knitted cover that features four handles for ease of movement.
The Simba Hybrid Pro comes with a 200-night free trial and a class-leading 10-years warranty. Shipping is free for most of the UK, so there are no added postage and fees.
The Simba Hybrid is good for the environment too – it has no harmful chemicals, and the Simba-Pure has no chemical smell that is so typical for most memory foam mattresses.
Overall, the Simba Pro mattress comes highly recommended by the LightSleeper team. It is easily the number one choice, but it comes with a significant price tag; some might not be able to justify it. But as we all know, sometimes you get what you pay for.
3. Silentnight Mattress-Now 3 Zone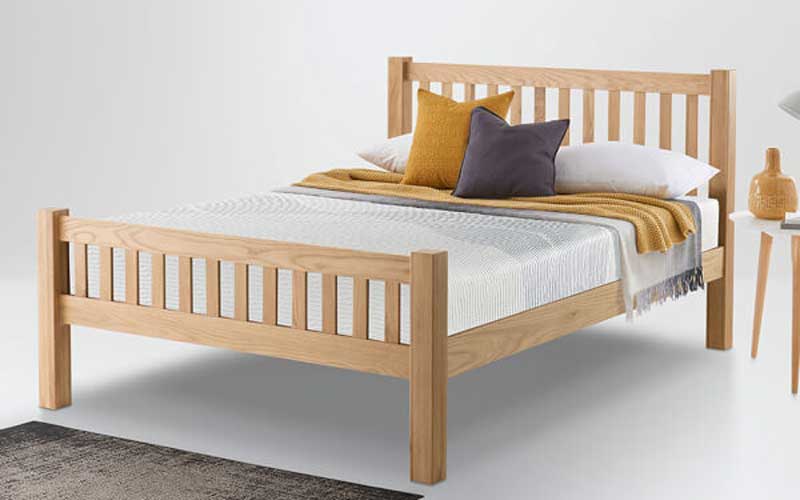 Silentnight is one of the UK's top leading bedding brands, which has created an affordable and supportive option known as the 3-Zone Mattress. This is the cheapest item on today's list, but that doesn't mean it falls short in quality.
The Silentnight mattress is constructed with a three zoned system that promotes maximum comfort and support. A Memory foam mattress moulds to your entire body to provide pressure-relieving support to 3 areas of your body: lower back, shoulders and hips.
Silentnight's option has been Purotex treated to reduce moisture and dust-mite allergens, creating a budget-friendly hypo-allergenic option. You get to choose from seven available sizes with a depth of 18 cm, providing a healthier sleep.
The product comes vacuum-packed and rolled with Silentnight's delivery team, which will take it to your room of choice, unpack, and unroll it for you. Silentnight is an innovative choice with great value that comes with a five-year guarantee, which is unheard of considering its price.
4. Emma Original Mattress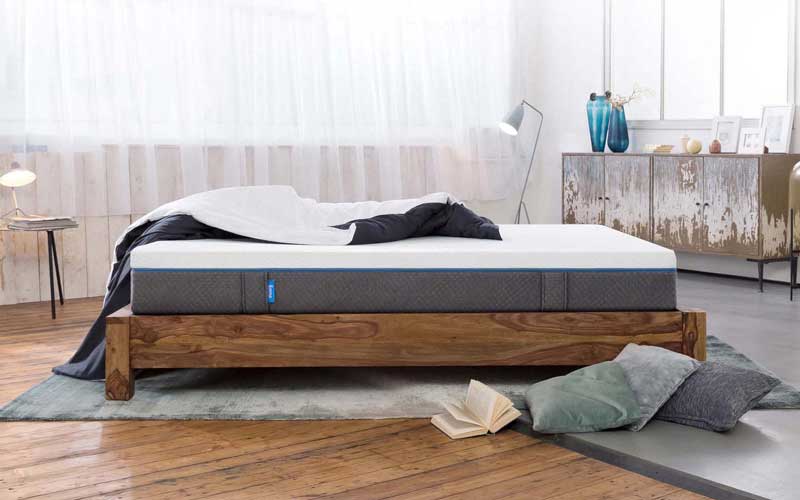 The Emma Original is UK's most awarded mattress that is sure to give you the most restful and energising sleep imaginable. Emma's products are proudly made in the United Kingdom and undergo strict testing to assure they meet the highest quality standards.
First, you will see Emma's UltraDry cover which is excellent at temperature regulation and can be easily removed and washed. Next, we have the Halo™ memory foam layer that adapts to your body shape for targeted spinal alignment, enhanced pressure relief and body-hugging comfort.
It's followed by the Emma's Point Elastic Airgocell® technology, enhancing breathability and regulating temperature by absorbing and then evaporating sweat. Lastly, you'll find the HRX (High Resiliency Extra) Supreme ™ foam that is engineered to last for years without losing its durability due to the adaptive cut-outs zone, distributing your body weight evenly to reduce pressure.
You get to pick from five different sizes with a depth of 25cm and discover what it means to wake up feeling genuinely epic. Emma gives you a 200-day trial period for your body to adjust to the new mattress and a 10-year manufacturer's guarantee!
5. Millbrook Wool Luxury 1000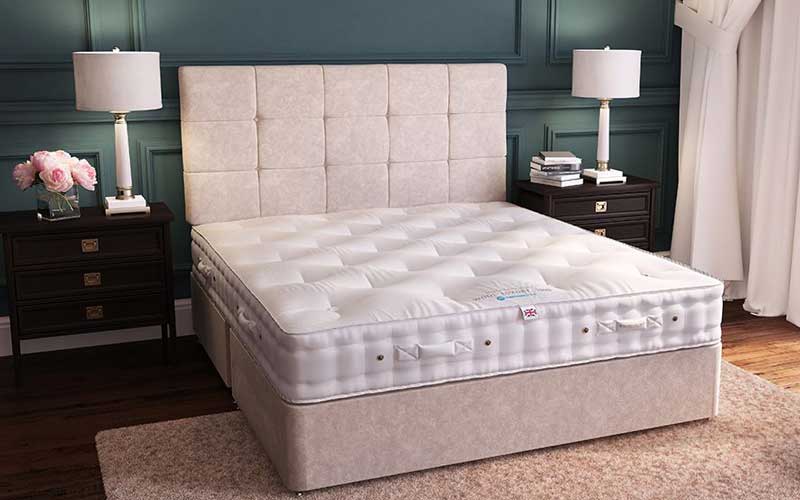 If you want to experience luxury comfort on a budget, the Millbrook Wool Luxury mattress is the one for you.
Millbrook has crafted perfection from layers of the finest Hampshire fleece wool to bring you unbelievable comfort. Hampshire's wool is naturally soft, springy and breathable, making it an ideal choice for a comfortable night's sleep in any season.
It's blended with layers of cotton and 1000 individually hand-nested pocket springs, which will support you where you need it the most. This Millbrook product is hand-tufted and double-sided for an extended lifespan. If you're looking for a more peaceful night's sleep, the Millbrook reduces transfer movement so that your partner tossing and turning won't wake you up. 
Stop wondering and get this well-priced item that offers edge-to-edge support and remarkable comfort. You can test it out for yourself with Millbrook's 60 night trial period and ten years guarantee. 
How to choose?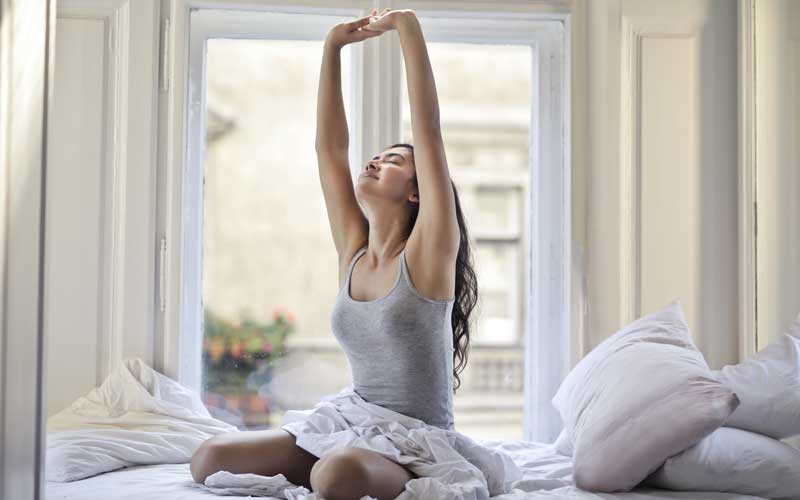 Medium-firm products are the most popular option on the market, which is why there are numerous brands and models. However, not all of them will get the job done. Here are some factors you have to consider to find yourself a high-quality medium mattress:
Type & Materials
The type of mattress and the materials it's built from should be essential to your choice making. You can find a blend of firmness in hybrids, memory foam, latex and innerspring products. All four suggestions will provide the perfect firmness. Think about your body weight, sleeping position and personal preferences when deciding on type and materials.
Certifications
One of your best options in knowing if a product is made from high-quality materials is third-party certifications, which have met stringent quality standards for safety. The most common ones are CertiPUR® and OEKO-TEX®.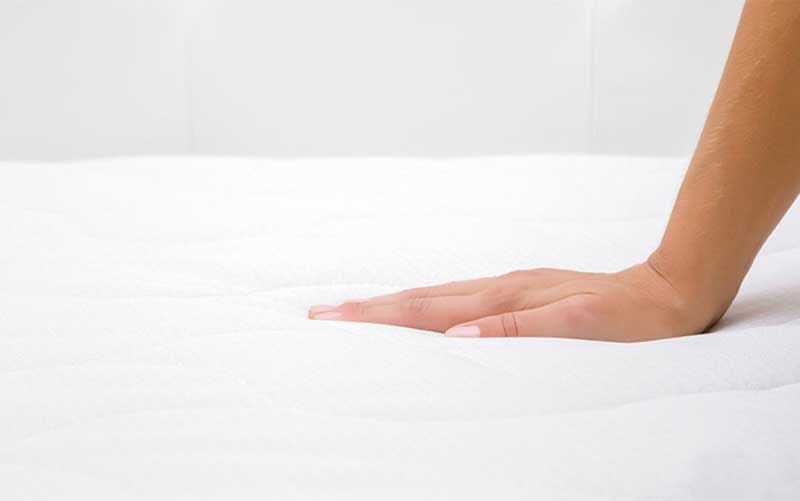 Performance
Consider the importance of features like motion isolation, temperature regulation, edge support, and off-gassing. If you share the bed with someone, you will need to find an item with good isolating capabilities, and if you tend to sleep hot, then look for a mattress with cooling properties.
Ratings
Firmness ratings can vary from brand to brand, but generally, they will be in the 1 to 10 range, in which you will want to find yourself between 5 to 7 on the scale.
Home Trial & Warranty
Laying on a bed for 10 minutes in a store, won't tell you if this is the right choice for you. That's why you should opt for options that come with a home trial period and warranty. This way, it will be way easier for you to return or exchange it if necessary.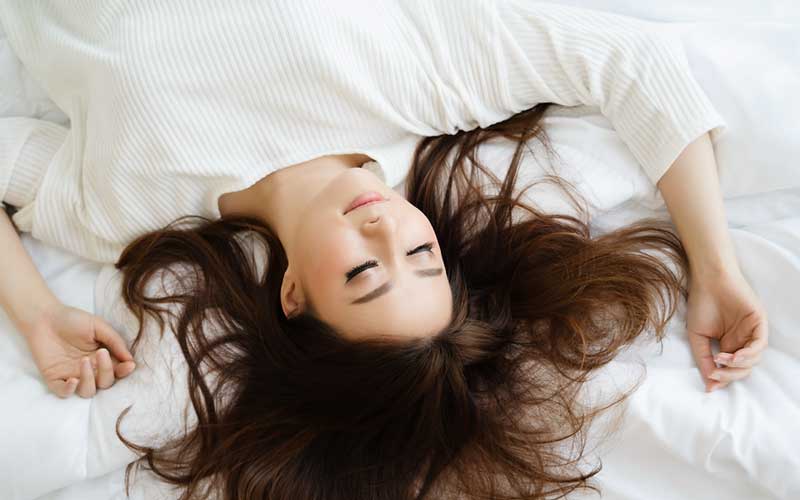 Why choose a medium-firm mattress?
In general, most people consider firmer mattresses as a better option compared to soft ones. This isn't necessarily true every time.
Before you decide on a product's firmness, think about your body weight, sleeping position, the type of bed you want and what materials it should be constructed from. If the quality of an item is poor, the firmness won't matter.
At the end of the day, you need a mattress that will relieve your pressure while providing you with comfort and support, and a medium-firm product will bring you a balance between all three. In most situations, a medium-firm mattress will ensure that your spine remains in its optimal alignment while providing you with a refreshing night's sleep.
If you're struggling with pressure in your joints, or have any chronic pains, this option may be quite beneficial for you.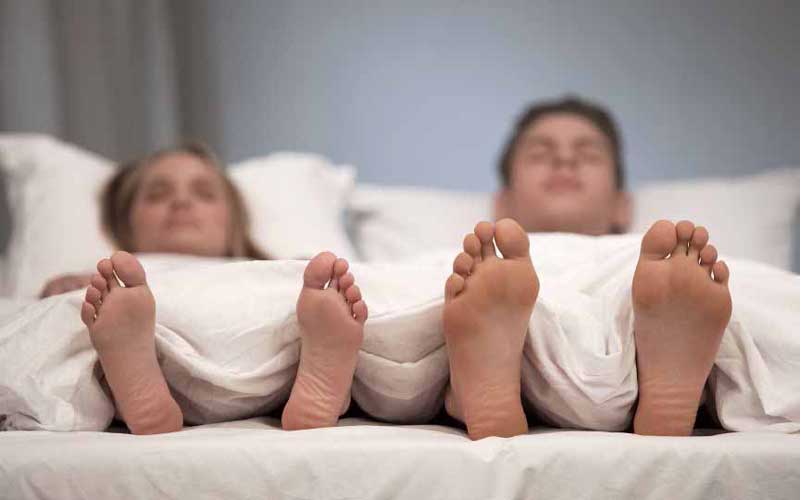 Who is it suitable for?
Medium-firm mattresses are suitable for a wide variety of people and body types. They can provide you with the needed support whether you're shorter, taller, skinnier, or heavier build. Also, they are suited for all sleeping positions, leaving only your personal preference.
Ultimately, we consider them the one-for-all option. However, sometimes individual preferences can vary. Therefore, you can choose a firm mattress or a softer one.
Final Words
With plenty of support and comfort, medium-firm mattresses are a popular choice for a reason. With that said, make sure you know what you're buying. Read as much as you can and do some research so that you can make an informed decision.
Think about what a company offers, and look into the features and qualities of a product thoroughly. Mattress brands frequently change, and so do the products they offer, which is why we will continue to provide you with the most up to par information and try to shed some light on the best medium-firm mattress on the market. Alternatively, you can check out our best UK mattresses guide as well.
If there are any questions, regarding the subject that were left unanswered, we would gladly answer them in the comments below.