Best Natural Mattress – Organic & Non-Toxic
Last Updated on June 15, 2021
There are seemingly endless options to choose from with more materials than you can imagine when it comes to shopping for a new mattress. However, if you're looking for an organic product made from natural materials, it might not be as easy to find one that is actually non-toxic.
If you're searching for an organic mattress, you should make sure your choice is constructed from natural materials with reputable certifications such as GOTS and GOLS. The Global Organic Textile Standard (GOTS) and Global Organic Latex Standard (GOLS) are the industry's leading certifications for organic components.
Also, it's always a plus to look for additional certifications that recognise organic materials and eco-friendly products. With that said, keep in mind that there are numerous certifications for bedding products, but some are more legitimate than others.
But how can you choose a quality option that fits the bill and checks all the boxes? There are many options on the market – from good quality products from reputable companies to cheap Chinese items that we wouldn't recommend to our worst enemy.
That's why we created LightSleeper – to help you choose the product that is right for you and you alone and help you make that choice along the way. Companies can never pay to feature their products on LightSleeper, nor we are getting paid to recommend one product over the other – we are an independent resource, and we only recommend products that have passed our tests, and we feel that they are the best in their category.
So let's see what we think about the Best Natural Mattress today and why.
1. Una Organic Mattress Delux – Editor's Pick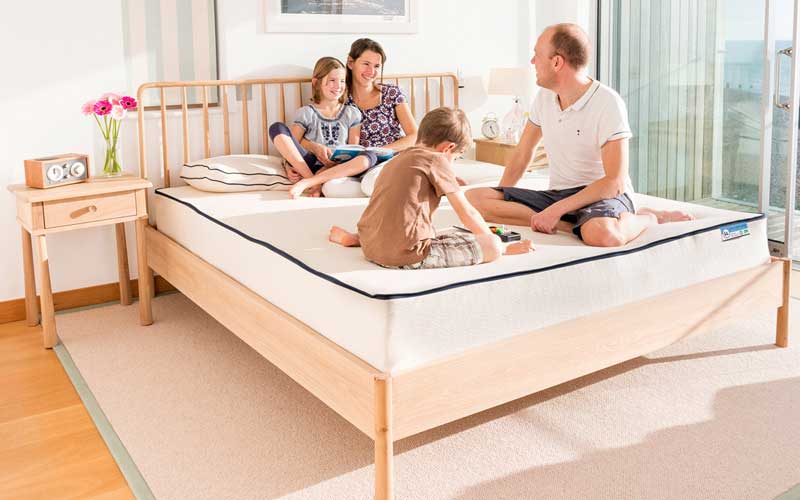 First, on our list today is the Una Organic Mattress Delux, which is made with GOLS organic certified natural latex, easily winning the Editor's pick in this category.
Una is designed and engineered in Germany and made in India, where set organic materials grow. This mattress is constructed for deeper sleep with seven comfort zones and multiple layers of construction. On top, we have the super soft cover made of 70% organic cotton and 30% organic wool with a YKK premium zipper.
Inside the Una cover, we have four encased layers of all-natural organic certified latex foam with different comfort levels like soft, medium and firm. Each layer comes with a 7-zone support system that gently contours your body. Una's layers can be arranged in the order that's comfiest for you so that you can enjoy a good night's sleep.
The Una Delux comes with multiple certifications such as GOLS, GOTS, Social and Fair Trade Standard, Climate Neutral, and they are even a member of the 1% for the Planet.
Overall, the Una mattress is a 24cm thick option with customisable firmness that's 100% natural, meaning no harmful chemicals or microplastics. This option is delivered to you free of charge by DPD. It comes with a 10-year warranty and a 100-night trial period to make your purchase even safer!
2. Abaca Ramsey Organic Mattress – Runner Up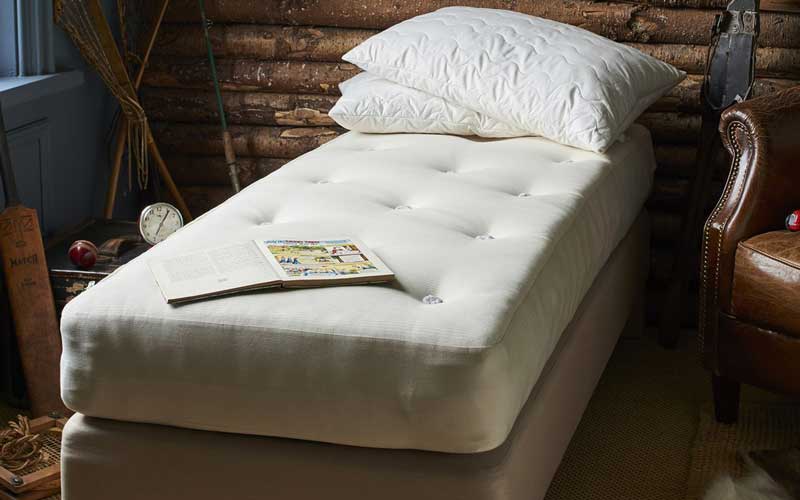 Next, we have the Abaca Ramsey, which is another natural latex mattress recommended by many chiropractors because it's flat and supportive.
This high-quality luxury option will last for many years due to the 15cm of natural latex core. The Abaca is made by hand layering and stitching two layers of organic Welsh wool around a deep latex pad. It hand-tufted and has an organic herringbone cotton cover.
What makes it unique is that it can be made in any size with multiple available firmness levels varying from very soft to extra firm. Abaca's organic latex is designed with sap from the Hevea Brasiliensis (rubber tree) and is a natural alternative to memory foam.
The Ramsey mattress comes with a few certificates for the used latex, such as FSC (Forest Stewardship Council), GOLS and the whole product is certified to the Global Organic Textile Standard by the Soil Association and hand made in Wales.
In general, the Abaca is one of the most customisable beds, perfect for those who suffer from allergies or chemical sensitivity. The brand doesn't offer a risk-free trial period, but they will provide you with free delivery across UK Mainland and a whopping 15-year guarantee
3. Dunlopillo Orchid Mattress – Best Natural Latex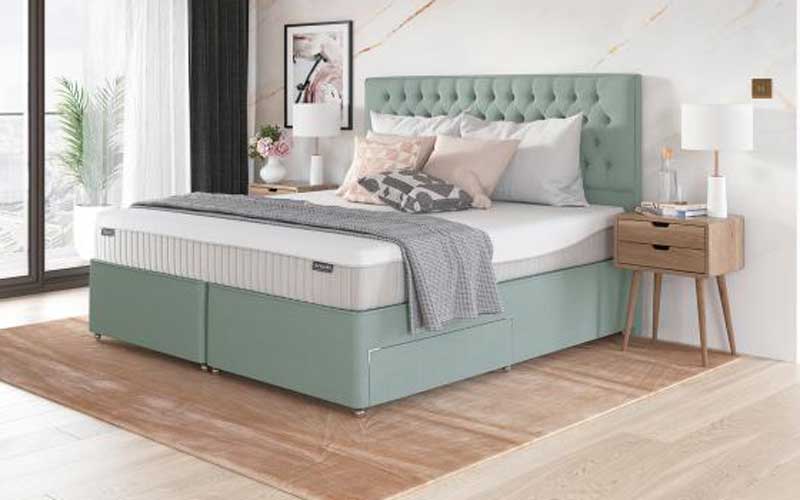 Another excellent suggestion is the Dunlopillo Orchid mattress from the brands Signature collection. This item is constructed from three layers. First, we have the superior comfort layer, next is the 16cm 100% pure Dunlopillo latex core, and finally, we have an additional support layer with a total thickness of 24cm.
The Orchid offers the very best with its seven comfort zones developed to specifically target your feet, hips, heels and spine. Dunlopillo has fantastic pressure-relieving properties with an open-cell, ventilating design.
Dunlopillo is naturally anti-allergenic, anti-bacterial and anti-microbial. It can be purchased in five sizes, from single to super king. The Orchid is completely noise-free and is treated with Actipro™ Technology probiotic, which is the natural solution to allergens, bacteria and odours.
This mattress will keep your spine properly aligned at all times and will adapt to your body as you move throughout the night. Dunlopillo is the brand leaders in the latex mattress market. The Orchid offers firm support and comes with an eight-year warranty, letting you welcome sleep like no other!
4. Herdy Sleep Natural Wool Mattress – Best Wool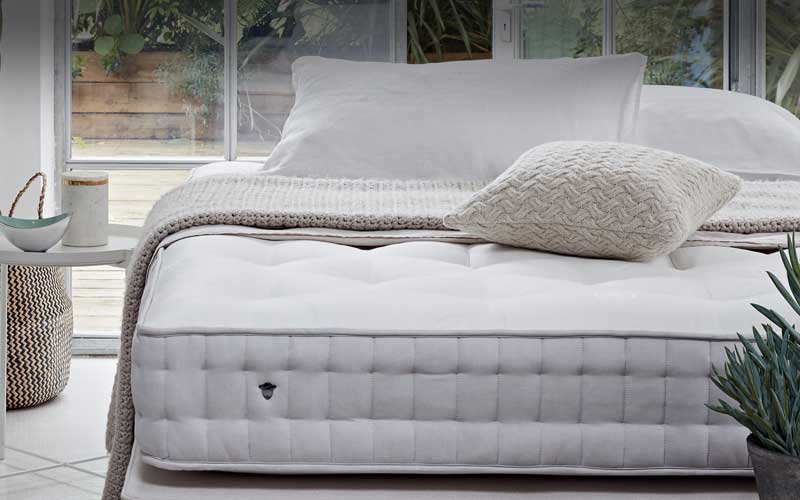 Next, we have an award-winning handmade mattress known as the Herdy Sleep that utilises traditional techniques with the most delicate blend of cashmere, cotton and Herdwick's wool with a triple-layered Cortec™ spring system.
Wool is a naturally anti-bacterial and hypo-allergenic material with excellent body temperature regulation capabilities. It's also chemical-free and 100% recyclable. It is constructed with eight layers, with the top being a chemical-free wool and viscose sleep surface, followed by a 100% Herdwick wool pad and 100% cotton pad.
After that, you'll find Airflow™ 'spring-in-spring' to provide ultra-fine body contouring and the Posturfil™, which is a larger spring that provides additional contouring and body support. Then we have the Quad Cortec™, for even distribution of weight and the two base layers made from recycled plastic bottles (PET).
This Herdy item features Cortec™, which is a fully sustainable and 100% recyclable spring system with 6,750 individual pocket springs, providing a cloud-like comfort at all times.
Herdy Sleep is hand-tufted, stitched, and tape-edged by experts. It comes in four different sizes: single, double, king and super king, and all four have a depth of 30cm. Shipping is free to UK mainland addresses, so there are no added postage and fees. Plus, you get to enjoy 100 nights free trial and a ten-year guarantee.
5. Silentnight Eco Comfort Miracoil – Eco-friendly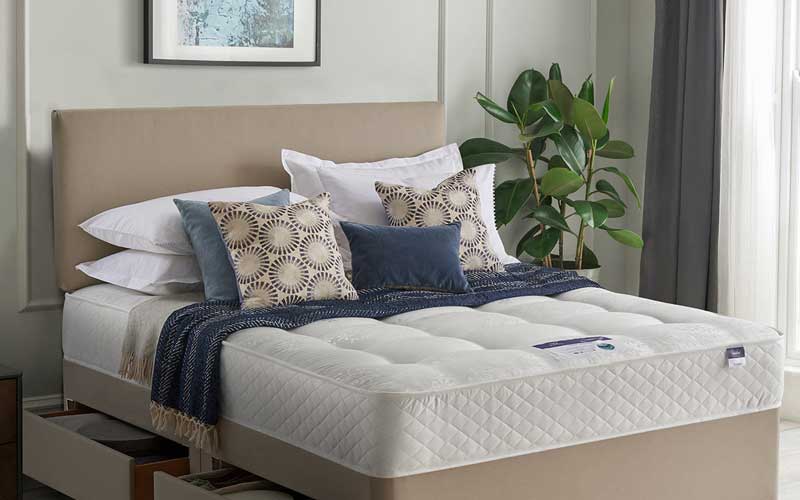 If you're looking for a mattress that's good for both the planet and your wallet, the Silentnight Eco Comfort Miracoil Ortho can be the one!
The Silentnight Eco Comfort has a Miracoil zoned spring system that offers outstanding support, superior spinal alignment, and maximised sleeping space. Its innerspring coil system features a unique spring layer that makes the mattress extra-firm.
It has 3-zoned support, where one and three are softer and aimed at comfort, while the second zone provides firmer support for your hips and lower back. The difference between the zones ensures spinal support, which might help reduce your body aches and pains.
Silentnight Miracoil is hypo-allergenic and dust mite free. The manufacturer uses breathable, sustainable fibres and eco-friendly materials. The Eco Comfort is Purotex treated, and Allergy UK approved to create a fresher and healthier mattress. It can be purchased in five available sizes with a depth of 24cm.
Silentnight provides a free next day delivery to a room of your choice, a 60-night comfort trial and a 5-year guarantee, which is way more than other products in this price range offer!
How to choose the best natural mattress?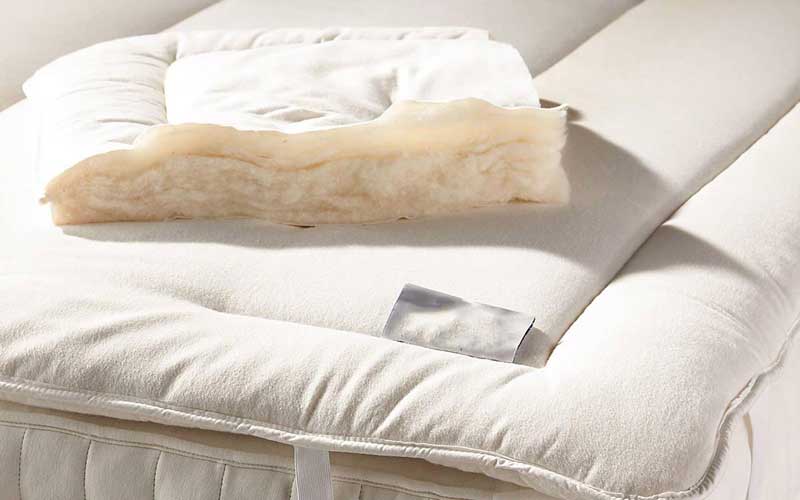 If you don't know where to start, selecting the best natural mattress can be challenging. That's why we are here to try and make it easier for you! Understand that a bed can be a significant game-changer for your sleep quality and overall health.
That's why you have to consider the following features to find a truly great option:
Certifications
Since today's article is about natural organic products, the most important feature will be the certification of a mattress. There are many different kinds of credentials, and some are organic-specific, while others aren't entirely organically produced. Let's talk about the organic-specific certifications first:
Organic-specific certifications
Other essential certifications
Overall, finding an organic mattress is crucial. Still, you shouldn't forget about organic cotton covers and accessories since cotton is a crop that's regularly exposed to agricultural chemicals, meaning if the cotton cover you've found isn't organic, you should choose another option.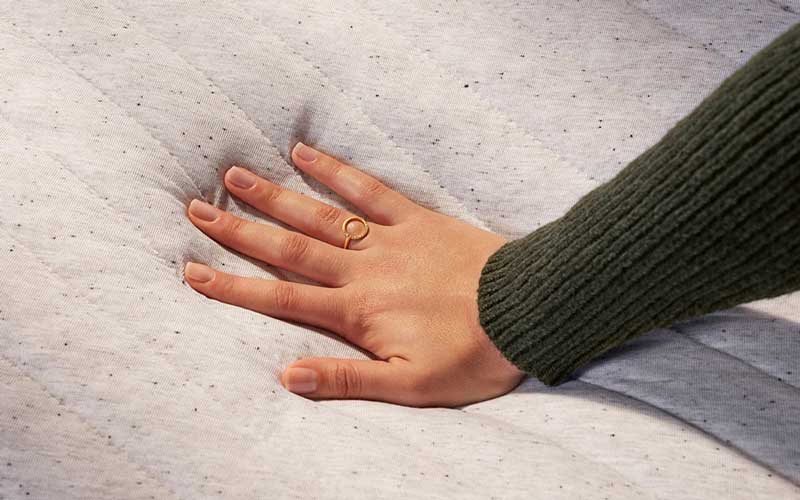 Type
As you've probably seen, today's market has a lot to offer, from all-foam, innerspring, latex, wool and hybrid mattresses. All mattress types come with their own advantages and disadvantages, and it's up to you to decide.
Memory foam options mould to your body but tend to trap heat. Pocket sprung products provide support but can be noisy and so on. With that said, finding the balance is your best bet, and that can be hybrids. They feature elements of both foam and innerspring while providing comfort and support for most sleeping positions.
Performance
What we mean by performance is firmness levels, motion isolation, pressure relief, off-gassing, temperature regulation, and edge support. All these features contribute to the quality of your sleep. That's why you should take a moment and consider what the most curical factors for you specifically are.
If you don't know where to start, it's always helpful to check customer reviews and read some information about the performance of your future purchase. Remember that organic options tend to be on the pricier side, so if you're looking for a mattress that won't break your budget, take a look at our guide on Cheap Mattresses.
Reputation & Policies
Buying from reputable business's is always a plus since they offer a generous warranty for their products and usually have risk-free trial periods. In general, a mattress should be changed every 7 to 8 years, meaning we don't recommend you select a product that offers a warranty shorter than that.
Most brands provide you with an in-home trial and allow you to return or exchange your purchase if it doesn't work for you.
What are the benefits of an organic mattress?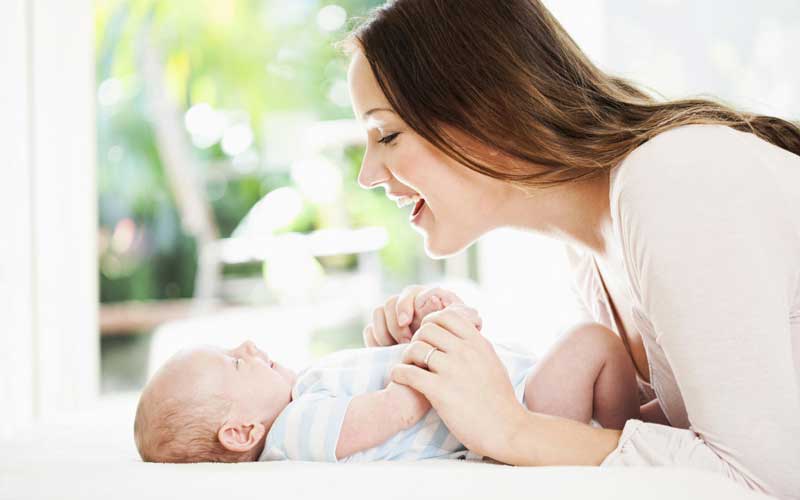 Just like with any other type of mattress, organic and natural options have their advantages and disadvantages. Let's discuss the benefits you can receive from getting one:
No unpleasant smells – with natural products, you don't have to worry about chemical odours from off-gassing.
Eco-friendly and safe – organic options are safer for both the environment and your health. Thus they are not only great for your sleep but the environment too.
Suitable for children – we all want the best for our kids, and nothing is better than organic materials and fabrics.
Less allergies – non-toxic and natural beds have fewer chemicals, meaning you're less likely to come into contact with potential allergens.
Longevity and durability – if nature made it, it will most likely last longer than human-made products since organic components tend to have a longer life span than synthetic materials components tend to have a longer life span than synthetic materials.
Bottom Line
Finding the right mattress can be challenging and overwhelming, especially if you're looking for an item that is organic and chemical-free. However, there are some incredible natural and eco products that are non-toxic and environmentally friendly. We've tried to cover the best natural mattresses the market has to offer and give you a head start!
All of the bed products we listed above have great customer reviews and are well received. We hope you could find what you were looking for in our guide regarding the best natural mattress the market has to offer. To simplify your shopping experience, we've selected the top 5 options for 2021.
Brands in the bed industry frequently change, and so do the products they offer, which is why we will continue to provide you with the most up to par information. We hope that this article was helpful, and you could find what you are looking for.
Now it's our turn to hear from you if any questions regarding the subject were left unanswered. If you want to share some information, we would gladly hear about it in the comments below.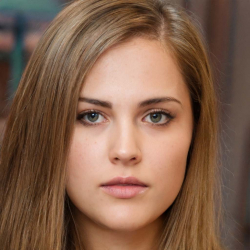 Latest posts by Isabelle Harris
(see all)