Do you know what you're sleeping on? Most conventional mattresses are packed with harmful chemicals that could affect your health. What if we told you there's a better way to sleep? If you care about your well-being, discover the best natural and non-toxic mattresses in the UK.
In Short:
Imagine sinking into a mattress that's not only comfortable but also promotes a healthier lifestyle. Our top picks offer a range of benefits, from reducing allergens and toxins to providing exceptional support for a more restful night's sleep. With natural materials like organic latex, wool, and cotton, these mattresses are not only safe for you but also for the environment. No more worries about off-gassing or harmful chemicals leaching into the air you breathe while you sleep.
Picture a life where you wake up refreshed, free from the discomforts and health concerns associated with traditional mattresses. These natural mattresses are designed to contour to your body, relieving pressure points and reducing the risk of back pain. With their temperature-regulating properties, you'll sleep cooler in the summer and warmer in the winter. Not to mention, the eco-friendly materials used in these mattresses are sustainably sourced, so you can sleep well knowing you're doing your part for the planet.
Are you ready to transform your sleep experience and make a positive impact on your health and the environment? Take action today! Click below to explore our comprehensive guide on the best natural and non-toxic mattresses in the UK. Say goodbye to chemicals, poor sleep, and discomfort. Embrace a healthier, more eco-conscious lifestyle. Your dream mattress is just a click away. Sleep naturally; sleep better!
1. Una Organic Delux Mattress – Editor's Pick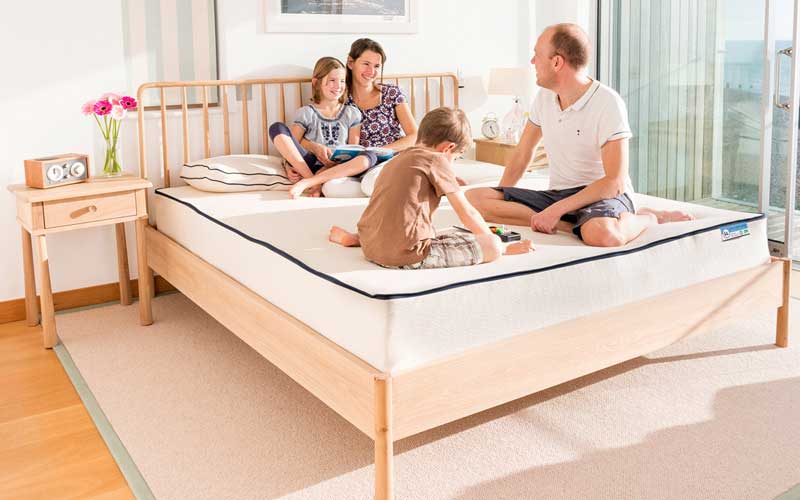 Una Mattress™ Organic Mattress Delux is a premium, eco-friendly mattress made in Germany, exemplifying comfort and sustainability. Crafted from 100% organic natural latex, this 24 cm thick mattress is free from harmful chemicals, microplastics, and metal springs, ensuring a safe and healthful sleep environment. It comes in various sizes and features a unique six-level adjustable firmness system, allowing users to tailor the mattress to their preferred softness or firmness. This customization is especially beneficial for couples, as each side of the mattress can be adjusted independently, catering to different sleeping preferences.
The mattress's innovative design includes a soft cover made from organic wool and cotton, enhancing breathability and temperature regulation for a comfortable night's sleep. The materials used not only prioritize health, with a focus on eliminating exposure to toxic substances but also actively contribute to environmental conservation. The mattress's production boasts a negative carbon footprint, thanks to the sustainable harvesting of latex and the avoidance of petroleum-based foams and industrial glues. The product is GOLS and GOTS certified, affirming its organic and eco-friendly credentials.
Durability is a key feature of the Una Mattress™, designed to last up to 20 years. It comes with a 100 Night Happiness Guarantee and a 10-year warranty, reflecting the brand's confidence in its product quality and customer satisfaction. The mattress also emphasizes convenience in delivery and setup, arriving in compact, easy-to-handle boxes for a stress-free experience.
Overall, the Una Mattress™ Organic Mattress Delux stands out for its combination of personalized comfort, health-conscious materials, and environmental responsibility. With glowing customer testimonials attesting to its long-term comfort and quality, it's a product that appeals not only for its immediate sleeping benefits but also for its contribution to a healthier planet.
Features:
Made in Germany from 100% organic natural latex
24 cm thickness with customizable firmness levels
No chemicals, microplastics, or metal springs
Certified organic with a negative carbon footprint
Suitable for all sleeping positions
Easy, eco-friendly delivery and returns
Pros
Customisable Firmness: A standout feature of the Una Mattress™ Organic Mattress Delux is its adjustable firmness. With six levels of firmness and the option to tailor each side of the mattress separately, it caters to a wide range of sleeping preferences. This makes it particularly suitable for couples who have differing comfort needs.
Organic and Eco-friendly: Made from 100% organic natural latex and boasting GOLS and GOTS certifications, this mattress is free from harmful chemicals, microplastics, and metal springs. Its production has a negative carbon footprint, underscoring its commitment to sustainability and environmental responsibility.
Longevity: Designed to last up to 20 years, the Una Mattress™ provides excellent long-term value. Accompanied by a 10-year warranty and a 100 Night Happiness Guarantee, it assures peace of mind and commitment to quality.
Comfortable and Breathable: The cover, made from organic wool and cotton, enhances breathability and thus prevents overheating during sleep. The layers of organic certified latex foam offer gentle, contouring support for a comfortable and restful night's sleep.
Cons
Price: As a premium product, the Una Mattress™ Organic Mattress Delux comes at a higher price point than some standard mattresses. While its durability and eco-friendly credentials justify the cost, it might be considered expensive by budget-conscious consumers.
Weight: Due to its organic latex composition, the mattress is relatively heavy. This could make moving or rotating it more challenging than lighter, conventional mattresses.
Limited Availability: There might be restricted availability of the Una Mattress™ in certain regions, potentially causing inconvenience for interested buyers outside its main distribution areas.
Initial Adjustment Period: Some users may require a period to adjust the mattress and find the most comfortable firmness level and layer arrangement. Although this adjustability is a significant benefit, it might need trial and error to determine the ideal comfort setting.
2. Abaca Organics Ramsey Mattress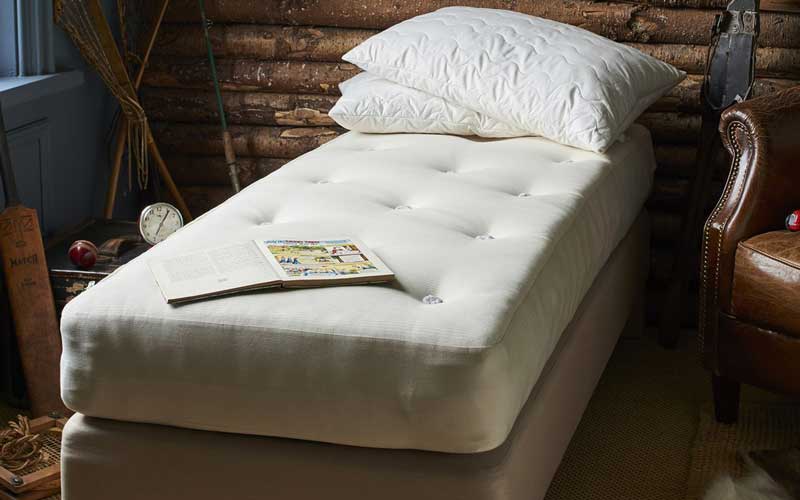 The Ramsey Organic Latex Mattress, designed by Abaca, offers a natural and eco-friendly sleep solution. It features a core made of 12 cm of natural latex surrounded by layers of organic wool; all encased in an organic cotton cover. The mattress is completely metal-free and 100% natural, with latex certified by the FSC. With a total depth of 13/14 cm, this mattress provides a comfortable and supportive sleep surface.
The Ramsey mattress is a popular choice for children and individuals who weigh under nine stone (less than 57 kilograms). It offers medium firmness, making it suitable for many sleepers, especially those who prefer a slightly soft feel to their mattress.
Abaca backs the Ramsey mattress with an 8-year guarantee, reflecting its confidence in its durability and quality. This extended warranty provides peace of mind to customers, ensuring long-lasting performance.
Crafted with natural and organic materials, the Ramsey mattress is perfect for allergy sufferers and those with chemical sensitivities. It's handmade in Wales with a focus on sustainability, and its materials are chosen to reduce environmental impact. The mattress also comes with free delivery, and Abaca offers a personalised consultation to ensure customers get the mattress that suits them best.
Abaca's Ramsey Organic Latex Mattress is a natural, eco-conscious, and comfortable sleep solution, catering to a wide range of sleepers and providing long-term support. Its commitment to sustainability and quality makes it an attractive option for those looking for a healthy and eco-friendly mattress.
Pros
Natural and Eco-Friendly: The Ramsey Organic Latex Mattress is made from 100% natural materials, including organic wool, latex, and cotton. It is also metal-free and certified by the FSC, ensuring an eco-friendly and sustainable sleeping surface.
Customisable Firmness: The mattress offers a choice of firmness levels, making it suitable for a wide range of sleepers. The weight-based firmness guide helps users select the right option based on their weight and comfort preferences.
Long Guarantee: Backed by an impressive 15-year guarantee, this mattress provides peace of mind and reflects Abaca's confidence in its durability and quality. It's designed to last, making it a wise long-term investment.
Environmental Responsibility: Abaca's commitment to re-covering, re-furbishing, and recycling mattresses demonstrates a dedication to reducing waste and promoting environmental sustainability, making it a conscientious choice for eco-conscious consumers.
Cons
Price: The Ramsey Organic Latex Mattress is a premium product, and the price may be relatively high compared to conventional mattresses. While the quality and eco-friendliness justify the cost, it might not fit everyone's budget.
Limited Availability: The mattress may not be readily available in all regions, potentially causing inconvenience for those outside the main distribution areas.
Initial Adjustment: Some users may require time to adapt to the mattress's feel and firmness, as preferences vary. While the customizability is a benefit, it might involve some trial and error to find the perfect comfort level.
Delivery to Certain Postcodes: Additional delivery charges may apply to specific postcodes, such as those in the Scottish Highlands, Scottish Islands, English Islands, and Northern Ireland. This could increase the overall cost for customers in those areas.
3. Dunlopillo Orchid Mattress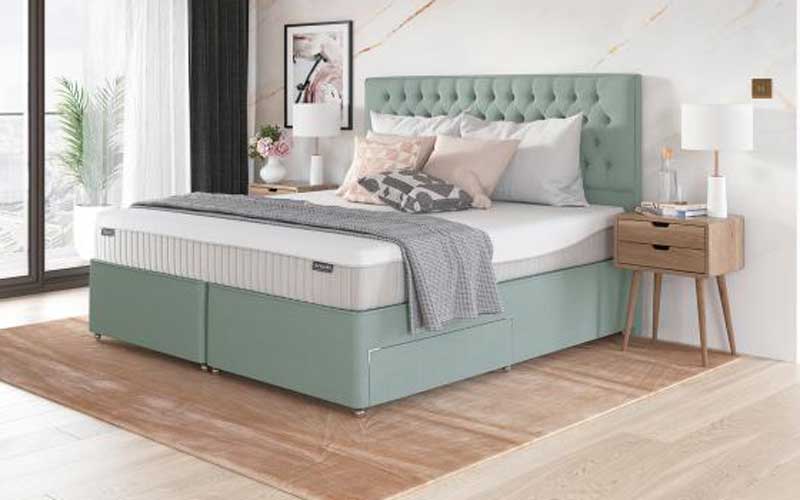 The Dunlopillo Orchid Mattress is a premium addition to the Signature Collection by Dunlopillo, offering a blend of luxury, comfort, and support designed to enhance sleep quality. This mattress boasts a substantial total depth of 24cm and features a core made from 100% pure Dunlopillo latex, renowned for its resilience and firm support.
Each Orchid Mattress has seven distinct comfort zones that provide a tailored sleeping experience. The zones vary in firmness, offering softer support for areas like the shoulders and firmer support to maintain spinal alignment. The latex's natural elasticity responds to your body, ensuring a personal fit and pressure relief.
The innovative design of the mattress also includes a breathable open cell structure, facilitating air circulation to regulate body temperature throughout the night. To complement its internal features, the Orchid Mattress is encased in a soft-touch, knitted cover infused with Actipro technology, making it hypoallergenic and ideal for those seeking a cleaner sleep environment.
For convenience, the Orchid is single-sided, eliminating the need for flipping and is crafted to retain its shape and performance over the years. This durable mattress is available in various sizes, including the spacious Superking, and is delivered free of charge, with additional delivery details provided upon purchase.
The Orchid Mattress comes with a substantial eight 8-year guarantee, ensuring long-term assurance of its quality when paired with a suitable base, such as a Dunlopillo or a compliant slatted base. It is also fire resistant, adhering to BS7177: 2008 standards for domestic use.
Handcrafted in the UK, this mattress not only supports the local economy but also minimizes environmental impact. It has earned the approval of the National Bed Federation, reflecting its compliance with rigorous industry standards. The Dunlopillo Orchid Mattress is a firm, hypoallergenic, and supportive choice for anyone seeking a restful night's sleep.
Pros
Customised Support: The mattress features seven comfort zones that provide varying levels of support to different body areas, enhancing spinal alignment and overall sleep comfort.
Hypoallergenic Properties: With its Actipro technology, the mattress is hypoallergenic, making it an excellent choice for allergy sufferers or anyone looking for a cleaner sleeping environment.
Durability: The single-sided design and the resilient latex material ensure the mattress retains its shape and performance over time, reducing the need for regular replacements.
Regulated Temperature: The open cell structure of the latex allows for consistent air circulation, helping to regulate body temperature and prevent overheating during sleep.
Cons
Limited Guarantee on Non-Approved Bases: The 8-year guarantee applies only if the mattress is used on a Dunlopillo base or a compatible slatted base, which may require additional investment.
Firmness Level: The firm support may not be comfortable for everyone, particularly those who prefer a softer, more cushioned sleeping surface.
No Flipping Design: While the single-sided design means easier maintenance, it also means that the mattress cannot be flipped to even out wear over time.
Weight: The mattress is relatively heavy, with the Superking size weighing 69kg, which could make it challenging to manoeuvre or rotate without assistance.
4. Silentnight Eco Comfort Miracoil Mattress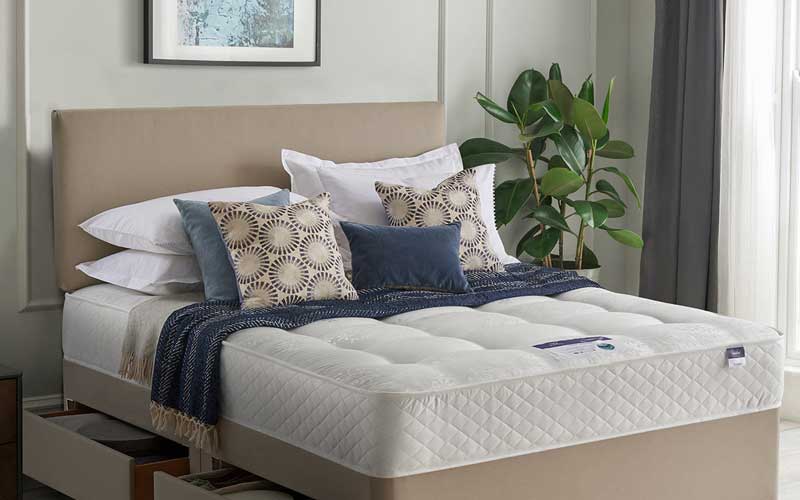 Rated at 4.7 out of 5 stars by customers, the Eco Comfort Miracoil Ortho Mattress provides an extra firm level of comfort, integrating a meticulously engineered Miracoil zoned spring system for unparalleled support. This mattress is designed to address spinal alignment and reduce aches and pains, making it an excellent choice for orthopaedic support.
The mattress is hypoallergenic, ensuring it is dust-mite-free and suitable for those with allergies. The hand-tufted finish with a luxurious damask cover not only adds a touch of elegance but also enhances durability. With a depth of 24cm, it offers a substantial, supportive sleeping surface.
Delivery is available within 14 days, with the option to deliver the mattress to your room. Silentnight provides a 60-night sleep guarantee, allowing you to truly test the comfort of the mattress in your own home. Additionally, the product comes with a 5-year warranty, giving buyers confidence in their purchase.
The Eco Comfort Miracoil Ortho Mattress comes in a variety of sizes to fit any standard bed frame:
Single: 90cm x 190cm
Small Double: 120cm x 190cm
Double: 135cm x 190cm
King: 150cm x 200cm
Super King: 180cm x 200cm
Each mattress is built with the environment in mind; every sale contributes to a donation to the Marine Conservation Society, reflecting the company's commitment to sustainability.
Key Features:
Miracoil Spring System: Offers targeted support that helps in improving spinal alignment and reducing motion transfer between partners.
Eco Comfort Layer: Made from breathable Eco Comfort Fibres, it helps regulate temperature, providing a cooling effect that is especially beneficial for those who tend to overheat while sleeping.
Durability: Combining the miracoil system and the protective layer ensures an even pressure distribution, contributing to the mattress's longevity.
Material: The mattress is encased in a high-quality damask cover that is both durable and soft to the touch, complementing the hypoallergenic and orthopaedic features of the mattress.
For those who require a bed, there is also the option to purchase the complete Silentnight Eco Comfort Miracoil Ortho Divan Bed, which pairs the mattress with a matching base.
Pros
Orthopaedic Support: The Miracoil zoned spring system provides targeted spinal support, which may help reduce aches and pains.
Eco-Friendly: Contributions are made to the Marine Conservation Society with every sale, emphasizing the brand's commitment to environmental sustainability.
Hypoallergenic: The mattress is dust mite-free and hypoallergenic, making it suitable for allergy sufferers.
Trial Period and Warranty: Comes with a 60-night sleep trial and a 5-year warranty, offering peace of mind and the ability to test the mattress.
Cons
Firmness: The extra firm rating might not be comfortable for all sleepers, especially those who prefer a softer surface.
Heat Retention: While it has cooling features, the dense material of an extra firm mattress might retain more heat compared to softer or innerspring options.
Weight: Hand-tufted mattresses with a luxurious damask cover and miracoil springs can be heavy, making them difficult to move or rotate.
Delivery Time: With a delivery time of up to 14 days, it may not be the best option for someone needing a mattress.
5. Happy Beds Signature Silver 1400 Pocket Sprung Orthopaedic Natural Mattress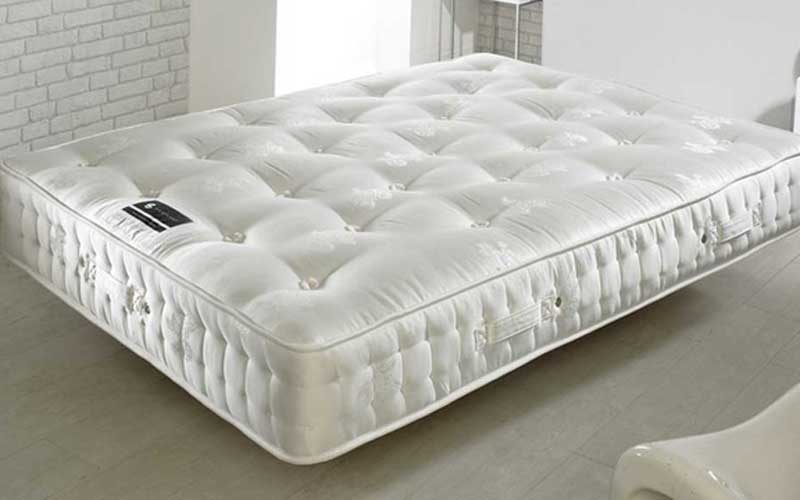 The Signature Silver 1400 Pocket Sprung Orthopaedic Natural Mattress by Happy Beds is a testament to British manufacturing excellence, offering a medium level of orthopaedic support tailored to accommodate different body weights. It features an advanced system of individually nested pocket springs, each operating independently to distribute weight evenly and support the body precisely, encouraging proper spinal alignment and contributing to restful sleep.
Natural materials are central to the mattress's design, with layers of lambswool and silk nestled under a luxuriously soft Belgian Damask cotton fabric. This combination not only enhances the comfort of the mattress but also helps to regulate temperature, ensuring a soothing and inviting sleep environment. The hand-tufting process, involving natural wool, ensures the fillings remain secure, extending the mattress's durability and maintaining its form.
Attention to detail is evident in the hand-stitched side borders and flag-stitched handles provided by Happy Beds, which not only reinforce the mattress's edges but also facilitate regular turning. This regular rotation is recommended to ensure even wear and prolong the life and performance of the mattress. Additionally, including air vents plays a critical role in maintaining the mattress's freshness by allowing air to circulate freely.
Compliance with fire safety standards is a given with this mattress, offering reassurance to the customer. Happy Beds has designed this mattress to be versatile and compatible with all bed bases, making it an adaptable option for different bedroom furnishings. Customers benefit from a straightforward 14-day return policy and a selection of delivery options, including complimentary and premium choices, ensuring that the mattress is delivered efficiently and conveniently.
Pros
Orthopaedic Support: The mattress features 1400 pocket springs that provide tailored orthopaedic support, promoting spinal alignment and reducing pressure points for a comfortable sleep.
Natural Materials: Utilising natural fillings such as lambswool and silk combined with a Belgian Damask cotton cover, the mattress offers a luxurious feel and has temperature-regulating properties.
Durability: The hand-tufted design with natural wool and hand-stitched side borders ensures the mattress maintains its shape and structure over time, enhancing longevity.
Breathability: Incorporated air vents aid in airflow, preventing the accumulation of humidity and maintaining a fresh sleeping environment.
Safety and Versatility: It meets British fire safety standards and is suitable for all bed base types, providing flexibility for different bedroom arrangements.
Cons
Maintenance: To preserve its comfort and extend its lifespan, the mattress must be regularly turned, which may be cumbersome for some users.
Firmness Variability: The medium firmness may not suit everyone's preference or body type, potentially requiring additional toppers for those who prefer a softer or firmer feel.
Weight: The quality materials and construction can make the mattress quite heavy, potentially making it difficult to manoeuvre or flip without assistance.
Initial Odour: New mattresses often come with a 'new' smell from the manufacturing and packaging materials, which can take some time to dissipate.
Heat Retention: Although natural materials are used for temperature regulation, some sleepers may still find the mattress retains more heat than desired, especially in warmer climates.
Frequently Asked Questions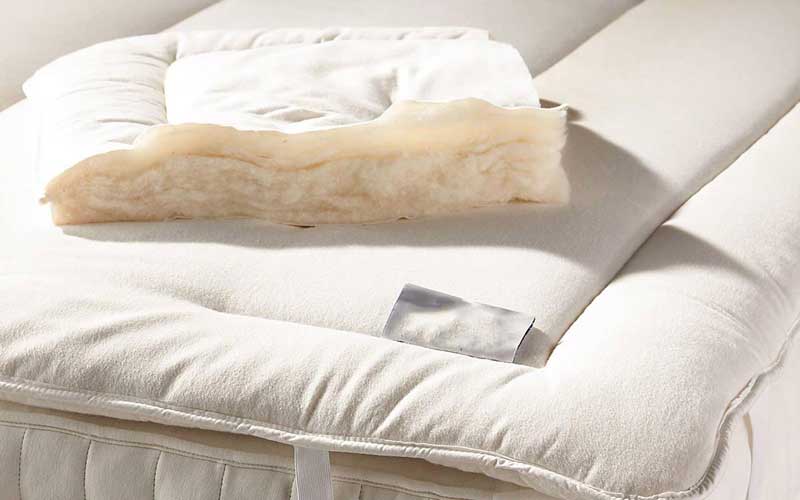 What are the benefits of choosing a natural mattress over a synthetic one?
Natural mattresses offer several benefits over synthetic alternatives, including being made from renewable resources like organic cotton, wool, and natural latex. These materials are biodegradable and have a lower environmental impact. For health-conscious individuals, natural mattresses are appealing due to their reduced chemical content, which means less exposure to volatile organic compounds (VOCs) that can off-gas from synthetic materials.
How are non-toxic mattresses tested for safety, and what certifications should I look for?
Non-toxic mattresses undergo various tests to ensure they are free from harmful chemicals and meet safety standards. Certifications to look for include the Global Organic Textile Standard (GOTS) for organic materials, the Global Organic Latex Standard (GOLS) for natural latex, and CertiPUR-US for polyurethane foam. These certifications indicate that the mattress meets strict environmental and health criteria.
Can natural mattresses help with allergies, and how?
Yes, natural mattresses can be beneficial for people with allergies. Materials like organic cotton and wool have natural hypoallergenic properties, resisting dust mites, mould, and mildew – common allergens that can exacerbate symptoms. Additionally, the absence of chemicals and synthetic materials means fewer irritants can trigger allergies.
What materials are commonly found in natural and non-toxic mattresses?
Common materials in natural mattresses include organic cotton, which is used for the cover fabric; natural latex derived from rubber trees, used for cushioning and support; and wool, which often acts as a natural fire retardant and temperature regulator. Some mattresses may also use organic materials such as silk, bamboo, or hemp.
Do natural mattresses have a different lifespan compared to traditional mattresses?
The lifespan of a natural mattress can be comparable to, if not exceed, that of traditional mattresses, depending on the quality of construction and materials used. Natural latex, for example, is known for its durability and can last up to 20 years or more with proper care.
How do I properly care for and maintain a natural mattress?
To care for a natural mattress, it is important to follow the manufacturer's instructions. Generally, regular airing, using a protective cover to shield from spills and stains, and rotating the mattress periodically to distribute wear evenly is recommended. Some natural mattresses may also be flippable.
Will a natural mattress off-gas or emit any odours?
Natural mattresses typically do not off-gas harmful chemicals as synthetic mattresses can. However, they may emit a mild, natural scent from the organic materials used, like wool or latex. These natural odours are non-toxic and usually dissipate over time.
Are there any vegan options available for natural mattresses?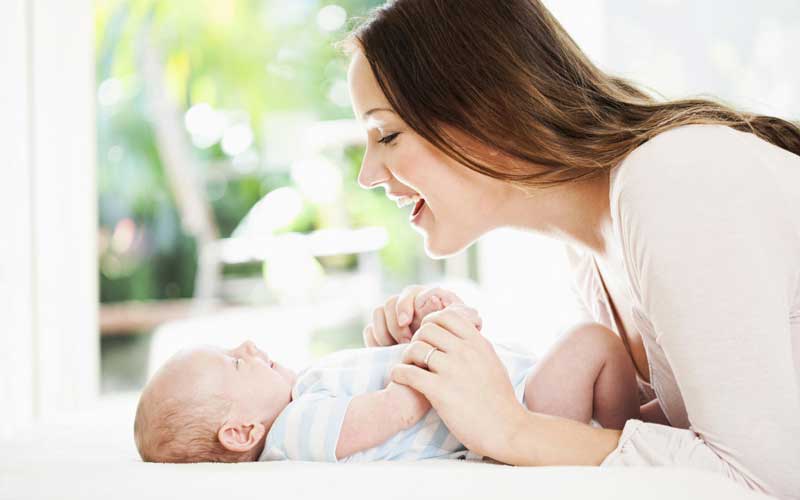 Yes, there are vegan natural mattress options that do not use animal products like wool or silk. These vegan mattresses might use organic cotton, natural latex, or plant-based materials to provide comfort and support without animal-derived ingredients.
Is there a significant difference in comfort between natural and synthetic mattresses?
Comfort is subjective and can vary widely between individuals. However, natural mattresses are often praised for their supportive and breathable properties, which can enhance comfort. They can offer a different feel compared to synthetic mattresses, with many people finding them to be more comfortable due to their natural elasticity and temperature-regulating features.
How does the cost of a natural mattress compare to traditional mattresses, and why?
Generally, natural mattresses can be more expensive than traditional mattresses due to the higher costs of sourcing organic, sustainable materials and the more complex manufacturing processes that meet environmental and health standards. However, many consumers find the long-term benefits of durability, health, and environmental impact justify the initial investment.
Final Words
Embarking on the perfect mattress can be daunting, particularly when your heart is set on an organic, chemical-free sanctuary for sleep. Yet, amidst the maze of options, there are outstanding natural and eco-conscious choices that stand out for their non-toxic and earth-friendly virtues. To ease your journey, we've delved into natural mattresses, surfacing with a curated selection of the finest the market offers, providing a valuable starting point.
The mattresses we've highlighted come with glowing customer testimonials and have garnered widespread acclaim. Our goal is to streamline your decision-making process, and to that end, we've distilled our findings down to the top five exemplary mattresses. For a broader perspective, our comprehensive guide to the best mattresses in the UK is also at your disposal.
The bedding landscape is ever-evolving, with brands and their offerings constantly changing. Rest assured, we are committed to informing you with the freshest insights and updates. We trust our guide has illuminated your path to finding the ideal mattress.
We now invite you to lend your voice to the conversation. Should there be any lingering queries or if you possess insights you're eager to impart, we welcome your contributions in the comments section below.