Everyone has those days when they wake up refreshed and the ones they've barely slept at all. A sleep tracker can give valuable insight into what separates the good nights from the bad nights. It shows you how much quality sleep you're getting. This information can be used to improve your sleep.
While lab-based sleep tests usually track patterns through brain activity, sleep trackers rely on sensors to detect other physical signs, like heart rate and body movement. Wearable devices measure data all night long, whereas other trackers may rest on the mattress, under the mattress or next to the bed to collect information.
But how can you choose a quality tracker that fits the bill and checks all the boxes? There are many brands and models on the market – from high-quality products from reputable companies to cheap Chinese items that we wouldn't recommend to our worst enemy.
That's why we created LightSleeper – to help you choose the product that is right for you and you alone and help you make that choice along the way. Companies can never pay to feature their products on LightSleeper, nor we are getting paid to recommend one brand over the other – we are an independent resource, and we only recommend products that have passed our tests, and we feel that they are the best in their category.
So let's see what we think are the best sleep trackers in the UK today:
1. Honor Band 5 – Editor's Pick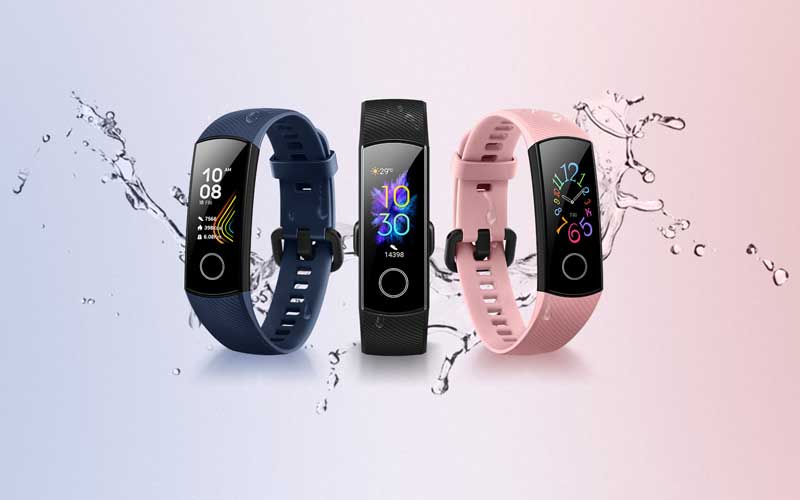 First on our list is the Honor Band 5 with over 20,000 glowing reviews, easily winning the Editor's pick in this category.
The Honor fitness tracker has an impressive array of features, including heart rate monitoring, sports tracking, and an attractive 0.95inch OLED screen. It gives you a lot of insight into your sleep. To get the most out of the Honor Band 5, you'll have to enable the TruSleep feature set to basic sleep tracking, saving your battery life by not using the heart rate monitor.
TruSleep will show you the time you spent in light, deep and REM sleep, and an overall sleep score out of 100. The app will offer advice if you log low scores. The battery life on the Honor Band 5 will still last around six days between charges if you use all the advanced features on offer.
Overall, Honor's tracker can last up to 14 days before it needs to be recharged. It also offers heart rate and sport/activity tracking. You can even use it while swimming to track swim speed, distance, calories (water-resistant to 50m), so you can make the most out of your purchase.
2. Fitbit Inspire 2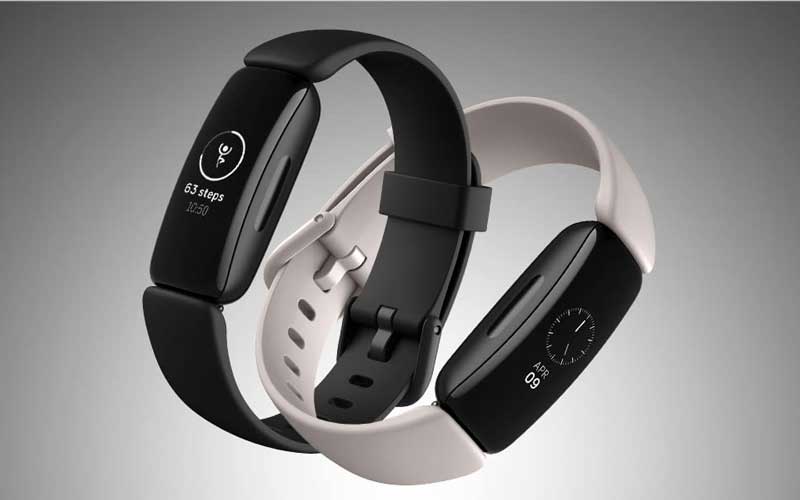 Our premium offer today is the Fitbit Inspire 2. The brand has established itself by tracking steps, but their latest generation trackers go well beyond the standard pedometres. The insights it offers after you wake up and check your night's rest is what distinguishes it from the rest.
The Sleep Stages feature recommends how much time you should spend in each zone of your sleep. The Sleep Insights section of the app provides tips on how to go about sleeping better while plotting you against other users in a similar demographic so you can see if you are getting an above or below-average sleep.
This Fitbit product has over 22,000 reviews, most of which have a 5-star rating. Its battery life can last up to 10 days, but what makes it a popular choice is the free 1-year Fitbit Premium trial with which you get personalised guidance, insights and motivation to help you reach your goals. Fitbit Inspire 2 tracks all-day steps, distance and calories burned so that it can be useful to you or your loved ones 24/7.
3. TEMINICE Smart Band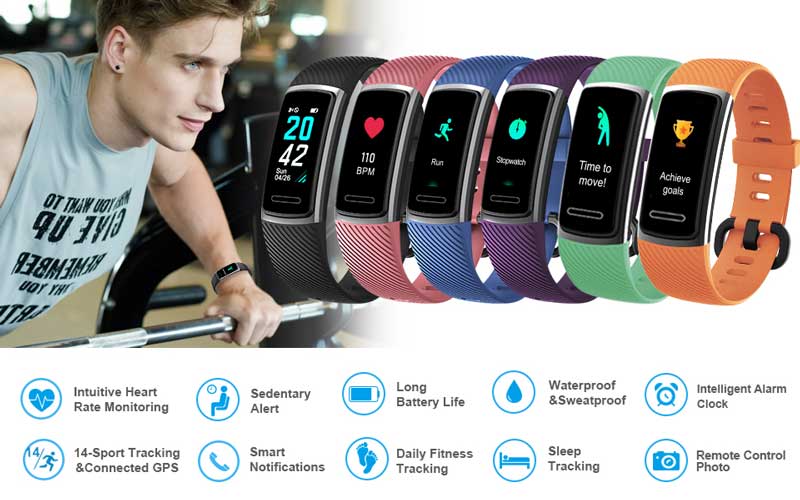 If you're on a tight budget, the TEMINICE Smart Band Tracker is an excellent suggestion. Teminice has a built-in Nordic 51832 Chip that offers lower power consumption and higher integration.
It will continuously track your sleep duration and consistency with comprehensive analysis of sleep quality data, which will help you adjust yourself for a healthier lifestyle. This option comes with a low price tag but offers all-day activity tracking such as steps, distance, calories burned, miles walked, active minutes, sleep status and more.
Teminice's Smart Band takes only one to two hours to charge but can last up to 15 days. And if you connect it to your phone, it can show you stats like pace and distance and record a map of your workout route. It's also waterproof and can remind you to move after periods of inactivity.
4. Polar Ignite – A good choice for athletes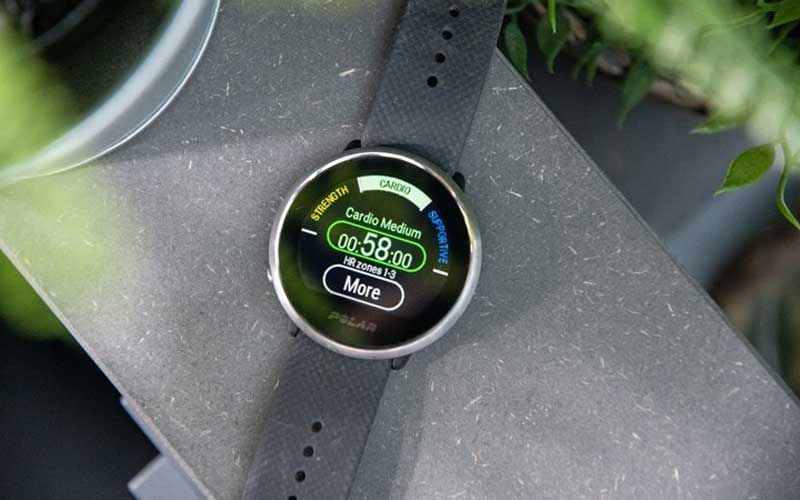 In regards to the quality of sleep monitoring needed by the major players in sports tracking, Polar has the edge. The Ignite watch is a great value sports band with built-in GPS, heart rate tracking and a bright touchscreen. The innovative features it offers in terms of tracking your rest and recovery can help any athlete improve their training immensely.
The Sleep Plus Stages feature shows the time spent in light, deep and REM sleep and provides a sleep score based on six factors, including amount, solidity and regeneration. A colour-coded star displays your ratings for these six factors. Polar also gives you a one-word description of how well you have recharged overnight, based on how well your nervous system has recovered. What's used to measure that is your heart rate and breathing rate.
The watch shows how prepared you are to train that day based on how well your body recovered overnight. If it is saying that your recovery is poor, you might want to do an easy workout or nothing at all. The Ignite will suggest various workouts based on how well you have recovered, which can be highly beneficial.
In general, Polar Ignite can last up to five days, but what makes it stand out is the Nightly Recharge measures on how well your body recovers and the FitSpark Daily Training Guide that offers personalised and ready-made daily workout guidance.
5. Withings ScanWatch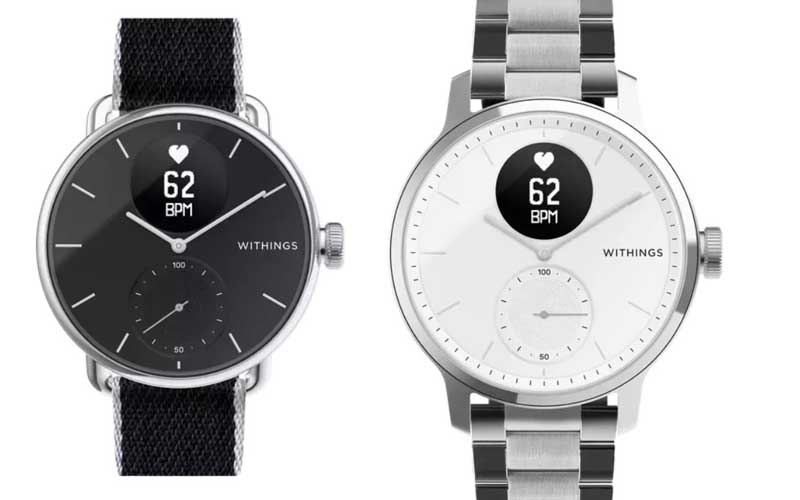 The ScanWatch is perfect for anyone who wants to track their activity but doesn't like the look of a fitness tracker. It looks like a regular watch, with a small circular screen on the top half, but it has an impressive range of sensors in its slender frame.
They allow it to measure your heart rate and blood oxygen saturation while taking medical-grade ECGs. The sleep tracking offered by the Withings ScanWatch is top-notch. It gives you a sleep score out of 100 and a graphical breakdown of your night. The watch will rate your sleep's depth and duration and detect breathing problems (if you have any) that can indicate sleep apnoea.
The Health Mate app syncs all the data from the watch to give advice on improving your rest and explaining how you sleep. Withings offers a sleek design with a whopping battery life that can last up to 30 days.
6. Whoop Strap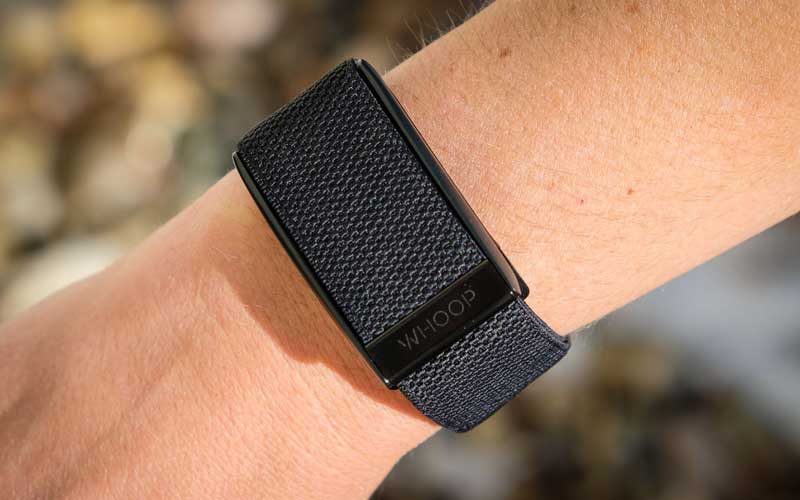 The Whoop is a wristband and not a wristwatch. It used to be quite expensive, but now the Whoop will throw the band in for free if you purchase six months of their tracking subscription. The most accurate and granular understanding of your body is provided by the five different tracking metrics Whoop offers.
When it comes to your sleep, it's essential to know how much time you spent in bed, how much sleep you got and how long you were in the different sleep stages. If you want to know if your sleep was interrupted more than once, it will show you a report on your sleep efficiency as well as how long you need to recover.
It can also show you how long it takes for you to fall asleep based on when you are attempting to go to bed, all of which can help you find the ideal night's sleep. If you combine this with five-day battery life, you have a solid contender.
Whoop can help reduce resting heart rate, increase heart rate variability and minimise the symptoms of exhausting travel. Their Sleep and Strain Coaches will help you with personalised sleep recommendations like hours of sleep needed, a breakdown of your sleep cycles, and ideal wake and sleep times tied to your circadian rhythm. You will also get exertion level recommendations based on how recovered your body is.
7. Oura Ring – A good wearable tracker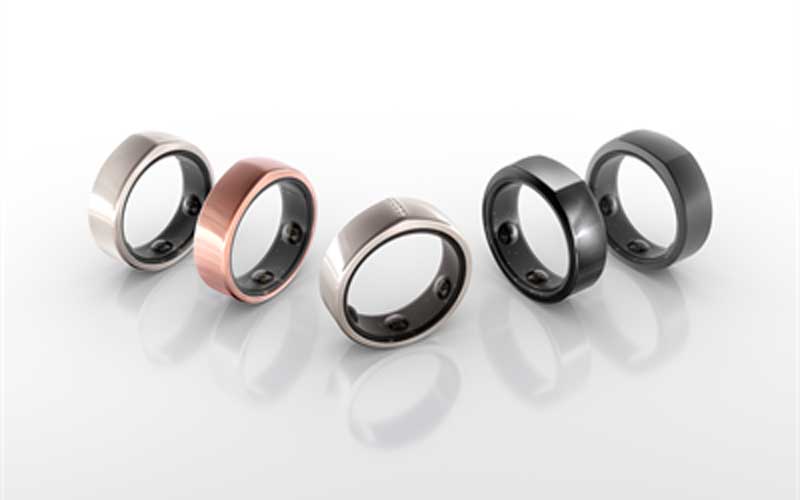 The Oura Ring could be a better option if you can't sleep with a wrist tracker on. If you want a top-notch sleep tracker but don't like wearing a watch, the Oura is an excellent choice due to all the features shoved in this compact product.
This ring tracker will automatically provide you with plenty of data to consider the next day. That includes how long it took you to fall asleep, the time spent in each zone (light, deep and REM) and how fragmented your rest was.
All these feeds on your overall sleep will contribute to your 'Readiness' each morning. What we mean by that is, you will be shown how rested and prepared you are for the day, as well as what changes you might want to make on your training sessions if they aren't as rested as they should be.
Oura's item can last up to seven days before you'll have to recharge it. Oura combines advanced sensor technology and a minimal design with an easy-to-use mobile app that offers precise, personalized health insights.
8. Amazfit ZenBuds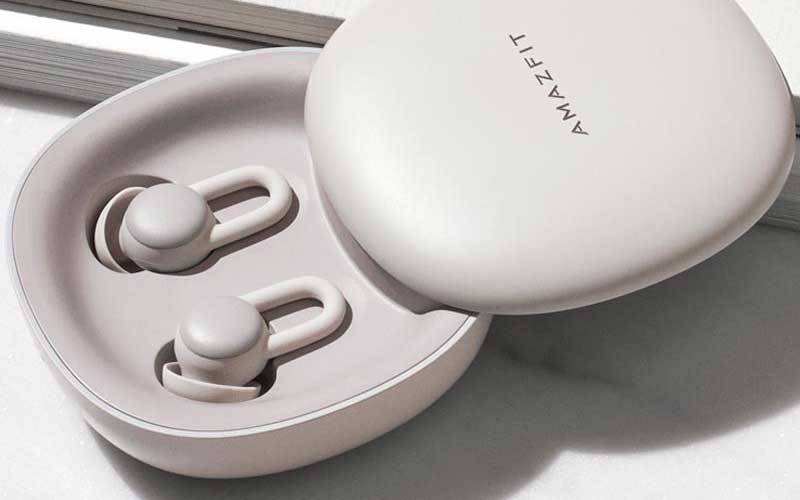 The Amzfit ZenBuds will track your night's rest while still being comfortable enough to wear while you sleep even if you are a side sleeper, along with playing an array of soothing sounds to help you dose off.
The ZenBuds are limited to playing tracks from the library of their partner Zepp, but they can also play your music and podcasts. If you live in a loud area, you can find sounds like waves crashing on a beach, white noise, or a tropical rainforest that will provide a calm environment in which you can get a good night's rest.
With Amazfit, you get a graph showing the different periods of your sleep cycle, along with a sleep score and insight into your sleeping position, as well as how many times you turned in the night. These buds are tiny, which makes them more comfortable and easy to fall asleep with.
Their battery life is around 12 hours, meaning they will last through the whole night, considering the average person sleeps between 6-8 hours. However, if you want to use this tracker for sport and other physical activities, know that the ZenBuds don't offer it. They will track your sleep and monitor your heart rate.
9. Withings Sleep Analyzer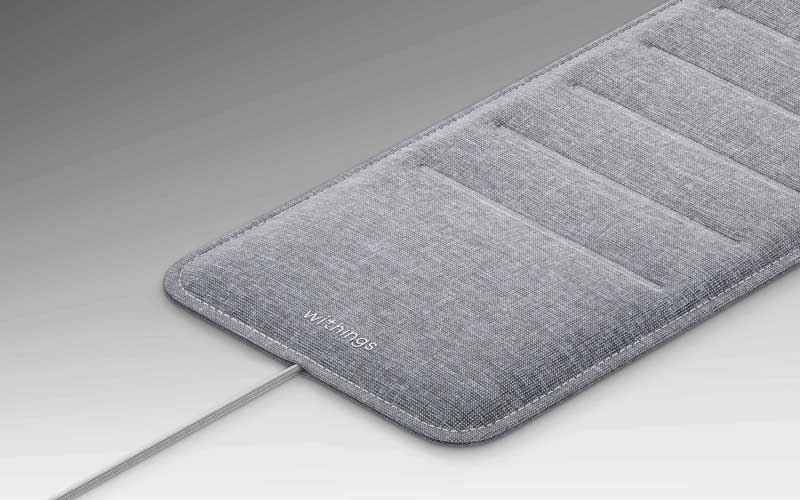 If you're not a fan of smart wearables, we have an under-mattress suggestion for you, called the Withings Sleep Analyzer.
If you put this tracker under your mattress, you will wake up to a world of in-depth info on your night's rest, with your sleep cycles and heart rate automatically tracked along with your snoring. You get a sleep score that takes into account the amount of time in light, deep and REM sleep, whether your sleep was interrupted and how long it took you to fall asleep.
In their partner app, Withings provides a coach that works to improve your sleep. The sensor of this item can be used to control the temperature and lights in the room by making automatic adjustments to your environment with the use of IFTTT integration.
Withings Analyzer is compatible with most mattresses and can detect sleep apnea with medical-grade precision and determine its severity. It doesn't offer activity tracking, but it monitors your heart rate and is compatible with Alexa Skill that works with Health Mate.
10. Sleep Cycle App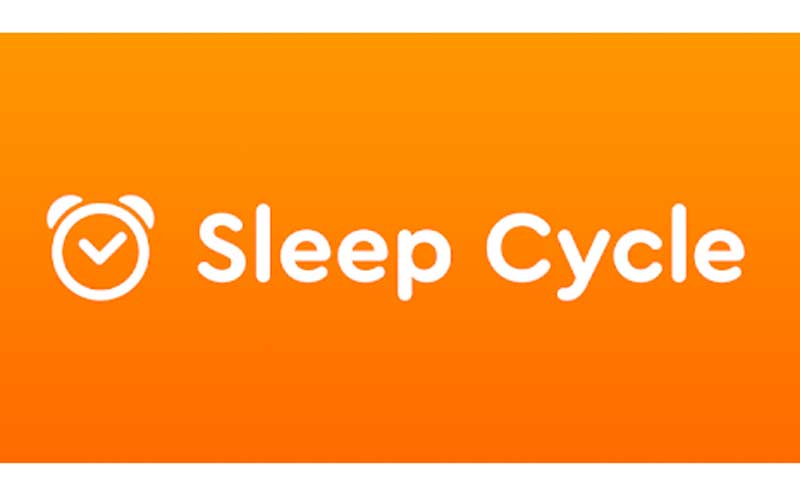 Last but not least, we have a mobile application called Sleep Cycle. The basic version of this app is free, and it has a smart alarm that wakes you when you are in a light stage of sleep. This alone is worth the download, as it really helps you wake up feeling rested and refreshed in the morning.
Its ability to track sleep is impressive. The app uses your phone's microphone and accelerometer to track your movements in the night and provides graphs showing when you were in deep and light sleep, along with an overall sleep quality percentage.
Sleep Cycle can help you sleep better in the long run. It notes how certain activities in the day affect your sleep and will give you a score for how much they improve or decrease your sleep. You will need a premium subscription to unlock some of the other features.
With that said, keep in mind that the app itself won't be as accurate as a product you wear on your body since the only tracking that it's doing is by sound.
How to choose a sleep tracker?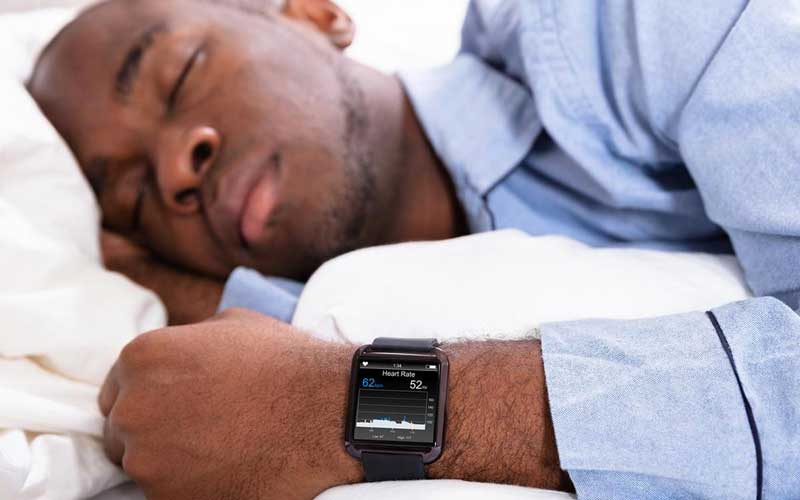 We will show you what to look for when buying a sleep tracker, even though some of the factors may not be a priority for you, you must understand what you're looking for. Here are the factors you'll want to consider:
Tracking
Sleep tracker data may include heart rate, heart rate variability, respiration, snoring, time awake, and body temperature. Room temperature, humidity, noise level, and light are some of the things that might be monitored by some models as well. Since trackers vary in what sleep-related factors they detect, people should pay attention to the product details to find an option that collects the information that interests them the most.
Analytics
The data from sleep tracking can be used to track a person's sleep pattern and the overall quality of their sleep. They can give you a daily sleep score (rating), show you how your sleep has changed over time, and how different factors are linked. Wearable sleeping trackers might also link your daily activity levels to the duration and quality of your sleep cycle.
Battery Life & Charge Time
If you plan to use your sleep tracker only for sleep, battery life may not be an issue since most are designed to last at least through the night. However, it is essential to assess how long a device can go between charges if you plan to wear it around the clock. Most options need to be charged every few days, besides the ones resting on or under the mattress. That's because they usually need to be plugged in during the night.
Display & Apps
The majority of sleep trackers use an app to display data. A person should make sure the app is compatible with their device before buying a tracker. Since the app is an essential part of the sleep tracking experience, you may want to look at the description and reviews in the Google Store or the App Store to see if you like the interface.
Comfort & Fit
A good night's sleep is dependent on comfort. Wearable devices often make direct contact with the skin, which is why you should pay attention to the fit, ensuring your tracker is not tight or loose. If a watch or band isn't comfortable for you, the option for another wearable tracker is also a possibility. And if that doesn't work as well, you can use a device that can rest on or under the mattress since it is highly unlikely you will feel or notice it.
Smart Alarm & Waking Up
It is more difficult to wake from a deep sleep, but it's also more exhausting for your body. Suppose you were woken up when in a deep sleep, you will most likely wake up tired and won't feel energised to get out of bed. That's where you can use smart alarms to wake you up. They use your sleep data and assess when you should wake up. It is an excellent solution for people who have to wake up at different times to have a silent alarm that vibrates instead of making a loud noise and waking up the person next to them.
Price
The value of a sleep tracker depends on features, comfort and how it affects you. An expensive one that provides helpful insight to help you sleep better might be of better value than a more affordable option that gives limited, unactionable information. If the tracker is a one-time purchase, shoppers should take into account whether or not they will incur monthly costs. Free apps make trackers a one-time expense. However, some products use apps that come with a monthly subscription.
Extra Features
Additional features include fitness tracking, GPS, coaching and integrations with other apps. These features can make a product more convenient, insightful, and versatile, but they can also increase the price. That's why it's up to you to decide if you want to compromise on settings or values.
Bottom line
Sleep trackers will help you monitor your sleep cycle, and in time they can improve the quality of your sleep. There are different types of trackers that will suit everyone's needs and preferences. All you have to do is figure out which option is the most suitable for you!
All of the products we listed above have great customer reviews and are well received. We hope you could find what you were looking for in our guide regarding the best sleep tracker the market has to offer. To simplify your shopping experience, we've selected the top 10 options for this year.
Brands in the bed industry frequently change, and so do the products they offer, which is why we will continue to provide you with the most up to par information. We hope that this article was helpful, and you could find what you are looking for.
Now it's our turn to hear from you if any questions regarding the subject were left unanswered. If you want to share some information, we would gladly hear about it in the comments below.