When the weather in the UK is warm, it can make for an uncomfortable night of sleep. Even though your windows may be open and your fan might be on full blast, a heavy duvet is not something you want to cover your body with.
If you want to keep cool in bed, you can freeze your socks, have a cold shower, and even fill a hot water bottle with ice-cold water. However, the right summer duvet, light enough to cover you but not heavy enough to make you sweat, will make sure you aren't walking around like an overheated zombie the next morning.
But how can you choose a quality product that fits the bill and checks all the boxes? There are many options on the market – from good quality products from reputable companies to cheap Chinese items that we wouldn't recommend to our worst enemy.
That's why we created LightSleeper – to help you choose the product that is right for you and you alone and help you make that choice along the way. Companies can never pay to feature their products on LightSleeper, nor we are getting paid to recommend one product over the other – we are an independent resource, and we only recommend products that have passed our tests, and we feel that they are the best in their category.
So without further ado, let's see what we think are the best summer duvets on the market and why:
1. Simba Hybrid Stratos Duvet – Our Pick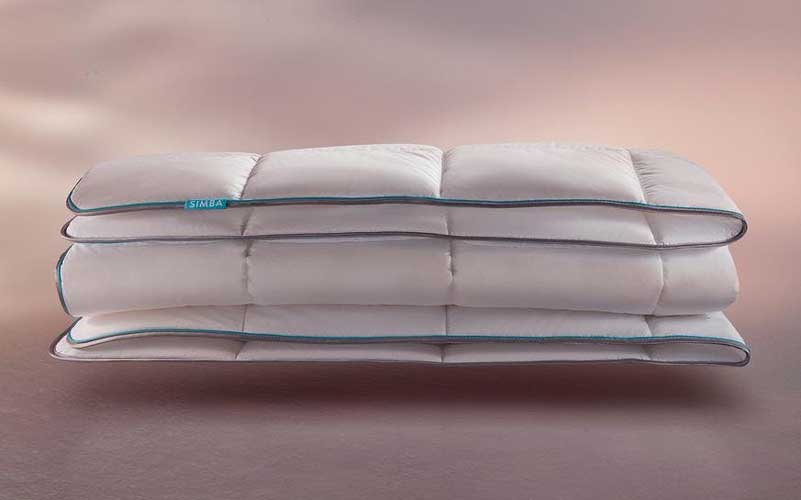 If comfort and quality are your main priority, the luxurious Simba Hybrid is the best option for the warm summer nights to come! The brand has designed a product that isn't only comfortable but also ensures a cool night's sleep in the hot season. However, that doesn't mean you can use it all year round!
This item is filled with 100% Aerelle Cool Night polyester fibre, which has been stitched evenly into the pockets. Those pockets ensure the lack of lumps and bumps as the filling stays in place. Its cover is made from BCI cotton with Simba's Stratos finish.
The breathable duvet will bring you a blissful night's sleep, created with active temperature regulation and fibres that dissipate heat. You get to pick from several sizes, which are all 100% recycled and hypoallergenic. We know that it is on the higher end of the scale, but 4,000 reviews with a 5-star rating and a one-year warranty show a lot.
2. Scooms Hungarian Goose Down Duvet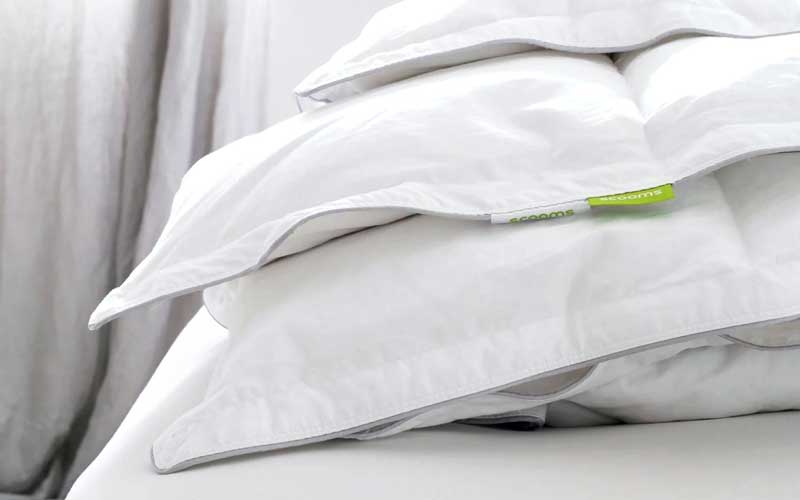 Scooms has designed an all-season duvet filled with 90% Hungarian goose down and 10% small Hungarian goose feather. This filling is one of the best natural options globally; therefore, this is an excellent choice that screams luxury at its finest.
With a 300 thread count, their super soft sateen cotton cover will provide you with a feel like no other. You can get this product in various sizes, from single to super king and receive the all-season comfort with the 4.5 Tog and the 9 Tog duvet. Depending on the season and the individual using it, you can choose to separate them or combine them.
This is an item with a 10-year warranty, which is very unusual for a comforter. Scooms truly works in any season because of their temperature regulation and moisture control. So get yourself a product that insulates well and is naturally breathable for the perfect night's sleep.
And to make your life easier, you can put it in the washing machine and tumble dryer. However, what makes this a special and unique suggestion is that it has a 60-day trial period and an extended guarantee.
3. Silentnight Cooler Summer Duvet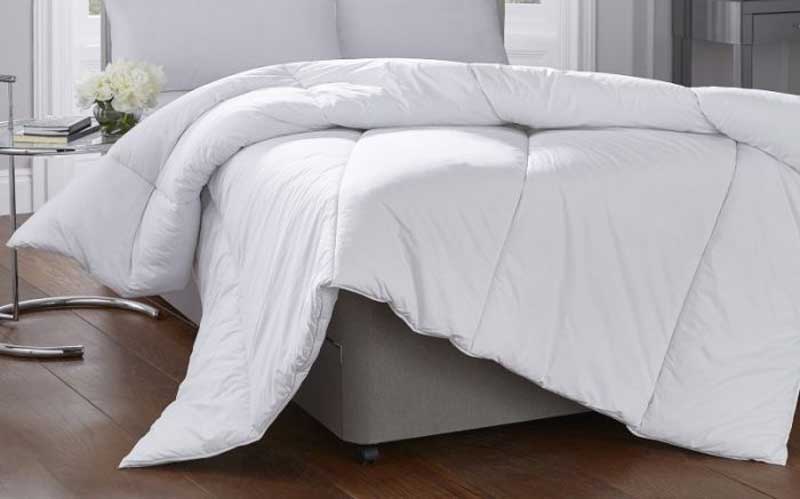 Last but surely not least, we have Silentnight's Cooler Duvet that comes in a bundle with two cotton pillows. This way, you are keeping your sleeping space fresh, clean and hygienic during the warmer months.
It comes with a 4.5 tog rating that provides levels of comfort and softness, thanks to the combination of a 100 per cent pure cotton cover and silky, super-soft hollow fibre filling. This product can do wonders for allergy sufferers and hot sleepers.
Both the pillows and the comforter are machine washable at 40°C. This lightweight bundle offers unsurpassed softness and comfort, perfect for keeping you cooler. It's also available in three sizes which are single, double and king. And the final touch it needs is the clever stitching pattern that holds the super-soft filling in place.
4. Slumberdown All Seasons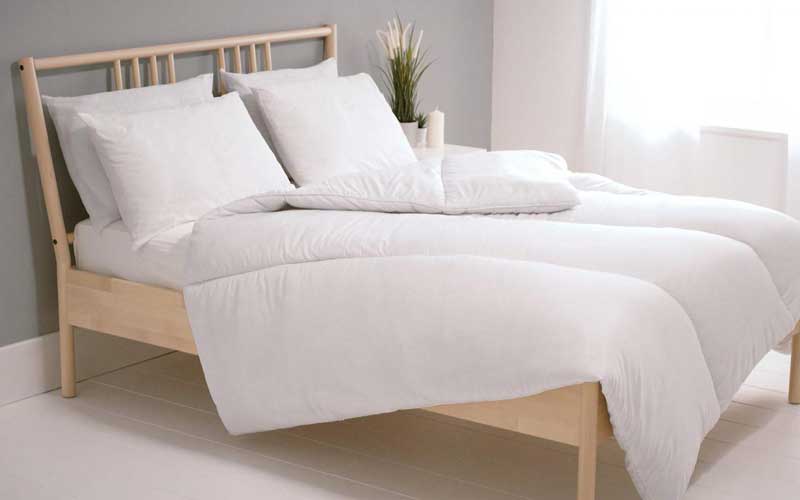 Slumberdown is a company that has been creating duvets since 1915, and since they are a sustainable brand, they've been recycling textile waste for years. As one of the oldest if not, the oldest manufacturer, Slumberdown, has designed 3 in 1 product that can be used all year round that's budget-friendly.
You can use the 4.5 Tog during the hot summer nights, and when it gets colder, just add the 10.5 Tog and keep yourself warm and snug. The All Seasons product has a hollow fibre filling and a soft-touch cover, which adds to the overall cost feeling without adding on the price. This way, you get a quality product at an affordable price that is lightweight and non-allergenic.
Wake up feeling refreshed with this fantastic option that gently wicks away moisture and ensures your body isn't overheating. You can purchase it in various sizes (single to super king) and use them either individually or combined to receive the comfort and warmth you need.
5. Emma Cloud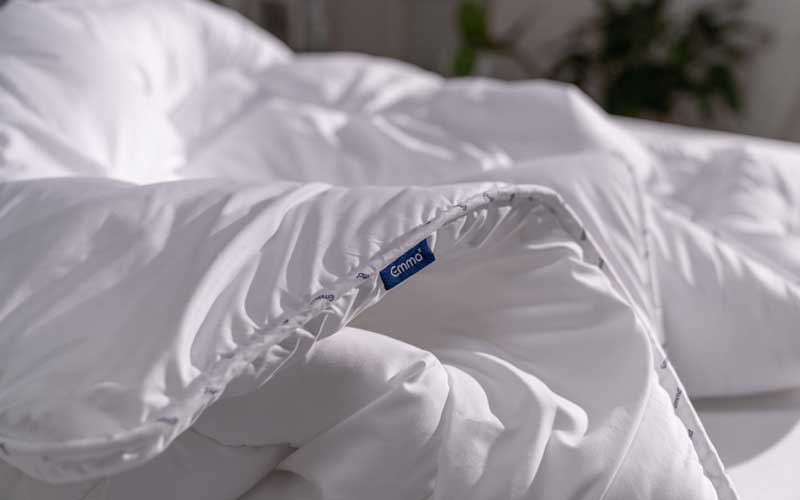 Our next suggestion has a bit higher tog rating for a summer duvet, but its temperature regulating properties can do wonders! We are talking about the Emma Cloud Duvet with a 6.7 tog, suitable for the warmer seasons.
Emma's item can be bought in four sizes ranging from single to super king. The cover and upholstery are made entirely of microfiber fabric (100% Polyester), making it light as a feather and quite breathable. This brand's products are made to stand the test of time and undergo strict testing to ensure they meet the highest quality standards.
The Emma duvet comes with a 200-night trial period, which is rare for a comforter. This machine-washable, light choice will help you stay warm through chilly autumn nights and keep you cool in summer.
How to choose a summer duvet?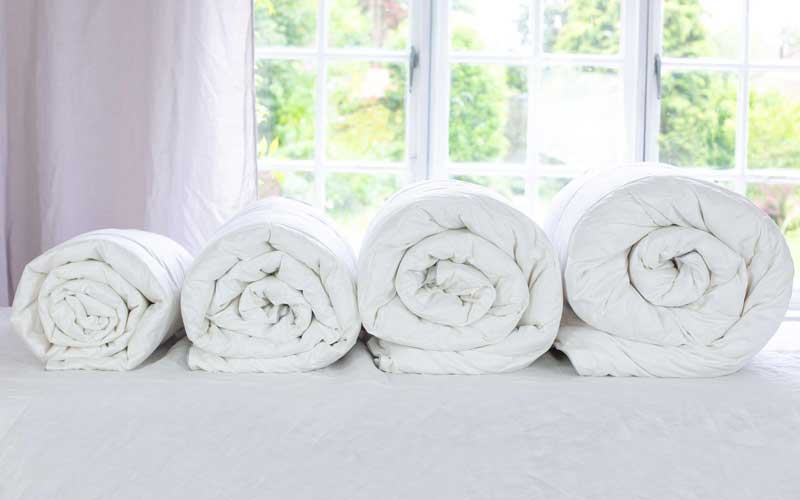 We understand that picking a duvet might not look easy, especially if it's for the summer. No one wants to toss and turn all night while their body overheats. Here is what you need to look for in order to get you quality sleep:
Filling
First and foremost, the factor you should always consider when it comes down to duvets is their filling. The filling can be separated into two big groups, which are natural and synthetic. When we talk about natural options, that usually means down, silk, bamboo, and wool.
Down is the delicate feathers of a bird, and it comes in different colours and can vary in quality depending on a few factors like maturity and species. Silk and bamboo are next and what makes them great is that they are 100% hypoallergenic. Wool is another excellent choice that can wick up to a third of its weight in moisture, which is essential for hot sleepers.
After the natural fills, we have the synthetic ones and, more specifically, microgel. Microgel emulates down, but it is 100% polyester, making it hypoallergenic and easy to care for. It is an affordable option with great value for those on a budget.
Tog & Warmth
To be able to create the perfect concoction, you need to think about both fill type and fill power (a.k.a. tog). If you're looking for the best summer duvet picking a product that has a 10.5 tog rating won't be a good idea.
You can look for products that are 4.5 togs or less so you don't get night sweats. Another option is getting an all seasons cover that will keep your body at the right temperature. Generally speaking, you're searching for a lightweight duvet that will provide you with the right amount of warmth in the summer months.
Construction
Construction is another crucial aspect. There are different methods for constructing a duvet, but the best one is known as the "baffle box". That means stitching a grid of boxes within the product—this way, the filling is evenly distributed. The other popular choice will be the "stitched box", which essentially means a grid is stitched directly through the layers of ticking.
Shell
A shell or a ticking is the outer layer of a duvet. In this factor, you want to look for thread count. With that said, the higher the thread count, the softer and lighter the outer fabric will be, which is what you want for this season. If you want an insert made with down, pick anything above a 220 thread count, so it can't escape through the material.
However, down isn't the only option. There are others, such as bamboo shells, that provide excellent temperature regulating properties. That on its own is an advantage for hot sleepers.
Final Words
When looking to purchase a comforter for the summer, you need to consider its cover material, filling and most importantly, tog rating. Try to get a product that's 4.5 tog or less and avoid the night sweats in the hot summer months.
All of the bed products we listed above have great customer reviews and are well received. We hope you could find what you were looking for in our guide regarding the best summer duvet the market has to offer. To simplify your shopping experience, we've selected the top 5 options for 2021.
Brands in the bed industry frequently change, and so do the products they offer, which is why we will continue to provide you with the most up to par information. We hope that this article was helpful, and you could find what you are looking for. Alternatively, you can see what we think are the best overall duvets on the market as well.
Now it's our turn to hear from you if any questions regarding the subject were left unanswered. If you want to share some information, we would gladly hear about it in the comments below.