One of the advantages of the cold weather is that it gives us more excuses to stay in bed. Making our homes the comfiest they can be is something we need to do more of as temperatures fall. One of the best ways to do so is by packing away the light summer duvet and getting ourselves a warm, fluffy higher-tog rated duvet instead.
But how can you choose a quality duvet that fits the bill and checks all the boxes? Again, there are many products on the market – from good quality comforters from reputable companies to cheap Chinese products that we wouldn't recommend to our worst enemy.
That's why we created LightSleeper – to help you choose the product that is right for you and you alone and help you make that choice along the way. Companies can never pay to feature their products on LightSleeper, nor we are getting paid to recommend one product over the other – we are an independent resource, and we only recommend products that have passed our tests, and we feel that they are the best in their category.
We tested 25 different duvets with various tog ratings and we can safely say there are some clear winners and some absolute losers out there. So without further ado, let's see what we think are the best winter duvets in the UK today:
1. Panda Cloud – Editor's Pick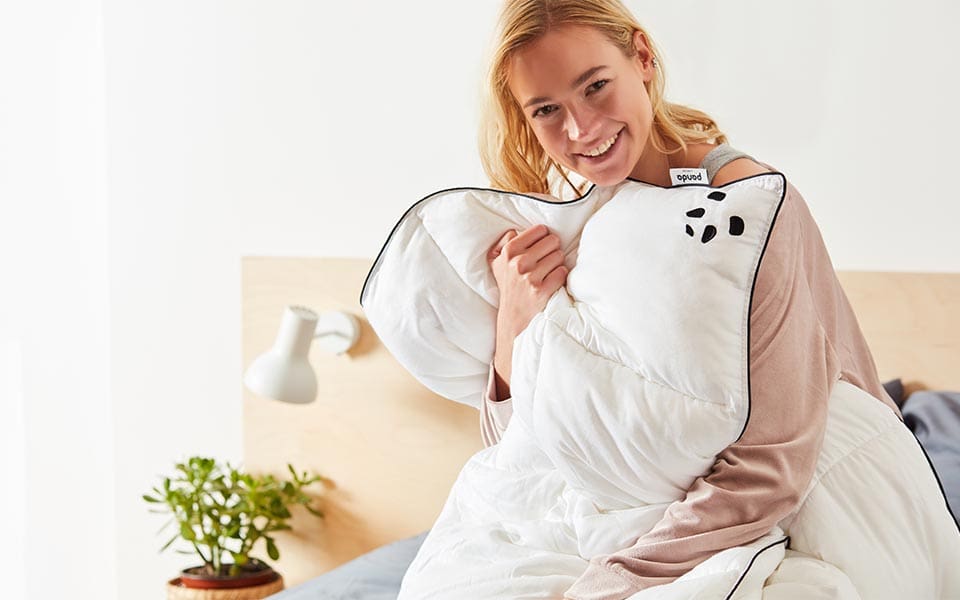 We would like to talk about arguably the best warm duvet on the market – the Panda Cloud. Designed to be light and fluffy for the most comfortable night's sleep. The company has tried to achieve the down feather feeling without any animal cruelty involved.
Made from 50% bamboo and 50% nano microfiber, this product is hypoallergenic and antibacterial. Bamboo is a material that will stay fresher for longer and protect your skin, but it will also reduce humidity in the bedroom and wick moisture away from your body. The outer cover has a 300 thread count and is machine washable.
This top-quality item will work all year round with its middle of the road 10.5 Tog rating. Another positive is the lack of cold spots due to the pockets sewn in the item. To prove the use of only ecological materials, this duvet is Oeko-Tex Certified. If you're searching for a temperature-controlled eco-friendly option, you don't have to look any further!
2. Brook + Wilde Marlowe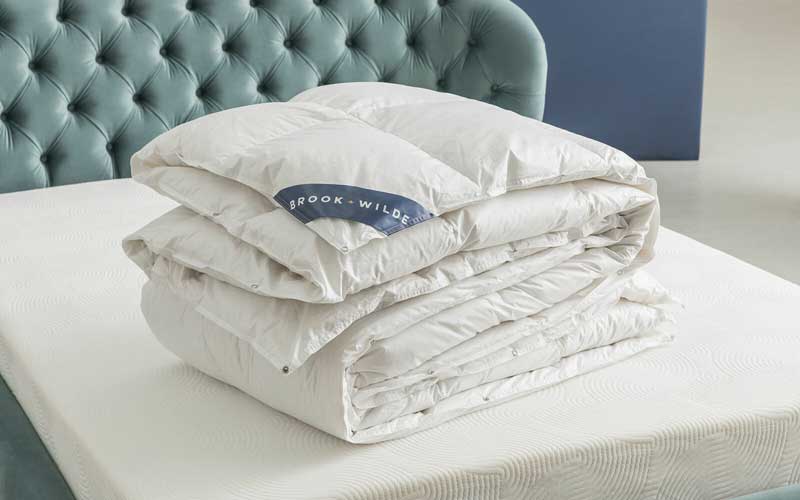 If you're a fan of natural fillings, we have a luxurious suggestion from Brook + Wilde, and that's their Marlowe duvet. It's made by using the finest, ethically sourced white Hungarian goose down with a tog rating of 10.5.
All of this perfection is encased in a 100% Egyptian cotton cover, bordered with press studs. You get to pick from four available sizes (single to super king), so you find the one that will work just right for your needs.
Brook and Wilde's Marlowe Goose Down is a soothing option for those chilly winter nights. The saying you get what you pay for couldn't be more right than in this case because you receive pure bliss compact in a lightweight duvet that comes with free delivery.
3. Slumberdown All Seasons Duvet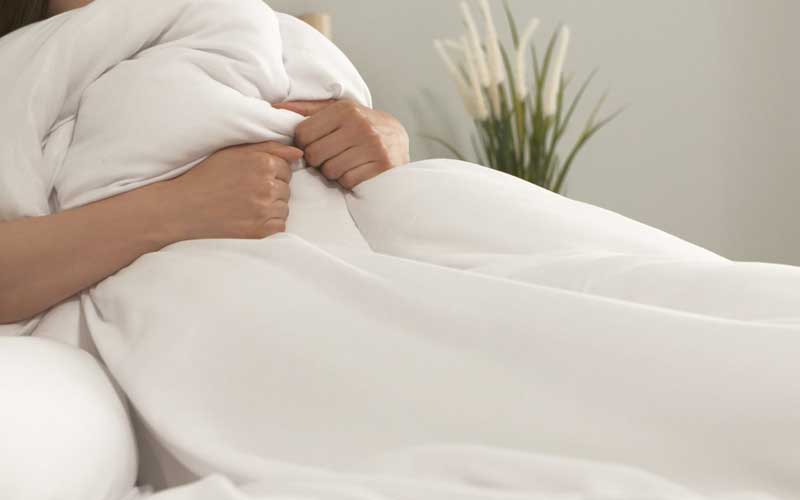 When the summer months are over, and you need to stay warm and cosy on a budget, you should consider Slumerdown. Slumberdown is a company that has been creating duvets since 1915, and since they are a sustainable brand, they've been recycling textile waste for years. As one of the oldest if not, the oldest manufacturer, Slumberdown, has designed an excellent 3 in 1 product that can be used all year round.
You can use the 4.5 Tog during the hot summer nights, and when it gets colder, just add the 10.5 Tog and keep yourself warm and snug. The All Seasons product has a hollow fibre filling and a soft-touch cover, which adds to the overall cost feeling without adding on the price. This way, you get a quality product at an affordable price that is lightweight and non-allergenic.
Wake up feeling refreshed by one of these synthetic duvets that gently wicks away moisture and ensures your body isn't overheating. You can purchase it in various sizes and use them either individually or combined to receive the comfort you need.
4. Simba Hybrid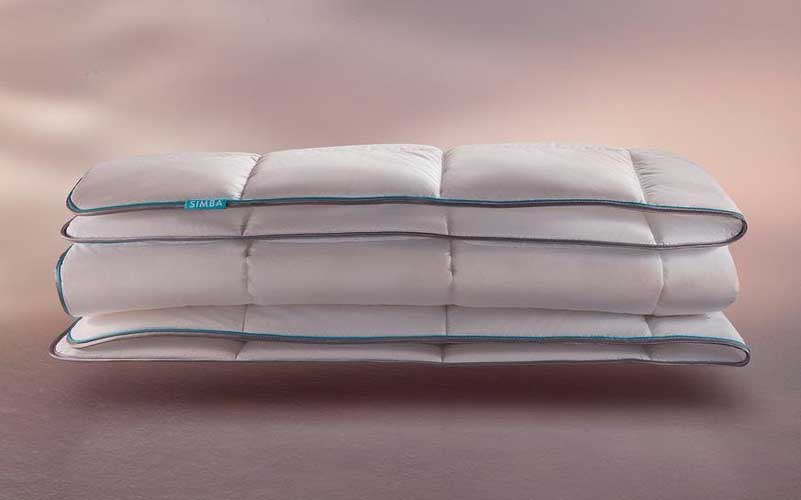 If comfort and quality are your main priority, the fantastic Simba Hybrid is an option to consider. The brand has designed a product that isn't only comfortable but also ensures a cool night's sleep on hot summer nights and a warm filling in the winter.
This item is filled with 100% Aerelle Cool Night polyester fibre and stitched evenly into the pockets. Those pockets ensure the lack of lumps and bumps as the synthetic fillings stay in place. Its cover is made from BCI cotton with a Stratos finish.
The breathable duvet will bring you a blissful night's sleep, created with active temperature regulation and fibres that dissipate heat. You get to pick from several sizes, which are all 100% recycled and hypoallergenic. We know that it is on the higher end of the scale, but 2,000 reviews with a 5-star rating and a one year guarantee show a lot.
5. Eve Snug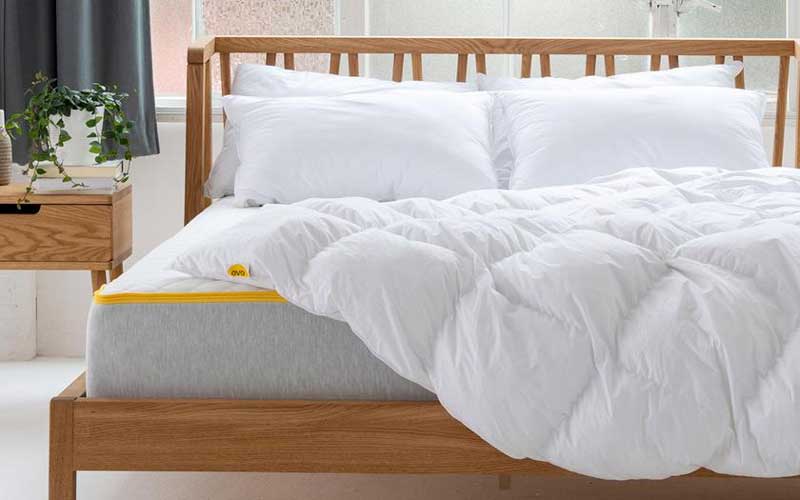 First, on our list today is Eve's Snug Duvet with a 13.5 tog rating, easily winning the Editor's pick in this category. If you want to cocoon yourself in pure huggable luxury, Eve gives you that opportunity in four sizes ranging from single to super king.
This Snug duvet is designed in London and manufactured in Scotland with a 100% cotton cover and 100% Aerelle® Softflex hollow fibre. It is machine washable at 40°C, and it can be tumble dried on low heat so that your bedding is always clean and fresh for the winter months.
What makes it truly remarkable is the smart hollow fibre filling that keeps air circulating while you rest. That means no more clammy nights for you or your partner (if you have one). In addition, this Eve's product comes with a 2-year warranty and free delivery straight to your doorstep in UK's mainland.
How to choose a warm winter duvet?
We understand that picking a duvet might not look easy, but if you put in some effort and read this guide, you will be able to find one that will do wonders for the quality of your sleep. If you don't know where to start we can show you the way with these simple considerations regarding the best winter duvet:
Tog
To be able to create the perfect concoction, you need to think about both fill type and fill power (a.k.a. tog). If you're looking for the best winter duvet picking a product that has a 4.5 tog rating won't be a good idea because it won't keep you warm in the cold months.
You can look for products that are 10.5 togs or more, so you are snug and warm. Another option is getting an all seasons cover that will keep your body at the right temperature.
Some options come with inserts that add on tog, making the item suitable for both summer and winter. Generally speaking, you're searching for a duvet that will provide you with the right amount of warmth on cold winter nights.
Filling
The factor you should always consider when it comes down to duvets is their filling. The filling can be separated into two big groups which are natural and synthetic.
Natural
When we talk about natural options that usually means down, silk, bamboo, and wool.
Down – is actually the delicate feathers of a bird, and it comes in different colours and can vary in quality depending on a few factors like maturity and species. Most times, you'll find products filled with either duck down or goose down. Duck feathers are lighter and cooler, whereas goose ones are larger and warmer, meaning they are more suitable for the winter.
Wool – is another great choice that can wick up to a third of its weight in moisture! That is essential for hot sleepers! It is on the heavier side, and it is denser, but it comes from an animal-friendly, renewable resource and will keep you warm without giving you night sweats.
Silk and bamboo – are an excellent choice because they are 100% hypoallergenic. People with sensitive skin and allergies can finally have a suitable textile, an excellent insulator that excels at wicking away moisture, so you are cool and dry. This type of duvet is typically used in lightweight options for warmer weather.
Synthetic
After the natural fills, come the synthetic ones and more specifically microgel.
Microgel – emulates down, but it is 100% polyester, making it hypoallergenic and easy to care of. This is an affordable option with great value for those on a budget. Something to keep in mind is that synthetic fills are required roughly three times the amount of filling for a natural one; therefore, they are on the heavier side.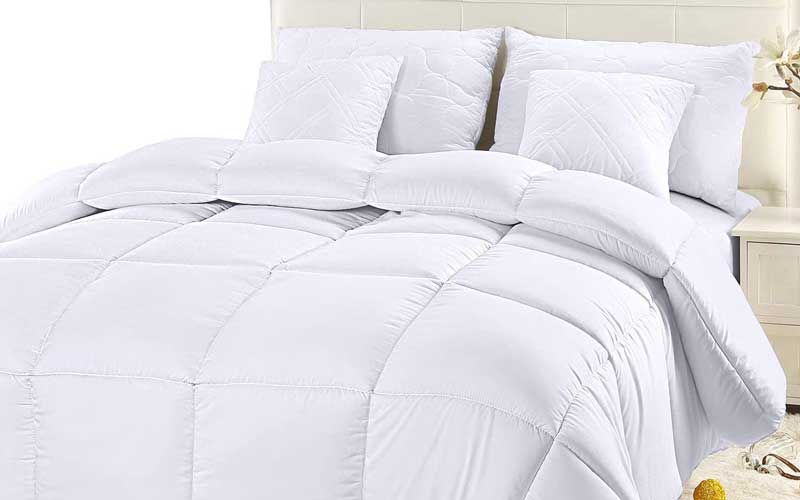 Construction
Construction is another crucial aspect. There are different methods for constructing a duvet, but the best one is known as the "baffle box". That means stitching a grid of boxes within the product—this way, the filling is evenly distributed. The other popular choice will be the "stitched box", which essentially means a grid is stitched directly through both layers of ticking.
Warmth & Weight
To be able to create the perfect concoction, you need to think about both fill type and fill power. What we mean by that determining the weight and warmth of your duvet. If we're talking about non-down, the fill power equals how much filling is used, which is how you conclude the weight.
Things aren't as easy with down. The reason for that is a higher quality down will achieve a higher fill power with less filling and vice versa. Sometimes a duvet's warmth can also be measured in togs, as we've mentioned above.
Shell
A shell or a ticking is the outer layer of a duvet. In this factor, you want to look for thread count. With that said, the higher the thread count, the softer and lighter the outer fabric will be. If you want an insert made with down, pick anything above a 220 thread count, so it can't escape through the material.
However, down isn't the only option. There are others, such as bamboo shells that provide excellent temperature regulating properties which can be beneficial, depending on the type of sleeper you are.
Layers
You should also consider the other layers of fabric you choose for your bed. Think about the extra layers that can increase the warmth and weight of your bedding, such as coverlets, flat sheets and others. If you're not a fan of heat and tend to sleep hot, opt for a light warmth duvet. Whereas if you're a cold sleeper, you can always get a year-round duvet and jacquard duvet cover.
Whether you prefer a natural or synthetic duvet, you should consider all of the options that we have discussed. You want to find one that will keep you warm during the winter. We spend a third of our lives sleeping, which is why we have to pick items that will bring us the support and comfort we need.
Price
Everyone has a different budget, which is understandable, but what we highly recommend you do before setting a budget is to read some reviews and check out the average price range in order to find the best winter duvet. This way, you will make an informed decision that's realistic and accurate.
Frequently Asked Questions
What is a tog rating?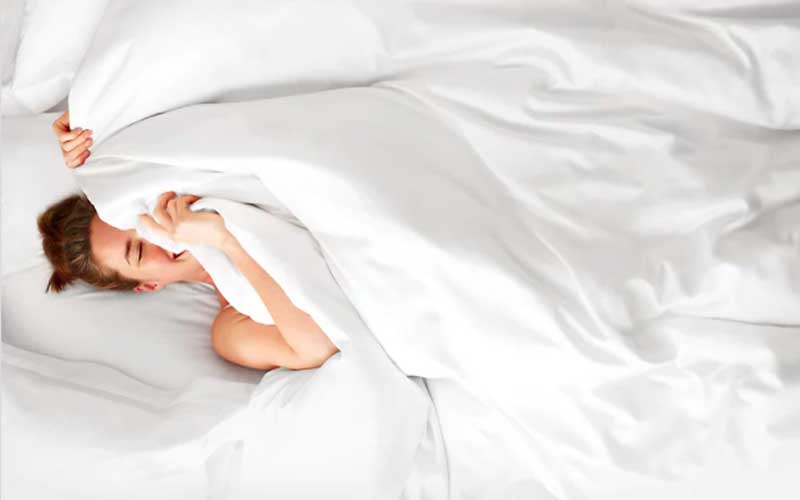 The tog (Thermal Overall Grade) is a measure of thermal insulance of a unit area, which is also known as thermal resistance. It is commonly used in the textile industry and, more specifically, to measure a duvet's warmth.
Generally speaking, British duvets are sold in steps of 1.5 tog from 4.5 togs (summer) to 16.5 togs (extra-warm), with 10 being the most popular option. Of course, the higher up the scale you go, the toastier you'll be.
What's the optimal tog rating for winter?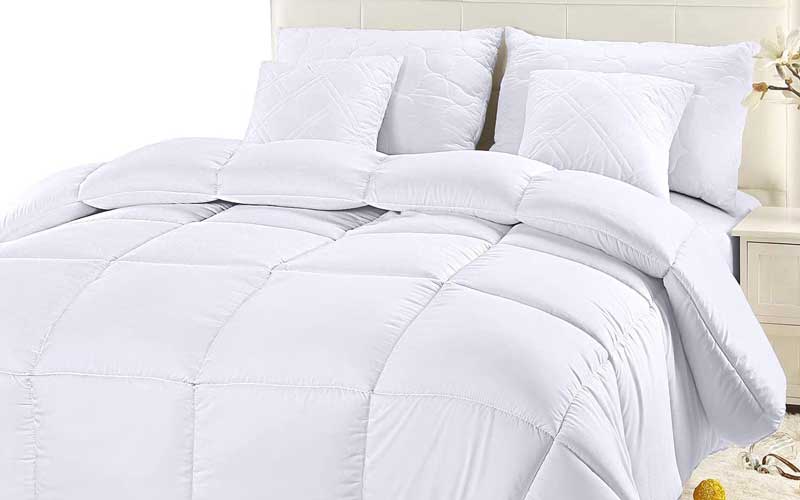 The optimal tog for the best winter duvet will be somewhere between 10.5 and 13.5 tog. However, that depends on what material the duvet is constructed from. If you're towards the south of England, where it's a bit warmer in the winter, a 10.5 tog might work just fine, but if you live somewhere colder, opt for the 13.5 tog rating.
If you really want to make sure there are no cold spots on your bed, you can get a 15 tog option or higher, but keep in mind that it's not quite cold enough consistently here in the UK. You can also check out WikiHow's article on how to keep your bed warm in the winter.
Bottom line
When the cold months are upon us, we all want a cosy bed to snuggle in, meaning we need a warm duvet that will provide us with a good night's sleep. When looking for the best winter duvet, you should consider the filling and the cover material. It's also a good idea to look for a warranty and is you can machine wash it, to keep it fresh and clean.
All of the bed products we listed above have great customer reviews and are well received. We hope you could find what you were looking for and enjoy your purchase. Brands in the bed industry frequently change, and so do the products they offer, which is why we will continue to provide you with the most up to par information. We hope that this article was helpful and that you could find what you are looking for. Alternatively, you can see what we think are the best duvets overall in the UK market today.
Now it's our turn to hear from you if any questions regarding the subject were left unanswered. If you want to share some information, we would gladly hear about it in the comments below.