Top 5 Pillows for Snoring
Last Updated on November 2, 2021
Snoring can affect both the snorer and their partner's sleep. The familiar noise may be caused by inflammation, gravity affecting the soft tissues, and other factors. There isn't a reliable cure for snoring, but some adjustments may reduce it.
Buying a pillow for snoring is one of the first ways a person can try to find relief because most are suitable for all sleeping positions and come with an affordable price tag. For many people, this issue can be affected by their sleep position.
It is possible to reduce airway compression from the head falling back due to an unsupportive pillow or being pushed too far forward by a pillow that's too firm. That's why in today's article, we will show you the top 5 anti-snore pillows, talk about the possible causes of the condition and discuss things related to that matter.
While snoring is common, it can be a sign of a severe health condition, so it's important to discuss your symptoms with your doctor. Only your qualified medical provider can help you decide what is best for your health.
Yes, snoring is common but discussing your symptoms with a doctor is essential since it can be a sign of a serious condition. Plus, a professional can help you decide what is best for your health.
But how can you choose a quality option that fits the bill and checks all the boxes? There are many options on the market – from high-quality products from reputable companies to cheap Chinese items that we wouldn't recommend to our worst enemy.
That's why we created LightSleeper – to help you choose the product that is right for you and you alone and help you make that choice along the way. Companies can never pay to feature their products on LightSleeper, nor we are getting paid to recommend one product over the other – we are an independent resource, and we only recommend products that have passed our tests, and we feel that they are the best in their category.
So let's see what we think about the Best Anti-Snore Pillow today and why.
1. Kally Sleep Anti-Snore Pillow – Editor's Pick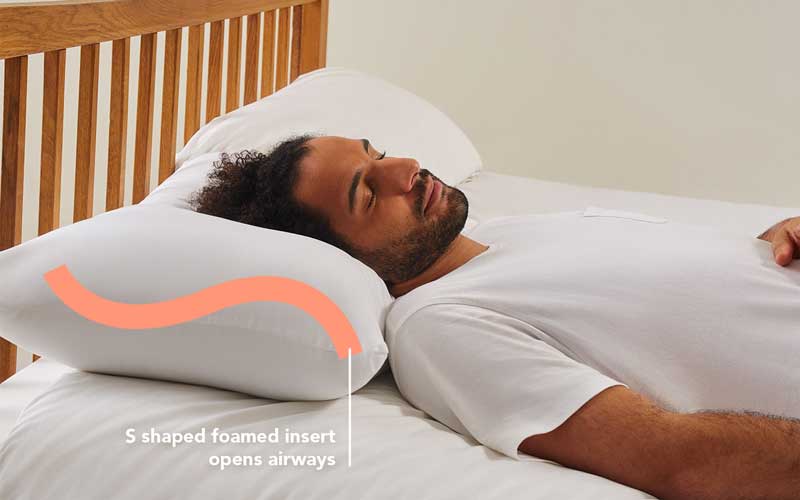 First, on our list today is the Kally Sleep, which is an ergonomic pillow, easily winning the Editor's pick in this category. Kally's option has an ergonomically shaped S-shaped foam core that encourages deep, quieter sleep while supporting the head and neck, opening the airways for improved breathing.
The British Sleep Apnoea Association has tested this item for reducing snoring frequency and volume by approximately 60%, which is very impressive. It's made from hollow fibre filling with a soft and breathable polycotton cover. Kally's product is also anti-allergy treated to protect against bacteria.
It can be purchased in one size only 70 x 40cm, with a firmness of 6 out of 10 (1 being the softest and 10 the firmest). Many happy snoozers have called it a marriage saver! Kally Sleep is a brand that offers you a 14-day sleep trial period and free delivery on all orders over £39.
Overall, the Kally Sleep snore relief pillow can be suitable for most back and side sleepers, it is anti-allergy treated, and its ergonomic design will adequately support your head and neck.
2. Panda Memory Foam Bamboo Pillow – Runner Up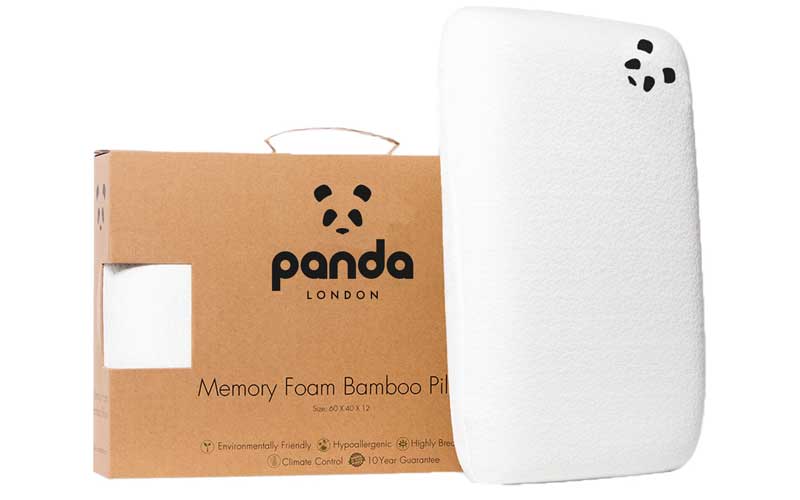 Next, we want to introduce you to the Panda Luxury Memory Foam Bamboo Pillow. Panda is a company that uses bamboo fibres in their products, which is a sustainable resource and is one of the world's fastest and densely growing plants, making it environmentally friendly.
Every used material is tested to ensure the absence of any harmful chemicals. This REACH (Registration, Evaluation, Authorisation and restriction of Chemicals) certified product comes with three unique layers.
The centre layer is Visco memory foam, which orthopaedic experts and doctors highly recommend. Next, we have a protective mesh layer that keeps your memory foam centre clean. Lastly, we have a plush bamboo pillowcase, which works great by helping against skin irritation and allergies, and allergies can be the cause of snoring!
Panda's pillowcase keeps the air flowing and is highly breathable. Thus the unique temperature control system, keeping us cool and comfortable. It's also easily removable and machine washable. Unlike most, this Panda item comes with a 30-day trial period, where you can try and test it. You also get free delivery and a 10-year guarantee that furthermore proves the high-quality of this impeccable product.
3. Silentnight Anti-Snore Pillow – Worth Considering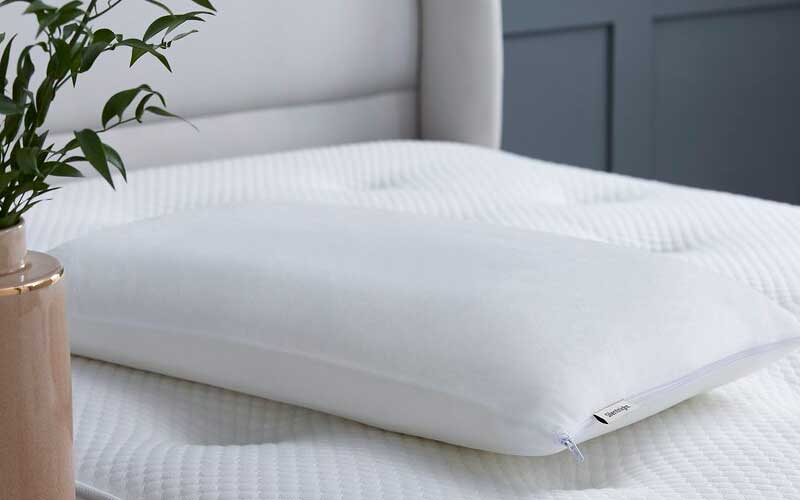 Silentnight is one of the largest manufacturers in the bedding industry n the UK, and they've come up with an affordable anti-snore pillow, which can be beneficial for many. This product is also tested by the British Snoring & Sleep Apnoea Association, who found the pillow reduced snoring frequency and volume by approximately 50%.
It comes in one standard size (74 x 45cm), and it's made from an ergonomically designed foam core that is surrounded by soft and comfortable hollow fibre encased in smooth polycotton, which is soft and breathable.
Silentnight's hypo-allergenic option offers medium support and is suitable for back and side sleepers. It can help reduce snoring by supporting your head and neck to encourage improved breathing and better sleep quality.
This Silentnight's item has a two-year manufacturer's warranty, a 60-night comfort exchange period and free delivery in the UK.
4. Supportiback Snore Relief Pillow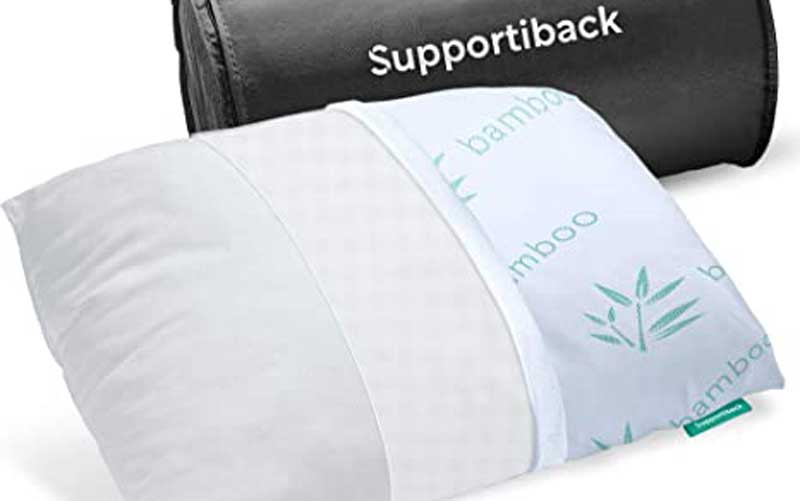 We have the Supportiback Hypoallergenic Snore Relief pillow as our other budget-friendly alternative. Doctors designed it to keep your head and spine properly aligned while you sleep, combating stiffness, headaches, and all types of back problems.
This Supportiback product comes with a Cooling FreshTouch cover, a Silver-Bac antibacterial thread underneath, an Egro-Bounce accelerated recovery layer, a Supportive CURALIGN structure. The brand uses 99.75% plant-based shredded memory foam, so you don't have to worry about any cheap offcuts.
Supportiback pillows undergo strict, third-party lab testing and are CertiPUR and GREENGUARD Gold certified, meaning no toxic chemicals are used, further ensuring safety and quality. The hypoallergenic product has a unique adjustable design that allows you to access the memory foam and add or remove filling to suit your size, shape, and sleeping position. This affordable product comes with a 100-night trial period and a 5-year guarantee.
Overall, Supportiback Hypoallergenic Snore Relief choice is one of the most highly recommended pillows for snorers on the market. It's adjustable, chemical-free, and with a lower price tag that can aid you with your snoring issues.
5. Slumberdown Anti Snore Pillow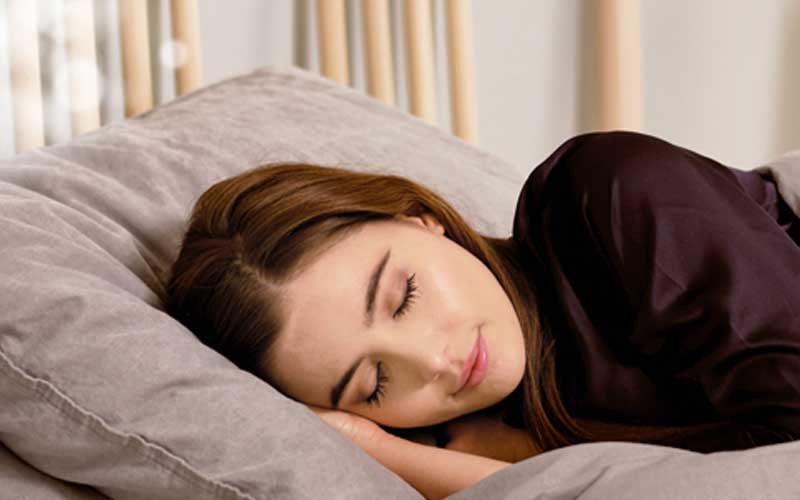 Last but not least, we have a suggestion from Slumberdown. This product is designed with an 'S' shaped inner foam core that helps encourage better breathing whilst gently supporting the head and neck, so you can get a good night's sleep without disturbing your partner (if you have one).
Slumberdown's choice offers firmer support for your head while keeping your spine straight. It can be purchased in a 51 x 66cm size. The high-quality foam is encased in a soft and breathable cotton cover, perfect for people that sleep hot at night.
Slumberdown's products are made in the UK and are non-allergenic. Their construction is best suited for back sleepers. The pillows should be cleaned gently with a damp cloth rather than in the washing machine since foam shouldn't get wet.
How to choose the best anti-snore pillow?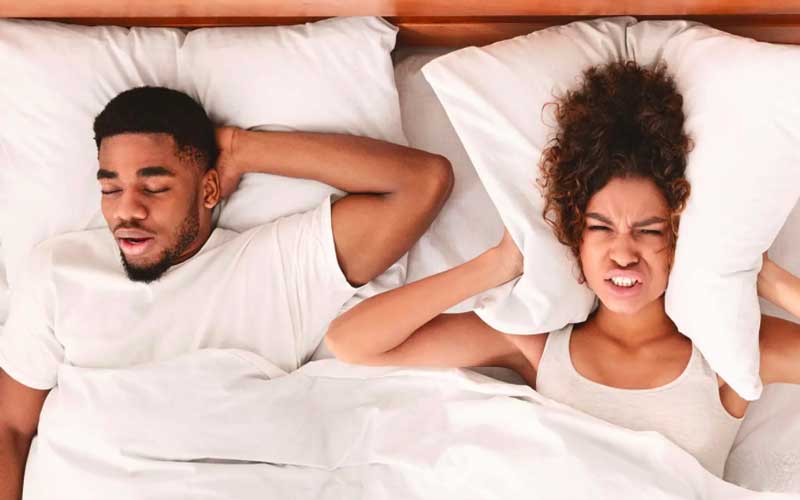 Many companies advertise that they make pillows that are ideal for all sleeping positions. However, these options aren't optimal for everyone since personal needs and preferences may vary. With specific aspects of the pillow's design in mind, you can find the best snoring pillow for you. Here is what you need to consider:
Shape
Multiple pillow shapes can be used as anti-snoring ones, which will depend on an individual's sleeping position and personal preferences. Some people prefer standard rectangular bed pillows, while others prefer wedge pillows or other contoured designs.
For example, a wedge pillow aims to reduce the chance of gravity by forcing the soft tissues of the airway to compress by elevating the entire upper body. In comparison, ergonomic pillows are designed to offer proper alignment and could limit snoring for some people as well.
Materials
Selecting a model constructed of high-quality materials can have a significant effect on your sleep experience. If a quality anti-snoring pillow is likely to be more effective, feel more comfortable, and/or last longer, then it may be worth spending a little more and avoid the lower-quality options.
Snoring can be related to an allergy, which is why you have to be cautious with your material choice if you suffer from any allergies since it can cause allergic reactions and contribute to your snoring.
Firmness Level
The pillow's firmness can affect the support and comfort it offers to an individual. Firmer options might be beneficial for some and uncomfortable for others, just like softer options can be both good and bad for some people.
In general, a firmer pillow is better suited for heavier individuals who need extra support to keep their necks aligned. At the same time, a smaller sleeper will most likely love a softer item. When you're choosing the firmness of your pillow, you should also consider your sleeping position. For example, back and side sleepers often need an option on the firmer side, whereas stomach sleepers don't need them to be as firm or thick.
Sleeping Position
Your sleep position can affect comfort, alignment, and snoring. Generally speaking, if you allow your head position to slump or force it upward, it will cause more pressure on the airway, which may trigger snoring. That's why this issue is quite common with back sleepers. If you are one, we recommend using a wedge pillow for additional elevation and neck pain prevention.
Support
Support can play a huge role in snoring prevention since your neck may bend if the pillow goes flat under your head. Similarly, if the pillow is too supportive, it may put pressure on the soft tissues, making it harder for you to get a restful sleep.
It can be challenging to find the right level of support since it depends on several variables such as sleep position, shoulder depth, and more.
Loft
The correct pillow loft can help with snoring, but it is crucial to healthy spinal alignment. You don't want a product that's too thick nor too thin since both can contribute to airway constriction and increased snoring.
Overall, the loft of a pillow should be determined by your sleeping position. If you are a heavier individual, you will typically need a thicker pillow to fill the space between the mattress and your head and neck. If you are smaller, chances are you need a thinner model for support that won't come with an excessive lift.
Temperature Regulation
Many experts believe sleeping in a cooler room reduces snoring. If you find a pillow that regulates temperatures well, you can reduce the person's likelihood of overheating. If you're a hot sleeper, you should take a looking at our guide on the Top 10 Cooling Pillows on the market today.
What causes snoring?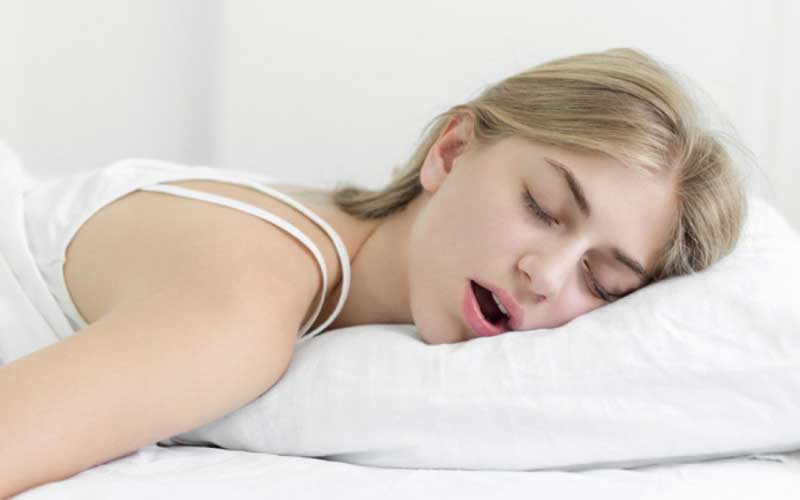 The truth is there are many reasons why you might snore that include underlying health issues that may require a doctor's intervention. What these issues have in common is an interference with the airways, which may force you to breathe through your mouth and/or create waves in the soft tissues of your throat as you breathe.
Nasal passage and soft palate obstructions can hinder your ability to breathe freely as you sleep because of an injury, drugs and alcohol, as well as medical conditions. Some individual might want to seek medical help for physical problems like interrupted rest due to snoring and issues breathing while sleeping.
If you've tried a lot of things but nothing seems to work, we highly recommend talking to a professional. That's because if you have breathing problems while sleeping, you'll want to see if there isn't an underlining issue such as sleep apnea.
How to stop storing?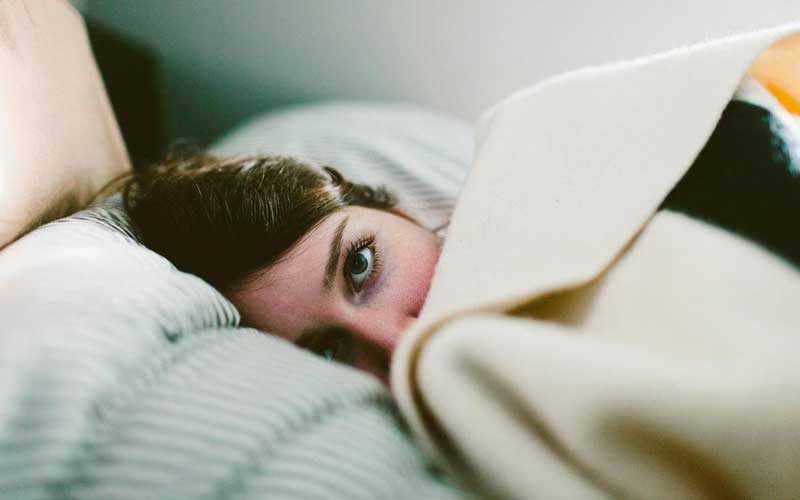 Stopping snoring can be simple or complex. It's dependent on the cause of snoring. If you do not suffer from an underlying medical condition that's causing you to snore and want to have a restful sleep without the discomfort from interrupted airways, try to fix your sleeping posture with the right pillow.
If your snoring is regular and loud, and you have any of the following symptoms, you should consult a doctor.
Occurring breathing pauses while sleeping
Excessive daytime sleepiness and drowsiness
Difficulty concentrating
Morning headaches and migraines
Sore throat when awakening up
Restless sleep and waking up during the night
Gasping or choking when in bed
High blood pressure
Chest pains at night
Poor attention span or behavioural issues (for children)
If you want to learn more about the symptoms, causes, risk factors, and complications of snoring, you can take a look at Mayo's Clinic article on the subject.
Bottom line
When the airway is narrowed, parts of the mouth and throat vibrate, which causes people to snore. That can be a sign of underlying health problems, but a person may snore because of allergies, alcohol consumption, or their sleeping position. It's easier for air to flow through the throat and into the lungs if the head and neck are placed in a way that opens the airway, which can be done by using the proper pillow underneath your head.
All of the products we listed above have great customer reviews and are well received. We hope you could find what you were looking for in our guide regarding the best anti-snore pillow the market has to offer. To simplify your shopping experience, we've selected the top 5 options for this year.
Brands in the bedding industry frequently change, and so do the products they offer, which is why we will continue to provide you with the most up to par information. We hope that this article was helpful, and you could find what you are looking for.
Now it's our turn to hear from you if any questions regarding the subject were left unanswered. If you want to share some information, we would gladly hear about it in the comments below.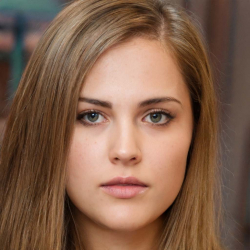 Latest posts by Isabelle Harris
(see all)