Best Pillow for Side Sleepers UK
Reviews & Comparison
Last Updated on December 3, 2021
Sleeping on your side is the most common sleeping position in the world. When you're a side sleeper, you need a mattress that will provide adequate cushioning and support to promote even spinal alignment. Choosing the right mattress will help reduce pressure points all over your body, including areas such as the shoulders and hips.
With that said, the appropriate mattress isn't the only essential since a pillow can make your sleeping experience better or worse. In general, side sleepers need thicker options that can fill the space beneath their head and neck to provide proper support.
For example, a product that's too thin won't be able to provide enough cushioning. Simultaneously, excessively thick items might cause added pressure points to develop due to the interference with the spinal alignment.
We understand that you might not think of posture as something to consider during sleep, but if you sleep on your side, it's crucial to keep your head, neck, and back aligned to avoid pain and stiffness. Choosing an option with the right height and firmness can improve the quality of your sleep and the pain-free mornings.
But how can you choose a quality product that fits the bill and checks all the boxes? There are many options on the market – from high-quality products from reputable companies to cheap Chinese products that we wouldn't recommend to our worst enemy.
That's why we created LightSleeper – to help you choose the product that is right for you and you alone and help you make that choice along the way. Companies can never pay to feature their products on LightSleeper, nor we are getting paid to recommend one product over the other – we are an independent resource, and we only recommend products that have passed our tests, and we feel that they are the best in their category.
So let's see what we think are the best pillows for side sleepers in the UK and why:
1. Snuggledown Firm Support – Editor's Pick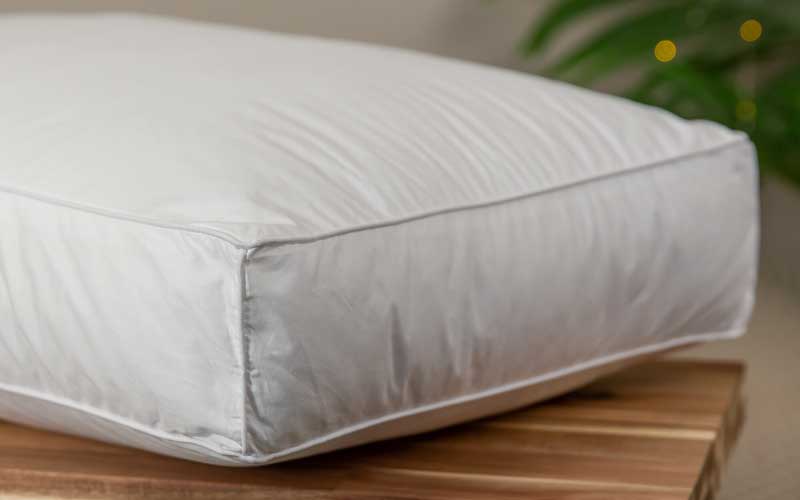 First on our list is the Snuggledown Firm Support Pillow with over 3,000 reviews and quality materials, easily winning the Editor's pick in this category.
This item is made with snuggly hollow fibre filling to help support your neck, encased in a 233 thread count luxury cotton cover that will keep your spine in a comfortable position. It is an excellent option for people with allergies since it's free of feathers, down and dander.
Snuggledown's pillow is considered to provide firm support with a walled side designed that offers fullness right to the edge, making it perfect for side sleepers. It is in the standard UK size 48 x 74 cm and can be purchased as a single, a two-pack or a four-pack.
Overall, Sunggledown will help support your spine as it will fill the gap between your shoulder and neck. This is the perfect pillow for sleeping on your side, which is machine washable and low maintenance.
2. Simba Hybrid – The Premium Choice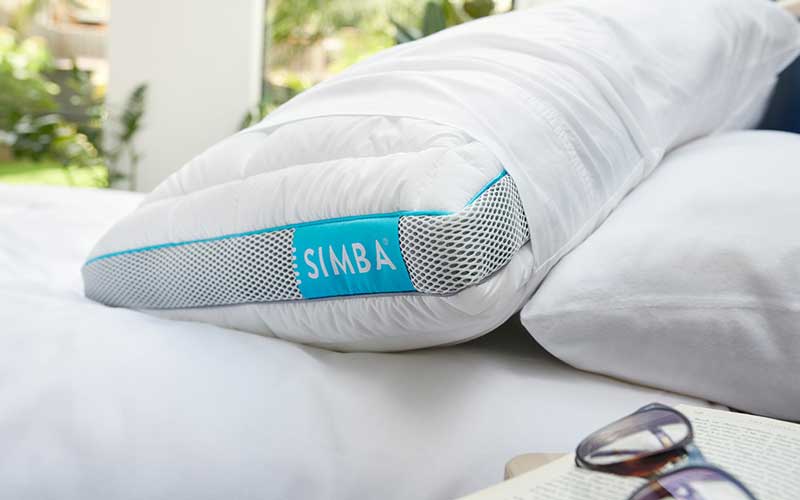 Simba is another UK based company that praises itself on providing revolutionary sleep. They are continually developing and refining their products, and that's how the Simba Hybrid pillow was created. It was designed to improve the quality of your rest with its multi-layered construction, adjustable firmness, temperature regulation and many other exciting features.
You get what you pay for. In this situation, it's a six-layered design where the first layer is the top half of the cover and uses Simba's Stratos® technology, an astronaut-inspired temperature regulation tier. The way this technology works is by absorbing, storing and releasing heat when you need it. Next comes the hypoallergenic layer that helps those who have allergies or sniffles.
After that, you'll find the Nanocube® layer, making the pillow adjustable since you can add and remove it. The manufacturer suggests that for low/ soft feel, you should subtract 8 – 10 handfuls, for the medium option, remove 4 – 6 handfuls and if you're a fan of a firm feel, use all nanocubes.
Its next layer is the durable and hypoallergenic microfiber, which adds more comfort, while the last layer (BCI sourced cotton) creates a soft and breathable surface. You get a premium quality cover that is easily removable and washable and a year guarantee for this upscale item.
Simba's adjustable pillows come in one size (50 x 75cm) and will provide you with gravity-defying comfort and support, so you can sleep on your side and wake up refreshed!
3. Slumberdown Super Support – Budget Alternative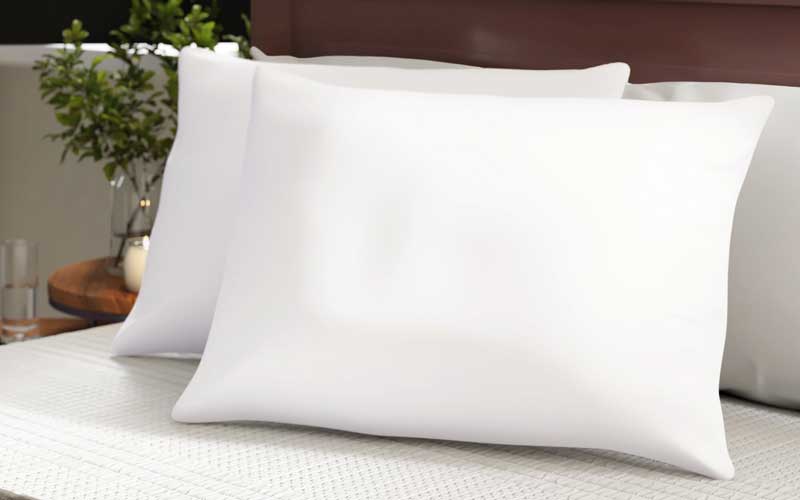 Today's budget-friendly suggestion is the Slumberdown Super Support Pillow that has over 18,000 reviews, with most of them coming with a 5-star rating.
The super support pillow has been carefully designed with a unique core block to align your head, back and spine to rest in the proper position, keeping you comfortable all through the night. Slumberdown is part of the John Cotton Group, a family-owned and run business established in 1916. The group has been developing innovative fibre solutions, thus the foam core with hollow fibre surrounds, encased in a soft microfiber cover.
It can be purchased in one size with a length of 48 and a width of 74cm in a one, two, four or six-pack. Slumberdown provides you with firmer support, while the breathable Dacron filling keeps you cool at night.
Slumberdown pillows don't contain materials that are likely to cause allergies, can be machine washed and tumble dried. The brand strongly believes that everybody deserves a better night's sleep, and the power of great bedding can get you there.
4. Nanu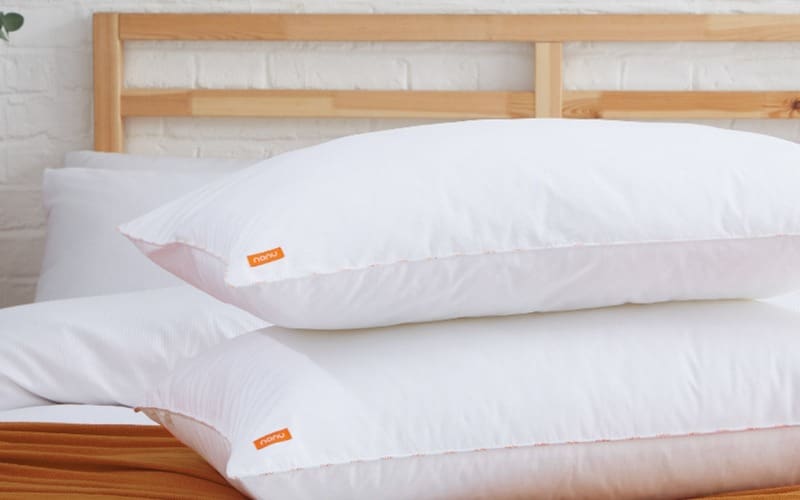 Now, if you're looking for something special that will suit your specific needs as an individual, the Nanu is the item for you! This incredible choice is developed and manufactured in the UK with a unique design that has no competition.
Nanu allows you to create your own pillow. You can do that by answering four simple questions on their website. You can do so by following a creative process consisting of four simple steps. First, you need to open the Nanu pillow builder. Next, you will have to pick a firmness level from six different options. After that comes your prefered sleeping position, which can be side, front or back. Lastly, it will be time for you to input your height and weight and submit.
When you are done with the questionnaire, the site will take your sleep-related information and create a product specifically designed for you.
This budget-friendly option is made from a cotton cover and a hollow fibre fill. With a 100% cotton washable cover, you receive a highly breathable option, which helps your head with overheating at night. It's also hypoallergenic, making it perfect for side sleepers with allergies and sensitive skin.
The hollow-fibre fill is environmentally friendly because the company saves our oceans or landfills from up to 20 plastic bottles. You get free standard delivery and a 2-year guarantee to ensure the longevity of your choice.
5. Supportiback Hypoallergenic Snore Relief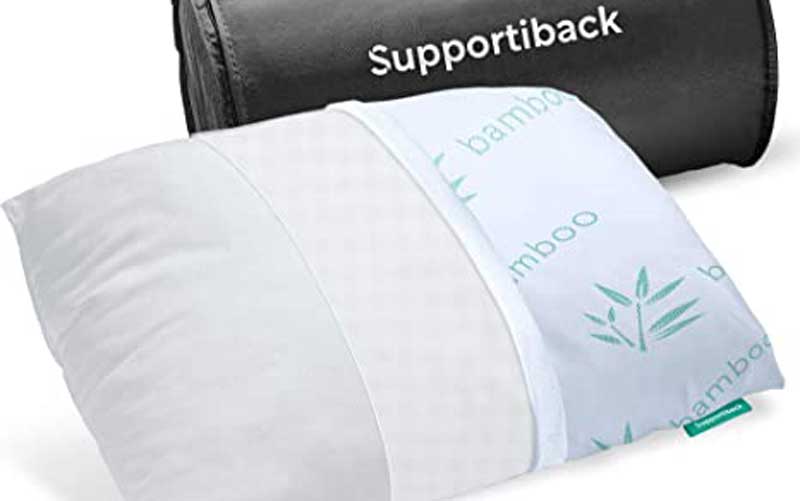 Another affordable alternative is the Supportiback Hypoallergenic Snore Relief pillow. It's designed by doctors to keep your head and spine properly aligned while you sleep, combating stiffness, headaches, and all types of back problems.
This Supportiback product comes with a Cooling FreshTouch cover, a Silver-Bac antibacterial thread underneath, an Egro-Bounce accelerated recovery layer, a Supportive CURALIGN structure. The brand uses 99.75% plant-based shredded memory foam, so you don't have to worry about any cheap offcuts.
Supportiback pillows undergo strict, third-party lab testing and are CertiPUR and GREENGUARD Gold certified, meaning no toxic chemicals to ensure safety and quality.
The hypoallergenic product has a unique adjustable design that allows you to access the memory foam and add or remove filling to suit your size, shape, and sleeping position. This affordable product comes with a 100-night trial period and a 5-year warranty, which is the dream for any person sleeping on their side.
6. BedStory 2 Pack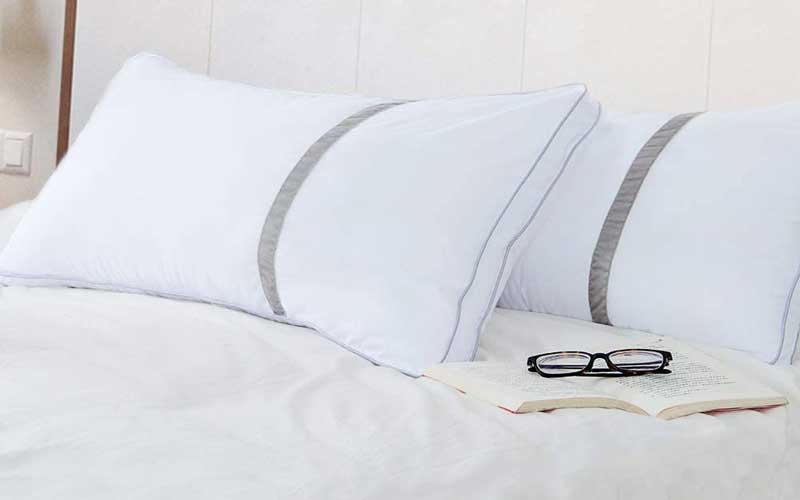 Next, we have BedStory 2 Pack Sleeping option with an ergonomic design that will keep its original shape and won't go flat.
BedStory's item is made with 3D clusters of plush microfiber filler that doesn't harden or deform, meaning this supportive pillow is great for your head and neck since it won't sink into the mattress. It's wrapped in a soft-touch microfibre cover with a double-layer sideband, available in one size 42 x 70cm.
The set cover is super smooth, soft and skin-friendly so that you can experience the luxury experience of a 5-star hotel at home each night. BedStory's pillow cover is highly breathable and has excellent absorbing moisture properties.
BedStory gives you two pillows in a pack that arrive vacuum-sealed that will fluff up and inflate entirely in less than 24hours. You can also put them in a washing machine with cold water and dry them at a low temperature. BedStory is a manufacturer that offers various body pillows, so make sure to check them out as well!
7. Silentnight Firm Support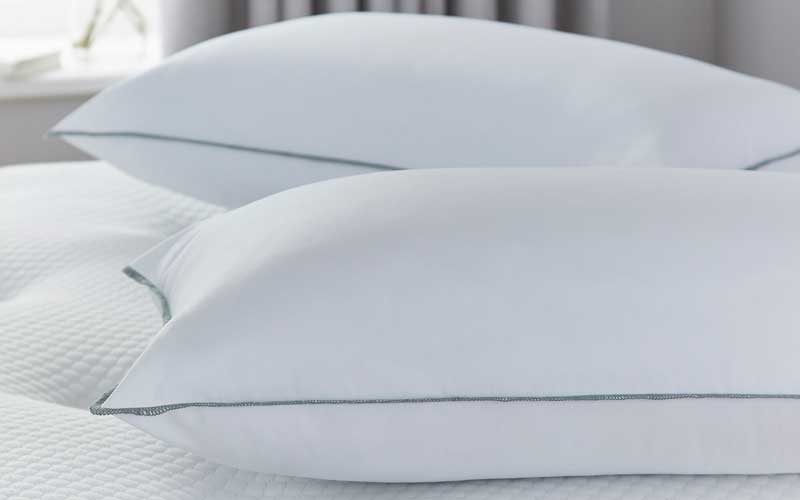 Another suggestion that won't break the bank is Silentnight's Firm Support Pillow Pair. Silentnight is one of the UK's most trusted sleep brands with over 70 years of experience, creating products to help the whole family get a good night's sleep.
They've created a pack of two pillows with a firmer feel, suitable for side sleepers with a two-year manufacturer's guarantee, which is quite rare for this type of item. Silentnight's option features a supportive fibre core surrounded by bouncy hollow fibre, encased in a soft microfibre cover for extra comfort and support.
This is a standard pillow with 74 x 45cm measurements that is hypoallergenic, meaning it doesn't contain any materials that are likely to cause allergies. Side sleepers require the most support from their pillow to help relieve pressure from their neck, and Silentnight has tried to achieve the perfect level of support.
Silentnight's pair can be machine washed at 40 degrees Celsius to be kept clean and fresh at all times. The fluffy pillow is soft to the touch and will provide high comfort for a great night's sleep.
8. Snuggledown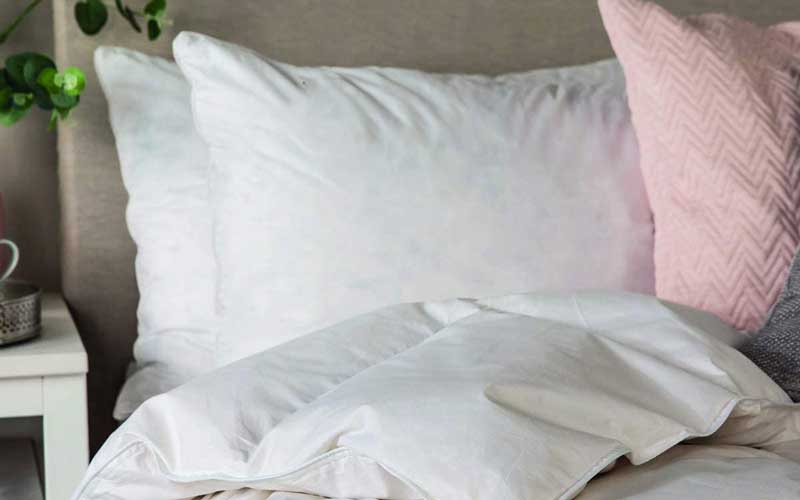 Snuggledown understands that everybody and every bed is different. Whether you're looking for everyday comfort, ultimate indulgence or perhaps something to meet a specific need like sleeping on your side, they've got you covered!
The brand has designed a soft pillow made from 15% duck down and 85% duck feather filling with a smooth 230 thread count cotton cover. This walled option is slightly raised to keep your spine aligned so that you can enjoy a comfortable night's sleep.
Snuggledown's item comes in one size 48 x 74cm and can be purchased as a one, tow or four-pack. Snuggledown pillows do not contain materials that are likely to cause allergies, making them non-allergenic.
These quality pillows offer medium support and are washing machine and tumble drier friendly. They aren't noisy and feel wonderfully plump and warm.
9. MARNUR Contour Memory Foam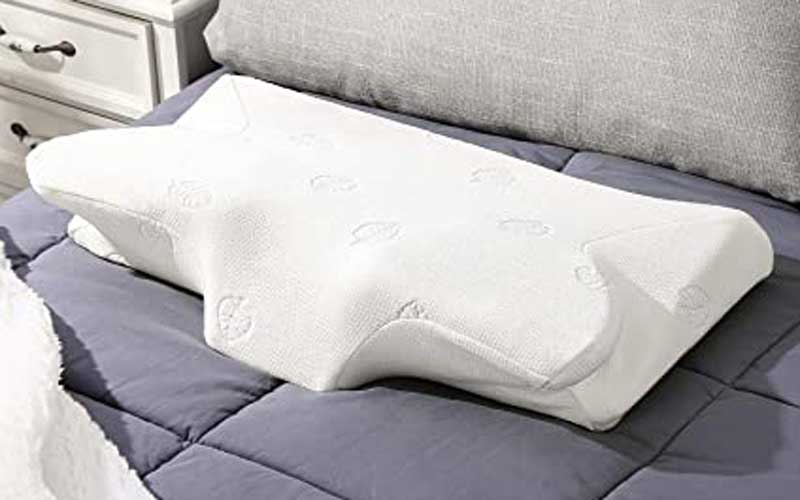 Next, we have a memory foam pillow from the brand Marnur with an ergonomic design that maintains the natural curve of the neck with cervical contour to support your neck correctly.
Marnur's orthopaedic pillow is made of memory foam, which is skin-friendly and breathable, inhibiting the growth of mould. Its slow-rebound foam keeps the shape of the pillow while offering maximum comfort for sleeping.
The neck pillow size is 64.5 x 37 x 14 cm. The centre cavity of the neck support item helps to cradle the head for optimal support, and the wedge extension of the ergonomic pillows helps support the thoracic spine. Marnur's unique designed shape comes with special armrests that allow you to relax your hands during sleep.
Marnur's high and low curved surfaces provide a custom fit to satisfy various sleepers while allowing for smoother breathing. They also provide you with a removable zippered pillowcase made from rayon (polyester) that is machine washable.
10. Ecosafeter Cervical Orthopedic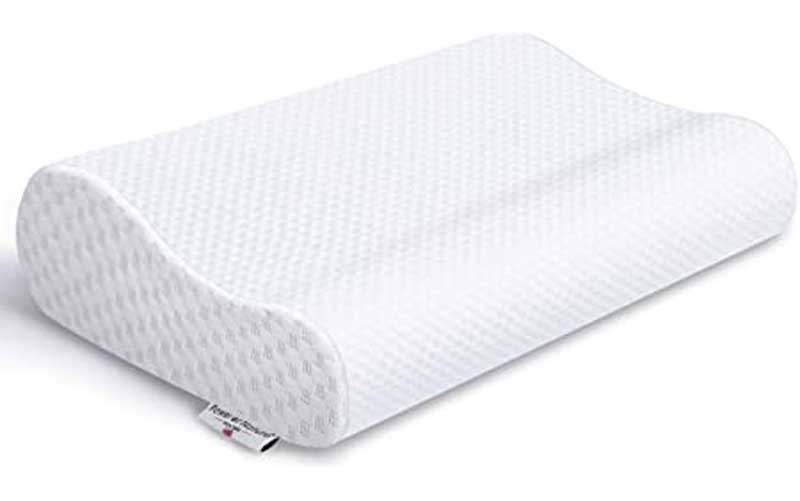 Our last suggestion for today's guide doesn't fit into UK's standards, and that's the Ecosafeter Cervical Orthopedic Deep Sleep Neck Pillow.
This is a new type of pillow designed by sleep experts to help everyone relax the cervical spine and bring deep sleep. Ecosafeter offers both an eco-friendly inner and outer cover, which isn't common with other options. The neck pillow has a dust-proof and unique breathable inner shell, which more effectively extends the service life of the memory foam core.
While the outer cover is removable, washable and breathable, it's also made from 40% Bamboo and 60% polyester. It comes in one size 50 x 30 x 10 cm with a medium-firm feel designed with high-density memory foam.
Ecosafeter has combined the luxury comfort of a memory foam item with the scientifically proven wave design that perfectly cradles and supports your neck, head and shoulders while you drift off to blissful sleep.
How to choose the best pillow for side sleepers?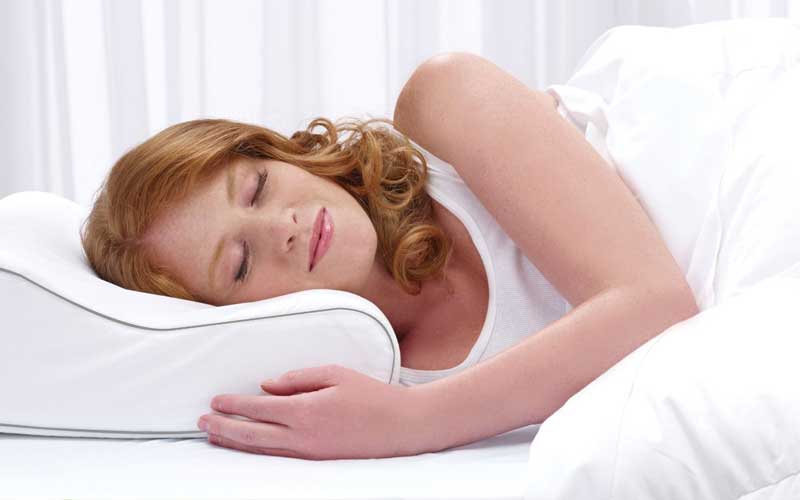 When you're searching for a compatible pillow for side sleepers, there are multiple features you need to consider to find the best-suited option for yourself. These factors are the following:
Firmness
As a side sleeper, you don't want a pillow that feels too soft because it will most likely sink too much beneath your head, which can lead to alignment issues and added pressure. However, you don't want something incredibly firm either since you might experience discomfort around the neck and shoulders. We highly recommend staying between the medium-firm and firm options because they provide the perfect balance of contouring and support you will need when sleeping on your side.
Materials
Materials are also essential in your pillow choice. You need to consider both the cover and inner components since they can wide range of qualities and issues. Be careful with what you choose. Don't consider only your sleeping position but also your body shape and weight. The right materials can offer a longer lifespan and better overall performance.
Thickness
The thickness or the loft is an incredibly crucial aspect of your choice because most people who sleep on their side will require medium to high loft pillows to receive enough cushioning for the head and neck without sinking too low. With that said, if you don't know what's the most suitable option for you, we advise you to try an adjustable product.
Shape
This feature is important since some items will compress over time, which means they will flatten and feel less comfortable. Your best bet is to regularly fluff your pillows to give them a fuller shape. With that said, memory foam and latex pillows maintain their shape and typically provide the best support.
Pressure Relief
People sleeping on their sides often feel pressure in the shoulders and hips if their mattress isn't supportive enough. Pressure can build up from improper use of pillows just as much around the neck and shoulders. Thus side sleepers usually need a supportive item that will also contour their body.
Price
Just like with everything else, the price can vary depending on the pillow's components. If you're on a budget, polyfoam, down alternative, and feathers typically have the lowest price points. But if you are willing to spend the extra buck, opting for memory foam, latex, down, and buckwheat pillows is the better option.
Bottom line
In general, side sleepers essentially need thicker products with a firmer feel to ensure that the space between their head, shoulders and neck is supported. If you aren't adequately supported, that can lead to neck pain and result in consistent poor-quality sleep.
You know it's time to change your pillow with has flattened. If you don't know where to start warranty can be a good indicator of how long a product can last. You should consider a few things when shopping for your perfect pillow that includes materials, firmness, thickness, support, price, etc.
All of the bed products we listed above have great customer reviews and are well received. We hope you could find what you were looking for in our guide regarding the best pillow for side sleepers the market has to offer. To simplify your shopping experience, we've selected the top 10 options for this year.
Brands in the bed industry frequently change, and so do the products they offer, which is why we will continue to provide you with the most up to par information. We hope that this article was helpful, and you could find what you are looking for.
Now it's our turn to hear from you if any questions regarding the subject were left unanswered. If you want to share some information, we would gladly hear about it in the comments below.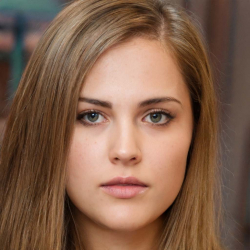 Latest posts by Isabelle Harris
(see all)