It's no secret that sweating and overheating will make you toss and turn at night. It can severely impact the quality of your sleep. However, most people, especially hot sleepers, might want a pillow that consistently provides a cool sleeping surface throughout the night. There are many pillows on the market claiming to have cooling effects, but are all of them equal? Certainly not!
We tested over 50 different cooling pillows for this roundup and the results were surprising. A lot of the big brands deliver solid products that successfully stay cool during the night, but there were some surprises as well. A few "big names" delivered some really awful pillows, but we're not going to cover those in this article. We won't cover either most of the rubbish cheap pillows sold on Amazon under various names – they are just not worth the effort.
So without further ado, let's see what we think are the best cooling pillows in the UK today:
1. Simba Hybrid Pillow With Stratos Tech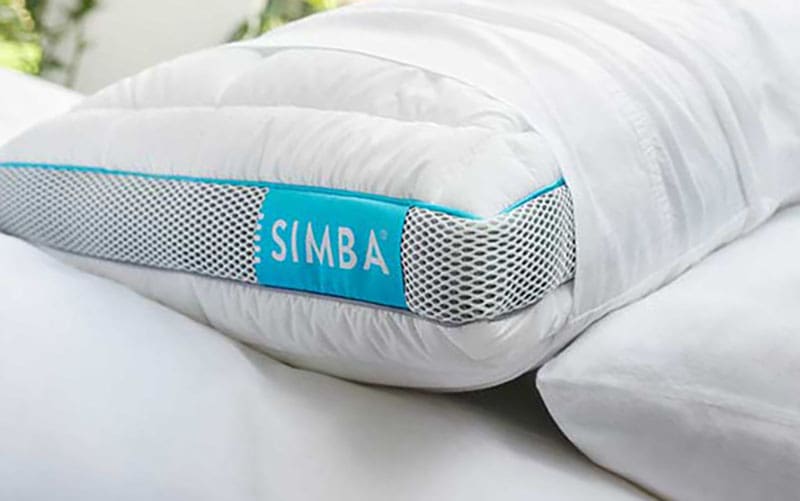 First on our list is the Simba Hybrid Pillow with over 8,000 positive reviews and made from very quality materials, easily winning our best pick in this category. Simba is continuously developing and refining its products, which is how the Hybrid cool pillow with Stratos technology was developed. It is designed to improve the quality of your sleep with its multi-layered design and adjustable firmness while keeping you cool night after night.
It has a six-layered design with a standard size of 50 x 75cm. The first layer is the cover that uses Simba's Stratos® technology, which is a space-inspired temperature regulation tech to help body heat dissipation. The way it works is by absorbing, storing and releasing excess heat.
After that, you can find the Nanocube® layer, which is what makes Simba's pillow adjustable. The brand suggests that for a low or a soft feel, you should subtract 8 – 10 handfuls. For a medium feel you might want to remove 4 to 6 handfuls and if you're a fan of a firm feel, use all the nanocubes available.
Its next layer is the durable and hypoallergenic microfiber, adding more comfort, while the last layer (BCI sourced cotton) creates a soft and breathable surface. You won't find any synthetic materials in the Simba – you get a premium quality cover that is easily removable and washable and a year guarantee for this upscale item.
2. Tempur Comfort Pillow Original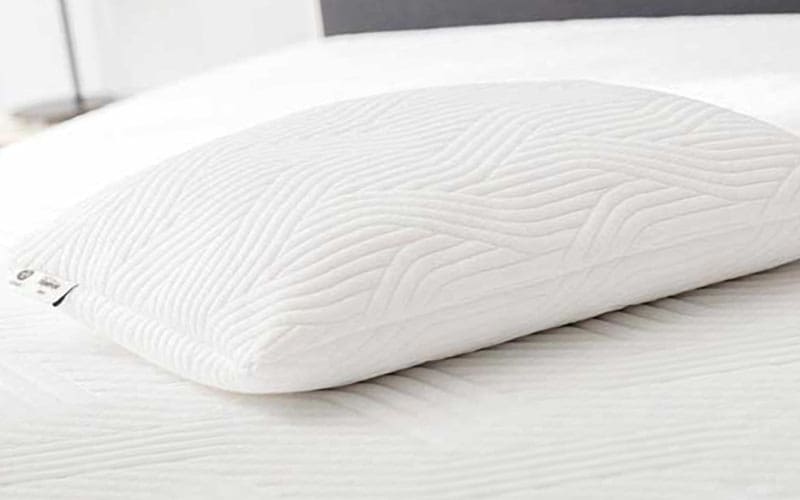 For our luxurious suggestion, we have the TEMPUR Comfort CoolTouch Pillow, measuring the entire pillow at 50 x 74cm. This high-quality product is specially developed with TEMPUR® Material Micro-cushions and offers a firmer feel.
Tempur's choice is suitable for most sleeping positions, but it's ideal for side sleepers. Their 'Extra Soft' material is designed to help you sleep better, created by a team of top-notch experts. The Tempur pillow now comes with a Dreams exclusive CoolTouch™ cover that does wonders on hot summer nights.
The technology offers cooler yarns woven into the cover that combine conductive and heat absorption qualities, providing you with a cool touch sensation. This excellent cover is also easily removable and machine washable at 40°C, so your purchase is always clean and fresh.
The Comfort CoolTouch™ Pillow is designed with TEMPUR's micro-cushions that enable the product to provide the ultimate support and comfort for your head, neck and shoulders. Tempur's option has a 3-year guarantee and a free delivery on all orders from Dreams.
3. Panda Memory Foam Bamboo Pillow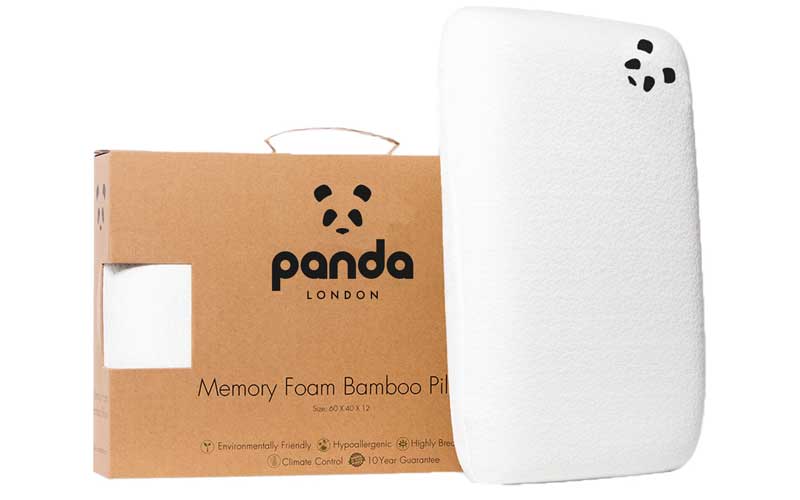 Next, we want to introduce you to the Panda Luxury Memory Foam Bamboo Pillow. Panda is a manufacturer that uses bamboo fibres in their products, which is a sustainable resource and is one of the world's fastest and most densely growing plants, making it environmentally friendly.
Every used material is tested to ensure the absence of any harmful chemicals. This REACH (Registration, Evaluation, Authorisation and restriction of Chemicals) certified item is designed with three unique layers, measuring 40 x 60cm.
The centre layer is Visco memory foam, which orthopaedic experts and doctors highly recommend. Next, we have a protective mesh layer that keeps your memory foam centre clean. Lastly, you'll find a plush bamboo cover pillowcase, which aids you against skin irritation and allergies.
Panda's pillowcase keeps the air flowing and is highly breathable, making it perfect for hot sleepers. Thus the unique temperature control system keeps us cool and comfortable. It also has a machine washable cover.
Unlike most, this Panda item comes with a 30-day trial period, where you can try and test it. You also get free delivery and a 10-year guarantee.
4. Eve Memory Foam Pillow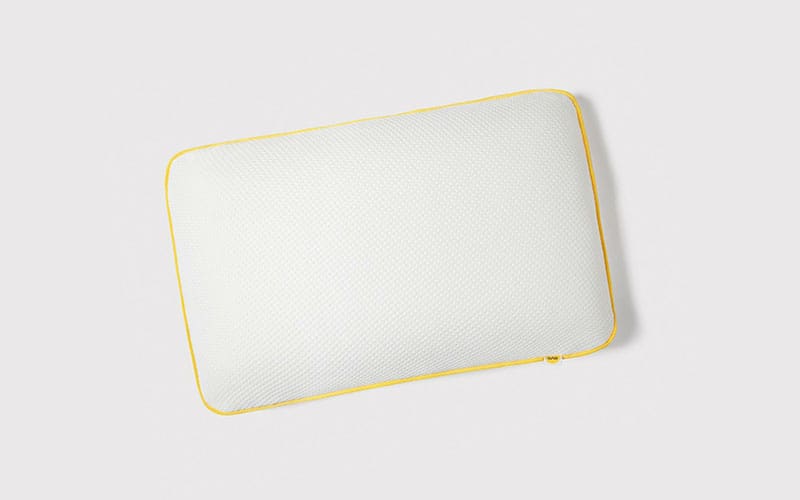 Eve has come up with a perfectly supportive pillow made from memory foam, ideal for side and back sleepers, which is designed to relieve tension and weariness each night while keeping you cool and relaxed. This option is more supportive than squishy, and it will keep your neck and spine properly aligned for the perfect night's sleep.
Memory foam tends to trap heat, but you don't have to worry about overheating due to the cleverly placed air holes that get rid of unwanted heat while you sleep. Eve has fantastic cooling properties due to the 100% soft and supportive PU foam and a 100% polyester removable cover with a lovely stretchy and soft feel.
It comes in one standard size (50 x 75cm) with a 14-night trial period in which you can test it out for yourself, and if you don't love it, you can send it back with no questions asked. Eve also provides a 3-year warranty to prove its quality and free delivery service on the UK's Mainland.
5. Emma Original Pillow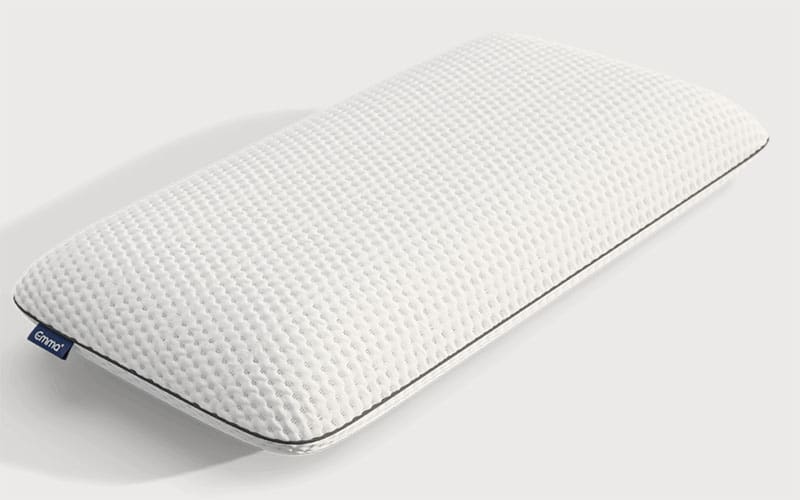 Next, we have an award-winning product with over 100,000 units sold in 2020, and that's the Emma Original. Emma is designed to suit people in every sleep position due to its adjustable height and firmness level.
It can be purchased in only one size, and that's 40 x 70cm. Emma is constructed with a moisture-wicking UltraDry cover that helps you sleep cool and comfortable and three unique memory foam layers, which will provide you with the ultimate comfort.
First, we have the durable and supportive HRX Supreme Foam that's on the firmer side, followed by a soft and ultra-breathable Airgocell® layer that transfers heat from your head. Lastly, you'll find the ZeroGravity viscoelastic foam contouring to your head and neck for an amazing weightless air feel.
No sleep is truly restful without the perfect pillow, thus why the Emma was created – to give you the freedom to adapt the height and firmness to your personal needs. Ema's products are proudly made in the UK and undergo strict testing to ensure they meet the highest quality standards. This excellent choice has a 200-night sleep trial and free delivery on all orders.
How to choose a cooling pillow?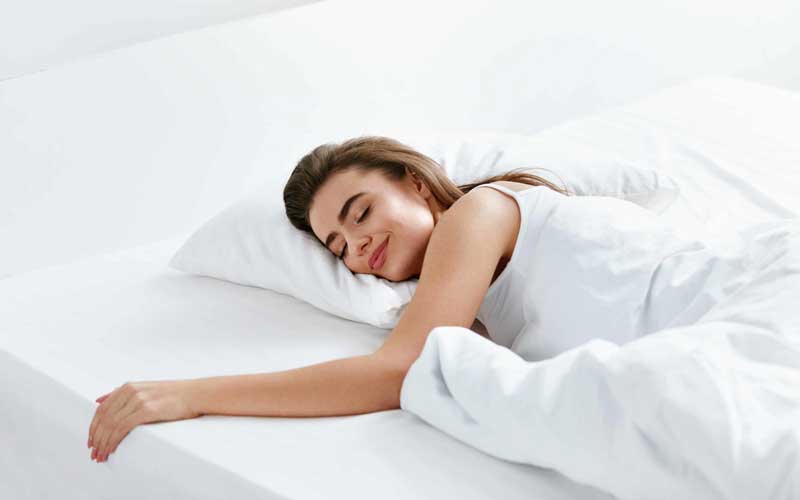 When purchasing a cooling pillow, there are a few features you'll have to consider in order to make a well-informed decision. However, keep in mind that what works for one may not work for another. In addition to regulating temperature and providing a comfortable sleep environment, your pillow should be able to provide support and relieve pressure. Here are the factors you need to take a closer look at:
Cooling Properties
The cooling properties of an item determine how well it regulates temperature, dissipates heat, and keeps you cool throughout the night. There are different types of pillows, and each one can offer another way to keep you cool.
However, some options are better than others. You'll want a product that encourages airflow or draws heat away from the body. That's why you should consider gel, copper, phase-change materials, and graphite are all conductive materials because they pull heat away and dissipate it.
Another thing with materials is their moisture-wicking capabilities. Your best bet here is materials such as wool, cotton, and bamboo.
Sleeping Position
The position you sleep in can determine the firmness and loft you should look for in a pillow. For example, side sleepers need an item with a higher loft that fills the space between the neck and shoulders with a firmer feel.
In contrast, a back sleeper usually maintains a neutral posture and needs a choice to keep their head level and not tilted too far forward or back. Finally, we have stomach sleepers who often prefer thinner products to keep their head and neck at a comfortable angle.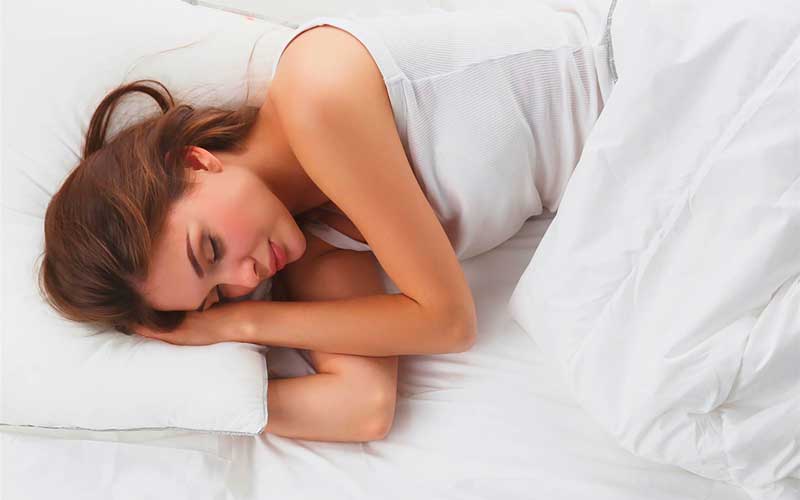 Firmness Level
As we've mentioned above, the firmness level you choose depends on your sleeping position and other factors. In general, cooling pillows come in a medium-soft to medium-firm feel. Softer versions are typically made from materials such as wool, down, and shredded memory foam. In comparison, firmer options are often made from latex or memory foam.
Materials
The quality of materials used in a cooling pillow determines its lifespan, which is essential when you are investing in something. In general, most cooling items pillows are made with high-quality materials that are durable and long-lasting.
Loft
Loft refers to the height of a pillow. Cooling ones are usually medium to high. Some models have a high loft but compress easily, like shredded foam, down, and wool, but they are the ones that sometimes offer adjustability. Meaning you can remove or add filling to change the height.
Overall, stomach sleepers benefit from a low loft, and back sleepers tend to prefer a medium loft, while side sleepers like a higher loft.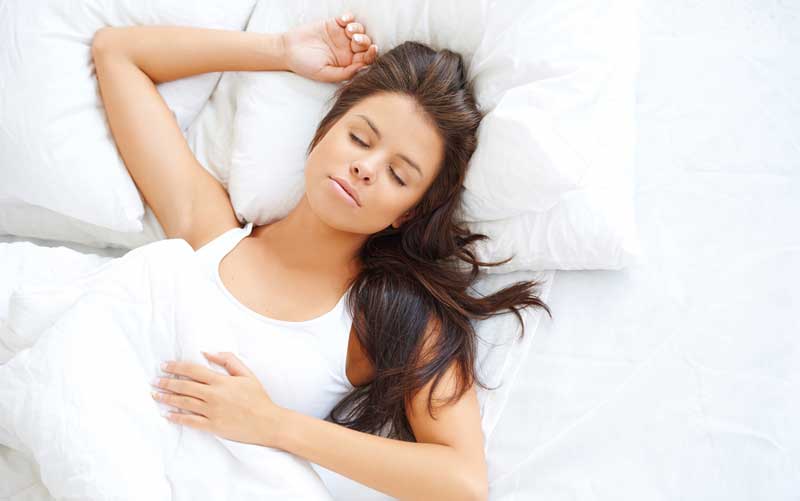 How do cooling pillows work?
Generally speaking, they are typically infused with materials like gel, graphite, or copper that help draw heat away from your body. Some choices even combine these elements to promote greater airflow.
Some fabrics tend to wick away moisture and increase breathability. These fabrics include cotton, bamboo, and wool. Another aspect that can affect how cool a product feels is the shape. For example, a solid piece of foam will generally retain more heat compared to shredded, gel-infused or punctured products.
Are cooling pillows toxic?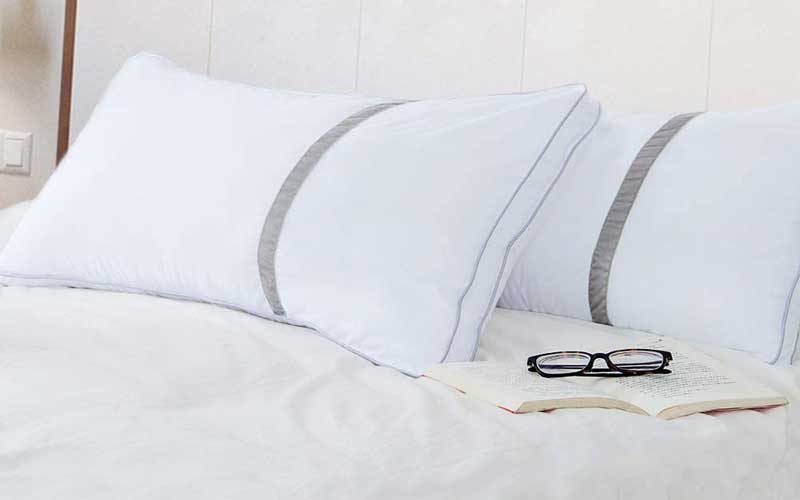 That actually depends on the materials the pillow is constructed from. What you'll have to do is to check the specifications of your desired purchase to determine whether it's toxic or not. You'll want an option that isn't treated with flame-retardant chemicals like Polybrominated Diphenyl Ethers or PBDEs.
The best way to know you've made a safe decision is by looking for choices that are OKEO-TEX, and CertiPur-US certified, meaning they are free of harmful chemicals.
Bottom line
Cooling pillows can be a lifesaver for those who have trouble getting a good night's sleep because of sweating and overheating. When looking for a good one, you will not only look for its cooling capabilities but support, firmness and pressure relief as well.
Choosing the right cooling cushion will improve the overall quality of your sleep and keep you cool during hot summer nights.
Brands in the bed industry frequently change, and so do the products they offer, which is why we will continue to provide you with the most up-to-par information. We hope that this article was helpful and that you could find what you are looking for.
Now it's our turn to hear from you if any questions regarding the subject were left unanswered. If you want to share some information, we would gladly hear about it in the comments below.