More and more sleepers are seeking natural materials for their bedding, making bamboo pillows grow in popularity.
Bamboo is a material with many advantages over other traditional pillow fabrics and fillings. The growth and harvest of bamboo are more sustainable than other textile crops and is also naturally durable, cooling, antimicrobial, and hypoallergenic.
But how can you choose a quality pillow that fits the bill and checks all the boxes? There are many products on the market – from high-quality products from reputable companies to cheap Chinese items that we wouldn't recommend to our worst enemy.
That's why we created LightSleeper – to help you choose the product that is right for you and you alone and help you make that choice along the way. Companies can never pay to feature their products on LightSleeper, nor we are getting paid to recommend one product over the other – we are an independent resource, and we only recommend products that have passed our tests, and we feel that they are the best choice in their category.
So let's see what we think are the best bamboo pillows in the UK today and why.
1. Silentnight Bamboo Support Pillow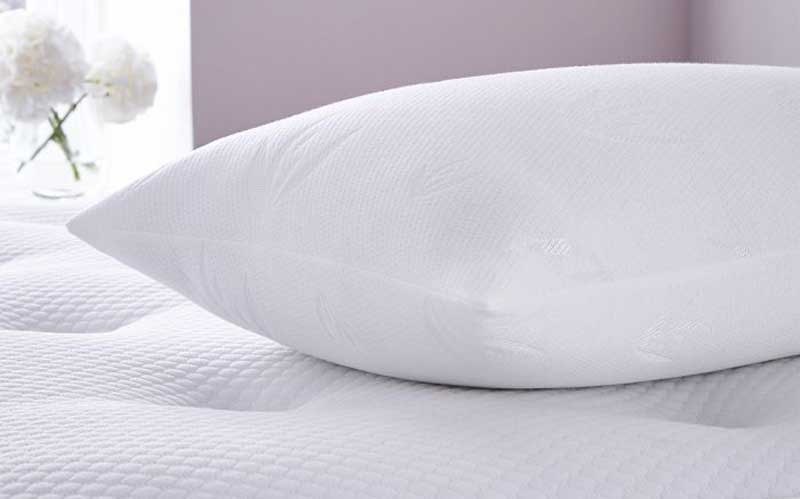 Last but surely not least, we have the hypoallergenic and antibacterial Silentnight Bamboo Support Pillow, which is filled with soft, bouncy fibres made from 100% recyclable plastic bottles that were transformed into luxuriously soft, light and fluffy fibres.
This Silentnight option brings you the ultimate comfort and support without costing the Earth, with the pillow's centre featuring a plump cluster of these fibres that have been put together to form a supportive core.
The Silentnight Support pillow is naturally breathable and temperature regulating, keeping you cool in the summer and warm in the cold winter nights. Its cover is machine washable at 40°C, so you can keep your pillow clean and fresh all the time.
You get a 60-night comfort exchange for peace of mind, a two-year manufacturer's guarantee and a free UK delivery on orders over £49.
2. Panda Bamboo Memory Foam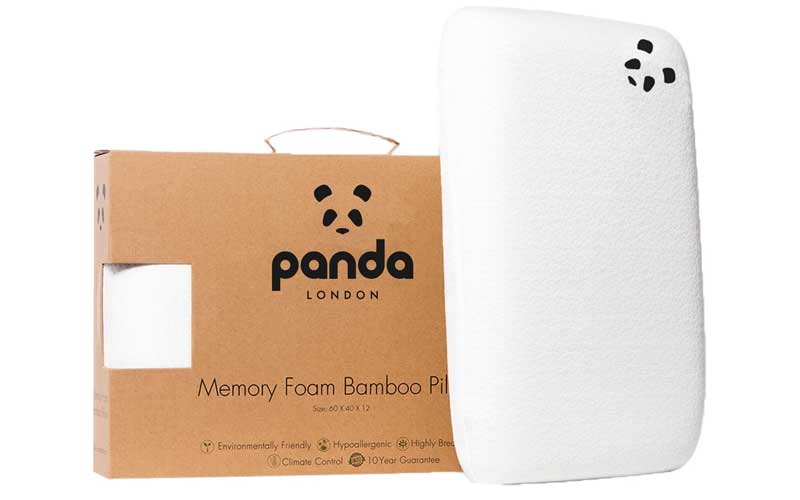 Next, we want to introduce you to the Panda Luxury Memory Foam Bamboo Pillow. Panda is a company that uses bamboo fibres in their products, which is a sustainable resource making it environmentally friendly.
Every used material is tested to ensure the absence of any harmful chemicals. This REACH (Registration, Evaluation, Authorisation and restriction of Chemicals) certified option has three unique layers.
The centre layer is Visco memory foam, which orthopaedic pillow experts and doctors highly recommend. Next, we have a protective mesh layer, which keeps your memory foam centre clean. Lastly, we have a plush bamboo pillowcase, which works great by helping against skin irritation and allergies.
The set pillowcase keeps the air flowing and is highly breathable. Thus the unique temperature control system keeps us cool and comfortable. It's also easily removable and washable.
Unlike most, the Panda item comes with a 30-day trial period, where you can try and test it out for yourself. You also get a 10-year guarantee that furthermore proves the high quality of this premium product.
3. Qutool Cooling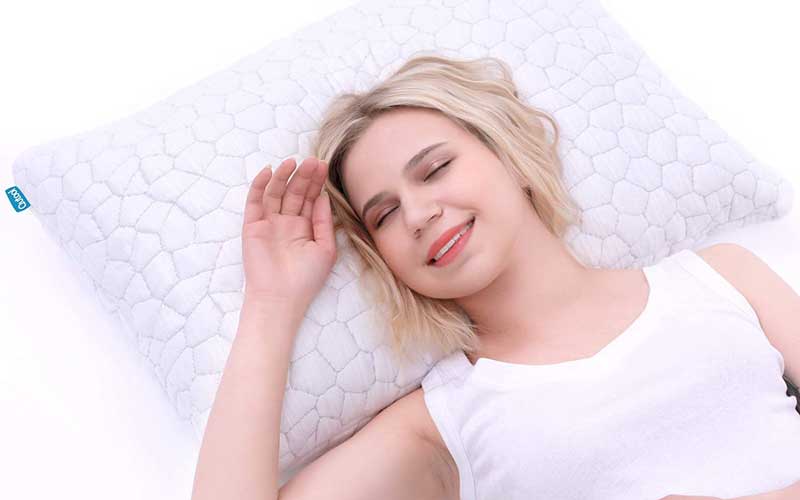 First on our list is the Qutool Cooling Bamboo Pillow with over 6,000 reviews and quality materials, easily winning the Editor's pick in this category.
If you're not sleeping well, Qutool could change the game with its adjustable loft sleeping bed pillow for side and back sleepers. This item allows you to add or remove premium foam filler to adjust the height, softness and firmness to the perfect comfort level and enjoy a personalized sleep experience.
This Qutool product is made from 60% viscose rayon (Bamboo) and 40% polyester. Due to its shredded memory foam formula, this pillow lets air through every area, preventing sweating and providing you with a breathable choice.
Qutool's cross-cut design prevents clumping and avoids causing a compact air-restricted feeling. It also naturally wicks moisture away from the skin, resists odour, and provides a cooler sleeping surface. However, the Qutool Cooling Bamboo Pillow stands out with its 10-year warranty and 90-day return policy.
4. Supportiback Hypoallergenic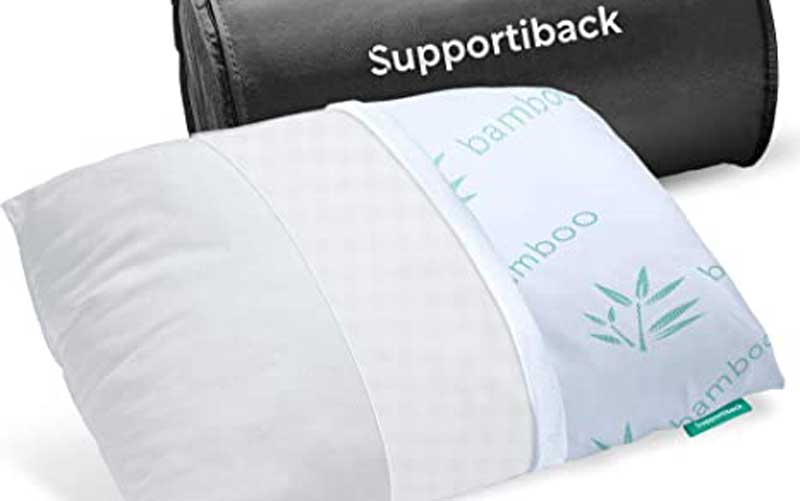 For our budget-friendly suggestion, we have the Supportiback Hypoallergenic Snore Relief pillow. It's designed by doctors to keep your head and spine properly aligned while you sleep, combating stiffness, headaches, and all types of back problems.
This Supportiback product comes with a Cooling FreshTouch cover, a Silver-Bac antibacterial thread underneath, an Egro-Bounce accelerated recovery layer, a Supportive CURALIGN structure. The brand uses 99.75% plant-based shredded memory foam, so you don't have to worry about any cheap offcuts.
Supportiback pillows undergo strict, third-party lab testing and are CertiPUR and GREENGUARD Gold certified, meaning no toxic chemicals to ensure safety and quality.
The hypoallergenic product has a unique adjustable design that allows you to access the memory foam and add or remove filling to suit your size, shape, and sleeping position. This affordable product comes with a 100-night trial period and a 5-year guarantee.
5. BedStory Charcoal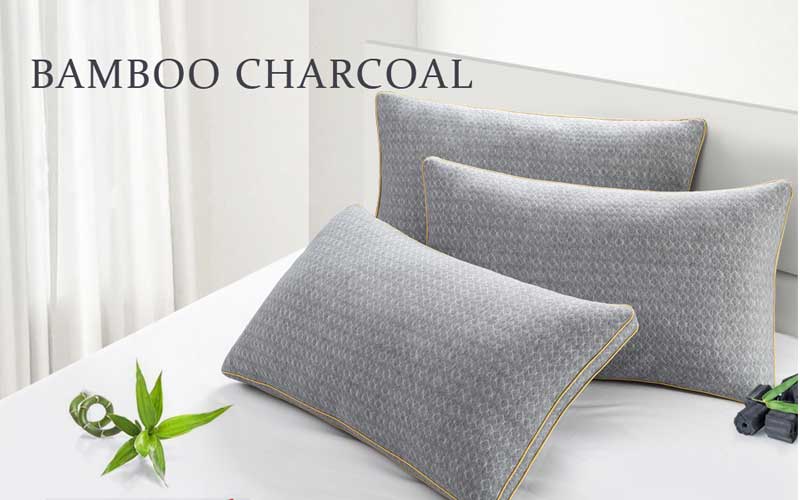 Another premium alternative is the BedStory Bamboo Charcoal Sleeping Pillow with an ergonomic shape that was designed to be a perfect fit just for you.
This BedStory option is made from high-density memory foam that can disperse head pressure more evenly and fit the head and neck curve. There are bamboo charcoal elements added, which absorb odours and provide a ventilated design, ensuring breathability.
BedStory's bamboo charcoal fibre has good air permeability featuring natural antibacterial, anti-mite, anti-odour, and anti-ultraviolet functions for better sleep. All of this luxury goodness is put inside washable pillowcases made of 37% Tencel and 63% polyester.
Overall, the BedStory Charcoal Sleeping Pillow comes in one size 40x60x13cm and can be purchased in either grey or white. The brand has customer satisfaction as its top priority, and its products are CertiPUR-US and OEKO-TEX certified for durability, performance, and content.
How to choose a pillow made of bamboo fibres?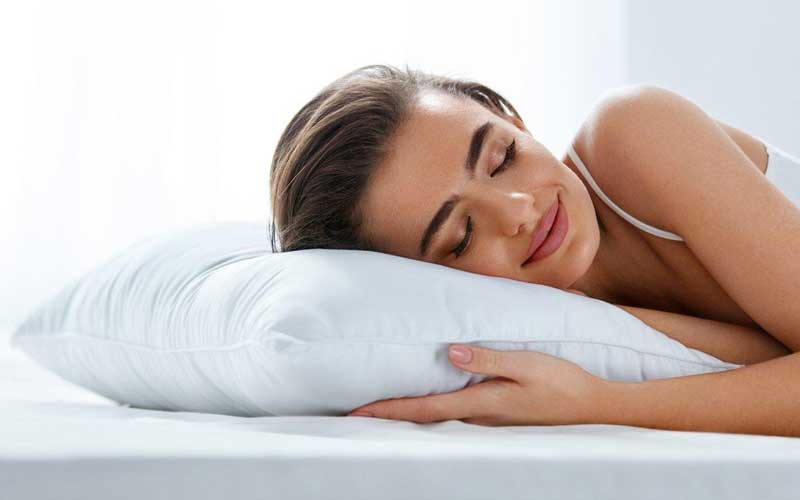 Bamboo pillows are popular for their breathability, adjustability, and natural materials. However, they can vary from brand to brand and even more widely in terms of the type of bamboo fabric, fill material and construction. Here are the most important aspects you should consider before making a purchase:
Fill
Bamboo pillows have multiple filling options, but the two most popular ones are memory foam or bamboo fiberfill.
With memory foam filling, it can either be the traditional solid memory foam core or shredded memory foam. Both are comfortable and supportive, but the shredded option is more breathable and adjustable to suit a broader range of people. Whereas bamboo fibre is even more breathable and may emit fewer off-gassing odours.
Materials
Material is a crucial aspect in the creation of every product, and there is no exception here. In general, bamboo fibre is a long-lasting, durable material, and memory foam fills usually lose their ability to support your head and neck properly.
The good news is that often shredded memory foam pillows or bamboo fiberfill can be restuffed with extra fill, which will extend their life span.
Firmness
The firmness level is an indicator of how soft or firm a pillow will feel. Firmness is a personal preference, but many bamboo options have an adjustable firmness level, making them suitable for every type of sleeper.
Size & Loft
Generally, you can find bamboo items in standard, queen, and king sizes, with the possibility of some brands offering speciality sizing. However, these specific shapes and sizes can be harder to find.
Loft refers to how tall a pillow sits, and this is a feature that should be chosen depending on your sleeping position. If you're a side sleeper, you might prefer higher lofts, whereas, if you're a stomach sleeper, you may gravitate toward low options, and if you're a back sleeper, you'll often look for a medium loft.
Temperature Regulation
In general, a pillow can sleep hot, cool, or neutral, and the degree of temperature regulation usually depends on both the fill and cover materials.
Bamboo fabric is incredibly breathable. Combined with shredded memory foam or bamboo fibre fill, it promotes excellent airflow and the perfect neutral sleep surface, suitable for both cold and hot sleepers.
Price
Price can vary depending on the quality and materials used to make a pillow. Bamboo products may be on the higher end of the price range for a new pillow, but they are long-lasting and are usually a better choice over more traditional types of pillows.
Final Words
If you're unsure about the firmness, you would like, investing in a bamboo pillow can be an excellent choice since they are often adjustable, supportive and incredibly comfortable on your neck. Bamboo is breathable, so you don't have to struggle with overheating either and you can easily wash them.
All of the bed products we listed above have great customer reviews and are well received. We hope you could find what you were looking for and if you didn't – don't hesitate to drop us a line in the comments below.
Brands in the bed industry frequently change, and so do the products they offer, which is why we will continue to provide you with the most up to par information. We hope that this article was helpful, and you could find what you are looking for.
Now it's our turn to hear from you if any questions regarding the subject were left unanswered. If you want to share some information, we would gladly hear about it in the comments below.