Bamboo pillows are an excellent choice for multiple reasons. Their covers are made partly of bamboo, and they come in various levels of firmness and variations, regardless of your preferred sleeping position.
Bamboo is a fantastic material for bedding products for several reasons. For one, it can help with several sleep problems and is excellent in regulating body temperature, keeping you cool and wicking away moisture while you sleep at night.
This type of pillow will keep your neck and head properly aligned with the rest of your body while helping your muscles relax.
Bamboo pillows are a great and safe choice for individuals susceptible to allergies. They are inherently resistant to bacteria and dust mites, making them ideal for people fighting asthma, snoring, or other breathing problems.
Bamboo has numerous health benefits and is also non-toxic and entirely sustainable. But you can't help but wonder how to wash a bamboo pillow the right way? Well, you can learn how to do so if you continue reading this article. So let's get started!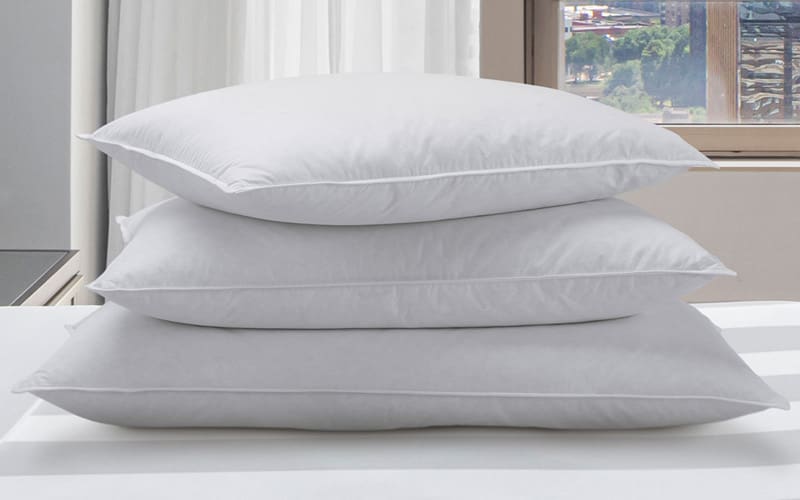 How to wash a bamboo pillow?
There are various types of bamboo pillows, but the majority are filled with either solid or shredded memory foam. Although memory foam shouldn't be machine washed, this doesn't mean it can be cleaned. 
We've summed up a shortlist of steps you can follow that will teach you how to wash a bamboo pillow in no time. Before we start, we would like to remind you that these are general steps and tips, but each purchase should come with its own wash and care guides, which you should refer to for best results.
Step 1: Wash your pillowcase
The first step is pretty straightforward, and that's washing your bamboo pillowcase. Start by removing your pillowcases off the pillows. Then, it would be best to machine wash them, using warm water on a gentle cycle.
You should use warm water as the hot or cold liquid will normally ruin the bamboo pillowcases. Thus, your best bet is to only wash the cases on a gentle cycle with lukewarm or warm water for the best results.
Step 2: Dry your pillowcase
After you've washed your bamboo covers comes the second step, which is drying them. However, we don't recommend using a dryer, as it might lead to shrinkage.
Instead, try to leave your pillowcases to airdry, preferably on a drying rack (if you have one). This process will allow the bamboo fabric to dry without any consequences from the hot air in the tumble dryer. You can hang set covers onto the drying rack and leave them in the sun until they are completely dry.
Step 3: Hand wash
The third step in the cleaning process is where you get to use your hands. That's when the handwashing action begins, as most pillows contain memory foam, which can't be machine washed. Start by adding lukewarm or warm water (30-40 degrees Celsius) to a basket (or whatever container you have on hand) and about three tablespoons of your mildest, most gentle detergent.
Then it's time to add the pillows and start squeezing the water and the detergent into them. We recommend you repeat this process for a few minutes until the entire pad is soaked into your cleaning solution.
Step 4: Soak
This step is one you might need to skip depending on the material used in your pillow. Some manufacturers allow for their memory foam products to be soaked in detergent, while others don't recommend it. However, if you can soak it without damaging it, we advise you to do so, as it will remove the dirt thoroughly, even if it takes longer to dry after.
To sum it up, if you feel like your pillows need some thorough washing, then feel free to soak them, but only if the product's label permits it.
Step 5: Rinse
For step number five, we have a necessary process, especially if you've soaked your pillow. After marinating in the detergent, it is time to rinse out your bamboo cushion. It would be best to use clean, warm water for this step. Rinse the pillow out until there's no detergent left.
Keep in mind that if you don't rinse it properly, the leftover detergent could ruin the memory foam filling and lead to mould and mildew. That's why we suggest you rinse several times, and each time with clean, warm water for optimum results.
Step 6: Dry
Last but not least, we have step number five, which is drying your pillow. You can dry your bamboo pad on a hanger (if you have one) and leave it to dry in the sunlight if possible. With that said, try not to leave it in the sunlight for too long as it can ruin the memory foam's construction.
However, if there's no sun and you don't have a drying rack, you can always dry your pillow inside. All you have to do is place it somewhere dry and flip it every once in a while so that both sides dry out evenly.
You want the pillow to be completely dry before you put a pillowcase on top of it to prevent moisture buildup. As it could result in mould and mildew, which is something we are all trying to avoid.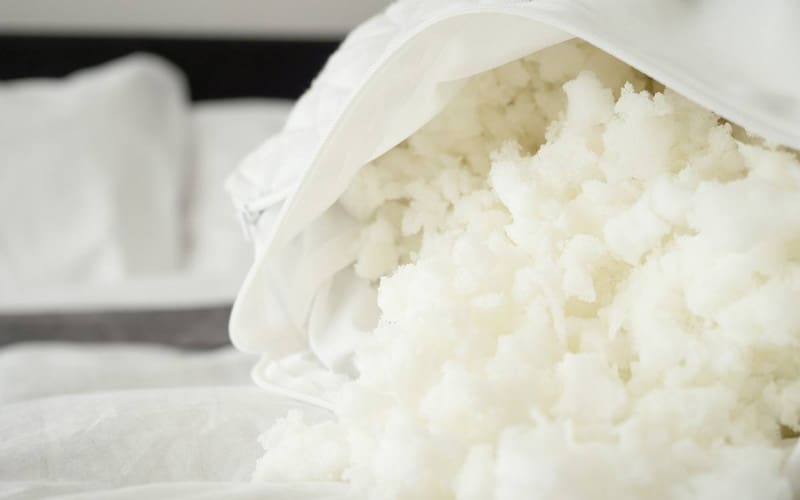 How often should you wash a bamboo pillow?
Generally speaking, you should wash your bamboo pillows twice every year, as that should be optimal to keep them fresh and clean at all times if you change your pillowcase regularly.
However, if you're dealing with sensitive and acne-prone skin, sleeping on a dirty pillow, even if it's your own bodily fluids, can aggravate your skin and skin conditions. If that's the case with you, we highly recommend you wash yours every three months for optimum results.
Also, if your pillows are visibly dry, then wash them right away, disregarding the recommended above timeframe. Just a quick reminder that these are only recommendations, and you should still read the product's label or care instructions for proper care of your pillow.
Bottom line
This is a question with multiple answers. If you've chosen an option with cotton or bamboo fill, typically, you will be able to machine wash it. However, if your choice was a memory foam pillow, you will most likely have to spot-clean it, as you shouldn't get memory foam wet. With that said, to make sure you're doing it right, we highly recommend you read the manufacturer's cleaning instructions. If you decide you need a new pillow, however, you can check out our best bamboo pillows guide here.
We hope we were able to answer the how and why when it comes down to 'How to wash a bamboo pillow?', and now it's our turn to hear from you if any questions regarding the subject were left unanswered. If you want to share some information, we would gladly hear about it in the comments below.