Do you wake up with neck pains? Have you ever had a headache in the morning? If you've been experiencing persistent restlessness every night and you're struggling to get comfortable in bed, it might be time to change up your bedding and more specifically, your pillow!
You can use an orthopaedic pillow to try and correct your posture while you sleep. This type of pillow may help you get a good night's sleep, giving your body the much-needed time to rest and repair.
But how can you choose a quality pillow that fits the bill and checks all the boxes? There are many models on the market – from high-quality products from reputable companies to cheap Chinese items that we wouldn't recommend to our worst enemy.
That's why we created LightSleeper – to help you choose the product that is right for you and you alone and help you make that choice along the way. Companies can never pay to feature their products on LightSleeper, nor we are getting paid to recommend one product over the other – we are an independent resource, and we only recommend products that have passed our tests, and we feel that they are the best in their category.
We tested over 20 different pillows that claim to be orthopaedic and while some of them exceeded our expectations during the test phase, others were not nearly as good as they claimed to be.
So without further ado, let's see what we think are the best orthopaedic pillows in the UK and why:
1. MARNUR Cervical – Editor's Pick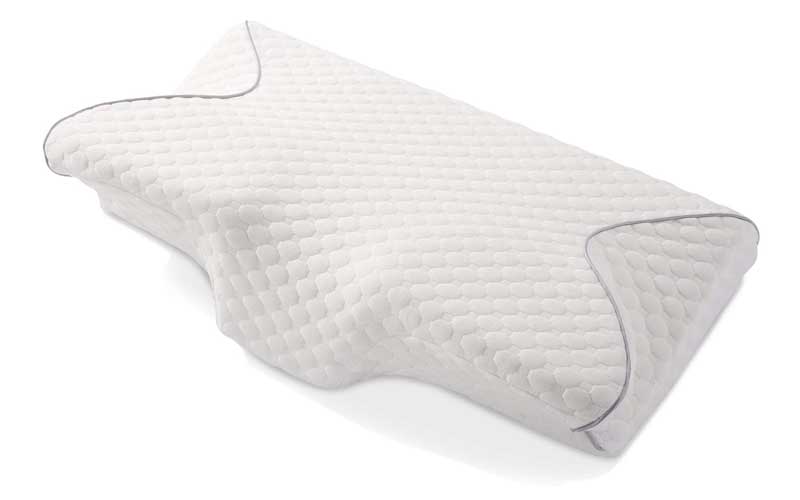 First, on our list today is the MARNUR Orthopaedic option, which is a cervical pillow with glowing reviews, easily winning the Editor's pick in this category. The brand has developed an ergonomic design that maintains the neck's natural curve with cervical contour to support your neck and head correctly. For many reviewers, this item helped with their neck pains and restless nights.
Marnur's orthopaedic pillow is made of memory foam, which is skin-friendly and breathable, inhibiting mould growth. Its slow-rebound foam keeps the shape of the pillow while offering maximum comfort for sleeping every night.
The neck pillow size is 64.5 x 37 x 14 cm. The centre cavity of the neck support item helps to cradle the head for optimal support, and the wedge extension of the ergonomic pillows helps support the thoracic spine. Marnur's unique designed shape comes with special armrests that allow you to relax your hands during sleep.
Marnur's high and low curved surfaces provide a custom fit to satisfy various sleepers while allowing for smoother breathing. They also provide you with a removable zippered pillowcase made from rayon (polyester) that is machine washable.
2. Mediflow Water Base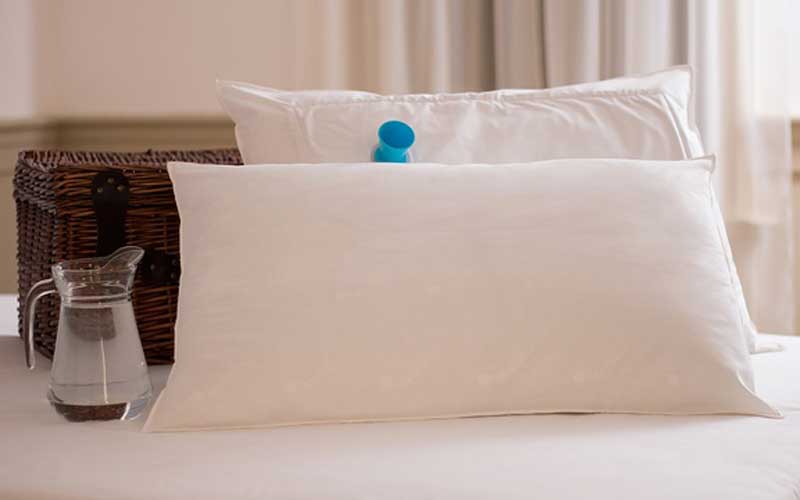 Our second suggestion is a pillow like no other, from the brand Mediflow. An independent Johns Hopkins study has clinically proved Mediflow's water-base technology to reduce neck pain and improve the overall quality of sleep.
Whether you are a back, stomach or side sleeper, the water will move with your head, so you will never have to adjust or fluff it. The firmness level can be adjusted with the water level to make your purchase soft, medium, or firm.
Mediflow's option is de with a fully sealed and insulated water pouch with a resilient polyester fibre layer on top which is encased in a 100% hypoallergenic cotton shell. Water creates a different sleeping sensation that provides superior comfort and support, making it an excellent choice for an orthopaedic pillow!
The brand offers a 30-day satisfaction guarantee in which you can return it, no questions asked. To further prove the quality of this product, Mediflow will provide you with a 3-year warranty as well.
3. Guiffly Ergonomic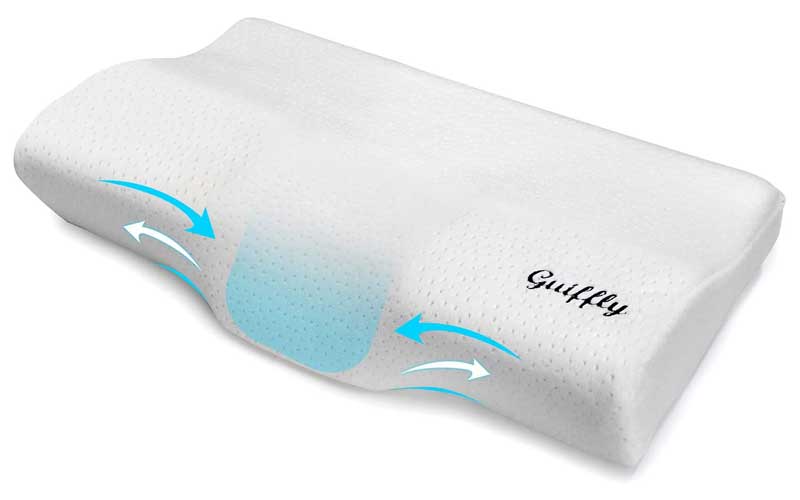 Next, we have a budget-friendly solution to your neck problems, and that's the Guiffly Ergonomic pillow. This item is available in two sizes, and they are 50 x 30 cm or 60 x 34cm. Guiffly has designed a cervical pillow that is 100% pure with no additives, crafted from premium high-density dynamic foam.
The used foam is slow-rebound, meaning it will keep its shape longer and provide comfortable support for your head, neck, and shoulders. Guiffly has featured an item with a butterfly wing design, which upholds the neck and head by evenly distributing weight, relieving pressure.
Due to the wing shape, you have two sides of different heights you can choose from to better suit your sleep position and preference. You also get a hypoallergenic, dust mite free and antibacterial cover that is soft to the touch and can be removed and washed.
4. Ecosafeter Contour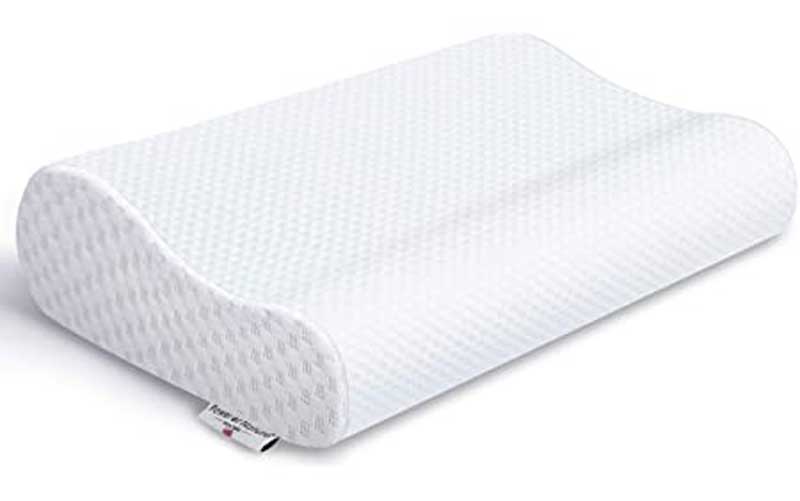 Another affordable alternative for today's guide is Ecosafeter Deep Sleep Neck Pillow which fits into UK's safety standards. Sleep experts designed this new type of pillow to help everyone relax their cervical spine and bring deep sleep.
Ecosafeter offers both an eco-friendly inner and outer cover, which isn't like other similar items. The foam pillow has a dust-proof and unique breathable inner shell, which more effectively extends the service life of the memory foam core. At the same time, the outer cover is removable, washable and breathable.
It comes in one size 50 x 30 cm with a medium-firm feel designed with high-density memory foam and is made from 40% Bamboo and 60% polyester. Ecosafeter has combined the luxury comfort of a memory foam item with the scientifically proven wave design that perfectly cradles and supports your neck, head and shoulders while you drift off to blissful sleep.
5. NOFFA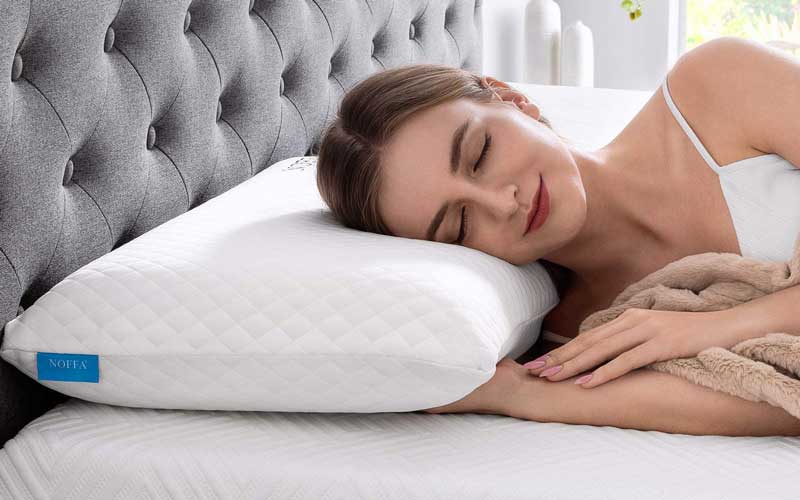 Last but surely not least, we have a suggestion from a brand called Noffa. They have created a soft pillow with a high-quality latex core, available in two sizes: 55 x 34cm or 60 x 38cm.
Just like memory foam, latex can reduce the pressure to the head, neck and back of the pillow while creating a relaxed sleeping environment that promotes deep sleep. The Noffa has an ergonomic design with a curvature of the cervical vertebrae that allows it to stretch naturally.
Noffa's pillow has two sides, each with a different height to suit most sleepers sleeping habits and personal preferences. Since this is a latex pillow, it won't harden in cold weather (like foam), which means your comfort level won't change with the room temperature.
It comes with a removable and washable pillowcase, but remember that the core is latex, and it shouldn't get wet. Keep in mind that it can take up to 48 hours for the pillow to recover its original shape once you open it.
How to choose an orthopaedic pillow?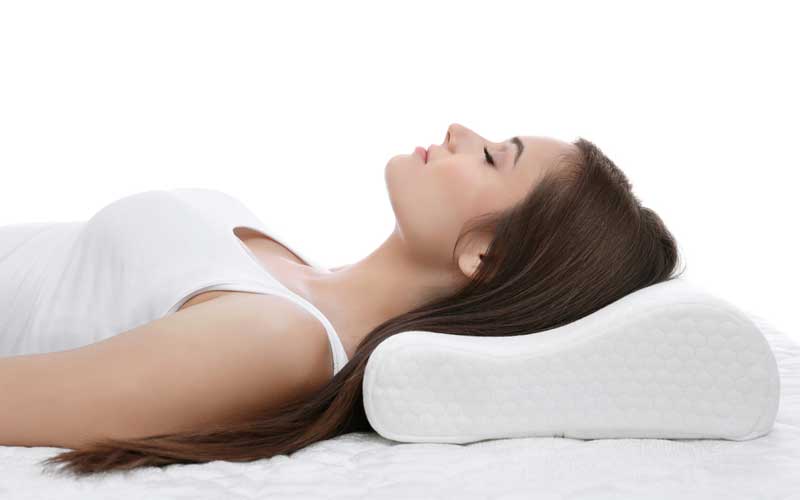 Nowadays, there is a large variety of pillows to choose from various brands that offer numerous models. However, not all of them are the same quality, and there are some features you'll have to consider in order to make an informed purchase. They are the following:
Filling material
There are different types of pillows to choose from in today's market, designed with various materials, each with its benefits. But when it comes down to picking an orthopaedic pillow, you'll want materials that will mould into your head, neck and shoulder shape, such as:
Memory foam is one of the most popular choices that softens when body heat is applied, meaning it's temperature controlled. Memory foam pillows are hypoallergenic and don't encourage the breeding of dust and mites. Since it is usually one solid piece, it doesn't move around and enhances the support under your neck.
Microfiber is a synthetic filling that monitors and manipulates temperature when slept on. It's very beneficial for individuals with respiratory issues. It's considered the desired choice because it also moulds to your body and jumps back to its original form as soon you relieve it of its weight.
Gel-infused foam is also an excellent option for an orthopaedic pillow since it's the perfect blend of memory foam and gel brought together. Memory foam tends to trap heat, and gel pillows usually have cooling properties, making them the ideal item for hot sleepers.
Cover material
This factor usually differs depending on the manufacturer. In general, each fabric holds certain aspects that can make them appealing or not, making them an essential part of the choice because it can cause allergies.
Other individuals care if the cover can be removed and washed so they can regularly put them in the washer and keep them fresh and clean. A third one wants a fabric that's soft and breathable, and the list goes on. The general rule of thumb is to look for a cover material that won't make you sweat and is hypoallergenic so you can get a good night's sleep.
Sleeping position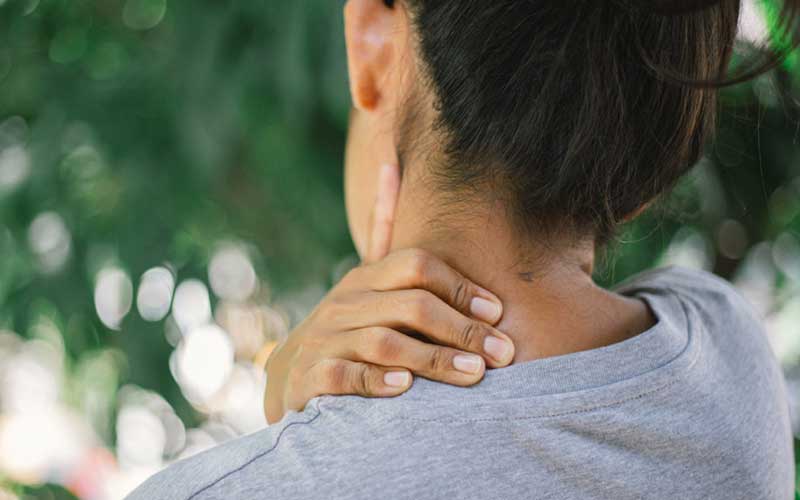 The position that you sleep in is crucial. The three standard positions are sleeping on your side, back and stomach. Depending on the set sleep position, your decision can vary.
For example, side sleepers have to prevent neck, head, shoulder and arm pains. To do so, they should pick a firmer model that will keep their spine properly aligned. Back sleepers will need a less firm product, and stomach sleepers are somewhere in the middle.
Firmness
The firmness you choose depends on your sleeping position and your personal preference. The right firmness level can help alleviate back and neck problems, as well as keep your spine aligned. However, an orthopaedic pillow has to be firm to a certain extent so that it can support your neck and head.
Softer items won't provide as much support, meaning you can experience back and neck problems. You can also sink in too deep and find yourself sleeping in an awkward position that can have a negative impact on your sleep.
When it comes down to choosing a pillow, we recommend a firmer model since it will support your head and neck while maintaining your posture and providing steady health benefits to your overall spinal wellbeing.
Shape
As we've mentioned above, this type of pillow can come in different shapes. The most popular ones have a contoured design or a V-shape.
V-shaped pillows are good for preventing any rolling while you sleep and maintaining your position. They fit snugly around your neck and usually keep your head upright, keeping your spinal cord in the correct alignment.
In comparison, a contouring pillow typically has a dip in the middle, which is incredibly suitable for back sleepers. On them, your head can nicely fit into the centre to keep you from shifting while sleeping. This way, the sides will support your neck and shoulders and keep them at a natural angle.
Bottom line
An orthopaedic pillow can align the shoulders, the neck, and the head of a person, which can prevent pains and aches during the night and throughout the day. It comes with many benefits like preventing neck stiffness, reducing neck and shoulder pain, and helping a sleeper correct their posture.
All of the products we listed above have great customer reviews and are well received. We hope you could find what you were looking for in our guide regarding the best orthopaedic pillow the market has to offer. To simplify your shopping experience, we've selected the best five models for this year.
Brands in the bedding industry frequently change, and so do the products they offer, which is why we will continue to provide you with the most up to par information. We hope that this article was helpful, and that you could find what you are looking for. If not, you can check out the best overall pillows in the UK as well.
Now it's our turn to hear from you if any questions regarding the subject were left unanswered. If you want to share some information, we would gladly hear about it in the comments below.