Best Mattress Protector for 2021 – Reviews & Comparison
Last Updated on July 19, 2021
After you've found the perfect mattress, your next step is to find the best mattress protector to extend the life of your mattress and keep it clean. Mattress protectors are pretty much the first line of defence against spills, allergens, tears and even bed bugs.
Cleaning a mattress is incredibly difficult, but you don't have to worry about a mattress protector. All you have to do it toss it into the washing machine and have a fresh bed, year after year.
But how can you choose a quality option that fits the bill and checks all the boxes? There are many options on the market – from good quality products from reputable companies to cheap Chinese items that we wouldn't recommend to our worst enemy.
That's why we created LightSleeper – to help you choose the product that is right for you and you alone and help you make that choice along the way. Companies can never pay to feature their products on LightSleeper, nor we are getting paid to recommend one product over the other – we are an independent resource, and we only recommend products that have passed our tests, and we feel that they are the best in their category.
So let's see what we think about the Best Mattress Protector today and why.
1. Panda Bamboo Mattress Protector – Editor's Pick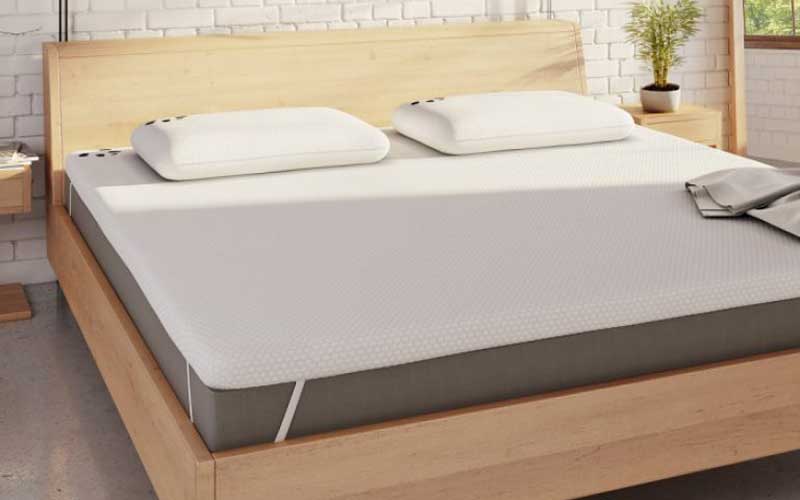 First on our list is Panda Bamboo Mattress Protector with soft, naturally hypoallergenic and antimicrobial bamboo fabric that protects you from dust mites and bacteria, easily winning the Editor's pick in this category.
Panda has created a product made from 70% bamboo and 30% cotton with an ultra-thin, completely waterproof layer of Nano TPU™ that shields your mattress from accidental spillages and moisture. It's available in many sizes, from cots to emperor beds, to suit everyone's needs.
Bamboo is nature's climate control wonder material that works with your skin to keep you sleeping at just the right temperature. Panda's eco-friendly product comes with a 30-night trial period, a two-year warranty and free standard UK delivery.
2. Emma Mattress Protector– Runner Up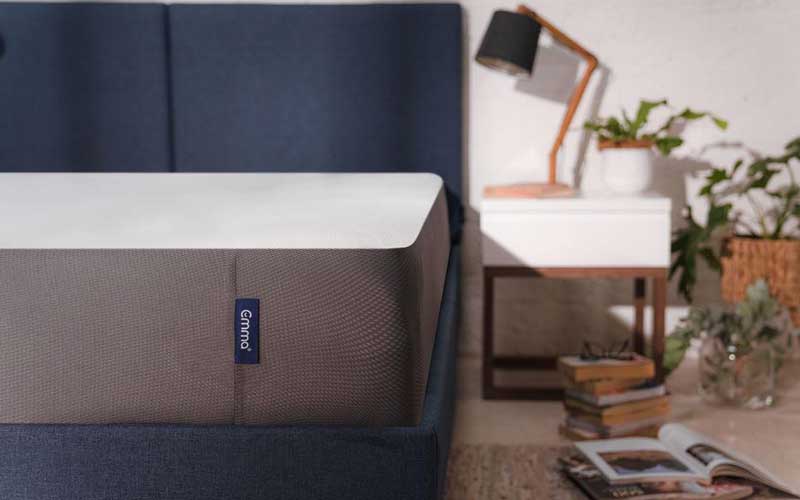 Emma is one of the top competitors in the mattress industry, and its mattress protector is no exception. You'll sleep better when your mattress is free from dirt and moisture, especially with this 100% waterproof product that can catch any spills. The Emma protector is breathable, comfortable, and entirely crinkle-free.
This premium option is made from 100% polyester with applied Purotex® technology and comes in five sizes, from single to super king. You will be protected from dust mites and other allergens while knowing that Emma was made to stand the test of time.
Overall, the Emma protector provides you with maximum protection while being breathable and comfortable. And if that's enough, it comes with a 200-night trial period and free delivery service.
3. Soak & Sleep Quilted Mattress Protector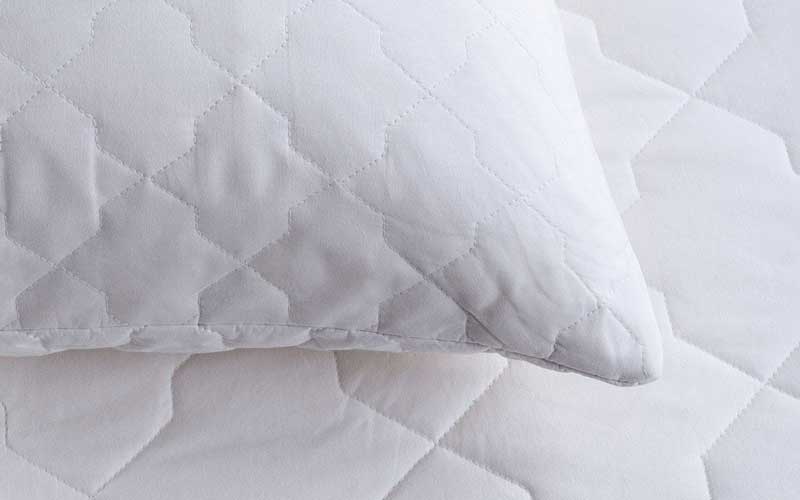 Next, we have a budget-friendly suggestion from Soak & Sleep that can be purchased for standard or deep fitted mattresses. Soak & Sleep also offers pillow protectors so that your whole bed is well protected and allergen-free.
This Soak & Sleep product is made from 100% polyester bottom and 100% cotton top and filling with a 200 thread count. These two fabrics together work in tandem to wick away perspiration while you sleep. If you're someone that can't stay cool at night, this Soak & Sleep item will do wonders for you due to the cotton's naturally temperature regulating properties.
Soak & Sleep Luxury Quilted protectors come in nine sizes and have a two-year warranty. The brand also provides free delivery on orders over £50.
4. Brook + Wilde Kensington Mattress Protector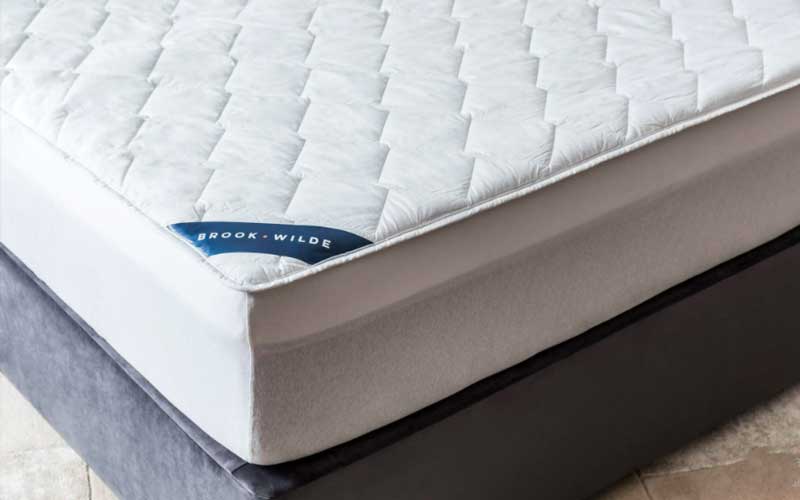 Brook and Wilde are one of the fastest-growing companies in the bedding industry due to the high-quality mattresses they put out. This item is made from the finest, luxury 100% cotton percale and gently cushioned with 100% hollow fibre polyester.
The Brook + Wilde Kensington protector offers supreme quality and high durability, like no other. This premium product features a polyester jersey elasticated skirt and is available in four sizes: single (90 x 190cm), double (135 x 190cm), king (150 x 200cm) and super king (180 x 200cm).
This Brook and Wilde option can be machine washed at 60°C and dried on low heat. The brand also provides a free delivery service.
5. REM-Fit Cooling Mattress Protector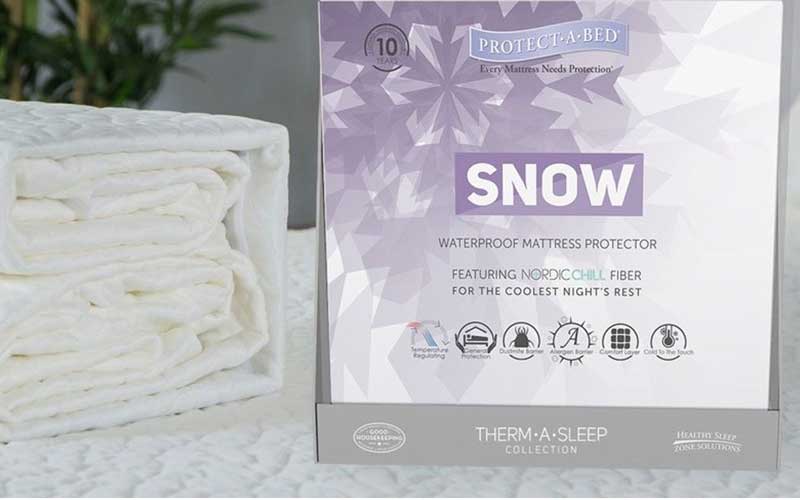 We have another luxurious suggestion, and that's the REM-Fit Cooling Mattress Protector. REM-Fit's option is available in four sizes: single (90×200 cm), double (135×190 cm), king (150×200 cm) and super king (180×200 cm).
This product is designed from Nordic Chill cooling fabric that dissipates body heat up to 10 times faster than cotton, creating a cool sleep climate. REM-Fit has a hypoallergenic Miracle Membrane barrier that promotes a healthy sleep environment that protects you from dust mites and other allergens that may lurk in your mattress.
You will be kept cool in summer and warm in winter with the REM-Fit protector that comes with a 5-Year guarantee against defects in workmanship or materials.
6. Simba Mattress Protector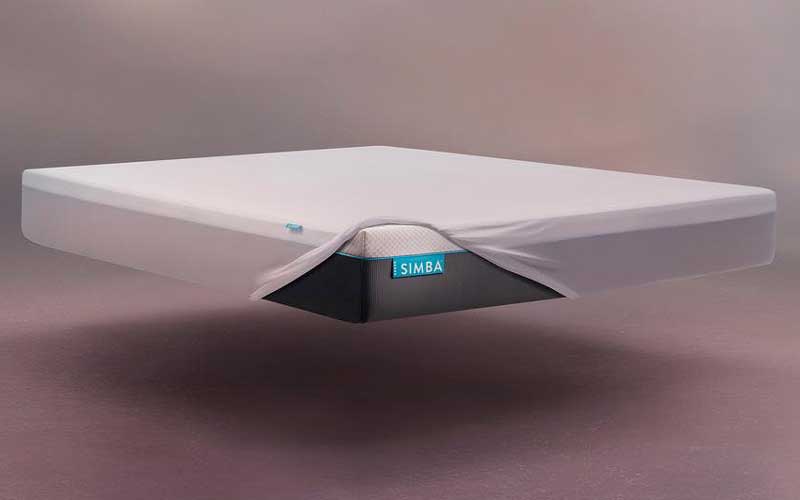 Another great suggestion is the deluxe Simba mattress protector made from super-soft, plant-derived TENCEL™ fabric. Simba also has a waterproof protective polyurethane layer providing complete protection for your mattress from dirt, moisture, stains and spillages.
It's also OEKO TEX 100 certified, containing no harmful chemicals, with fantastic temperature regulation properties. Simba's cover is made from 100% lyocell, its skirt from 100% polyester, and the membrane is 100% polyurethane.
It's available in four sizes: single (90x190cm), double (135x190cm), king (150x200cm) and super king(180x200cm). This is the perfect companion for the Simba Hybrid® Mattress and flexible enough to fit others too.
7. Nectar Mattress Protector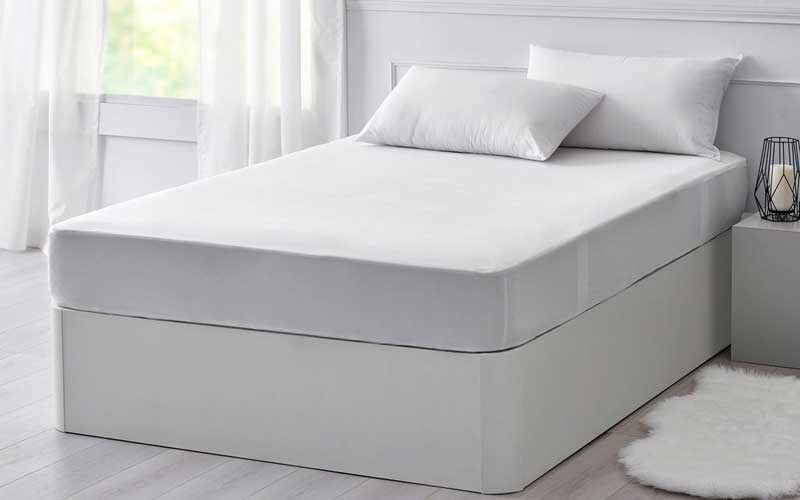 The Nectar mattress is the most awarded in the UK. That's why they've designed a mattress cover that will work as an invisible barrier to protect your bed from spills, dirt, and pets while helping you sleep cool and comfortable every night throughout all seasons.
The top of the Nectar cover is made from 100% Tencel®, the film from polyurethane and the skirt from 100% polyester, suitable for mattresses up to 32cm deep. It's available in five sizes: single (90x190cm), small double (120x190xcm), double (135x190xcm), king (150x200xcm) and super king (180x200xcm).
Nectar's mattress topper comes with a two-year guarantee and free delivery, so catch as many ZZZ's as possible.
8. Eve Temperature Balancing Mattress Protector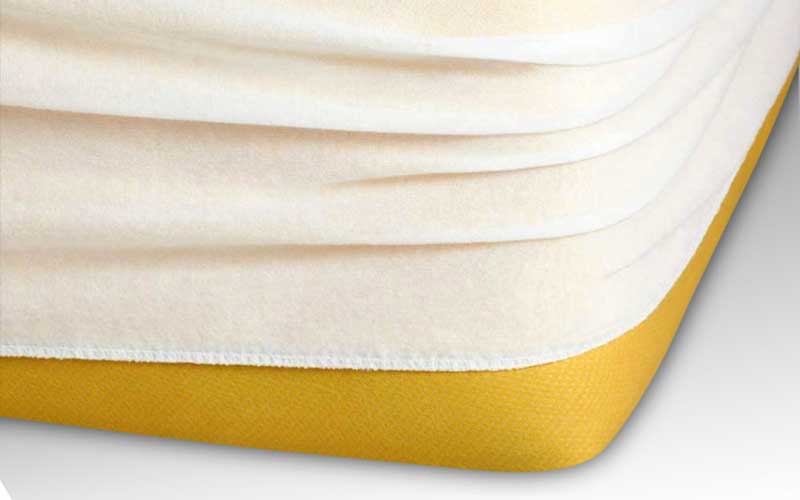 Next, we have more than just a protector with the Eve Temperature Balancing mattress topper. This cover can be purchased in three sizes: double (135×190 cm), king (150×200 cm), and super king (180×200 cm), suitable for all mattresses up to 30cm.
Eve will regulate your body's temperature to keep you at 'just the right level due to the 100% cotton fabric with Outlast® developed for NASA. This luxury mattress topper can be machine washed at 40°C and tumble dried at a low temperature.
The Eve Temperature Balancing cover has outstanding reviews, hassle-free returns, a two-year guarantee and a free delivery service for Mainland UK.
9. M&S Quilted Waterproof Mattress Protector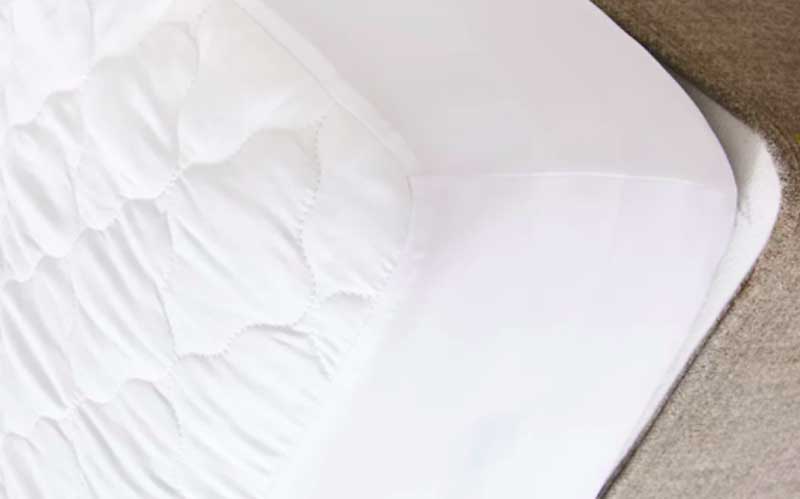 Next, we have a brand that's older than our nans. Marks and Spenser is a giant in the bedding industry with high-quality products such as their Quilted Waterproof Mattress Protector.
With Marks and Spenser's option, you can ensure a longer-lasting mattress due to the waterproof cover that's ideal for keeping your bed dry and free of stains. M&S item is available in four sizes: single, double, king and super king.
The cover itself is made from 100% cotton, and it's filling from 100% polyester. Marks and Spenser provides a super soft feel perfect for helping you drift off to sleep after a busy day with their extra deep fitted protector that can fit even the thickest of mattresses, while its machine washable capabilities ensure it can be cleaned with ease.
10. Soak & Sleep Waterproof Coolmax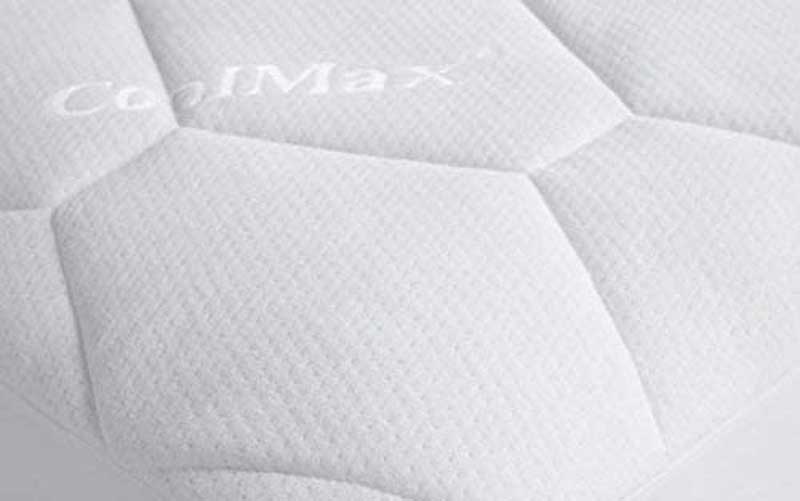 Lastly, we have another affordable Soak & Sleep mattress topper. We have the Waterproof Coolmax mattress protector that will keep your bed fresher than ever.
This mattress cover can be purchased separately or in a Soak & Sleep Bundle with a two-pack of pillow protectors. It's available in eight sizes, from single to emperor, and designed from a moisture-wicking Coolmax fabric.
You will be fully protected with Soak & Sleep's TPU waterproof bottom layer from edge to edge. You will also receive free delivery on all orders over £50 and a two-year warranty.
How to choose the best mattress protector?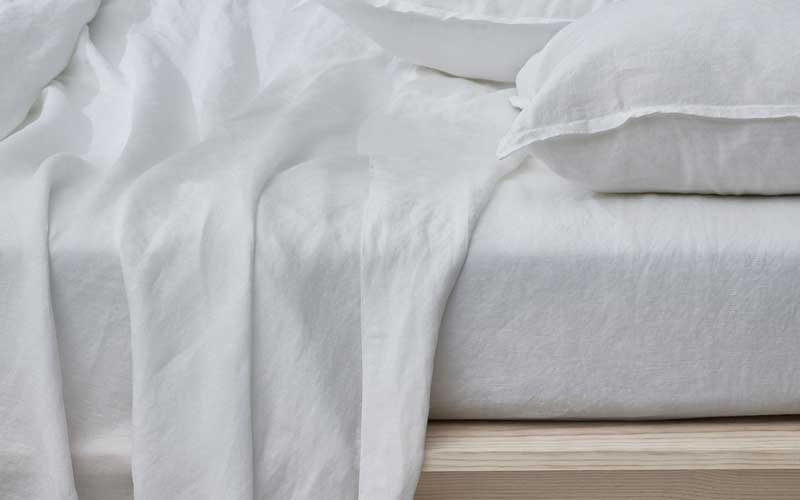 Said simply, a mattress topper is an added protective layer placed on top of your mattress and underneath your sheets. Mattress protectors help expand your mattress's life, but you need to know what you're looking for to make the right decision. Here the most important features to consider for your extra layer of protection:
Material
Materials are an essential part of your choice since they determine a lot of the protectors' properties. You're best bet is to select a fabric that's both breathable and comfortable. It should also be an easy-care material that will ensure you can wash and replace your mattress cover with confidence.
Thickness
In general, the thickness of the cover helps determine precisely how protective it is. The optimal pore size of a mattress protector is eight microns or less so that you receive superior performance. Don't forget that a fitted sheet can protect your mattress well enough!
Size
Never forget to check the size of your mattress before you purchase a cover for it. The right size will keep your bed secure, preventing annoying slippage while you sleep. Another factor to feature in is the deepness of it. If your mattress is deeper than the standard 25cm, make sure to get a deep fitted mattress protector.
Waterproofing
An excellent mattress cover should be waterproof to prevent you from spoiling your mattress. These options are made from waterproof material so you can catch spillages before they seep through to the mattress itself.
Temperature Regulation
Many people tend to sleep hot at night while others are always cold, which is why purchasing a cover with temperature regulation properties is a great solution. It will keep you cool during the summer and warm during the cold winter nights. Search for a breathable fabric with good temperature control.
Why do you need a mattress protector?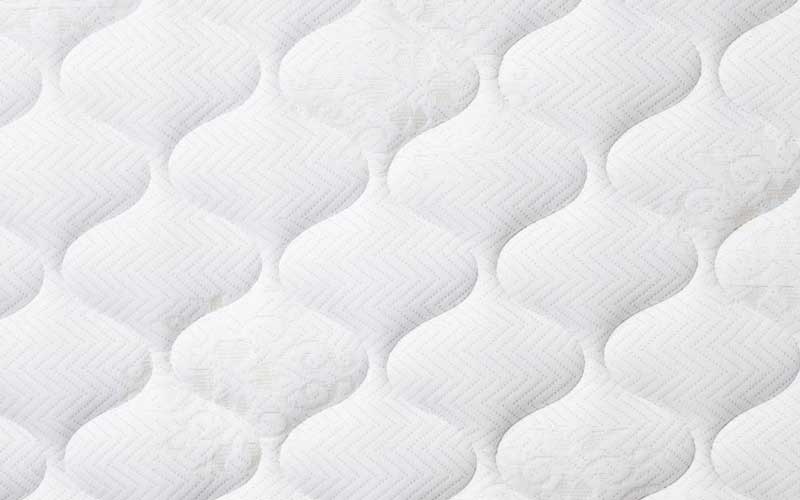 In general, a mattress topper will protect your mattress and extend its life in the long run. Out selection of products will protect you from germs and allergies caused by dust mites while boosting your comfort levels to the roof.
Plus, if you choose a waterproof option, you will add another extra layer of waterproofing that will protect your mattress from potentially damaging liquids which have been leaked or spilt.
What types of mattress protectors are there?
When you're making a decision on a cover, its properties shouldn't be the only thing you consider. It would be best if you also thought about fit and different types. Overall, there are three primary forms of mattress protector design to look out for, and they are the following:
Fitted – This is the type that acts as a fitted sheet. It slides onto the edges and corners of your bed and can be easily removed for washing or changing bedding.
Zippered – Next, we have a completely closed option with a zipper. This way, your entire mattress is securely and safely covered.
Elastic Strap – This is a choice with elastic straps that help enclose the mattress over all four corners of your bed for a little extra security.
What are the best mattress protector materials?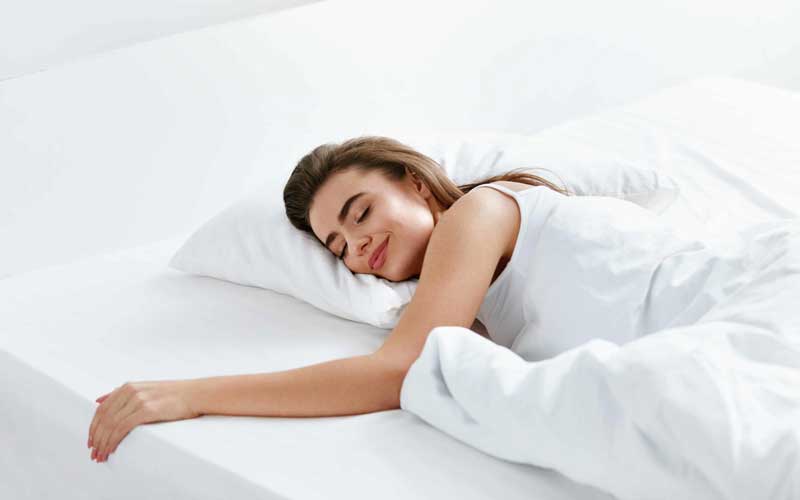 As we've just shown you above, there are many options when it comes down to choosing materials for your topper. Here are the most popular options:
Cotton – this material is breathable and soft. It's also suitable for sweaty sleepers because it wicks aways body sweat.
Cotton Blends – are quite popular with waterproof options. Usually, they are a mix between cotton and polyurethane. This mix isn't as breathable as pure cotton, but it will protect your bed against spills and stains.
Polyester – is a budget-friendly choice, but it's not the best for hot sleepers. However, they are often waterproof, which is an advantage.
Rayon – is a human-made material from natural fibres that is breathable and comfortable. It's also used for an eco-friendly mattress protector.
How often should you wash a mattress protector?
Some will say you should wash your mattress cover every time you wash your bed linen, ut that will imply that you'll need another topper. However, not everyone wants to spend extra money, which is why we recommend you wash yours every month or so. That will be enough to keep your mattress fresh, clean and free of dust mites.
Bottom line
Understanding that mattress toppers are a very necessary part of creating a comfortable place to rest is essential. They will prevent your mattress from getting stained while keeping you at a comfortable temperature all night long.
Every option comes with its own advantages and disadvantages, and it's up to you to decide what will suit your personal needs. All of the bed products we listed above have great customer reviews and are well received. We hope you could find what you were looking for in our guide regarding the best mattress protector on the market has to offer. To simplify your shopping experience, we've selected the top 5 options for 2021.
Brands in the bed industry frequently change, and so do the products they offer, which is why we will continue to provide you with the most up to par information. We hope that this article was helpful, and you could find what you are looking for.
Now it's our turn to hear from you if any questions regarding the subject were left unanswered. If you want to share some information, we would gladly hear about it in the comments below.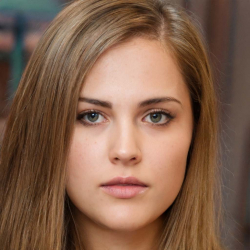 Latest posts by Isabelle Harris
(see all)