Pros
365 Night Free Trial

Lifetime

Warranty

C

ooling
Motion Isolation
Cons
Not much Bounce
A bit expensive
Nectar was founded in 2016 and has quickly become one of the leading bed-in-a-box companies. The brand's biggest star is the Nectar Memory Foam Mattress.
This company is one of the highest-rated online sites in the UK. Their mattresses feature universal comfort firmness, ultimate support and an all-foam design. Nectar's product is designed with five layers of foam that provide cooling, pressure relief, support, and motion isolation.
What makes this model even more popular are the high-quality materials, which come with a somewhat affordable price tag.
Let's go over the details and see whether it might be a good fit for your specific needs. We'll cover build quality, design, pricing, sleep performance and see if there are any downsides that you should know about.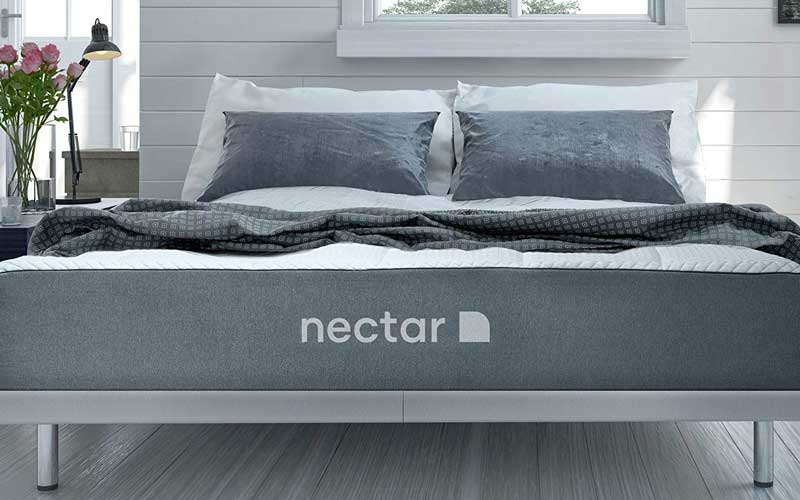 How is the Nectar Constructed?
With over three years of product development, the mattress is equipped with an advanced five-layer design for optimised support and proper body alignment. Its innovative adaptive cooling technology provides excellent temperature regulation and comfort.
The Nectar Memory Foam mattress is designed and entirely manufactured in the UK, but what makes it even better is that it doesn't contain any harmful chemicals.
It has many certifications due to its incredible (construction) quality. One of the most crucial ones is the CertiPUR® certified foam the bed is designed with. If you don't know what CertiPUR® is, think of it as an analysis and certification programme for the environment that checks the health and safety properties of polyurethane foam used in bedding products.
It is also Forest Stewardship Council® (FSC) approved for its packaging. The set program helps take care of forests by providing a well-managed, verified and recycled source, making the company interesting and sustainable.
Another positive is that it also complies with the UK fire regulation BS 7177 code. That means the product is safer with regard to fire ignition.
The Nectar Memory Foam mattress is hypoallergenic and climate neutral. The manufacturer has partnered up with ClimatePartner to calculate their carbon footprint and see how much CO₂ they have offset. If you're interested in finding more about the subject, you can take a look at Nectar's CO₂ offset tracking ID.
Layers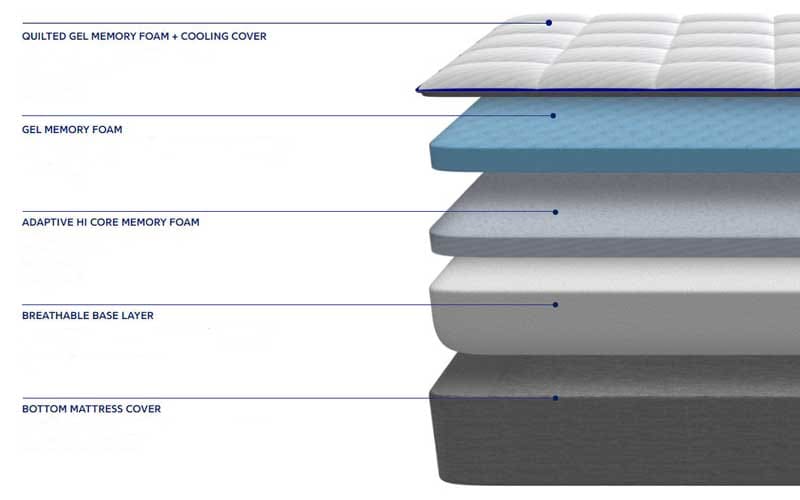 The Nectar Memory Foam mattress is constructed with five layers of life-changing comfort.
First, you'll find the Quilted Cooling Tencel ™ cover, which is a soft and airy top layer with breathable cooling action, so you don't have to wake up at night sweating. Next is the contouring and comforting gel memory foam layer that evenly distributes your weight around the mattress.
Nectar's third layer is the Adaptive Response Transition one, which provides perfect support without the feeling of sinking in too deep. It's followed by a 7-zone supportive base layer that stabilises the layers above and reinforces support with seven different zones.
And finally, we have the bottom mattress cover, ensuring a non-issue with slippage on your bed frame. Due to its innovative construction, it minimises motion transfer so you can move freely without disturbing your loved one or spilling your wine.
How thick is the Nectar mattress?
The Nectar mattress is 25cm thick and can hold up to 292kg of weight. It's ideal for heavier than average people. So you don't have to worry about your bed sheets fitting since the 25cm thickness is for most bedding sets as you won't need a deep fitted sheet for it. This brand follows the principle one mattress firmness for all sizes, providing spinal alignment and even weight distribution.
How firm is it?

Nectar Memory foam is in the 6.5 range, with 1 being the softest and 10 being the firmest, making it a medium-firm feel, suitable for all sleeping positions and body types. However, if you find yourself on one of the extreme ends, you can take a look at our guides on: "Best Soft Mattress" and "Best Soft Mattress."
What about the cover?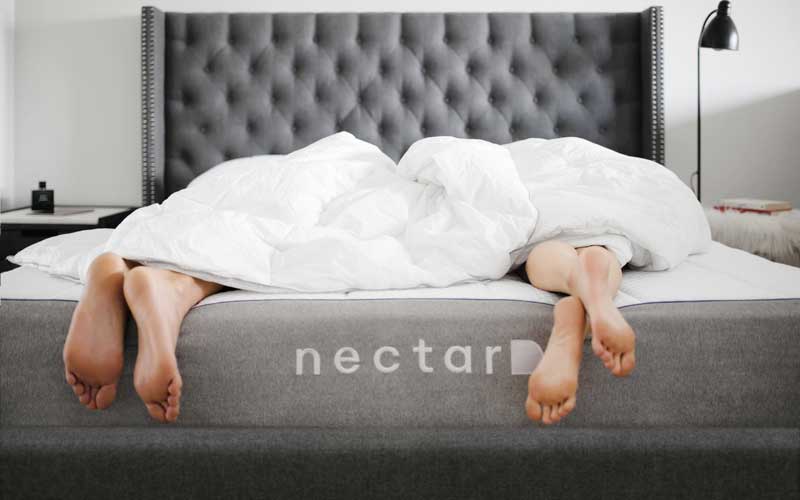 Nectar's layers of memory foam are encased in an Adaptive® cooling cover, designed to draw heat and moisture away from your body independently and to allow airflow. The Adaptive® fabric has a smart textile technology, which responds to environmental changes such as heat and moisture.
This way, the cover allows you (and your loved one) to rest at a temperature your body naturally needs. The set cover is divided by a top and bottom panel, where the top is quilted and made from Tencel™, which is an exquisitely soft and pleasant fabric with high flexibility.
Below the cover is a grey underside that is resistant to abrasion. Overall, this is a high-quality product with a mesh texture, which supports air circulation, while being a non-slip product that can be easily removed and spot clean it.
Design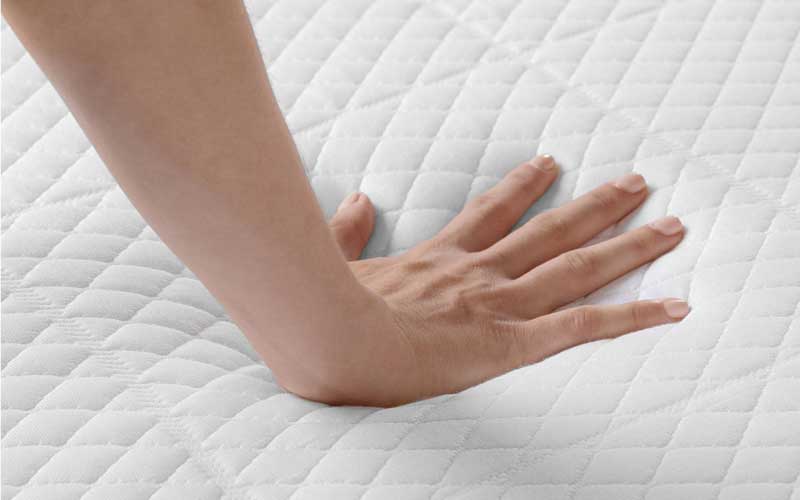 This stylish and straightforward looking mattress has a neutral colourway, which can be a great addition to any bedroom. It's a simple design that most competitors follow, but the Nectar bed stands out due to the checkered quilted top cover, which is the final touch for perfection!
How long is the free trial?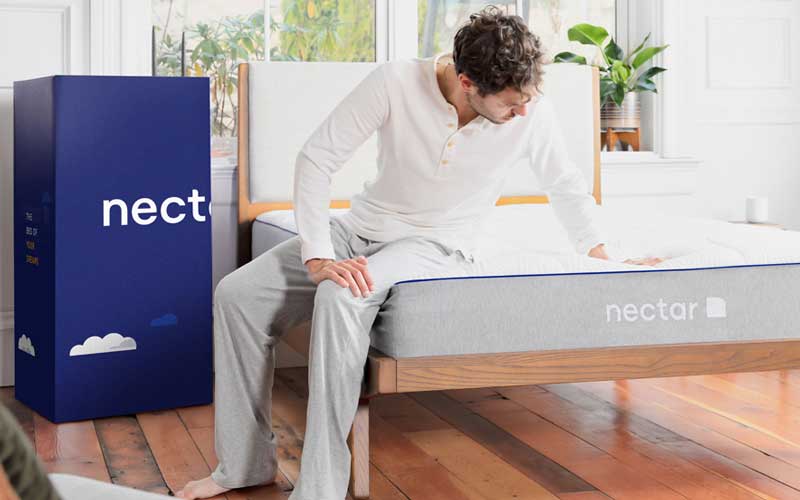 Nectar is the first and only mattress company in the UK that offers a 365-night FREE trial, which is three times more than other brands on the market. This way, you can test the bed through all four seasons, and if you change your mind about the purchase, you can return it within a year.
The company will arrange a collection and a refund. This manufacturer's idea is to let everyone adjust to the mattress in their own home and see if that's the right choice for them. However, we advise you to closely read the conditions of this trial period so you're well informed about the process.
How long is the warranty?
The mattress comes with a lifetime warranty, as the brand hopes you won't need another bed ever again! In our eyes, this speaks volumes in the confidence they have in their own products.
If you don't know what applies and what doesn't when it comes down to this guarantee, we'll try to narrow it down for you. First, you need to know that the original purchaser covers this, and you should retain a copy of the receipt as proof of purchase.
What defects does the warranty cover?
If your mattress has a visible indentation, which is greater than 4cm
If there is visible material degradation, split or crack after proper handling
Or if there are defects from the assembly of the mattress cover
What defects doesn't the warranty cover?
If your product is subject to physical abuse or damage to the structure and/or cover material
If another consumer has previously used the bed
If the issue is comfort preferences
What sizes does it come in?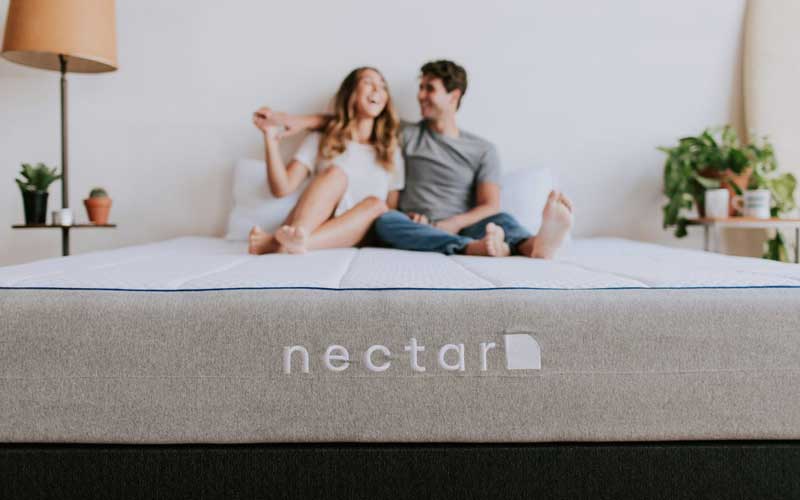 The company wants you to find your perfect match with one of their five available size options. Nectar has tried to simplify that by concentrating on five sizes to create a straightforward, no-nonsense guide with which you won't be overwhelmed or confused.
Our objective in this Nectar Mattress Review is to provide you with detailed information about a product and everything that comes with it, which is why we'll also show you the price of each size. Please keep in mind that the cost is a subject that can change.
Single – 90cm x 190cm x 25cm
Small Double – 120cm x 190cm x 25cm
Double – 135 x 190 x 25 cm
King – 150 x 200 x 25 cm
Super king – 180 x 200 x 25 cm
If you've had a different idea for your budget, you can take a look at our guides on "Best Budget Mattress for 2021" and "Best Luxury Mattress for 2021."
What is included in the Nectar mattress bundle?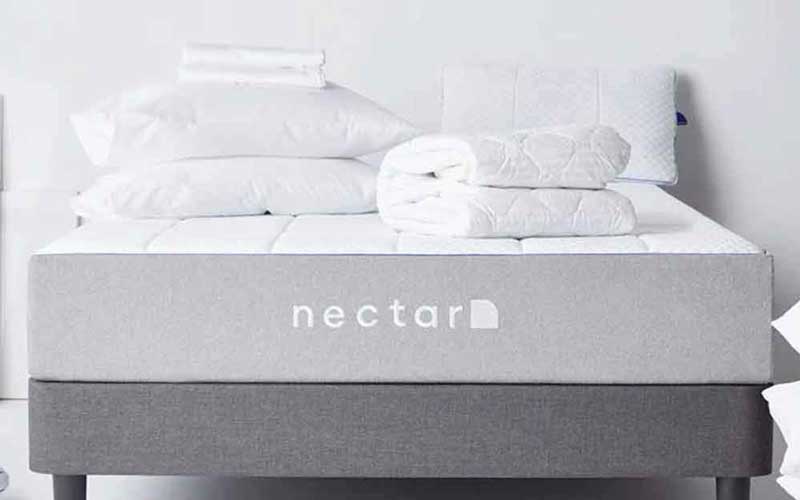 For as long as we can remember, Nectar has been a brand that gifts you a bedding product with every mattress purchase. Those bedding products have changed in time, but right now, if you purchase the Nectar Memory Foam Mattress, you will receive a couple of hundred pounds worth of free accessories! No one can beat that!
The bundle includes 1 Cooling Pillow, Sheet Set, and 1 Mattress protector. Keep in mind that the bundle can change at any time, and Nectar might not be offering a better deal in the future, so if interested, it's best to act now.
What are the delivery terms?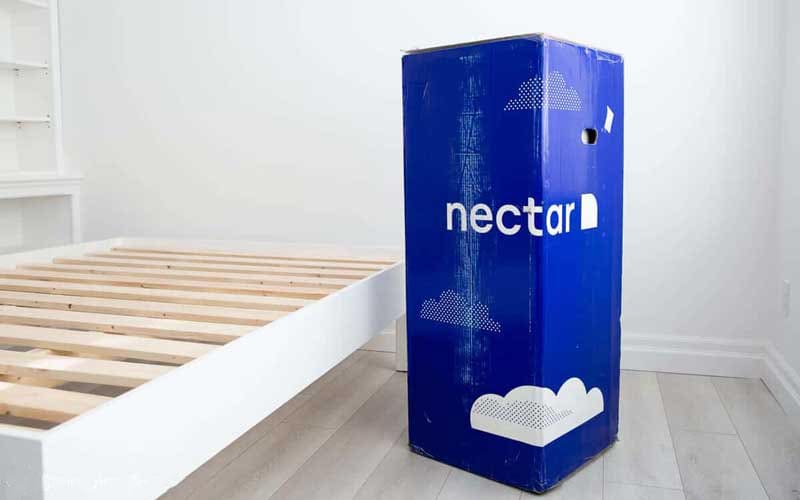 Nectar currently offers free delivery, and you can choose a designated delivery date from their drop-down menu. Usually, most delivery timeframes are within two days of ordering, but depending on the day of the week you order, it might take longer. The mattress will arrive in a 50cm x 50cm x 106cm box, and it will be rolled and vacuum-sealed.
There are three delivery options:
Free standard delivery, as outlined above.
Standard delivery + Old mattress removal (there is a surcharge).
Standard delivery + Old mattress removal + Old bedframe removal (there is a surcharge).
Overall the Nectar mattress has excellent delivery terms and the added convenience of the removal of your old mattress and eventually your old bed frame in case you are upgrading.
Awards

The Nectar Memory Foam Mattress has won multiple awards for its excellent layers of comfort, and some of those awards are the following:
Good Housekeeping Institute – Climate Neutral Mattress -2021
Sleep Foundation – Best Memory Foam Mattress – 2020
USA Today – Best Overall Mattress – 2020
The Independent – Indy Best – 2020
Ideal Home – Ideal Home Approved -2020
Real Home Loves – 2020
Tuck Award – Best Value Memory Foam Mattress – 2019
Mattress Advisor – Best Value Mattress – 2019
USA Today – Best Mattress Of The Year – 2019
LightSleeper's choice for:
Alternatives
If you want to take a look at other similar products, check out these reviews as well:
Bottom line
Overall, the Nectar mattress is a high-quality mattress with an innovative five-layer design, which is suitable for most sleeping positions and body types. It is great for couples too.
It comes with an unbeatable free trial period, service and solid warranty. Nectars offer quick shipping for free, and there is the convenient option of them picking up and disposing of your old mattress and/or your old bed frame. The mattress itself has won many accolades over the last few years, so it should definitely be on the radar for anyone looking for a top-quality memory foam mattress.
It is not the cheapest mattress by any means, so this is something to consider. There are cheaper options out there but, as we all know, you often get what you pay for.
We hope you enjoyed the read, and if you have any questions, don't hesitate to drop us a comment below.