Best Memory Foam Mattress for 2021 – Reviews & Comparison
Last Updated on April 19, 2021
While a somewhat new player on the block, memory foam is an established material when it comes to superior support for all body types. Memory foam mattresses can be a good solution to a plethora of problems, including aching lower back and overall reduced sleep quality.
But how do you choose a quality memory foam mattress that fits the bill and checks all the boxes? There are so many options on the market – from good quality products from reputable companies to cheap Chinese foam mattresses that we wouldn't recommend to our worst enemy.
It is is a touch choice to make!
That's why we created LightSleeper – to help you choose the product that is right for you and you alone, and help you make that choice along the way. Companies can never pay to feature their products on LightSleeper, nor we are getting paid to recommend one product over the other – we are an independent resource and we only recommend products that have passed our tests and we feel that they are the best in their category.
So let's see what we think are the best memory foam mattresses in the UK today and why.
1. Emma Original – Editor's Pick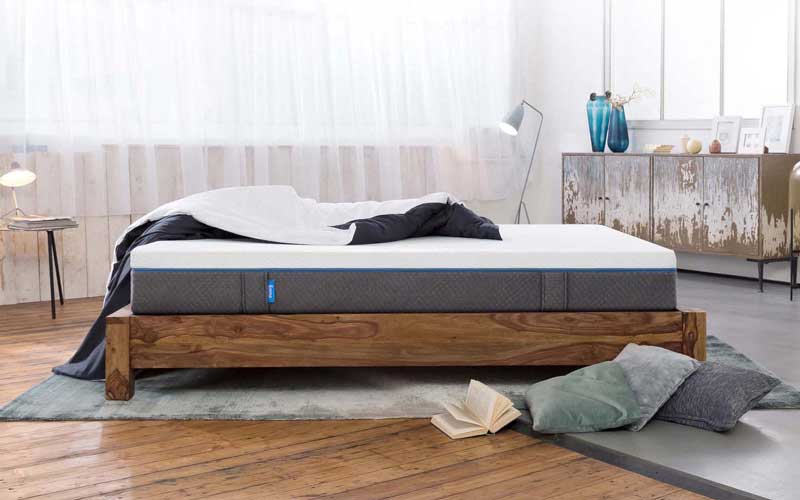 The Emma Original is a carefully crafted product, which provides you with the most restful and refreshing sleep possible. It's designed to suit everyone's needs with its three layers of construction and magnificent seven zone back structure.
Thanks to the advanced zoning and adaptable foams, this affordable Emma option will gently cradle your body and give you the feeling of sleeping in the clouds. Emma comes with advanced zoning and flexible foams which distribute pressure across the entire mattress to relieve your stress and help you relax.
And if you're an individual who needs proof of a peculiar product's quality, you can find it here with our personal favourite multiple award-winning brand. This specific Emma mattress has been voted "The Best Buy for 2020." With its outstanding motion isolating properties, the Emma Original ensures two people, won't be bothered by the other, in one bed.
Generally, your body will need between 4 to 6 weeks to adjust to a new mattress, which is why this manufacturer provides us with an unbelievable 200-day trial period and a dreamy decade of guaranteed quality!
Key Features:
3 layers of construction
Airgocell® regulates temperature
Seven zone back structure
Trial Period for Returns: 200 days
Warranty: 10 years
2. Purple Mattress – Runner Up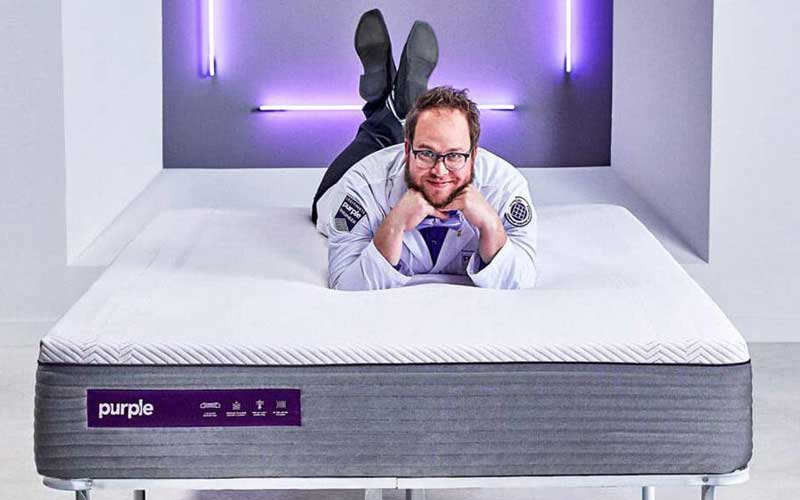 Purple is a luxury brand that has always designed their products with the customers in mind. Therefore they've crafted a product that will help you get the best possible sleep. How can Purple do that, you ask? Well, let us tell you.
This spectacular Purple option has two layers of construction. The top one is designed from breathable components, which will keep the sweat away. In the meantime, the inside layers, which are created from a durable high-density foam, will provide a blissful cloud-like feeling without the sinking. Purple was designed to perfection with dual-layer foam, perfect to the touch with one layer being soft and responsive, while the other is firm and supportive.
Uniquely crafted with the renowned "purple grid" that flexes directly under your pressure points, and letting your body receive the needed support. Purple's grid is one of the multiple reasons this item can help people with neck problems or back pain. Stop wondering and wasting your time, just grab your Purple mattress now, test it for yourself and receive a 10-year guarantee with it!
Key Features:
2 layers of construction
Breathable material
Medium-firm support
Inner layers – durable high-density foam
Warranty: 10 years
3. Eve Original – Worth Considering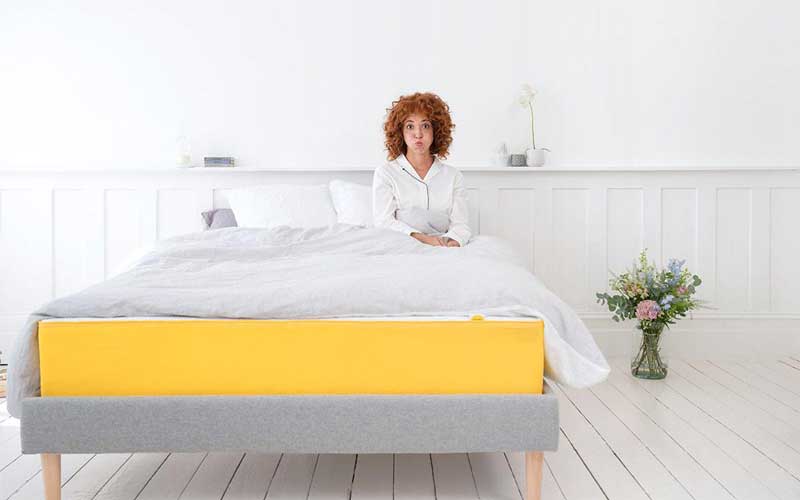 Do you toss and turn all night in bed? Are you a hot sleeper? If you are the Eve Original mattress is here to help you improve your sleep. Eve comes with three layers of breathable next-generation memory foam that will keep the pressure off while offering you gentle cushioning for a beautifully restful sleep.
Eve's new generation item comes with a foam, which will keep you cool and have impeccable motion isolation so that your partner will be able to sleep through the night even if you're tossing and turning. The secret behind it is the unique contour zones that keep you comfortable no matter the position you sleep in. This way, you get a restful night's sleep with Eve's affordable product.
And if that's not enough, you receive a 100-days sleep trial with a 10-year warranty for this fantastic item that can relieve pressure from various parts of your body. Don't hesitate to check it out and give it a "test drive"!
Key Features:
3 layers of construction
Unique contour zones
Anti-slip Base
Trial Period for Returns: 100 days
Warranty: 10 years
4. Ergoflex 5G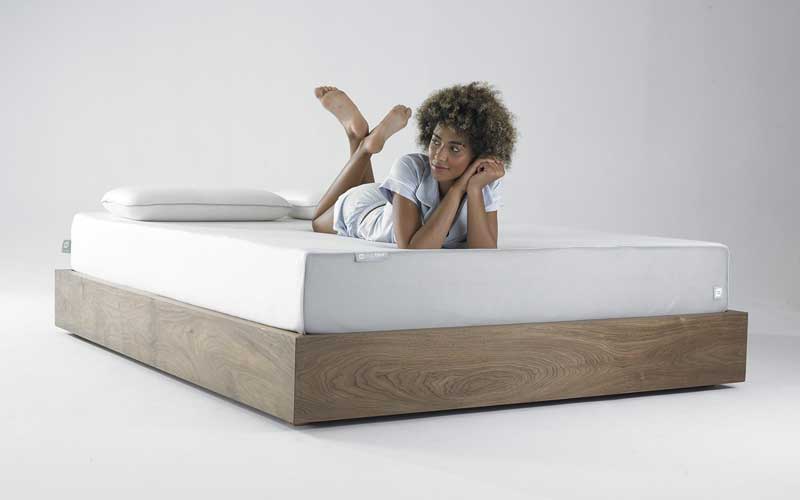 Ergoflex is a company that works hard towards achieving a comfortable, cool and supportive night's sleep every night. As the name implies, the 5G has a 5-layer sleep system, made out of premium materials that work in complete harmony to create and integrate arguably the most supportive, comfortable and pressure-relieving mattress we can find on the market in 2021.
This item's top layer was designed from proper high-density visco-elastic memory foam, which contours all your body's curves while ensuring that your partner won't be disturbed during their sleep. After that, Ergoflex has its Cool-Sleep airflow layer. Set layer works towards maintaining a comfortable and cool sleeping temperature all around. Ergoflex's 5G version comes with a TENCEL® outer cover with a natural, breathable feel, and a micro-fine inner cover that protects and encases the mattress core.
Ergoflex has crafted a 9cm high resilience impact-resistant foundation layer, that ensures outstanding support for its upper layers. The brand gives you a 10-year guarantee and 30 days trial period to see if this is the right choice.
Key Features:
5 layers of construction
Naturally Anti-Allergenic
Cool-Sleep™ Airflow System
Trial Period for Returns: 30 days
Warranty: 10 years
5. Nectar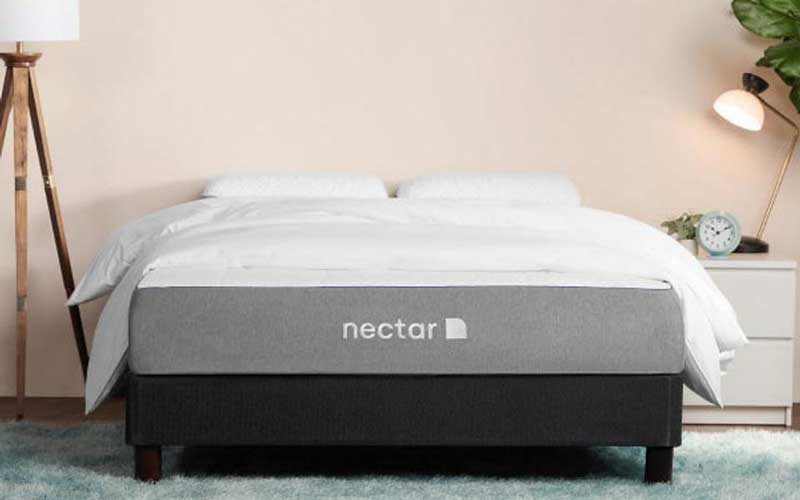 Are you someone that is continually struggling with pains and aches while sleeping? If the answer is yes, this medium-firm Nectar mattress might be the best option for you. With five unique foam layers of construction that will help keep your spine properly aligned through the night.
Nectar's amazing product has a breathable cooling top layer, that is neither too firm nor too soft, which is where you want to be. You can see the perfection packed in this product, where the contouring gel memory foam will meet your body's natural curves through the whole surface.
It's time you forget about discomfort with this Nectar option because of its adaptive memory foam layer, which will relieve common pressure points beneath your shoulders, legs, hips and back for better spinal alignment. The Nectar memory foam mattress comes with an affordable price and has a lifetime warranty.
And if you want to, Nectar provides with their fantastic offer with two cooling pillows, a sheet set and a mattress protector. How can you be unhappy with 400 pounds worth of bedding free of charge?
Key Features:
5 layers of construction
Breathable Cooling Action
Gel-infused foam
Trial Period for Returns: 365 days
Warranty: Lifetime
How to Choose a Memory Foam Mattress?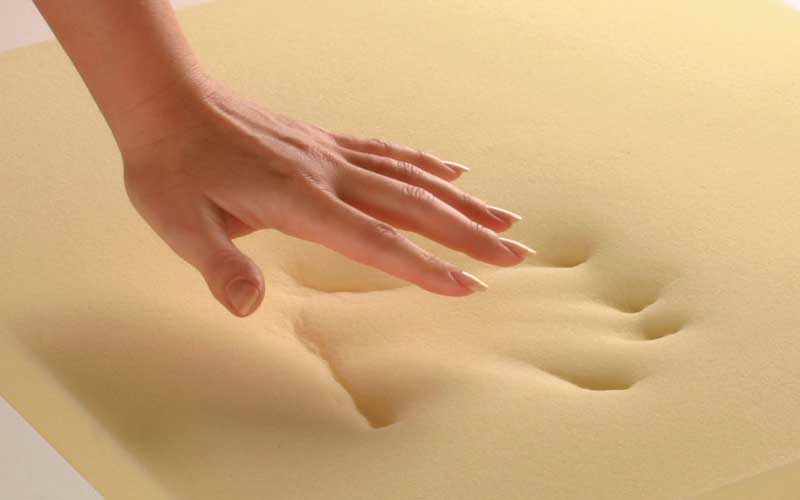 Nowadays, we are bombarded with new brands and products every day, but not all offer quality products. For you to be able to pick the right one, there are a few features you will need to factor in before making your decision. They are the following:
Sleeping Position
An essential factor to consider when choosing a mattress is the position you sleep in and your sleeping patterns in general. You need to understand that the way you sleep can determine the areas you put the most pressure on. That will help you narrow down the options which will accommodate your needs.
Side sleepers
We want to start with side sleeper and the fact that they often put pressure on their shoulders and lumbar area. If you're one of those people, we highly recommend selecting a medium-firm option with pressure points, in the lower back area. Our reason behind it is that you will most likely find it suitable for this position since it's still flexible to your body's curvatures.
Back Sleepers
Next, we have people that sleep on their backs. If you are one of them, you'll probably want a product, that will alleviate pressure points just like a side sleeper. Therefore you should take into consideration a medium-firm product that will provide fantastic spine support. Understand that a back sleeper has to avoid the extra-firm items because they might fail to adjust to the lumbar curve.
Stomach sleepers
In third, we have the side sleepers. Usually, this type puts pressure on their neck and back. That's why, in this situation, your best option will be a firmer product because it's excellent for spine support. Also, it will help alleviate neck tension and prevent your lower body from sinking into the mattress. With that, you avoid putting your neck at an inappropriate angle that may bring you discomfort.
Various Sleeping Positions
Lastly, we have the combination of all the types above. People with various sleeping patterns would often prefer a medium mattress with a thick top layer of memory foam. Thus, you should look for high-density products which can help you sleep on all sides comfortably without putting too much pressure on your body.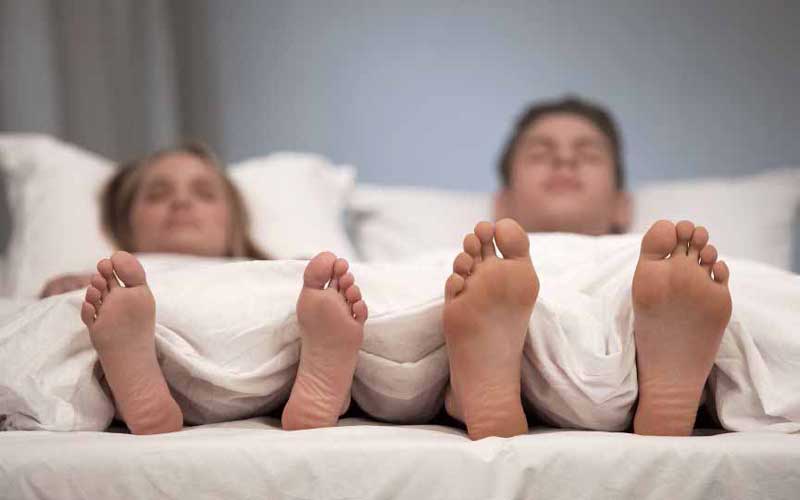 Density & Firmness
Two of the essential features in a mattress are its firmness and density. Typically they determine the longevity, price, and overall feel of the bed you will be sleeping on. We measure density with mass per unit volume at a given area.
In general high-density foams have extended longevity, compared to low-density ones. However, there is a common misconception that the higher the density, the firmer the bed.
You want to aim for a memory foam product with high-density and Indentation Force Deflection (IFD) rating. The higher the IFD rating, the better. That indicates the brand used an optimal amount of material in the bedding. People favour high-density options if they suffer from chronic body aches and pain.
Body Type & Weight
Matching your body type to a mattress can confusing because it won't matter how comfortable it is if you cannot fit on top of it.
That's why you should think about the dimensions that accommodate your body size and your partner's if you are sharing the bed. For example, a couple will fit in a queen-sized bed, but they will most likely be more comfortable in a king option. Whereas, a solo sleeper will generally find a full-size as a good enough choice.
The item you select has to be able to accommodate your body weight. If you're on the heavier side, we recommend looking at our article about Best Mattresses for Heavy People. On average, a person who weighs 60kg will be ell-supported by a medium-density memory foam mattress.
Price
When the memory mattress was first introduced, it was quite a pricey option, but today some brands offer quality products with competitive pricing. Of course, the overall price of a mattress depends on its quality and the manufacturer.
However, most models stay in the diapason between £800 – £1,300. With this price tag, you can receive all the features and benefits you need for a well supported and comfortable night's sleep.
Trial Period
People can go to a store and lay on a bed for a few minutes, but that doesn't tell you if the product will be comfortable in the long run. That's where the trial period comes in handy. Well-respected brands offer a trial period that can vary between 30-365 days.
Ultimately, this is the best way for you to determine if a mattress is suitable for your personal preferences. Trial periods give you the opportunity to "test drive" and item in order to see if this is the best option for you. That's why you should always select options that offer it.
Warranty
Every brand that wants to have a reputable has to offer a warranty for the products they put out. Most guarantees will range between 5 to 10 years, but some will offer20, 30 or even a lifetime option. We recommend that you try to aim for the best length possible. If a manufacturer offers a whole decade, this speaks volumes to the mattresses they put on the market.
What types of memory foam mattresses are there?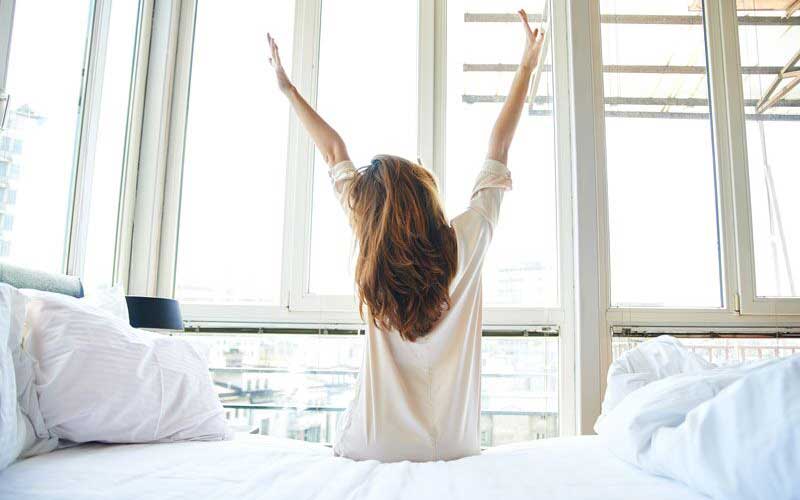 A lot of people assume that all memory foam mattresses are the same. However, that's incorrect, since there are three main types, which are traditional, gel and plant-based. Let's talk about them in some detail:
Traditional Memory Foam
The traditional option, as you might have guessed, is the most common one. It is made from a petroleum-based material, also known as viscoelastic.
This type is firmer to the touch, but it is temperature sensitive, which means it will soften when warmed. That's the reason behind it moulding to your body's curvatures, and when you get out of bed, it will return to its original shape.
Gel Memory Foam
Next, we have an option that uses the same traditional materials, but it also includes gel beads throughout the foam, which help with temperature regulation.
If you're a hot sleeper, this will be a great option to consider. With the gel beads inside, this type changes its shape faster than the standard one when exposed to pressure from a body.
Plant-Based Memory Foam
Finally, we have plant-based products which are mostly composed of natural plant materials. If you are an environmentally conscious individual, you would absolutely love this type.
It keeps your body cooler than the others, which makes it ideal for the hot summer nights. However, keep in mind that the plant-based choice doesn't respond to temperature like other ones. The good news is that it reacts quickly to pressure changes.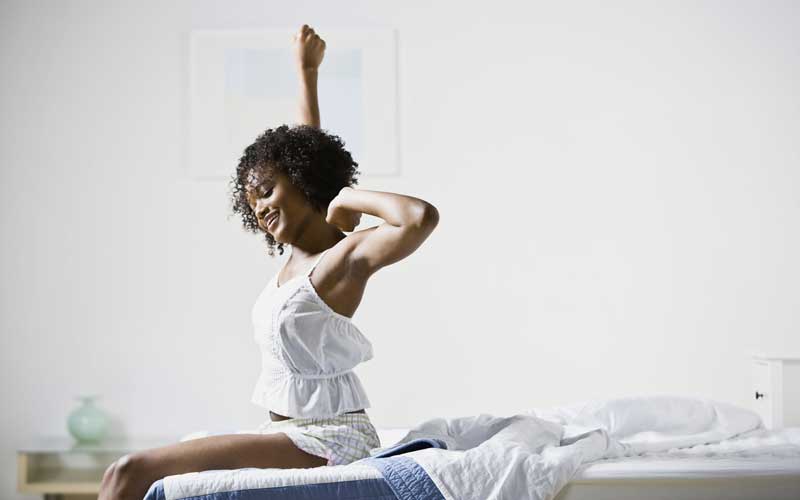 What are the benefits of a memory foam mattress?
Everyone has different preferences, and mattresses are no exception. If you are wondering what benefits can a memory foam option bring to the table, we are about to tell you:
Pressure Relief
Many people suffer from chronic aches, which is why pressure relief is vital for your choice. An option with memory foam will redistribute the sleeper weight, and that will help immensely with pressure relief. If you have issues with your neck, shoulder, hips or back, you would want to opt for the medium-firm foam to avoid putting to much stress on your joints.
Reduce Pain
No one wants to deal with constant back or body aches, and a memory foam can you alleviate those issues. It will do so by adapting to your body's curve, allowing adequate pressure relief and deep relaxation. Since it is temperature-responsive, it will warm spots within the areas you lay on and provide you with additional comfort.
Supports Spinal Alignment
This type of mattress helps distribute your body weight across the surface evenly for proper spinal alignment. It will contour your shape and put your spine in a neutral position, which will add extra support for your shoulders, neck, and lumbar area, without forgetting to relieve stress from pressure points.
Motion Transfer Resistant
This is a benefit that your parent will love. Memory foam is excellent at isolating motion transfer so that you don't have to wake up every time your partner tosses and turns throughout the night. Its energy-absorbing features will prevent disturbance for the person beside you and vice versa.
Longevity
When you spend your money on a mattress, you want it to last as long as possible. In general, memory foam options can last for a decade. This way, you know you've got your money's worth without a doubt. However, keep in mind that medium to high-density products last longer because they a higher count per cubic meter.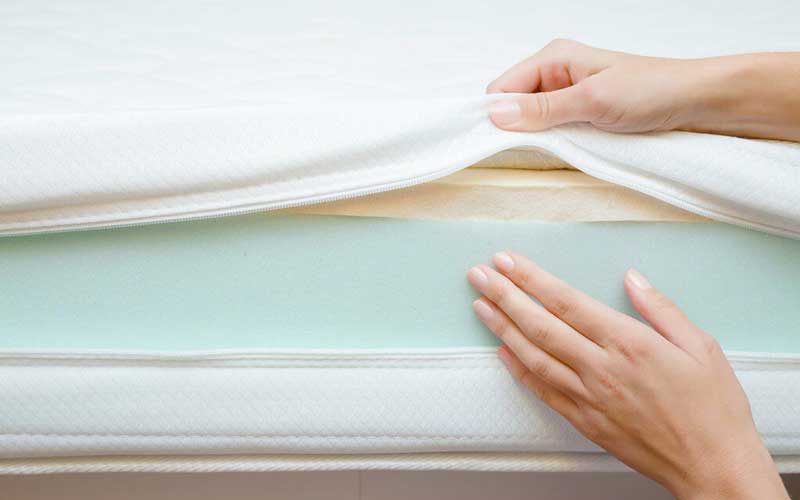 How long will a memory foam mattress last?
High-quality memory foam can last up to ten years, but the recommended time for a change is 7 to 8 years. Usually, that's when the mattress will start sagging and have bumps and lumps, leading to problems sleeping and body aches.
This type of bed has a longer lifespan than pretty much every other kind. A memory foam mattress can last longer if it's thicker and denser.
The lifespan of a mattress also depends on the stress that was put on it. What we mean by that is the weight of a person and if it was shared with a partner. In general, if you put more weight on it or you don't tend to it, it will be more susceptible to rapid wear-and-tear.
When you're choosing a mattress, make sure the bed base of frame you have is suitable for it, so that you don't damage it or heighten the risk of premature damage. Opt for quality materials and take care of your belongings to directly contribute to a longer life for your bed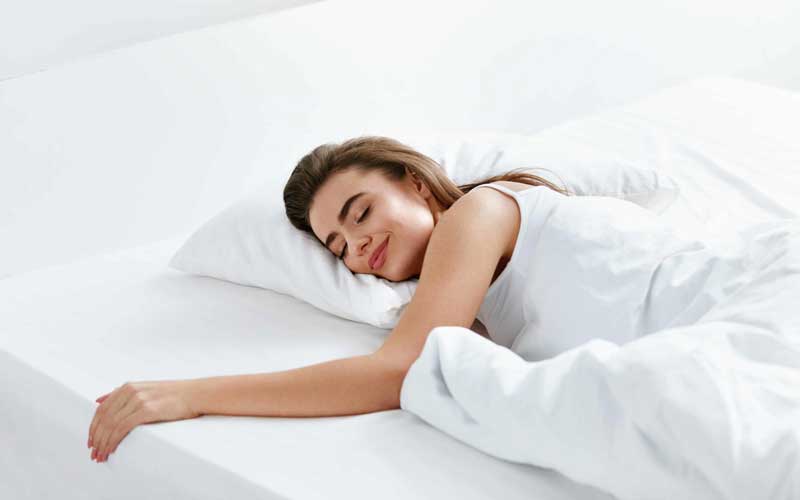 How does it feel to sleep on a memory foam mattress?
If your previous mattress was a pocket sprung one, and you haven't been able to try out a memory foam option, you're probably wondering how it feels. A feeling is a feeling, but we are going to try and describe it as best as we possibly can.
Memory foam is often described with a more plush, cushioning feel, making you envision sleeping in clouds.
This type of foam conforms to your body and by doing so, provides you with a hugging sensation that brings you comfort. However, that feeling might be accompanied with heat sometimes.
Also, memory foam has excellent motion isolation properties, which means you'll be almost entirely unaffected by movement from the person next to you.
This material tends to provide good pressure relief and may reduce body aches and pains.
It doesn't necessarily have a lot of bounce, and in some situations, you might feel more settled in one place.
Final Words
We hope you were able to find what you were looking for in our guide when it comes to the best memory foam mattresses the market has to offer. To simplify your shopping experience, we've selected the top 5 options for 2021.
Mattress brands frequently change, and so do the products they offer, which is why we will continue to provide you with the most up to par information.
We hope that this article was helpful, and you could find what you are looking for. Now it's our turn to hear from you if there are any questions, regarding the subject that were left unanswered. If you want to share some information, we would gladly hear about it in the comments below.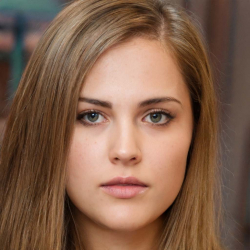 Latest posts by Isabelle Harris
(see all)