Pros
3 layers of breathable foam
Made in the UK
10-year warranty
Removable & washable cover
Cons
Pressure on hips and shoulders for side sleepers
Yellow side visible through lighter sheets
The Eve Original mattress comes with the perfect balance between comfort and support that will suit most sleepers. It can be a great option for you to recharge your batteries and get some needed rest at night.
Let's go over the details and see whether it might be a good fit for your specific needs. We'll cover build quality, design, pricing, and sleep performance and see if there are any downsides that you should know about.
How is the Eve Original mattress built?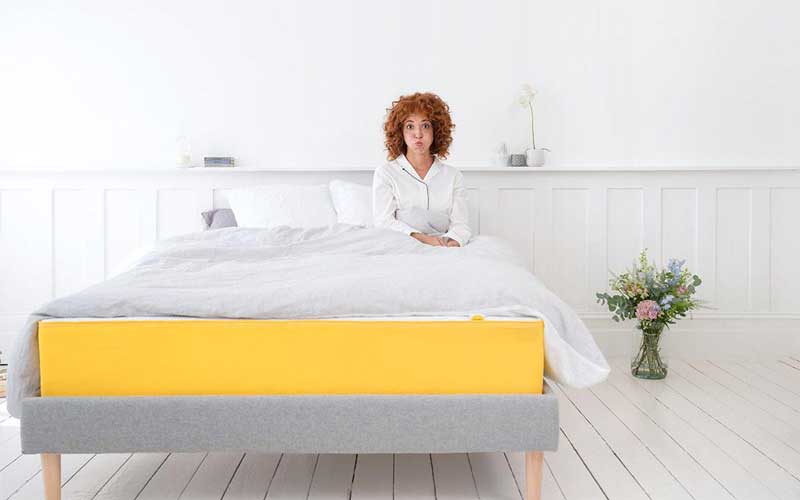 The Eve memory foam mattress is made locally here in the UK with three layers, combining memory foam and polyfoams to create a well-rounded product that is great for reducing motion transfer.
This brand praises itself for mattress quality and safety. Thus all foams are CertiPUR® certified, which means they've all been independently tested in order to ensure no harmful chemicals are being used. The layers of foam are all CFC and PBDE free (harmful chemicals for the ozone layer).
Eve complies with ISO 9001 quality standards, which basically means stringent quality checks throughout the manufacturing process. To ensure that the used materials are from the UK's highest quality standards, Eve sources all of its raw materials from the National Bed Federation.
What is in the layers?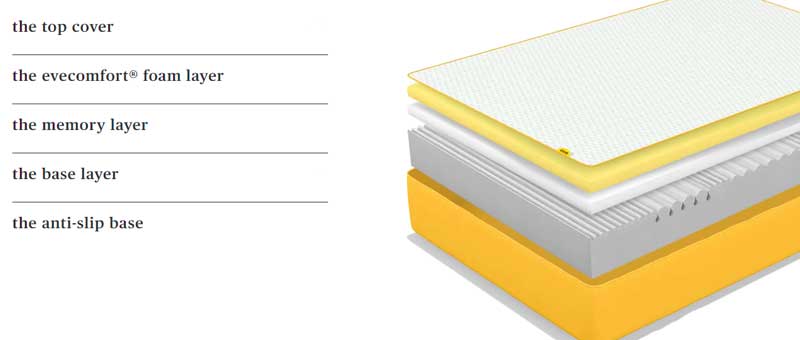 Altogether, the Eve Original has three next-generation memory foam layers, a breathable top cover and an anti-slip base. A good mattress should make you feel great when you wake up, and this model does the job immaculately.
First is the Evecomfort® foam layer, which is a springy foam that offers excellent support for your body and helps to keep your spine aligned. This layer of memory also aids with temperature regulation, so you're neither too hot nor too cold.
Next is another foam layer that provides a snug softness and keeps the pressure off, creating a surprisingly supportive cloud. Lastly, you'll find the base layer, which is slightly denser to support all body types and prevent sagging. This final layer is constructed with seven unique contour zones designed to relieve pressure from the shoulders and hips.
What about Eve's Cover?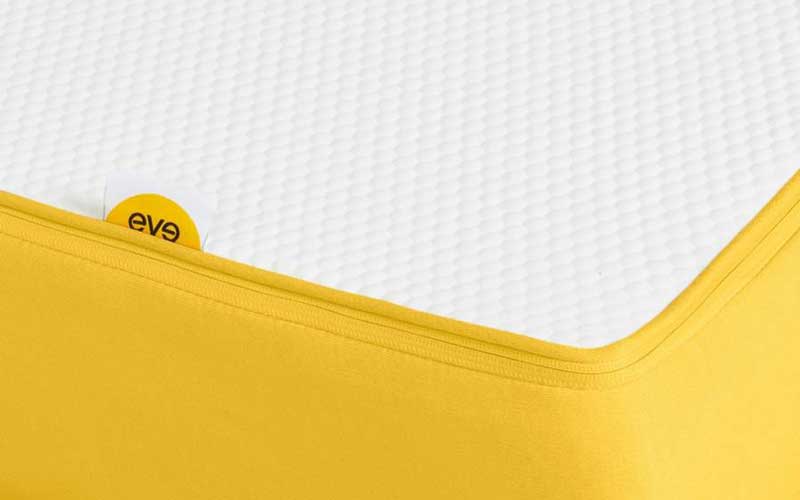 We find Eve's cover to be very bright and outspoken. It's made from 98% polyester and 2% elastane, where the polyester gives it the soft, stretchy feel combined with the honeycomb stitching to create a breathable sleeping surface.
This mattress cover is OEKO-TEX® certified, meaning it's been dependently tested to ensure no harmful chemicals are used in the process of making the product. Another positive is the fact that you can remove and machine wash your cover at 40°C.
And if you're a fan of practicality, know that it has four handles for easy manoeuvring. However, it would help if you kept in mind that it also has an anti-slip base, which isn't washable, so try and keep your spillings to the top surface.
How Thick is the Eve Mattress?
The Eve mattress is 24 cm thick, which is one centimetre less than the industry standard for a "bed in a box". This model can hold up to 114 kg (per person per side), meaning if you're heavier than that, you should look at other options.
If you don't know where to start, we recommend you take a look at our guide on "Best Mattress for Heavy People."
How firm is it?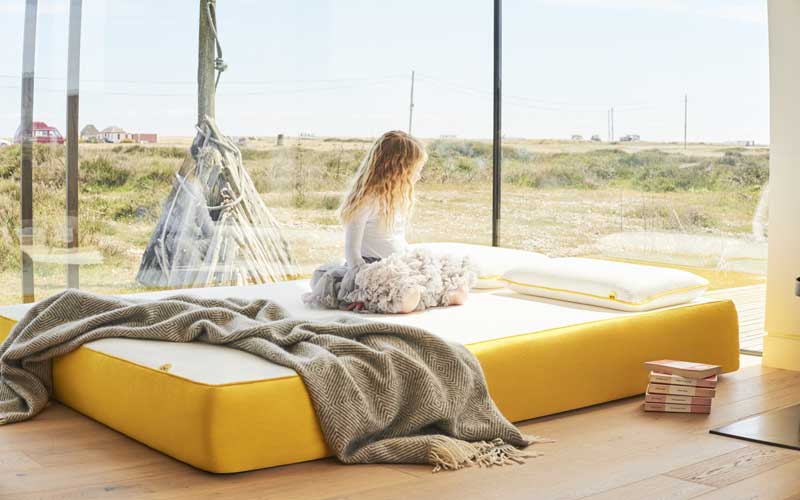 This mattress comes with a 6.5 firmness level out of 10, with one being the softest and ten being the firmest. With a medium-firm feel, this bed is the ideal balance between comfort and support. If you're a fan of supportive models, this mattress comes with a dominant base with excellent edge support.
Overall, this firmness will provide you with outrageous levels of comfort and support for a restful night's sleep.
Design
Most mattresses are either grey or blue on today's market, so it's exciting to review one that's energetic and different! The Eve Sleep comes in a bright yellow colour that creates a more lively atmosphere than the usual muted tones.
However, if you're looking for a more neutral and simple design, the company offers a stylish grey addition.
How long is the free Trial Period?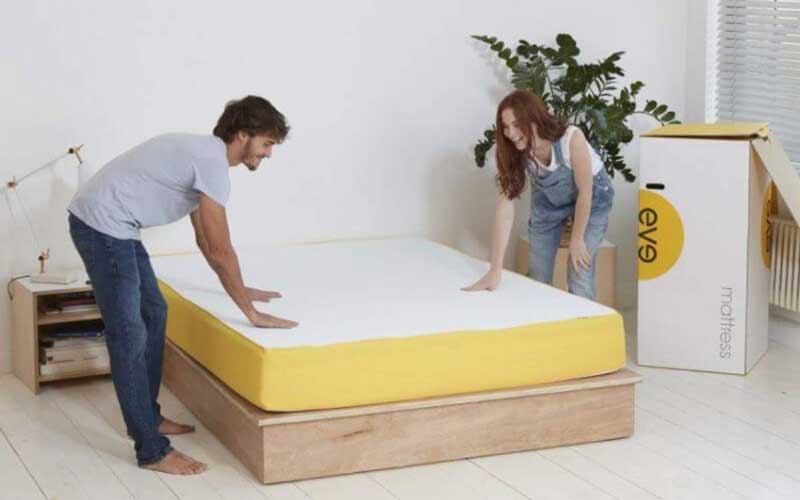 Eve is a brand that offers a 100-night trial period in which you can send it back – no questions asked. You don't have to keep the packing on in the meantime. You can remove it freely and let your body adjust to the mattress.
If you're not happy with the purchase, all you have to do is contact customer service, so they can come and pick it up for free from your bedroom. You will receive a full refund without worrying about fees or hidden charges.
How long is the warranty?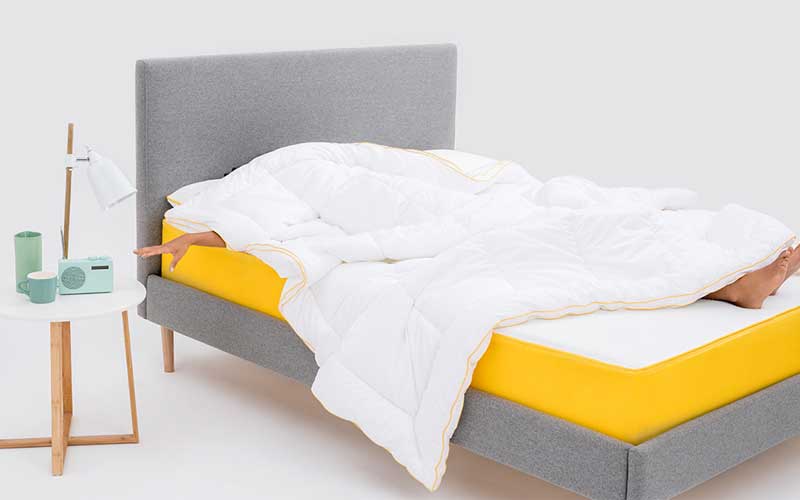 Eve's memory foam mattresses come with a 10–year warranty, showcasing the brand's confidence in workmanship and materials. This manufacturer covers more than most mattress brands. However, they still reserve the right not to honour claims under this guarantee at their discretion. Let's talk about the situations in which it applies and when it doesn't:
What defects does the warranty cover?
Spring unit failure
Side stitching coming apart
Deterioration causing the mattress to have a visible indentation or sag greater than 2.5cm
Any physical flaw in the mattress that causes the foam material to split or crack while being correctly handled
Any manufacturing defect in the zipper assembly or the fabric of the mattress cover
What defects doesn't the warranty cover?
When a non-compatible base or a bedstead is used
Products that have not been maintained following washing and/or care instructions
Used with individuals over the recommended weight
Comfort preference
Use other than normal domestic use
Physical abuse or damage such as burns, cuts, tears, liquid damage or stains
Mould, dirt or smells resulting from inadequate care
Normal wear and tear that occurs under standard domestic use and handling
Any claim made other than for the benefit of the original purchaser
If the reseller is not authorised by the company
Any mattress not opened within six weeks of the date of delivery
What sizes are available?
Eve wants you to find your perfect match with one of their five available size options. The company has tried to simplify that by concentrating on five sizes to create a straightforward guide with which you won't be overwhelmed or confused. Here are the available sizes for the Eve Sleep:
Single – 90x190x24 cm
Small Double – 120x190x24 cm
Double – 135x190x24 cm
King – 150x200x24 cm
Super King – 180x200x24 cm
What are the Delivery Terms?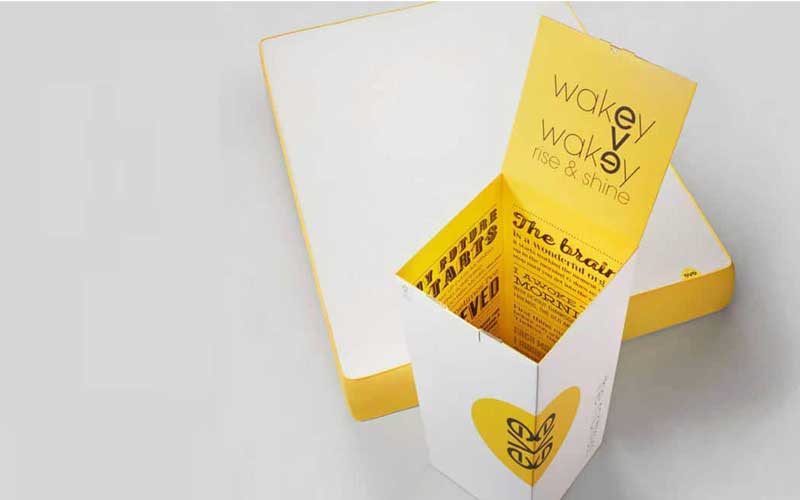 Eve tries to offer free delivery, but some areas out of the UK's mainland might be charged. Your purchase comes compressed, vacuum-sealed and rolled in a carton 100cm x 51cm x 51cm box within three business days from the date you order.
The brand has several delivery options for you to choose from, one of which includes a two-person delivery known as white-glove service, with which your mattress is delivered to your room of choice at NO additional fee. However, keep in mind that it will take 3-5 business days if you live on the mainland.
They also offer specific date delivery, where you can choose any day of your choice, even next day delivery at an additional cost, which varies depending on your location. Another available service is old mattress removal, with which you can get rid of your old bed and make space for the new one.
There are multiple delivery options at checkout:
Free white-glove delivery service, as outlined above
White-glove delivery service + Old mattress removal(subject to change)
Specific delivery (subject to change)
Specific delivery+ Old mattress removal(subject to change)
Eve's Awards
You can judge a book by its cover, and in this situation, the cover is the awards a mattress has received. Eve has received a few awards and approvals that confirms the quality and commitment they have for further development and improvements.
Here are some of the brand's most recent awards:
Which? Best Buy – Exceptional Mattress – 2020
Evening Standard Top Pick
Independent newspaper – one of the UK's best mattresses
Good Housekeeping Institute Approved
Real Homes Approved
Junior Design Awards
LightSleeper Awards
Alternatives
If you want to take a look at other similar options, here are our recommendations:
Bottom line
Overall, the Eve Original is a high-quality mattress with next-generation memory foam layers suitable for most sleeping positions and body types that provides you with excellent pressure relief and unbelievable comfort. It is great for couples too. You get a solid warranty, a pretty decent trial period and a white-glove delivery service with the option of them picking up and disposing of your old mattress.
Eve should be on the radar for anyone looking for a top-quality memory foam mattress with a medium feel.
It isn't the cheapest by any means, so this is something to consider. There are more affordable mattresses out there, but, as we all know, you often get what you pay for. We hope you enjoyed the read, and if you have any questions, don't hesitate to drop us a comment below.