Leesa is a brand that designs memory foam mattresses that let you experience gravity-defying comfort with layers upon layers of comfort and support. They are crafted with high-quality materials. This brand has glowing reviews worldwide, accompanied by a risk-free trial period and an extended manufacturer's warranty. But is there a catch?
Check out our Leesa mattress review below and see if it's the right choice for you!
Pros
100% handcrafted
3 layers of memory foam
100–night mattress trial
10–year warranty
Cons
Can't machine wash the cover
No handles
Finding the right mattress can quickly become a tricky and overwhelming challenge due to the mattress industry's numerous available choices. That's why we are here to help you try and narrow it down according to your specific needs, such as sleeping position, body weight and personal preferences, without harming your wallet.
In today's Leesa mattress review, we will take a closer look at their star, the Original mattress. Let's go over Inofia's details and see whether one of the options is a good fit for your specific needs. We'll cover build quality, design, pricing, sleep performance and see if there are any downsides that you should know about.
How is the Leesa Original Mattress constructed?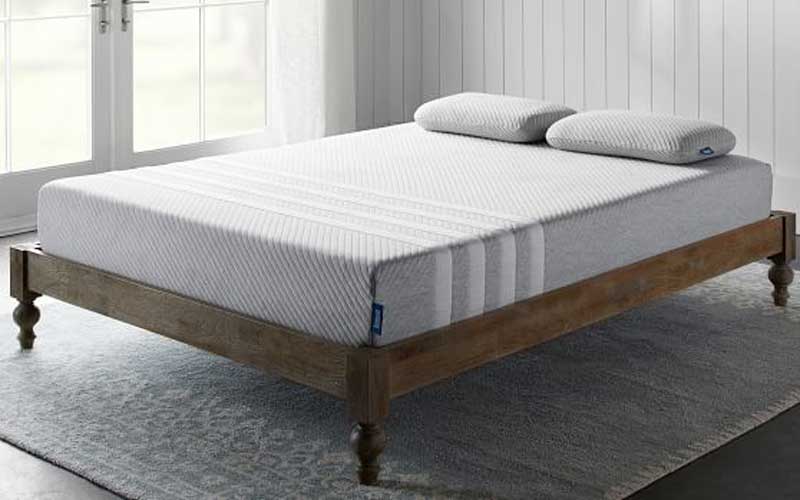 The Leesa Original mattress is constructed of memory foam layers and a durable cover. It consists of 3 individual foam pieces, neatly encased in a softcover. For every ten mattresses sold, one is donated, and due to their partnership with Arbor Day Foundation, for every bed sold, a tree is planted.
This product has been manufactured using BS 9001 quality standards, and they also meet other BSI numbers such as BS 7177:2008, BS EN 597-1:1995 and BS EN597-2:1995. All these numbers basically mean your purchase is fire retardant and in regulation in the UK.
To make it even better, all foams are CertiPUR® certified and CFC (Chlorofluorocarbons)free, known as the chemical that depletes the ozone atmosphere. Leesa is a brand that's originated in the USA, but it is manufactured in the UK.
What is in Leesa's layers?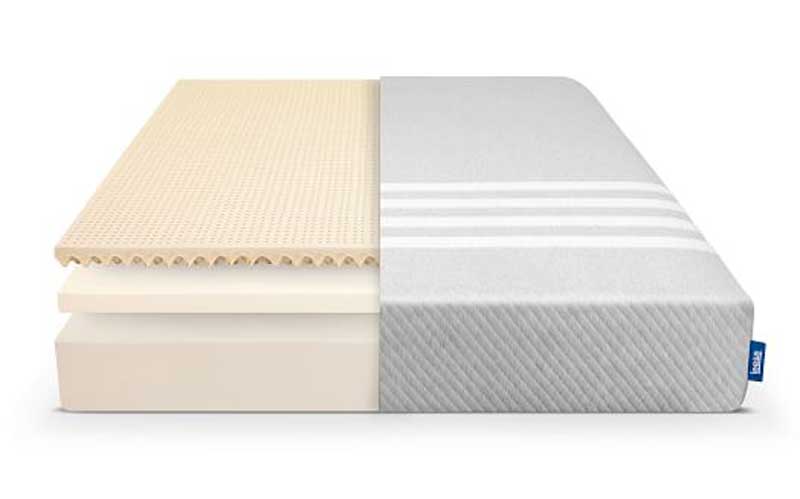 The fan-favourite Original mattress features three layers of memory foam and a breathable cover. The top is a comfort layer made from breathable, responsive foam, which is exclusive to the company. The set layer is the reason for the hug and bounces feeling you'll want.
Second, we have the memory foam recovery layer that perfectly contours your body and relieves back, hip and shoulder pressure. It's followed by Leesa's signature core support layer, which acts as a base, providing support and durability for most sleepers.
How thick is the Leesa?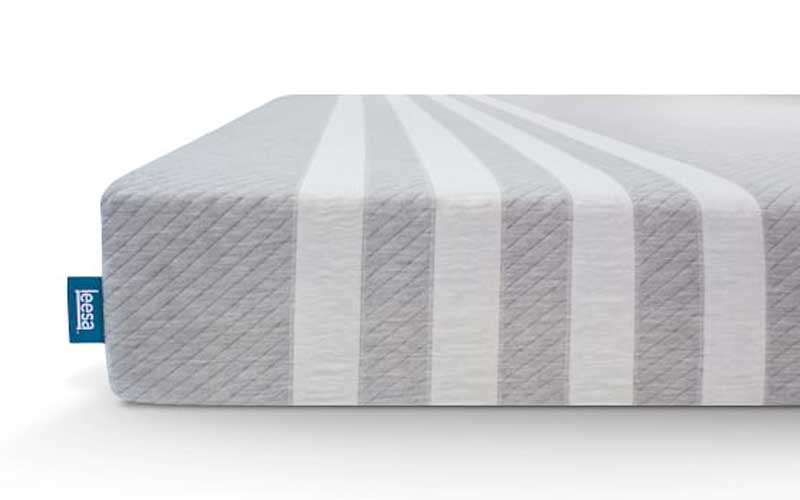 The Leesa Original is 25 cm thick, which is considered the industry standard, meaning it will fit a standard fitted sheet.
Leesa assures people that standard bedsheets are compatible with their product, but if you're still worried, you can always look at our guide on the best UK bedding sets to see if anything catches your eye. Also, this mattress can hold up to 114 kg per side, based on two people per bed.
How firm is the Leesa mattress?

This product comes with a 6 out of 10 on the firmness scale, with one being the softest and ten the firmest. With the thick support base and softer top layers, you get the perfect balance between support and comfort.
The Leesa mattress is considered to be with a medium feel, which is the most appealing option to most sleepers in the UK. The company's Original will gently hug your body while properly supporting it to provide you with pressure relief.
What about the Leesa cover?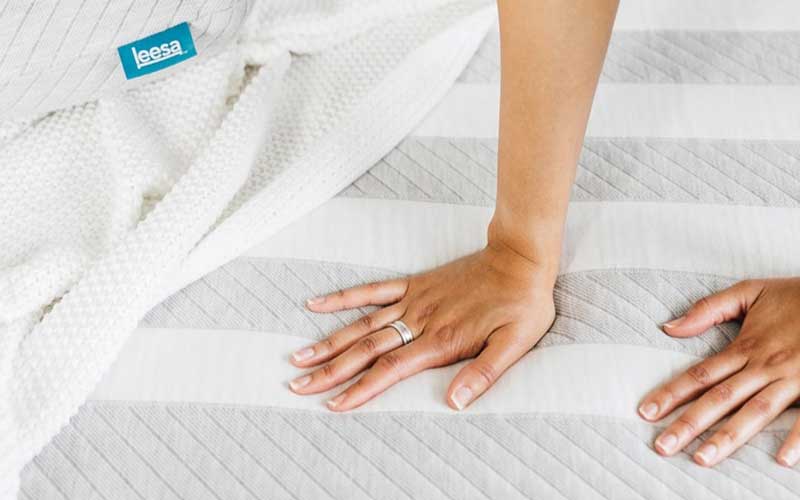 We have a cover that is cut from one piece of woven fabric, giving your mattress a modern and seamless aesthetic. It has four stripes at one end that indicate which side was last rotated. The cover is made from a poly-lycra blend fabric that is exceptionally breathable and stretchy.
However, keep in mind that there are no handles for turning and you can machine wash it. If any spills or stains occur, the manufacturer recommends spot cleaning with mild detergent and cool water.
Design
Leesa has chosen the white and grey colourway, keeping a neutral design in order to appeal to most customers and fit the majority of bedroom aesthetics. The mattress cover is mainly grey with an elegant pattern.
We have the white colour in the four stripes that aesthetically please the eye but also provide function and practicality. We find this simple design to be very modern and clean, with the seamless edges standing out and putting final touches.
How long is the Leesa mattress free trial period?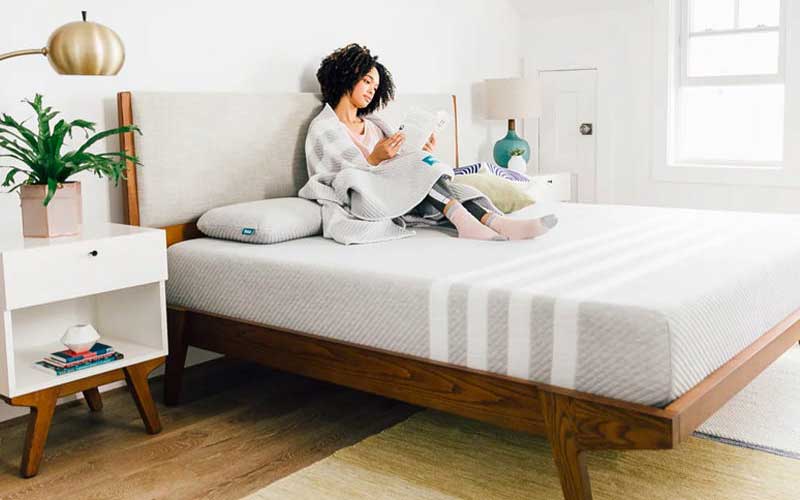 The Leesa Original comes with a 100-night trial period in which you can test the mattress at home and decide for yourself if it's the right choice for you. However, we recommend giving your body at least three or four weeks to adjust to the new mattress before making a decision.
If you end up disliking your purchase for whatever reason, all you have to do is contact customer service. They will arrange a pick-up and a full refund at zero cost to you.
How long is Leesa's warranty?
Leesa offers a 10-year limited warranty, in which they will replace or repair your mattress. However, the brand reserves the right not to honour claims under this guarantee at their discretion. Let's talk about the situations in which it applies and when it doesn't:
What defects does the warranty cover?
Valid only for the original purchaser from the original purchase date
Deterioration of the mattress resulting in a visible indentation greater than 4cm
Any physical flaw in the craftsmanship of the mattress that causes permanent damage to the memory foam despite proper set-up and normal use
Any physical flaw in the craftsmanship of the cover, including seams and zipper assembly
What defects doesn't the warranty cover?
A normal increase in softness of the memory foam
Comfort preference
Physical abuse or damage to the structure and/or cover material, including but not limited to burns, cuts, tears, liquid damage & stains, or soiling
Damage from using an improper bed frame, foundation, platform bed, or adjustable base
Replacement(s) of another piece in the Leesa sleep system unless another piece(s) is also defective
Product sold by resellers who are not authorized retailers
Product sold as "previously owned" or has previously been purchased or used by another consumer
What sizes does Leesa come in?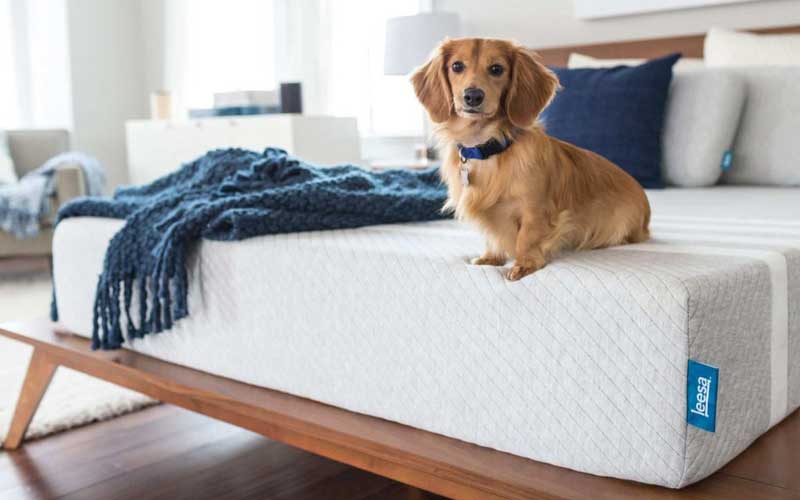 The company wants you to find your perfect match with one of their eight available size options. Leesa has tried to simplify that by concentrating on eight sizes to create a straightforward, no-nonsense guide with which you won't be overwhelmed or confused.
Here are the available sizes for the Leesa Original Mattress:
Single – 190 x 90 cm
EU Single – 200 x 90 cm
Small Double – 190 x 120 cm
Double – 190 x 135 cm
EU Double – 200 x 140 cm
King – 200 x 150 cm
EU King – 200 x 160 cm
Superking – 200 x 180 cm
What are the delivery terms?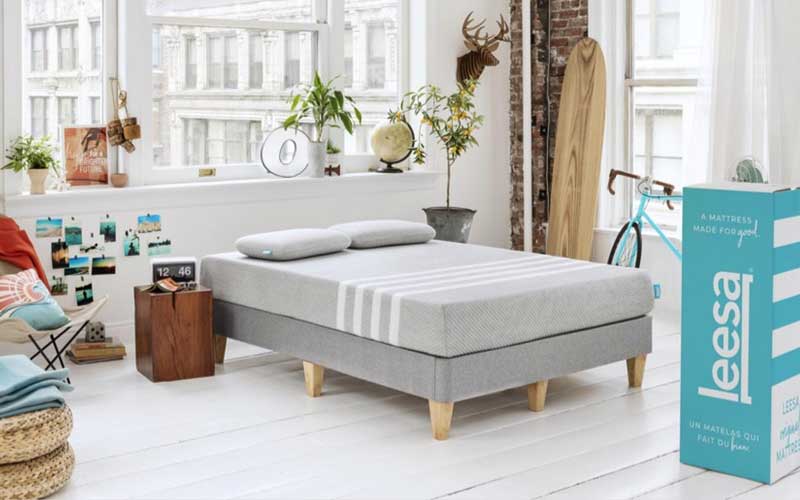 The manufacturer itself has stopped delivering products to Europe, so they can now be purchased through Amazon with next-day delivery. You will receive a box equipped with handles for easy manoeuvring with set measures: 42 x 42 x 114cm.
Leesa's Awards
Awards and accreditation validate the credibility of a mattress and its creator. The brand has received the prestigious honour of 100 Top Impact Companies of 2020 by Real Leaders, which says a lot on its own. Here are some of their most recent awards:
Evening Standard Top Pick
Men's Health Lab UK Approved
Good Housekeeping Institute Approved
100 Top Impact Companies of 2020
Memory Foam Alternatives
If you want to take a look at other similar options, here are our recommendations:
Bottom line
Overall, Leesa is a high-quality memory foam mattress with innovative layers suitable for most sleeping positions and body types. It's great for couples too. It comes with an overwhelmingly positive and helpful service and a solid warranty. They also offer next day delivery and a risk-free trial.
It is not the cheapest mattress by any means, so this is something to consider. There are more affordable mattresses out there, but, as we all know, you often get what you pay for. The brand has won prestigious accreditations over the years, so it should be on the radar for anyone looking for a top quality mattress.
We hope you enjoyed the read, and if you have any questions, don't hesitate to drop us a comment below.