There is a number of bedding accessories that are available today for shoppers looking to enhance their sleeping experience. It can be hard to sift through the options, as many products seem to have overlapping functions.
The two products that are often mistaken for each other are mattress pads and toppers. Both of them are placed on top of a mattress in order to increase comfort, but they do so to different degrees.
That's why in this guide, we'll try to explain 'What's the difference between a mattress pad and a mattress topper?' and discuss whether you might choose one over the other. We will also look at how their construction can affect the overall feel of a bed, the different types, and what pros and cons each of them come with.
What is a mattress pad?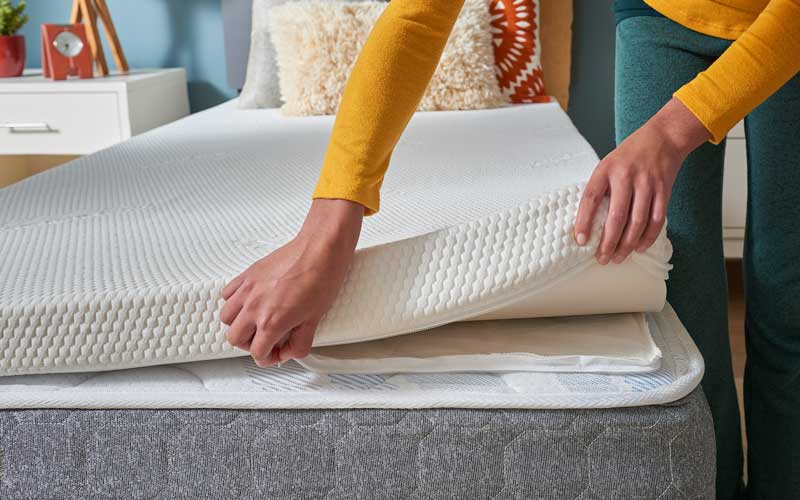 A mattress pad is placed on top of a mattress in order to make it feel better and protect it from spills, accidents, and dirt. Most mattress pads are 2 to 5 cm thick, which is why they don't really change the mattress firmness. They are not meant to provide significant pressure relief, but they can make a bed plusher. They can be made from either synthetic or natural materials. The style and type of material used in the construction of a mattress pad affect how it feels.
Mattress Pad Type
All mattress pads are designed with different goals in mind. Some models are crafted to protect the mattress from everyday wear and tear, while others are engineered to keep your sleeping area cool. Their performance ultimately depends on the materials that have been used to make them. Here are the most common types and materials:
Memory foam – For the most physical support, a memory foam pad is your best option. The polyurethane material moulds to your shape, reducing joint pain as you get a good night's rest. This material has grown in popularity due to the comfort and support it offers, but it tends to sleep hot, which is why we don't recommend it for hot sleepers.
Latex – Latex mattress pads are firm and add extra support and structure to any bed. They are typically on the pricier side, but they come with a longer lifespan. Keep in mind that the rubber smell and heat retention may make some people uncomfortable.
Wool – This material is sourced primarily from sheep. It naturally wicks away moisture and keeps heat from building up. It is often used in mattresses and mattress pads due to the fact it's a natural fire barrier. Wool mattress pads can make your stiff bed feel cosier without retaining too much heat and making you sweat all night.
Feather – A feather mattress pad can be made with duck or goose tuft. Because of their plush feel, feather mattress pads are a good choice for people who want to soften a very firm bed. The material is also considerably breathable, so heat buildup shouldn't be an issue. In general, a baffle box construction is used to help keep the fill evenly distributed. Unless the pad is regularly fluffed, the feathers can still clump and result in an uneven surface.
Down – down mattress pads are made from luxurious under-feathers of duck or geese. They are one of the softest and cosiest options, but they can be quite expensive. The good news is they are stain-absorbent and will keep you warm, especially during the cold winter nights.
Fibre – Fiber mattress pads are usually suitable for people with sensitivities to feathers or down. They are generally lightweight and machine-washable. Fibre mattress pads are a good option for people who want to add some extra cushion. Most fibre pads are breathable, but temperature neutrality can vary depending on construction. They also tend to be on the cheaper side.
Cotton – this is an all-natural, machine-washable, hypoallergenic, and breathable material. Cotton mattress pads work well for those who like a softer feel or have sensitive sleep issues. However, they offer less protection against mattress wear and tear, which means they won't really prolong the life of your bed.
Polyester or rayon – These synthetic fibre pads are durable, resisting stains, bodyweight pressure, and allergens. Usually, they come with an affordable price tag, and most can be machine washed.
Mattress Pad Benefits
Mattress pads are easy to transport, move, and attach to your bed. Most of them are considered somewhat inexpensive. Once you attach it to your bed, it's unlikely to move around, so you don't have to worry about it falling off. The primary function of mattress pads is to protect your mattress from stains and moisture (body and hair oils). In general, most can be removed and washed. Also, the unwanted noise of a mattress can be reduced with a pad.
Mattress Pad Drawbacks
Depending on the brand and type of mattress pads, they can be flimsy and be prone to damage. Although they offer some change in comfort, mattress pads may not be enough for you to feel a noticeable difference in firmness. Understand that they provide minimal cushioning, and you won't significantly modify the feel of your bed.
What is a mattress topper?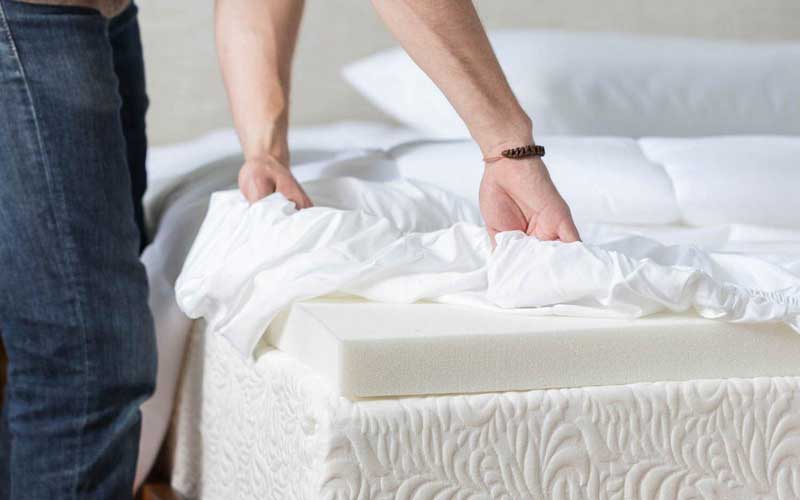 A mattress topper is a more substantial layer of material meant to change the firmness level of your bed noticeably. They can be anywhere from 3 to 15 cm thick and are made from a variety of materials. Unlike mattress pads or protectors, toppers aren't meant to protect a mattress from liquids and spills. Some toppers are designed to rest directly on top of your bed, while others have elastic straps that ensure a more secure fit.
Mattress Topper Type
Similar to mattress pads, there is a range of styles and materials for toppers. Some are designed to maximize pressure relief, while others isolate motion and keep you cool at night. Again, knowing how you want to change your sleep experience can help you find the right one. Here are the most common types and materials:
Memory Foam – A memory foam mattress topper can provide an even deeper level of pressure relief. It's a good choice for side sleepers or people with very firm mattresses if you want the cloud-like feeling and pressure relief. In addition, many couples use memory foam toppers in order to reduce sleep disruptions because they tend to excel at motion isolation.
Latex – If you want extra contouring without a lot of sinking, latex toppers are the best choice. Latex provides plenty of pressure relief while still providing enough bounce to facilitate movement. Dunlop is a type of latex that is denser than other types, so it might be a good idea for sleepwalkers looking to increase their mattress's level of firmness. In comparison, Talalay latex is a better choice for people who sleep hot because it is more breathable.
Wool – It's not as common as other types, but wool mattress toppers are preferred for their softness and breathability. Wool is suitable for both warm and cold seasons because of its incredible abilities in temperature regulation.
Feather – Feather mattress toppers are usually soft and fluffy, but they can vary widely in terms of support. In order to strike a balance between plushness and loft, some designs use more than one feather. Since they regulate temperature well, feathers are versatile during any season.
Cotton – It is not possible to block out stains or body oils with full cotton mattress protectors, but they are cheap and can be very comfortable. With that said, this isn't a recommended fabric for this type of bedding.
Polyester – Most mattress protectors are made of a material called polyester because they are often waterproof. This material is quite affordable, but its lifespan, not so much.
Polyurethane – This synthetic material is waterproof and bug-proof, which is why we use it in our mattress toppers. It is combined with natural fibre to make an effective barrier and protect your bed from unwanted guests, such as dust mites.
Vinyl – Some mattress protectors use vinyl to help protect against bed bugs, dust mites and other unwanted critters. This material has a more of a rubbery feel but is not widely used, meaning you won't be able to find it everywhere.
Spandex – You can find spandex in fitted or stretchable mattress protectors, which allows them to mould to your body and its shape.
Mattress Topper Benefits
Mattress toppers offer customizable comfort, which means you won't have to switch your whole mattress, which we all know can be a costly process. In addition, those with neck or back pain can get additional support from them. Mattress toppers can also extend the life of your mattress by protecting it from all sorts of staining and sagging.
Mattress Topper Drawbacks
As we've mentioned above, most toppers are made from memory foam which can make the bed warmer by insulating body heat. Because they are essentially a large flat cushion, toppers aren't usually attached to the mattress, leading to unwanted movements. They are often hard to clean and can also be expensive side.
What's the difference between a mattress pad and a mattress topper?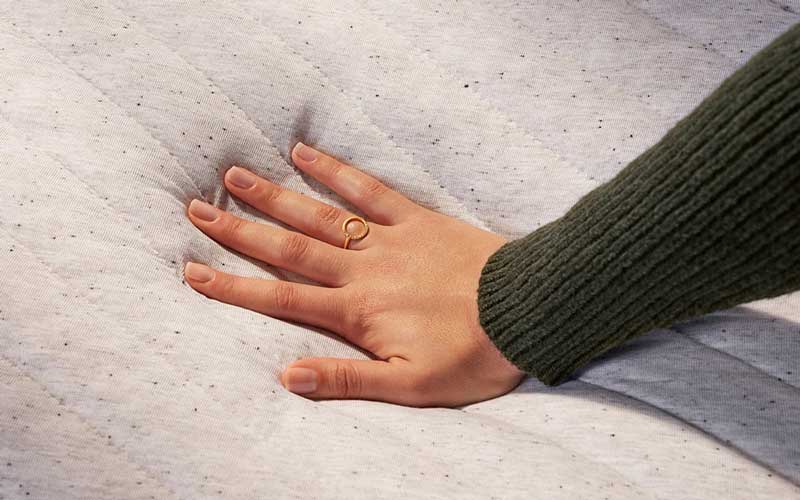 The functions of mattress pads and mattress toppers are similar, but you have to decide if you want to protect your mattress or change its feel.
If you want to add a little comfort to your bed while also keeping it clean and dry, then mattress pads are for you. Even though pads don't change a mattress's firmness level, they can be used to reinforce a bed's surface. Reducing unnecessary wear and protecting your bed from dirt are two things mattress pads can help with.
If you want to adjust the feel of your bed substantially, mattress toppers are a better choice. They are better equipped to make a mattress softer or firmer, depending on your needs. When made from breathable materials, toppers can also facilitate a cooler sleeping environment. Reducing premature sagging and impressions can also be done with the help of a topper. They can relieve aches and pains by cushioning key pressure points throughout your body.
Overall, mattress pads can't change a bed's feel but provide protection, while toppers give a more notable transformation in comfort.
Bottom line
Choosing between a mattress topper and a mattress pad will generally depend on your personal needs and preferences. A topper can modify your mattress' firmness level, while a mattress pad will only slightly adjust its feel but protect it from spills and stains.
We hope we were able to answer the how and why, and now it's our turn to hear from you if any questions regarding the subject were left unanswered. If you want to share some information, we would gladly hear about it in the comments below.