If you want to change your mattress's feel, the easiest way to do so is by purchasing a new mattress topper. Most of them are 4 to 10 cm thick and are essentially used as an added extra comfort layer to your mattress. If you feel that your current bed has begun to deteriorate due to age or its feel isn't the one you want, you can have a temporary fix by getting a memory foam mattress topper.
But how can you choose a quality mattress topper that fits the bill and ticks all the boxes? There are many toppers being sold today – from good quality and from reputable companies to cheap rubbish that we wouldn't recommend to our worst enemy.
That's why we created LightSleeper – to help you choose the topper that is right for you and you alone and help you make that choice along the way. Companies can never pay to feature their products on LightSleeper, nor we are getting paid to recommend one product over the other – we are an independent resource, and we only recommend products that have passed our tests, and we feel that they are the best in their category.
So let's see what we think are the best memory foam mattress toppers in the UK and why:
1. Panda The Topper – Editor's Pick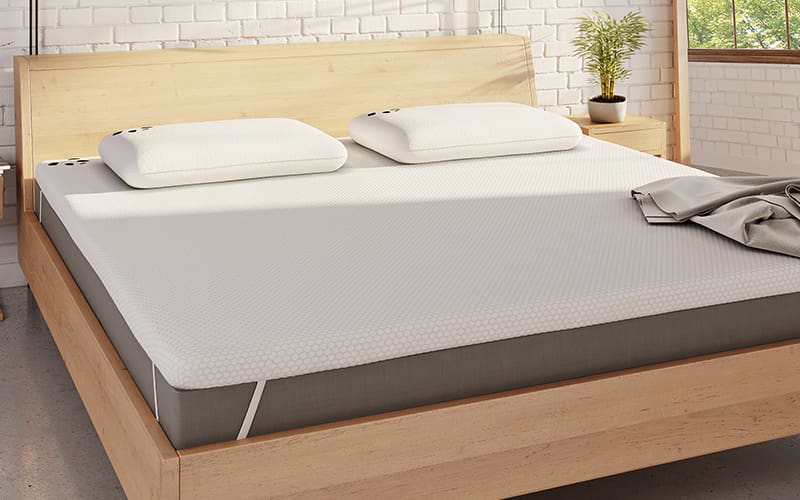 If you're looking for a high-quality topper, the Panda's sure it is one. It's made of temperature-regulating Hydro-foam™, making it a touch firmer compared to its cheaper rivals. Its gel-infused technology reacts to your body's temperature and keeps you cool night after night, making this topper everything you need for a sensational sleep. It comes with a washable, hypoallergenic cover made from bamboo fabric and elastic straps and an anti-slip layer.
The Topper by Panda is the perfect combination of quality and value with a healthy dose of comfort and support. Buying it from the manufacturer or an authorised retailer means you can even get a 30-day trial period and a ten-year warranty!
The Panda topper is available in nine different size options. It also comes with a five-star rating from over 4000 reviews, and if all of that wasn't enough, the company offers a free delivery service. It's the perfect choice for picky sleepers.
2. Dormeo Octaspring Body Zone Topper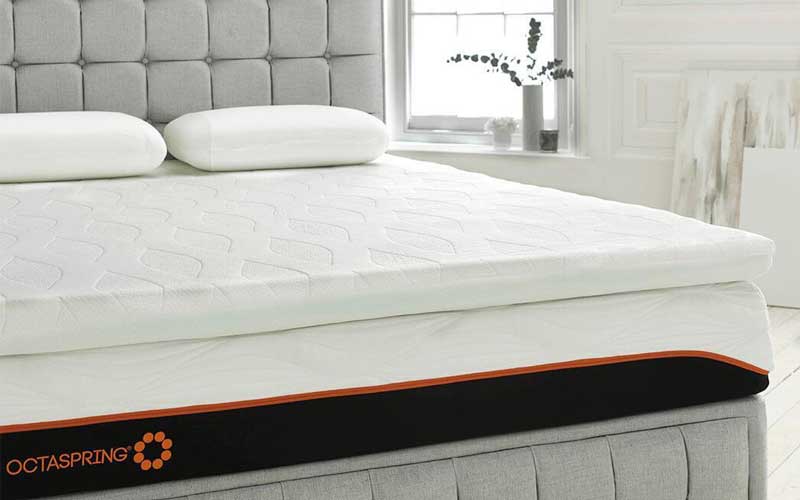 The Dormeo Octaspring Body Zone mattress topper offers excellent support and top-notch memory foam to create an experience where your body will be cradled and supported like no other.
Unlike most memory foam options, this one doesn't get hot because of its constant airflow, caused by your body's movements to push warm air out of the specifically designed sides and draw fresh air back in. Dormeo's product can be purchased in four sizes: single(90x190cm), double (135x190cm), king (150x200cm) and super king(180x200cm). It's 7cm thick, which is more than average.
This is an excellent choice when your current mattress is in need of rejuvenation with the breathable Octaspring® technology that delivers supreme comfort and support. You get five zones of different strength and density to support your head, shoulders, torso and legs.
Finally, you get a free delivery service and 60 days in which you can test the product for yourself. If you decide to keep it, you'll also receive a five-year guarantee.
3. Inofia – A Good Budget Friendly Topper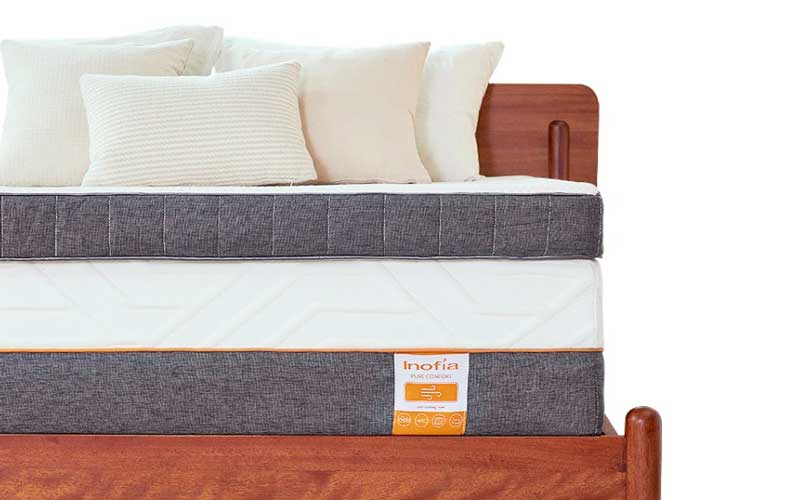 Next, we have the Inofia Gelgem topper with a gel-infused beaded memory foam that helps regulate body temperature for longer-lasting, more comfortable sleep and increased ventilation. The Inofia topper is constructed with four layers and can be purchased in six different sizes. First, we have the luxurious quilted breathable surface, composed of premium plush materials for a heightened cosy and smooth feel.
Next, you will find the Gelgem gel-infused foam and the Biogrey support Relirfoam, encased in an OEKO-TEX certified cover. The combination is exceptionally breathable, providing super relaxation and comfort. The set cover is removable and has an anti-slip base, so you don't have to worry about any changes while sleeping.
Inofia provides you with a 100-night trial period and a 10-year warranty, so you know that your money is well spent.
4. Eve The Mattress Topper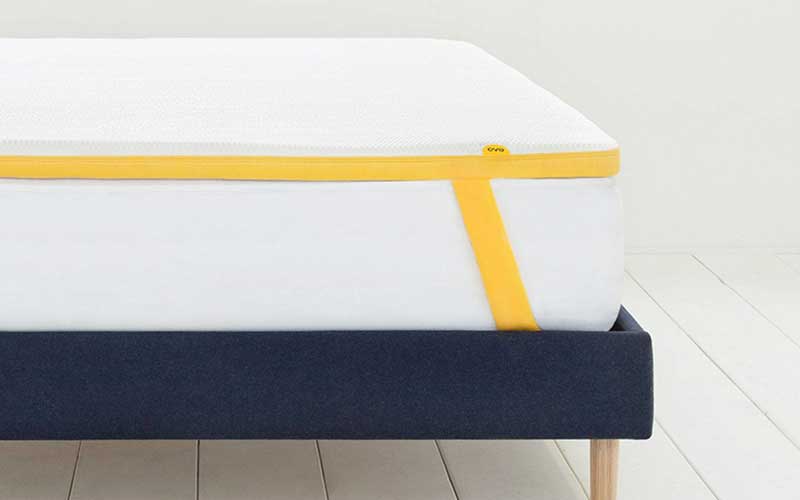 Another great option is a topper from a leading brand called Eve. All of the brand's foam materials are CertiPur® certified, just as its cover is Oeko-Tex® certified. That means that all products were designed within strict rules and regulations to create a product with no harmful chemicals, safe to use and environmentally friendly.
It's constructed with two layers and a cover, where the base layer is made from ultra-resilient reflex base foam, an evecomfort® foam layer and a knitted cover. Eve will dissipate body heat and wick away moisture while keeping you cool and comfortable, which is the end goal.
You get to choose from five sizes varying from single to super king. The topper is 5cm thick, which is the industry's standard. Nobody wants a topper that slides about, which is why Eve has added sturdy straps to stop any midnight shuffling.
This Eve topper is designed and manufactured in the UK. The brand offers a 30-night risk-free trial and a 3-year warranty to prove its quality.
5. Silentnight Impress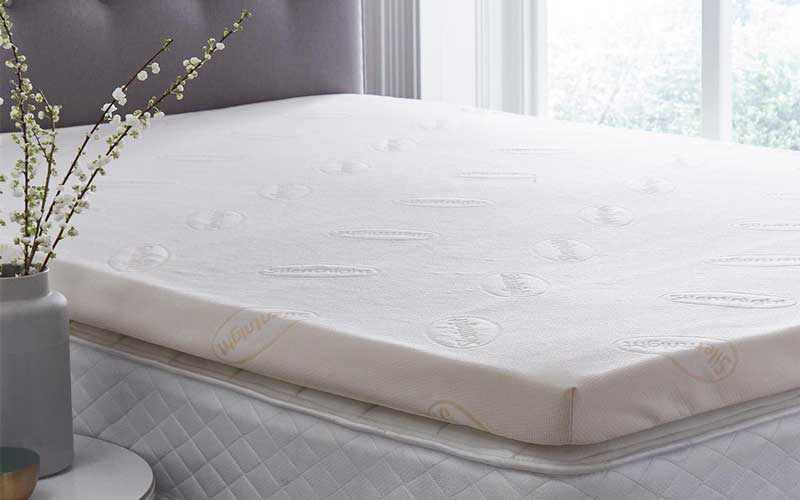 The Silentnight Impress is one of the most comfortable mattress toppers we've tested. In our opinion, the brand secrets hide in its depth. They offer three thickness possibilities, which are 2.5cm, 5cm and 7,5cm.
This topper relieves pressure from overly hard mattresses with no effort. However, keep in mind that it's not as cool and breathable as Eve or Panda, for example. Therefore if you're a hot sleeper, this might not be the best choice for you.
You can get the Silentnight topper in three sizes: single(90x190cm), double (135x190cm) and king (150x200cm). It is also hypo-allergenic, meaning it doesn't contain any materials that are likely to cause allergies. Silentnight will provide you with extra back support, and its removable cover will give you the much-needed breathability for a good night's sleep.
Considering it is reasonably priced and it has a two-year warranty, it will get the job done and keep you supported and comfortable every night.
How to buy a memory foam mattress topper?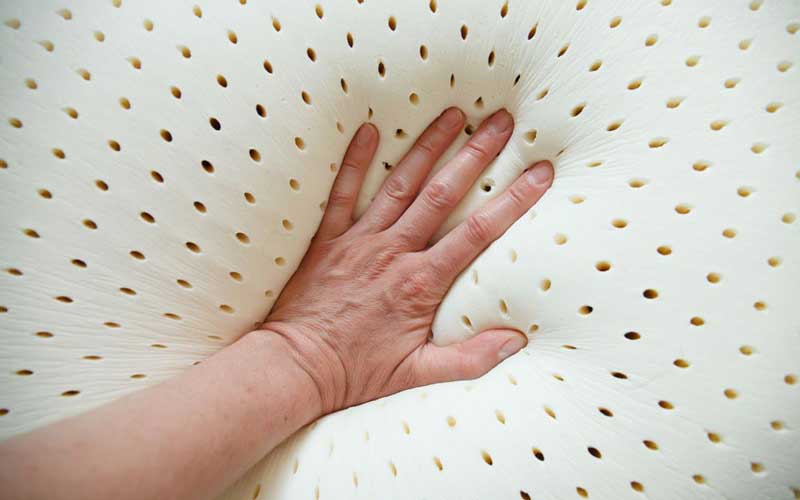 Every topper is constructed for a specific firmness level, and the term "universal comfort" isn't really accurate. For you to be able to find the right option for you, there are a few features you will have to consider. They are the following:
Type of Foam
Density should be an essential factor in your choice. For example, denser foams offer better durability, great motion isolation and deeper contouring without too much sinkage. In comparison, lower density items are more breathable and don't emit as much off-gassing odour.
Some of our favourite toppers are made from open-cell memory foam. It promotes steady airflow and feels more breathable, making it a choice worth considering. If you are wondering 'What is the best density for memory foam mattress toppers?', make sure to check our guide on the matter.
Materials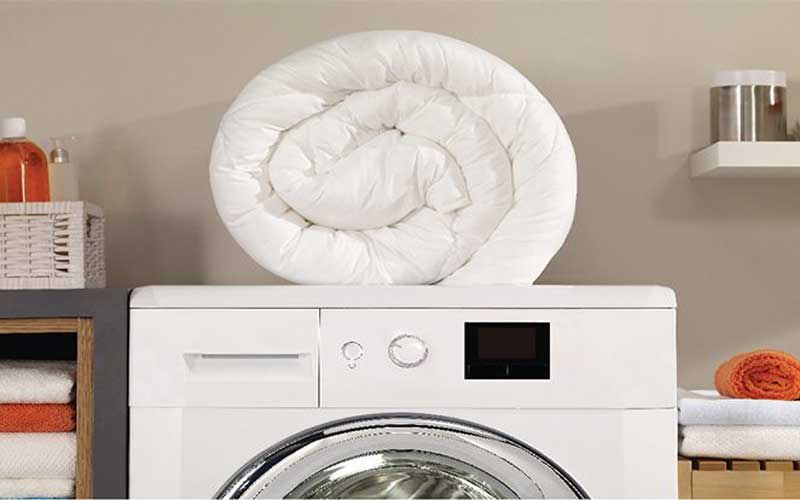 Quality is everything when it comes down to a product, and a massive part of that is the materials used for its construction. The foam quality can affect some performance factors, such as durability, pressure relief, and temperature regulation.
High-density options are the most even conforming, gel suggestions are cooler, and open-cell memory foam is more breathable.
Firmness
Usually, we all purchase a topper to fix the firmness level of our mattress. Often we need to soften our firmer bed, which is why most memory foam toppers are considered soft, medium soft, or medium. However, if you're a back sleeper or you weigh above average, we highly recommend you purchase a firmer topper instead to prevent too much sinking.
Thickness
As we've previously mentioned, most mattress toppers measure between 4 to 10cm. Depending on the effect you want, you can select your desired firmness. But keep in mind that the topper, the thicker the mattress will become, meaning you might have to consider purchasing a deep-fitted sheet.
Pressure Relief
Memory foam toppers are incredibly suitable for back pain and pressure relief. For example, a firmer item will provide better pressure relief for people who weigh more, and a softer one will contour more closely to people who weigh less.
Sleeping Position
In general, side sleepers need softer mattress toppers. In contrast, most back and stomach sleepers need a firmer topper that will keep their bodies on the surface without too much sinkage. We recommend you always check the firmness level to make sure it will suit your sleeping position and body weight.
Price
Like everything else, the price can vary widely depending on the materials and quality of a mattress topper. High-quality options will start at 100 £ and get up to a few hundred. The saying you get what you pay for is often true, which is why you should look at different products before setting a budget. With added price comes higher quality and better longevity.
Bottom line
Memory foam comes with exceptional benefits like pressure relief, body moulding and extra comfort. If you tend to sleep hot, look for gel infusions with any cooling materials or different memory foam types such as open-cell memory foam for better breathability.
We recommend choosing options that come with a home trial, so you give your body time to adjust and see if your choice was the right fit.
All of the bed products we listed above have great customer reviews and are well received. We hope you could find what you were looking for in our guide when it comes to the best memory foam mattress topper the market has to offer. To simplify your shopping experience, we've selected the best products on the market today. You can also check out what we think are the best UK mattress toppers in the UK as well.
Brands in the bed industry frequently change, and so do the products they offer, which is why we will continue to provide you with the most up-to-par information. We hope that this article was helpful, and that you could find what you are looking for.
If you want to share some information or have any questions regarding the subject, we would gladly help in the comments below.