We spend a third of our lives asleep, and many individuals enjoy sleeping on their stomachs. Even though it might not be the best option for back support, many people find it a comfortable position. With that said, you still need to be supported, and most importantly, it has to be done in the right way.
It is essential for stomach sleepers to receive proper joint relief and spinal support. Like any other position, you have to find a mattress that's a perfect balance between density, thickness, materials and other essential characteristics.
That's why we created LightSleeper – to help you choose the product that is right for you and you alone, and help you make that choice along the way. Companies can never pay to feature their products on LightSleeper, nor we are getting paid to recommend one product over the other – we are an independent resource and we only recommend products that have passed our tests and we feel that they are the best in their category.
So let's see what we think are the best mattresses for stomach and front sleepers in the UK today and why.
1. Sleepeezee Perfectly British Mayfair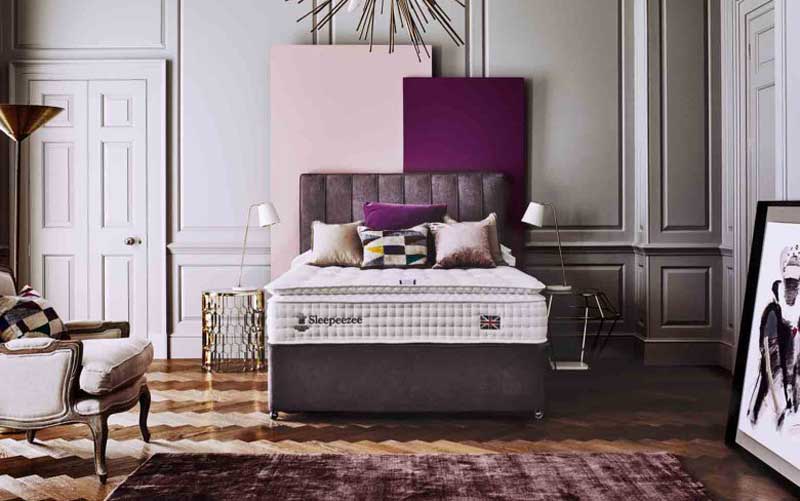 When it comes down to front sleepers, our personal favourite is the Sleepeezee Mayfair mattress. The Sleepeezee is a desirable mattress that has been handcrafted from the finest natural British materials. Those materials include wool, cashmere and cooling cotton for ultimate luxury comfort.
Wool is a natural insulator, which means you will be warm in the winter and cool in the summer. Sleepeezee is a highly durable choice with an impressive 3200 individual pocket springs count. The Mayfair offer's the largest spring count in the Sleepeezee collection.
This Sleepeezee offers incredible body support and correct spinal alignment like no other. Due to its unique shape, it gently contours your body to provide you with personalised support. The Sleepeezee is a highly prized, expertly hand-tufted item with a woven damask cover that is chemical-free.
Key Features:
Premium natural fillings
3200 pocket springs
Expertly hand-tufted
Trial Period for Returns: 60 days
Warranty: 10 years
2. Ergoflex 5G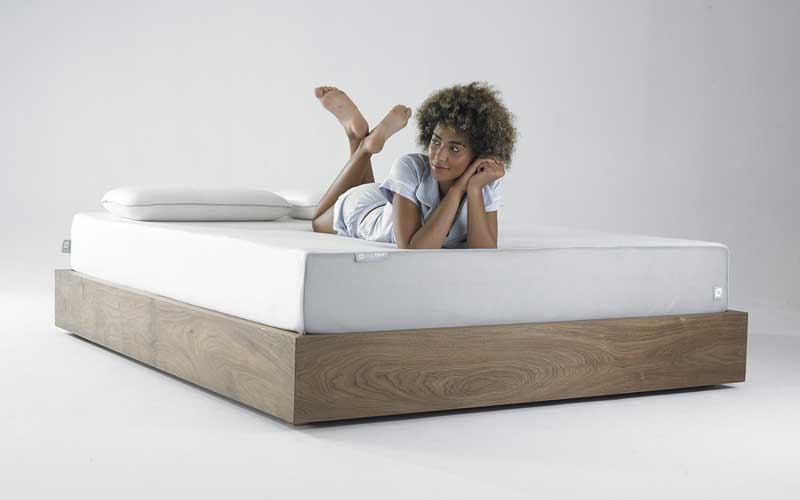 Ergoflex is a manufacturer that praises itself in creating one of the most comfortable, cool and supportive mattresses on the market today. You can find 5-layers of premium materials that work in harmony to create and combine a supportive, comfortable and pressure-relieving product.
Ergoflex's top layer is constructed from high-density visco-elastic memory foam, that contours the body's shape while ensuring zero partner disturbance during the night. This luxurious product has a Cool-Sleep airflow layer, working its magic to maintain a comfortable sleeping temperature throughout the night. The 5G comes with a TENCEL® outer cover with a luxe feel, creating a natural and breathable surface, while the micro-fine inner cover is working to protect the mattress core.
The Ergoflex mattress is designed with a 9cm high resilience impact-resistant foundation layer, ensuring incredibly weighted support for its upper layers. This premium product has a 30 days trial period in which you can test it for yourself and a 10-year guarantee.
Key Features:
True HD Proprietary Foam
Cool-Sleep™ Airflow System
Naturally Anti-Allergenic
Trial Period for Returns: 30 days
Warranty: 10 years
3. Nectar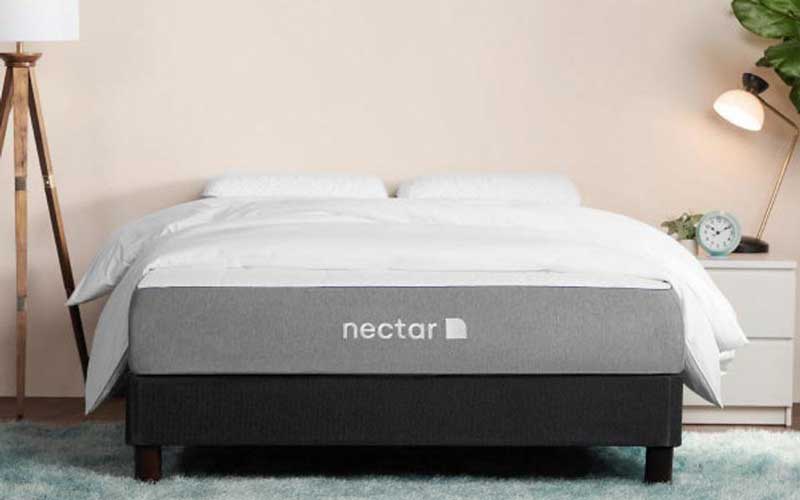 Nectar Memory Foam is the ultimate medium-firm mattress at an affordable price. It is designed with five unique foam layers of construction, keeping your spine in the proper alignment through the night.
This Nectar mattress is constructed with a breathable cooling top layer that is neither too firm nor too soft, but just right. You get perfection packed in this Nectar item, in which the contouring gel memory foam meets your body's natural curves.
Nectar's mattress is quite suitable for front sleepers. It can also help with back pain due to its adaptive memory foam layer that relieves standard pressure points beneath your shoulders, hips, and legs for correct spinal alignment. The Nectar Sleep comes reasonably priced and has a lifetime warranty!
But if a mattress that is supposed to last a lifetime isn't enough, Nectar gifts you with an incredible offer, consisting of two cooling pillows, a sheet set and a mattress protector. How can you beat that?
Key Features:
Five layers of construction
Breathable Cooling Action
Gel-infused foam
Trial Period for Returns: 365 days
Warranty: Lifetime
4. Tempur Sensation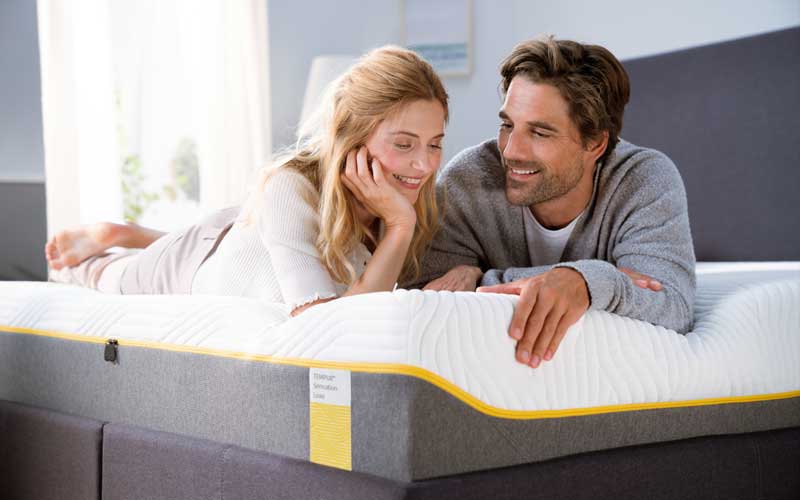 If you are willing to spend some extra cash, we have a fantastic alternative for a premium quality product, called the Tempur Sensation Luxe. This lavish choice is the firmest mattress in the Tempur range with a depth of 30cm, making it the ideal stomach sleeper option.
Tempur Luxe uses the so-called 'Dynamic Support Technology' which features two Durabase layers, that are the product's foundation. They provide you with the support and pressure relief you want and need from a mattress.
Tempur's third layer is crafted from quality materials that will bring you soothing comfort and blissful relaxation. To top it off, you get the QuickRefresh soft fabric top cover which can be removed and washed in a machine up to 60°C.
If you want out of the Tempur Sensation Luxe, you get 100 days to test it out for yourself and a 10-year guarantee that shows it's good for at least a decade, maybe even two.
Key features:
Dynamic Support Technology
Durabase layers
QuickRefresh™ cover
Trial Period for Returns: 100 nights
Warranty: 10 years
5. Silentnight Mirapocket 1000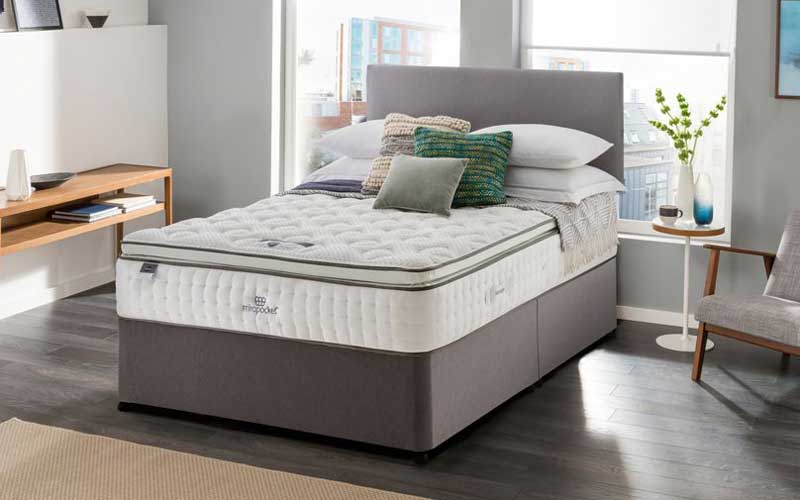 Last, but surely not least we have Silentnight which has created an innovative limited edition option crafted with the customer's complete comfort in mind.
This Silentnight item features 1000 individual Mirapocket springs that provide zoned support for a comfortable sleep throughout the night. Silentnight Mirapocket comes with edge-to-edge support so you can finally take advantage of the whole bed and maybe even share it with a special someone.
The reason why this Silentnight mattress stands out is its luxuriously deep four cm layer of Geltex, encouraging proper spinal alignment and incredible pressure relief. Silentnight has made sure that you and your loved ones can stay cool and refreshed at night with the product's enhanced breathability.
And if you're a fan of refined comfort and exceptional support, you get to enjoy Silentnight's cushioning pillow top. This product is hypo-allergenic and has a sixty-day trial period with an included five-year warranty.
Key Features:
Geltex comfort layer
1000 Mirapocket spring system
Edge to edge support
Trial Period for Returns: 60 days
Warranty: 5 years
How to choose a mattress for front and stomach sleepers?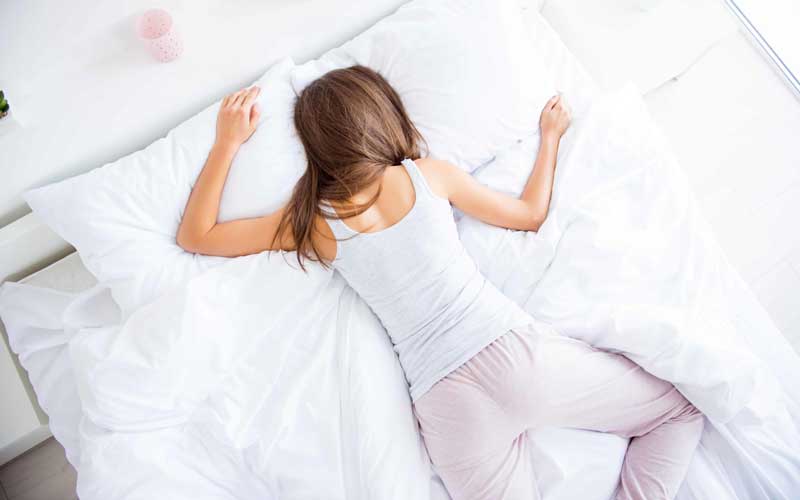 If you don't know where to start, selecting a mattress for a stomach sleeper can be challenging. That's why we are here to try and make it easier on you! Understand that a mattress can be a significant game-changer for your sleep quality and overall health.
One of the first things you should search for is a mattress that distributes your weight evenly across its surface. Look at choices with which you won't sink in too deep and don't forget to consider your partner's preferences if you're sharing the bed.
Manufacturers always try and portray their product as the best one out there, but just because they say it is doesn't mean it's true. That's why you have to consider the following features to find a truly great option:
Materials
Materials play a significant role in your choice. They can directly affect the durability and quality of the chosen mattress. Cheaper materials are usually less supportive and break down quickly over time.
The good news is that most brands have information about the manufacturing process and textiles that have been used. And if you're looking for an organic mattress that won't give off harsh chemical odours, we advise you to read the product information carefully to know what to avoid.
With that said, the higher the quality, the higher the price. But if you look at it in the long run, you get an item with an increased lifespan, making your investment valuable.
Firmness
Many consider this a subjective comfort measure, but a stomach sleeper typically needs a mattress that's not too soft to keep their spine aligned and avoid developing or aggravating back and shoulder pain.
Your preferences as an individual and your body weight play a vital role in your choice, but they shouldn't be the only ones. Understand that firmness can affect your comfort and disrupt your sleep, which is why staying in the middle is the recommended suggestion!
Type
Every mattress has its pros and cons, but a front sleeper needs one that provides full-body support and spine alignment. Remember that the type of bed you select determines key components such as pressure point relief, temperature regulation and motion isolation.
Pressure Relief
As we've mentioned, people that sleep on their side put pressure on the shoulders and hips. That's why they need products that relieve pressure points and prevent shoulder and back pain. We consider some of the best options to be memory foam and latex.
Temperature Regulation & Motion Isolation
Some criteria can be found more subjective than others, but that doesn't mean they aren't necessary. If you're a hot sleeper, you most likely move around in your sleep, and your partner might be disturbed.
We strongly recommend choosing a product with good airflow or a cooling layer. And if you do share the bed look for a mattress with motion isolation so that both you and your loved one can sleep in peace.
Trial Period & Warranty
Buying a mattress isn't something you do every day, so you should make sure you don't regret your decision. Always look for an item that has a free trial period and a warranty. The reason behind it is that this will showcase the quality of a product. Plus you'll get to test it out for yourself.
Bottom line
Finding the right sleeping solution when you're a front sleeper can be challenging. That's why you should pay attention to the firmness, type and materials of a mattress. You should also consider your personal preferences and body weight, and if you share the bed, don't forget about your partner's needs.
Mattress brands frequently change, and so do the products they offer, which is why we will continue to provide you with the most up to par information and try to shed some light on some of the best mattresses on the market.
We might not be professionals, but we've tested, researched and commented on every product we've put on this list. With that said, we hope that this article was helpful, and you were able to find what you are looking for.
If there are any questions, regarding the subject that were left unanswered, share them in the comments below.