Ergoflex is a luxurious memory foam mattress that lets you experience gravity-defying comfort and support with a 5-layer sleep system. It's designed with premium quality materials, has glowing reviews all around and helpful customer support. But is there a catch?
Check out our Ergoflex mattress review below and see if it's the right choice for you!
Pros
5 innovative layers
10-year warranty
TENCEL® cover
Anti-allergenic
Most mattresses are either too soft or too hard, and finding the right one can be a difficult and overwhelming task. Today we will discuss the mattress that started it all by bringing out the first affordably-priced memory foam mattress in an online-only business model.
We can safely say that Ergoflex has paved the way and became the industry norm in the UK. This is the only mattress-in-a-box brand that has been in business longer than its 10-year warranty period.
Let's go over the Ergoflex 5G mattress details and see whether it might be a good fit for your specific needs. We'll cover build quality, design, pricing, sleep performance and see if there are any downsides that you should know about.
How is the ErgoFlex 5G constructed?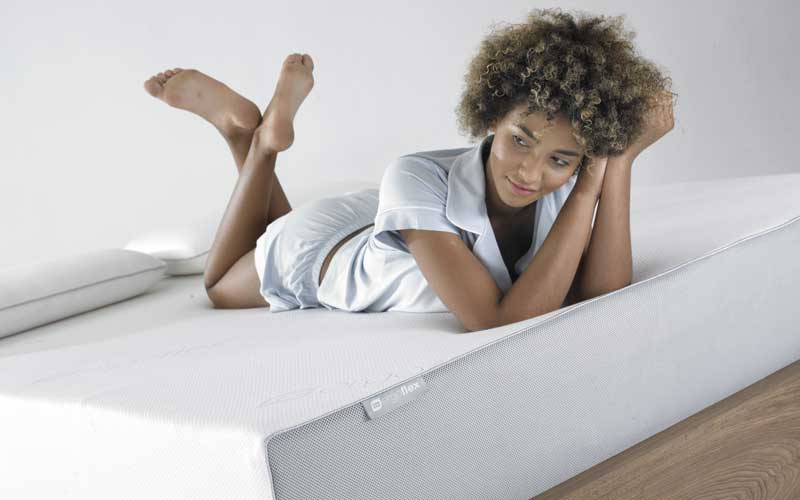 Ergoflex has come up with their 5th Generation orthopaedic design (aka the 5G) made from high-quality foams and an advanced TENCEL® cover.
This model is constructed of five innovative layers that work tighter to create the ultimate sleeping experience. The mattress is perfect for people prone to allergies such as asthma. It's also anti-microbial with natural and sustainable products.
The Ergoflex is OKEO-TEX® 100 and CertiPur-US® certified. It is also manufactured with UK's Safety Standards and has a BSI number (BS 5852 and BS 7177).
What is in ErgoFlex's layers?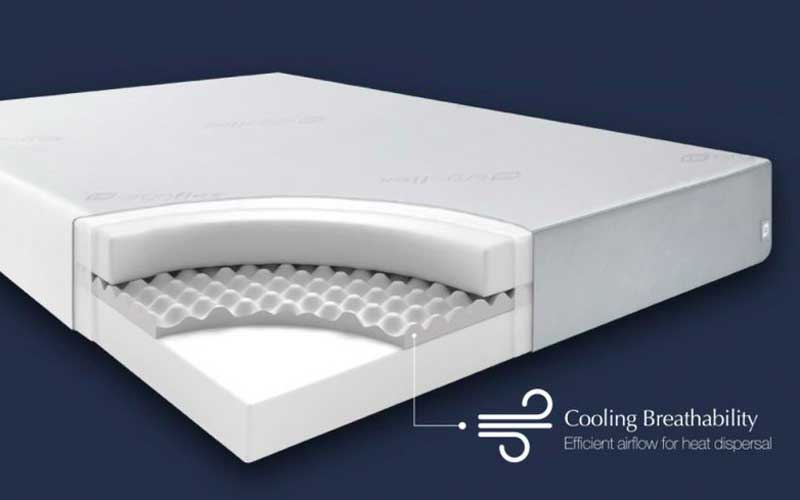 Ergoflex mattresses have a 5-layer sleep system, consisting of premium materials working in harmony to create the most supportive, comfortable and pressure-relieving mattress ever made.
First, we have the tailored TENCEL® cover providing a luxurious, natural and breathable surface, while the protective micro-fine inner cover encases the whole mattress core. Next, we have the top layer of 9cm, designed from high-density visco-elastic memory foam, providing supportive body-shaping performance and zero partner's disturbance.
The next layer is the Ergoflex™ 5cm Cool-Sleep™ airflow system that helps with airflow and temperature regulation. Lastly, you will find the core of the mattress, the 9cm high resilience impact-resistant foam base layer that ensures perfect weight distribution and support.
How thick is the ErgoFlex mattress?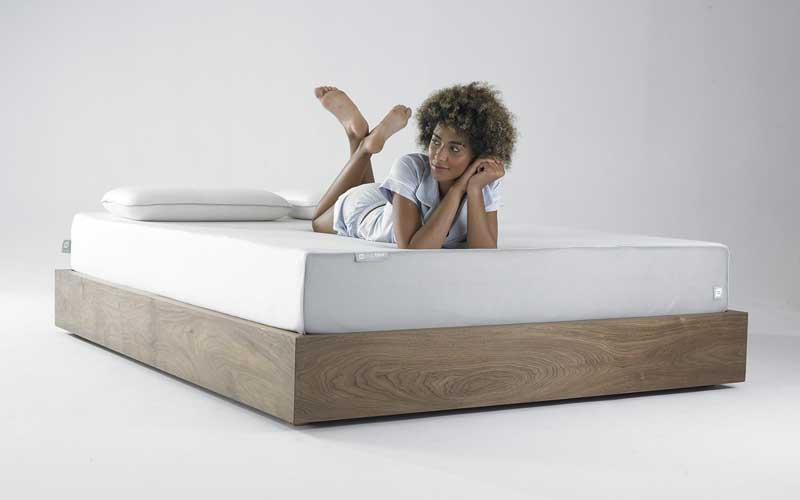 When we talk about thickness, this mattress falls into the industry's average, making it 23cm in depth. Erogflex assures people that standard bedsheets are compatible with their product, but if you're still worried, you can always take a look at our guide on the best UK bedding sets to see if anything catches your eye. Also, this mattress can hold up to 114 kg per side, based on two people per bed.
How firm is the ErgoFlex mattress?
The Ergoflex mattress is about 6.5 out of 10 in terms of firmness, with one being the softest and ten being the firmest. This puts this option in the medium to medium/firm category, which in our opinion, is the best place to be.
Medium-firm beds are the most recommended options for doctors, especially for people with back and hip problems. Ergoflex can be incredibly beneficial for people with fibromyalgia, circulation problems or joint complaints or back pains.
What about ErgoFlex's cover?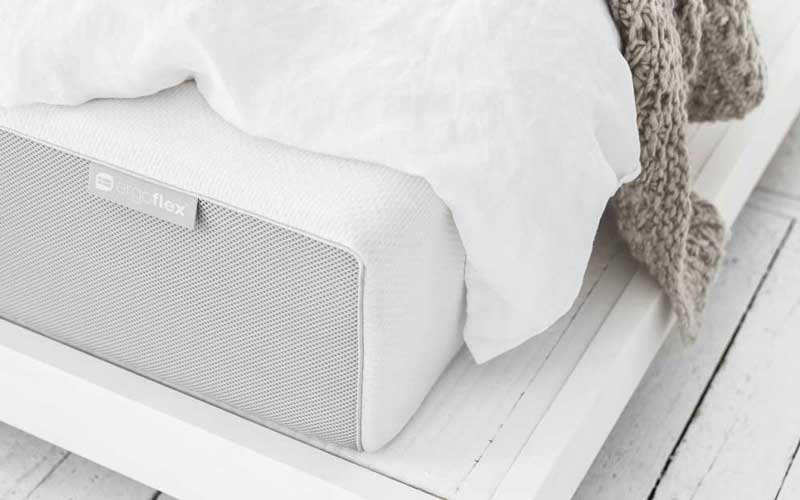 ErgoFlex's option has an inner and outer cover. The mattress is beautifully encased in a tailored TENCEL® cover, which is entirely sustainable and natural. TENCEL® has moisture-wicking capabilities. It is exceptionally strong and durable, also incredibly breathable and outperforms natural cotton.
The brand has included 3D mesh panels on each end to allow for better airflow. The cover is easy to take off and can be machine washed up to 30°C, so everything is always clean and fresh when you jump in bed. Its inner cover is a microfine layer that encases the mattress core and keeps it in place.
Design
As we've already mentioned, this is one of the brands that started it all. Thus the sleek neutral design. The mattress itself is white, and it's side are a stylish light grey that gives it the final touch of perfection. Usually, we cover our beds with pillows, duvets, blankets, toppers and more, but this one can match nearly any room, even on its own.
How long is the ErgoFlex mattress free trial period?
The brand offers a 30-night trial period in which you can check their mattress at home, give it some time to adjust and decide for yourself if it's the right choice for you.
We strongly recommend you give this wonderful option a "test drive" and see for yourself. If you don't fall in love with it for some reason, you can return it with no shipping charges and receive a full refund.
How long is ErgoFlex's warranty?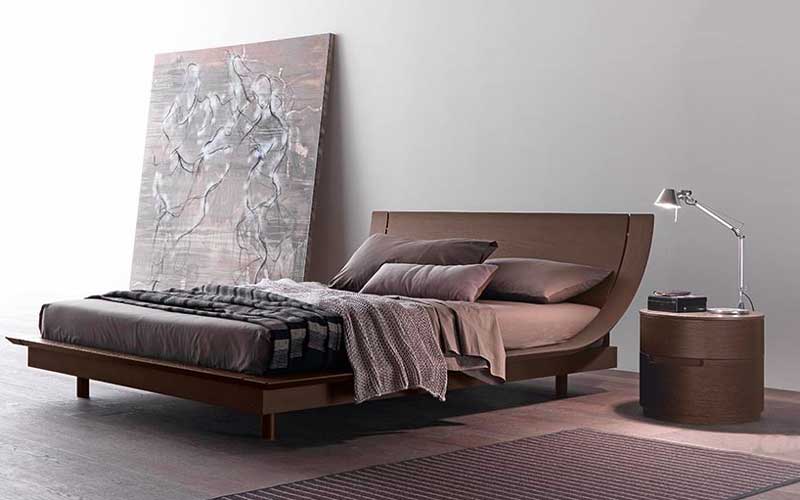 Ergoflex's memory foam mattress comes with a 10-year manufacturers warranty. However, in order to receive the set guarantee, you have 30 days in which you have to register the purchased item. The brand reserves the rights not to honour claims under this guarantee at their discretion. Let's talk about the situations in which it applies and when it doesn't:
What defects does the warranty cover?
Defective due to faulty workmanship or structural defects
Deterioration of the main memory foam layers (more than 4cm)
Valid only to customers residing in mainland UK
What defects doesn't the warranty cover?
Substitution or use of improper foundations, platforms or other bases
Sags in the foundation, box spring, platform or cool sleep airflow layer
Not followed weight guidelines
Tampered with or misused by the purchaser beyond reasonable wear
Intentionally damaged or neglected: burns, cuts, water damage, smoke damage, bodily fluid contamination, stains, etc.
Missing tag and original invoice – identifies the product regarding warranty
What sizes does ErgoFlex come in?
The company wants you to find your perfect match with one of their six available sizes. ErgoFlex has tried to simplify that by concentrating on six sizes to create a straightforward, no-nonsense guide with which you won't be overwhelmed or confused.
Here are the available sizes for the ErgoFlex 5G Mattress:
Single – 90x190x23 cm
Double – 135x190x23 cm
EU Double – 140x200x23 cm
King – 150x200x23 cm
EU King – 160x200x23 cm
Super King – 180x200x23 cm
What are the delivery terms?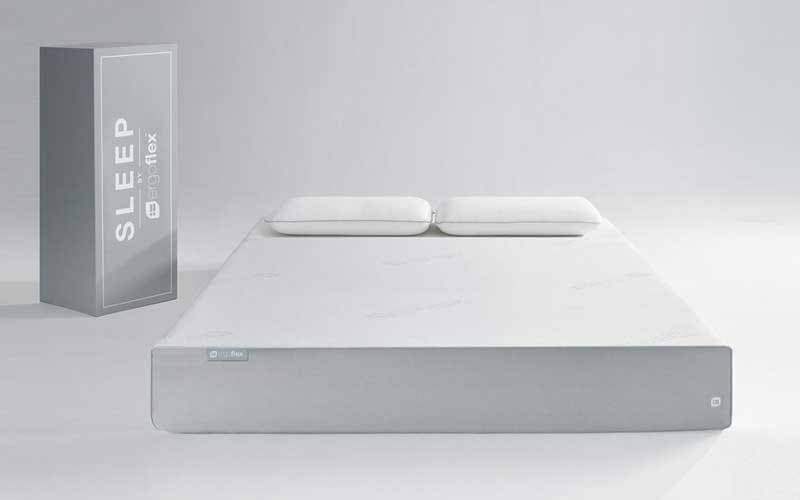 Ergoflex does something many brands can't by offering a next day delivery free of charge for the majority of ita customers in the UK. You will receive a box in which you'll find your mattress compression-packed, vacuum-sealed and rolled.
The brand also offers a Planned Delivery Service so that you can receive your purchase on a convenient date of your choice. They also have Saturday Delivery Service available to customers in most areas for a small fee.
There are three delivery options at checkout:
Standard next-day Delivery(free of charge)
Planned Delivery (free of charge)
Saturday Delivery (subject to change)
ErgoFlex's awards
Awards and accreditation validate the credibility of a mattress and its creator. The brand has received the prestigious Feefo Gold Trusted Merchant accreditation in which a retailer must achieve a rate of 95% (or higher) 'Excellent' reviews, and Ergoflex earned a Service rating of 98% and Product rating of 97%.
Here are some of their most recent awards:
Feefo Gold Trusted Merchant
Back Doctor Recommended Product
Which? Best Buy
LightSleeper mentions
Memory Foam Alternatives
If you want to take a look at other similar options, here are our recommendations:
Bottom line
Overall, Ergoflex 5G is a high-quality memory foam mattress with innovative layers suitable for most sleeping positions and body types. It is great for couples too. ErgoFlex's products come with an overwhelmingly positive and helpful service and a solid warranty. They also next day delivery, which stands out on its own.
The brand has won prestigious accreditations over the years, so it should be on the radar for anyone looking for a top-quality mattress with a medium to medium-firm feel.
It is not the cheapest mattress by any means, so this is something to consider. There are more affordable options out there, but, as we all know, you often get what you pay for. We hope you enjoyed the read, and if you have any questions, don't hesitate to drop us a comment below.
Last Updated on September 2, 2023