We know how hard is it to choose a mattress today. The choices are, simply put – overwhelming. You get bombarded with ads about different brands, how one is supposed to cure your bad back and others will give you the best sleep possible. But which ones are actually good?
New mattresses come out every year from many brands and manufacturers. If you're not aware of the lingo and the terminology, the material options or the right firmness for you, you might find yourself in trouble rather quickly.
That's the sole reason we created LightSleeper – so you don't have to spend hours researching and spend money on sub-par products. Even though we aren't medical professionals, we test, review and research every product we talk about, so you don't have to be overwhelmed or afraid of making any mistakes.
Best Hybrid Mattress – Simba Hybrid Pro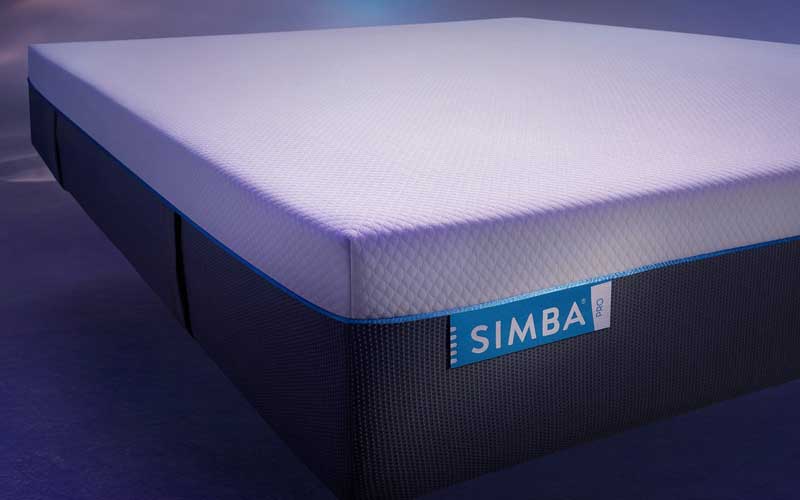 Simba is a sustainable brand, and its mission is to protect the planet as much as to provide you with a night of restful sleep. This manufacturer's products are carbon-neutral and made from 100% recyclable materials in the UK.
Simba is a brand that offers many sleeping products, but the Simba Hybrid Pro is an excellent option boasting seven layers of innovation. The Pro version has more titanium Aerocoil® springs, which means greater airflow and better body weight distribution.
This Simba mattress has a wool layer that naturally regulates temperature, so no matter the season, you can rest cool and comfortable. Not only that, but you get a super-soft sleep surface with a thick knitted cover that doesn't compromise on the airflow.
As the name implies, this is a hybrid mattress, which easily wins first place in its category. We know that choosing between memory foam, pocket sprung, or something entirely different can be challenging, but you can get it all with this hybrid option.
Best Memory Foam Mattress – Emma Original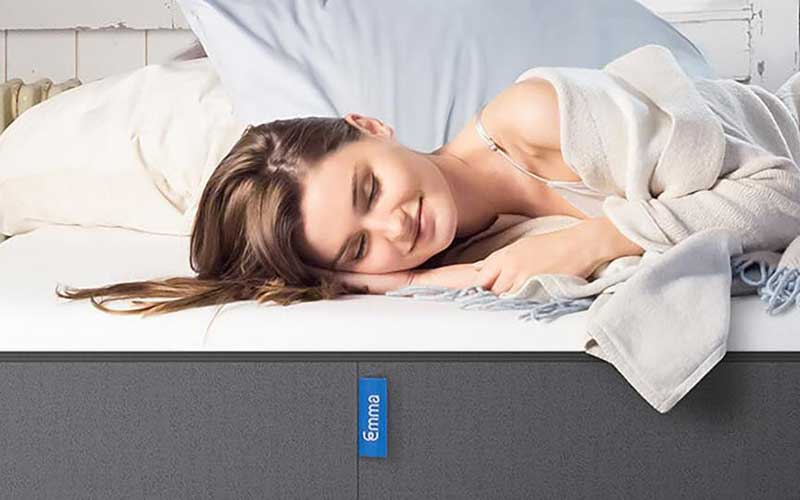 Emma is a company that believes in the transformational power of sleep. Because with a great night of sleep, you will wake up energised and ready to face the day as your best self.
The Emma mattress is one of the UK's most awarded bedding products. There are various reasons, such as their Diamond Degree®, graphite-infused foam for superior cooling properties, to the AI-based tracking of their Emma Motion®.
The Emma Original is a carefully crafted memory foam product that will provide you with the most restful and energising sleep possible for as little money as possible. It's formulated to suit everybody's needs with its three layers of construction and impeccable seven zone back structure.
Memory foam mattresses can offer you the cloud-like feeling without compromising on support. They are great in pressure relief while promoting a healthy spinal alignment and reducing body aches and pains.
Best Pocket Sprung Mattress – Silentnight Classic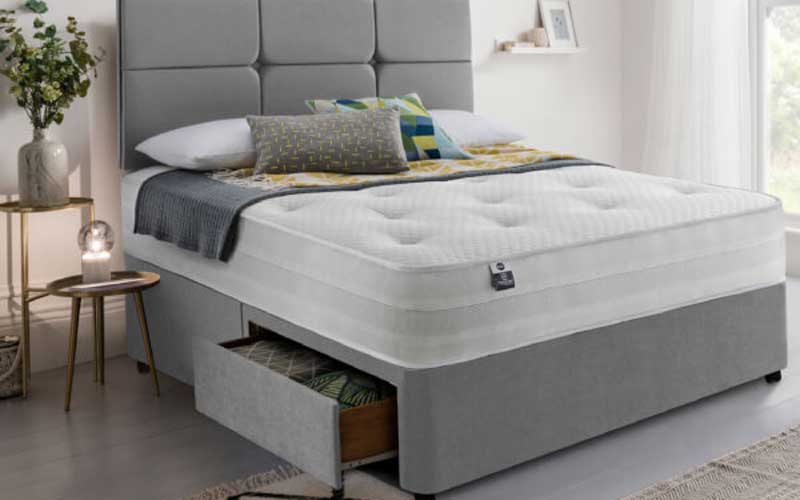 Silentnight is a multi-award winning mattress company that's committed to the environment, working tirelessly to reduce its impact on the planet. As one of UK's most trusted brands they've helped the nation sleep better for over 75 years, which says a lot on it own.
The Silentnight Classic 1200 mattress features the brand's advanced Mirapocket spring system, which was designed to offer tailored comfort and support. Just as the name implies, it has 1200 pocket springs that are individually responsive when held under tension in their fabric pockets. With them, you receive targeted zoning across the surface that provides excellent spinal alignment and support where you need it the most.
A pocket sprung mattress will provide you with all the support and comfort you need. But what makes this one even better is the fact that its made from recycled plastic bottles. And if that's not enough, Silentnight's Classic is Allergy UK approved as it reduces moisture and the potential growth of dust mites and other allergens.
Best Latex Mattress – Dunlopillo Royal Sovereign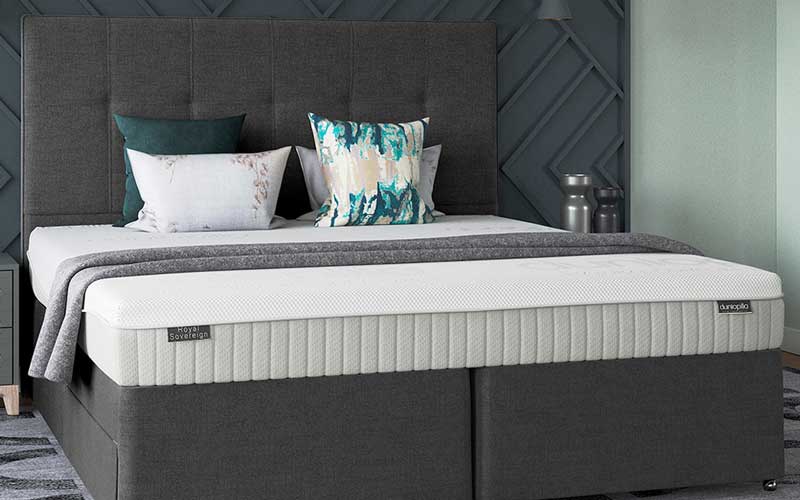 Dunlopillo's Signature collection uses only natural latex, which is a wonderful material derived from the sap of rubber trees (Hevea Brasiliensis) grown in managed sustainable plantations around the world.
The Dunlopillo Royal Sovereign is a timeless classic for a fantastic night's sleep! It is crafted from 21cm of 100% pure latex with a balanced medium firmness, which ensures a restful slumber.
It's constructed from seven comfort zones and uses a revolutionary open cell structure with superior breathability with pressure-relieving properties. The Dunlopillo mattress comes with an allergenic soft-touch, knitted cover infused with Actipro Technology that provides natural protection against allergens, dust mites, and odours, which helps maintain a clean, fresh, and healthy sleep environment.
Latex mattresses will last for eight or more years. This type of bed is considered the most durable option on the market. It will outlast most foam, innerspring, hybrid, and airbed products.
Best Pillow Top Mattress – Sealy Posturepedic Nostromo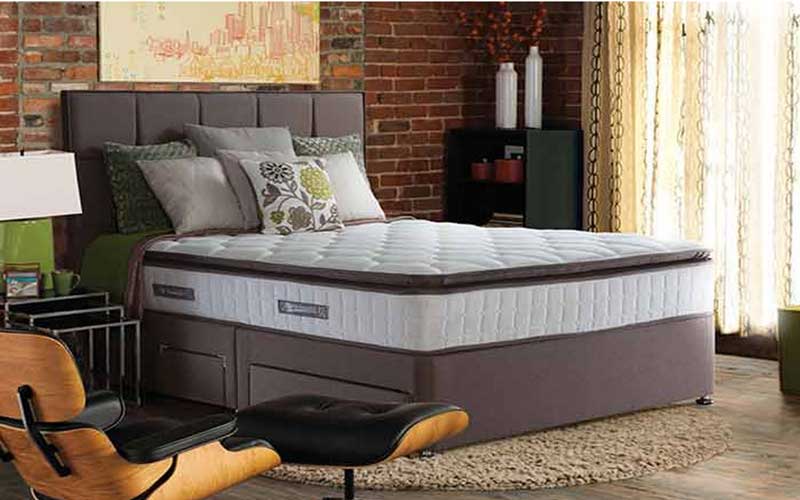 World-renowned for their expertise, innovation and high-quality products, Sealy is one of the leading mattress brands. Approved by the NBF, Sealy produces some of the most well-known, well-loved mattresses worldwide.
The Sealy Posturepedic is a mattress with a latex pillow top with outstanding reviews and awards. Our personal favourite features 1400 individual pocket springs encased in a patented Unirail border that protect the springs and prevents sagging.
Pillow top mattresses offer the plush and luxury feel of a bed in a five-star hotel. Pillow top options are a great solution that might help cushion aches and pains. It's also incredibly comfortable and has remarkable support.
Best Gel Mattress – Casper Wave Hybrid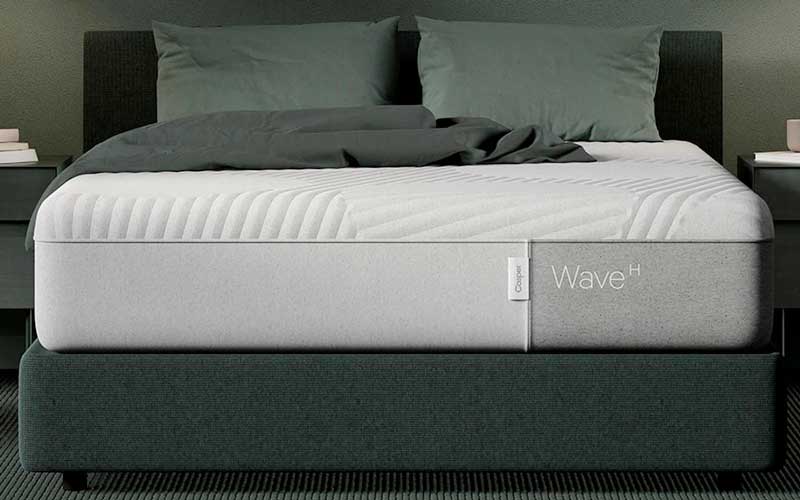 Casper is a brand that provides you with award-winning comfort, so you feel refreshed and relaxed every morning. The brand believes that improving the way the world sleeps also means improving communities and the impact on the planet. That's why they work with environmentally-friendly materials and donate sheets and mattresses to those in need.
However, what makes them truly stand out is the Casper Wave hybrid. A beautifully crafted mattress with five innovative layers made without ozone-depleting chemicals and regulated by the Consumer Product Safety Commission Low VOC (Volatile Organic Compound) emissions for indoor air quality. All three layers of Casper's foams are certified by the CertiPUR-US® program and create a breathable surface with air channels allowing heat to escape to prevent overheating.
Overall, gel mattresses were designed to help you sleep cool at night, but they can also help ease back and pressure-point pain if combined with other materials. They can even reduce motion transfer while providing support for most sleeping positions and body types.
Best Cooling Mattress – Silentnight Geltex Ultra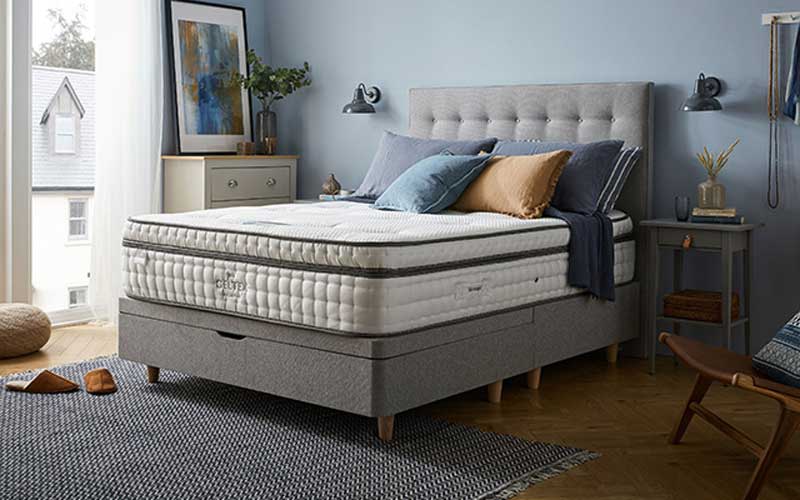 As we've mentioned above, Silentnight is one of the UK's most popular mattress brands. They've designed a Geltex collection for all the hot sleepers that constantly turn around in bed.
The Silentnight Geltex Ultra 3000 combines unrivalled support, luxurious comfort and greater breathability to ensure a cooler, fresher night's sleep. Its innovative Geltex comfort layer actively responds to your body as you sleep, so you wake up energised and ready to go.
If you are a hot sleeper, a cooling mattress is the way to go. One of the most critical factors, if you are worried about overheating, is the breathability of your mattress cover and the materials inside it. People who sleep hot need to look for components that offer cooling or are breathable due to gel infusions or coil layers.
Best Bed in a Box Mattress – Brook and Wilde Lux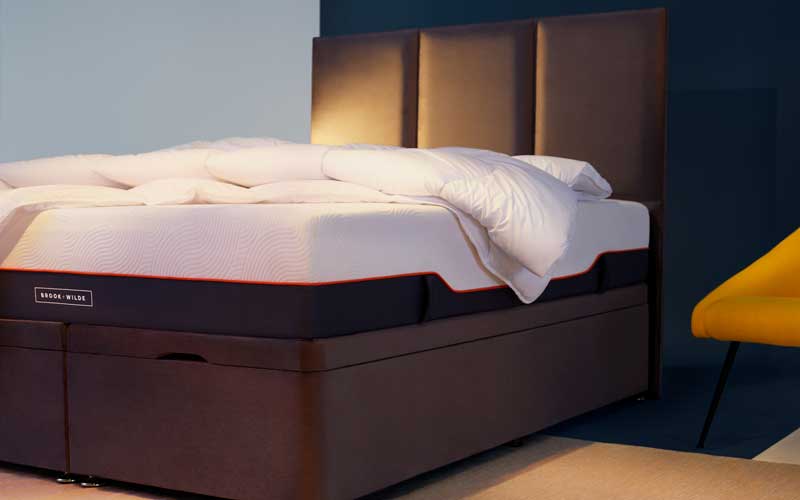 If you want to experience richness in sleep, the brand to beat is Brook & Wilde. This manufacturer is all about your personal preference. They offer all of their mattresses in a soft, medium or firm feel.
The Brook + Wilde Lux mattress provides deep comfort and zoned support for better spinal alignment. This product is constructed from 6 layers of quality—a breathable soft cover, a cooling memory foam layer, 2,000 mini springs, an additional layer of support foam that uses Brook + Wilde unique 'wave technology' and 1,000 more 135 mm pocket springs that give you the extra bounce and push back. Lastly, the specialised support foam base gives the mattress structure and solidity.
Today most people shop online, which is how bed in a box mattresses have grown in popularity. They don't involve the endless weekends one can spend in showrooms, lying awkwardly on a bed next to a pushy salesman.
Best Mattress for Back Sleepers – Nectar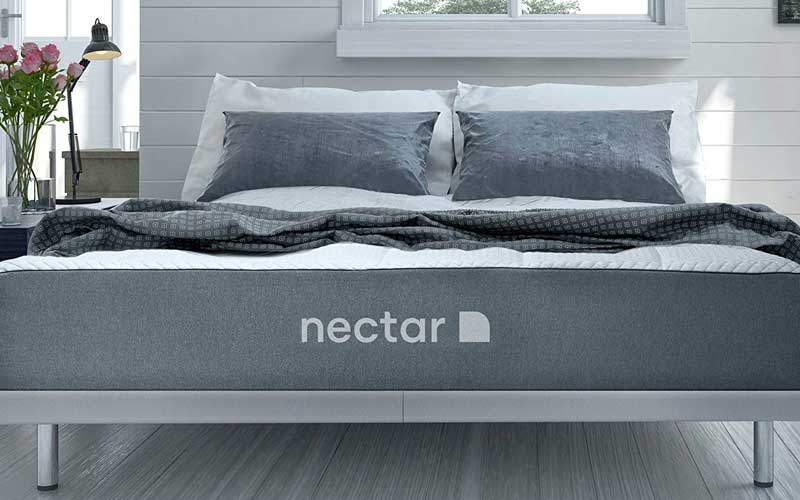 Next, we have one of the UK's favourite brands, and that's Nectar. The brand offers the longest home trial period you can get, which is a whopping 365 days. And to sweeten the deal, they provide you with a lifetime guarantee as well.
The Nectar mattress has five unique foam layers that will help keep your spine in perfect alignment through your sleep while providing you with a cool and breathable sleeping surface due to the poly-blend cover featuring heat wicking, cooling technology.
Sometimes finding the right option can be hard, especially if you sleep on your back, but this high-density, pressure-relieving gel memory foam will get the job done.
Mattresses for back sleepers need Memory foam mattresses have grown in popularity in the last few years because they provide enough support while remaining comfortable. Sleeping on your back is considered one of the healthiest sleeping positions since your spine is naturally aligned. If you sleep in a flat, straight position, it will help prevent pressure, and it will also support the heaviest areas of your body.
Best Mattress for Side Sleepers – Simba Hybrid Pro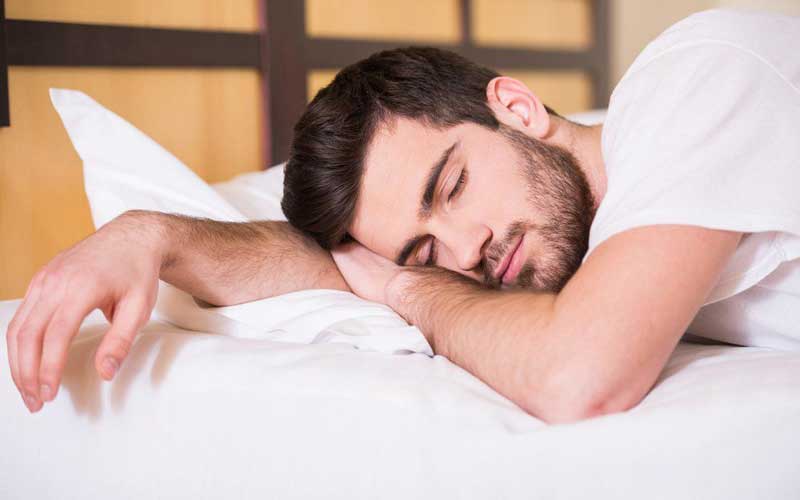 As you've probably realised by now, Simba is one of our personal favourites, and that's because their mattresses offer superior comfort and heat control, accompanied by hypoallergenic and breathable materials.
The Simba Hybrid Pro comes with a 200 night free trial period and a class-leading 10-year warranty. Shipping is free for most of the UK, so there are no added postage and fees.
This product is good for the environment, too – it has no harmful chemicals, and the Simba-Pure has no chemical smell that is so typical for most memory foam mattresses.
80% of the human population sleep on their side, which is why today's market is overflown with low-quality products. The best mattress for side sleepers should adequately support your body without compromising comfort.
Best Mattress for Stomach Sleepers – Sleepeezee Perfectly British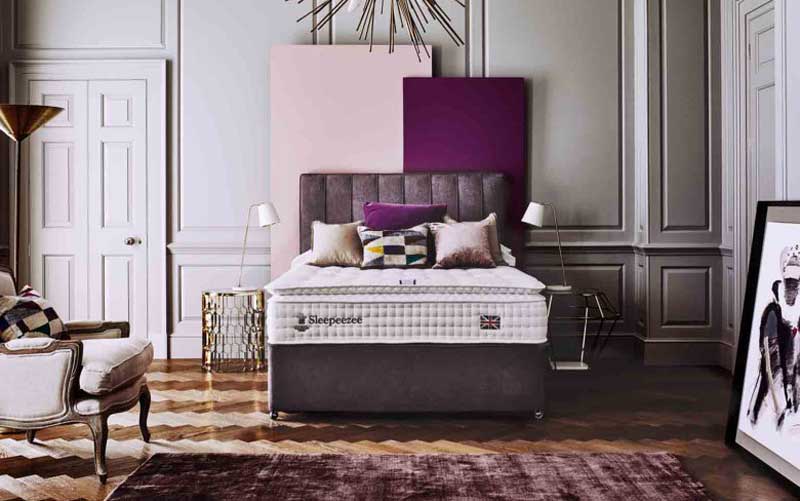 Sleepeezee is a British brand established in 1924. They have a wide range of mattresses to suit all sleepers and spaces. Whether you're looking for a single, double, or king-size option, there are plenty of possibilities available to give you the perfect night's sleep.
The Sleepeezee Perfectly British mattress has been beautifully handcrafted from the finest natural British materials such as wool, cashmere and cooling cotton to create the ultimate luxury comfort.
The Sleepeezee offers excellent body support and healthy spinal alignment. Because of its unique shape, it gently contours to your body for personalised support, making this the perfect mattress for stomach sleepers. It is essential for stomach sleepers to receive proper joint relief and spinal support. Like any other position, you have to find a mattress that's the right balance between density, thickness, and materials.
Best Mattress for Heavy People – Rem-Fit 500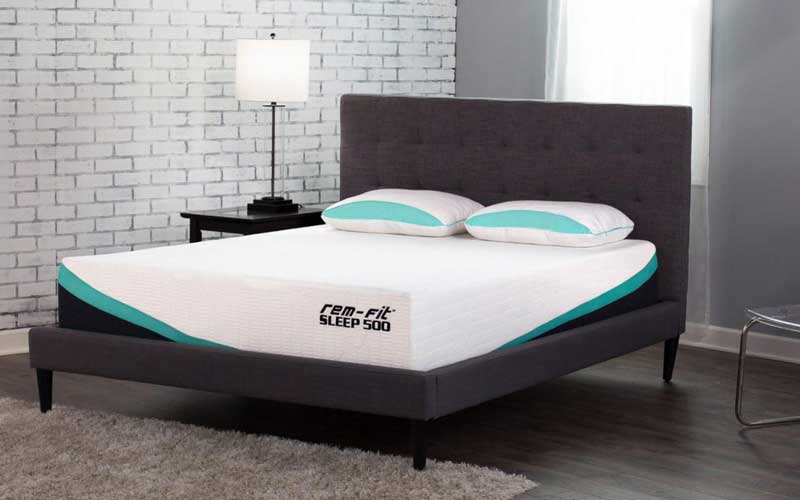 REM-Fit is a fast-growing company with an award-winning multi-layered hybrid mattress called REM-Fit Ortho. The brand uses high-tech technology to create a next-generation orthopaedic hybrid that can beat most memory foam mattresses.
The REM-Fit 500 Ortho hybrid is a single-sided mattress with five layers – Re-Ax breathable, knitted cover, 50mm open-cell zoned memory foam comfort layer, 2000, 14cm encapsulated pocket springs, strong foundation in the face of high-density foam with encapsulated sidewalls.
This product can perform perfectly up to 20 stone per sleeper, making it the ideal mattress for heavy sleepers. Heavier people need a bed that will support their bodies, regulate temperature, and be comfortable without letting them sink in too deep, leading to back and joint issues.
Best Mattress for Couples – Tempur Sensation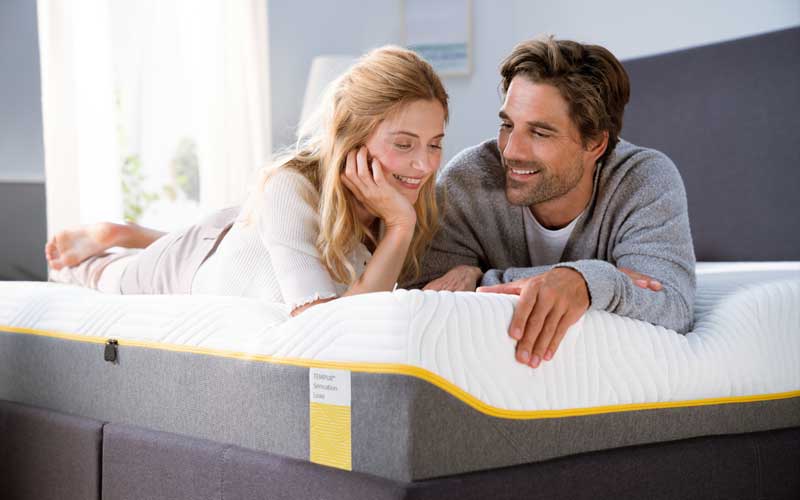 Tempur is a brand that designs mattresses certified by the International Space Foundation that let you experience gravity-defying comfort with layers upon layers of innovation. They are crafted with high-quality materials, have glowing reviews worldwide.
The Tempur Sensation is the firmest mattress from the Tempur range. Tempur uses the so-called Dynamic Support Technology that features two identical Durabase layers, which are the item's foundation. They bring you the support and pressure relief you want out of a bed.
If you are looking for a mattress for couples, look no further! Buying a mattress for two can be hard, which is why you'd probably need to find a compromise that works for both of you. Sometimes even the most highly adjustable model won't be the perfect fit because of people's particular wants. The best thing you can do is to select a product that includes an in-home free trial so that you can factor in both your preferences and see if it works.
Best Mattress for Sex – DreamCloud Luxury Hybrid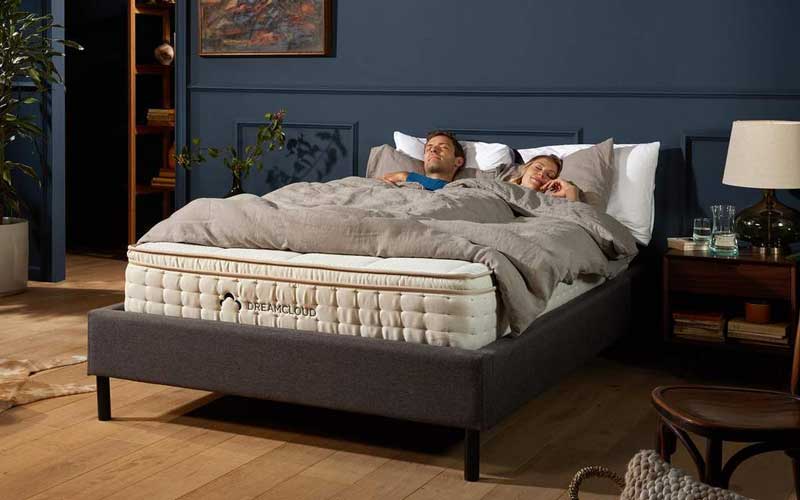 If you want to bring luxury into your bedroom, DreamCloud UK is the way to go. DreamCloud believes you should never compromise on your sleep. That's why they created the DreamCloud Sleep mattress to give every style of sleeper a luxury sleep experience for less.
The hybrid mattress is crafted from premium materials designed to outlast a lifetime of nightly dreaming and backed by their Forever Warranty. If you appreciate a firm mattress and your partner prefers a soft one, DreamCloud Luxury is your ticket to compromise in six available sizes with a depth of 35cm.
So if you are looking to buy a mattress with your partner, this is an option to consider. A mattress for sexually active people should be comfortable during both sleep and sex. When choosing one, you should consider the type of mattress, the firmness level, the bounce, the pressure point relief, consider the noise and check if it has cooling properties.
Best Mattress for Bad Back – Nectar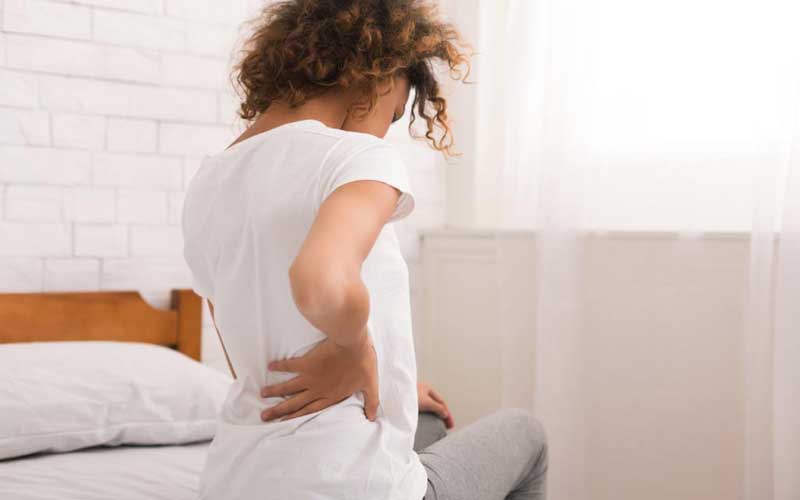 As part of the Resident family of brands, the Nectar team includes some of the best and brightest in the industry, working hard to build the world's most comfortable mattress and premium home goods. As you will see in this article, the Nectar mattress is suitable for people with different body types, shapes and sizes.
The Nectar mattress comes at a reasonable price, a 365-night trial period and a lifetime guarantee. Not only do you get a fantastic bed, but the company offers some interesting bundles with every mattress purchase. Jump on the offer right away, so you don't miss hundreds of pounds worth of free bedding products!
However, it's truly great at the support it offers, making it the ideal mattress for a bad back. The wrong mattress might be one of the reasons why your back is hurting. Thus, you need a product that can support your weight without sagging in the middle. If the option you want is too soft, it can distort your spine, and you will feel the repercussions of it the next day.
Best Mattress for Back Pain – Simba Hybrid Pro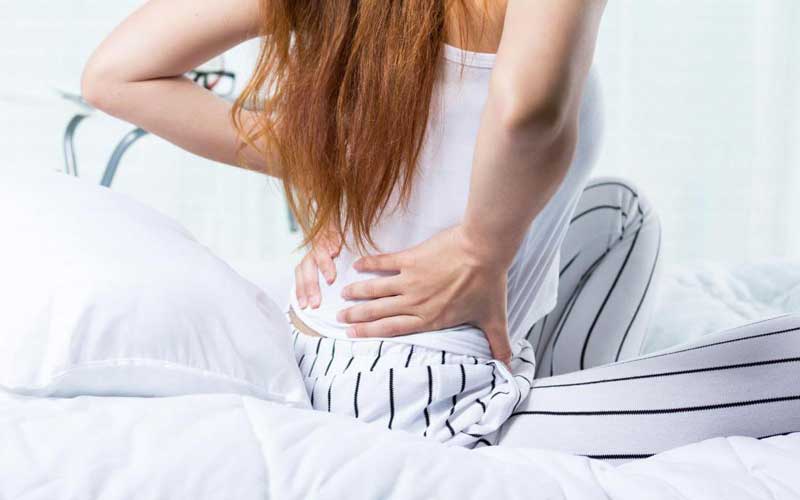 When it comes down to comfort and support, Simba is a top competitor. The brand wants to help you sleep soundly and comfortably, so they've used all the latest engineering and technology to do so.
Overall, the Simba Pro mattress comes highly recommended by the LightSleeper team. It is easily the number one choice, but it comes with a significant price tag that some might not justify. But as we all know, sometimes you get what you pay for.
The brand is unrivalled for when it comes down to preventing body aches and pains. And the Simba Hybrid is hands down the best mattress for back pain. Having a bad back is an issue that many people face these days. It can have a massive impact on our daily lives, but sleeping on the wrong mattress could make matters worse.
Best Mattress for Lower Back Pain – Otty Original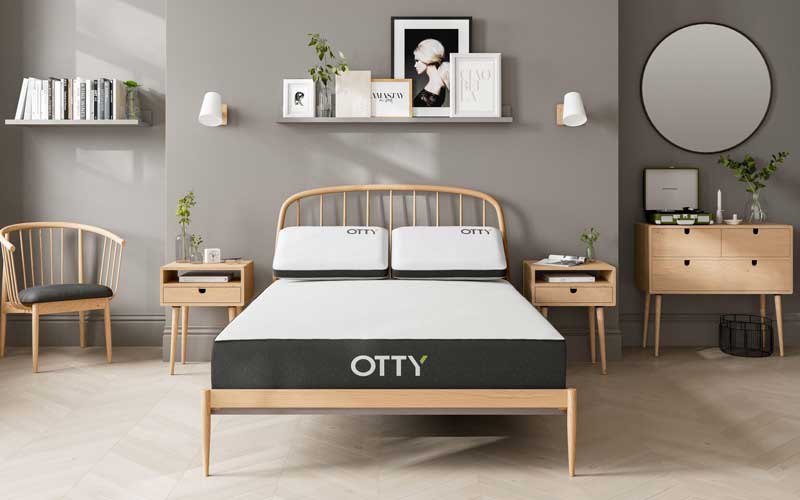 With so many different products on the market, buying a mattress often turns into a confusing minefield. That's why after a number of tests, trial models and modifications, the OTTY mattress was born.
The OTTY Original Hybrid is a great all-rounder that allows you to focus on the essentials when going to bed, which is getting a good night's sleep. This inexpensive hybrid option contains 64% spring to 36% foam, giving you the best support and comfort while helping those with ailments or health issues.
This is why we have it as one of the top competitors when it comes to mattresses for lower back pain. Having the right product can help you, but having the best one will surely put you in the clouds of blissful sleep. Often, individuals who suffer from lower back issues can find meaningful relief as well as a deeper, more restorative sleep.
Best Mattress for Arthritis – Ergoflex 5G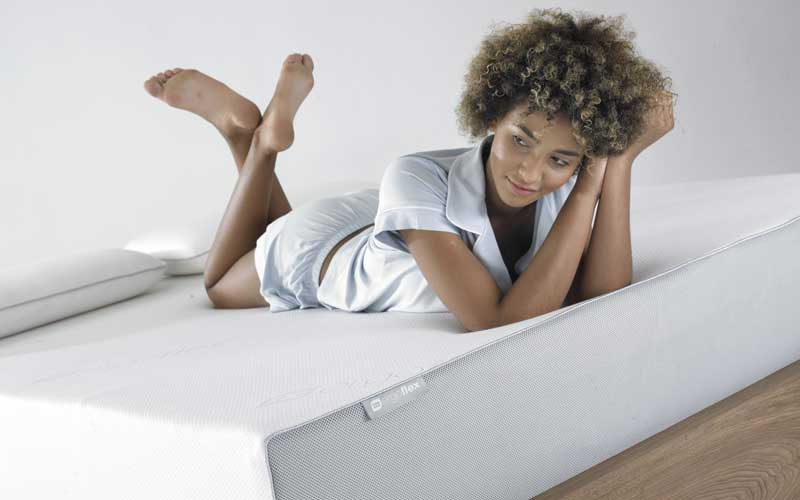 Ergoflex commercially launched into the domestic consumer mattress market in 2006, bringing a number of firsts to the UK, Europe and Australian mattress industry.
The brand has designed only one mattress, and that's the Ergoflex 5G. Firm, soft and supportive in equal measure. Obsessively engineered to deliver unrivalled comfort with exceptional durability coupled with what we believe to be the coolest memory foam mattress currently available in the market today.
Developed with open-cell foam, a specially-designed Cool-Sleep layer and a breathable, vented TENCEL® outer cover, Ergoflex avoids the heat-retention associated with lesser memory foam mattresses.
The Ergoflex was made for everyone, but the outstanding pressure-relieving performance has made dedicated fans of those who demand more. As a result, it becomes an example of mattresses for arthritis. When you live with a condition that causes chronic pain, finding the right mattress can be even more of a challenge.
Best Mattress for Hip Pain – Simba Hybrid Pro
Simba is a premium hybrid mattress that lets you experience gravity-defying comfort and support with seven layers of hybrid innovation. It's designed with premium quality materials, has glowing reviews all around and a long free trial.
When it comes to hip pain and choosing a mattress for it, the thing you need to focus on the most is support. Finding a product that provides the maximum support possible without leaving your personal preferences behind can be hard to find.
However, that's where Simba comes in to help improve your sleep and lessen your body aches. Investing in a new mattress is always a plus, especially when you have hip pain. That's why picking a product that provides medium-firm support and keeps your body in a neutral spine position is normally the suggested option.
Best Budget Mattress – Emma Essential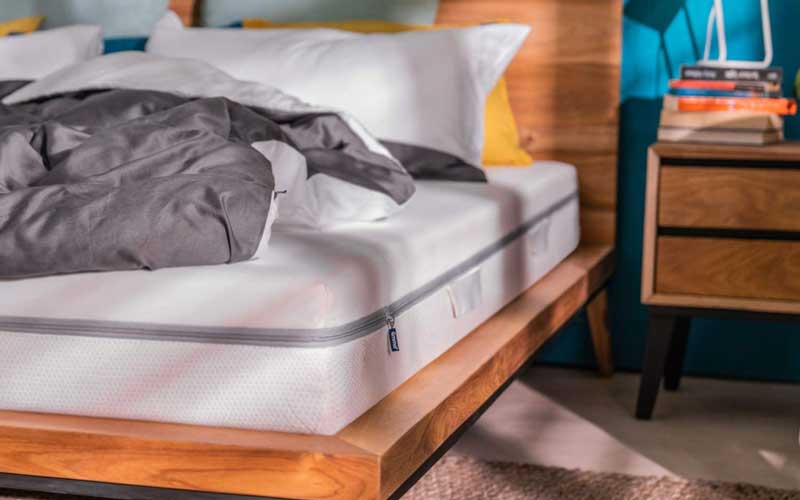 The team behind Emma believes in the transformational power of sleep. With a great night of rest, you wake up energised and ready to face the day as your best self. But what happens if you are on a tight budget?
No worries, because Emma has you covered with its Essential mattress. Emma has been a top competitor in the mattress industry for a while, and they've decided to create a new budget option, designed from the same minds as the UK's most awarded mattress, the Emma Original.
So if you are looking for a quality mattress on a budget, this is an option to consider. Despite the price-points, some products offer the same high-quality materials and excellent performance as many of their more expensive competitors. The Emma Essential is an example of that.
Best Luxury Mattress – Tempur Hybrid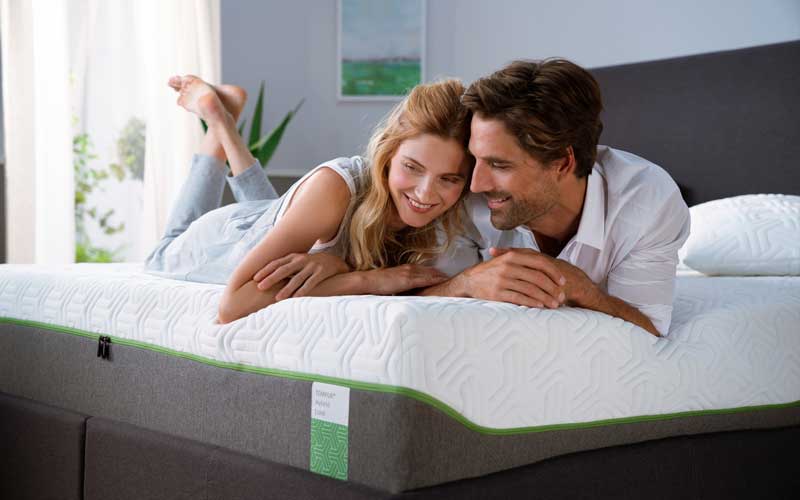 Tempur is the only brand recognized by NASA due to its iconic material. The TEMPUR® material is viscoelastic, meaning both fluid and spring-like – achieved by billions of ultra-sensitive open cells existing between a solid and a liquid state. That's the secret.
With Tempur, you'll experience luxury at its finest with the best with supreme comfort and pressure relieving support for a restful night's sleep. The Tempur Hybrid mattress comes with layers of Advanced TEMPUR® Material supported by Precision™ micro coil pocketed springs delivering the best comfort and support of both technologies in a medium feel.
So, if you are looking for a luxury mattress, there is no competition. We spend a third of our lives sleeping, which is why we should look at the mattress we purchase as a long-lasting investment. Luxury bedding brands offer advanced design and materials, allowing you to make the most of each day with more energy and less pain.
Best Mattress with a Free Trial – Nectar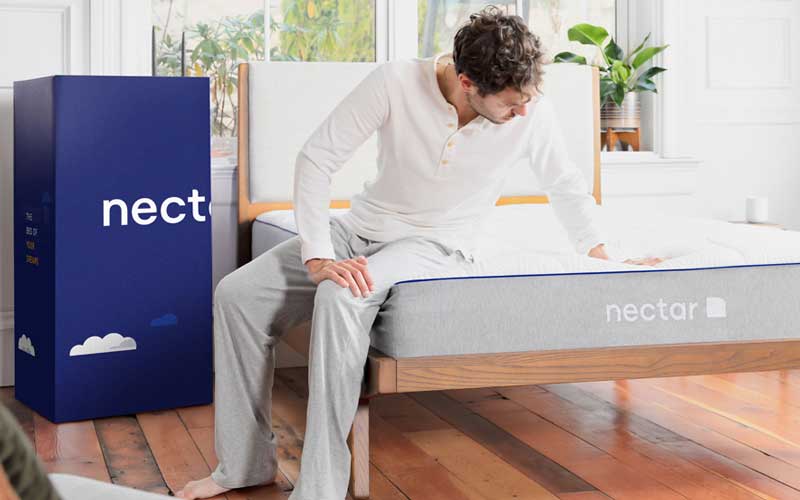 Nectar is a brand that uses premium materials sourced from the best manufacturers all over the world, while their factories adhere to the strictest quality and production protocols under international regulations.
Nectar's premium 25 cm thick medium-firm memory foam option hugs your body while keeping you cool at night. The three layers of premium foam have been designed to deliver optimum levels of comfort, providing excellent body support and spinal alignment.
However, the Nectar mattress is known for its 365-night trial period and a lifetime guarantee. So if you're not sure you're making the right choice a mattress with a free trial period that lasts as long as a year is a great way to start. The days of lying on a mattress for five minutes to make sure it was comfortable are over. You no longer have to leave the comforts of your own home to get the bed of your dreams!
Best Wool Mattress – Sleepeezee Wool Supreme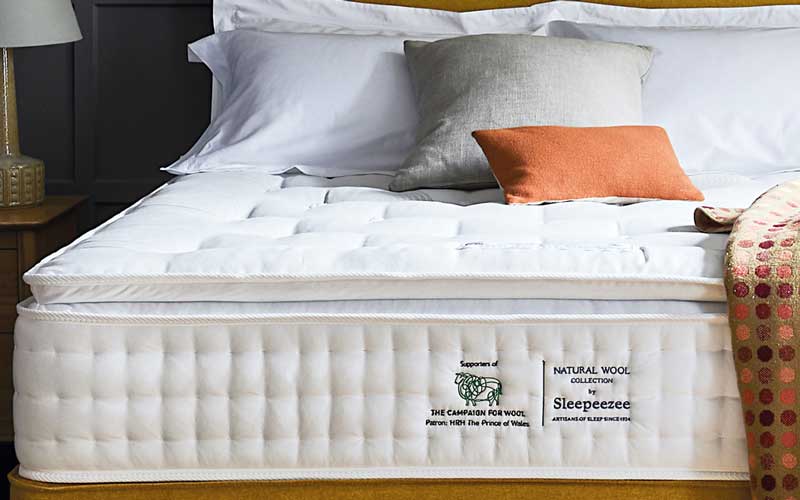 Through innovation and market-leading mattress designs, Sleepeezee has grown into one of the most well-known bed manufacturers worldwide. Every product is made at their factory in Rochester, Kent, where over 300 expert craftspeople build bespoke beds to premium standards.
And the Sleepeezee Wool Supreme mattress is no exception. This beautifully crafted UK product is made with 100% British wool, ensuring total comfort and support throughout the night. It comes with a double tier of 2400 traditional pocket springs that adjust to your body independently, shaping the ultimate comfort. Sleepeezee also comes with a pillow top layer permanently fixed to one side of the bed for additional relaxation.
Wool mattresses can be a great help for anyone who suffers from allergies because their natural anti-allergen properties allow you to get the rest you deserve. This type of bed will give the support and comfort you need no matter your sleeping position, body type or shape.
Best Natural Mattress – Una Organic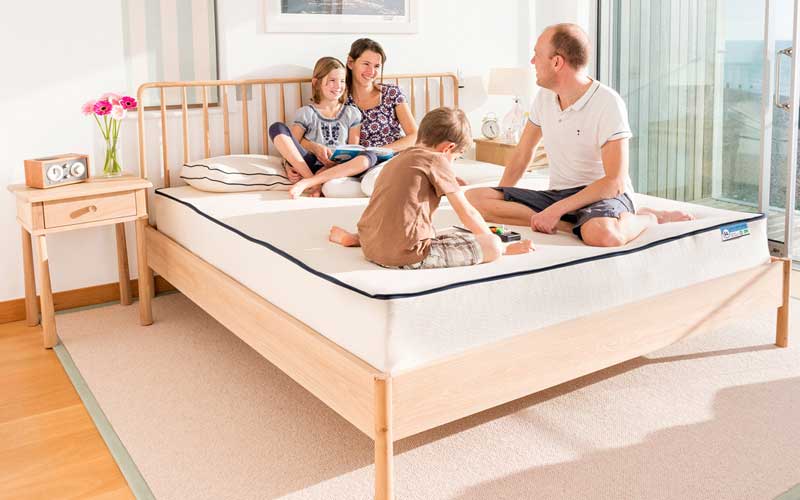 Una is a brand that has been making natural mattresses for over 30 years. The brand has banished the toxic-smelling petrochemical foams, fire retardant chemicals and industrial glues you'll find in most synthetic options.
Every Una mattress is crafted from 100% organic cotton, wool and latex so that you can breathe deep and easy, right from the first night. Overall, the Una mattress is a 24cm thick option with customisable firmness that's completely natural, meaning no harmful chemicals or microplastics.
Finding the right mattress can be challenging and overwhelming, especially if you're looking for an item that is organic and chemical-free. However, there are some incredible natural and eco products that are non-toxic and environmentally friendly, as mentioned above.
Best Soft Mattress – Rem-Fit 600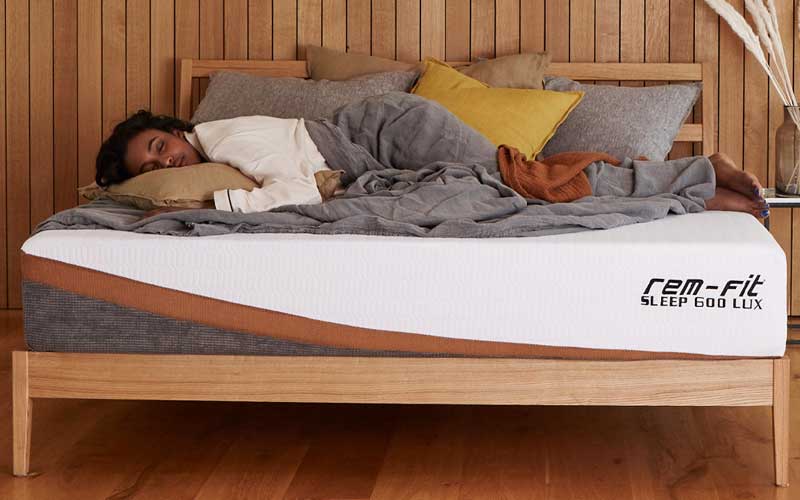 REM-Fit is a manufacturer that believes that great days come from good nights. They know that energy comes from rest and recovery, so they've developed industry-leading sleep technology that empowers you to consistently have great sleep followed by great days!
REM-Fit mattresses cradle your body, providing a soft and sumptuous feel while delivering great support. The Rem-Fit 600 comes with six innovative layers for the ultimate cloud-like feel, perfect for individuals searching for soft mattresses.
Finding a supportive soft bed can be challenging, but you have to remember to find the right balance between support and softness to get a refreshing and peaceful night's sleep. Think about the materials, support, motion isolation and cooling properties so that you can find the right bed for you.
Best Medium-Firm Mattress – ErgoFlex 5G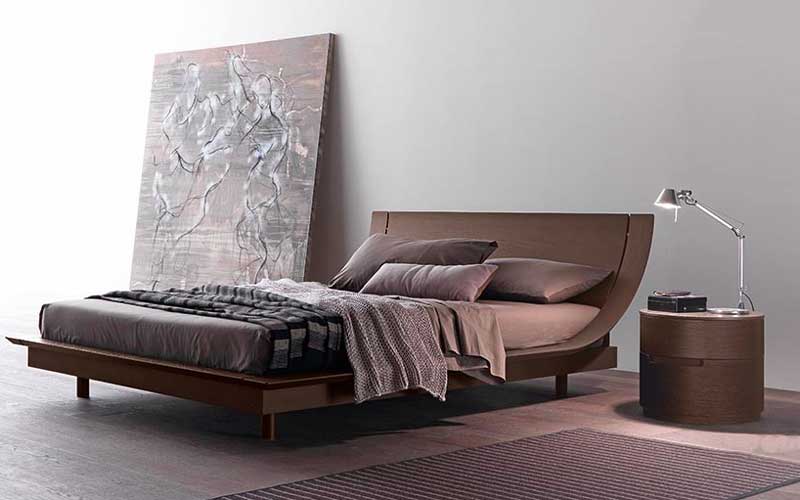 Ergoflex only makes one mattress – the 5G, which is firm, soft and supportive in equal measure. It is obsessively engineered to deliver unrivalled comfort with exceptional durability coupled with what we believe to be the coolest memory foam mattress currently available in the market today.
It comes with a medium-firm feel, which is the industry standard. Firmness is more important than you might think since it can greatly influence the quality of your sleep, how your body feels and even if you wake up refreshed and well-rested or not.
Medium-firm mattresses relieve your pressure while providing you with comfort and support. If you're struggling with pressure in your joints, or have any chronic pains, this option may be quite beneficial for you.
Best Firm Mattress – Brook and Wilde Elite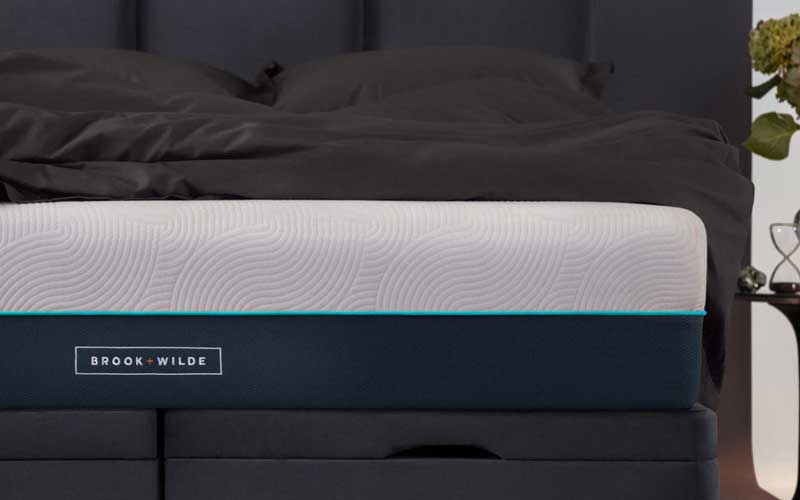 The Brook + Wilde is a relevantly new mattress manufacturer, quickly becoming one of the most popular UK mattress brands. They are the only company that lets you choose your firmness level while offering layers upon layers of quality materials.
The Brook and Wilde Elite an award-winning firm mattress with an 8-layered sleeping system. This product can be purchased in four sizes: single, double, king and super king, with a depth of 28cm. It also comes with a 100-night comfort trial, ten-year warranty and premium delivery with a two-person delivery service.
Whether a mattress is right for you largely depends on your personal firmness preferences. However, firmer products can be beneficial for many if you know how to select one. No matter your choice, make sure your purchase comes with a solid in-home trial period to ensure the firmness is really what you're looking for.
Best Orthopedic Mattress – Relyon Ortho Support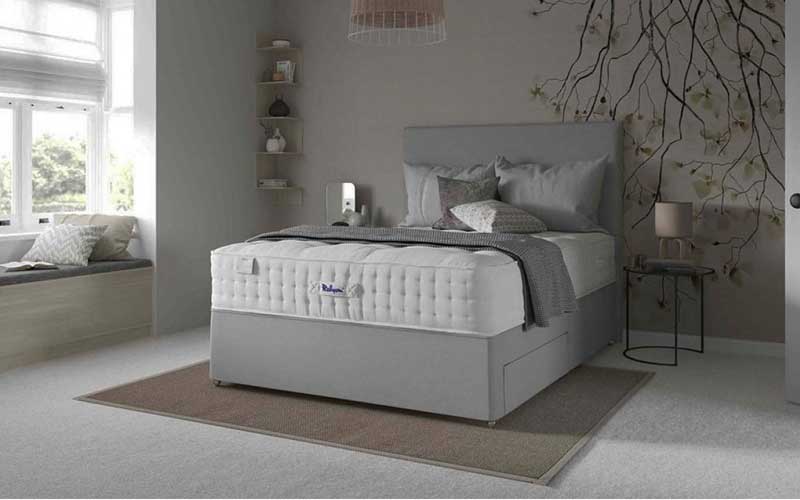 The Relyon brand was founded in 1858 by a Somerset family of wool merchants, the Price Brothers and Co. They developed 100% wool mattresses that were of such high quality they became known as mattresses that you could truly 'rely-on' for a good night's sleep. And so, the Relyon name was born out of a reputation for handcrafting wonderfully comfortable natural mattresses.
One of their most popular products is the Relyon Ortho Support, ideal for those looking for the utmost support, with 1500 independently moving pocket springs that follow and support your body shape and weight. This item is available in one tension only but in five different sizes.
It was designed with one thing in mind: the ultimate orthopaedic mattress. High-quality orthopaedic beds offer high levels of support, pressure relief and comfort. Extra-firm models can be extremely beneficial for those who have a bad back or experience aches and pains throughout the night.
Best Floor Mattress – Natalia Spzoo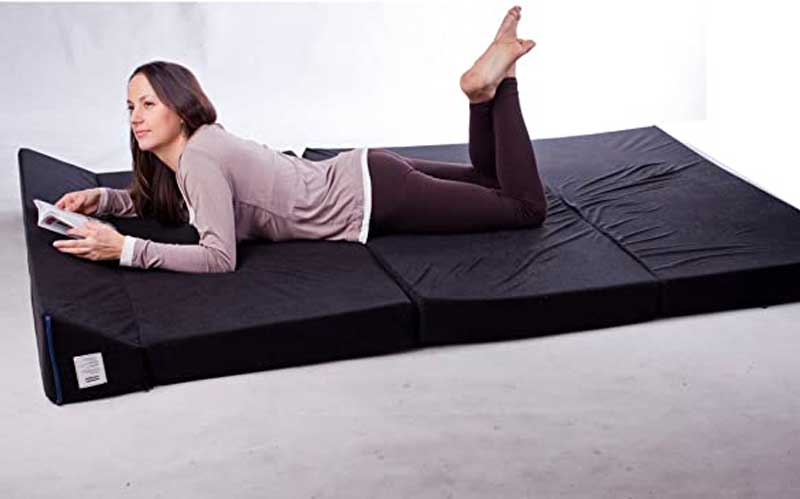 Natalia Spzoo is a company that has existed on the market since 1994. They specialise in the production of upholstered mattresses, chair beds, sofas with high-quality foam filling, cushions, pillows etc. They are experienced Internet sellers offering their items to many European countries.
However, the item they are most popular for is their floor mattress. The Natalia Spzoo Fold Out is not only an excellent floor mattress, but it also doubles up as a chair. It is made from foam with a density of up to 22kg and a 100% polyester cover with a zipper that makes it removable. This is great because you can wash it after every use or visit, so no bacteria stick to it.
Suppose friends or family are coming to visit, but your place doesn't have all the beds to accommodate them all. In that case, you might need to consider a temporary solution that will be comfortable enough to enjoy, and folding floor options are a great example of that.
How to choose the best mattress?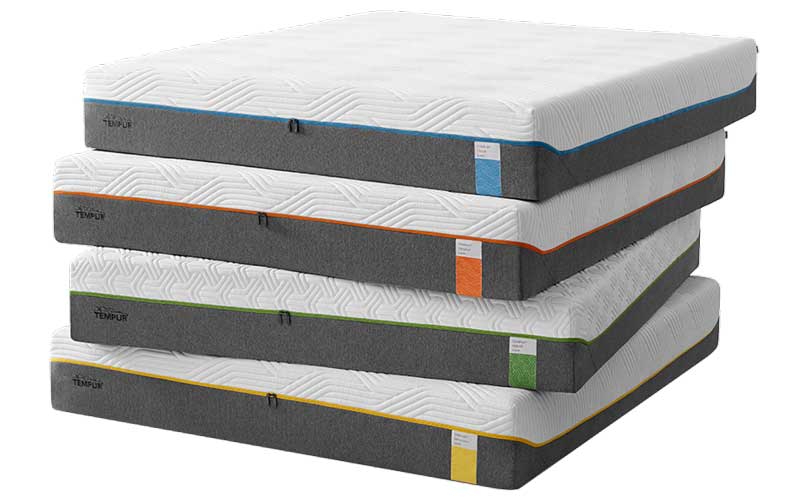 First, we want to start by saying that individual needs and preferences vary across the board. There isn't a "one size fits all" answer that will work for everyone. This is why you have to understand that what may be comfortable and supportive for you might not be for someone else.
When it comes down to choosing the right mattress, there are a few features to consider before buying one. You have to think about the firmness, sleeping position, the materials, the size, the comfort level etc.
Having a product that provides a great support system and comfort layer is the goal we are looking forward to. The comfort layer helps to tailor the mattress to your sleeping habits, and the support system makes up the core of the mattress, which is how you are provided with the needed comfort and support.
There are many surrounding factors, but let's take a closer look at the features you need to think about before buying a mattress:
Materials
Before you get to buy a product, you should familiarise yourself with the most common mattress types and the way they are constructed.
Memory foam options contour to the body, which can be a great way for pressure relief. Memory foam tends to deform and take the body's shape, increasing pressure in sensitive areas if the mattress is too soft. However, it tends to stay warm, so keep that in mind if you're a hot sleeper.
Innerspring mattresses use coils that often provide the traditional bounce feel and firm support. Some may find them old-fashioned, but they can be a good support source, especially when paired with a layer of high-quality foam.
Hybrid products combine memory foam or latex layers and an innerspring mattress, designed with two sides that offer a different firmness level. These items promote excellent support with growing popularity because of the innerspring core and the top layer's comforts.
Latex items typically offer more bounce and responsiveness than an innerspring option. They tend to be cooler, which is why they are adored in the summer.
Air mattresses as the names imply uses an air pump to inflate to your desired firmness level. Usually, both sides use a separate chamber of air to accommodate two sleepers who might have preference differences.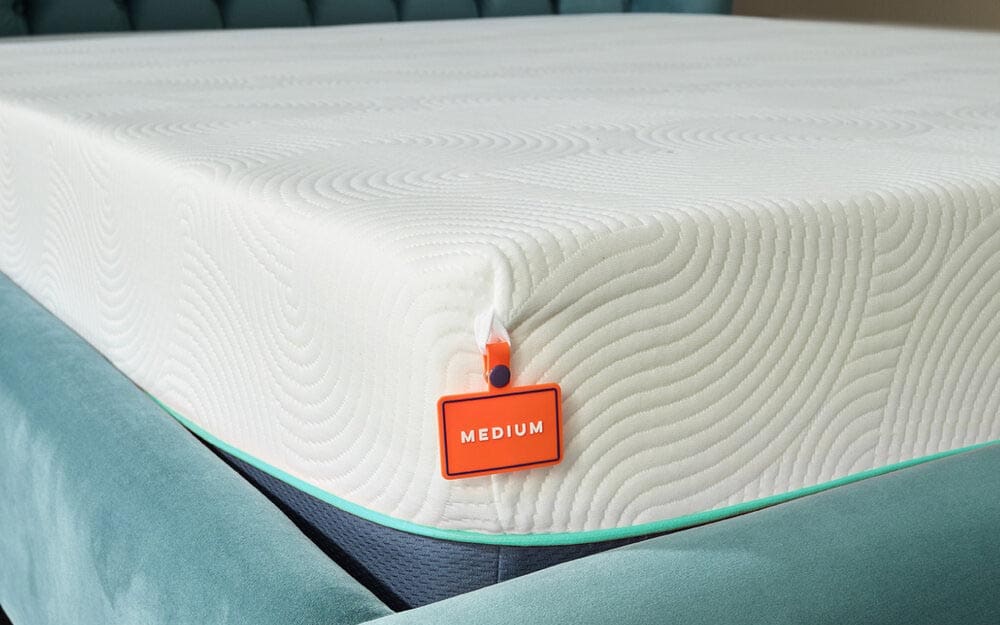 Firmness
Mattresses are also rated based on firmness. Even though you need something that's more firm than soft, you have to think about how firm does that mean.
Your body weight can determine that. The higher your weight is, the firmer of a mattress you might want to get. Don't forget that it depends on the individual since everyone's sleeping preferences are different. However, you don't want a product that may not support the spine well enough.
Size
As you probably already know, the basic mattress sizes include twin, full, queen, king and California king. The first thing you have to consider is the available space you have for it and after that think if you'll be sharing it with someone.
A good way to decide on the size is to look at your current bed and if the amount of space you have to sleep is enough. If you fight for a blanket with your significant other, you will get yourself another one, but if that includes the space on the bed, you should consider upgrading to a larger size. However, if you are left with zero space, you might have to think about downsizing for maximum usability of the room.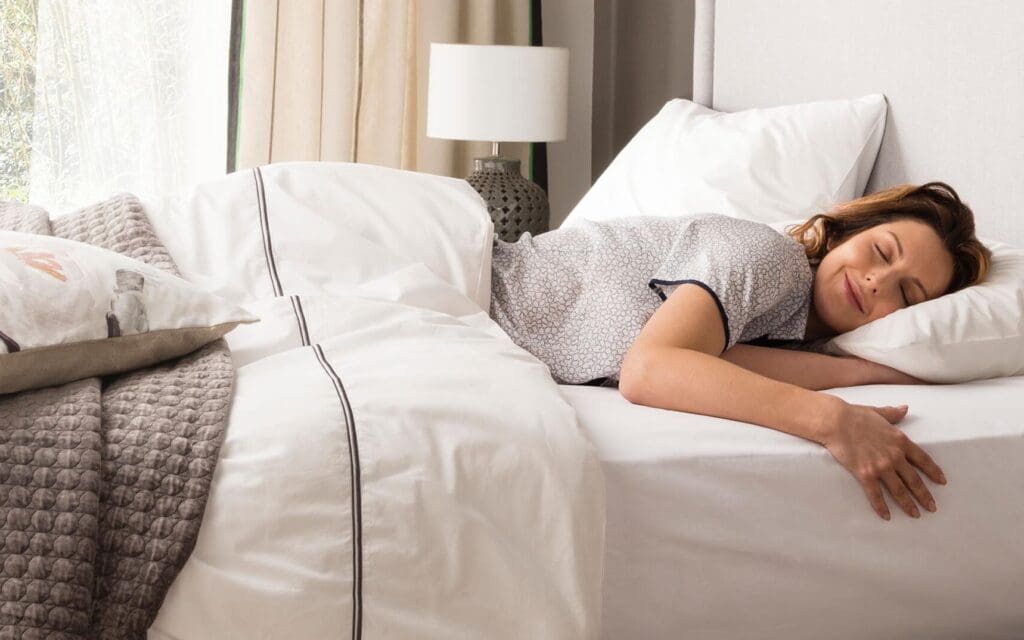 Sleeping Position
Another important factor to consider when choosing a mattress will be your sleeping position. The way you sleep can determine what areas you put the most pressure on, which will help you narrow down the options that will accommodate your needs. Here are the most common options:
Back Sleepers – If you are one, you'll most likely prefer a product, which will alleviate pressure points in the lower back area. Therefore you should consider a medium-firm mattress since it will provide excellent spine support. Keep in mind that a back sleeper should avoid the extra-firm options because they may fail to adjust to the lumbar curve.
Side sleepers – often they put pressure on their shoulders and lumbar area. If that's the case with you, we recommend deciding on a medium-firm mattress with pressure points, like the ones for back sleepers. The reason for it is that you will find it to be perfect for this sleep position since it's still flexible to the body's curvature.
Stomach sleepers – Often, this type will put pressure on their neck and back. Your best bet in this situation will be a firm product since it's excellent for spine support. It will also help alleviate neck tension by preventing the lower body from sinking. By doing so, you avoid putting your neck at an intense angle, which may bring you discomfort.
Temperature
This may not be a feature many people will think about when purchasing a mattress, but it plays a significant role in how you sleep. Depending on the type of sleeper you are, there are a few things to consider such as comforters, heat settings, pillow tops etc.
If you're cold while asleep try a memory foam item since they tend to be on the warmer side, but if you naturally heat up in your sleep, pick a latex option or a product with cooling technology.
Pain
There are several areas of your life that you can adjust so that your pains and aches are avoided. One of them is by finding the right mattress. This won't solve all your issues, but it will improve your sleep and rest comfortably.
If you're someone that experiences any pain during sleep, understand that you can either help or hurt that pain. Let's say you have lower back pain. You need a product that's on the firmer side so that your back is aligned. Identifying the pain you have, will allow you to find the product that will help alleviate it.
Comfort Level
Mattresses have different firmness options, but they also have comfort levels, which can vary in a range from plush to pillow top. Not all brands have a way to mark that, but if they do, make sure to check them out. Some manufacturers will have a colour system and other alphabet versions, categorising them in a specific way.
What is the Most Popular Firmness Level?
We can safely say that the most popular firmness level is the medium one. The reason for that is, it offers a more moderate and balanced feel, which works for a wider variety of sleepers. An even better example is that you will find most hotel beds to be set firmness.
Depending on the individual's body weight and sleeping position can help find the appropriate firmness level. Everyone has their preference, but sometimes, it can heavily influence their sleep if they choose the wrong option.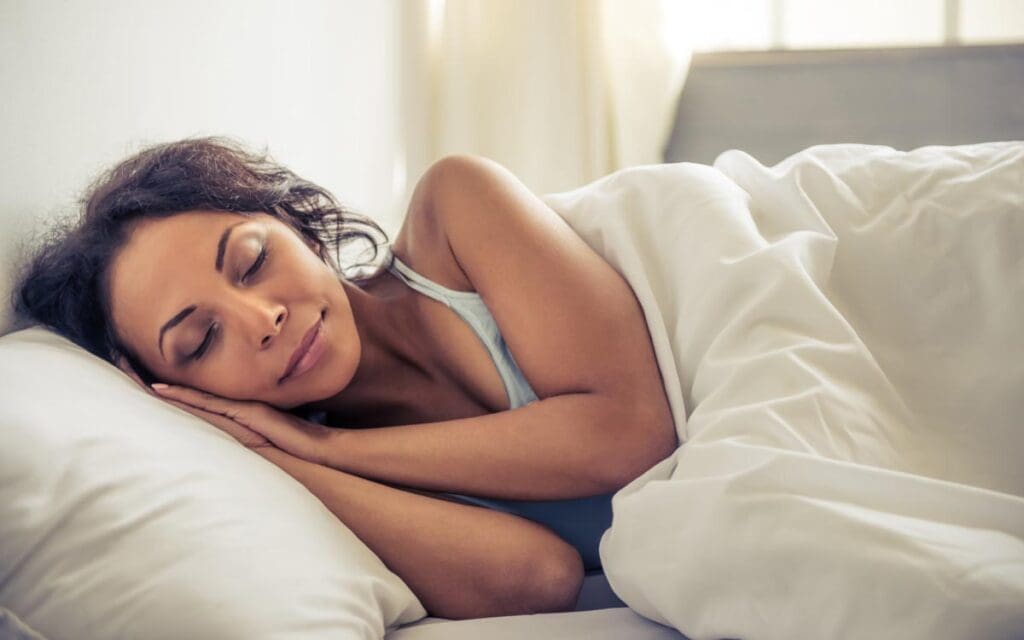 Which mattress material is best?
The most common choice will be memory foam and innerspring mattresses, but when we talk about them and what they are made of, it comes down to personal preference and suitability. Nowadays, we can find different options at every firmness level and price for either material.
However, there are still a few things we have to keep in mind. One of them is that memory foam adapts to your body shape, which means you will receive a cradle-like feeling. In comparison, the innerspring version is firmer and has more bounce. Then we have the hybrid option, which is a combination of both, so you don't have to make a decision if you can't or don't want to.
What we want you to understand is that you will get what you've paid for. You can't compare a mattress that costs 200 pounds to one that's 1000. Have the proper expectations for each product.
How much should you spend on a mattress?
As we said in the previous question, the price of a mattress can differ depending on its material, firmness level and size. If you are on a budget, you can find a good-enough quality bed for a few hundred dollars. But if you're looking for a high-quality, luxurious option, you will have to spend more.
You can find a retailer online that sells inexpensive pocket spring products for as little as £200, but usually, with that price, you won't get the best quality and instead of 2000 springs, it might be with 1000. We don't recommend getting an item with less than 1000 springs, especially if you are on the heavier side because your body and your sleep won't benefit from it.
In out opinion a cheap sprung mattress will feel inferior, it won't be supportive for long and will start lumping fast. If you have to replace it every one or two years, you will end up spending a lot more, than if you've bought a quality product that comes with a 10 or 15 years warranty. Think smarter, not harder!
With that said we don't mean spending £3000 on a product, but if you're willing to pay a £1000 you will get all the benefits, and your sleep will improve immensely. Spending the extra buck when it comes down to your rest and comfort is essential for a healthier and stress-free life.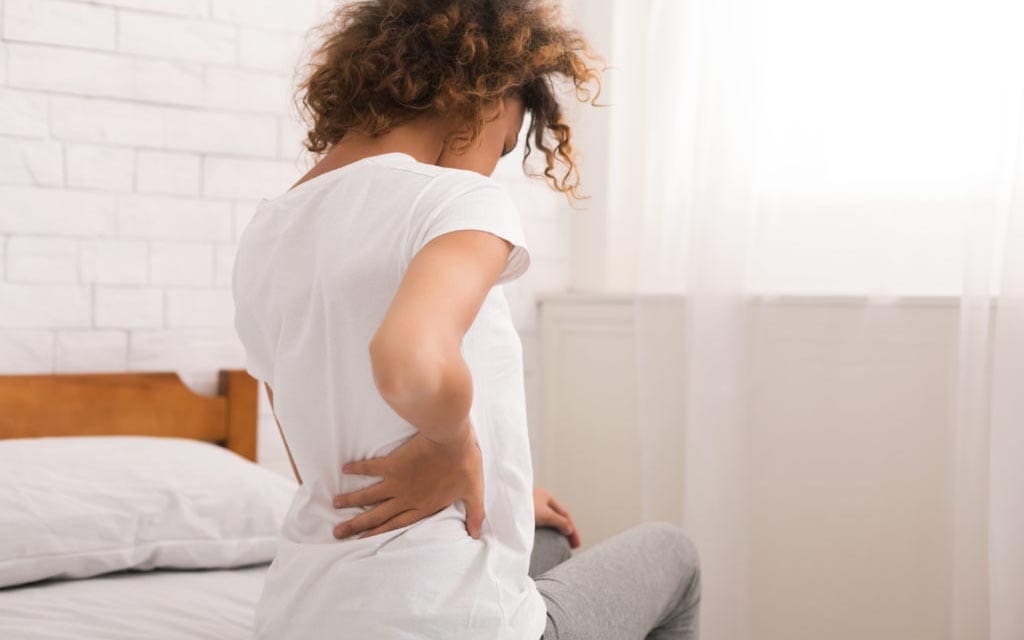 What is the best mattress for back pain?
Not everyone knows this, but the firmness of a mattress can have a significant impact on your body. The reason for that can be the level of tension in the springs or memory foam brings. And that tension dictates the level of resistance and support your body can receive and how it can directly affect the spinal alignment.
Even though the firmness level is often determined by body weight and sleeping position, it is an individual choice. However, don't pick an item that's too soft or too firm since it won't provide you with the support your body needs.
If you're someone that's continually struggling with back pain, the Nectar Memory Foam medium-firm mattress might be the things that improve your sleep. It comes with five unique foam layers that will help keep your spine correctly aligned throughout your sleeping cycle. You can check our guide on "Best mattress for back pain – Relief, Tips & Support" for more useful information.
Visit a Shop or Buy Online?
After you've narrowed down your choices and figured out the firmness you need, it will be time for you to decide if you want to visit a shop or get it online with a home trial. Both options have their positives and negatives, so it's up to you to decide where your preferences are.
When you're buying online, you can't know what a firm or soft mattress means, but if you have purchased one from the same brand before, your choice might be a lot easier. If you go to a store and lay on one, you will be able to determine its firmness.
However, you have to ask yourself if it's better for you to lay on a bed for a few minutes in a store or purchase one online and get days to test it. Remember that not all companies offer free trial periods, but every item we've selected here does. They vary from 30 to 365 days, depending on the manufacturer.
The best advice we can give you is to read the terms and conditions properly with the free home trial products. Read customer reviews and check out how easy it actually is for you to return an item. Some brands will give you a full refund and pick the mattress up, but others will only let you swap for another option by the same brand.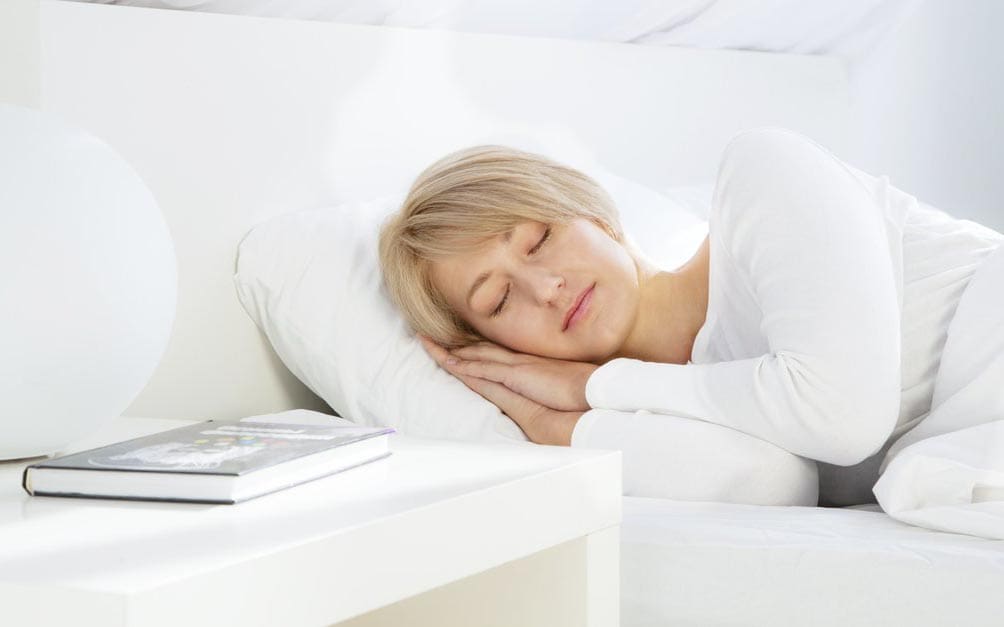 Final Words
We've all seen the dozens of mattress brands in the UK with all their unique value propositions, but we've selected only the best options on the market for 2021. As time goes on and new products and brands appear, we will be evolving and updating our lists.
Mattress brands frequently change, new ones show up, and old one disappear, we will continue to provide you with the most up to par information and items, to help you make your decision and avoid mistakes.
However, we don't claim that the products above will resolve your issues, but there is no harm in trying, which is why all the products we've selected come with a free trial period. Don't be afraid to "Test Drive" different items before you buy them.
To conclude, always try to choose a mattress that allows you to sleep comfortably and replace your old one if it's been more than several years. We might not be professionals, but we've tested, researched and commented on every product we've put on our lists.
If your mattress has many sags in it, you won't get the optimal support you need. Therefore its time to get a new one. If any questions regarding the subject were left unanswered, don't be a stranger and ask them in the comments below.