REM-Fit is a brand that designs world-class mattresses that let you experience amazing comfort with layers upon layers of hybrid innovation. They are crafted with high-quality materials, have glowing reviews worldwide, a generous risk-free trial period and an extended manufacturer's warranty. But is there a catch?
Check out our REM-Fit mattress review below and see if it's the right choice for you!
Pros
Excellent support
Good temperature control
15-year guarantee
Good edge support
Cons
Not great for side sleepers
Pricey
On the firm side
Finding the right mattress can quickly become a tricky and overwhelming challenge due to the numerous available choices in the mattress industry. This is why you should try and narrow it down according to your specific needs, such as sleep position, body weight and personal preferences.
Even after that, you might have a ton to pick from, which is why we are here to help you with the REM-Fit series. This collection consists of three innovative hybrid mattresses that will provide you with a great night's sleep without clearing out your wallet.
Let's go over REM-Fit's details and see whether one of the options is a good fit for your specific needs. We'll cover build quality, design, pricing, sleep performance and see if there are any downsides that you should know about.
Models
This brand has an innovative approach to your comfort while sleeping and how it can improve your overall sleep experience. There are three available options at different price points that will meet individual specific needs while adapting to your body and movements throughout the night.
The company began as a division of another sleep industry leader with 35 years of business experience. Their primary focus is to help each customer with their sleep recovery, which is between 7 to 9 hours of sleep a night so your body can be healthy.
Your mattress choice can affect the quality of your sleep, the improper support to your spinal health and even cause restless sleep. The wrong choice can be the reason behind your back and hip pains, which is why it's crucial to select a product that is well suited for your overall health.
That's where REM-Fit's options come into play. This company offers three models, which we'll talk about. However, we will discuss the REM-Fit 500 Ortho mattress in detail.
REM-Fit 400 Ortho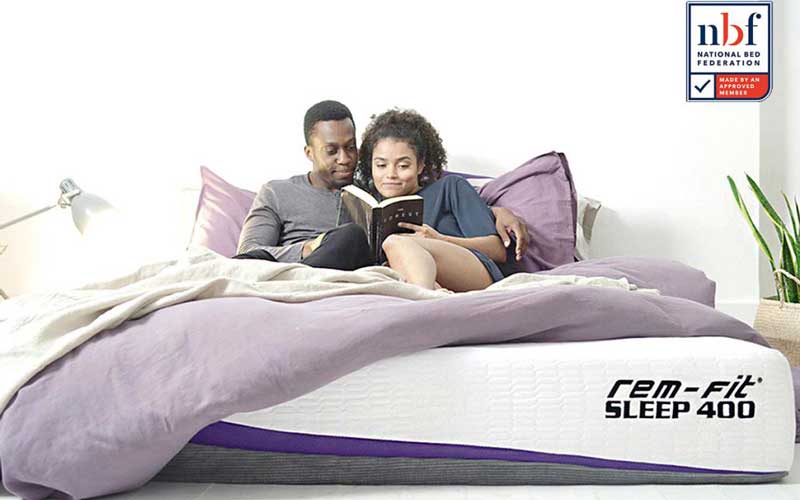 First, we have the REM-Fit 400 Ortho, a medium-firm mattress with five construction layers that gently cradle your body while providing you with the proper support.
On top, you'll find the Re-Ax breathable, knitted cover that encases a 25cm thick mattress with a silky soft fabric structure. Next, we have the cool open-cell memory foam layer that won't leave you hot and sweaty like most memory foam products. The brand has developed a unique layer of foam that moulds to your body with excellent temperature regulating properties.
After that, we have 2000 (15cm tall) encapsulated pocket springs, where each spring moves independently to support different sleeping positions. Foam encapsulated sidewalls deliver strong edge-to-edge support, while a deep layer of high-density foam acts as a solid foundation.
REM-Fit 500 Ortho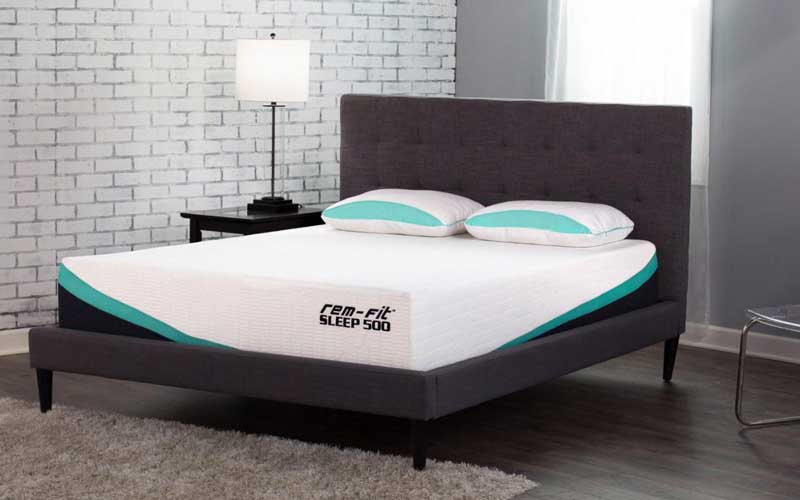 REM-Fit is a fast-growing company with an award-winning multi-layered hybrid mattress called REM-Fit 500 Ortho. The brand uses high-tech technology to create a next-generation orthopaedic hybrid that can beat most memory foam mattresses.
On top of the REM-Fit Ortho is a Re-Ax breathable, knitted cover with a silky touch. It's followed by a 50mm open-cell zoned memory foam comfort layer, which provides advanced temperature regulation and pressure-relieving comfort. Next, we have 2000, 14cm encapsulated pocket springs for proper spinal alignment due to their firm tension.
After that, we have a strong foundation in the face of a high-density foam bringing a robust and highly durable sleeping surface. REM-Fit Ortho also has encapsulated sidewalls, which deliver strong edge-to-edge support.
We will discuss this model in more detail later on.
REM-Fit 600 Ortho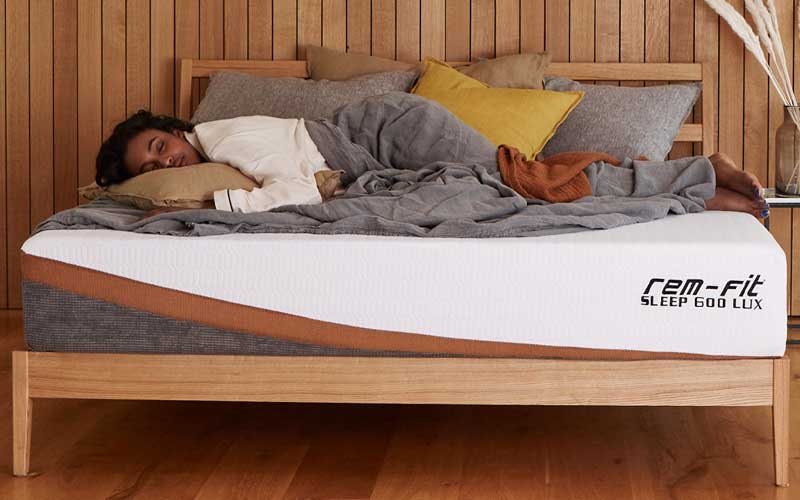 The REM-Fit 600 Lux mattress is an award-winning multi-layered luxury mattress that cradles your body, providing a soft and sumptuous feel while delivering great support.
This fantastic product comes with six innovative layers for the ultimate cloud-like feel. On top, we have a Re-Ax thermos-regulating hypo-allergenic knitted cover, which provides a fully breathable sleeping surface. After that comes zoned memory foam for pressure relieving comfort and a 60mm open-cell memory foam comfort layer.
Next are 2500 (2.5cm high) encapsulated mini pocket springs for gentle contouring support and 1000 (12.5cm tall) encapsulated premium pocket springs, creating a total of 3500 springs that work together to produce a uniquely supportive item.
Finally, foam encapsulated sidewalls deliver strong edge-to-edge support so you can take advantage of the entire bed. REM-Fit's deep layer of high-density foam provides a robust and solid foundation, which will last for many years.
The REM-Fit 600 Lux has a revolutionary construction, proven to wick moisture and dissipate heat away from your body.
How is the build quality?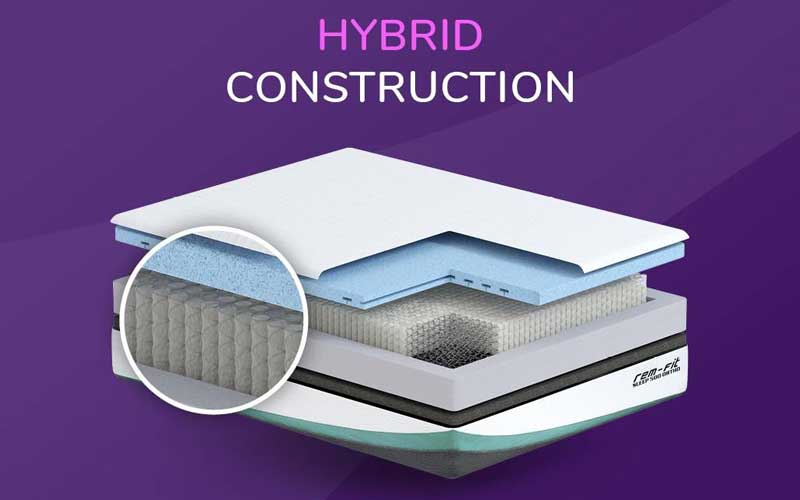 The REM-Fit 500 Ortho Mattress comes with unrivalled back and neck support due to its unique hybrid construction. This model has five layers of comfort, designed to suit most sleeping positions and body types.
This is the company's best mattress for people with bad backs with excellent support that gives you less aching and provides you with more sleeping. It delivers targeted, precise support and comfort to the different areas of the body. That helps relieve pressure point build-up occurring around the more bony areas whilst not having to compromise on back support. Since this a company based in the UK, it complies with manufacturing regulations, meaning it's Certipur-US® certified. This means a set of European safety, health and environmental regulations.
What is in REM-Fit's layers?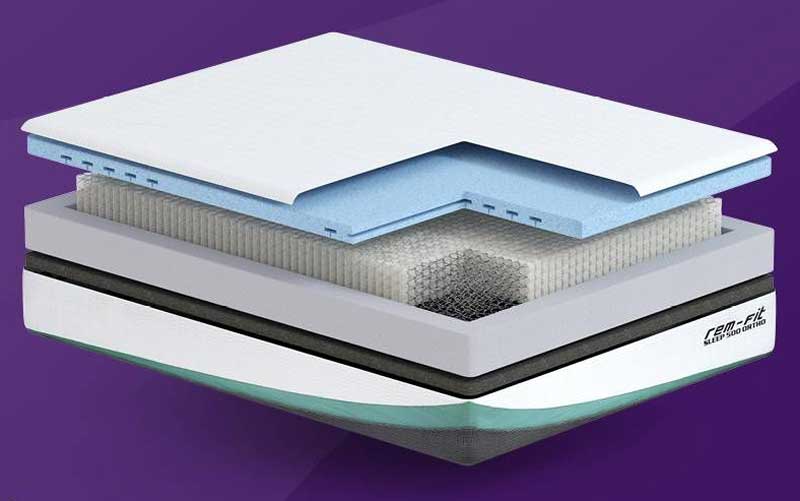 This model is designed with five unique layers of hybrid innovation.
First, we have the incredible Re-Ax knitted cover that provides a fully breathable fabric structure and encases the mattress. Our top layer is a cool open-cell memory foam, which is heavenly comfortable and won't leave you sweating like most memory foam items. The brand has developed a unique layer of body moulding and temperature regulating foam that will keep you cool on warm summer nights.
Next, you'll find 2000 (14cm tall) extra-firm encapsulated pocket springs providing excellent back support and comfort. What makes this model great is that each spring moves independently, and it responds to different sleeping positions while providing you and your partner (if you have one) with zero disturbance from your movements.
After that, we have the foam encapsulated side walls delivering strong edge-to-edge support that allows you to get in and out of bed without the risk of rolling off it. Those edge walls ensure consistent tension throughout the entire sleeping surface.
Finally, you'll find a deep layer of high-density foam that sits at the base of your mattress and provides a strong and robust foundation.
How thick is it?
The REM-Fit 500 is 25cm thick, which is standard for the mattress industry. It fits all types of beds such as adjustable ones, divan beds, platform bases and bed frames. This mattress can hold up to 127 kg per person (two people per bed).
Firmness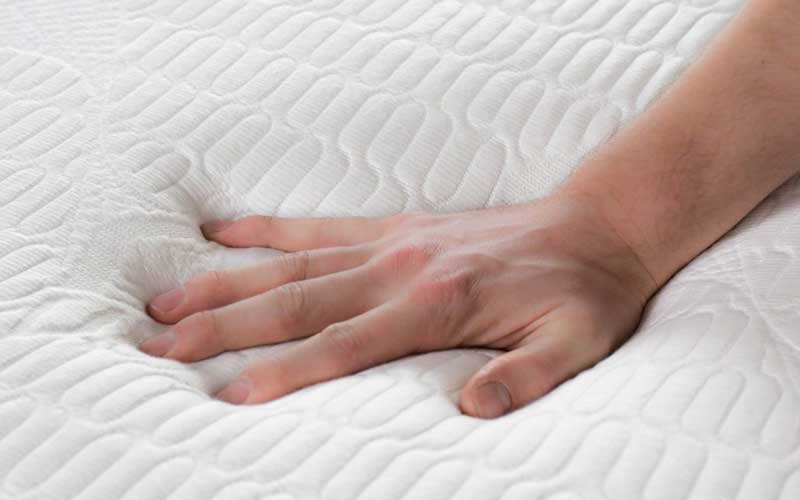 This product comes with a firm feel, designed to be as supportive as possible with an 8 out of 10 for firmness, with one being the softest and ten the firmest. It is one of the firmest options we have reviewed, which is why if you're looking for a softer feeling product, you can take another look at the REM-Fit 400 or the REM-Fit 600 Lux mattress.
What about the cover?
As we've mentioned above, the 500 comes with a thermo-regulating RE-AX knitted cover. Its temperature-regulating fibres let you rest without your body overheating or sweating at night. You will find it to be with a silky soft feel, perfect for a comfortable night's sleep.
The cover is removable and machine washable, so your mattress can stay fresh and clean all the time. It's also hypo-allergenic, making it suitable for people with allergies. This is quite an extraordinary cover for quite a remarkable mattress!
Design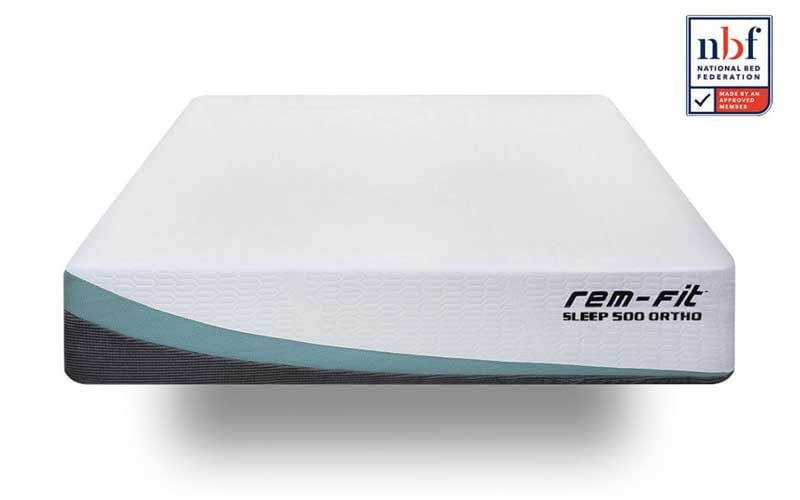 In general, all REM-Fit mattresses are white and grey design, with a different pop of colour for each model. The top of the mattress is white, and on the side, we have a grey base colour followed by light blue for the 500 model, deep purple for the 400 one and rustic orange for the 600 Lux.
We find this look to be very clean and modern, suitable for most bedroom aesthetics.
Free trial period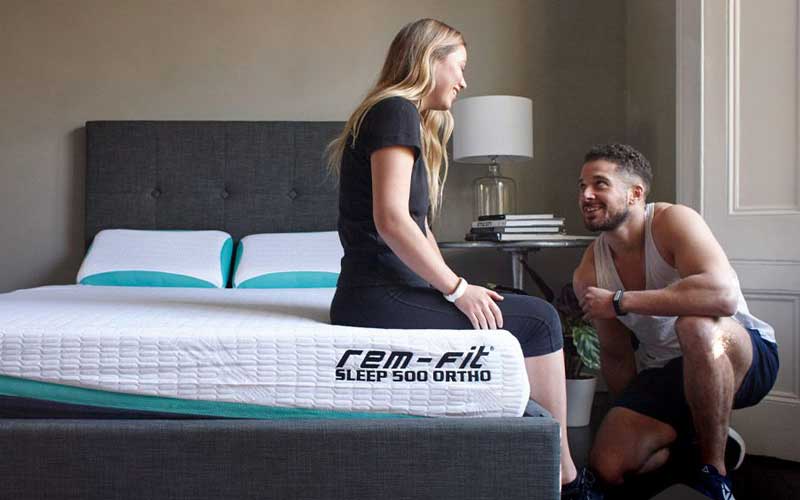 The REM-Fit 500 Ortho Mattress comes with a 100-night trial period in which you can test it at home and see if this is the right choice for you. If for any reason end up disliking it, the brand will collect the product and give you a full refund.
How long is the warranty?
REM-Fit designs high-quality hybrid mattresses, and because they are confident in the products they release, they offer a 15-year warranty. It is a full replacement guarantee, which is something you will rarely see in the bedding industry.
What makes this manufacturer even better is the fact that they donate all returned mattresses to the British Heart Foundation. However, the company reserves the right not to honour claims under this guarantee at their discretion. Let's talk about the situations in which it applies and when it doesn't:
What defects does the warranty cover?
Indentations greater than 4cm
Physical flaws in the craftsmanship of the cover, including the seams and zipper assembly
Any physical flaw in the mattress causing the foam to split or crack, provided that the mattress has not been handled improperly
What defects doesn't the warranty cover?
A typical increase in the softness of the foam pressure-relieving material
Comfort preference
Abnormal use or any other usage than normal domestic use
Physical damage to the mattress, including but not limited to; burns, cuts, liquid damage, stains, soiling or tears
Products sold by resellers who are not authorised retailers of REM-Fit products
Any mattress sold "as-is", "pre-conditioned", "used", "comfort-return", "returned", "previously owned" or any other similar wording, indicating that the mattress is not "new" or of "first quality", or has previously been purchased or used by someone else
Available Sizes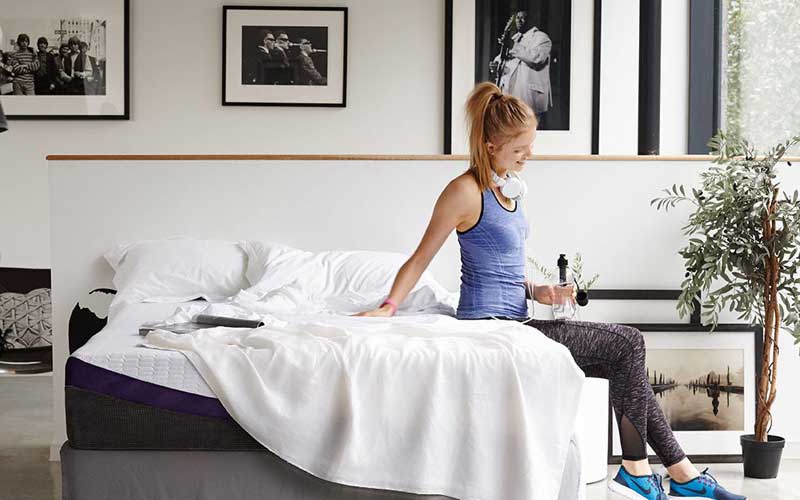 The company wants you to find your perfect match with one of their nine available size options. REM-Fit has tried to simplify that by concentrating on nine sizes to create a straightforward, no-nonsense guide with which you won't be overwhelmed or confused.
Here are the available sizes for their models:
Small Single – 75x190cm
Single – 90×190 cm
EU Single – 90×200 cm
Small Double – 120×190 cm
Double – 135×190 cm
EU Double – 140×200 cm
King – 150×200 cm
Super King – 180×200 cm
EU King – 160×200 cm
Delivery terms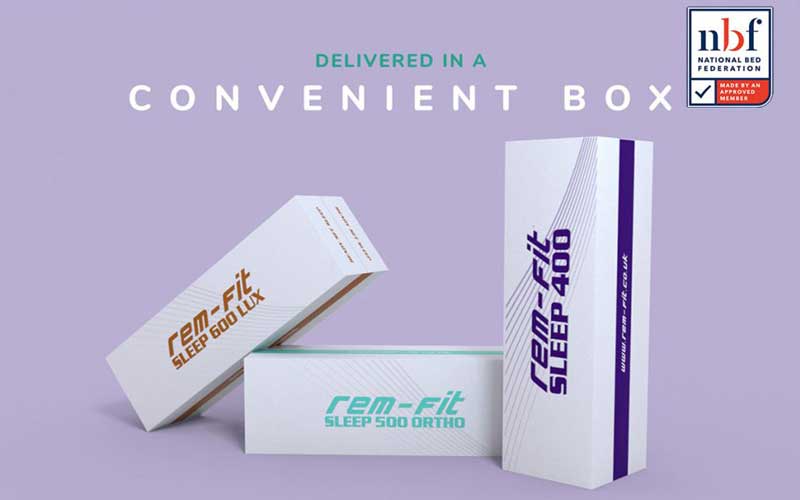 REM-Fit mattresses come with a free next day delivery within the UK. However, if you want the next day delivery service your order must be placed before 1 pm. You will receive your purchase neatly rolled and boxed within a delivery slot between 8 am – 12 pm (includes Saturday).
The company also offers additional services such as a two-person delivery team to a room of your choice and old mattress removal at an extra cost. There are three delivery options at checkout:
Free standard delivery, as outlined above
Premium 2 man delivery to your room of choice (subject to change)
Premium 2 man delivery to your room of choice + Old mattress removal (subject to change)
Awards
REM-Fit is a popular brand in the UK that has received multiple awards that speak to the quality and build of the products they put on the market. Here are some of their most recent awards:
Which? Best Buy 2020
Good Housekeeping Institute
Real Homes Approved
Good Homes Approved
The Mattress Guide – Gold
Sleep Goodness – Best for Back Pain
Sleep Goodness – Best Cooling Mattress
LightSleeper – Best for heavy people
LightSleeper – Best UK mattresses
Alternatives
If you want to take a look at other similar options, here are our recommendations:
Bottom line
To conclude this REM-Fit 500 Ortho mattress review we would like to say that this is an award-winning competitor with multiple layers of hybrid innovation that provide constant support and comfort, each night, through any season.
It's suitable for most sleeping positions and body types. It is great for couples too. You get a firm mattress to aid with a backache that comes with a significant free trial period, impeccable service and a solid warranty. They also offer quick and free delivery, with the option of them picking up and disposing of your old mattress.
It is not the cheapest mattress by any means, so this is something to consider. There are more affordable options out there, but, as we all know, you often get what you pay for. We hope you enjoyed the read, and if you have any questions, don't hesitate to drop us a comment below.