Inofia is a brand that designs high quality mattresses that let you experience gravity-defying comfort with layers upon layers of hybrid innovation. They are crafted with high-quality memory foam and pocket springs. This brand has glowing reviews worldwide, accompanied by a risk-free trial period and an extended manufacturer's warranty. But is there a catch?
Check out our Inofia mattress review below and see if it's the right choice for you!
Pros
Excellent price
100-night risk-free trial
10-year warranty
Free delivery service
Finding the right mattress can quickly become a tricky and overwhelming challenge due to the mattress industry's numerous available choices. That's why we are here to help you try and narrow it down according to your specific needs, such as sleeping position, body weight and personal preferences, without harming your wallet.
In today's Inofia mattress review, we will take a closer look at their 7-Zone Hybrid mattress. Let's go over Inofia's details and see whether one of the options is a good fit for your specific needs. We'll cover build quality, design, pricing, sleep performance and see if there are any downsides that you should know about.
How is the Inofia 7 Zone mattress constructed?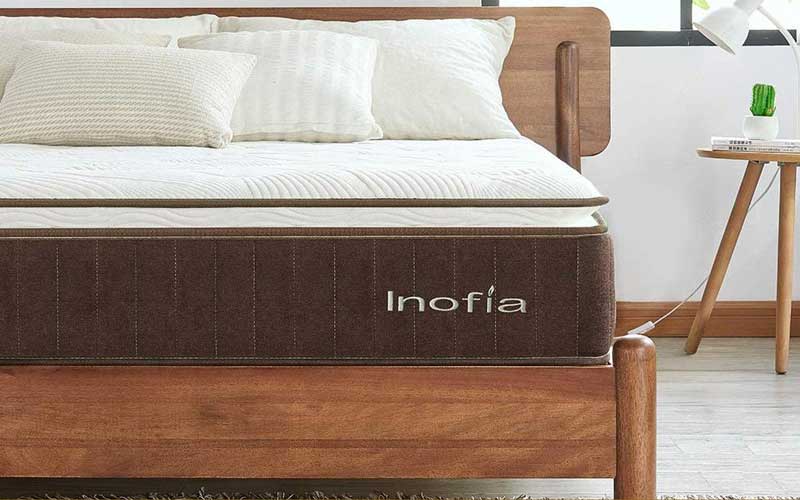 The 7 Zone Memory Foam & Spring Hybrid mattress has a multi-layer construction that provides you with excellent support and comfort. This option is one of the most layered mattresses available on the market today, especially for its value.
Due to the multiple layers, your body weight is evenly distributed so that you can enjoy a good night's sleep. The 7 Zone option is CertiPur® and OEKO-TEX® certified, meaning the memory foam is hypoallergenic and resistant to mould, bacteria while meeting all standards for performance, emissions, and durability.
What is in Inofia's layers?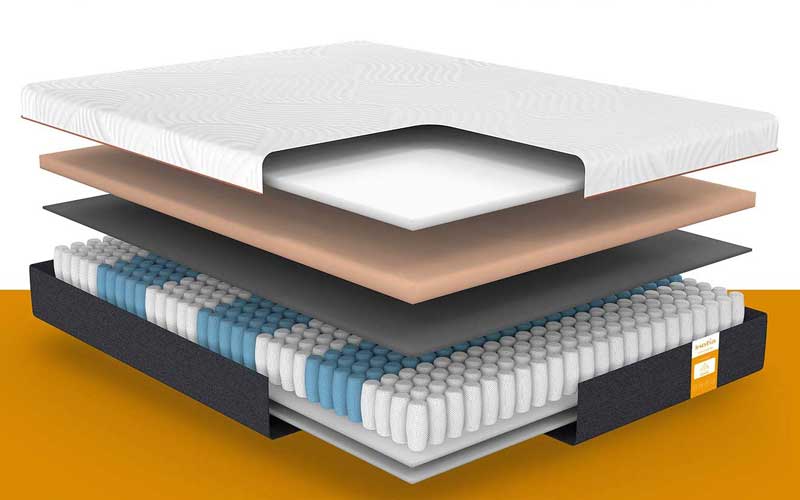 The 7-Zone mattress is constructed with eight layers of perfect comfort. On top, we have an ultra-soft anti-mite cover that's ideal for any temperature and season. It's followed by a layer of supportive memory foam that won't leave you feeling uncomfortable or stuck but free to move with ease.
Next, we have the core support foam that will keep you comfortable and supported, no matter how you sleep. After that, you'll find the transition durable foam layer and the extraordinary PocketCoil Technology with seven zones that will deliver pressure relief and motion separation, while the unique coil support and supports each unique body.
Finally, we have the dual stability foam layer, which works as a base for your bed and keeps it durable and sturdy. You will wake up refreshed and well-rested with the Inofia mattress.
How thick is it?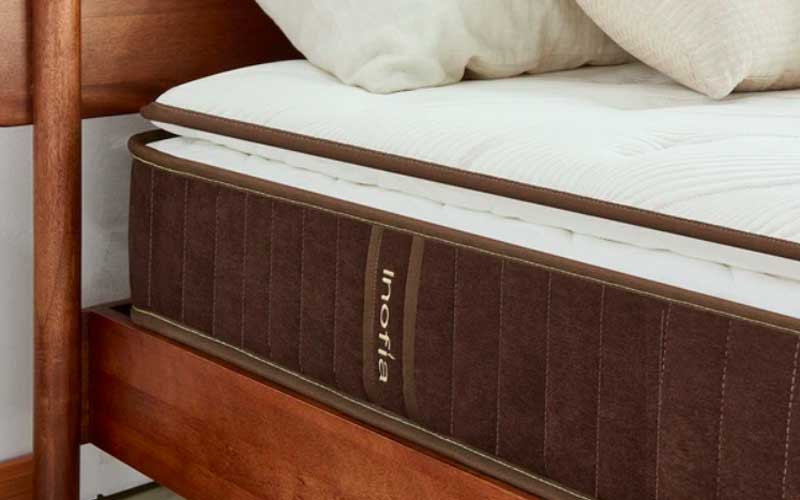 In total, the Inofia mattresses are 25 cm thick, which is the industry standard and will fit any regular sheets. The hybrid mattress can withstand 165kg, meaning we don't recommend it for a couple that weighs above average.
If you're looking for a sturdy option to share with your loved one, check our guide on the Best Mattresses for Couples.
How firm is the Inofia mattress?

The 7-Zone Hybrid has a 6.5 firmness out of 10, with one being the softest and ten the firmest. This product has a medium-firm comfort level, which is perfectly balanced by the foams and springs it constructed out of.
What about the cover?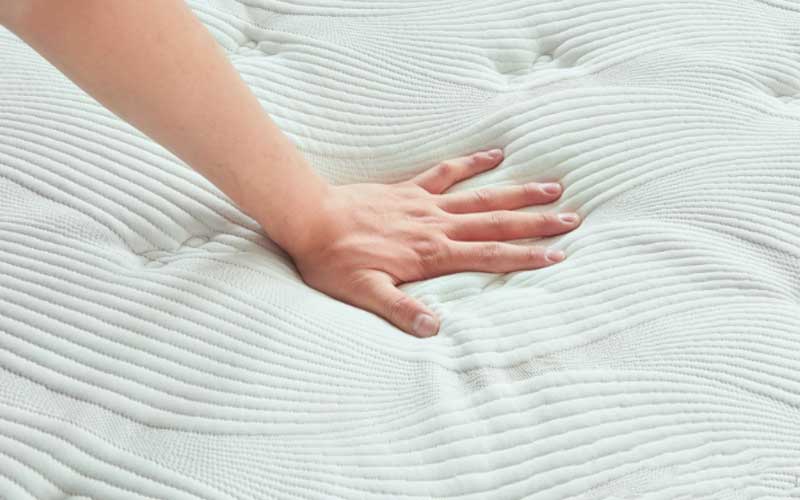 Inofia's cover is hypoallergenic, anti-mite resistant. It's made from soft knit fibres that immediately release moisture, making it ideal for any sleeping climate, and more specifically, hot sleepers. It comes with a mesh on the side for extra breathability and comfort.
Design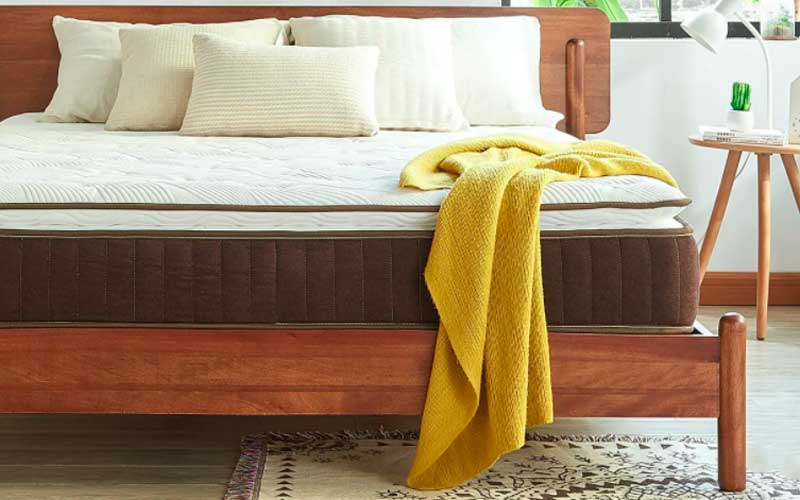 This Inofia mattress has a sleek and different white and brown colour combination that stands out from the standard neutral grey and white design. On top, you'll find a white patterned design, while the sides are an elegant dark brown.
How long is the free trial period?
Inofia has the standard period for a bed-in-a-box, which is a 100-night risk-free sleep trial. You can test your purchase and see if it is the right fit for you since your body will need time to adjust to your new bed.
That will usually take around four weeks, and that's the recommended time from the brand. If you end up disliking your choice for some reason, all you have to do is contact the company's customer service team, and they will give you a refund for 100% of the purchase price.
How long is Inofia's warranty?
The 7-Zone mattress comes with a 10-year limited warranty that covers your purchase in the long run. Inofia offers quality products at very affordable prices, which is why this shows their confidence in the used materials and the immaculate craftsmanship.
What sizes does Inofia come in?
The company wants you to find your perfect match with one of their four different size options. Inofia has tried to simplify that by concentrating on four sizes to create a straightforward, no-nonsense guide with which you won't be overwhelmed or confused.
Here are the available sizes for their models:
Single – 90 x 190 cm
Small Double – 120 x 190 cm
Double – 135 x 190 cm
King – 150 x 200 cm
What are the delivery terms?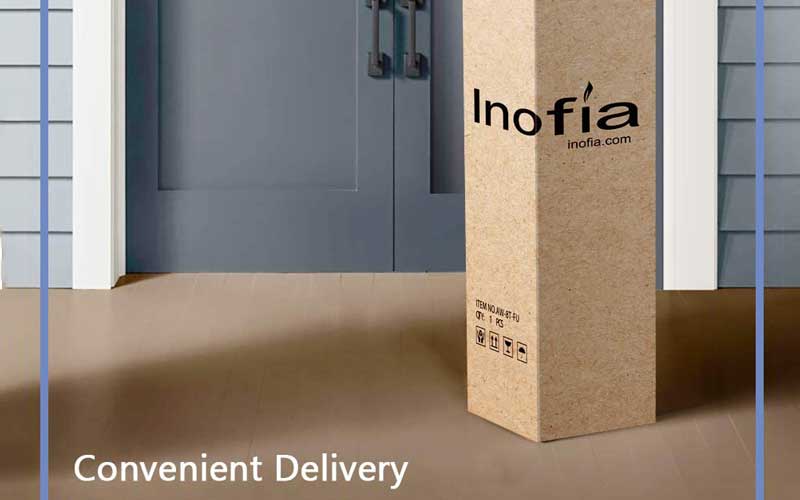 This mattress arrives vacuum-sealed in plastic and roll packed with a free delivery service. Even though this product has a complex construction, it can still be folded and shipped right to your door in a box.
When you do receive your purchase, carefully remove the plastic wrap using the handy cutting tool included in your Welcome-package and take a look at the guideline for how to unwrap your bed properly. And after a few minutes, your mattress will be ready to provide you with a great night's sleep.
Hybrid Alternatives
If you want to take a look at other similar options, here are our recommendations:
Bottom line
To sum up the Inofia mattress review, we would like to say that this item comes with a budget-friendly price tag without compromising quality.
It's suitable for most sleeping positions and body types. You get a medium-firm mattress to aid with a backache that comes with a significant free trial period, impeccable service and a solid warranty. They also offer quick and free delivery.
This is the perfect hybrid option that's economical and has as many layers. The is a saying that you get what you pay for, but in this case, it's much more. We hope you enjoyed the read, and if you have any questions, don't hesitate to drop us a comment below.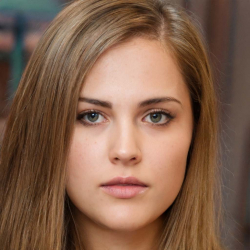 Latest posts by Isabelle Harris
(see all)