Simba's motto is 'The perfect mattress didn't exist, so we invented it!'. We strongly believe that's correct. This brand has brought out a product that brings the comfort of memory foam and the amazing support of pocket springs.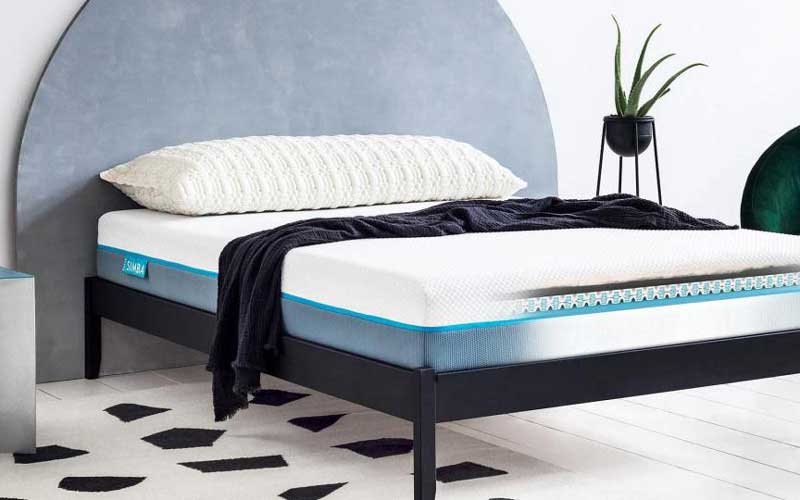 The company's two most popular options are the Hybrid Original and the Hybrid Pro. In today's article, we talk about both mattresses and compare them. However, we will take a more detailed look at the Original version.
They are one of the first to roll into the online mattress market in the United Kingdom and create a trusting and strong reputation for themselves. Let's go over the details of the Simba mattress and see whether it might be a good fit for your specific needs. We'll cover build quality, design, pricing, and sleep performance and see if there are any downsides that you should know about.
Simba Hybrid vs Pro – What is the difference?
Simba is a brand that has designed a range of mattresses that can suit people with specific needs at different price points. As we mentioned, two of their products have stood out above the rest, and they are the Original and Pro version.
They both have different prices with each size, but let's take a look at their characteristics with a quick summary of them:
Simba Hybrid Original Hybrid
This is hands down the company's top-selling mattress for years, which has won multiple awards over the years. Its price-quality ratio is excellent, and your purchase will be worth it in the long term, while years from now, you will still enjoy a comfortable and supportive bed. Here are some of the product's features:
5-layer design
2,500 pocket springs
500g hypoallergenic cover
Depth: 25cm
11 industry awards
Simba Hybrid Pro Mattress
If you have extra cash to splurge, the Pro version will provide great airflow and heat regulation, creating a well-balanced mattress with envelope-pushing tech collaboration. This innovative product comes with a wool top layer that naturally cools and absorbs moisture. Here are some of the product's features:
7-layer design
5,000 pocket springs
750g hypoallergenic cover
Heat-regulating British wool
Depth: 28cm
How is the build quality?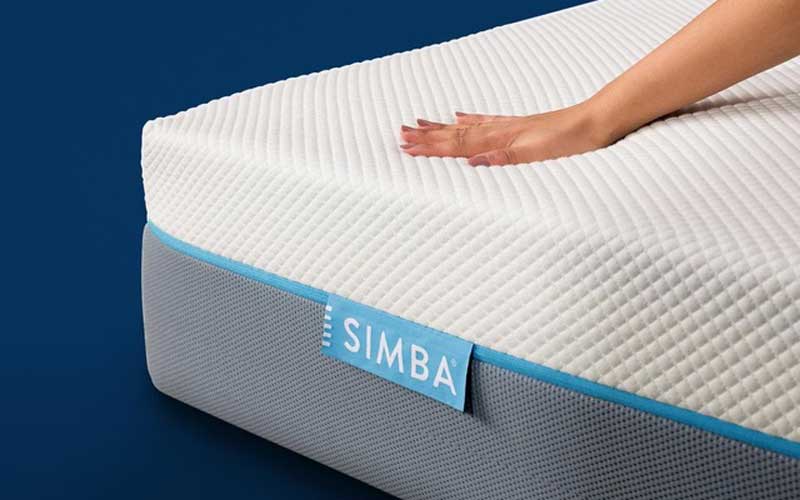 As the name suggests, the Simba Hybrid combines high-quality foam and supportive pocket springs. Their products are innovative, and they utilise the latest technologies to create a bed like no other.
The Original model has five innovative layers, whereas the Pro version has seven. All these layers are packed in a breathable cover that breaks away from the industry standard of just grey and white.
Simba's mattresses are produced in Europe by sourcing materials from the UK and Poland. The foams used inside their products have received the CertiPUR® label, making them suitable and safe for everyone by ensuring no harmful chemicals are used inside.
This manufacturer is also a part of the National Bed Federation, showing its role in the bedding industry.
Layers
The Simba Hybrid has a five-layer design, while the Pro comes with a seven-layer construction. The company has put a significant emphasis on testing to create the ultimate mattress to suit almost all types of sleepers and preferences. Let's take a closer look at both versions:
Simba Original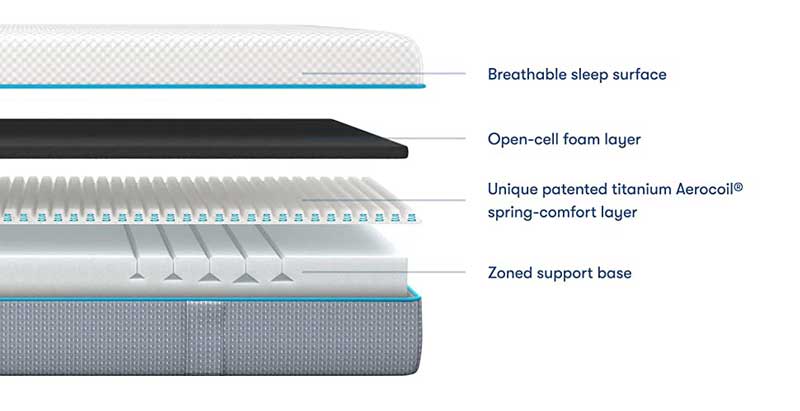 First, we'll talk about the Original model. This mattress' journey starts with a 500g hypoallergenic knitted cover with a breathable sleeping surface, followed by an Open-Cell Simba-Pure polyfoam layer.
Next, you'll find the unique patented titanium Aerocoil® spring-comfort layer, which provides bounce and responsiveness to the sleeper with 2,500 individual conical pocket springs. After that is the high-definition Simba-Pure foam layer with edge support acts as a transition layer between the foundation and the pocket springs.
Lastly, we have the zoned Simba-Pure support base, which has seven different support zones, ensuring correct spinal alignment.
Simba Pro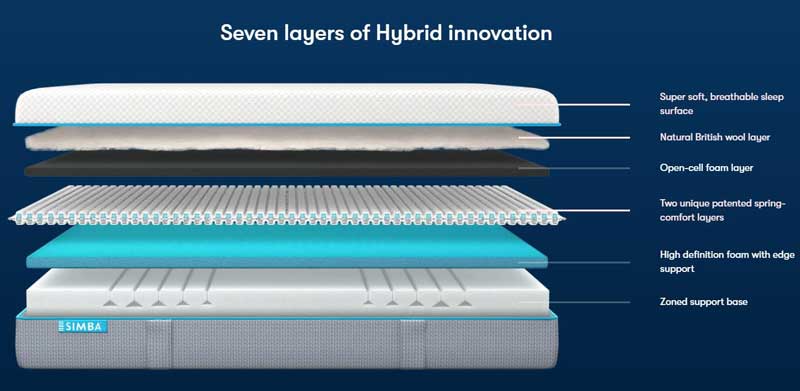 Now, it's time we discuss the Pro model. As we've mentioned, this mattress comes with seven innovative layers and starts with a 750g hypoallergenic knitted cover that provides a super soft, breathable sleep surface. A Natural British Wool layer follows it and creates a 100% heat-regulated atmosphere that wicks away moisture.
The third layer is Open-Cell Simba-Pure foam with graphite for cooling to filter heat. Right after are the two unique patented Titanium Aerocoil® Spring-Comfort layers with up to 5,000 individually wrapped pocket springs, ensuring even weight distribution.
Next is the High Definition Simba-Pure foam with edge support, acting as the intermediary layer between the upper spring layer and the lower dense support base. Finally, we have set a support base with multiple cut-outs, also known as castellated zones, which maintain your spine's proper alignment.
Thickness
Simba comes in a total depth of 25-28 cm, the Pro model (depth: 28cm) is slightly thicker than the Original (depth: 25cm), but both can hold up to 18 stones per individual. The Hybrid range is an excellent solution for most people regarding most sleeping positions and body weight.
How firm is the Simba Mattress?

Depending on the model, the Simba mattress comes with a 6.5 firmness level. Both have a medium-firm feel, rated as a 6.5 out of 10, with 1 being the softest and ten the firmest.
The Simba can also hold up to 114kg per person, making it an excellent mattress for heavier people. However, the wool layer in the Simba Hybrid Pro creates a softer feel, which most luxury mattresses provide.
What about the cover?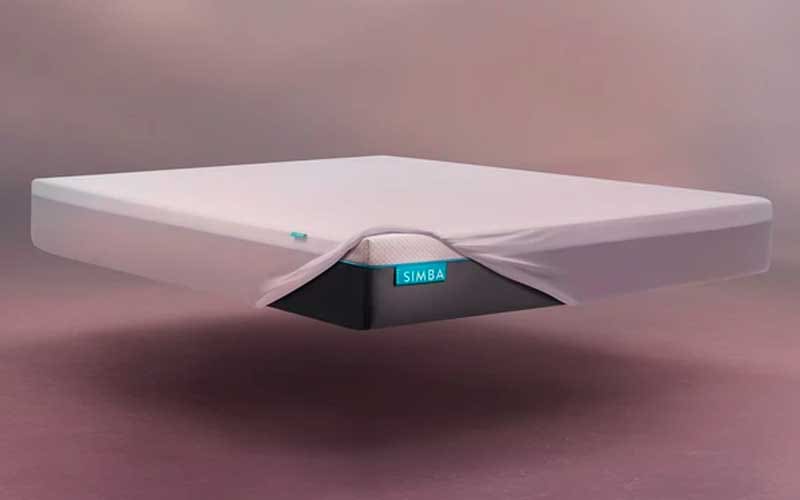 The Simba Hybrid mattress has a hand-knitted top cover made from 100% polyester, giving it a stretchy feel. In the original version, the cover is 500g, whereas with the Pro model, it's 750g.
However, in both cases, the cover isn't removable or washable. To keep it clean, you can use a damp cloth and rub it in a circular motion, but if you want to prolong your mattress' life, we recommend using a mattress protector.
If you need to move your mattress, the cover comes with four handles that will make it easier for you to do so. This cover is hypoallergenic and constructed without any harmful chemicals, making it an option to consider for people with allergies.
Design
Simba has a simple yet modern design, which has become a trend colourwise across the online mattresses sold in the UK.
The company's baby blue colour brings an energetic feel that visually pleases the eye. Even though you will cover it with sheets, pillows and duvets, aesthetics are still important and can play a role in people's choices when you purchase a mattress.
How long is the free trial period?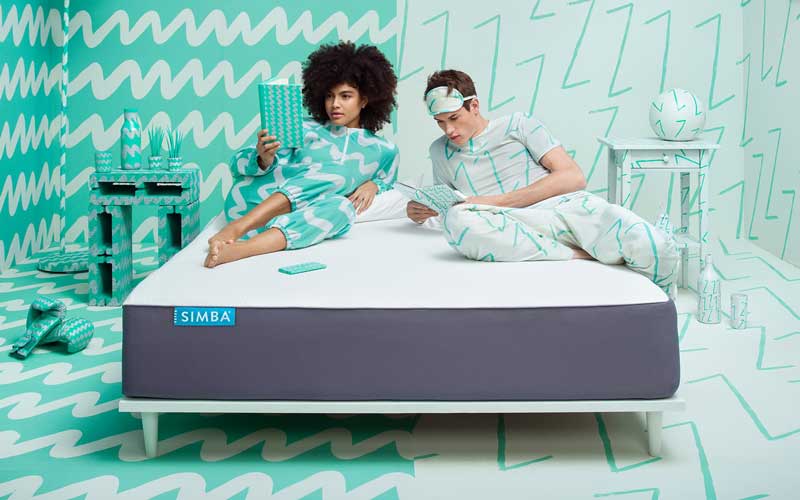 Simba offers a 200-night free trial period on all of their mattresses, in which you can return them. This is one of the most extended trial periods we've come across. The reasoning is that you can finally experience the perfect night's sleep without keeping the mattress wrapped in a plastic cover.
If you decide this isn't your product for some reason, all you have to do is contact the manufacturer or send them an email directly so that you can arrange a pickup date and time.
When the pickup is set, a courier will be sent to remove it from your home and donate it to a local charity whenever possible. After that, you will be fully refunded!
How long is the warranty?
The brand claims that its product is the bed of your dreams. It is the most five-star reviewed mattress worldwide with a 10-year warranty. It is engineered for optimal sleep, which is why the brand is confident in the dreamlike experience they advertise.
However, Simba reserves the right not to honour claims under this guarantee at their discretion. Let's talk about the situations in which it applies and when it doesn't:
What defects does the warranty cover?
The surface of the mattress has a visible indentation or dip
The foam has split, cracked, torn or otherwise failed to retain its structural integrity
Any material manufacturing defect affecting the zip
Any material manufacturing defect affecting the cover
Another material defect or combination of defects in the materials or workmanship
What defects doesn't the warranty cover?
The fault complained of relates to the normal softening
The fault complained of is normal wear and tear
The result of any accident, abuse, negligence or wilful damage
The result of a force majeure event or act of nature beyond our reasonable control
The Mattress is in a soiled or unsanitary condition
Where the mattress is not used for its intended purpose and without reasonable care
Use with an unsuitable bed base and without bed linen
What sizes are available?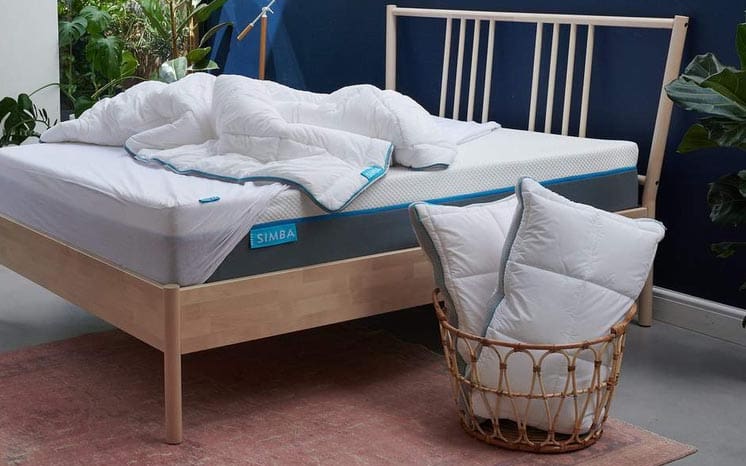 The company wants you to find your perfect match with one of its eight available size options. Simba has tried to simplify that by concentrating on eight sizes to create a straightforward, no-nonsense guide with which you won't be overwhelmed or confused.
Here are the available sizes for the Simba Hybrid:
Single – 90x190x25 cm
Small Double – 120x190x25 cm
Double – 135x190x25 cm
King – 150x200x25 cm
Super King – 180x200x25 cm
EU Single – 90x200x25 cm
EU Double L – 140x200x25 cm
EU Queen – 160x200x25 cm
The Pro has limited sizes, and they are:
Single – 90x190x28 cm
Double – 135x190x28 cm
King – 150x200x28 cm
Super King – 180x200x28 cm
What are the delivery terms?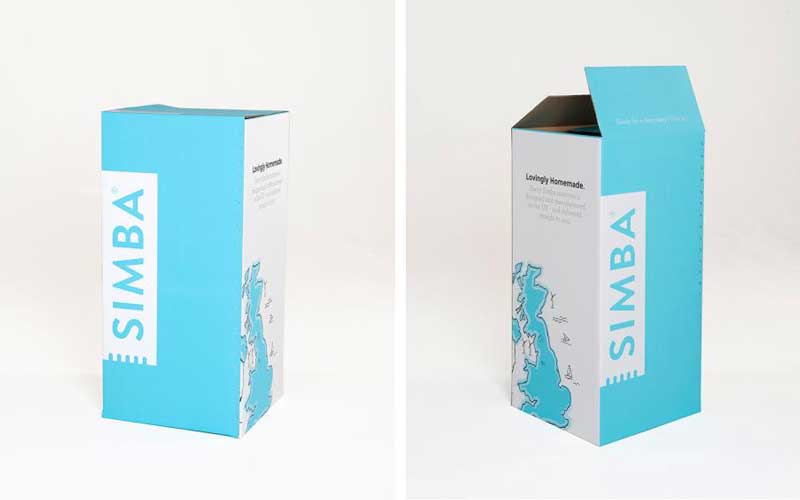 All Simba mattresses are delivered in a convenient box within 1-5 business days. The manufacturer delivers to the UK, including Scotland, Wales and offshore addresses. For standard free delivery, the company uses UPS or DPD for door-to-door service.
If you somehow miss your delivery, you'll get a calling card with a re-attempt delivery in the next two business days.
There are three delivery options at checkout:
Free standard delivery, as outlined above
Premium 2-man delivery to your room of choice (subject to change)
Premium 2-man delivery to your room of choice + Old mattress removal (subject to change)
Simba awards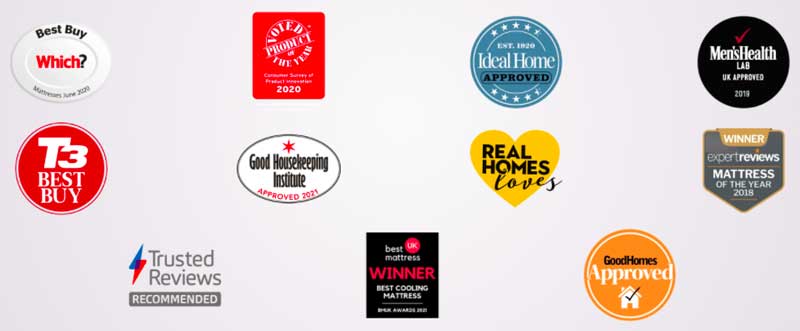 Simba is a well-known brand that has received multiple awards throughout the years. Most of them are won by their Original model. Here are some of their most recent awards:
Product Innovation – Product of the Year 2020
Which? Best Buy – Mattresses June 2020
Ideal Home Approved
Men's Health Lab UK Approved
T3 Best Buy
Good Housekeeping Institute Approved
Real Homes Loves Approved
Expert Reviews – Mattress of the Year 2018
Where to buy the Simba mattress?
It's always best to try the manufacturer's website first. Often they have new sign-up discounts and various sales on offer. Amazon is always an alternative and sometimes the better option when it comes to excellent customer service and returns policies, but you might not be able to take advantage of any add-ons or different brand promotions compared to Simba's website. You can always check the current deals:
Alternatives
If you want to take a look at other similar models, here are our recommendations:
Pros And Cons
Pros
10 years warranty
Great for side sleepers
100 days free trial
Works will all types of beds
Easy to use
Cons
Non-removable cover
No handles to rotate/carry
Bottom line
Overall, Simba is a high-quality mattress with innovative layers suitable for most sleeping positions and body types. It is great for couples too. Simba's mattresses come with a significant free trial period, service and solid warranty. They also offer quick and free delivery, picking up and disposing of your old mattress.
The brand has won many accolades over the last few years, so it should be on the radar for anyone looking for a top-quality hybrid mattress with a medium feel.
It is not the cheapest mattress by any means, so this is something to consider. There are more affordable options, but as we all know, you often get what you pay for. We hope you enjoyed the read, and if you have any questions, don't hesitate to drop us a comment below.