Best Luxury Mattress – Reviews & Comparison
Last Updated on November 1, 2021
Some products are built to work and others to stand out. Usually, luxury products are the ones that rise above the rest due to their enhanced features and higher price tag.
We spend a third of our lives sleeping, which is why we should look at the mattress we purchase as a long-lasting investment. Luxury mattress brands offer advanced design and materials, allowing you to make the most of each day with more energy and less pain. Premium products deliver consistent, restorative sleep with a vast range of firmness levels, components, and prices. We've tried to select the cream of the crop and help you in your sleeping journey.
We've created LightSleeper to help you avoid spending money on sub-par products. We do the research for you and even sometimes make the same mistakes you would if you didn't spend the time to read the reviews, research and test all the available products on the market.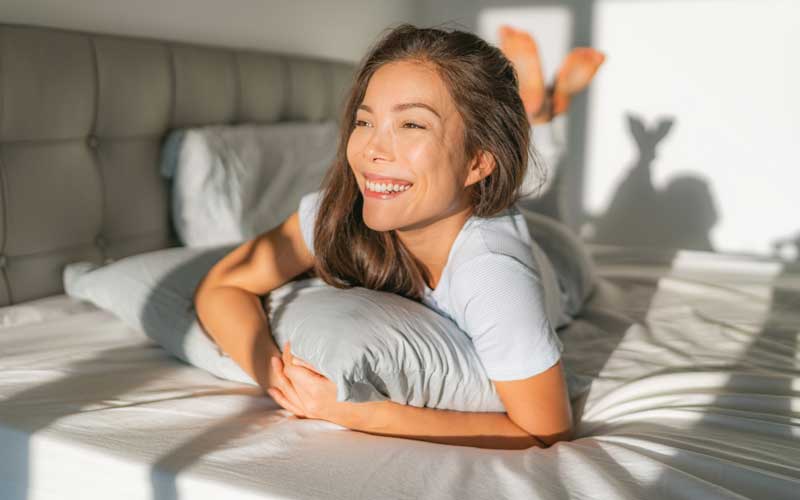 How to choose the best luxury mattress?
Finding a high-end mattress that's also the right fit for you requires taking several factors into account. The first thing you should do is not to pay attention to the brands marketing campaign and read the actual features it comes with.
Stay focused and look at the following factors:
Price
No matter the budget, you want to make sure that you get the best option for your wants and needs. Before purchasing a bed, search for different brands and the models they offer. Set a budget after you've seen what today's market brings.
Even if your budget is significant, you want to get your money's worth. If you're buying an expensive mattress, look for the benefits it brings and how can it improve your sleep cycle.
Sleeping Position
Your sleeping position is crucial in your decision making since side, back, and stomach sleepers have different pressure points and performance needs.
For example, a back sleeper will most likely prefer a product, which will alleviate pressure points in the lower back area. Therefore a medium-firm mattress is an excellent choice because it will provide great spine support.
Usually, stomach sleepers put pressure on their neck and lumbar area, meaning a firmer option will be ideal for proper spinal alignment. Side sleepers tend to put pressure on their shoulders and hips. Thus we recommend picking a medium-firm bed.
Materials
If you're planning on spending money on a product, you want to make sure it is built with quality materials. Some bed will perform better and last longer, and these are the ones you want to get. Luxury beds are typically built with reliable components and show attention-to-detail in every aspect.
The materials a mattress is made from is the most crucial feature driving its performance and durability.
Type
The way a bed is built and, more specifically, its interior components will significantly influence what it feels like and if it provides comfort and support. Most people choose memory foam, latex, pocket sprung or hybrid beds.
Your job is to identify which type best suits your personal preferences and narrow down your range of options. However, after you decide, you have to check the durability and quality of the materials used for its construction.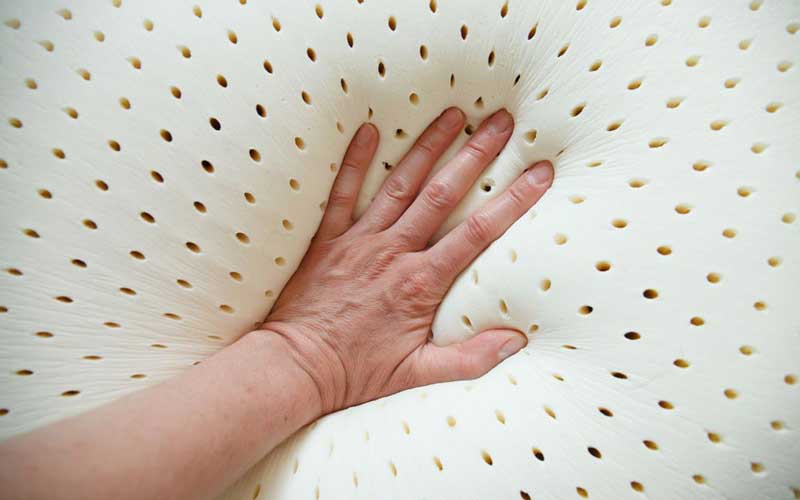 Firmness level
Support and comfort are the two most important things you wan to receive. Both are related to the firmness level you select.
How hard or soft a mattress is, determines your comfort on it. Just like the other features, the optimal firmness level is subjective. Your body weight, sleeping position and other factors can play a role in your choice. However, the standard solution is usually a medium-firm product.
Pressure Relief
Depending on the way you sleep and your individual preferences, your body has pressure points that need extra cushioning.
For example, for side sleepers, that's often the shoulders and hips, whereas back and stomach sleepers typically need support near the lower back. Try to find a bed with materials and design that will support the areas where you need it most.
Temperature Regulation
Temperature regulation is an essential factor if you're a hot sleeper. Overheating during the night can cause waking up in a sweat and not falling back asleep.
Some kinds of mattresses retain heat or restrict airflow around the body. Memory foam can be one of them due to the moulding to your body. If you worry about sleeping hot, consider innerspring or hybrid products for good temperature regulation.
Contouring
Contouring, for the most part, refers to how closely the mattress cradles your body.
If you want a bed to alleviate pressure, your best option will be an item which offers deep contouring while isolating just as well. Sometimes models with less conforming feel are more supportive for heavier people and won't sink as much along the bed's edges.
With that said, if you want a balanced and comfortable suggestion, try to stay in the mid-level contouring.
Motion Isolation
If you're sharing the bed with a partner, motion isolation should paly a significant role in your decision making.
This feature will help prevent you from being bothered by a partner's movement or a pet with whom you share a sleeping surface. Overall, materials with more contouring, such as memory foam or latex, are best at reducing motion transfer.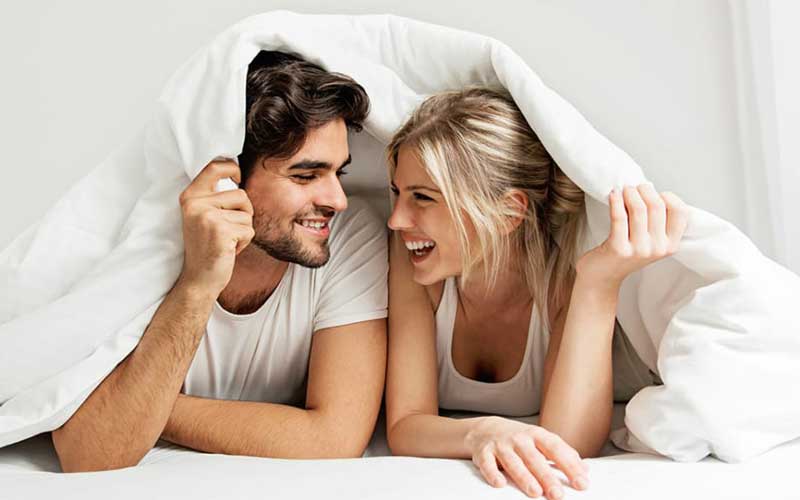 Edge Support
You don't want a mattress that will sink when you sit along the edges. Thus you have to think about edge support.
Getting out of bed shouldn't be a difficult task, and with models like hybrids and innerspring, you will get the best edge support since the thick coil systems reinforce those edges. If this is an essential factor for you, we advise you to stay away from latex since it tends to sink the most.
Ease of Movement
You don't want to feel stuck in your bed, and if you find it hard to move, you might feel uncomfortable. If you're someone who continually changes positions at night, the lack of bounce can be an issue. In general, if your bed lacks bounce, it can become a barrier to intimate activities and no one what's that to happen.
Noise
If you're someone who tosses and turns through the night, or you share the bed with someone that does so, you'll have to think about noise and it's isolation. The best recommendation we can give you when it comes down to virtually silent suggestions is latex. Often noise is associated with specific components like coils or air chambers.
Trial Period
You won't be able to tell if a bed is right for you, only from laying on it for ten minutes in a store, which is why we recommend you look for options that come with a free trial period.
We suggest you select one with a minimum of 30 days so that your body has time to adjust. However, if you're getting an expensive bed, you deserve at least 60 nights.
Warranty
The lifespan of a mattress usually hints at its quality. Most warranties vary from 1 to 10 years, but a few brands offer a lifetime warranty. However, make sure to read the fine print in order to know how the return process works and if the guarantee can be voided for a specific reason.
Return Policy
Lastly, we suggest you read the return policy before making a decision. Different brands come with varying policies of return. Some will give you back your money, while others will offer an exchange, and third may deny your return depending on the situation.
1. Leesa Hybrid Mattress – Editor's Pick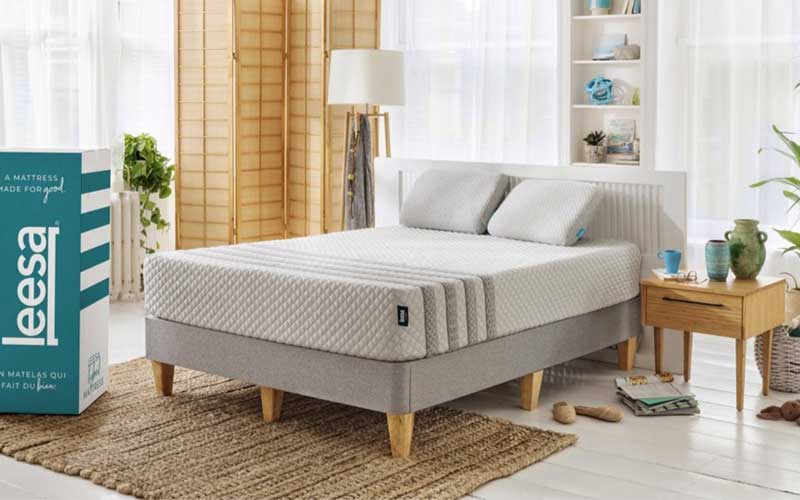 First, on our list is the Leesa Luxury Hybrid, an award-winning firm mattress with a 4-layered sleeping system that easily won the Editor's pick in this category.
Experience advanced comfort and support with a product that took 25 years in improvements and design innovation. Leesa's premium foams provide body contouring, pressure relief and bounce, while active response pocket springs give you edge-to-edge support.
This mattress is constructed from four luxurious layers, where the top one is a seamless, white and grey cover, which is extremely breathable and soft. Next is the Leesa comfort layer that is a hole-punched responsive foam with cooling properties. After that, we have the Recovery memory foam layer, providing enhanced body contouring while relieving pressure from your back, hips and shoulders.
Finally, we have the Quick Responsive layer with 1,000+ pocket springs for durability and stability that aid with motion transfer and edge support for all body types.
Overall, the Leesa Hybrid is a CertiPUR-US ® certified mattress that comes in six different sizes with a depth of 28cm. All beds are made-to-order with free delivery. With Leesa, you get a 10-year warranty and a 100-night free trial, which showcase the brand's confidence in the mattress quality.
Key Features:
1,000+ pocket springs
Premium foams
CertiPUR-US ® Certified
Trial Period for Returns: 100 days
Warranty: 10 years
2. Tempur Hybrid – Runner Up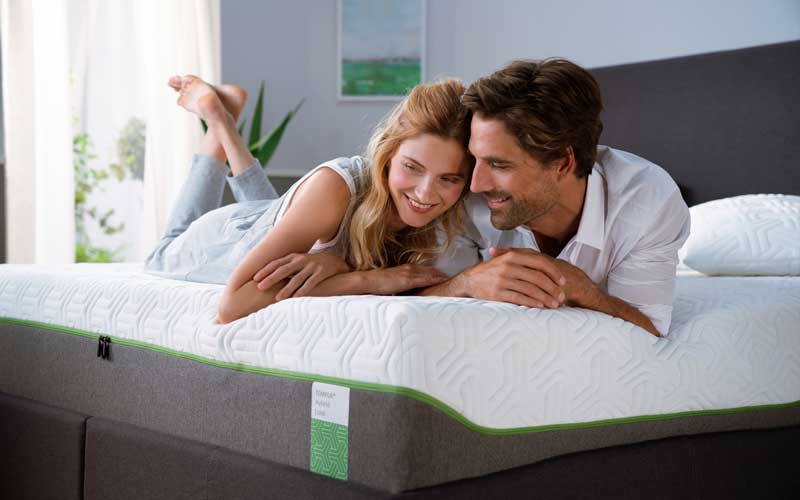 One of the leading mattress brands in the UK is Tempur, and they've created a series of hybrids: Supreme, Elite and Luxe. Today we'll talk in detail about the Tempur Hybrid Luxe.
The Tempur Luxe mattress has a five layered design, excluding the cover. This is Tempur's deepest option with dual layers of Precision™ micro coils for maximum responsiveness and support.
On top, we have the QuickRefresh™ cover, which is easily unzipped for washing up to 60 °C. The first layer is made from the advanced and innovative Tempur® material, followed by Dynamic Support Technology, delivering comfort with a medium feel.
Next, we have the two layers of Precision™ micro coils that are both 10cm thick, and on the bottom, we have the layer of Durabase™ Technology. The Tempur Luxe is available in ten sizes with a depth of 30cm.
You can get TEMPUR-FIT™ Mattress Protector for ultimate comfort at an additional price. With Tempur, you'll experience the best with supreme comfort and pressure relieving support for a restful night's sleep. Enjoy 100-nights with the home trial and ten years of guarantee. And if that's not enough, Tempur can be purchased with 0% interest and has a free delivery service.
Key Features:
Advanced TEMPUR® material
Precision™ micro coils
Machine washable, softcover
Trial Period for Returns: 100 days
Warranty: 10 years
3. Brook & Wilde Elite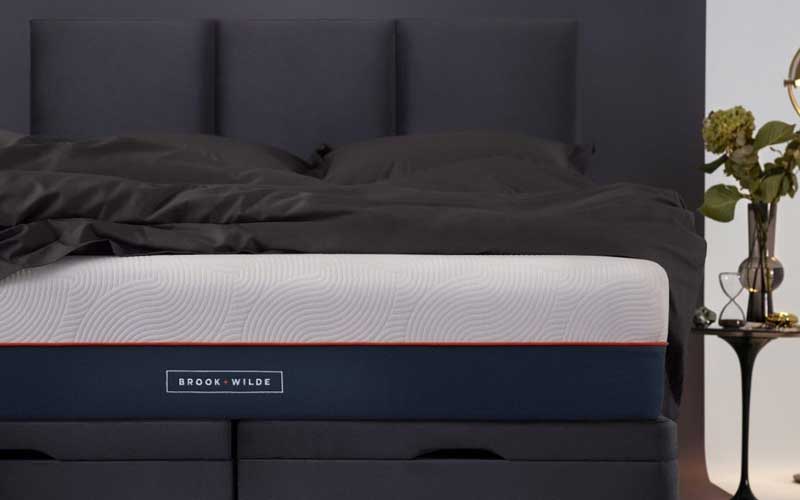 The Brook and Wilde Elite, an award-winning firm mattress and one of our favourites, with an 8-layered design, providing premium comfort and support.
Brook + Wilde have constructed an innovative product, combined to provide you with deep and restful sleep every night. Its first layer is a four-way stretch cover, which allows great air circulation and provides breathability. Right after that is the memory foam protector, ensuring the first memory foam layer can work independently and efficiently.
Next is the set thermo-regulating top layer constructed from next-generation high-density foam that supports your spine while easing the stress on pressure points. Following after are 2,500 mini springs, specifically engineered to move with you as you turn.
After that is the 'wave technology' support layer, adding depth and density. Another round of springs follows, but this time they are 1,000 135mm pocket springs. Seventh is the support base, designed for structure and solidity. And finally, we have a non-slip base ensuring that your bed stays put while you rest.
In general, the Brook and Wilde Elite is ergonomically engineered to provide excellent support, so you'll wake up free of aches and pains each day. This mattress can be bought in four different sizes: single, double, king and super king, all with a depth of 28cm. Brook and Wilde Elite also comes with a 100-day comfort trial, ten-year warranty, and premium delivery with a two-person service team that will bring your purchase to a room of your choice.
Key Features:
Eight layers of construction
Unique 'wave technology'
Removable, washable top cover
Trial Period for Returns: 100 days
Warranty: 10 years
4. DreamCloud Hybrid Mattress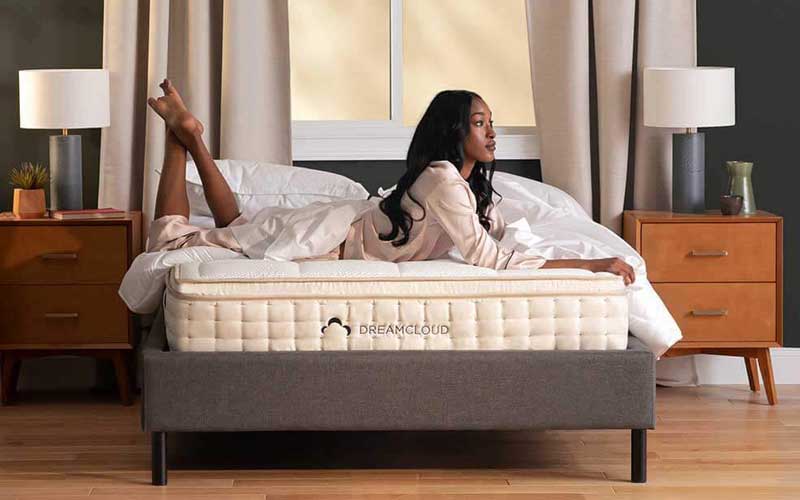 Another one of our favourites is the DreamCloud Hybrid Mattress. This insane product has won multiple awards, including the Best Hybrid Mattress in 2020.
A good day starts with a good night's sleep, and that's DreamCloud's moto, creating five innovative layers that scream perfection. You'll be kept cool and cosy with quilted foam and a cashmere cover. DreamCloud's first layer is a pressure-activated high-density gel memory foam that contours to your shape, while the second layer is low-motion transfer supportive foam, ensuring you don't sink in too deep.
After that, we have the targeted support ActivEdge™ Coil layer, which provides you with custom relief due to the individually wrapped 15 cm coils adapting to your body. And on the bottom, you'll find the base layer that ensures everything above it performs at its best.
If you appreciate a firm mattress and your partner prefers a soft one, the DreamCloud is your ticket to compromise in six available sizes with a depth of 35cm. Have the sweetest dreams with DreamCloud mattress, coming with free shipping, a lifetime warranty and the whopping 365-days trial period.
Key Features:
ActivEdge™ technology pocket springs
Breathable foam materials
Quilted & double tufted cover
Trial Period for Returns: 365 days
Warranty: Lifetime
5. REM-Fit 600 Lux Hybrid Mattress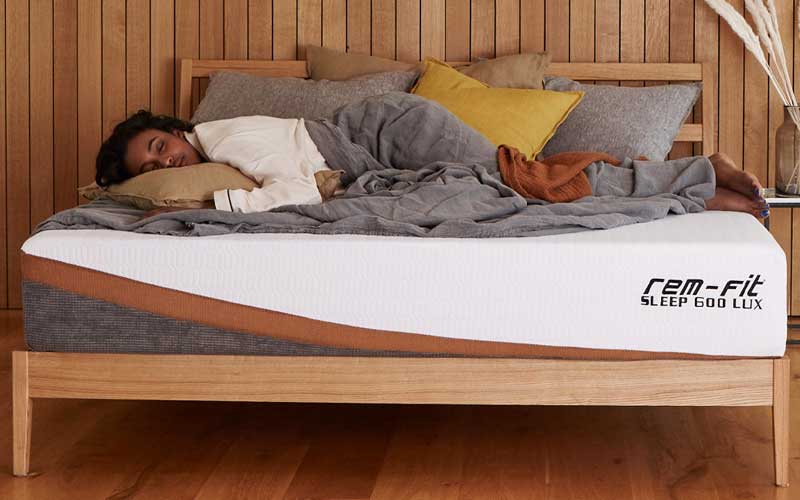 Next on our list is the REM-Fit 600 Lux mattress that gently cradles your body, providing a soft and sumptuous feel while delivering unlimited support.
The REM-Fit 600 comes with six innovative layers, bringing you the ultimate cloud-like feeling. First, we have a Re-Ax thermos-regulating hypo-allergenic knitted cover, providing a fully breathable sleeping surface, followed by zoned memory foam for pressure relieving comfort and a 6 cm open-cell memory foam comfort layer.
After that, we have 2500 (2.5cm high) encapsulated mini pocket springs for tender contouring support and 1000 (12.5cm tall) encapsulated premium pocket springs that create a total of 3500 springs working together to produce a uniquely supportive model.
Finally, foam encapsulated side walls deliver strong edge-to-edge support, letting you take advantage of the entire surface. REM-Fit's deep layer of high-density foam gives you a robust and solid foundation that will last at least 15 years.
The REM-Fit Lux comes with a revolutionary construction, which had been proven to wick moisture and dissipate heat away from you. There are three available sizes with a depth of 25 cm with a 100-night free trial and a free next-day delivery in the UK's mainland.
Key Features:
3500 premium pocket springs
Open-cell cool memory foam
Zoned pressure relief
Trial Period for Returns: 100 days
Warranty: 15 years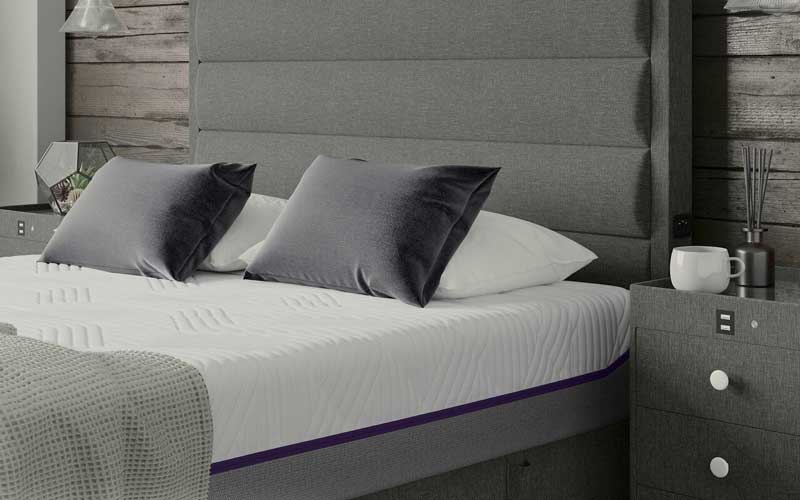 What is a luxury mattress?
Said simply, luxury mattresses are ones made of the best individual components. A well-known manufacturer will spend a good deal of time trying out different materials and a number of layers so that they can design a product with an incredibly comfortable and supportive sleeping surface.
High-end mattresses are often made from memory foam since they adapt to all body types and contour the body while keeping your spine aligned. The end goal is to find a product that will provide you with excellent support while relieving pressure in the back, neck, and pelvic areas.
Premium mattresses are usually thicker and denser, meaning more material is being used. Thus the prices goes up.
What are the advantages of luxury mattresses?
Many people wonder why they should invest in a luxury bed. However, what they don't understand is that it will save them money over time.
High-quality materials tend to cost more, but they are more durable and last longer. Premium comfort and support come at a price, which is why you should look at your bed as an investment that comes with numerous advantages.
One of the biggest ones is the longer lifespan. In general, a standard mattress is supposed to last seven or eight years, whereas a luxury one will come with a warranty of 10 years of warranty or more. Premium products are generally built to support all sizes, no matter the build or body weight.
With high-end models, you should expect at least 25 cm of thickness and higher density. By being composed of top-of-the-range materials, premium options provide unparalleled comfort due to the additional layers and greater thickness.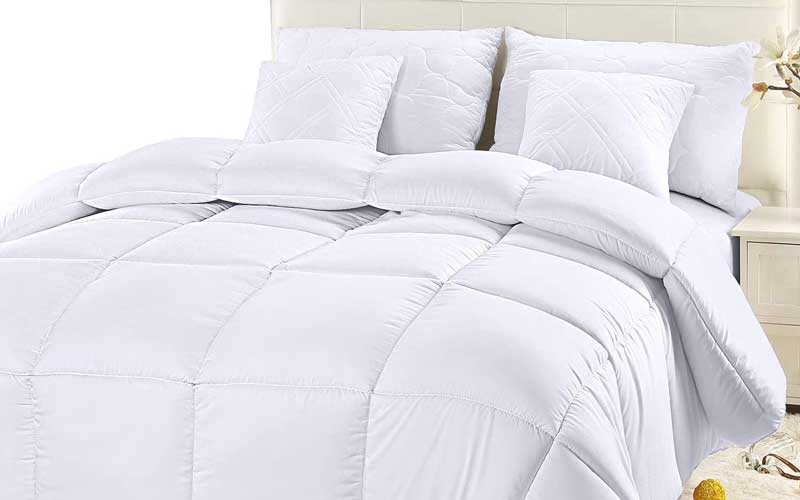 What can affect the price of a mattress?
A handful of factors can influence the price of a mattress.
One of the main factors is material since specific options tend to cost more than others. For example, hand-made, hand-stitched or hand-sewn products can drive up the price. Another factor with materials is their construction. Are they organic, natural, or eco-friendly? If they've gone through an extensive certification process, it will also affect the cost.
Thicker layers or denser materials can have the same impact, as well as custom-designed, innovative, or proprietary components. Additional features like edge support, temperature regulation or zoned cushioning will also influence the amount.
You don't have to experience ultimate comfort, only seeping in a 5-star hotel. With a premium option, you can enjoy the same comfort in your own home. Luxury beds give you a sense of exclusivity due to the difference between a luxury mattress and a regular mattress.
The prices will go up by incorporating the best materials and quality, but so will the product's durability and longevity.
Final Words
Finding the best luxury mattress brands in the UK wasn't an easy task. However, we've tested, researched and commented on every product we've put on this list. Here, you'll find quality at its finest!
Mattress brands frequently change, and so do the products they offer, which is why we will continue to provide you with the most up to par information and try to shed some light on the top five luxury mattresses on the market.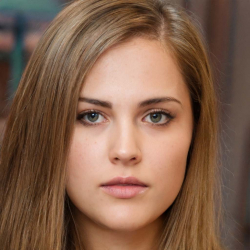 Latest posts by Isabelle Harris
(see all)