Tempur is a brand that designs mattresses certified by the International Space Foundation that let you experience gravity-defying comfort with layers upon layers of innovation. They are crafted with high-quality materials, have glowing reviews worldwide, a risk-free trial period and an extended manufacturer's warranty. But is there a catch?
Check out our Tempur mattress review below and see if it's the right choice for you!
Pros
All models have 3 versions
TEMPUR® Technology
10-year guarantee
100 -night risk-free trial
In today's article, we'll be discussing a brand called Tempur®, which most have heard of because they've been a top competitor in the mattress industry in the UK and worldwide for many years now. They are considered the first brand that has offered memory foam mattresses on the British market.
This manufacturer has developed four models: the Original, Cloud, Hybrid and Sensation mattress. We'll be taking a closer look at all four. Let's go over Tempur's details and see whether one of the options is a good fit for your specific needs. We'll cover build quality, design, pricing, sleep performance and see if there are any downsides that you should know about.
How is the Tempur mattress constructed?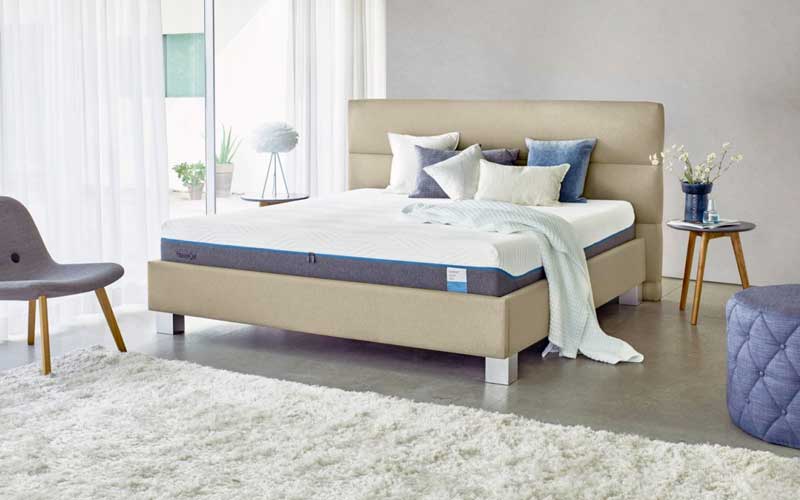 Truth be told, when it comes to mattress construction, this brand is in a league of its own with its TEMPUR® material. Over 30 years ago, a group of NASA scientists developed a superior material to support astronauts from takeoff, which is used today to create some of the best mattresses on the planet.
These mattresses have been tested year over year to ensure material durability while remaining the brands highest standards. As we've mentioned, they've designed four models with three versions they can be ordered in. They are Supreme (21 cm), Elite (25 cm) and Luxe (30cm).
Tempur mattresses are no turn, meaning you don't have to flip them or do any heavy lifting, making their products low maintenance. Next, we'll talk about the mattress layers in all models so you can further understand their construction.
What is in Tempur's layers?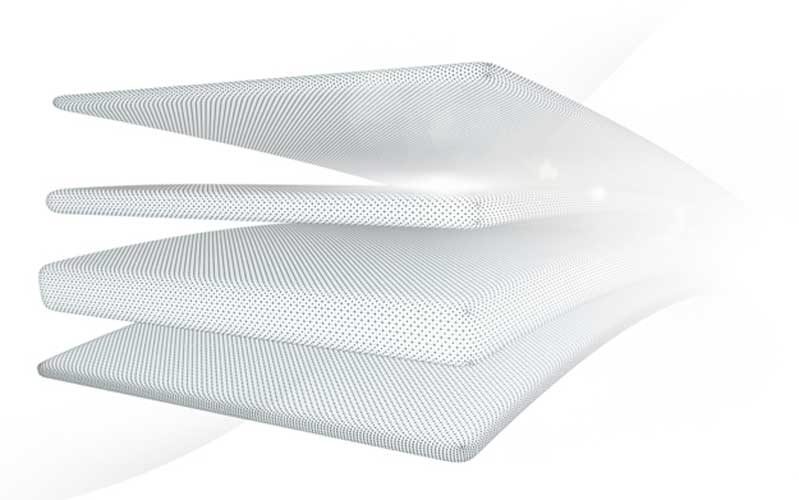 Before we talk about each mattress individually, we want to explain all the layers and their construction. This way, you'll be able to see how they work together depending on the model you select.
Generally speaking, it takes sixty hours to create a single TEMPUR® mattress on which sixty-seven different quality checks were performed. That's mind-blowing on its own! Let's take a closer look at all five layers:
Tempur Extra Soft Material
The first layer we'll be discussing is the brands softest one that will instantly provide cushioning for extraordinary comfort. It's designed from formaldehyde, which is a naturally occurring organic compound that can be found in many places.
Tempur Comfort Material
Next, we have the manufacturer's comfort layer made from Tempur's foam, which is specifically designed to be more flexible and durable than the standard polyurethane foam. Usually, this layer can be found on top of the mattress due to its softest texture, providing the ultimate comfort at night.
Support Material
The brand's support layer includes Visco-elastic cells, actively moulding and adapting to your body so that you're not only comfortable but get the support you need and receive proper spinal alignment. The intermediary layer is strategically placed to balance out pressure disparities, making it a must in every mattress!
Precision™ Micro Coils
Some of the company's mattresses have Precision™ Micro Coils. In most standard cases, the coil layer varies anywhere from 2-5cm in height, but with Tempur's micro coils, you get 10cm of high-quality support!
Durabase™ Technology
Lastly, we have the Durabase™ layer, which is denser than the other layers. That's the layer that extends the mattresses longevity and helps maintain its structure. It's made from Visco foam, and that's the cleanest raw material, making the brand environmentally friendly as well.
Tempur Mattress Models Compared
All Tempur mattresses are constructed with multiple layers, where each layer has its own role to play in order to provide your body with the best possible support and comfort. Let's talk about each mattress individually and see what it consists of. Remember that the measurements we're showing you below are for the Elite version:
Tempur Original mattress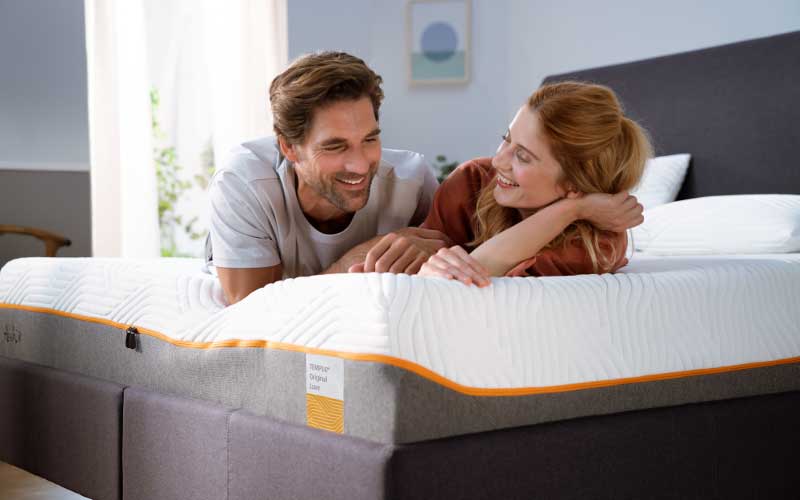 The Tempur Original is constructed from 4 layers of perfection. The OG model is the perfect balance of comfort and support with an added layer of support. Every TEMPUR® Original mattress contains the space technology that is TEMPUR® Material, engineered to respond to your body's temperature, shape and weight, even as you move throughout the night. It consists of the following layers:
Comfort layer – 3 cm
Support layer – 9 cm
Durabase™ layer – 6.5 cm
Durabase™ layer – 6.5 cm
Tempur Cloud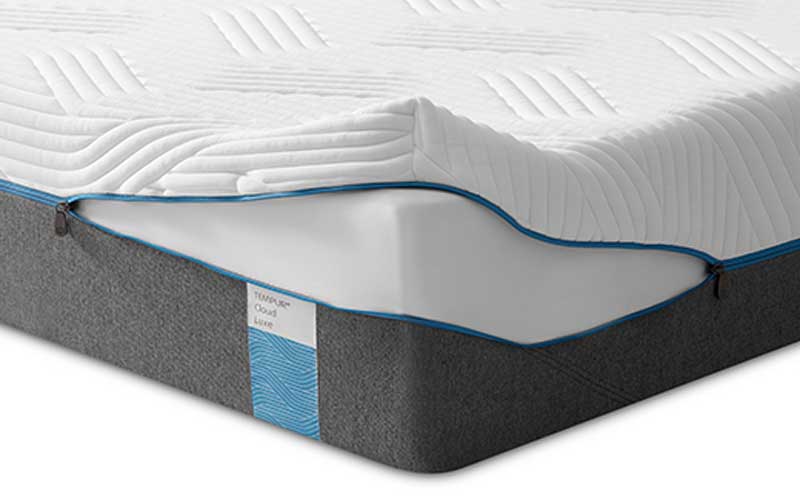 Next, we have the Cloud option, which is the brand's softest suggestion, crafted with three layers that instantly cushion you for an enveloping feeling but still provide you with all the supportive benefits, a memory foam mattress will. This can be the perfect choice for stomach sleepers that are looking for a softer mattress with a slower response. Here are the layers it's designed with:
Extra Soft layer – 7 cm
Support layer – 7 cm
Durabase™ layer – 11 cm
Tempur Hybrid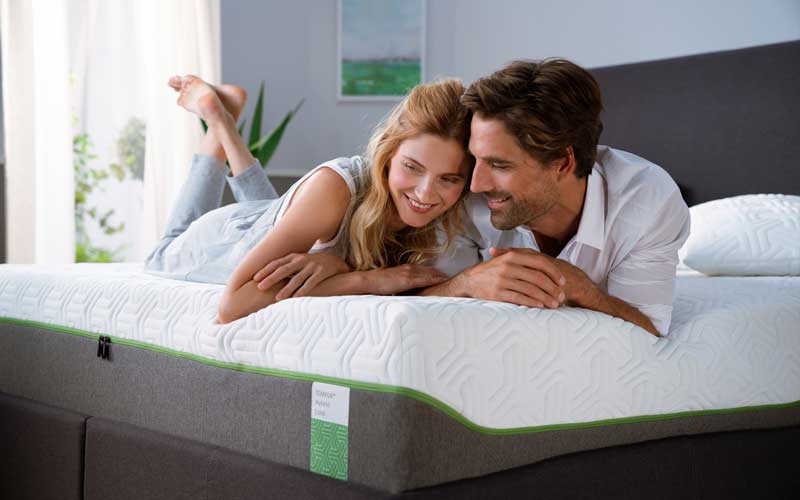 Third, on our list, today is the company's hybrid mattress that contains both foam and springs. We have four layers of Advanced TEMPUR® Material supported by pocketed springs that deliver the best comfort and support of both technologies. In our opinion, this is one of the best mattresses you can buy today, and it's constructed from:
Comfort layer – 4 cm
Support layer – 8 cm
Precision™ Micro Coils – 10 cm
Durabase™ layer – 3 cm
Tempur Sensation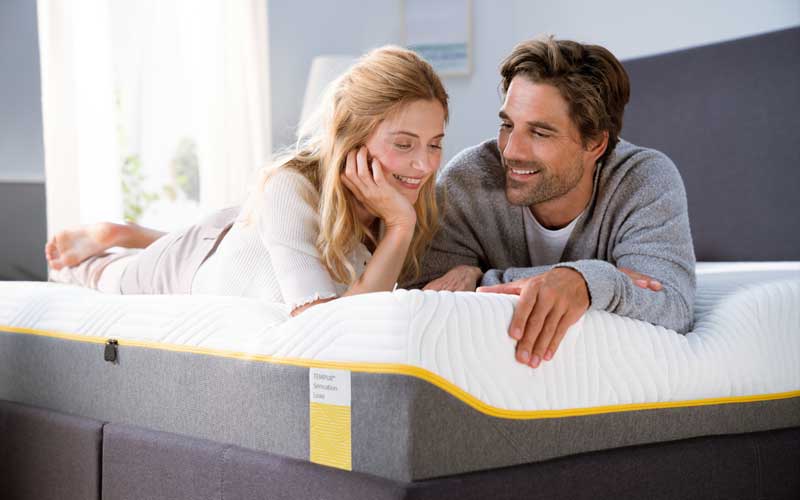 Finally, we have the brand's Sensation options which is an excellent choice for back or side sleepers due to its bounce-back properties. Its Dynamic Support Technology creates the sensation of 'bounce', without springs, for supreme comfort and pressure-relieving support of the foam layers:
Comfort layer – 2 cm
Support layer – 4 cm
Support layer – 4 cm
Durabase™ layer – 11 cm
How thick is the Tempur mattress?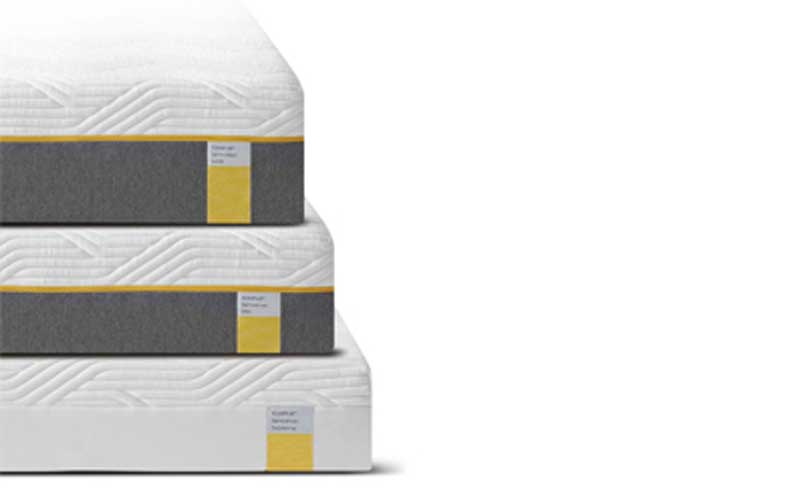 As mentioned before, Tempur's mattresses vary in thickness because there are three versions of their models, each with its own thickness. The three possibilities are Supreme (21 cm), Elite (25 cm) and Luxe (30cm). In this guide, we are closely examining the Elite mattress, which is 25 cm thick and can withstand up to 146kg (per side per person), making it an excellent mattress for heavy people.
How firm is the Tempur mattress?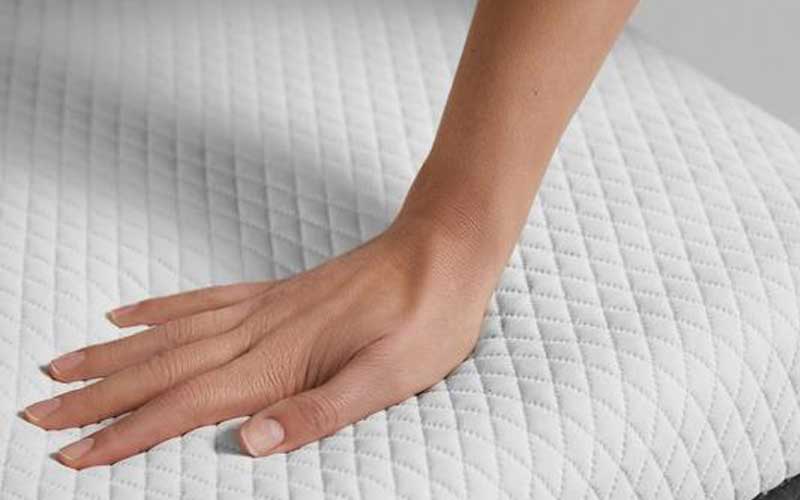 All four of Tempur's beds vary in firmness from 4.5 to 7.5 out of 10, with one being the softest and ten the firmest. The softest option is the Tempur Cloud which is rated around a 4.5 out of 10, followed by their Original mattress with a slightly more firm feel, leaving it at 5.5.
Next, we have the Tempur Hybrid with a rating of 6.5 out of 10, which is the industry's standard. And lastly, we have the most firm mattress, the Sensation mattress at 7.5 firmness level.
What about the Tempur cover?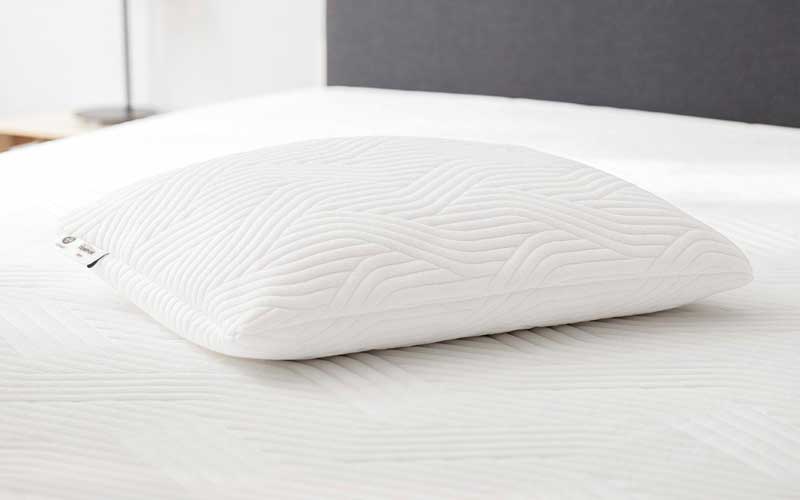 All Tempur Elite mattresses come with a QuickRefresh™ top cover that's easily removed and cleaned at temperatures of up to 60 °C. It's made from 99% polyester and 1% elastane, making it soft to the touch. The lower half of the mattress cover is made from polyester, elastane, modacrylic, and viscose.
It can also be removed, and machine washed up to 60 °C. However, the underside for the Hybrid model should be dry cleaned only. If you're not sure whether you can put your cover in the washer or not, we recommend checking the label stitched inside of it.
Safety is also a high priority for this manufacturer, which is why all of their mattress covers for the British market are OEKO-TEX certified. That means no harmful chemicals were used, and its safe for human use.
Design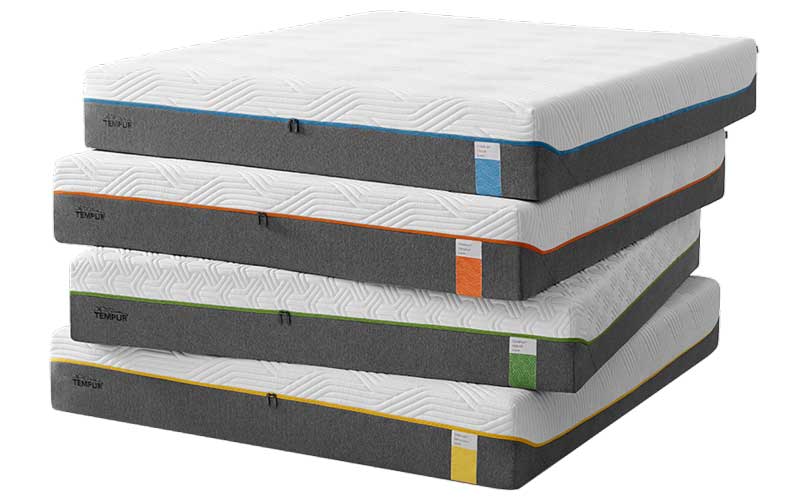 We don't know about you, but we appreciate the bright colours and stylish patterns Tempur has come up with. They've tried to do something different and offer a pleasing aesthetic for their mattresses. In general, most beds sold here in the UK are grey and white.
This manufacturer has designed products that stand out, and there is no coincidence why all colours used in the mattress cover work well in almost any room setting. Each model comes with a different colour and pattern. Tempur mattresses have a white top and grey lower half, accompanied by a different colour lining around the zipped change.
The OG model comes in vibrant orange, whereas the Cloud option can bring melancholy to almost all with its sky blue colour. The brand's Hybrid model is a bright green, and their Sensation mattress is an energetic yellow shade.
How long is the Tempur mattress free trial period?
All Tempur options come with a 100-night trial period in which you can try their quality mattress in the comfort of your own home.
Typically, your body needs around four to six weeks to adjust to a new mattress, which is why we recommend you sleep on it for at least 60 days before deciding to return it if it's not to your liking. If you end up disliking your purchase, all you have to do is contact the brand's customer service, and they will reimburse your purchase price.
However, for the trial period to be applicable, you have to use a breathable mattress protector or mattress topper to prevent your mattress from becoming unnecessarily stained or soiled.
How long is Tempur's warranty?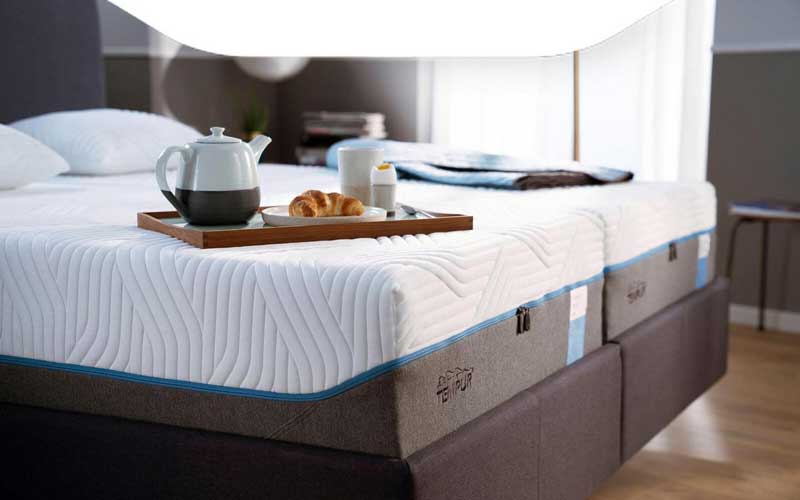 Like most high-quality mattress brands, Tempur provides a 10-year warranty, ensuring you are covered in the long run. In that time, the manufacturer guarantees it will retain at least 95% of its height, with no lumps or bumps, so that you can enjoy a good night's sleep.
However, the company reserves the right not to honour claims under this guarantee at their discretion. Let's talk about the situations in which it applies and when it doesn't:
What defects does the warranty cover?
Material defects due to faulty workmanship
Valid only if purchased through the manufacturer or an authorised retailer
Accurate only if you are the original purchaser
Zips on the cover of TEMPUR® Products were faulty upon receipt
What defects doesn't the warranty cover?
The process for claiming the TEMPUR® Guarantee has not been correctly followed
The product has not been used and/or handled with due care, and/or the product has been deliberately damaged or damaged due to neglect, cuts, burns, flooding or any other improper use by you or by any third party
The defect is caused as a result of the product having been bent, squeezed or exposed to cold temperatures
The product has been wet or soaked against the manufacturer's recommendations
The product has been altered or repaired without the manufacturer's prior permission
Adjustable bed bases have been overloaded or misused against the manufacturer's weight restrictions
The defect is the result of normal wear and tear
What sizes does Tempur come in?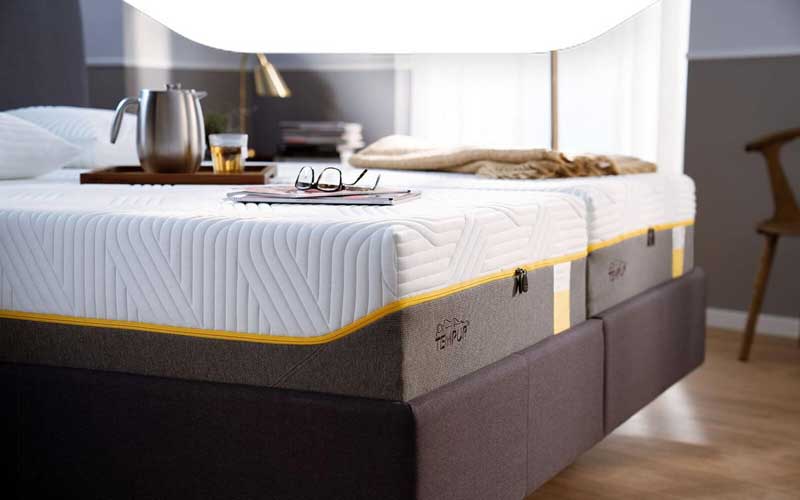 The company wants you to find your perfect match with one of their ten available size options. Tempur has tried to simplify that by concentrating on nine sizes to create a straightforward, no-nonsense guide with which you won't be overwhelmed or confused.
Here are the available sizes for all of their models:
Single – 90 × 190 cm
Double – 135 × 190 cm
King – 150 × 200 cm
Super King – 180 × 200 cm
Small Single – 75 x 200 cm
Long Single – 90 x 200 cm
Special – 120 x 190 cm
Special – 120 x 200 cm
Special – 135 x 200 cm
Special – 160 x 200 cm
What are the delivery terms?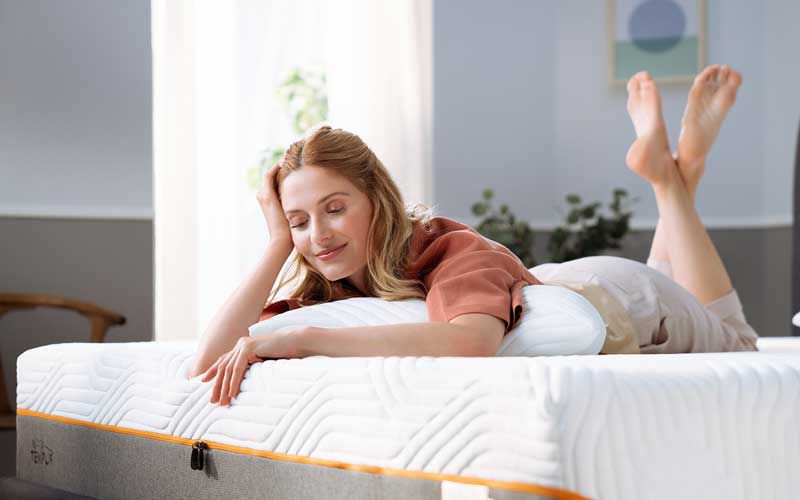 Currently, all Tempur mattresses are delivered for free within 14-28 days if ordered through the manufacturer. The brand offers home delivery and free installation on all mattresses within the UK. Please keep in mind that off-shore UK locations may be subject to charge.
Not only will a two-person delivery team set up your purchase, but they can also get rid of your old mattress for a small fee. There are three delivery options at checkout:
Free 2 man delivery to your room of choice + installation
Two-person delivery to your room of choice + installation (subject to change in off-shore locations)
Two-person delivery to your room of choice + installation + old mattress removal (subject to change)
Tempur's awards
Tempur is a popular brand in the UK that has received multiple awards that speak to the quality and build of the products they put on the market. Here are some of their most recent awards:
The only company in the world to be certified by the International Space Foundation
TEMPUR®is a proud supporter of the Mental Health Foundation
No. 1 in customer satisfaction
Consumer's Choice – Most reliable & satisfied mattress brand
Other Alternatives
If you want to take a look at other similar options, here are our recommendations:
Bottom line
To conclude this Tempur mattress review, we would like to say that this is an award-winning brand that offers products made with materials from space with multiple layers of innovation, providing constant support and comfort each night, through any season.
It's suitable for most sleeping positions and body types. It is a great mattress for couples too. You get to choose from four models with three different thicknesses and four comfort levels that come with a significant free trial period, impeccable service and a solid warranty. They also offer free delivery and installation, with the option of them picking up and disposing of your old mattress.
It is not the cheapest mattress by any means, so this is something to consider. There are more affordable options out there, but, as we all know, you often get what you pay for. We hope you enjoyed the read, and if you have any questions, don't hesitate to drop us a comment below.