We all hate waking up all stiff and achy from sleeping on the wrong kind of mattress. But do you know that most doctors and sleep specialists are more inclined to recommend a firm bed over a soft one? According to many publications sleeping on a harder mattress can help your back feel better, they provide better support and are usually more forgiving towards heavier built people.
But what is the best mattress for your needs? There are so many options on the market, all claiming to be the best thing since sliced bread. But is that claim true? Who to trust and who to avoid?
That's why we created LightSleeper – to help you choose the product that is right for you and you alone, and help you make that choice along the way. Companies can never pay to feature their products on LightSleeper, nor we are getting paid to recommend one product over the other – we are an independent resource and we only recommend products that have passed our tests and we feel that they are the best in their category.
So let's see what we think are the best firm mattresses in the UK today and why.
1. Brook & Wilde Elite – Editor's Pick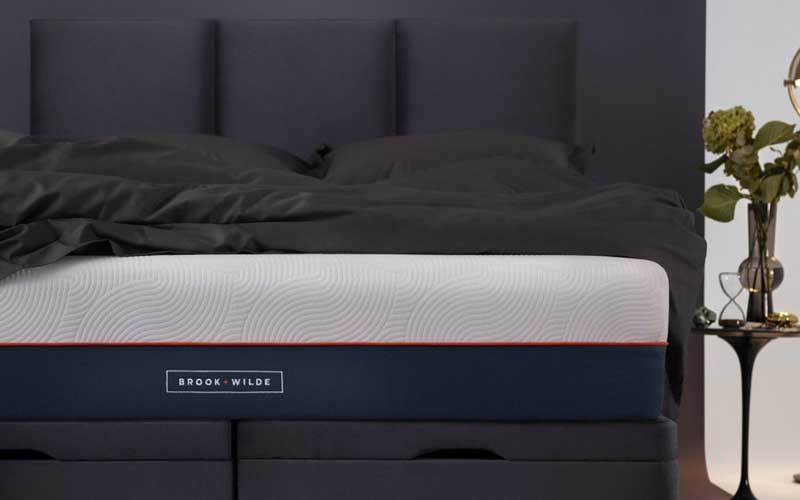 First, on our list, today is the Brook and Wilde Elite, an award-winning mattress, with an 8-layered sleeping system that easily won the Editor's pick in this category.
Brook + Wilde have designed a unique product, perfectly combined to give deep and restful sleep. On top, we have a four-way stretch cover, that allows air circulation and provides breathability. The second is the memory foam protector, which ensures the first memory foam layer can work independently.
Following is the set thermo-regulating top layer made from next-generation high-density foam which supports your spine, and eases the stress on pressure points. Next are 2,500 mini springs, engineered to move with you as you turn.
After that, we have the 'Wave technology' support layer, which has added depth and density. Another round of springs follow, but this time they are 1,000 135mm pocket springs, followed by a support base for structure and solidity. And finally, the non-slip base ensures that your mattress stays put, while you rest.
Overall, the Brook and Wilde Elite is ergonomically engineered to provide improved support, so you'll wake up free of aches and pains. This product can be purchased in four sizes: single, double, king and super king with a depth of 28cm, and if firm isn't enough, you can get the extra-firm option. It also comes with a 100-night trial, ten-year guarantee and premium delivery in which a two-person delivery service will bring your purchase to your room of choice.
2. Sealy Posturepedic Backcare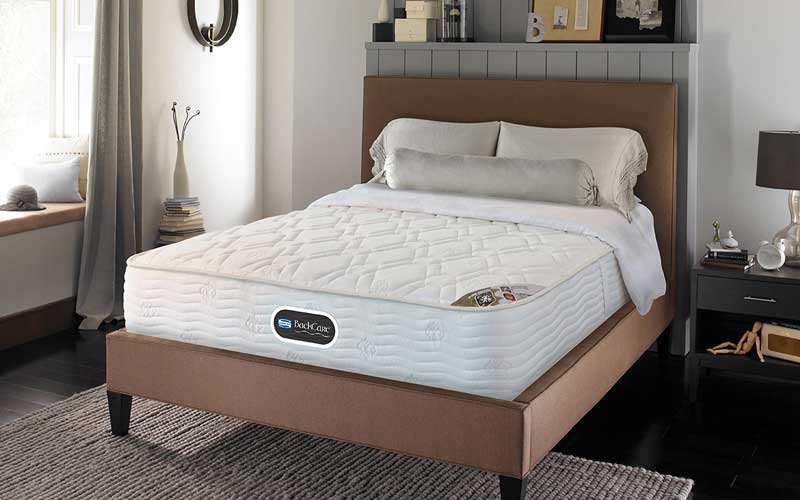 The Posturepedic Backcare is Sealy's firmest mattress, made in the United Kingdom and approved by the National Bed Federation and Allergy UK. This product has over 40,000 5-star reviews due to its unique spring layer in its construction.
Sealy has PostureTech Core support springs, which distribute weight evenly for excellent support and pressure relief. You'll enjoy enhanced orthopaedic care with the Edge Guard support and the Power Pack support system.
The Edge Guard provides edge to edge tension, allowing you to sleep near the edge without a roll-off feeling, while the Power Pack is designed to target your lumbar area and support it. This Sealy Posturepedic choice is single-sided with a depth of 25 cm, available in six different sizes.
It comes in a finely woven and durable Damask cover that may reduce common allergens. This handcrafted product supports the UK economy and helps reduce environmental impact. It is also fire-resistant and comes with handles for easier moving and turning.
When you purchase Sealy, you will receive free next day or day of choice delivery as well. And if you aren't sold yet, know that a warranty covers Sealy for half a decade.
3. Silentnight Comfort Pocket 1400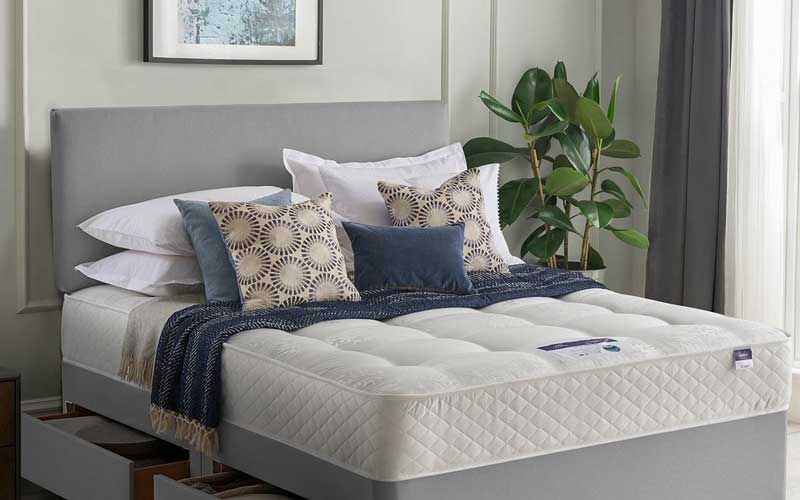 If you're are looking for a lower-priced option that still offers high-quality, you need to take a look at the Silentnight Comfort Pocket Mattress.
It has 1,400 tensioned springs to meet your individual comfort needs, while the responsive Mirapocket spring system provides zoned support, ensuring firm tension throughout the whole surface. The Silentnight Comfort is a traditional hand tufted mattress, available in five sizes with a depth of 26cm.
This single-sided product is made with orthopaedic fillings for firm back support, tufted for a long-lasting effect. Silentnight 1400 comes with Purotex treated cover, reducing moisture and dust-mite allergens, creating a hypo-allergenic option for a healthier sleep.
Silentnight Comfort has an edge to edge support that provides more personal sleep space and a breathable border for optimum airflow.
In general, the Silentnight 1400 is an affordable product with a 60-night comfort exchange where you can decide if this is the right choice for you. If not, you can always switch up for another model. Silentnight is also covered by a 5-year guarantee so that you don't have to worry about its quality.
4. Relyon Ortho Support 1500 Mattress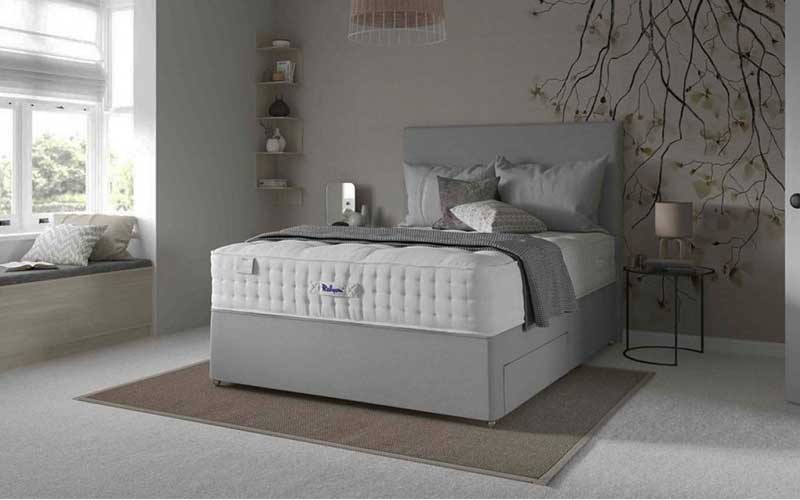 Next, on our list, today is the Relyon Ortho Support 1500, an extra-firm tension mattress, with glowing customer reviews that easily won the Editor's pick in this category.
The Relyon Ortho is ideal for those looking for the utmost support, with 1500 independently moving pocket springs that follow and support your body shape and weight. This item is available in one tension only but in five different sizes.
With a depth of 30cm, the Relyon Ortho is constructed with a deep memory foam layer with pressure-relieving properties. The foam used in the bed provides a resilient and supportive surface feel, while the three rows of side stitching give a more robust mattress border.
Relyon is a hand-tufted product with a Cool Comfort fabric technology, which will help balance your body temperature due to the cotton filling with excellent absorption qualities.
Overall, Relyon is our winner because it is one of the few brands with a 'Manufacturing Guild Mark' which is a sign of quality and so are the eight years of warranty that come with it. This Ortho mattress is one-sided, so you can rotate it regularly to extend its life. 
5. Sleepeezee Ultrafirm 1600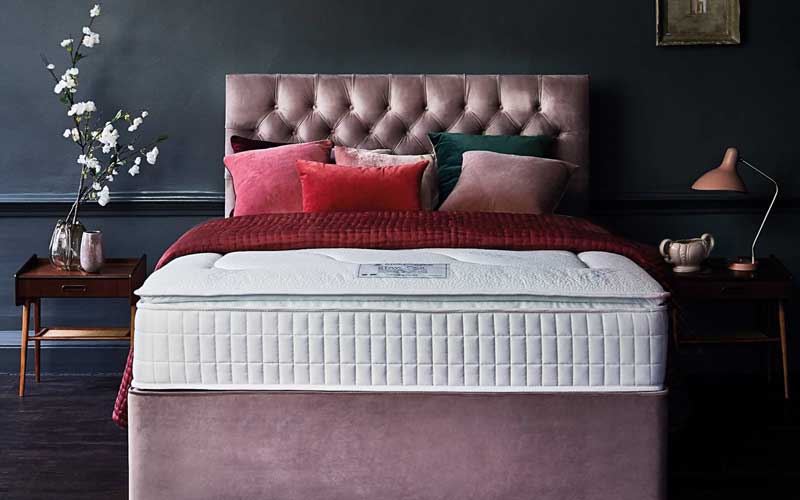 Sleepeezee is a highly respected brand in the bedding industry that creates high-quality products at affordable prices. Proof of set quality is the Royal Warrant which makes them a supplier for Prince Charles.
The Sleepeezee Ultrafirm Pocket is an extra firm mattress, perfect if you love plenty of support with 1600 individual pocket springs. Layers of cotton and polyester fillings surround the springs for comfort, while the beautiful damask cover holds everything in.
Sleepeezee is a hand-tufted item for enhanced support and durability that includes handles for easy moving and turning. It can be purchased in five different sizes with a depth of 24cm and air vents, which improve airflow throughout the whole bed.
This Sleepeezee option is budget-friendly and orthopaedic. It comes with a 60-day trial period and a five-year guarantee, making it an ideal choice for support, comfort and great value for money.
Key Features:
1600 individual pocket springs
Cotton & polyester fillings
Luxurious damask cover
Trial Period for Returns: 60 days
Warranty: 5 years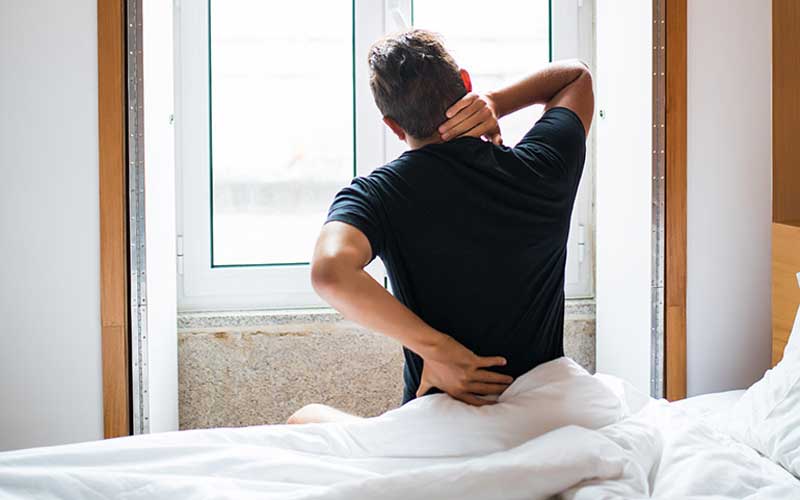 How to choose a firm mattress?
Shopping for a new bed can be challenging and overwhelming since most mattress companies say they are the best. However, they can't all be! When you're making a choice, there are some essential considerations that you have to focus on to find yourself satisfied with the set purchase. They are the following:
Type & Materials
The type of mattress and the materials it's made from are the most crucial features driving its performance and durability. Most people choose memory foam, latex, innerspring or hybrid beds. However, after you decide the type, you have to check the quality of materials its constructed from.
Each type and material have their pros and cons, and it's up to you to decide what your personal preference is.
Pressure Relief
Some people worry that a firm mattress can't provide pressure relief, but that's not true. It can still offer sufficient cushioning of your pressure points if you know what to look for. Remember that your choice depends not only on preference but also on body weight and sleeping position.
Ensure you select a product that can tailor to your weight and provide you with proper spinal alignment.
Motion Isolation
Motion isolation is essential if you share the bed with a partner since it can significantly reduce the chances of you waking up from movement on another side.
Typically firm options with less contouring, transfer more motion. Keep in mind that interior materials can significantly affect the disturbance you're likely to experience. Therefore, select a product with good isolation properties.
Temperature Regulation
Some mattresses tend to retain heat more than others, meaning you can wake up overheated and in sweat. If you consider yourself a hot sleeper, look for breathable items that offer a good airflow throughout.
Memory foam moulds to your body, which may keep you warmer, so if you want to buy a foam product, choose one with a cooling gel of some sort or a cooling system. Pocket sprung mattresses and hybrids are usually the most breathable suggestions.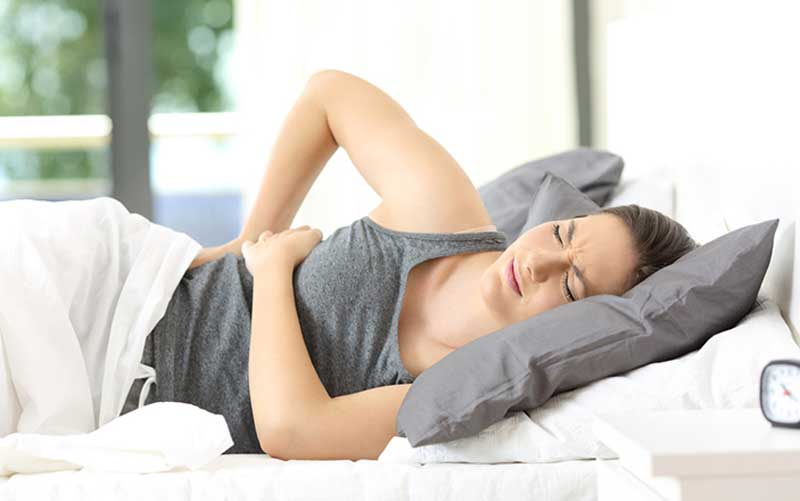 Edge Support
If you're searching for a solid bed, you want it to have that same feel across the entire surface. This way, you can effectively use the whole bed while making it easier to sit on the edge without the mattress sagging.
Ease of Movement
If you're someone that switches sleeping positions during the night or engages in intimate activities, you'll want a bed that makes it easier to move around the surface. Your best two options will be latex and hybrid mattresses since they typically have more bounce to facilitate movement.
Price
Understand that if you want your mattress to promote quality sleep, you should select a high-quality product, which sometimes can mean investing more than you anticipated.
Often cheap mattresses mean you'll have to spend extra money on related accessories such as a new bed frame, mattress topper, or pillows to improve your sleeping experience, which may cost your more in the long run.
Trial Period & Warranty
You won't be able to tell if a bed is right for you, only from laying on it for ten minutes in the store, which is why we recommend you look for choices that offer a free trial period at home. We recommend you choose one with a minimum of 30 days so that your body has time to adjust.
Often the lifespan of a mattress can also hint at its quality. Most warranties vary from 1 to 10 years, but a few brands offer a lifetime guarantee. However, make sure to read the fine print to know how the return process works.
Return Policy
Last but surely not least, we suggest you read the return policy before making a purchase. Different brands have different return policies. Some will give you your money back, others will offer an exchange, and third may deny your return depending on the situation.
Final Words
Whether a mattress is right for you largely depends on your personal firmness preferences. However, firmer products can be beneficial for many, if you know how to select one. No matter your choice make sure your purchase comes with a solid in-home trial period to ensure the firmness is really what you're looking for.
Mattress brands frequently change, and so do the products they offer, which is why we will continue to provide you with the most up to par information and try to shed some light on the best mattress on the market.
We might not be professionals, but we've tested, researched and commented on every product we've put on this list. With that said, we hope that this article was helpful, and you were able to find what you are looking for.
If there are any questions, regarding the subject that were left unanswered, we would gladly answer them in the comments below.