Silentnight is a brand that designs somewhat affordable mattresses that let you experience gravity-defying comfort with layers upon layers of support. They are crafted with high-quality materials, have glowing reviews worldwide, a risk-free trial period and a manufacturer's warranty. But is there a catch?
Check out our Silentnight mattress review below and see if it's the right choice for you!
Pros
Reasonable price tag
5-year warranty
60-night trial period
Various firmness levels
Cons
Sleeps warmer (foam)
Noiser (spring)
The key to a good night's sleep is the right mattress, which is why you need to know what to look for to find one. In today's article, we'll talk about a brand that has found the perfect balance between price and quality and is loved around the UK.
Silentnight is a company known for its reliable mattresses, which can be bought through many different retailers, meaning is easy to get yourself one. However, that must be done through a regulated and trusted link so that you can take advantage of all the benefits like the free trial period and warranty.
People have different body types, and they sleep in different positions. That's why we've selected the top 4 models from this brand in order to suit everyone's needs and preferences.
Let's go over Silentnight's details and see whether one of the options is a good fit for your specific needs. We'll cover build quality, design, pricing, sleep performance and see if there are any downsides that you should know about.
Which Silentnight model should I choose?
This brand offers over 50 models, which is pretty much unheard of with other competitors. They have products at different price points with various firmness levels so that everyone can find the mattress of their dreams.
Today we will talk about the four most reviewed and popular choices: Silentnight Comfort Pocket 1400, Silentnight 3-Zone, Silentnight Eco Comfort Miracoil Ortho, Silentnight Mirapocket 1000 Geltex Pillow Top Mattress. Let's take a closer look:
1. Silentnight Comfort Pocket 1400 Ortho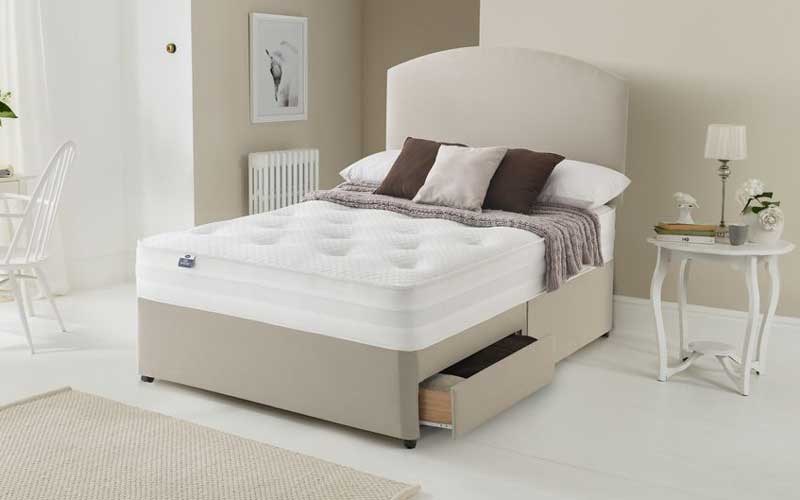 If you're are looking for a lower-priced option that still offers high-quality, you need to take a look at the Silentnight Comfort Pocket Mattress.
Layers
This model is a pocket sprung mattress with 1,400 tensioned springs that will meet your individual comfort needs, while the responsive Mirapocket spring system provides zoned support, ensuring firm tension throughout the whole surface.
The Mirapocket spring system offers various springs to meet your individual comfort needs, allowing you to find your perfect comfort solution for a great night's sleep.
It is a hand-tufted product for a long-lasting effect, made with orthopaedic fillings for firm back support. With excellent edge to edge support that provides more personal sleep space and a breathable border for optimum airflow, this choice spreads your body weight evenly across the bed, providing zoned support where you need it most and luxurious comfort that is second to none.
Cover
Silentnight 1400 comes with Purotex treated cover, reducing moisture and dust-mite allergens, creating a hypo-allergenic option for a healthier sleep. The sleep surface is made from 100% polyester, the underside has 60% polypropylene and 40% polyester, and the side border is crafted from 67% polyester and 33% polypropylene.
Thickness
This traditional hand-tufted model has a mattress depth of 26cm, meaning a standard fitted sheet will be just right.
2. Silentnight 3-Zone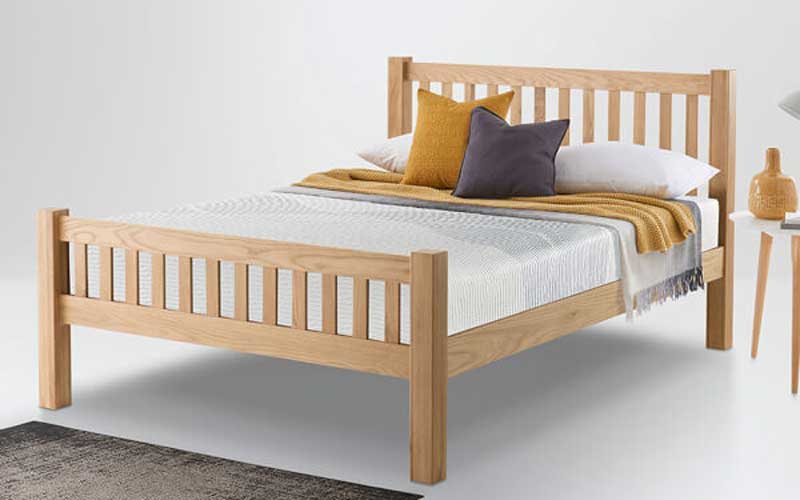 Silentnight is one of the UK's top leading bedding brands, which have created an affordable and supportive option known as the 3-Zone Mattress. This is the cheapest item on today's list, but that doesn't mean it falls short in quality.
Layers
This is a memory foam mattress constructed with a three zoned system that promotes maximum comfort and support. We mean that memory foam moulds to your entire body provide pressure-relieving support to 3 areas of your body: lower back, shoulders, and hips.
The mattress's inner core is made up of Miratex, a variety of latex foam exclusive to Silentnight's 'Mira-' technologies, whose surface features a 3 cm thick layer of memory foam. The 3 Zone option is rated as a is excellent for side sleepers.
Cover
Silentnight's cover has been Purotex treated to reduce moisture and dust-mite allergens, creating a budget-friendly hypo-allergenic option.
The probiotic treatment works on the same principle as the probiotic yoghurt drinks. That's by putting friendly bacteria into the fabric of the mattress. As you sleep, your body pressure activates set friendly bacteria, which quickly multiplies to outnumber and replace any harmful bacteria in your bed.
Thickness
The 3 Zone model has a depth of 18 cm, which provides a healthier sleep, each and every night.
3. Silentnight Eco Comfort Miracoil Ortho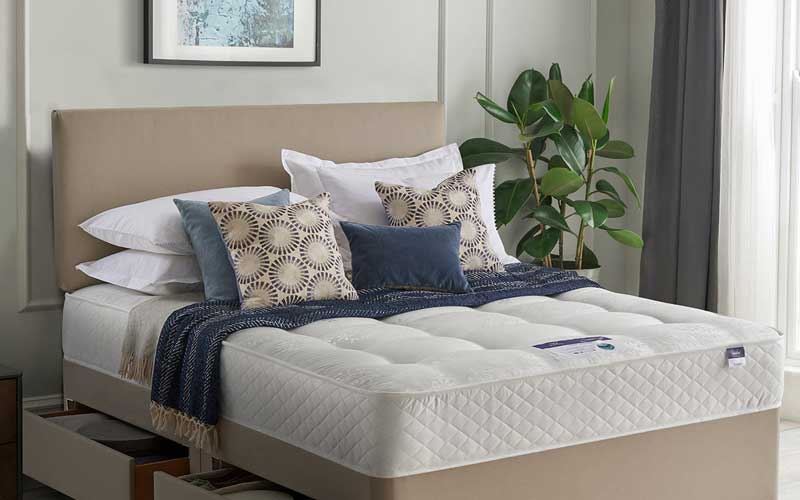 If you're looking for an orthopaedic mattress that's good for both the planet and your wallet, the Silentnight Eco Comfort Miracoil Ortho can be the one!
Layers
The Eco Comfort has a Miracoil zoned spring system offering outstanding support, superior spinal alignment, and maximised sleeping space. Its innerspring coil system features a unique spring layer that makes the mattress extra firm.
It has 3-zoned support, where one and three are softer and aimed at comfort, while zone two provides firmer support for your hips and back. The difference between the zones ensures spinal support that may help reduce your aches and pains.
Cover
Silentnight Miracoil hand-tufted damask cover is hypo-allergenic and dust mite free. The manufacturer uses breathable, sustainable fibres and eco-friendly materials. The Eco Comfort is Purotex treated, and Allergy UK approved to create a fresher and healthier mattress.
The sleep surface is made from 75% spun rayon and 25% polypropylene, the underside has 60% polypropylene and 40% polyester, and the side border is designed with 24% polyester, 36% cotton and 40% polypropylene.
Thickness
Silentnight's model is 24cm thick, making it suitable for most standard bedding sets.
4. Silentnight Mirapocket 1000 Geltex Pillow Top Mattress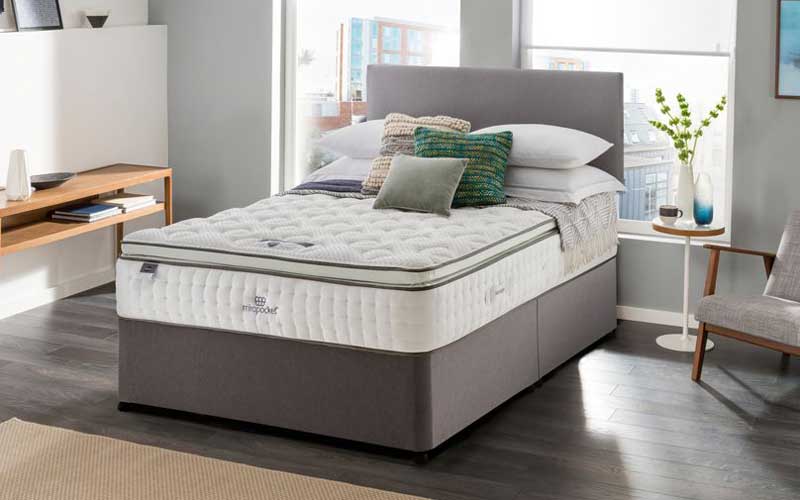 Lastly, Silentnight has created an innovative limited edition luxurious pillow top mattress that has been crafted with your total comfort in mind.
Layers
It features 1000 individual Mirapocket springs which provide zoned support for a restful night's sleep. This Silentnight's item also has edge-to-edge support so that you can finally take advantage of your whole bed.
What makes the Silentnight Mirapocket stand out is its luxuriously deep 4cm layer of Geltex that encourages correct spinal alignment while helping you with pains and pressure point build-up. The brand has also enhanced breathability so that you and your loved ones can stay cool and refreshed throughout the night.
And the cherry on the cake is the cushioning pillow top that combines refined comfort with exceptional support to provide you with the ultimate sleep solution.
Cover
This model also has a Purotex-infused knitted cover to guard against allergens, making it hypo-allergenic and approved by Allergy UK.
Thickness
The single-sided pillow-top option is 33cm thick, meaning you will need a deep fitted sheet for this beauty.
How firm is the Silentnight mattress?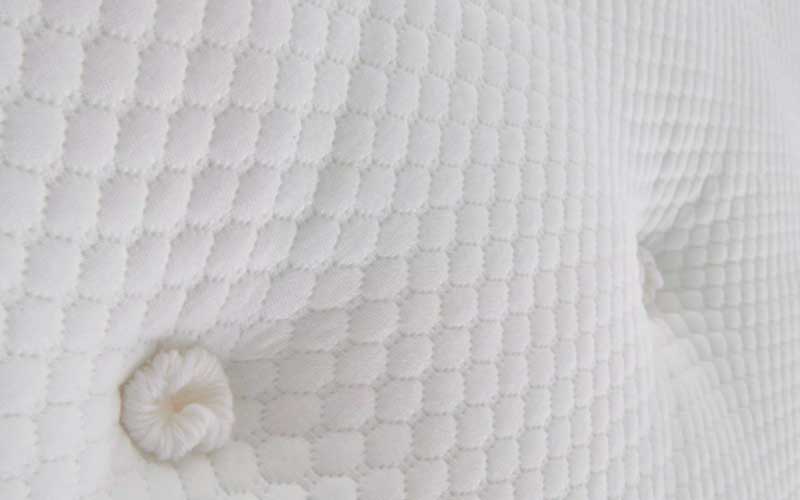 Overall, Otty's mattresses range from medium to extra firm, meaning they stay between 5 and 10 from a range of 1 to 10, with one being the softest and ten the firmest. Here is how firm each model is:
Silentnight Comfort Pocket 1400: firm
Silentnight 3-Zone: medium
Silentnight Eco Comfort Miracoil Ortho: extra-firm
Silentnight Mirapocket 1000 Geltex Pillow Top: medium-firm
Design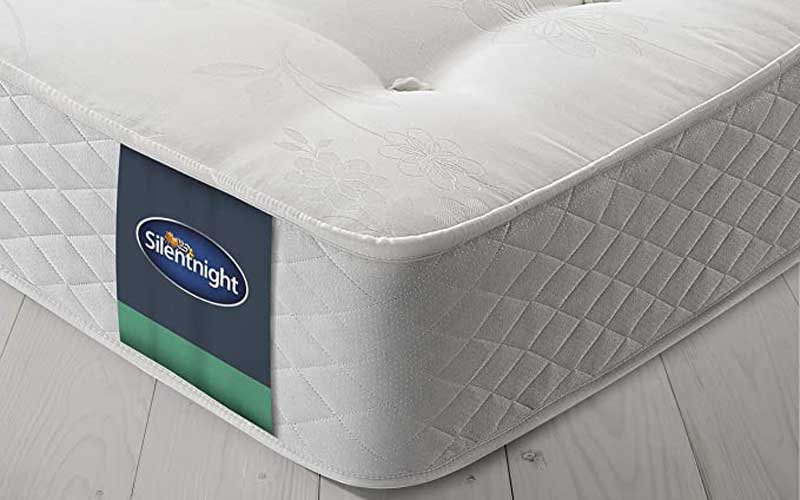 Silentnight is a brand that appreciates simplicity which is why the products they put out usually have a white colour with different patterns on the cover. Depending on the collection, you might find a small pop of colour.
For example, the Geltex range has a grey lining on the side, whereas the Miracoli collection has a pop of blue on the sides.
How long is the free trial period?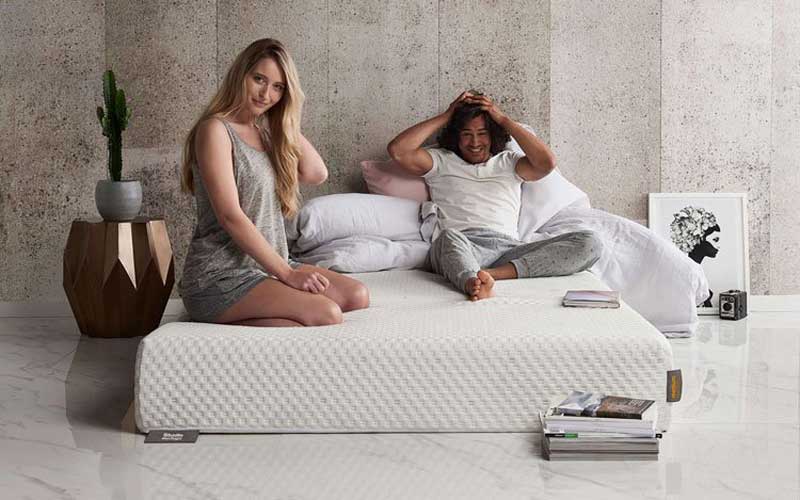 All Silentnight mattresses come with a 60-night trial period in which you can make a decision. The brand wants you to sleep on your purchase for at least 28 nights as it can take a little time to adjust before you make your choice.
If you're still not loving your new mattress for some reason, you can exchange it for another model. However, keep in mind that you won't receive a refund. After you purchase a product, all you can do is exchange it for another one.
How long is the warranty?
In the unfortunate event you experience manufacturing issues, Silentnight provides you with a five-year warranty. Some models might have a three-year guarantee, but that's not the case with the options we've selected.
However, the company reserves the right not to honour claims under this guarantee at their discretion. Let's talk about the situations in which it applies and when it doesn't:
What defects does the warranty cover?
Faulty material or poor workmanship
Only valid with authorised retailers of Silentnight
Used and maintained following the manufacturer's guidelines and instructions
What defects doesn't the warranty cover?
Misuse of the product
Use without bed linen
Subjecting the product to excessive wear and tear, like jumping up and down on the bed
Using an old or unsuitable base
Not following the washing instructions on the label
Rolling or bending the mattress
Not retained your receipt as proof of purchase
What sizes does Silentnight come in?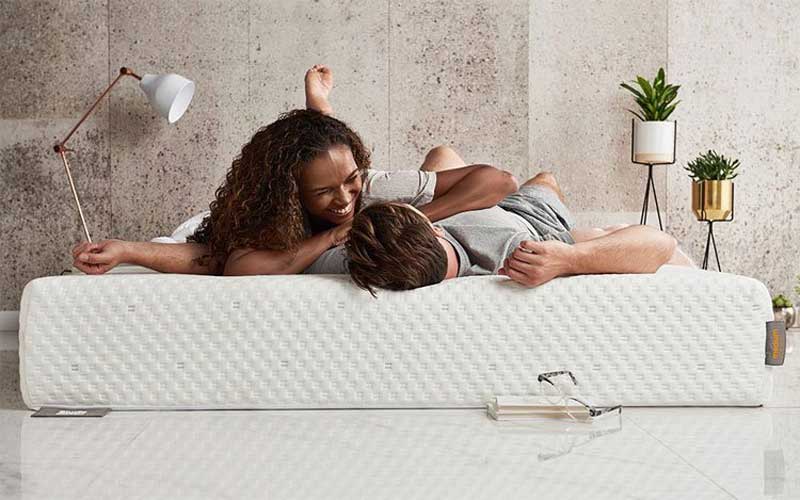 The company wants you to find your perfect match with one of their nine available size options. Silentnight has tried to simplify that by concentrating on nine sizes to create a straightforward, no-nonsense guide with which you won't be overwhelmed or confused.
Here are the available sizes for their models:
Small Single – 75x190cm
Single – 90×190 cm
EU Single – 90×200 cm
Small Double – 120×190 cm
Double – 135×190 cm
EU Double – 140×200 cm
King – 150×200 cm
Super King – 180×200 cm
EU King – 160×200 cm
What are the delivery terms?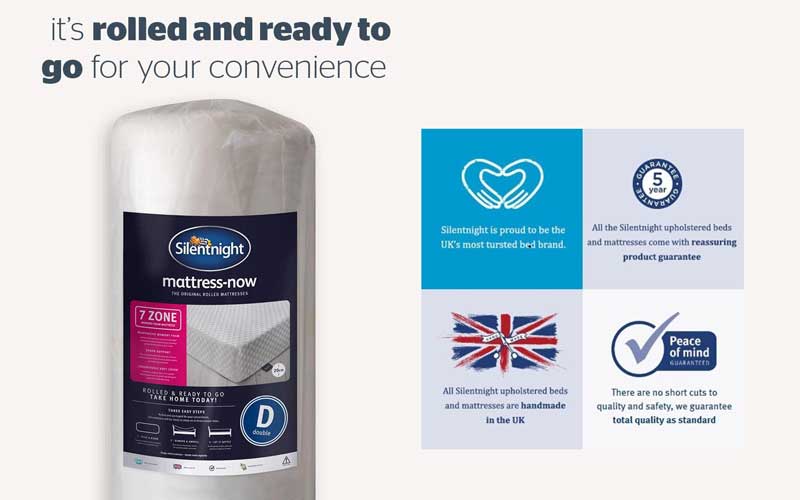 The company offers free delivery service on all orders over £49 to UK's mainland. The night before delivery, their delivery team will contact you either by text or email to confirm a 4-hour delivery window, and on the delivery date, they will let you know when they're just an hour away.
Silentnight beds and mattresses are handmade to order, so it can take up to 5 weeks to deliver. However, some products can come with a next day delivery, to find out which you should check the model's description.
They also offer old mattress removal and a professional 2-man delivery service for a small fee. There are three delivery options at checkout:
Free standard delivery, as outlined above
Premium 2 man delivery to your room of choice (subject to change)
Premium 2 man delivery to your room of choice + Old mattress removal (subject to change)
Silentnight's awards
The awards a company has won speak to the quality of the products they put out. Even though Silentnight is an affordable brand, they've still managed to snag a bunch of prizes. Here are some of their most recent awards:
Which? Best Buy
Good Housekeeping – Getting Greener
Good Homes Approved
Ideal Home Approved
Alternatives
If you want to take a look at other similar options, here are our recommendations:
Bottom line
Silentnight is one of Britain's most popular brands for a reason. They are made in the UK, and they are continually trying to put out more and more sustainable products. Their Mirapocket technology continues to grow in popularity and demand.
Overall, the brand has designed quality mattresses at a somewhat affordable price with memory foam or innerspring layers suitable for most sleeping positions and body types. You get a five-year warranty, a pretty decent trial period and a white-glove delivery service with the option of them picking up and disposing of your old mattress.
They should be on the radar for anyone looking for a top-quality option with various firmness levels. We hope you enjoyed the read, and if you have any questions, don't hesitate to drop us a comment below.