Best Orthopaedic Mattress for 2021 – Reviews & Comparison
Last Updated on November 2, 2021
Are you constantly waking up throughout the night from having back problems or spinal issues? If the answer is yes, then you should definitely consider getting an orthopaedic mattress that are usually a bit on the firm side.
The required level of firmness can depend on many factors, but it comes down to the support that's being offered by the mattress. In general Firmer models tend to work best for heavier people with back pain. Making the right choice can be hard and overwhelming if you don't know where to start and what to look for. The good news is you don't have to do it alone!
We've created LightSleeper to help you avoid spending money on sub-par products. We do the research for you and even sometimes make the same mistakes you would if you didn't spend the time to read the reviews, research and test all the available products on the market.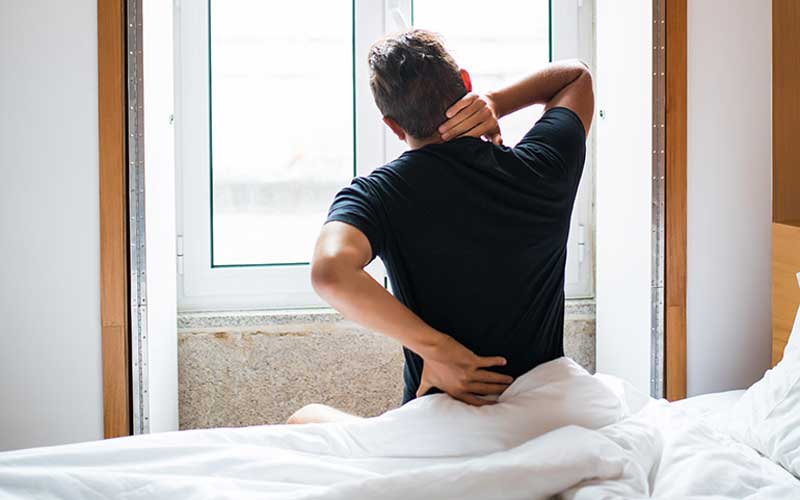 How to choose the best orthopaedic mattress?
Shopping for a new bed can be challenging since most mattress companies say they are the best. However, they can't all be! When you're making a choice, there are some essential considerations that you have to focus on to find yourself satisfied with your purchase. They are the following:
Level of firmness
First, you need to think about how firm do you need your mattress to be. When you do so, you have to consider your weight, height and sleeping position.
For example, if you're a side sleeper that continuously changes position, a soft mattress will be the better choice. But if you sleep on your back and want to ensure the right level of support, a medium to firm option is what might be best.
However, if you tend to sleep on your front and weigh more than average, you should think and an extra firm mattress, which will provide you with proper spinal support and stop your body from sinking in too deep.
Materials
Materials are one of the first aspects you need to consider. The type of material and its quality is what will either shorten or prolong a mattress's lifespan. Nowadays, there are various materials, including memory foam, latex, spring mattresses, etc. All have their pros and cons, and it's up to you to decide what are your personal preferences.
Do you prefer latex and hybrid options due to their bounce ensuring comfort or is memory foam your thing because of the high level of support it can provide?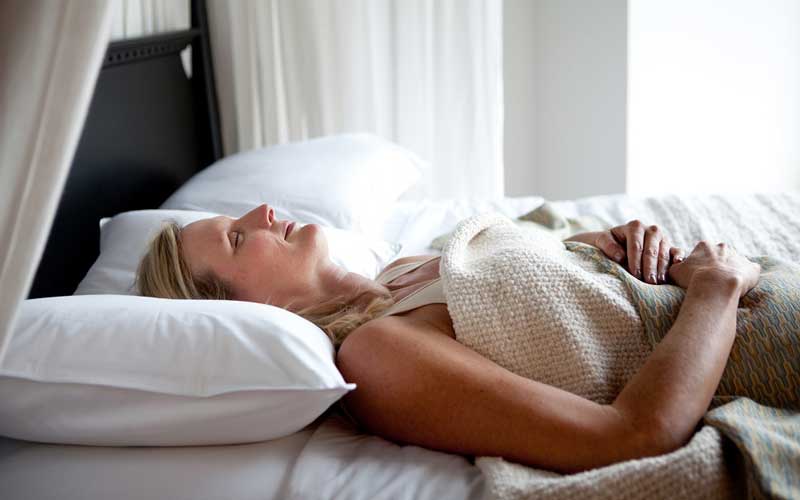 Free trial period
You won't be able to tell if a bed is right for you only by laying on it for a few minutes in a store. That's why we recommend you look for products that offer a free trial period at home. We recommend you choose one with a minimum of 30 days trail so that your body has the time to adjust to the new bed and see if any new pains or issues develop.
Warranty
Often the lifespan of a mattress can also hint at its quality. Most warranties vary from 1 to 10 years, but a few brands offer a lifetime guarantee. However, make sure to read the fine print to know how the return process works and if there are situations in which the warranty can be voided.
Return Policy
Last, we suggest you read the return policy before making a purchase. Different brands have different return policies. Some will give you your money back, others will offer an exchange, and third may deny your return depending on the situation.
​1. Relyon Ortho Support 1500 – Editor's Pick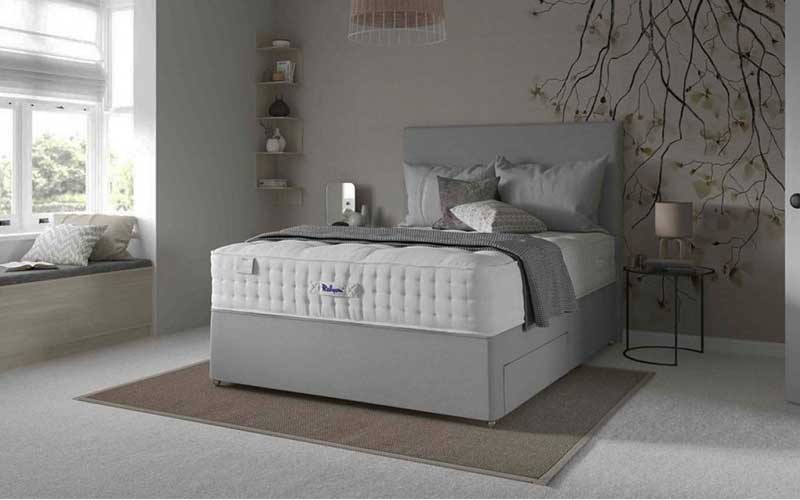 First, on our list, today is the Relyon Ortho Support 1500, an extra-firm tension mattress, with glowing customer reviews that easily won the Editor's pick in this category.
The Relyon Ortho is ideal for those looking for the utmost support, with 1500 independently moving pocket springs that follow and support your body shape and weight. This item is available in one tension only but in five different sizes.
With a depth of 30cm, the Relyon Ortho is constructed with a deep memory foam layer with pressure-relieving properties. The foam used in the bed provides a resilient and supportive surface feel, while the three rows of side stitching give a more robust mattress border.
Relyon is a hand-tufted product with a Cool Comfort fabric technology, which will help balance your body temperature due to the cotton filling with excellent absorption qualities.
Overall, Relyon is our winner because it is one of the few brands with a 'Manufacturing Guild Mark' which is a sign of quality and so are the eight years of warranty that come with it. This Ortho mattress is one-sided, so you can rotate it regularly to extend its life.
Key Features:
1500 pocket springs
Deep layer of memory foam
3 rows of side stitching
Trial Period for Returns: 14 days
Warranty: 8 years
2. Tempur Helsinki – Runner Up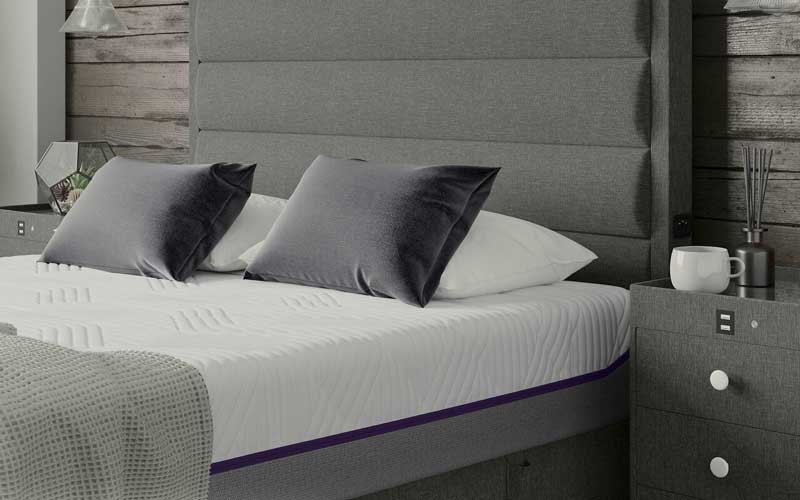 We have the Tempur Helsinki mattress for our luxury option, which is only sold by Bensons for Beds rather than by Tempur directly.
Usually, a memory foam mattress isn't perceived as a very firm choice due to the general idea that you sink into it for consistent support. However, Tempur is a brand that took materials first created by NASA and designed their 'secret formula'.
The Tempur Helsinki is an extra-firm option available for purchase in four sizes with a depth of 23cm. Its luxurious memory foam responds to your body's heat and shape for personalised support, making it a premium orthopedic suggestion.
The British Standards Institute has awarded it because of the iconic TEMPUR® space technology and its Quick Refresh removable cover.
In general, this Tempur item distributes pressure and enables a truly superior sleep experience that comes with free delivery, a 100-night trial period and a ten-year warranty.
Key Features:
TEMPUR® space technology
Quick Refresh cover
Luxury memory foam
Trial Period for Returns: 100 days
Warranty: 10 years
3. Sleepeezee Ultrafirm 1600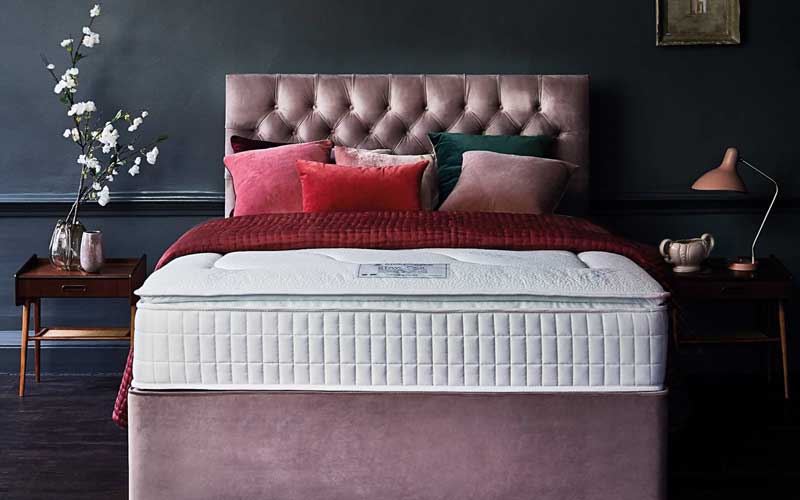 Sleepeezee is a highly respected brand in the bedding industry that creates high-quality products at affordable prices. Proof of set quality is the Royal Warrant which makes them a supplier for Prince Charles.
The Sleepeezee Ultrafirm Pocket is an extra firm mattress, perfect if you love plenty of support with 1600 individual pocket springs. Layers of cotton and polyester fillings surround the springs for comfort, while the beautiful damask cover holds everything in.
Sleepeezee is a hand-tufted item for enhanced support and durability that includes handles for easy moving and turning. It can be purchased in five different sizes with a depth of 24cm and air vents, which improve airflow throughout the whole bed.
This Sleepeezee option is budget-friendly and orthopaedic. It comes with a 60-day trial period and a five-year guarantee, making it an ideal choice for support, comfort and great value for money.
Key Features:
1600 individual pocket springs
Cotton & polyester fillings
Luxurious damask cover
Trial Period for Returns: 60 days
Warranty: 5 years
4. REM-Fit Ortho Mattress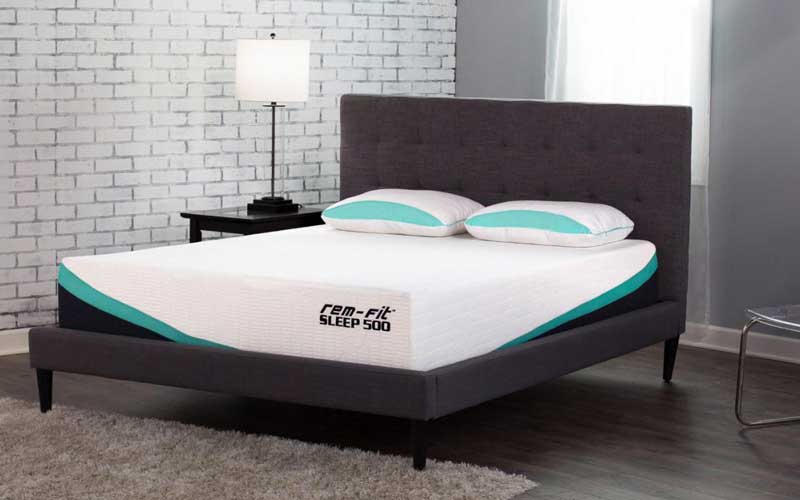 REM-Fit is a fast-growing company with an award-winning multi-layered hybrid mattress called REM-Fit Ortho. The brand uses high-tech technology to create a next-generation orthopaedic hybrid, that can beat most memory foam mattresses.
On top of the REM-Fit Ortho is a Re-Ax breathable, knitted cover with a silky touch. It's followed by a 50mm open-cell zoned memory foam comfort layer, which provides advanced temperature regulation and pressure-relieving comfort. Next, we have 2000, 14cm encapsulated pocket springs for proper spinal alignment due to their firm tension.
After that, we have a strong foundation in the face of a high-density foam bringing a robust and extremely durable sleeping surface. REM-Fit Ortho also has encapsulated sidewalls, which deliver strong edge-to-edge support.
The REM-Fit Ortho can be purchased in eleven sizes, which is unheard of with a depth of 25cm. This hypo-allergenic product comes with a 100-night trial and a 15-year guarantee that showcases its quality.
Key Features:
2000 Premium Pocket Springs
Zoned Pressure Relief
Open-Cell Memory Foam
Trial Period for Returns: 100 days
Warranty: 15 years
5. Slumberland Ortho Firm 1400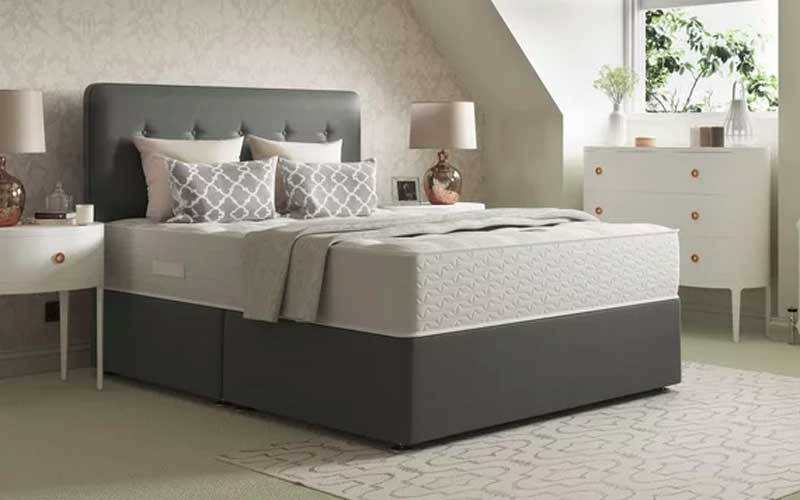 Slumberland's Ortho mattress is the ideal option for someone looking for a bed that offers the firmest level of support. This product combines 1400 individual pocket springs and firmer comfort layers while featuring seasonal turn technology that helps you remain comfortable throughout the year.
With this Slumberland item, you receive 1400 pocket springs in which the upper part shapes to the body contours while the lower part absorbs changes in weight distribution. For softness and resilience, Slumberland has added a dust-free white fibre filling. They also have deep firm support layers for the ultimate backcare comfort.
This mattress has a summer and winter side. The summer one is designed to help you stay cool during the warmer months. Whereas, the winter side uses wool, who is a natural insulator providing warmth in the winter.
You can finally enjoy sleeping on the entire surface with Slumberland's side support system! The Ortho 1400 is a hand-tufted product with a depth of 32cm and probiotic fabric treatment providing natural protection from allergens, bacteria growth and dust mites. Slumberland comes with flag-stitched handles on both sides for ease of positioning and a warranty that lasts eight years.
Key Features:
1400 Pocket Springs
White Fibre layers
Bio-Protect technology
Damask cover
Warranty: 8 years
What is an orthopaedic mattress?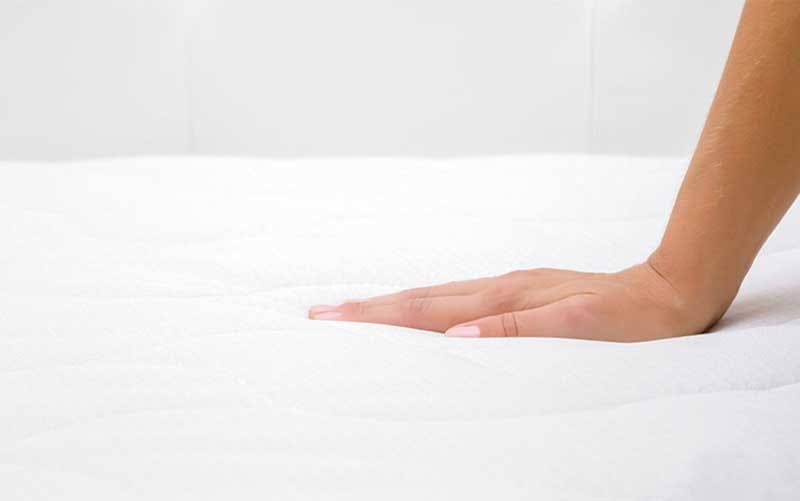 An orthopaedic option is a mattress designed to offer a firmer sleeping surface, which provides targeted support for your back, joints and overall body. This type of mattress has been created to combat the problems someone may experience with a bad back or joints by providing a firm bed that offers targeted, tailored support.
Is an orthopedic mattress right for me?
This type of bed offers excellent support and pressure relief, which reduces body aches and pains. In general, a firm sleeping surface promotes healthy posture alignment and pressure relief, making it a suitable option for people who suffer from back and joint pain.
If your body weight is above average, a solid bed structure will prevent your mattress from lumping and sagging. Even if you simply prefer a firmer feel and support, this can be the right choice. However, you may find that some of these mattresses feel too "hard", meaning they aren't the right ones for you.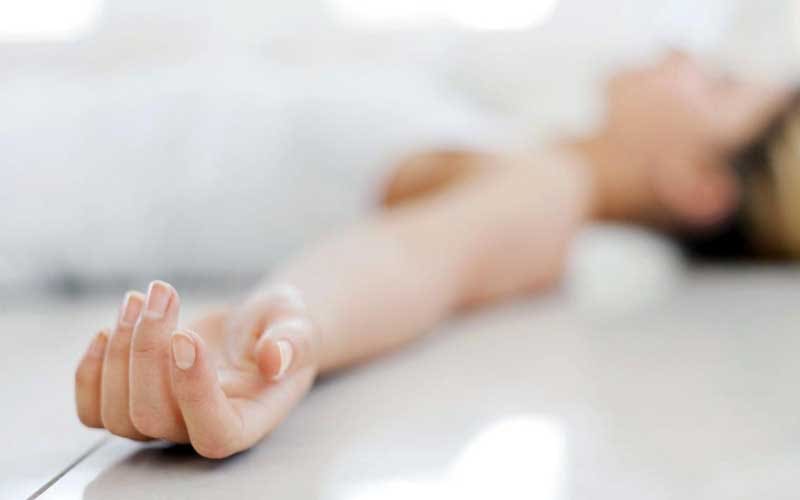 Will an ortho mattress help my bad back?
Some people find that an extra-firm mattress can relieve their back issues. However, people are different, which can be a very subjective thing since one person can find a firm bed ideal as another one can consider it quite uncomfortable.
If you want to learn more about beds that are suitable for backaches and pains, we recommend you check out our articles on "Best Mattress for Back Pain" and "Best Mattress For Bad Back".
Bottom line
High-quality orthopaedic mattresses offer high levels of support, pressure relief and comfort. Extra-firm models can be extremely beneficial for those who have a bad back or experience aches and pains throughout the night. However, there are numerous available models, and you have to know which one will work best for you.
Think about what a company offers, and look into the features and qualities of a product thoroughly. Mattress brands frequently change, and so do the products they offer, which is why we will continue to provide you with the most up to par information and try to shed some light on the best orthopaedic mattress on the market.
If you have any questions or concerns, please drop us a line in the comments below!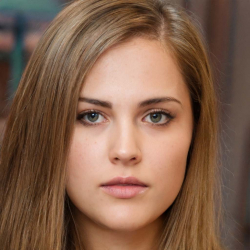 Latest posts by Isabelle Harris
(see all)