Sleepeezee is one of the leading mattress brands in the UK that lets you experience gravity-defying comfort with layers upon layers of innovation. It's crafted with high-quality materials, has glowing reviews and a manufacturer's warranty. But is there a catch?
Check out our Sleepeezee mattress review below and see if it's the right choice for you!
Pros
Royal warrant holder
Carbon neutral organisation
Large selection

Excellent customer reviews
Cons
Limited warranty on some models
Sleepeezee is one of the most popular mattress brands in the United Kingdom, and its products are made in Rochester. Over time this company has become one of the best bed manufacturers worldwide. Their items offer extreme comfort and support while still providing great temperature regulating capabilities and high-quality materials.
Sleepeezee has won many awards through the years. Still, they are the first UK mattress manufacturer to receive the PlanetMark of approval, showcasing their hard work towards a more sustainable future. This brand has multiple mattress collections, and today we'll discuss all of them!
We'll go over the collection's details and see whether their suggestions are a good fit for your specific needs. We'll cover build quality, design, pricing, sleep performance and see if there are any downsides that you should know about.
Which Sleepeezee model should I choose?
Over the years, Sleepeezee has come up with all sorts of beds like hybrids, pocket sprung and memory foam mattresses that will provide you with a good sleep every night for years to come. Their product's prices vary, just like their guarantees and firmness levels.
This brand offers mattresses for most sleepers and their body types. They've designed multiple collections, which we'll take a closer look at next. Here are all of the Sleepeezee collections:
1. Jessica Collection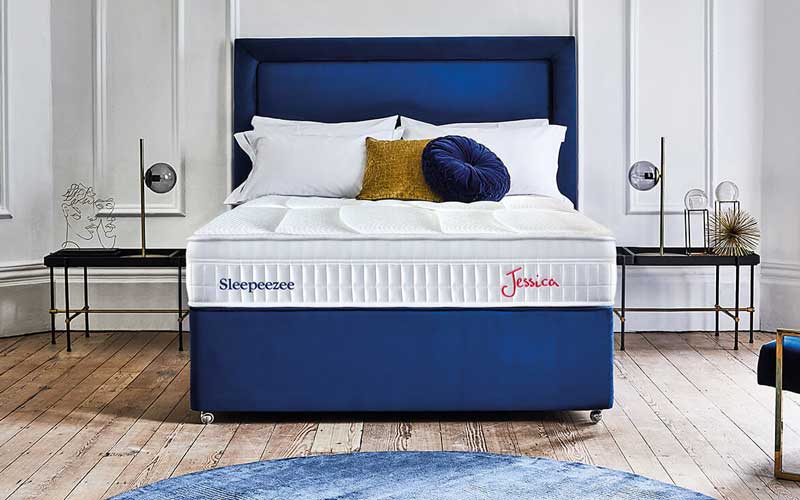 The Jessica Collection has only one mattress but is still one of the brand's flagship products. The Jessica mattress has been Which? Approved due to the various technologies used in it to ensure people's comfort and support.
This item was crafted with a unique foam that goes from edge to edge, preventing the roll-off feeling and the hardship of getting out of bed. The Jessica is a uniquely created foam encapsulated mattress with a deep Staycool Gel layer that is excellent in regulating body temperature while offering pressure sensitive support.
In terms of comfort, the brand offers a quilted finish which also adds to its design. But what makes it truly remarkable is its hypoallergenic white fibre filling that cushions spring movement and reduces allergens.
2. G Memory Collection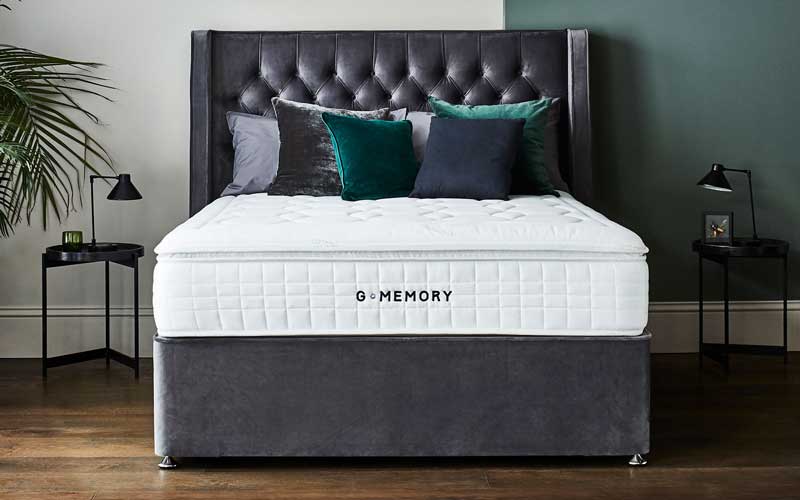 Next, we have the G Memory collection that includes three memory foam mattresses, the G2, G3 and G4. What makes them stand out is the graphite memory foam used in them, allowing both air and moisture to pass through the foam while you sleep.
The foam used in these mattresses will mould to the shape of your body without allowing it to overheat like other memory foam. The filling in this collection is 100% British wool which is done by hand. The G2, G3 and G4 are no turn options, meaning all you need to do is rotate it from head to foot.
Sleepeezee's G Memory items come with a sumptuous knitted sleep surface that provides luxurious comfort. Each mattress is handmade in the UK from the very finest British materials by an expert team at their factory in Kent and then shipped directly to retailers across the UK.
3. Perfectly British Collection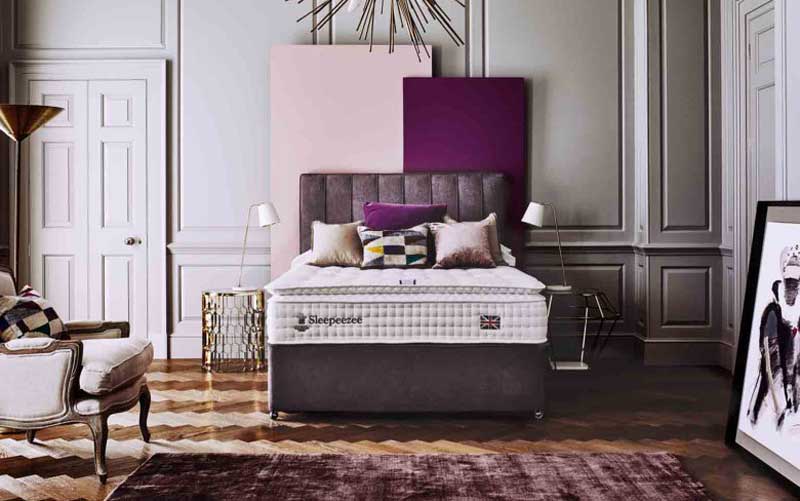 The third collection we're are discussing today is Sleepeezee's Perfectly British, which includes the Strand 1400, the Regent 2600 and the Mayfair 3200. Each mattress has a pillow top adding even more comfort than ever.
All choices in this collection are designed from the finest British natural materials, such as the Strand 1400 is made of 100% British wool, offering more luxury and support. The Regent 2600 mattress has an outer layer of silk that offers outstanding temperature control. Finally, we have the Mayfair 3200 that comes with an added layer of cashmere that also aids your body with temperature control.
These models offer total support to align your spine, keeping you comfortable all night long. The Regent 2600 also comes with Softech® technology, which contours your body, maintains your posture, and ensures a good night's sleep.
4. Cooler Collection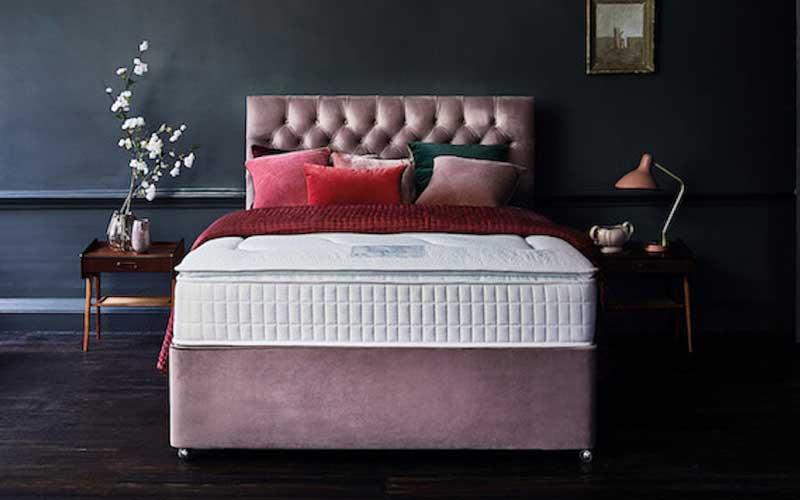 After Perfectly British, we have the Cooler Collection that consists of three models: the Cooler Ortho, the Cooler Supreme 1800 and the Cooler Seasonal 1000. All three offer something different, including comfort grades and materials.
As the name implies, this range introduces three cooling mattresses with a Staycool Gel layer, provides pressure-sensitive support that immediately responds to your body shape and helps regulate body temperature. This collection also comes with a Cool-Touch surface that also helps with your body temperature.
This range will keep you warm in the winter and cool in the summer! The Cooler Collection range of mattresses are handmade in the UK from the very finest British materials, such as wool is sourced from sheep farmers nationwide.
5. Pocket Gel Collection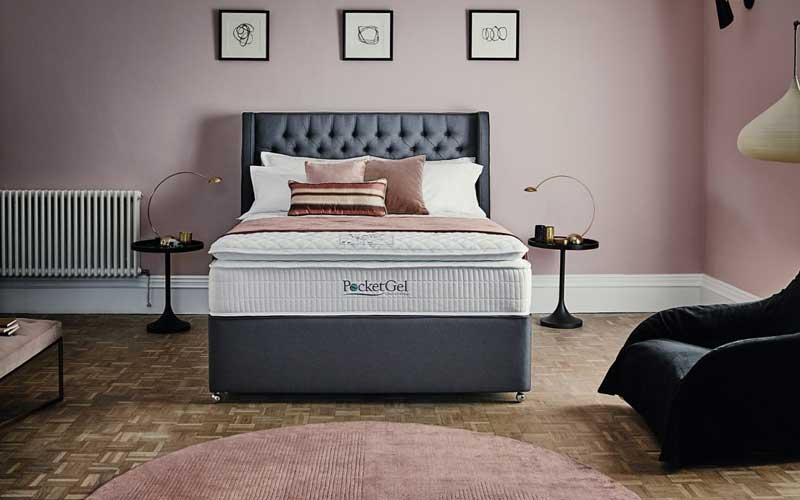 If you're on the market for something different and innovative, we have the Pocket Gel Collection Collection from Sleepeezee. This range also includes three products which are the PocketGel Poise 3200, the PocketGel Immerse 2200 and the PocketGel Balance 1200.
These models combine the cooling properties of gel and the excellent support of pocket springs. The gel inside the mattresses responds to your body's temperature and shape while sleeping and provides you with comfort and pressure relief.
The Poise 3200 and the Immerse 2200 come with a sumptuous pillow top layer providing extra comfort. In comparison, the Balance 1200 has a quilted knit cover, promoting breathability and allowing cool, fresh air to flow through the entire mattress.
6. Hybrid Collection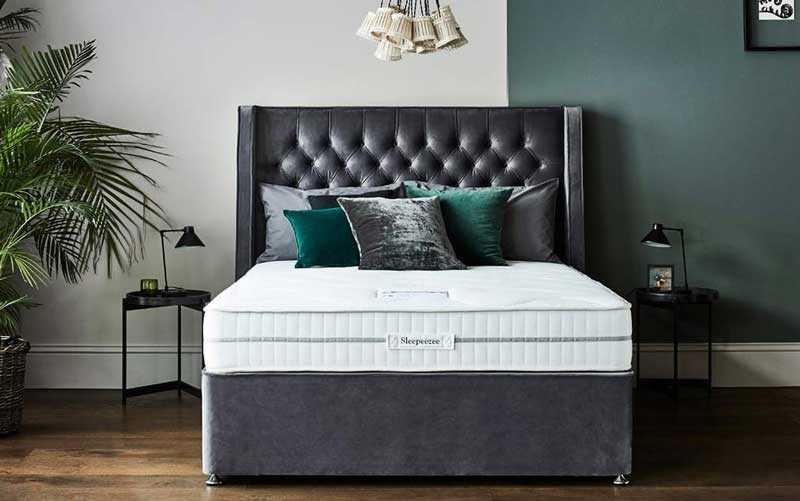 If you are a fan of hybrid mattresses, Sleepeezee has got you covered with their Hybrid Collection that currently features a single size that offers extreme comfort and temperature regulation. The Hybrid 2000 has added Softech pocket springs that independently contour to suit your body's shape and weight for ultimate support.
The mattress also has a Staycool™ Gel layer that provides pressure-sensitive support, which immediately responds to your body and helps regulate your body temperature. This product has a quilted cover designed to make the outer layer feel luxurious and soft to the touch.
This Sleepeezee option is easy to care for since it's a no-turn mattress. All you have to do is rotate head to foot. If you're longing to wake up refreshed each morning, this might be a great suggestion to consider. Even The Which? approved the Hybrid 2000 due to the perfect blend of technologies, delivering outstanding comfort and total support each night.
7. Royal Backcare Collection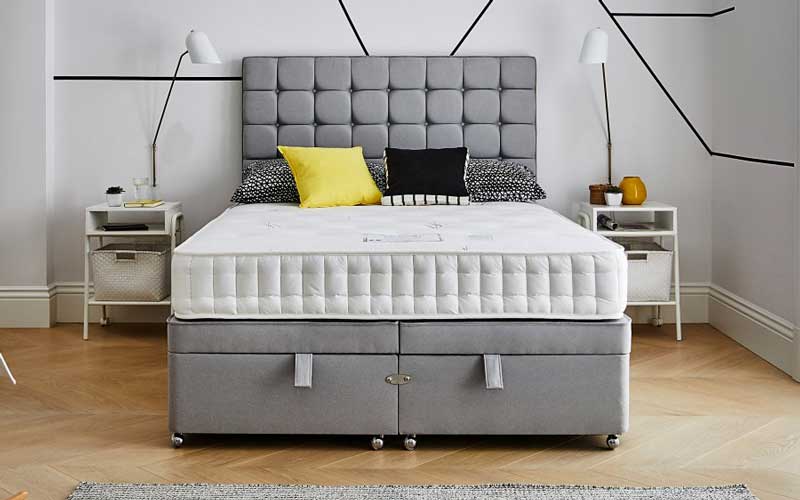 If you're having back problems or spinal issues, Sleepeezee has come up with the Royal Backcare Collection that can help solve these problems. This range includes four models: the Royal Backcare 1000, Royal Backcare 2000, Royal Backcare 1600 and the Royal Backcare 1400.
According to the manufacturer, these mattresses offer orthopaedic support and can help relieve pains and aches. They evenly distribute your body weight, spreading it across the entire surface of your bed while reducing the need for tossing and turning.
The Royal range comes in a variety of natural luxury fillings, all hypoallergenic and breathable, encouraging better spinal alignment. Inside each mattress, you can find the finest comfort layers of British wool, silk and cotton, encased in a soft knitted fabric.
8. Pure Collection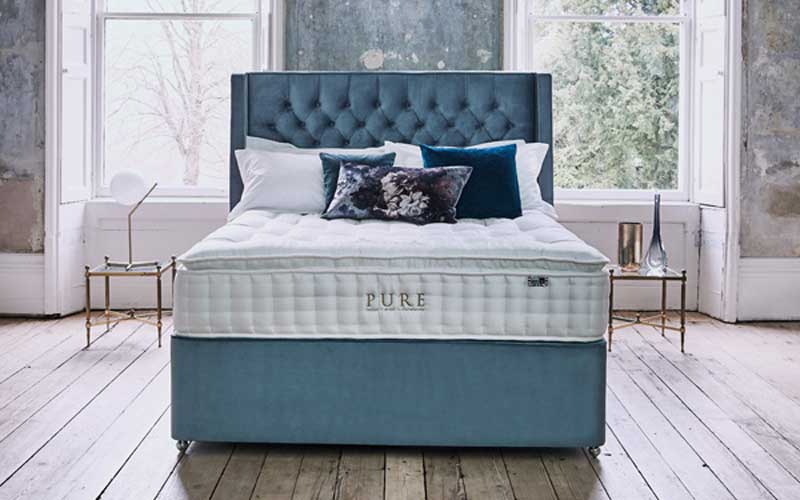 The Next range of products is included in the Pure Collection by Sleepeezee, and that's one of their most popular choices. Here we have three models, which are the Imperial 2000, Grand Luxe 3000 and the Emperor 4000.
All products in this range are handmade in the UK with natural materials, working together to ensure the product offers comfort at all costs. The brand uses 100% British wool and cashmere to make the customers feel comfortable while the uniquely crafted pocket springs support them.
This collection has a secured side stitching detail that allows the mattress to keep its shape for longer while being chemical-free. Two out of three models in the range are double-sided (except for the Emperor 4000) and easy to turn.
9. Campaign for Wool Collection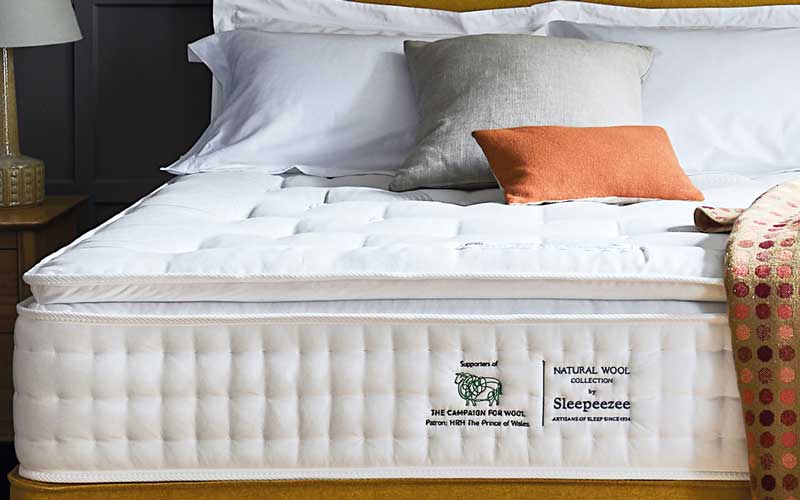 The last range we'll discuss today is one of our personal favourites, and that's the Campaign for Wool Collection from Sleepeezee, which was ed to ensure you are benefiting from what 100% British wool has to offer.
We have another three model collection that introduces the Wool Superb 2800, the Wool Supreme 2400 and the Wool Deluxe 1200. All of them have a double layer of 100% British Wool, which is rare and hard to achieve even with the top competitors on the market. The Campaign For Wool collection offers some of the top choices of wool mattresses on the market.
They also have a chemical-free damask cover, ensuring breathability and temperature regulation. The number of traditional pocket springs in each wool mattress is represented in the name, meaning they vary from 1200 to 2800.
How thick is the Sleepeezee?
When it comes down to thickness, all mattresses vary between 21 to 36 cm thick in order to suit everyone's needs, preferences and budget. In general, the industry standard for a mattress is 25cm, which is why most options are between 24 to 26cm.
How firm is it?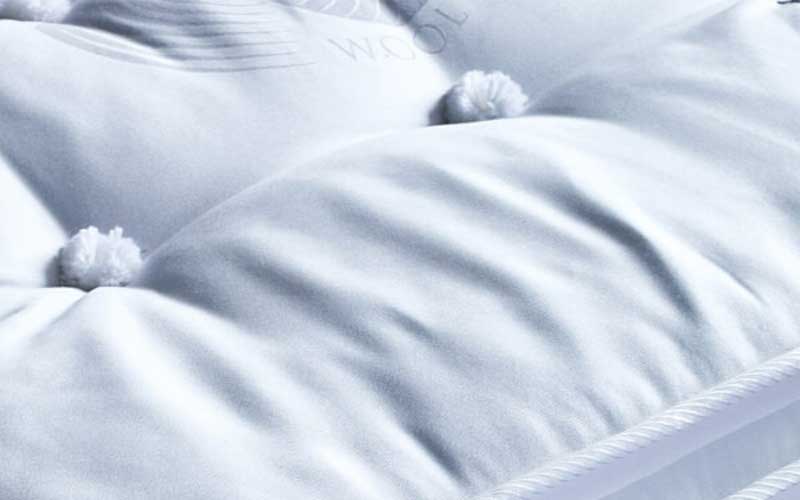 Sleepeezee's mattresses offer different comfort levels, from medium-soft to extra firm. Medium firmness is considered suitable for front and side sleepers in all shapes and sizes, which is why it's the standard in the bedding industry.
However, the brand offers firm mattresses suitable for back sleepers and heavier people who need extra support. Here is where every collection stands:
The Jessica Collection – medium to firm
The G memory Collection – medium/soft to medium/firm
The Perfectly British Collection – medium
The Cooler Collection Collection – medium to firm
The Pocket Gel Collection – medium-soft to firm
The Hybrid Collection – firm
The Royal Backcare Collection – extra firm
The Pure Collection – medium-soft to medium-firm
The Campaign for Wool Collection – medium-firm
Design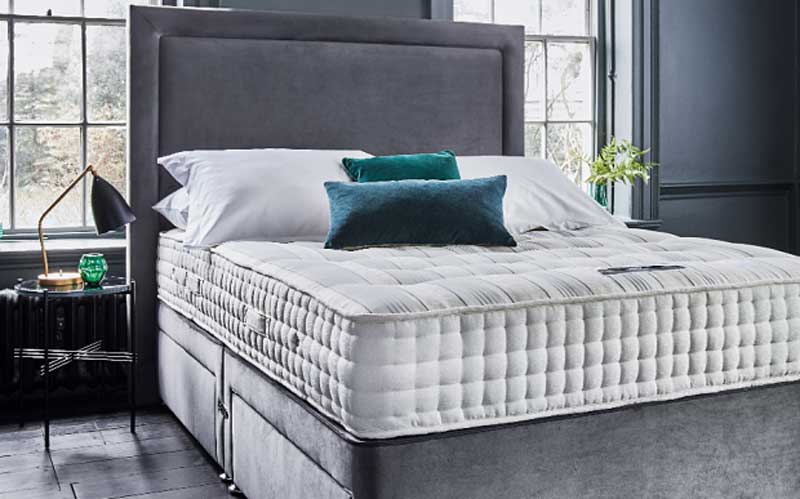 Sleepeeze is a brand that relies on quality and simplicity. All of their models are white with minor exceptions of colour in the different ranges, such as a grey line in their Hybrid Collection or pink font in their Jessica mattress. This way you get products that are suitable for any bedroom aesthetic.
How long is the free trial period?
Almost all Sleepeeze mattresses come with a 60-night trial period. That's enough for your body to adjust to the new purchase, which usually takes around four to six weeks. If you end up disliking your purchase, all you have to do is contact customer service, and they will reimburse your purchase price.
However, it would be best if you kept in mind that there are some options that don't have a risk-free trial period at all.
How long is the warranty?
Like most high-quality mattress brands, Sleepeezee provides between 5 to 10-year warranty, ensuring you are covered in the long run. With that said, they have a few mattresses which are exclusive to some popular UK retailers that come with only one year guarantee.
The Jessica Collection – 10-year guarantee
The G memory Collection – 7-year guarantee
The Perfectly British Collection – 10-year guarantee
The Cooler Collection Collection – 7-year guarantee
The Pocket Gel Collection – 5-year guarantee
The Hybrid Collection – 7-year guarantee
The Royal Backcare Collection – 5-year guarantee
The Pure Collection – 10-year guarantee
The Campaign for Wool Collection – 7-year guarantee
However, the company reserves the right not to honour claims under this guarantee at their discretion. The general rule of thumb is that they will repair wears and tears due to faulty craftsmanship (excluded: staining, excessive soiling, abrasion, tears and burns, misuse and regular bed filling settlement).
What sizes are available?
The company wants you to find your perfect match with one of their five available size options. Sleepeezee has tried to simplify that by concentrating on nine sizes to create a straightforward, no-nonsense guide with which you won't be overwhelmed or confused.
Here are the available sizes for their models:
Single – 90 × 190 cm
Small Double – 122 × 190 cm
Double – 137 × 190 cm
King – 152 × 200 cm
Super King – 182 × 200 cm
What are the delivery terms?
The delivery terms may vary depending on the used UK retailer, but in general, most orders are free of charge. Some companies offer premium delivery service to a room of your choice and even old mattress removal, while others don't. It's up to you to decide!
Awards
Sleepeezee is a well-known brand in the UK that has received multiple awards that speak to the quality and build of the products they put on the market. Here are some of their most recent awards:
The Good Housekeeping Institute – Approved
Harvey Norman Bedding Product of the Year
Received The Royal Warrant
Which? Best Buy award
Planet Mark Certificate
British Heart Foundation
Ellenor Hospice
Other Alternatives:
If you want to take a look at other similar options, here are our recommendations:
Bottom line
Now that we have shown you the numerous options Sleepeezee has, it's up to you to deice which one is the right one for you! Every collection has something different to offer, which is why you should consider your priorities, needs and budget.
To conclude this Sleepeezee mattress review, we would like to say that this is an award-winning competitor that provides constant support and comforts each night, through any season for people of any shape and size.
It is not the cheapest mattress by any means, so this is something to consider. There are more affordable options out there, but, as we all know, you often get what you pay for. We hope you enjoyed the read, and if you have any questions, don't hesitate to drop us a comment below.