Sleep Hubs Tweak is a hybrid mattress that lets you experience gravity-defying comfort with its layers upon layers of supportive pocket springs and pressure-relieving foam. It's crafted with high-quality materials, has glowing reviews, free premium delivery and a manufacturer's warranty. But is there a catch?
Check out our Tweak mattress review below and see if it's the right choice for you!
Pros
Excellent for couples
Customisable comfort

100-night risk-free trial

10-year warranty
The Tweak Slumber is the world's first customisable mattress, which is perfect for couples because neither of them will have to compromise on their preferences. This product is made by a company called Sleep Hubs that have done things a bit differently and allowed you to tweak" things up a bit.
This way, they've managed to create a product that stands out. Sleep Hubs is a brand that designs mattresses. This item is their bestseller with innovative technology and high-quality materials.
In today's article, we'll go over Tweak's details and see whether their suggestion is a good fit for your specific needs. We'll cover build quality, design, pricing, sleep performance and see if there are any downsides that you should know about.
How is the Tweak mattress constructed?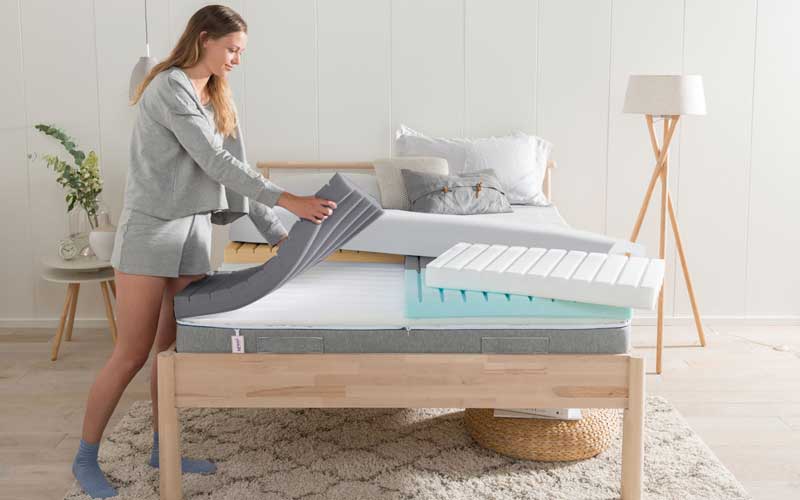 The Tweak mattress has a unique 4-layer design (+ cover) that can be customised to suit every individual sleeper's needs. This product is made locally here in the UK and meet all health and safety requirements.
Tweak is delivered with a combination of interchangeable foam inserts that you can rearrange by yourself as many times as you want to get the best night's sleep. These foams have been assessed by both EUROPUR and SPSC (Sleep Products Safety Council). Also, Sleep Hubs is a certified FIRA Gold member.
What is in Tweak's layers?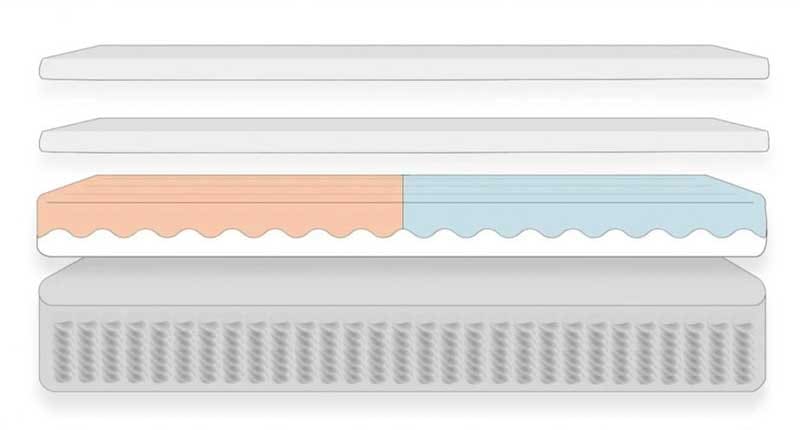 The Tweak Slumber mattress is constructed from four unique layers of hybrid innovation. First, we have the pressure relieving, cooling comfort layer that is 4cm deep. It has an open-cell structure that wicks away moisture and keeps you cool at night.
Next, we have the customisable comfort zones layer with three different densities (soft, medium and firm) of highly resilient Polyurethane foam that will provide you with the comfort and support you need in all the right places.
The mattresses' third layer is the 1,000 full-size pocket springs for superior support and bounce. They are individually wrapped and move independently as you sleep, which means your partner (if you have one) won't be disturbed by your tossing and turning. These springs are 10cm high and have a gauge of 1.5mm.
Lastly, we have the highly resilient base foam encapsulating the springs for edge to edge support. We have the springs encapsulated in the high-density foam making up the base and the mattress walls. It's covered in a medium-density reflex foam, ensuring you can feel the bounce of the springs below.
How thick is it?
The total thickness of the Sleep Hubs Tweak mattress is 25cm, meaning your regular sheets and bedding would fit without an issue. This product can be used on any bed base and even the floor. It can also hold up to 16 stone or 101 kg per side(two people per bed).
How firm is it?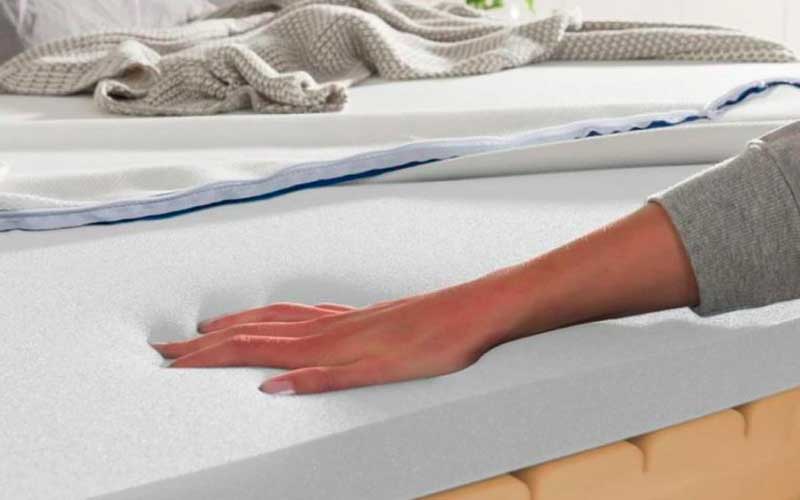 This mattress from Sleep Hubs can vary on the firmness scale because the brand doesn't believe in the stereotype of one size fits all, when it comes down to the level of comfort. That's why they've designed a product with adjustable firmness level due to the foam inserts in super soft, medium and firm densities. Generally speaking, the foams are between 5,5 – 7,5 out of 10 (one being the softest and ten the firmest).
What about the Tweak cover?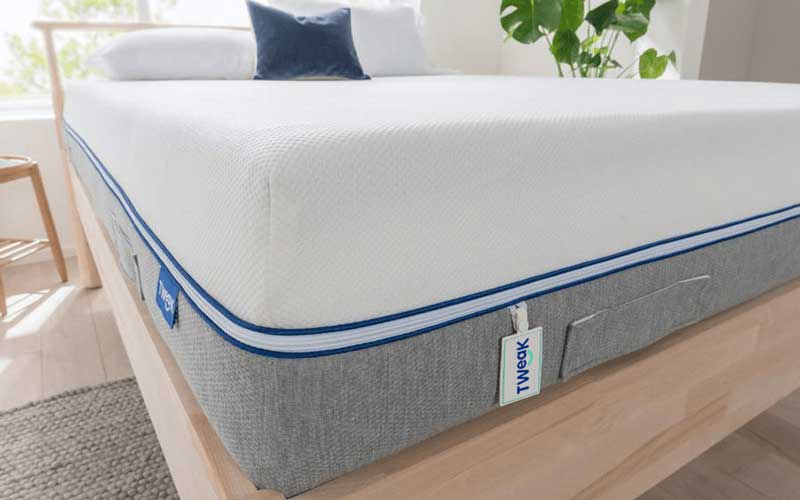 The brand has come up with a visco-elastic polyester blend cover that provides a soft and breathable sleeping surface. It's also hypoallergenic, fire-resistant and offers temperature control. The cover itself is easily removable and can be machine washed at 30 degrees. You can also air dry it so that your bed is always fresh and clean. The mattress cover includes two handles on each side (eight in total) for easy manoeuvring.
Design
The Tweak has a unique, modular design encased in a white and grey cover with a blue lining. This design allows you to choose where you want soft comfort and firm support across your body since each side of the mattress has its' own configuration.
The purchase will contain three super-soft, four medium and three firm foam inserts that can be interchanged across both sides of the bed. This option has a neutral colour mix which can work in nearly every room setting.
How long is the free trial period?
All Tweak mattresses have a 100-night trial period in which you get to try your purchase in the comfort of your home and give your body time to adjust. Laying on a bed in a store for ten minutes can't be enough for you to decide since, typically, your body will need between 4 to 6 weeks to adjust to a new mattress.
If, for some reason, you're aren't satisfied with your purchase, you can return it and get a full refund at no cost to you.
How long is the warranty?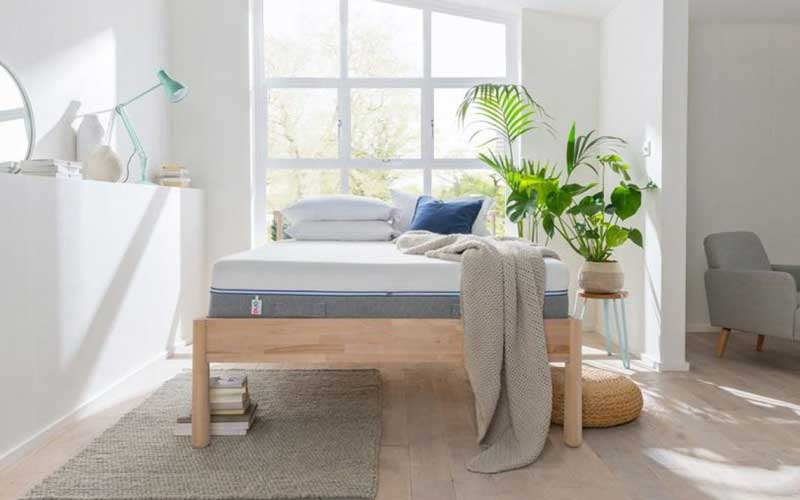 All Tweak mattresses are covered under a 10-year warranty. You don't have to register your guarantee. It will automatically become active from the date of delivery of your new mattress. Your mattress is protected against faulty workmanship and materials.
However, the company reserves the right not to honour claims under this guarantee at their discretion. Let's talk about the situations in which it applies and when it doesn't:
What defects does the warranty cover?
Any manufacturing fault resulting in a defect of the zip
Visible dipping or sagging greater than 3cm that has not resulted due to normal body impressions or improper use as per our care instructions below
Failure of the spring base
Rips or tears to the cover which hasn't been caused due to negligent care or use of the mattress
Damages caused during delivery and reported at the time of delivery
What defects doesn't the warranty cover?
Normal ageing or wear and tear
Changes in the hardness of any of the components, including the foam inserts
Natural settlement of the fillings resulting in visible body impressions
Odour
Discolouration – the colour of the foam is for guidance only and may discolour over time
Loosening of the cover
Bobbling of the cover – as a result of normal wear and tear
Physical damage as a result of negligent care, including rips, tears, burns and stains
Damage caused by improper use or storage of the mattress
General dislike of the comfort or feel after completion of the 100-night money-back guarantee
What sizes does Tweak come in?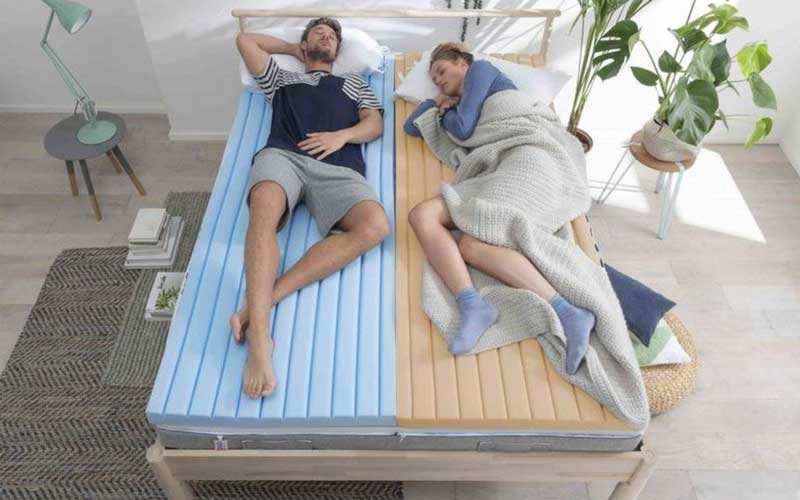 The company wants you to find your perfect match with one of their four available size options. SleepHubs has tried to simplify that by concentrating on nine sizes to create a straightforward, no-nonsense guide with which you won't be overwhelmed or confused.
Here are the available sizes for all of their models:
Single – 90 x 190 cm
Double – 135 × 190 cm
King – 150 × 200 cm
Super King – 180 × 200 cm
What are the delivery terms?
The Tweak mattress comes with free delivery straight to your bedroom to UK Mainland. Typically it will take around ten working days for your purchase to arrive, and the two-person team will even take away the packaging for you.
This is one of the few mattresses that doesn't come in a box. Instead, it's vacuum-sealed and delivered wrapped in protective green plastic. The delivery company is very professional, which is why they will take the mattress to your room of choice and set it up. They even offer old mattress removal at an additional fee. There are two delivery options at checkout:
Free Premium 2 man delivery to your room of choice
Premium 2 man delivery to your room of choice + Old mattress removal (subject to change)
Other Alternatives
If you want to take a look at other similar options, you can see the relative reviews here:
Final Words
To conclude this Tweak mattress review, we would like to say that this is a fully customisable option made from high-quality materials in the UK. Sleep Hubs offers excellent service, and their products have excellent customer reviews. It can be easily considered to be one of the best UK mattresses on the market today.
Their items are suitable for most sleeping positions and body types. It is great for couples too. You get to choose from various comfort levels that come with a solid warranty. They also offer free delivery with the option of them picking up and disposing of your old mattress.
We hope you enjoyed the read, and if you have any questions, don't hesitate to drop us a comment below.