DreamCloud is a premium hybrid mattress bringing excellent comfort and support with four layers of innovative materials. It's designed with premium quality materials, has glowing reviews and a year-round free trial and a lifetime warranty. But is there a catch?
Check out our DreamCloud Mattress Review below and see if this is the right choice for you!
Pros
4 unique internal layers

Soft cashmere top

365-Night Home Trial

Forever Warranty
Cons
Motion transfer issues

Pricier
DreamCloud is a company that sells an array of sleep products such as bed bases, pillows, bedding sets and much more. However, what's interesting is they sell only one model mattress known as the DreamCloud Luxury Hybrid, which is what we'll be discussing today.
This hybrid mattress comes with memory foam, polyfoam, and pocketed coils that are put together to create a luxury model with quality materials and a long-lasting build. With the thousands of customer reviews this product has received, we had to get down to business and do our own research and examination to see if it can compete with other hybrid mattresses on the market.
Today we'll go over the DreamCloud mattress details and see whether it might be a good fit for your specific needs. We'll cover build, design, pricing, sleep performance and see if there are any downsides that you should know about.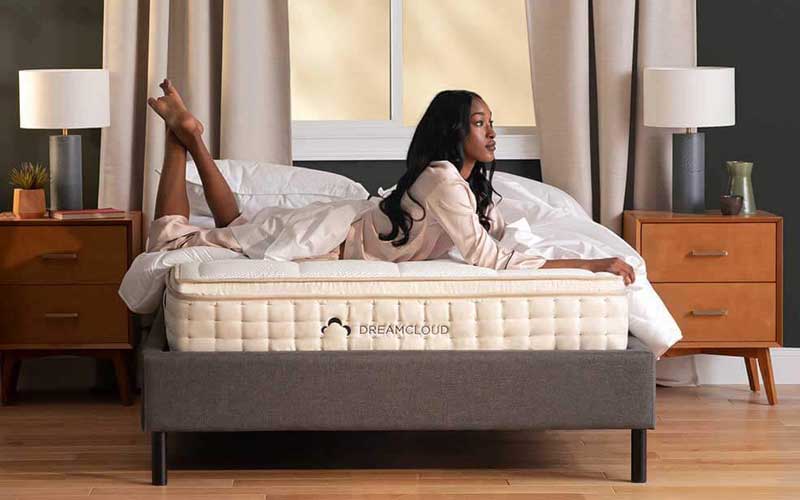 How is the DreamCloud Luxury Hybrid Constructed?
The DreamCloud Luxury Hybrid mattress combines the comfort and softness of foams and the support and sturdiness of springs to create an ideal place for you to get a good night's sleep. This model comes with four unique internal layers designed with breathable memory foam, polyfoam support foam, ActivEdge™ coils and a base foam layer.
Just like any respected bedding manufacturer, DreamCloud has received CertiPUR® certification, meaning the foams used in this product don't have harmful chemicals like mercury, lead and other heavy metals. They also emit low levels of Volatile Organic Compound emissions for indoor air quality.
We consider this to be a high-end luxury mattress, which is manufactured and shipped in the UK.
What is in the layers?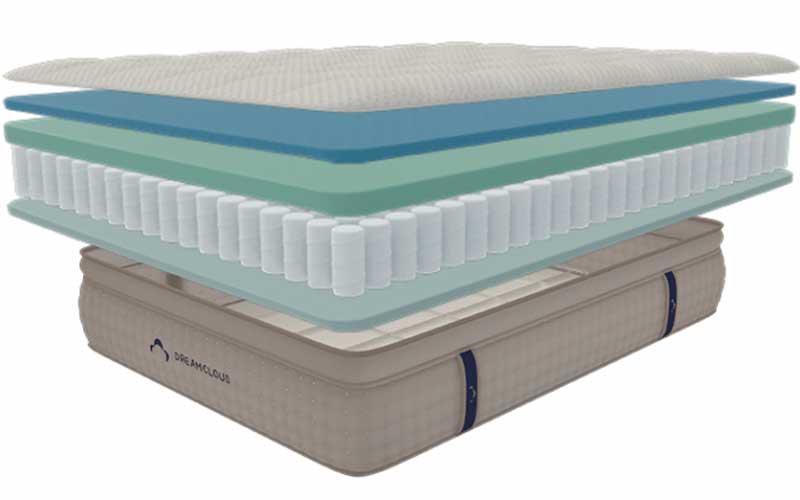 This premium mattress screams supremely comfortable with its four layers of hybrid innovation. On top of all layers, we have a breathable quilted top, followed by the DreamPlush gel memory foam layer, which provides deep contouring support that adjusts to your body's curves all night long.
Next, you'll find the support foam layer, keeping your body supported and cradled throughout the night. The third layer is 15cm of premium pocket springs with ActivEdge™ coils, which minimise motion transfer and support your body all the way to the edges of the bed.
Finally, we have the foam base layer, which provides additional support. You can finally sleep free with a model that has better responsiveness, sleeper mobility, promotes breathability and airflow, ensuring a cool, comfortable sleep every night.
What about the cover?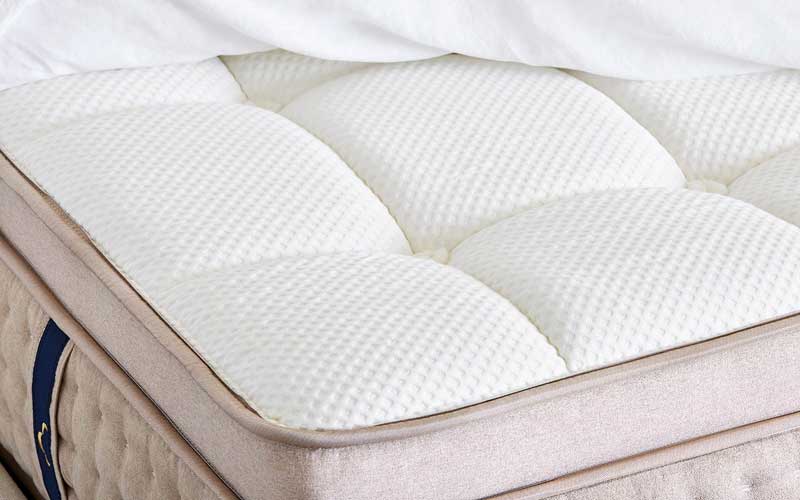 Premium mattresses usually invest many resources in creating a cover, which is not only super comfortable but aesthetically pleasing, and DreamCloud is no exception. The brand has designed a polyester cooling cover that is quilted and double tufted so it can provide you with blissful softness.
This quilted top is also engineered to be breathable, balanced and temperature-controlled for the ultimate sleeping experience. And if that's not enough, the company has incorporated four handles, two on each side for added practicality, when you need to move the mattress.
How thick is the DreamCloud mattress?
The DreamCloud Luxury Hybrid mattress is 29 cm thick, which is 4cm more than the industry standard for a "bed in a box". This is one of the most recommended mattresses for people that weigh above average. If you want to learn more about the subject, you can look at our guide on "Best Mattress for Heavy People."
It is an excellent suggestion for side and back sleepers, but it isn't recommended for stomach sleepers. People that sleep hot will also appreciate this gel-infused memory foam mattress.
How firm is it?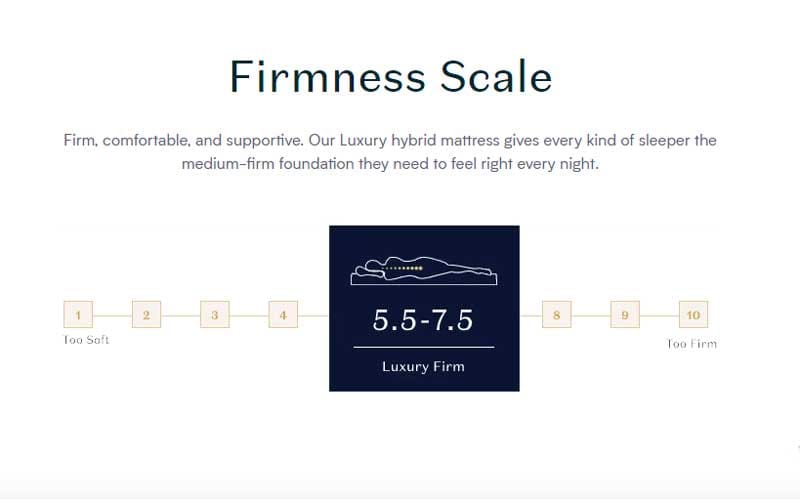 This DreamCLoud mattress is given a 6.5 firmness out of 10, with one being the softest and ten being the firmest. The set firmness was chosen to suit the majority of sleepers in the UK. Due to the luxury gel memory foam, this bed feels slightly softer, making you sleep in a cloud-like surroundings.
With that said, we still recommend you give your new mattress three to six weeks and allow your body to adjust to it so that you can feel all the benefits.
Design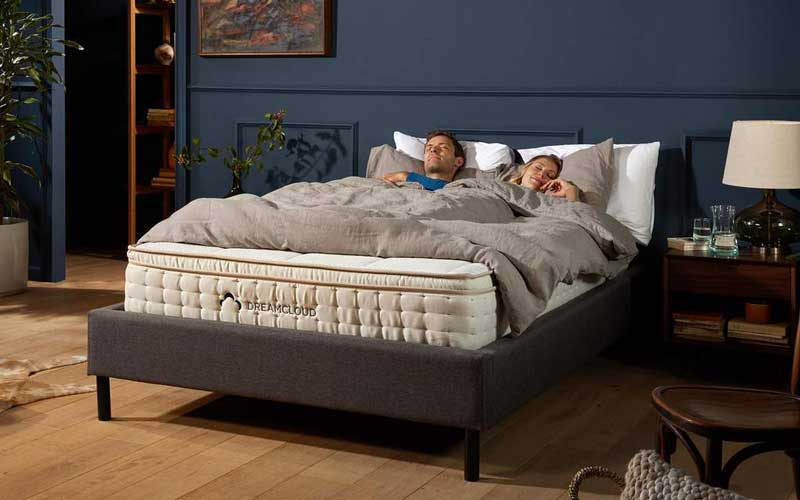 In our opinion, the DreamCloud mattress's design screams luxury with its clean white top and premium beige side panel. Even though usually we cover the bed with sheets, pillows and duvets, it is good to know that this model will look fantastic without them.
This neutral theme works incredibly well with most bedroom clour schemes, creating a well-rounded premium looking option.
How long is the trial period?
The DreamCloud UK mattress comes with the whooping 365-night trial period, meaning you can try in in the comfort of your home through all four seasons. Usually, your body needs around six weeks to adjust to e new bed, but with this luxury hybrid, you get 52! The industry standard trial period is 100-nights, and this one is three times over!
That's how the brand proves it's been made with premium, long-lasting materials. However, if for some reason you decide this isn't the right fit for you, DreamCloud will collect the mattress at zero cost to you and fully refund you.
How long is the warranty?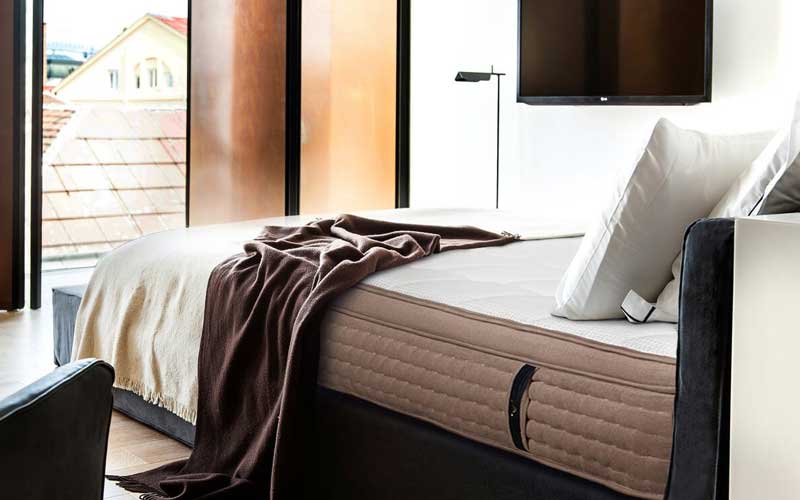 With a one year trial period, you can't expect any less than a Forever Warranty, and DreamCloud doesn't disappoint.
The company will replace your mattress if any impressions are 4cm or more. They will replace your bed with a brand new DreamCloud at absolutely no charge to you in the first ten years, and after 10+years, they will completely repair and re-cover your mattress, and the only thing you'll have to cover is transportation costs. However, DreamCloud reserves the right not to honour claims under this guarantee at their discretion. Let's talk about the situations in which it applies and when it doesn't:
What defects does the warranty cover?
When used on an appropriate base such as a platform bed or other suitable bed frame
Valid only for the original purchaser
Deterioration causing the mattress to have a visible indentation
Visible foam material degradation
Split or crack, despite normal usage and proper handling
What defects doesn't the warranty cover?
If it was burned or otherwise abused, damaged, misused, or neglected
Use of an improper or unsupportive foundation or bed
Comfort preference
Defects caused by damage to the structure and/or cover material
What sizes does DreamCloudcome in?
The DreamCloud is a luxury hybrid with high-end materials and construction available in four sizes. The company wants you to find your perfect match in one of their simplified and straightforward options, with which you won't be overwhelmed or confused.
Here are the available sizes for the DreamCloud Luxury Hybrid:
Single – 90x190x29 cm
Double – 135x190x29 cm
King – 150x200x29 cm
Super king – 180x200x29 cm
What are the delivery terms?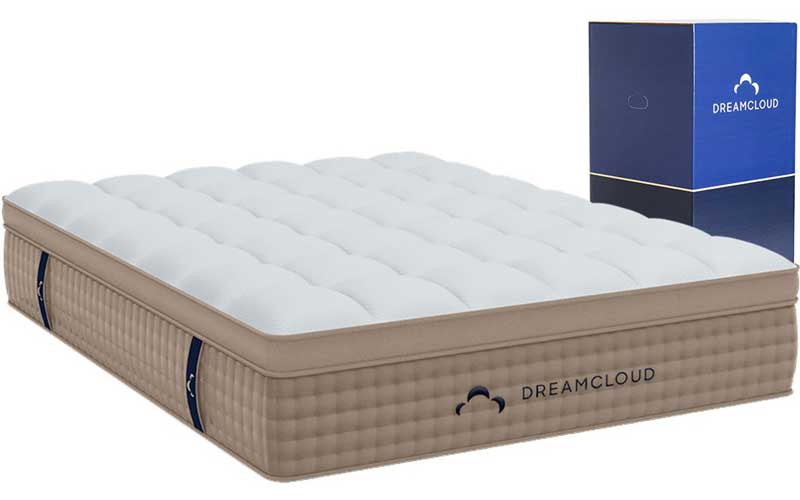 DreamCloud provides you with a free premium delivery service with four business days. You will receive your mattress rolled and vacuum compressed into a box, delivered by a premium two-person service, known as white glove delivery service.
This manufacturer also offers an old mattress removal service at an additional cost, where a third party will collect it and find a suitable disposal plan for it.
There are two delivery options at checkout:
Premium 2 man delivery to your room of choice
Premium 2 man delivery to your room of choice + Old mattress removal (subject to change)
Awards

If a mattress has won multiple awards, this is a great sign of its quality and durability. Even though DreamCloud has only one mattress, it's an award-winning one and here are some of their most recent awards:
Good Housekeeping Institute – Climate Neutral Mattress 2021
Real Home Loves – 2020
The Independent – Indy Best – 2020
Ideal Home Approved – 2020
What's in the bundle?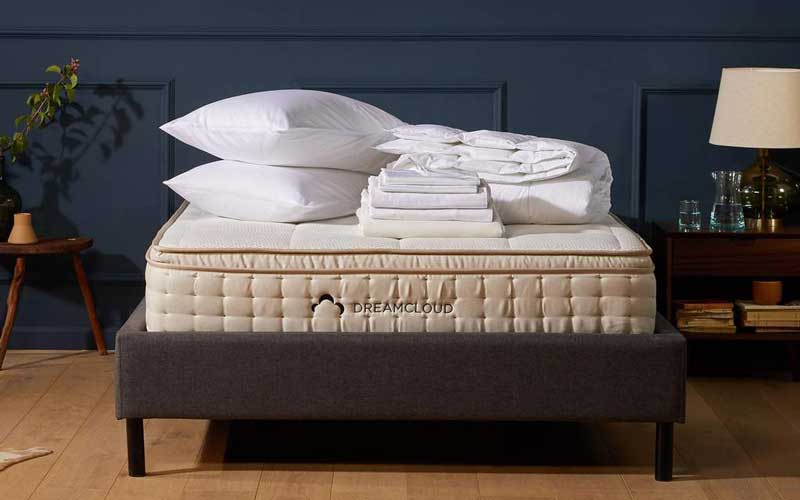 DreamCloud has been a brand that gifts bedding products with every mattress purchase. These bedding products have changed over time, but right now, if you purchase the DreamCloud Luxury Hybrid, you will receive a few hundred pounds worth of free accessories!
The bundle includes a pillow pair, a bedding set, a mattress protector and a duvet. Keep in mind that the bundle can change at any time, and DreamCloud might not be offering a better deal in the future, so if interested, it's best to act now.
Alternatives
If you want to take a look at other similar options, here are our recommendations:
Bottom line
Overall, DreamCloud is a high-quality hybrid mattress with four innovative layers suitable for most sleeping positions and body types. It is great for couples too. DreamCloud beds come with a significant free trial period, premium delivery service and a lifetime warranty.
The brand has won multiple accolades over the last few years, so it should be on the radar for anyone looking for a top-quality hybrid mattress with a medium-firm feel. It's finally time for you to find the perfect balance between pressure relief, comfort and support!
It is not the cheapest mattress by any means, so this is something to consider. There are more affordable options out there, but, as we all know, you often get what you pay for. We hope you enjoyed the read, and if you have any questions, don't hesitate to drop us a comment below.