Otty is a brand that designs premium hybrid mattresses that let you experience gravity-defying comfort and support with layers upon layers of hybrid innovation. They are crafted with high-quality materials, have glowing reviews all around and a risk-free trial period. But is there a catch?
Check out our Otty mattress review below and see if it's the right choice for you!
Pros
Hybrid innovation
10-year warranty
100-night tiral period
Supportive pocket springs
In today's guide, we will discuss the OTTY brand and all the mattresses they offer. They have four models, and they are the following: OTTY Hybrid Mattress, Aura Hybrid Mattress, Pure Plus Hybrid Bamboo & Charcoal Premium Mattress and the PURE Hybrid Bamboo & Charcoal Mattress.
All of the suggestions above are hybrids with innovative layers and premium quality materials with a somewhat affordable price tag. They are the perfect combination between foam layers and pocket springs that provide you with the ultimate support and comfort.
Let's go over Otty's mattress details and see whether one of the options is a good fit for your specific needs. We'll cover build quality, design, pricing, sleep performance and see if there are any downsides that you should know about.
Which OTTY model should I choose?
Overall, Otty is one of the most affordable mattresses we've ever reviewed, making them a top competitor in our eyes, especially if you compare its quality to its value.
All mattresses are crafted with memory foam and pocket springs, but what makes them truly remarkable is that they are hypo-allergenic, meaning a low hazard to those who are prone to allergies. Otty's items are all Certipur-US® certified, which means that the polyurethane foam used in bedding has passed environment, health and safety tests. Let's take a closer look at all models:
OTTY Hybrid Mattress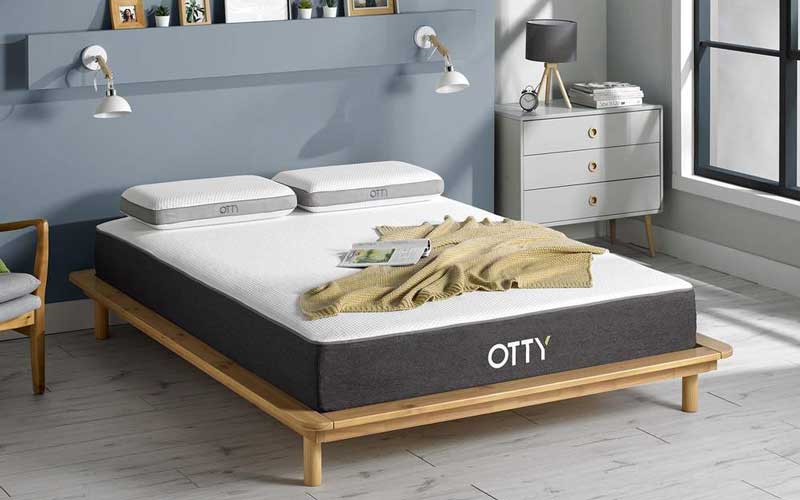 The OTTY Hybrid is an award-winning mattress with a combination of springs and foam to create both support from the pocket springs and comfort from the foam, packed in five layers. Forget about all the hassle and focus on the most important thing, getting a good night's sleep.
Layers
This suggestion's first layer is a 3cm cool blue gel memory foam with a blend of gel beads, which help with breathability and durability. Next, you'll find 3cm of a transition polyfoam layer that ensures a smooth transition between the top cooling layer and the spring layer beneath it. Then, we have the 14 cm of 2000 (king size) encapsulated pocket springs for more bounce.
In fourth place, we have a unique side layer, which is 17cm and keeps all the layers together and ensures enough edge support when you get in and out of bed. Finally, we have a 4cm thick base layer, ensuring springs are not placed directly on the surface and protected from beneath.
Cover
This hybrid mattress comes with a cover made from 97% polyester and 3% spandex. Its constructed out of polyester because it's durable, flexible and resistant to wrinkles and shrinkage. The cover is also easily removable and can be machine washed at a maximum temperature of 40C.
Thickness
This option has a total thickness of 25cm, which is perfect for all standard fitted sheets. The mattress can also hold up to 138kg per person (based on two people per bed).
OTTY Aura Hybrid Mattress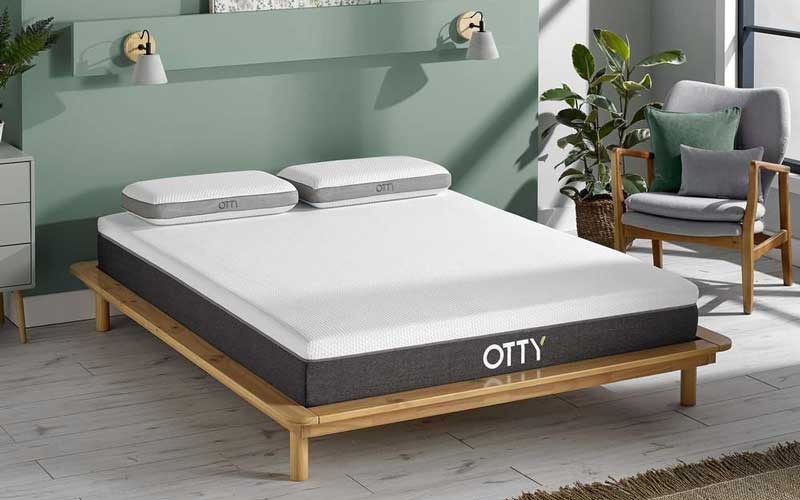 Next, we have the brand's most affordable option, which somehow still uses the same revolutionary foams and sleep technologies. High-quality at a low price! This model features four innovative layers with an additional sidewall layer. So let's dive in and find more:
Layers
On top, we have a temperature regulating memory foam layer designed to provide comfort while keeping you cool in the summer and warm in the winter. It's followed by the high-density support foam layer, also known as a transition layer that provides added comfort but helps the springs by adding support.
Next, we have 16cm of 1000 encapsulated pocket springs that move and respond with your body. Lastly, we have the fourth and fifth layers which are the airflow side support and high-density foam base. They aid in support of the mattress and promote air circulation through it and its solid foundation.
Cover
The Aura mattress comes with a thick, knitted cover that is durable, soft and breathable. Its structure gets its breathable property from the cover's pores and makes it an excellent solution for hot sleepers. This cover is also removable and can be washed at 40C.
Thickness
The Aura is 23cm thick. It is a fantastic solution for heavy people because, after weight testing, it was established that its capable of holding 139kg per side (based on two people per bed).
OTTY Pure Plus Hybrid Bamboo & Charcoal Premium Mattress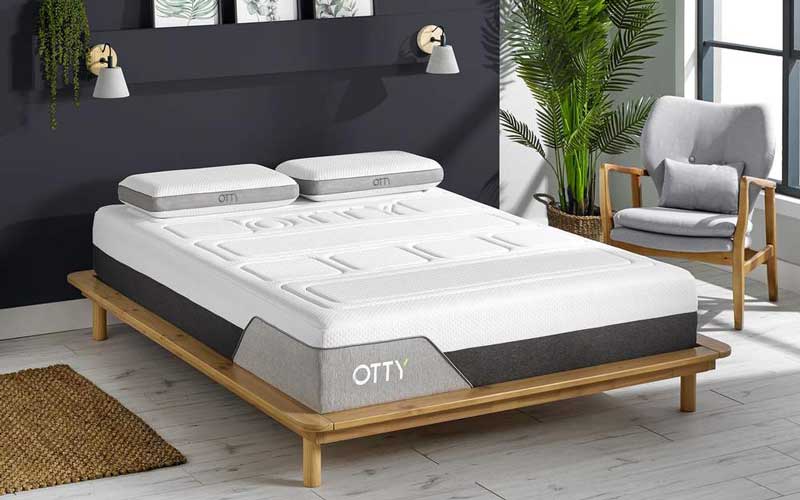 This third option is our personal favourite because it's designed with the ultimate support in mind. It comes with added benefits from the materials it's constructed with. Some of them are odour and moisture-wicking charcoal, as well as the antibacterial and antifungal benefits of bamboo. Let's find out more:
Layers
The Pure Plus Hybrid has seven layers of memory foam and springs that provide you with the perfect balance of comfort and support at the right temperature all night. The used materials have antibacterial and antifungal properties that will keep your mattress hygienic and cleaner for longer.
On top, we have a bamboo memory foam layer with charcoal that wicks away moisture and absorbs odours. It's followed by 2000 encapsulated 8cm pocket springs that minimise motion transfer, so neither you nor your partner (if you have one) is disturbed. Then we have two perforated layers of high-density foam that allow maximum airflow.
After that, you'll find a second layer of up to 2000 high tensile pocket springs for added support at the core. And finally, the high strength base foam and interlocking side reinforce stability and longevity.
Cover
The OTTY Pure Plus Hybrid Bamboo and Charcoal Premium Mattress come with a 2cm memory foam quilted cover designed to keep you at the perfect temperature at any time, through any season.
OTTY PURE Hybrid Bamboo & Charcoal Mattress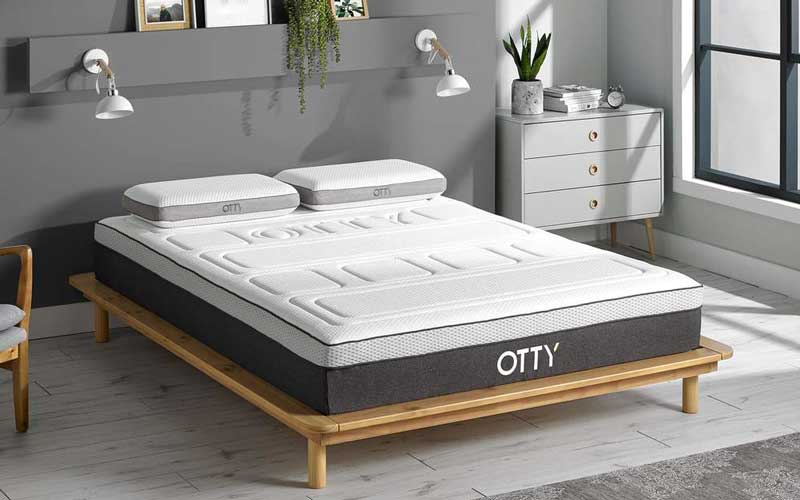 Last but surely not least, we have the OTTY PURE Hybrid Bamboo and Charcoal option, which is one of the brand's premium mattresses. It is the first bamboo memory foam with charcoal-infused layers mattress in the UK. Here is some more detailed information:
Layers
This luxurious product has five innovative layers that will provide you with the best night's sleep. The first layer is made from bamboo memory foam with charcoal and keeps your temperature regulated. It's followed by a high-density support foam specifically designed to provide comfort and additional support on top of the spring layer.
After that, you'll find the 2,000 encapsulated 16cm pocket springs that provide a medium-firm feel and minimise motion transfer. Next, the unique airflow technology layer offers an edge-to-edge sleeping surface and aids temperature regulation. Finally, we have the HD base layer of foam, providing a solid foundation and ensuring the mattress stands the test of time.
Cover
The OTTY PURE Hybrid Bamboo and Charcoal comes with an infused embroidered mattress cover that acts as an additional top layer that wicks away moisture and is also antibacterial.
Thickness
This sleek-looking option is 25 cm thick, which is the industry's standard and will fit any regular fitted sheets.
How Firm is the OTTY mattress?

Overall, Otty's mattresses range from medium to medium-firm, meaning they stay between 6 and 7 from a range of 1 to 10, with one being the softest and ten the firmest. Here is how firm is each model:
OTTY Hybrid – 7
Aura Hybrid Mattress – 6
Pure Plus Hybrid Bamboo & Charcoal – 6.5
Pure Hybrid Bamboo & Charcoal – 6.5
Design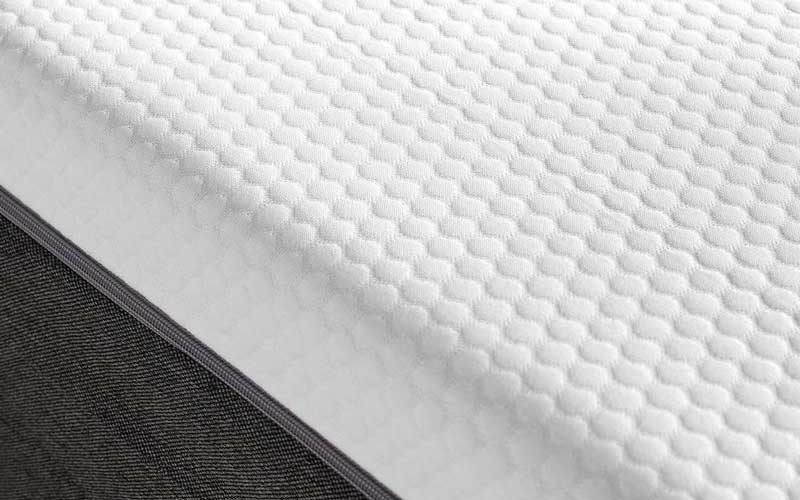 All Otty's mattresses have a timeless neutral design with white, grey and a hint of light green. The top of the mattress is white, and each model has a different pattern. The sides are a combination of dark and light grey with a hint of green in the brand's logo.
How long is the free trial period?
All Otty models come with a 100-night trial period, which allows you to test the mattress for yourself. In general, your body needs between four to six weeks to adjust to a new bed, and this manufacturer provides you with a lot more time than that. If you end up disliking it, for some reason, you will receive a full refund.
How long is the warranty?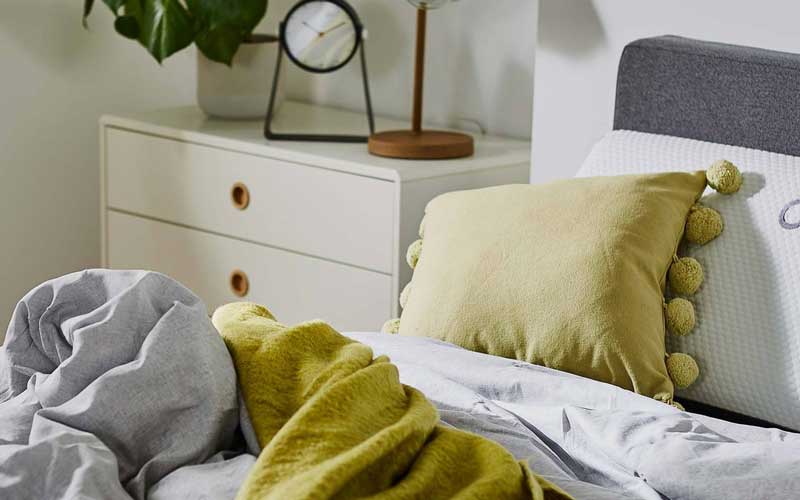 Otty's models have a 10-year warranty, which is the industry standard. This shows the company's confidence in its revolutionary foam technology and impeccable pocket springs. However, the company reserves the right not to honour claims under this guarantee at their discretion. Let's talk about the situations in which it applies and when it doesn't:
What defects does the warranty cover?
Deterioration causing the mattress to have a visible indentation greater than 4cm
Any physical flaw in the mattress that causes the foam material to split or crack
Any manufacturing defect in the assembly of the cover
What defects doesn't the warranty cover?
Physical abuse or damage to the structure and/or cover material, including but not limited to burns, cuts, tears, liquid damage, or stains
Use of an improper or unsupportive foundation or adjustable bed base
No proof of the original date of purchase
If not purchased directly from OTTY or OTTY authorised retailers
What sizes does OTTY come in?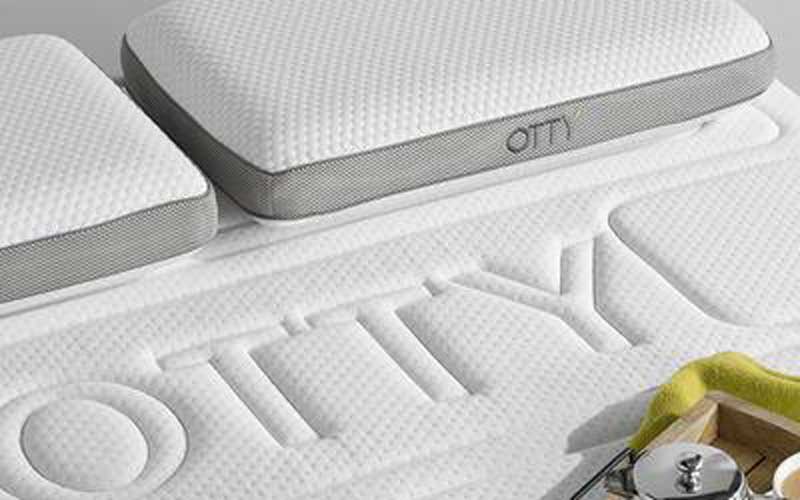 The company wants you to find your perfect match with one of their nine available size options. Simba has tried to simplify that by concentrating on nine sizes to create a straightforward, no-nonsense guide with which you won't be overwhelmed or confused.
Here are the available sizes for Otty's models:
Single – 90×190 cm
EU Single – 90×200 cm
Small Double – 120×190 cm
Double – 135×190 cm
EU Double – 140×200 cm
King – 150×200 cm
EU King – 160×200 cm
Super King – 180×200 cm
Emperor – 200×200 cm
What are the delivery terms?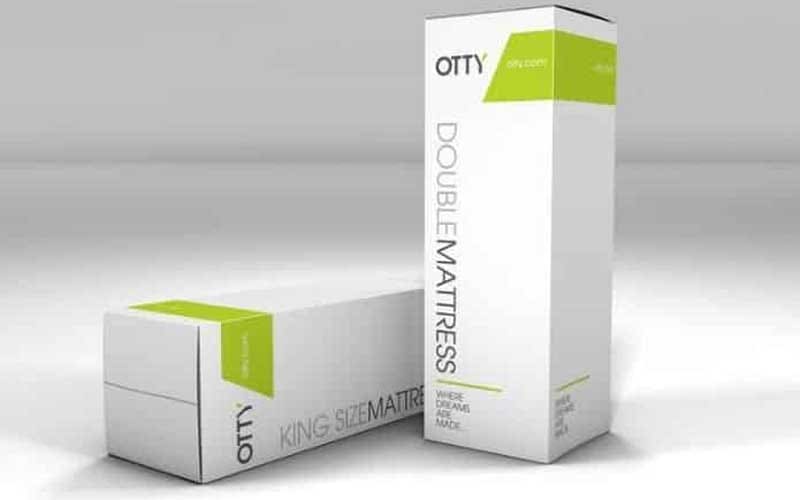 Otty utilises a two-person delivery service. Your purchase arrives rolled and sealed in polycarbonate (plastic) wraps that include an unboxing tool with a box with these measures 158cm x 44cm x 44cm. This manufacturer will deliver your order in a time frame of 1-5 business days, which is a short period that not many companies can provide.
If you want your purchase delivered to your door, it is free of charge (Monday – Friday). However, if you want a premium delivery service, you will be charged a small fee. The premium option includes old mattress collection, packaging disposal and delivery to room of choice.
And if you want them to bring your purchase on a non-working day, they offer Saturday delivery depending on your location.
There are three delivery options at checkout:
Free standard delivery, as outlined above
Premium 2 man delivery to your room of choice + Old mattress removal (subject to change)
Saturday Delivery Service (subject to change)
Awards
This is still a relatively new brand, but what makes them great is that they have a great value-price for the products they put on the market and won multiple awards despite that. This is a company that has been doing very well in the eyes of some established organisations, which speaks a ton on its own.
We like them so much that they were able to get into our UK's best mattresses list. Here are some of their most recent awards:
NBF Small Retailer of the Year
Expert Reviews – Mattress of the Year
Good Housekeeping Institute Approved
Real Homes Loves Approved
Alternatives
If you want to take a look at other similar options, here are our recommendations:
Bottom line
To conclude, Otty's products are well-priced hybrid mattresses designed with premium quality materials that consist of memory foam layers and pocket springs, providing you with the ultimate support and comfort.
Overall, Otty's models are suitable for most sleeping positions and body types. They are great mattresses for couples too. They have a significant free trial period, impeccable service and a solid warranty. They also offer quick and free delivery, with the option of them picking up and disposing of your old mattress.
The brand has won some accolades over the last few years, so it should be on the radar for anyone looking for a top-quality hybrid mattress with a medium to a medium-firm feel. We hope you enjoyed the read, and if you have any questions, don't hesitate to drop us a comment below.