Having a bad back is an issue for a lot of people face these days. It can have a massive impact on our daily lives, but sleeping on the wrong mattress could make matters worse. Choosing the right mattress can be a challenge since everyone sleeps differently and we all have our individual preferences. However, when you live with a bad back, finding the right mattress can be even more of a challenge.
Having to pick a mattress for someone with back pain is hard. Back pain is pretty common in the UK and it affects 1 in every 6 people, according to the NHS. So how do you choose a mattress if you're one of 10 million back pain sufferers in the UK?
This is the sole reason why we created LightSleeper – to help you make an educated choice. There are so many offerings on the market claiming to be the bee's knees, but are all of these claims true? We've put over 100 different mattresses to the test this year and we feel that we can finally answer this question. No, not all of the claims are true and there are some awful mattresses being sold in the UK. We're not here to drag names through the mud or point fingers, but we're here to help you select the best product for your specific needs.
So without further ado, let's see what we think are the best mattresses for people with back pain in the UK today:
1. Simba Hybrid Pro – Editor's Pick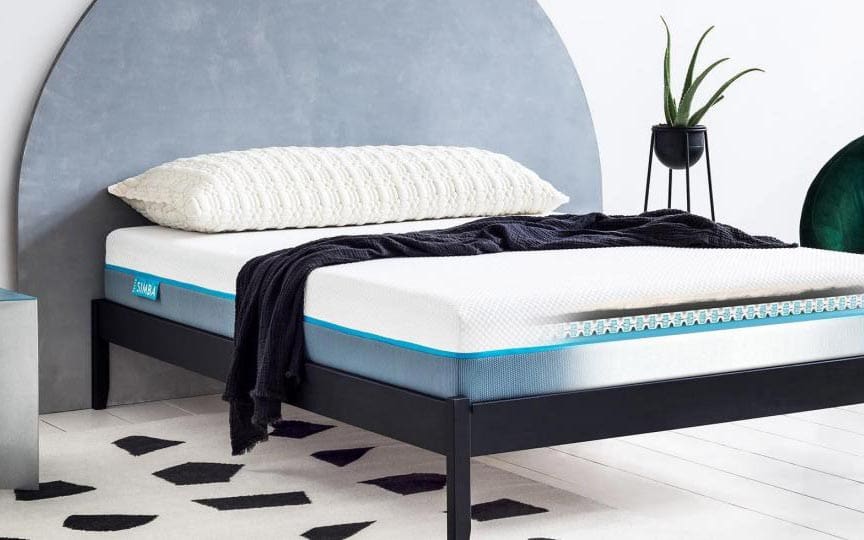 The Hybrid Pro from Simba is an excellent product boasting seven layers of innovation. You get titanium Aerocoil® springs, which means greater airflow and better body weight distribution. If you're a fan of plush, lush, gravity-defying comfort, this is the one!
This mattress has a wool layer that naturally regulates temperature so no matter the season you can rest cool and comfortable. You also get a super soft sleep surface with a thick knitted cover that doesn't compromise the airflow.
Since this is a hybrid mattress, which can be flipped, the manufacturer has provided four handles for movement ease. Simba is no joke, thus the impressive 200 night trial period to test it out. That's double the usual period most companies follow! Last but not least, you get a 10-year warranty for this product.
Key Features:
Seven layers of construction
Hypoallergenic knitted cover
4 handles for ease of movement
Trial Period for Returns: 200 days
Warranty: 10 years
2. Ergoflex 5G – The Premium Choice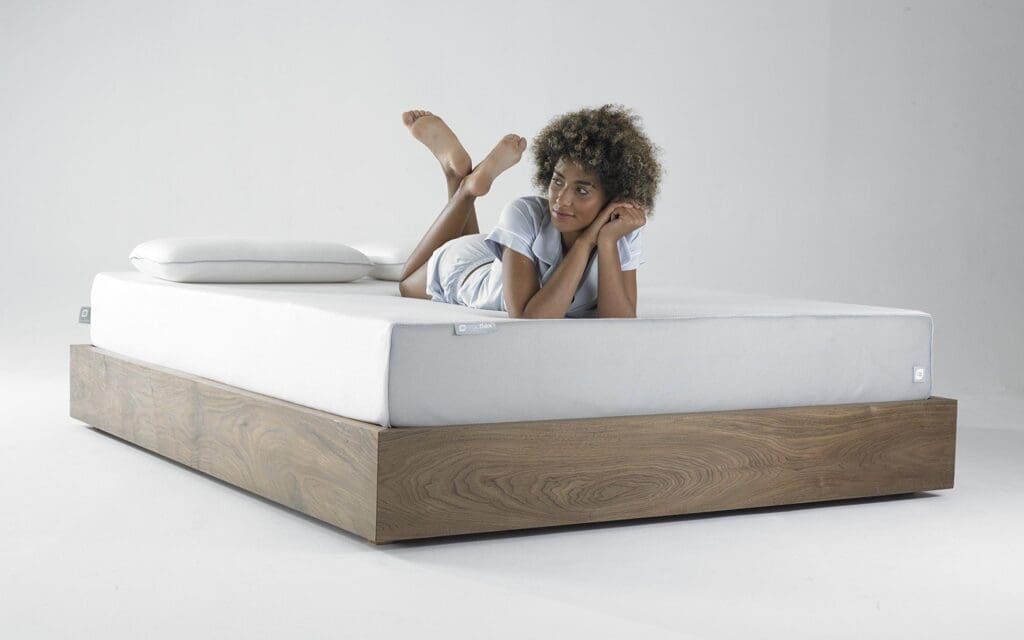 Ergoflex is a company that works hard towards achieving a comfortable, cool and supportive night's sleep every night. Their 5th generation mattress is made out of premium materials that work in harmony in order to create and combine one of the most supportive, comfortable and pressure-relieving mattresses.
The top layer is made of proper high-density visco-elastic memory foam, which contours the body's every curve and ensures zero partner disturbance during the night. Next, we have the Cool-Sleep airflow layer that works its magic so that you can maintain a comfortable sleeping temperature. The Ergoflex mattress has a TENCEL® outer cover with a lux feel that is natural and breathable, while the micro-fine inner cover works to protect and encase the mattress core.
Ergoflex designed a 9cm high resilience impact-resistant foundation layer, which ensures perfectly weighted support for the upper layers. The product comes with a 10-year warranty and 30 days trial period.
Key Features:
True HD Proprietary Foam
Cool-Sleep™ Airflow System
Naturally Anti-Allergenic
Free Trial Period: 30 days
Warranty: 10 years
3. Eve Original – The Budget Alternative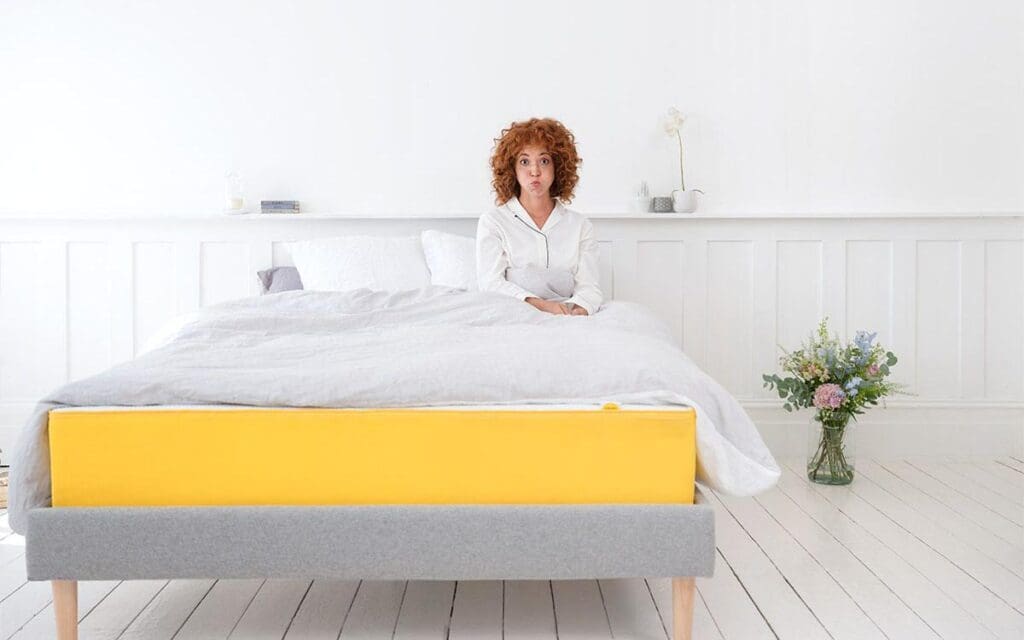 Are you a hot sleeper? If you are the Eve mattress can help you vastly improve your sleep. With three layers of breathable next generation foam, which will keep the pressure off while giving you gentle cushioning for a gloriously comfortable sleep.
This new generation product comes with a foam that will keep you cool and isolate your movements so that if you're tossing and turning your partner will be able to sleep through it. That happens because of the items unique contour zones that keep you happy no matter what position you sleep in.
You get a 100-night sleep trial and a 10-year warranty for this perfectly soft product which relieves pressure on various parts of your body. Don't hesitate and check it out!
Key Features:
Three layers of construction
Unique contour zones
Anti-slip Base
Trial Period for Returns: 100 days
Warranty: 10 years
4. Brook & Wilde Elite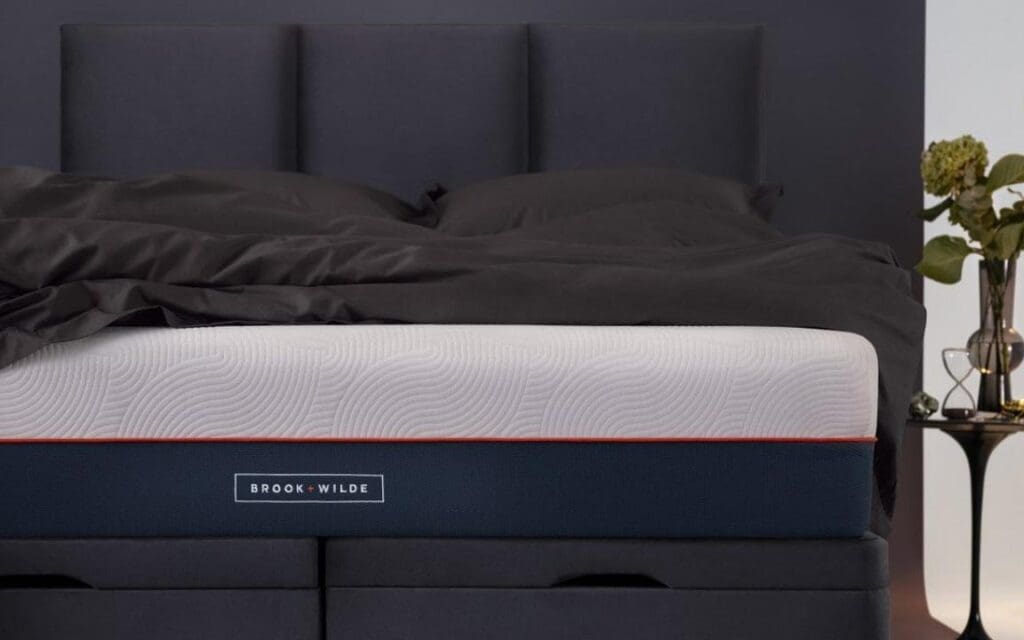 Are you a fan of high-quality premium products? If the answer is yes, the Brook & Wilde Elite mattress is what you've been looking for. Now you can help yourself to an excellent night's sleep in a luxurious product that has eight layers of innovative sleep tech.
The Brook and Wilde Elite layers are perfectly combined to give you a deep and restful sleep. The Elite is an innovative product that will turn into the mattress of your dreams. It comes with the incredible 'wave technology' that ensures the right levels of support and pressure distribution,
Brook and Wilde will keep your spine aligned and relieve your pressure points, but that's not all. You get to enjoy 100 days trial period to see if you like your new mattress and if you do, there is a 10-year warranty that comes with it.
Key Features:
Eight layers of construction
Unique 'wave technology'
Removable, washable top cover
Trial Period for Returns: 100 days
Warranty: 10 years
5. Emma Original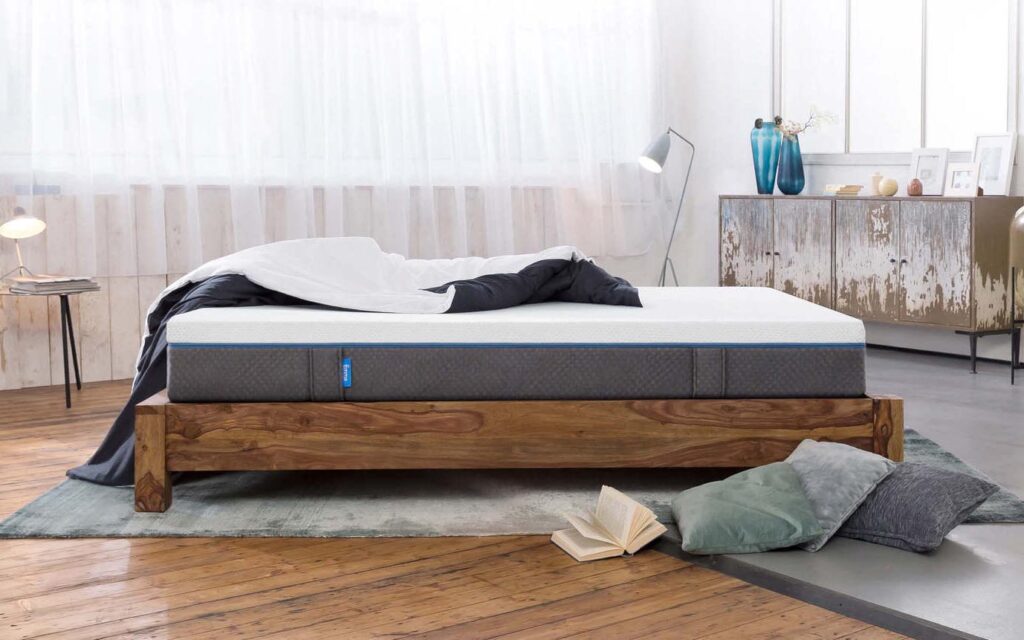 The Emma Original is a carefully crafted mattress that is well worth your consideration. It's designed to suit everybody's needs with its three-layered construction and a seven zone back structure.
Thanks to the advanced zoning and adaptable foams, the Emma mattress gently cradles your body and makes your aches and pains a thing of the past. This item has advanced zoning and adaptable foams, which distribute pressure across the entire mattress to relieve stress.
First, you will see Emma's UltraDry cover that is excellent at temperature regulation can be easily removed and washed. Next, we have the Halo™ memory foam layer that adapts to your body shape for targeted spinal alignment, enhanced pressure relief and body-hugging comfort.
It's followed by the Emma's Point Elastic Airgocell® technology, enhancing breathability and regulating temperature by absorbing and then evaporating sweat. Lastly, you'll find the HRX (High Resiliency Extra) Supreme ™ foam that is engineered to last for years without losing its durability due to the adaptive cut-outs zone, distributing your body weight evenly to reduce pressure.
It can take up to 6 weeks for your body to adjust to a new mattress, which is why the company gives you a 200-day trial period and ten years of guaranteed quality!
Key Features:
Three layers of construction
Seven zone back structure
Innovative Airgocell® regulates temperature
Trial Period for Returns: 200 days
Warranty: 10 years
How to choose a mattress when you have back pain?
When it comes down to choosing the right mattress when you are struggling with back pain, there are three key things to consider before buying one. You have to think about its firmness, your sleeping position and the materials it's made out of.
Having a product with a great support system and comfort layer is the goal we are looking forward to. The comfort layer helps to tailor the mattress to your sleeping habits, and the support system makes up the core of the mattress so that you are provided with the comfort and support you want and need.
Let's take a closer look at the features you need to think about before buying a mattress for back pain: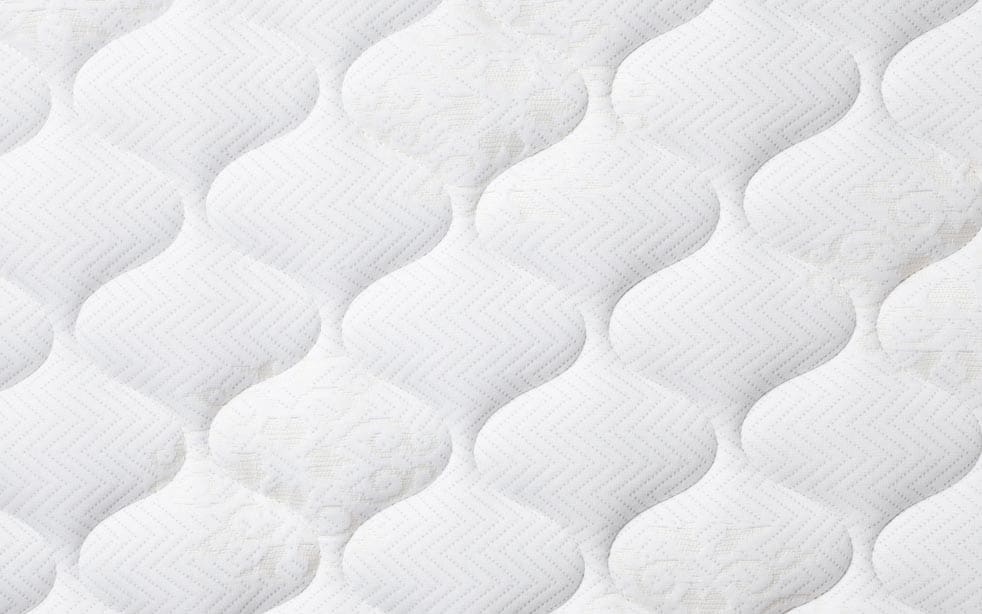 What materials to look for?
Memory Foam
There is no one-size-fits-all answer when we talk about materials. For example, memory foam mattresses are fantastic, but only when used on a firm or medium-firm core. Memory foam tends to deform and take the body's shape, increasing pressure in sensitive areas if the mattress is too soft.
Spring
Next on our list are spring mattresses. Even though many find them old-fashioned, they can be a good support source, especially when paired with a layer of high-quality foam. These products have been on the market for a very long time because they can be pleasant and durable.
Hybrid
Last but not least, it's a hybrid mattress. It is designed with two sides that offer a different level of firmness. These items promote excellent support with growing popularity because of the innerspring core and the top layer's comforts.
What firmness to choose?
We can safely say that this is a million-dollar question when we talk about mattresses. Even though you need something that's more firm than soft, you have to think about what level of firm that means.
Your body weight can determine the firmness you need. The higher your weight is, the firmer of a mattress you may want to get. Don't forget that it depends on the individual since everyone's sleeping preferences are different.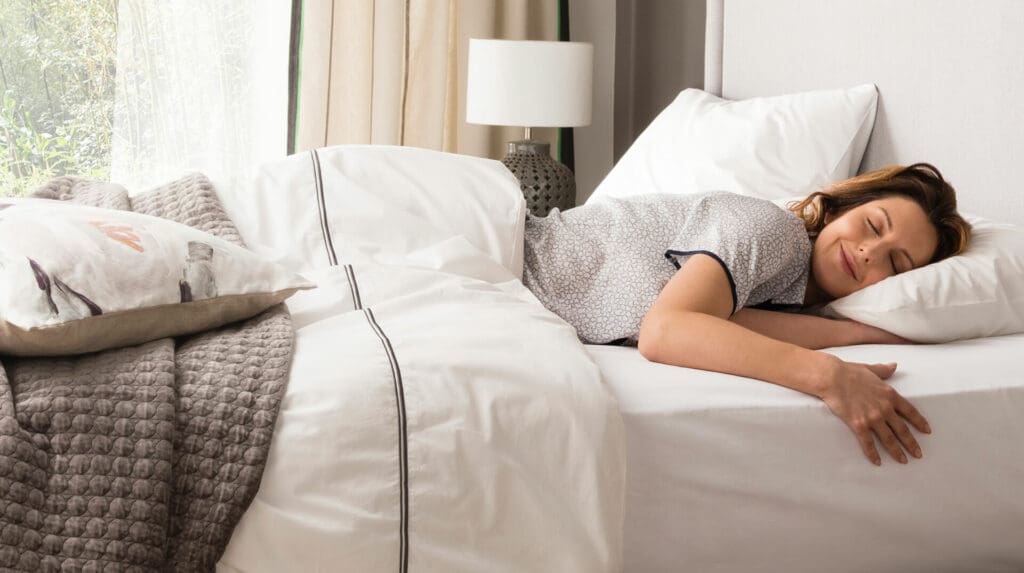 Sleeping position
The way you sleep can determine what areas you put the most pressure on. Here is what we mean by that:
Side sleepers
Side sleepers tend to put pressure on their shoulders and lumbar area. We recommend picking a medium-firm mattress with these pressure points, just like the one for back sleepers. The reason for that is that it will be ideal for this sleep position since it's still flexible to the body curvature.
Stomach sleepers
Often, stomach sleepers put pressure on their neck and back. Your best option in this situation will be a firm mattress for side sleepers since it's ideal for spine support. Not only that, but it will also help alleviate neck tension by preventing the lower body from sinking in it. This way, you avoid putting your neck at an intense angle, that can bring you discomfort.
Back Sleepers
Let's say you are a back sleeper. You will most likely prefer a product, which will alleviate pressure points in the lower back area. Therefore you should consider a medium-firm mattress since it will provide excellent spine support. However, if you are on the market for a mattress for back sleepers, try to avoid extra-firm models because they may fail to adjust to your lumbar curve.
The bottom line
Finding the best mattress for back pain can be overwhelming, but we hope that our guide was useful and full of insightful information. Don't forget that we are non-professionals in the medical field and these are only recommendations.
We don't claim that the products above will resolve your issues, but there is no harm in trying. The good news is that you can decide for yourself since all selected products come with a free trial period. Don't be afraid to "Test Drive" different items before you buy one.
To conclude, always try to choose a mattress that allows you to sleep comfortably and replace your old one if it's been more than seven years. If there are many sags in it, you won't get the optimal support you need. If any questions regarding the subject were left unanswered, please ask them in the comments below.