Best Pillow Top Mattresses UK – Reviews & Buying Advice
Last Updated on June 14, 2021
You don't have to visit a five-star hotel to sleep in a luxury plush bed. All you have to do is find yourself the right pillow top mattress, and all your dreams will come true.
This fantastic option features a layer of soft padding designed to cradle your curves and take all the stress off your joints while cushioning your spine and providing you with ultimate comfort. Support and relief are what we need to get a restful night's sleep.
However, it's not all about softness. You need to understand that people have different wants and needs, and choosing the right one can be a challenging and overwhelming task. The good news is we are here to help make your decision as easy as possible.
Here in LightSleeper, we test each product we review and thoroughly inspected it for a set number of days. However, we are non-professionals in the medical field, and these are only our recommendations. With that said we've carefully selected the Best Pillow Top Mattress for 2021 so that you can make an informed decision.
​1. Sealy Posturepedic Nostromo 1400 – Editor's Pick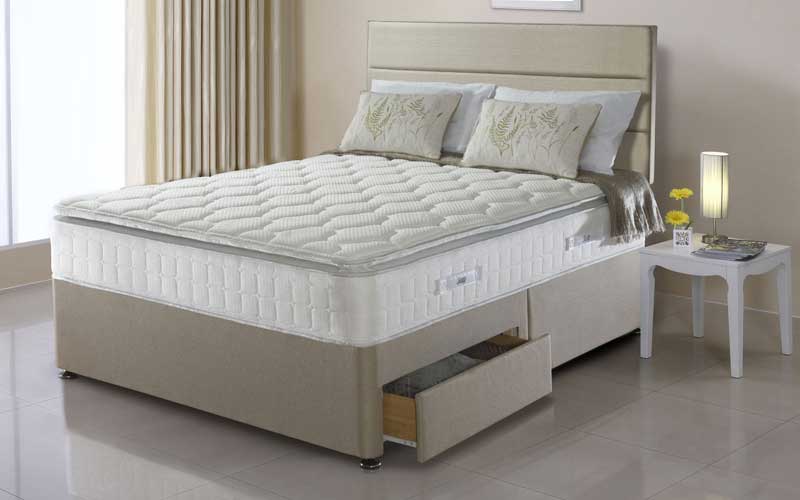 The Sealy Posturepedic is a mattress with a latex pillow top with outstanding reviews and awards. Our personal favourite features 1400 individual pocket springs encased in a patented Unirail border that protect the springs and prevent sagging.
Sealy's has designed a multiple-zoned motion and weight-responsive pocket spring system which offers fantastic spinal alignment and even better pressure relief. This Posturepedic option has a 2.5cm layer of reassuring Innergetic Latex above its springs for exceptional comfort.
And if you struggle with the heat during the hot summer night, Sealy's Tencel cover finish will keep you cool and dry. Sealy is an anti-microbial mattress with which you will get a fresh night's sleep and a five-year guarantee of quality!
Key Features:
Latex pillow top
Silky-soft Tencel cover
1400 multi-zoned pocket springs
Trial Period for Returns: 100 days
Warranty: 5 years
2. Hypnos Premier Luxury – Runner Up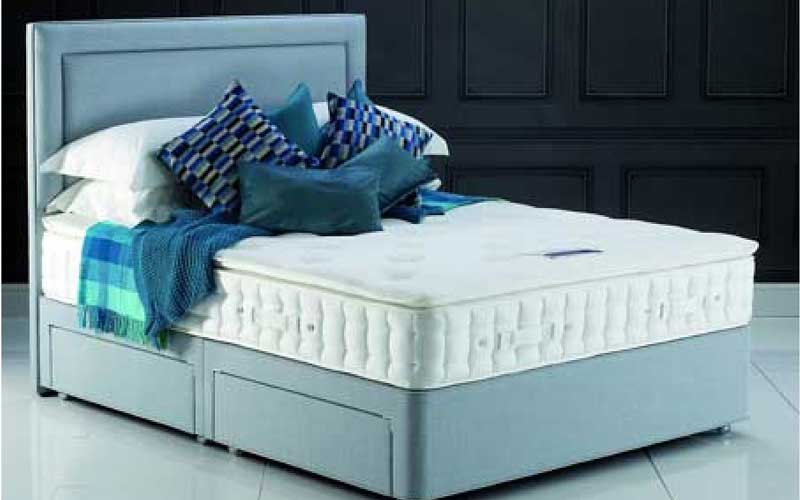 Hypnos is a brand that has been named as the best mattress manufacturer multiple times throughout the years. They are the only ones that supply all of the Royal residences, which means you could be sleeping in the Queen's bed.
The Hypnos Premier is described as a softer option designed with posh natural materials such as wool and silk. This luxurious product is 29cm deep, and this shows that Hypnos didn't spare any materials in its creation.
You get an item with 1400 pocket springs, which is more than the recommended 1000. Hypnos is suitable for side sleepers because it will allow their shoulders and elbows to sink in. By doing so, their spine will stay properly aligned. This premium option has a 60 night trial period and 10 years that guarantee its worth.
Key Features:
1400 pocket springs
Posh natural materials
29cm deep
Trial Period for Returns: 60 days
Warranty: 10 years
3. Sleepeezee Memory Comfort 1000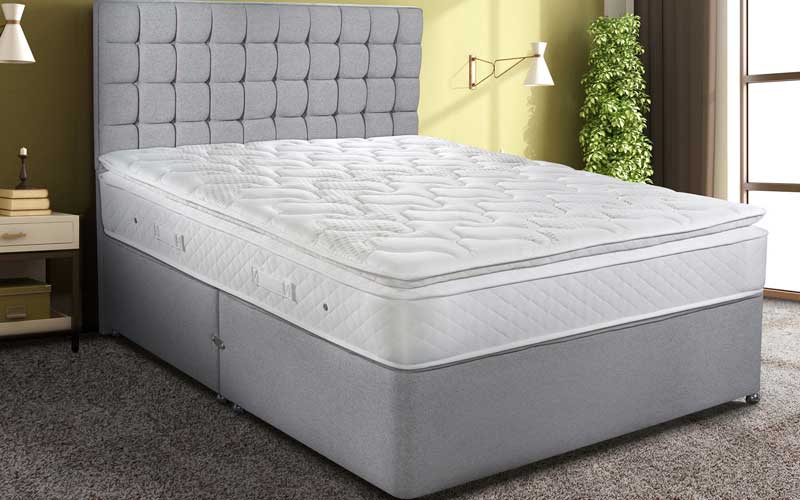 Sleepeezee's pillow top mattress is the ultimate budget choice! With it, you get to enjoy a medium-firm pocket sprung support and memory foam comfort all at once.
This Sleepeezee's product has a 4cm dual layer of memory foam, which is a fantastic comfort layer that helps soothe pains and pressure points. After that, we have a pillow top finish, adding a plush feel to an already stunning choice.
The Sleepeezee Memory Comfort has a base of 1000 individual pocket springs, providing support where you need it most. What makes this Sleepeezee product unique is its micro-quilting border, which helps secure all the plush fillings while the chrome-finished air vents improve the airflow.
You get this budget-friendly option packed in a cosy knitted, micro-quilted cover. And it's you want more Sleepeezee gives you 60 days to try the mattress out for yourself!
Key Features:
1000 supportive pocket springs
Soft-touch knitted cover
Micro-quilted border
Trial Period for Returns: 60 days
Warranty: 5 years
4. Silentnight Mirapocket 1000 Geltex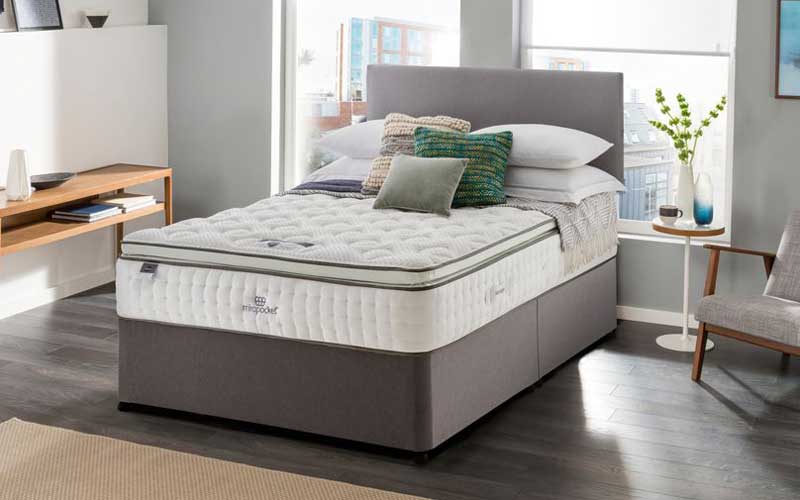 Silentnight has created an innovative limited edition mattress that has been crafted with your total comfort in mind.
It features 1000 individual Mirapocket springs which provide zoned support for a restful night's sleep. This Silentnight's item also has edge-to-edge support, so that you can finally take advantage of your whole bed.
What makes the Silentnight Mirapocket stand out is its luxuriously deep 4cm layer of Geltex that encourages correct spinal alignment, while helping you with pains and pressure point build-up. Silentnight has also enhanced breathability so that you and your loved ones can stay cool and refreshed throughout the night.
And the cherry on the cake is the cushioning pillow top that combines refined comfort with exceptional support. This Silentnight hypoallergenic offer comes with a two month trial period and a 5-year warranty.
Key Features:
1000 zoned Mirapocket spring system
Geltex comfort layer
Edge to edge support
Trial Period for Returns: 60 days
Warranty: 5 years
5. Sleepeezee Perfectly British Mayfair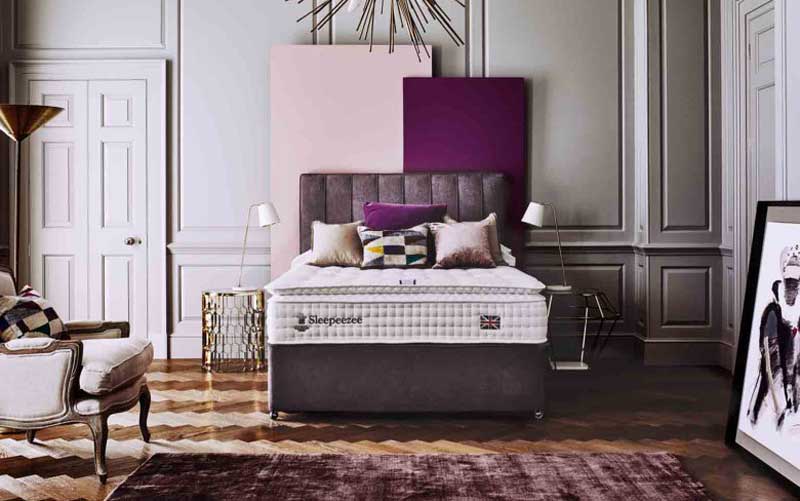 Our other Sleepeezee suggestion is the Mayfair. It is a desirable option which has been beautifully handcrafted from the finest natural British materials such as wool, cashmere and cooling cotton to create the ultimate in luxury comfort. Wool is a natural insulator, so you will be warm in the winter and cool in the summer.
Sleepeezee is highly prized for its resilience and durability, but what makes this mattress stand out is the impressive 3200 individual pocket springs, and one of the highest pocket spring counts ever.
This Sleepeezee's item offers excellent body support and healthy spinal alignment. Because of its unique shape, it gently contours to your body for personalised support. The Mayfair is an expertly hand-tufted mattress with a woven damask cover that is chemical-free. Highly prized for a reason, the Sleepeezee comes with an impressive ten-year guarantee.
Key Features:
3200 pocket springs
Premium natural fillings
Expertly hand-tufted
Trial Period for Returns: 60 days
Warranty: 10 years
How to Choose a Pillow Top Mattress?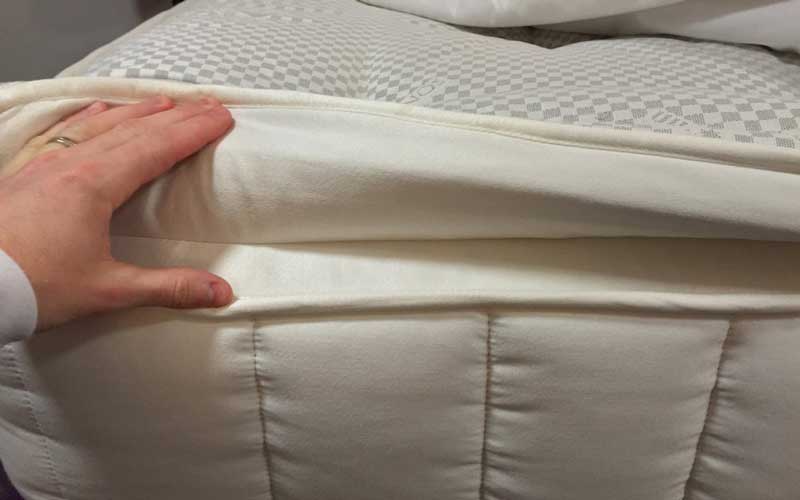 Let's start by discussing a list of essential factors that you should put some serious consideration into when deciding on a pillow top mattress. They are the following:
Firmness & Support
Usually, a mattress on the firmer side is the recommended solution, especially for people with back issues and heavier weight. We recommend trying an option that offers slight cushioning to your body for adequate pressure relief and better compression.
Materials
Materials always play a crucial role, and that is no exception here. Pillow top mattresses are created with different materials, but the most used choices are polyester, feathers, memory foam, innerspring, wool, latex, and hybrid.
Keep in mind that the materials used to create a set product will determine its durability and quality. If you can, for certified materials like CertiPUR-US®, GOLS, and OEKO-TEX®.
Sleeping Position
Different sleepers have different sets of requirements, which is why your sleeping position plays a significant role in your choice.
Back sleepers tend to need a firmer product, and we advise that you get a minimum of medium firmness for even weight distribution. If you're a side sleeper, a softer pillow top is what might work for you, giving your shoulders and hips the cushioning they need. Lastly, we have stomach sleepers who may enjoy an innerspring item because it will improve their spine alignment.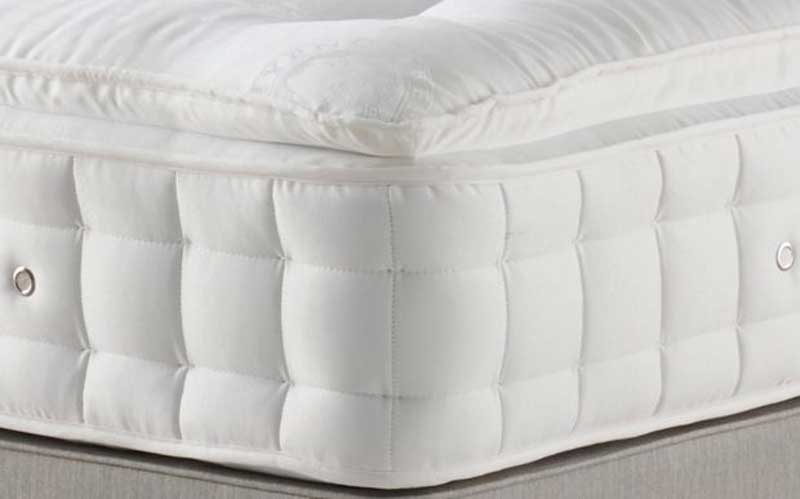 Temperature
As we mentioned above, mattresses are made from different materials, which means some are better than others when it comes down to temperature control. Hybrids and innerspring options are relatively cool and have greater airflow and breathability. However, if you get the sweats every night, you need something that actively promotes cooling.
Sleep Trial & Warranty
Having the possibility of a home trial is always a plus. Some brands offer it, and others don't, but if you get to choose, you should select one that gives you the opportunity to try it for yourself.
Check the return policies of a manufacturer and always buy items with a guarantee. A warranty is usually in the range between 1 year to 20 years. However, some brands may offer lifetime ones on some of their products.
Price
Pillow top mattresses have a higher grade construction, making them a more expensive option, but with price comes quality. Therefore you might be saving some cash in the long run. High-quality materials hold up over time, which means you can look at this as an investment.
How long will a pillow top mattress last?
There are different manufacturer and products, but in general, you should expect to get 7 to 10 years of comfortable and plush night's sleep.
A pillow topper will usually last longer than a traditional mattress because you don't have to turn it over. What you need to do is think about your budget and focus on choosing quality materials which can stand the test of time.
What are the benefits of a pillow top mattress?
Everyone wants to sleep comfortably at night, and choosing a pillow top mattress means that you might sleep in a plush and relaxing atmosphere. Here are some of the benefits that come with it:
Plush feel
Most people get this type of mattress because it offers an incredibly plush comfort level. And who doesn't want comfort in bed? With a pillow top, you get a cushioning surface which will provide you with a feeling like you're floating on a cloud as you sleep.
Support
You want the plush feel, but you need support, and the pillow top layer will provide you with proper spine alignment by distributing weight evenly. With the appropriate support, your body won't have to bear stress in certain areas and the restless nights that come with it.
Motion isolation
This is an incredible benefit if you're sharing your bed with a partner. If you purchase this type of mattress, you will appreciate the motion isolation that it brings. Its top layer absorbs movement so that you won't be disturbed by your loved one's tossing and turning throughout the night.
Pain relief
With the added comfort layer, your body will be cradled, and your pressure points relived. You will gently sink into the bed, and the possibility of waking up with morning aches and pains would be reduced. If you're a sleeper with orthopaedic issues, you will appreciate the extra padding.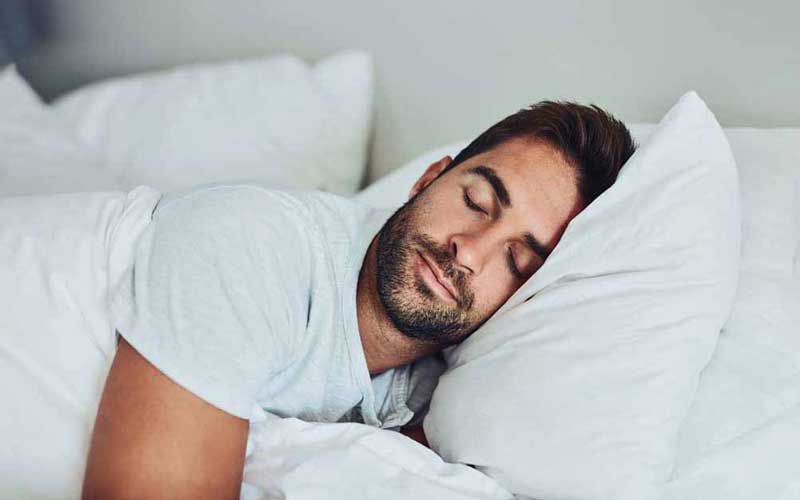 What types of pillow top mattresses are there?
We can divide pillow top mattresses into four big groups. They are the following:
Hybrid
A hybrid option combines two or more mattress materials into a single bed, and most pillow top products fall into this category. Because of their complex construction, they tend to come with a higher price tag, but they are also highly durable. We can sum them up as the perfect balance between support and comfort.
Latex
A latex bed typically has a buoyant feel that offers firm support while providing light contouring around your body. Its excellent motion isolation and unique pressure relieving will make you feel like you're sinking into the bed but somehow still floating on top of it.
Innerspring
The innerspring choice is made with a core of spring coils which respond to movements while having a bouncy feel and firm support at the same time. They are considered one of the most breathable options with impeccable airflow. Pillow tops work excellent on an innerspring bed because they soften up the feel without compromising the support.
Pillow top vs Euro top
A pillow top is an additional layer of padding, which has been sewn into the mattress's surface. Whereas a euro top is sewn flush, creating a more polished look and feel. However, a euro top is considered "top of the line", which is quite expensive, but it has excellent edge support that helps prevent sagging.
Final Words
Pillow top mattress is a great solution that might help cushion aches and pains. It's also incredibly comfortable and has remarkable support.
Always, check the firmness, the materials, the warranty and the companies return policies. Make your decision after you've done your research and read some reviews because mattress brands frequently change, and so do the products they offer.
We might not be professionals, but we've tested, researched and commented on every product we've put on this list. With that said, we hope that this article was helpful, and you were able to find what you are looking for. If there are any questions, regarding the subject, please share them in the comments below.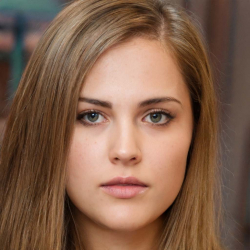 Latest posts by Isabelle Harris
(see all)