Pros
3 Foam Layers

Zoned Support

Durable & Hydrophobic Cover
10-year Warranty
Cons
Not great for heavy people
Slow delivery at times
Customer service can be tricky
Emma is an award-winning brand founded in Frankfurt, Germany, in 2015 that now serves seventeen countries on three continents. This manufacturer bases its products on extensive research and testing to create innovative products at a somewhat affordable price.
Currently, the company offers three mattress models (Original, Essential, Hybrid), a one-bed frame model, pillows and a mattress protector. They use patented technology and materials to provide proper spinal alignment, ultimate comfort and excellent support.
Today, we'll break down the Emma Original construction, build quality, design, pricing, sleep performance and see if there are any downsides that you should know about. Let's go over the Emma mattress details and see whether it might be a good fit for your specific needs.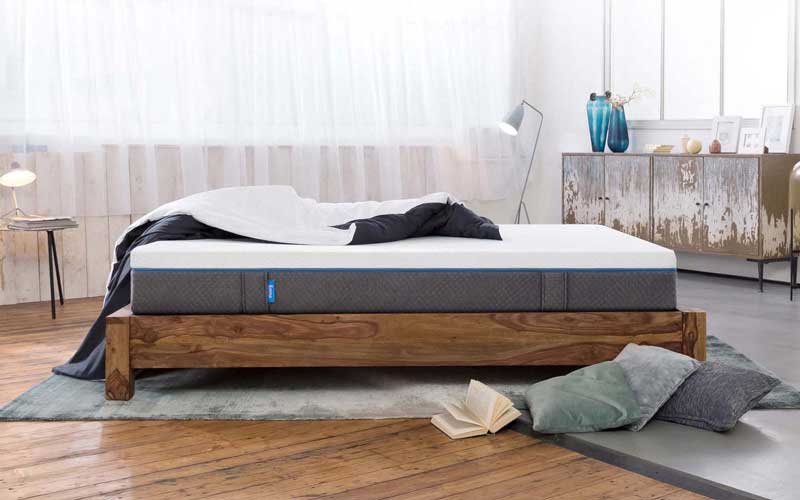 How is the build quality?
The Emma mattress is designed with three distinct foam layers, a temperature-regulating top cover and a breathable bottom cover. All layers have their unique function, creating a product that works in harmony to provide you with a good night's sleep.
Even though this is originally a German brand, the Emma mattress is made right in the UK and complies with strict testing, ensuring it meets the highest quality standards. This brand also complies with BS 7177 regulation, meaning it's fire retardant. And if that's not enough, the foam used to make the mattress is CertiPUR-US certified.
Testing Products
At their testing facility, the brand uses both humans and high tech machines to test their mattresses, and if something isn't up to par, it doesn't leave the factory. One of the tests is on motion transfer and isolation so that The Emma Original can be used by a couple.
In general, memory foam mattresses have great motion isolation properties, whereas pocket sprung and hybrid mattresses offer more of springy support. Their testing also includes heavy barrels, which have been continuously rolled along to simulate years of use in order to determine the lifespan of the product.
This brand is a top competitor that always tries to push boundaries and test everything they put on the market to create a fantastic bed-in-a-box.
What is in Emma's Layers?

The Emma Original mattress is constructed from three innovative foam layers, accompanied by a temperature-regulating, breathable cover. Emma's team of experts works hard towards providing you with the most restful and energising sleep imaginable. 
First is the innovative Airgocell foam, which absorbs moisture and keeps air flowing through the mattress smoothly. This open-pored foam is amazing at temperature regulation so that you will stay cool throughout the entire night.
The second layer is the pressure-relieving visco-elastic memory foam that contours to your body and distributes pressure evenly across the whole surface while ensuring you sleep comfortably in any sleeping position.
Finally, you'll find the HRX foam, providing the needed pressure to keep your spine aligned while supporting your back. This layer is also exceptionally elastic, so you won't feel your partner moving.
How Thick is the Emma Mattress?
The Emma mattress is 25cm thick, meaning most standard bed sheets should fit.
How firm is it?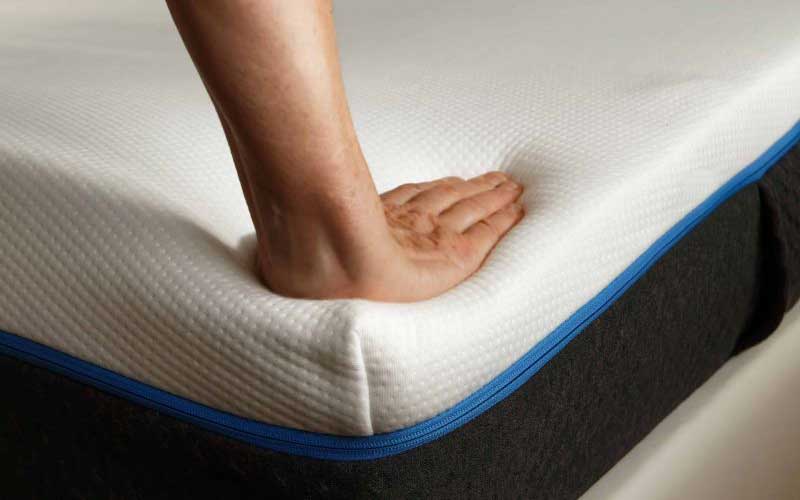 This mattress comes with firmness of 6.5 out of 10, with one being the softest and ten being the firmest. We find this to be the perfect middle that is versatile while suiting different sleeping preferences and body types.
However, firmness can be a subjective measure, which is why we suggest you try it out and decide for yourself. Overall, a medium-firm level option best maintains spinal alignment and even weight distribution. This way, the brand tries to reach a larger part of the UK's population and let them feel all the pressure-relieving benefits you can get by purchasing this bed.
What about the cover?
Emma has designed a mattress cover made from polyester and polypropylene. The top and side cover are made entirely from 100% polyester due to the fact it's durable and hydrophobic, meaning it will dry off quicker than other materials. The manufacturer uses hollow polyester fibres that effectively regulate humidity.
Its grey underside is made of 87% polyester and 13% polypropylene, creating a cover that is extra resistant to abrasion, while the 3d-mesh non-slip texture supports air circulation. For easy manoeuvring, this mattress has four handles that can come in handy.
Emma's cover is removable and machine washable at 40 degrees Celsius, but we would still recommend a protector that will expand the longevity of your bed.
Design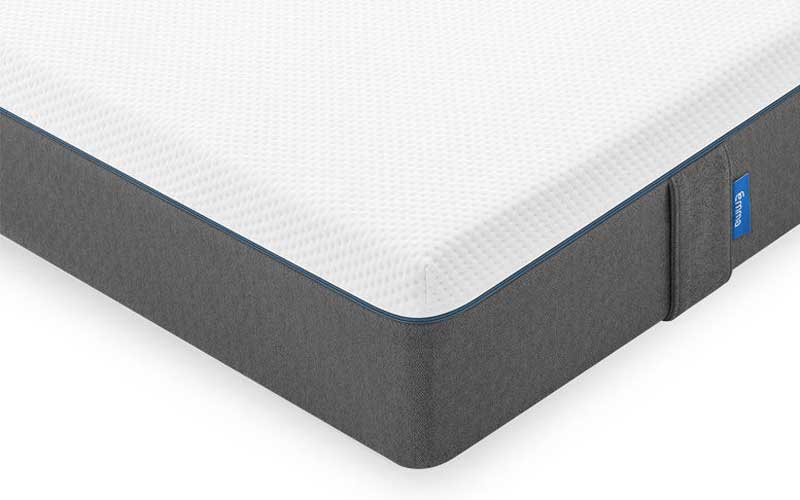 Emma's colour palette consists of blue, white and grey, which seems to be a trend among all the online mattresses in the UK. This model has a clean white top and grey underneath, separated by a blue zip that runs along the sides.
We know that design isn't a deciding factor because usually, we tend to cover our mattresses, but knowing that underneath those sheets is a stylish looking cover is always a positive.
How long is the Free Trial Period?
The Emma Original comes with a 200-night risk-free trial, allowing you to return it in the set time frame and still receive a full refund. If, after you've given it a few weeks to adjust, this mattress isn't what you've been looking for, the brand will take it back.
All you have to do is contact customer service, and they will handle the rest. You get the 200-night trial period so that you can try this bed in the comforts of your own home. However, if for some reason you don't find it suitable for your personal needs, the company will take it and either recycle it or give it to charities such as the British Red Cross.
How long is the warranty?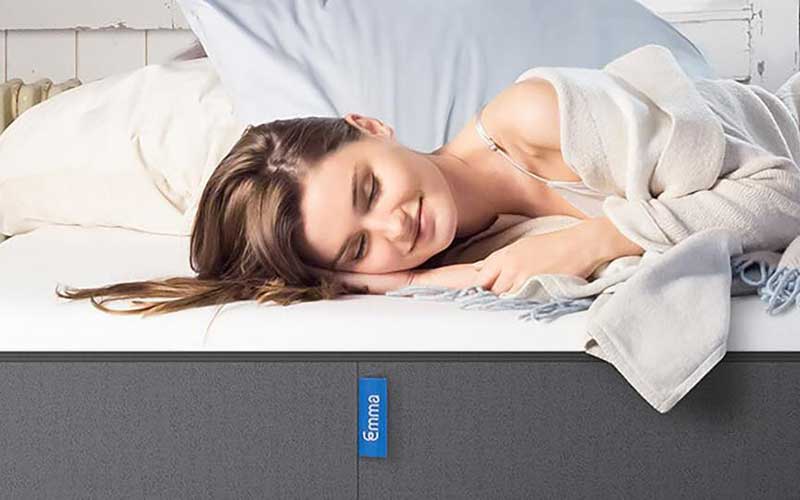 The Emma Mattress comes with a 10-year warranty, which shows the brand's confidence in the products they put out. This is a standard guarantee for a quality product in the United Kingdom, but remember to read the fine print to inform you about what you are getting yourself into.
A bedding company isn't always trying to catch you off guard, and sometimes you have to read all the T&Cs to make an informed decision. With that said, next, we'll discuss what defects are covered by the warranty and which ones aren't.
What defects does the warranty cover?
Cracks, dents or damage to the foam that has arisen despite proper use and handling
Indentations that are greater than 4cm
Production damage to the zipper
What defects the warranty does not cover?
Use of the mattress for a medical patient of any kind
Damage from burns, cuts, infestation, or bodily fluids
Abnormal and/or neglectful use
What Sizes does Emma come in?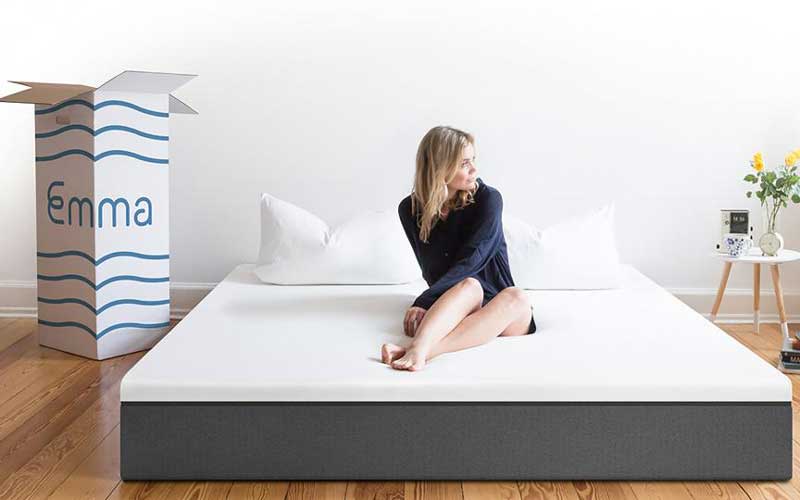 Emma wants you to find your perfect match with one of their five available size options. The brand has tried to simplify that by concentrating on five sizes to create a straightforward, no-nonsense guide with which you won't be overwhelmed or confused. Here are the available sizes for the Emma Original:
Single – 90x190x25 cm
Small double – 120x190x25 cm
Double – 135x190x25 cm
King – 150x200x25 cm
Super King – 180x200x25 cm
What are the Delivery Terms?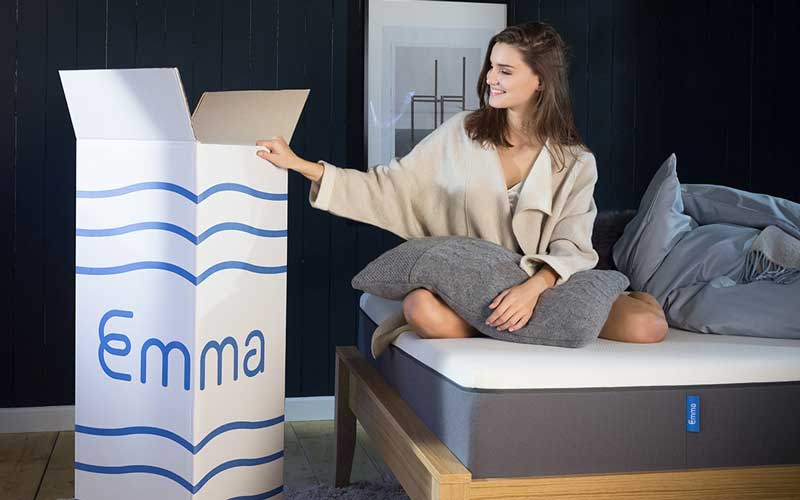 Emma's mattress comes vacuum-sealed and rolled into a box that's 45x45x110 cm. The product is delivered by UPS or DDP depending on the ordered size within 1-3 business days from the date of order. However, as this is a model with high demand, those days can vary during peak season. Inside the box, you'll find the mattress, a handy unboxing tool and a manual.
If you want to get rid of your old mattress, the company offers a removal service at a fee, but you have to let them know in advance. Often this will be carried out by a third party who will collect the mattress from any room of your choice and then either recycle or dispose of it.
The manufacturer offers Saturday delivery for an additional charge, which is perfect for those working throughout the week. There are four delivery options at checkout:
Free standard delivery, as outlined above
Saturday delivery (subject to change)
Standard delivery + Old mattress removal (subject to change)
Saturday delivery + Old mattress removal (subject to change)
Awards
When you're spending your money, you want to make sure they are going towards a product that is worth it. The Emma Original is UK's most awarded mattress, which speaks volumes for its credibility and authority in today's market.
This Emma mattress has been on a roll and continues to win more and more awards, making it the most critically acclaimed mattress. Here are some of their most recent awards:
The Independent – Best Buy
Which? Best Buy – 2020
Good Housekeeping Approved – 2020
LightSleeper's choice for:
Accessories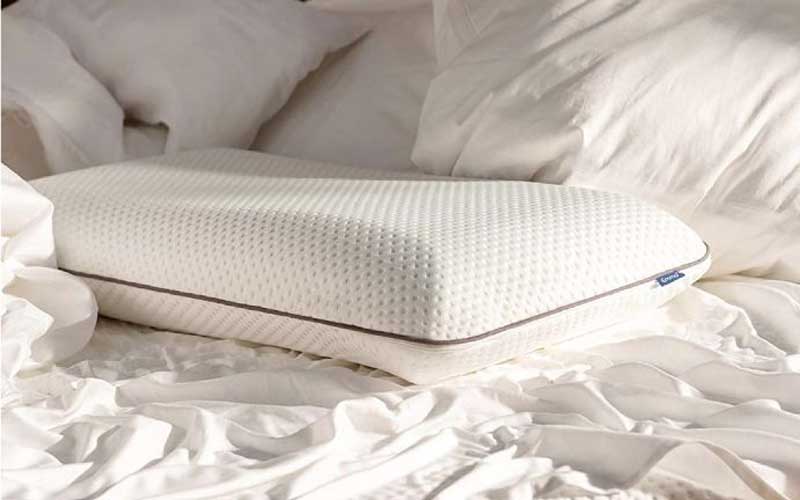 The Emma Mattress is designed to be low maintenance and as practical as possible, but there are a few additional items you can purchase for the perfect night's sleep. Their mattress is supportive, breathable and pressure relieving.
However, for the ultimate sleeping experience, you can get their durable and long-wearing bed base, which, combined with your Emma mattress, will provide unbeatable comfort. Another great suggestion is the Emma Pillow, suitable for all sleeping positions with adjustable height and firmness, designed with three layers of premium foam.
Last but surely not least, we suggest the Emma Mattress Protector which is breathable, comfortable, and entirely crinkle-free. It's also 100% waterproof, will catch any moisture or spills and will protect you from dust mites and other allergens. With everything, Emma, you can rest assured with a match made in bed-heaven!
Emma Alternatives
If you want to take a look at other similar options, here are our recommendations:
Bottom line
Overall, Emma is a high-quality mattress with innovative layers suitable for most sleeping positions and body types. It is great for couples too. Emma's models come with a significant free trial period, free delivery service and a reliable warranty. They even offer to pick up and dispose of your old mattress.
Being the UK's most awarded mattress should be on the radar for anyone looking for a top-quality memory foam product with a medium-firm feel. The Emma Original is on the affordable side, so this is something to consider. Not many brands and models offer as much for their value. Try it yourself and discover what it means to wake up feeling genuinely epic.  
We hope you enjoyed the read, and if you have any questions, don't hesitate to drop us a comment below.