The mattress you sleep on isn't the only factor for a comfortable night's sleep. What you put on top of it matters just as much!
Swapping out your bedding set for a new and improved one can make all the difference in the quality of your sleep. Second, only to mattresses and pillows is bedding an essential feature determining your sleep space's comfort.
But how can you choose a quality set that fits the bill and checks all the boxes? There are many brands and models on the market – from high-quality products from reputable companies to cheap knockoffs that we wouldn't recommend to our worst enemy.
That's why we created LightSleeper – to help you choose the product that is right for you and you alone and help you make that choice along the way. Companies can never pay to feature their products on LightSleeper, nor we are getting paid to recommend one product over the other – we are an independent resource, and we only recommend products that have passed our tests, and we feel that they are the best in their category.
So let's see what we think about the Best Bedding Sets today and why.
1. Sleepdown Set – Editor's Pick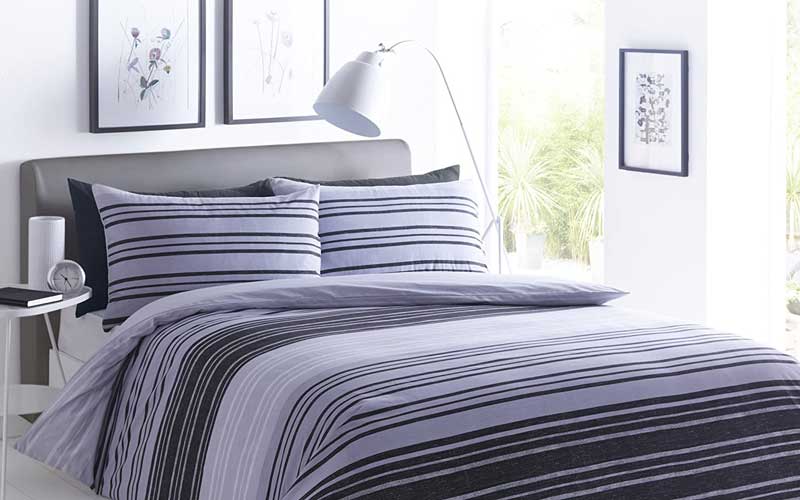 First on our list is the Sleepdown Duvet Cover & Pillowcase Set with its contemporary design and quality materials, easily winning the Editor's pick in this category. This Sleepdown set comes in five colour variations in three sizes suitable for most beds.
Depending on the size you choose, you get one or two pillowcases and a duvet cover made from 48% Cotton and 52% Polyester. All products are manufactured in socially compliance production facilities and can be machine washed at 40°C and ironed on low heat.
Sleepdown comes with a stripe pattern allowing for a simple look with outstanding quality and affordable price with over 5,000 5-star ratings on Amazon.
2. Marks & Spencer Supima® – Premium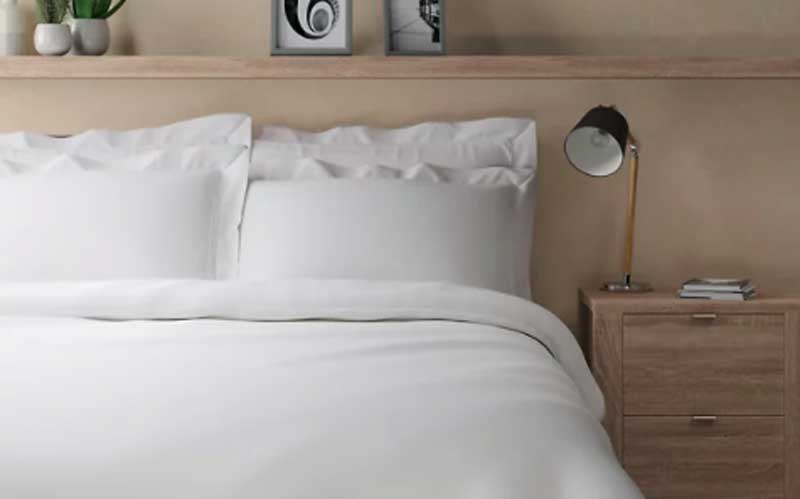 If you want luxury at it's finest, you have to take a look at the Marks & Spencer Supima® products. The Supima® collection includes a Cotton Oxford Pillowcase, Duvet Cover, and a Fitted Sheet (3 options).
All Marks & Spencer bedding products come with a 750 cotton thread count in white or light grey. These items help reduce the impact of cotton farming on the environment, making cotton production more sustainable.
The whole Marks & Spencer set can be machine washed and even ironed at high temperatures. The duvet cover and the fitted sheet come in four sizes: single, double, king and super king, while the pillowcase comes in one size: 48 cm x 76 cm.
3. Eve Washed Cotton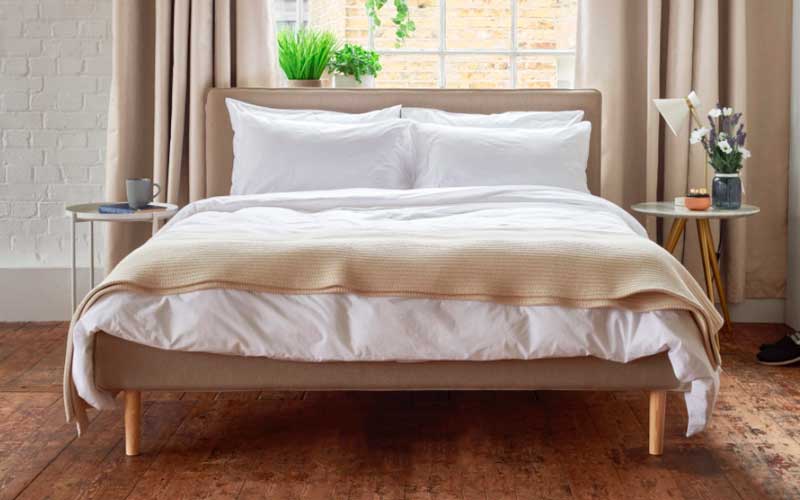 Fresh bed linen is always a joy, and the Eve Washed Cotton Duvet Set is an excellent example of that. Depending on the size, Eve either gives you one or two pillowcases (50 x 75 cm) and one duvet cover. You get to choose from three colours pink, grey and white.
All Eve products are made from cotton with a 180 thread count, where the brand has taken the crisp cotton and treated the fabric with an enzyme wash to give it a soft linen feel. You get four size options: single (135 x 200 cm), double (200 x 200 cm), king (225 x 220 cm), and super king (260 x 220 cm).
The Eve Washed set can be machine washed, but it doesn't need to be ironed. However, what makes Eve truly special is that they offer a 2-year warranty on their textile products to meet the highest standards for domestic use.
4. Sleepdown Satin Stripe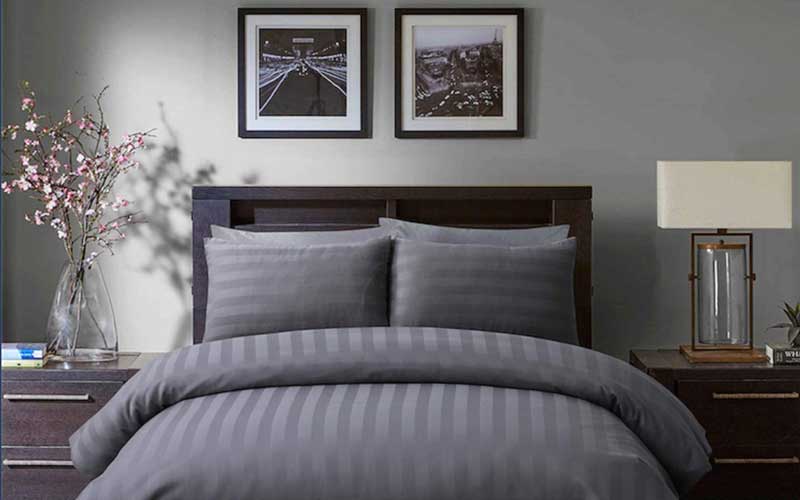 We have another Sleepdown offer with the Satin Stripe set with over 2,500 5-star ratings. This Sleepdown set can be purchased in grey, silver or white in four sizes: single, double, king and super king.
Enjoy a Luxury Hotel feel with these 250 thread count polycotton items, including one duvet cover and two pillowcases(48m x 74cm). Sleepdown is known for its affordable prices and ethically manufactured products, and the Satin Stripe set is no exception.
If you're on a tight budget but still want to feel luxury, the Satin Stripe set represents a soft and comfortable touch, perfect for classy and sensual bedroom decor.
5. Euphoric 4 Piece Set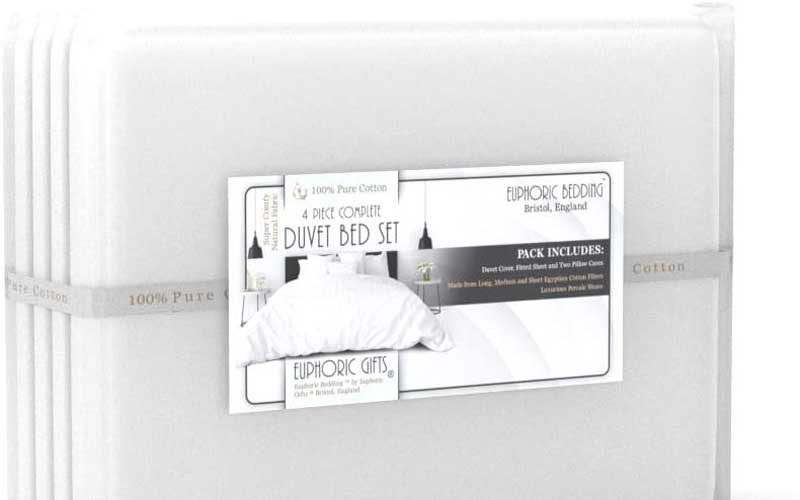 If you want the full bedding package, the Euphoric 4 Piece Set is the one to look for. It includes one duvet cover, one fitted sheet and two pillowcases, available in four colours: white, blue, cream and light pink.
This beautifully crisp linen is made from a blend of high-quality long, short and medium 100 % Egyptian cotton fibres with a 300 thread count.
Euphoric comes in two sizes, double and king. In the double option, you have the cover (200cm x 200cm), the pillowcases (50cm x 75cm), and the sheet (190cm x 135cm x 27cm), whereas in the king one, it will be a Cover (230cm x 220cm), the pillowcases (50cm x 75cm), and the sheet (200cm x 150cm x 27cm).
Euphoric's classic set can be machine washed at 40 C but has to be air-dried or tumble dried on low. With this complete 4 Piece Set, there is no need to look for additional bedding accessories.
6. SeventhStitch Pintuck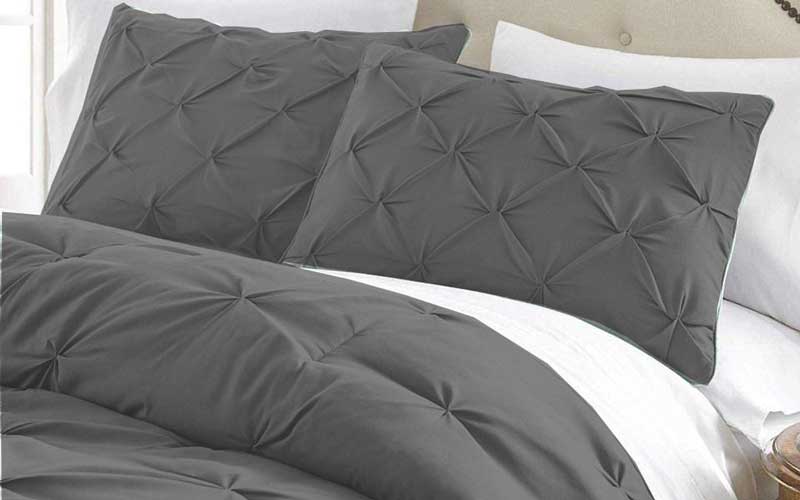 Next on our list is the SeventhStitch Pintuck set available in nine stylish colours in four different sizes: single (137 x 200cm), double (200 x 200cm), king (220 x 230cm) and super king (220 x 260cm).
Depending on the size you select, you receive one duvet cover with one or two pillowcases (50x75cm) with a 200 thread count. All bedding accessories are made from 50% Cotton and 50% Polyester. The SeventhStitch products are hypoallergenic, can be machine washed and tumble dried.
This set has over a thousand 5-star ratings on amazon, which showcases its quality. The SeventhStitch Pintuck items are stylish and can be added to any bedroom décor.
7. Soak & Sleep Egyptian Cotton Bed Linen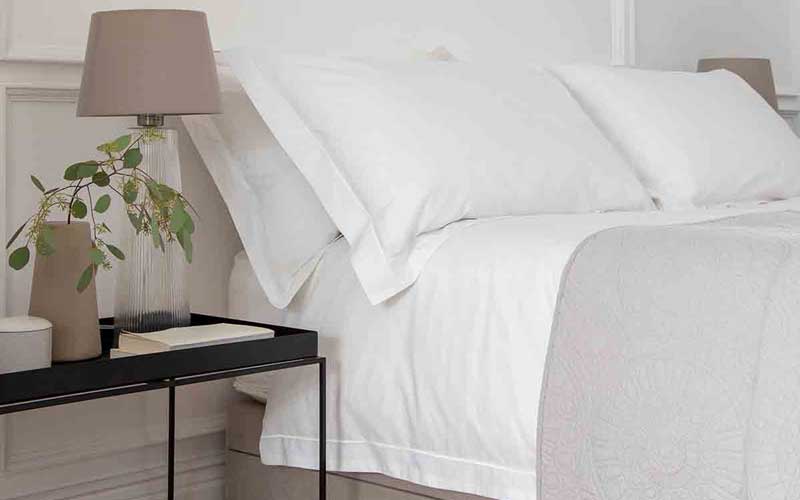 Soak & Sleep has designed bed linen that offers an incredible variety of sizes and bedding products that can be fully customised. You can pick your set in one of the following colours: white, silver grey or ivory.
All items are made from 100% certified Egyptian fibres, making them breathable and moisture-wicking. The bedding accessories can be customised since Soak & Sleep offers pillowcases, duvet covers, fitted sheets (standard & fitted), bed sets and bundles. It's up to you to decide what you want and need.
Soak & Sleep offers six pillowcase sizes, four duvet cover sizes and nine sheet sizes. This bedlinen feels crisp, cool and light, thanks to how the Egyptian cotton is woven into a 200 thread count percale weave.
8. L.L.Bean Ultrasoft Comfort Flannel Sheet Set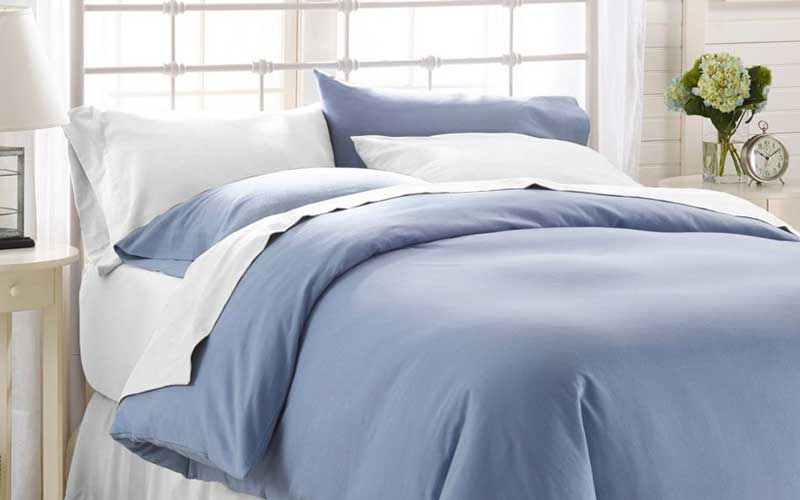 L.L.Bean is a brand that has designed an Ultrasoft Comfort Flannel Sheet Set, which includes pillowcase(s), one flat sheet and one fitted sheet. All products are OEKO-TEX® Certified, meaning they've been tested for harmful substances.
The L.L.Bean set is available in three colours white, natural, Marinier blue and can be purchased in a twin, full, queen or king size. These bedding accessories are made from 100% brushed cotton flannel and have been woven in Portugal exclusively for L.L.Bean.
You don't have to worry about shrinking, fading and pilling with the Ultrasoft Comfort Flannel Sheet Set that gets softer with every wash.
9. Habitat Jersey Bedding Set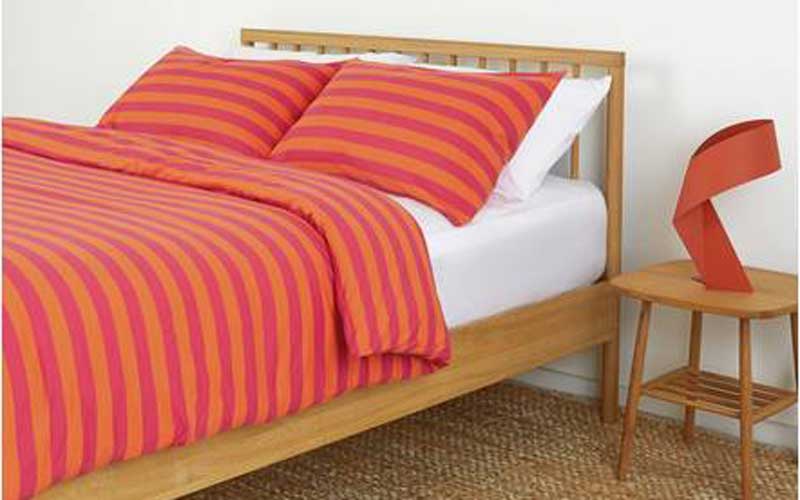 Argos offers a Habitat Jersey Pink and Orange Bedding Set that looks fresh and funky for everyone that wants the "oomph" in their bedroom.
This bright set is available in three sizes: single, double and king. The single size includes one duvet cover and one pillowcase, whereas the double and king size comes with two pillowcases made in Portugal from 100% cotton.
The Habitat Jersey Set has a vibrant striped design and is super easy to care for since its machine washable and suitable for tumble drying. Habitat bedding comes with a 180 thread count with a super soft finish, perfect for everyday use.
10. La Redoute Saraya Floral Duvet Cover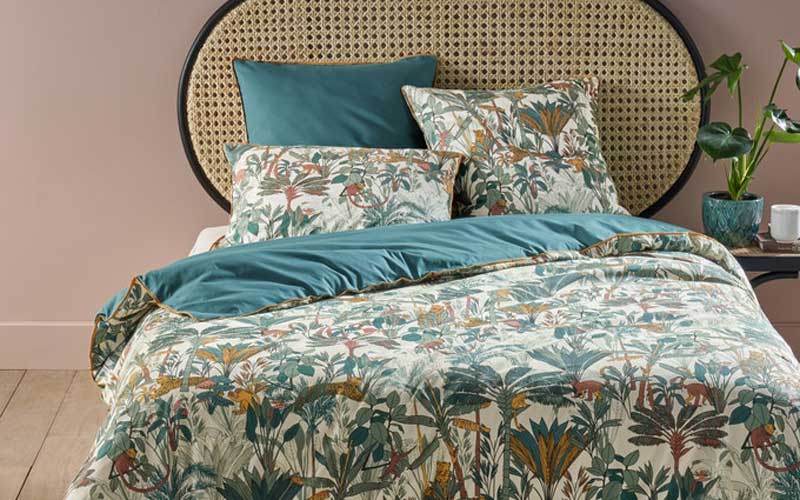 Lastly, we have La Redoute Interieurs collection. La Redoute is a brand with many duvet cover with stylish prints, but our personal favourite is the Saraya Floral Duvet Cover in cotton percale.
This cover can be bought in four sizes: single (140 x 200cm), double (200 x 200cm), king (240 x 200cm) and super king (260 x 200cm). If you purchase the Saraya Floral Duvet Cover with a pillowcase, you will even get a discount for the bundle.
La Redoute bedding is made from Oeko-Tex® certified washed cotton percale with ultra-tight weave and an 80 thread / cm². One side is plain blue, whereas the other has a Palm tree and monkey print. The Saraya cover has taped edging and can be washed at 60°C.
How to choose a bedding set?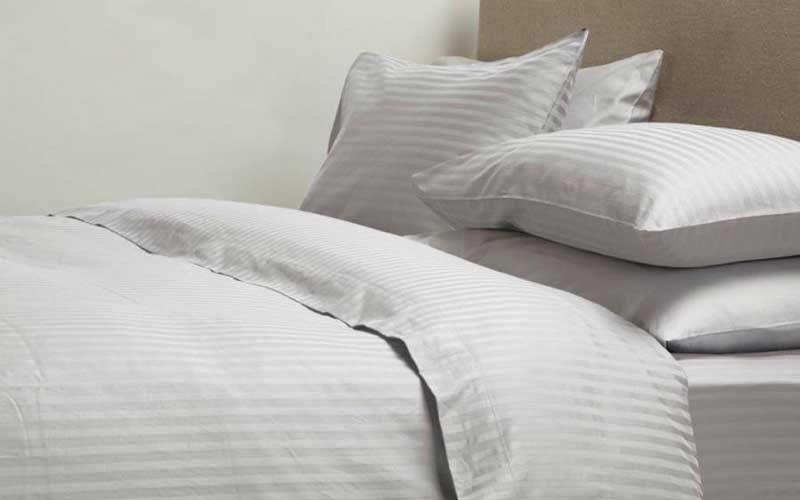 We spend a third of our life sleeping, so we need to find a bedding set that we can't wait to crawl into. When you're buying linens, you want to get quality materials that will last. Here is what you need to know about each bedding item:
Pillows
When you're deciding on a pillow, you should consider your sleeping position, firmness, size, and filling type to pick one option that will bring you maximum comfort.
Let's talk about sleeping positions first, since they say a lot about your sleeping habits. If you're a side sleeper, you want a pillow that will provide extra support to the neck and head with a medium density. Stomach sleepers will need a soft, low-density product just like back sleepers since they require minimal support.
When it's time to get a new pillow, most people don't think about the size. However, it can significantly affect your sleep quality. Standard pillows measure around 50 x 65cm, and a queen measures 50 x 75cm and a king 50 x 90cm. The easiest way to determine which one you need is by following the size of your bed.
Next, you have to think about filling. This is the aspect that shows you how long your pillow holds up over time. For example, memory foam moulds very precisely to the body, and it easily adapts to provide the right level of support. Cotton is hypoallergenic, breathable, cool, and easy to care for. Down is plush and luxurious, allowing your head and neck to sink right into the pillow. Polyester is the most inexpensive type of filling, but they often become lumpy and less supportive over time.
Lastly, we want to discuss firmness. In general, there are four levels, which are soft, medium soft, firm, and very firm. The soft level will be a fluffy item with which your head would sink in. Medium Soft means slightly less give with mid-range support during sleep. A firm-level pillow is usually made from polyester or memory foam, highly recommended for most sleepers. Very firm options hold their shape and can be quite beneficial for side sleepers who struggle with neck pain.
For more information on pillows, check our guide on the "best pillow."
Duvets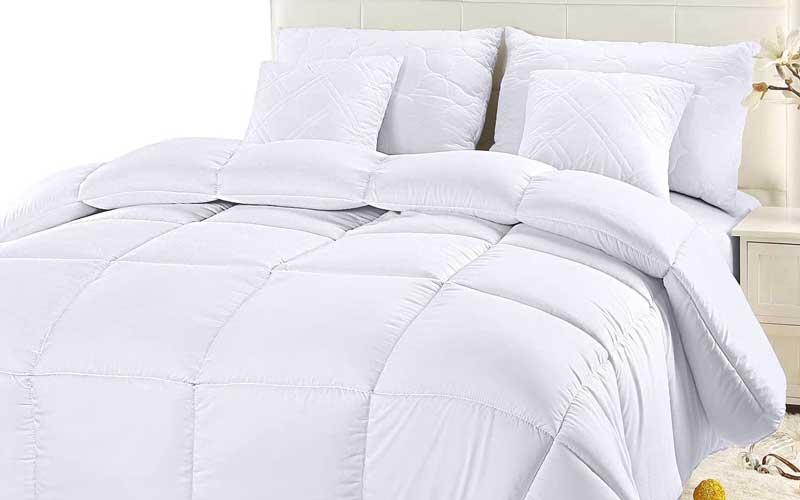 Next on our list are duvets. The factor you should always consider when selecting a duvet is its filling. Generally, fillings are separated into two big groups: natural and synthetic. Typically natural options are down silk, bamboo, and wool. They are all considered better than synthetic products. When we talk about synthetic versions, it usually means microgel that emulates down, but it is 100% polyester.
Another crucial aspect of your decision should be the construction of a duvet. The most popular and well-constructed choice is known as the "baffle box", meaning stitching a grid of boxes within the product.
Sometimes a duvet isn't enough, so you should consider adding other layers of fabric for your bed. If you tend to sleep hot, opt for a light warmth duvet, and if you're a cold sleeper, get a year-round duvet or jacquard cover. For more information on duvets, check our guide on the "Best Duvet."
Bed Sheets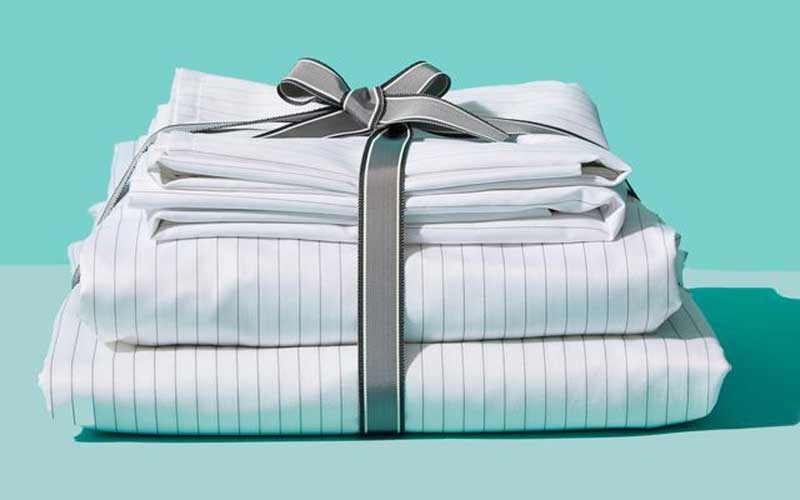 Last but surely not least, let's talk about bedsheets. The first thing you have to do is read the fibre content. Your best bet is 100% cotton, and if you're looking for premium options, check Egyptian or Pima versions.
Understand that some manufacturers can ake high thread counts without actually increasing quality. Therefore you can stick between 200 to 500 and stay in the sweet spot for softness and strength.
Another thing you should acknowledge is weaves, where your primary options are percale or sateen. Percale feels light and crisp, whereas sateen feels silky smooth. This factor is more of a personal preference than a choice.
People often assume that a sheet will fit a mattress, but mattress depth is an essential factor. There are flat and fitted sheets, which can be standard or deep, depending on the mattress. If you're using a mattress topper, you should measure it as well before making your purchase.
What bed sheet fabrics are there?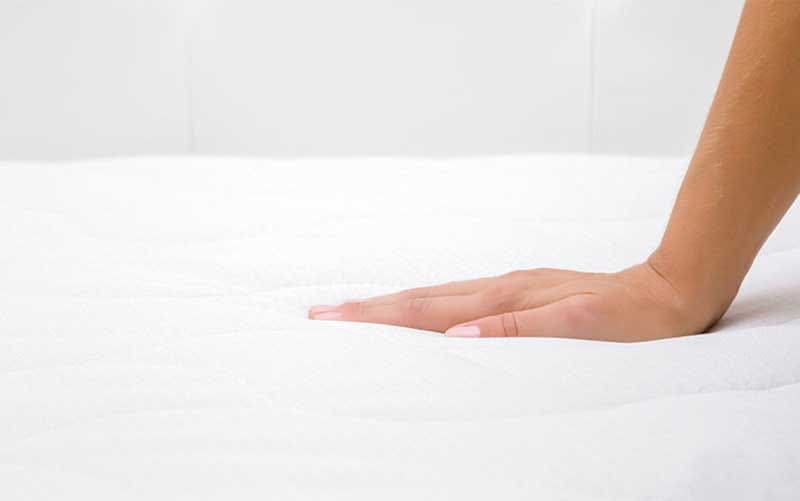 Nowadays, the bedding industry has been growing immensely and are various fabrics they use for their products. They are the following:
Cotton – is the most popular option. It's breathable, long-lasting and can be machine washed.
Egyptian cotton – is considered the world's finest cotton since it's handpicked and can be elongated to create softer, stronger fabric with a higher thread count per square centimetre.
Brushed cotton – often used for winter bedding to keep you warm this option is typically brushed on one side during the manufacturing process to make it softer.
Silk – is the naturally hypoallergenic glamour option with excellent temperature regulation capabilities. Silk pillowcases supposedly keep your skin wrinkle-free and your hair tidy.
Linen – is made from the renewable source flax, which has longer fibres than cotton, making it more durable but slightly stiffer. It's highly breathable and helps filter out allergens.
Polycotton – is a mix of cotton and polyester that washes easily and dries quickly. It is one of the cheaper bedding fabrics, making it popular with hotels.
Bamboo – is an eco-friendly, temperature regulating fabric, ideal for those with sensitive skin. It's an expensive fabric that takes careful looking after.
Lyocell – is made from wood pulp, known as Tencel. It's sustainable, soft and great at wicking moisture away.
Which is the best bedding material?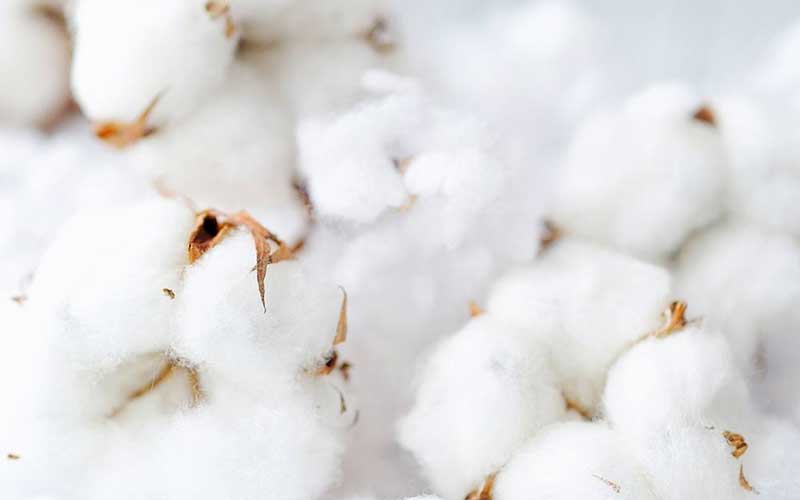 After reading countless reviews and testing many products, we can conclude that the best type of fabric is made from 100% Egyptian cotton. However, that doesn't mean silk and linen don't have their positives as well.
In general, cotton is more popular, and usually, brands offer multiple cotton options and a lot less if any linen and silk. Some people dislike the feel of linen, and silk is a lot more expensive than cotton.
Another option can be polyester or polycotton bedding since they don't wrinkle as much, but they tend to lack the breathability and comfort of cotton. Often they are the cheapest products, which is why hotels use them regularly.
There can be a considerable variation with Egyptian cotton, so you need to read the fine print and check if it is 100% long-staple fibres (best option) or a mix of different length fibres.
What is thread count?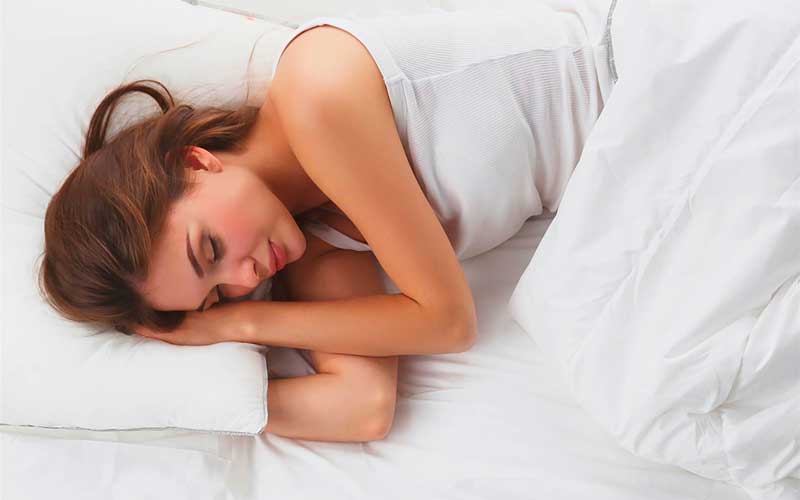 Said simply, thread count refers to the number of threads woven into one inch of any fabric. The way to do this is by counting both the warp and the weft, which means the threads that go vertically and horizontally.
Overall, the higher the thread count, the better quality it will be. However, other factors can weigh in, such as fibres and weaves. They can impact the feel and quality of a piece of fabric.
What is the best thread count for bed sheets?
As we mentioned above, thread count isn't everything since other factors can impact a product's quality. We suggest you stay between 200 and 800 because that's where you will be able to feel the difference. Almost anything above 800 will be very pricy and won't really feel that much better.
Thread count under 200 won't usually last as long, and it might not feel as nice. Most brands in the bedding industry stay between 200 to 500 thread count, which we consider ideal for a great night's sleep.
Final Words
When it comes to bedding, it's not something to skimp on. The bed linen you choose can be a crucial factor in the quality of your sleep. Look for quality products, check the fibres and the thread count and make sure to read some reviews.
All of the bed products we listed above have great customer reviews and are well received. We hope you could find what you were looking for in our guide regarding the best bedding sets the market has to offer. To simplify your shopping experience, we've selected the top 10 options for this year.
Brands in the bed industry frequently change, and so do the products they offer, which is why we will continue to provide you with the most up to par information. We hope that this article was helpful, and you could find what you are looking for.
Now it's our turn to hear from you if any questions regarding the subject were left unanswered. If you want to share some information, we would gladly hear about it in the comments below.