As the name implies, a fitted sheet is designed to fit your bed snuggly, but fitting it neatly in your linen closet isn't always an easy task. The elastic edges can often be tricky, and most of us have tried numerous ways to fold them without finding an effective technique.
That's why in today's guide, we will teach you how to do so with ease. All you have to do is read out simple instructions and watch the video tutorial in a super-easy way to fold a fitted sheet. However, before we start, we would like to mention that these instructions work best when the fitted sheet is fresh out of the drier or one with fewer wrinkles.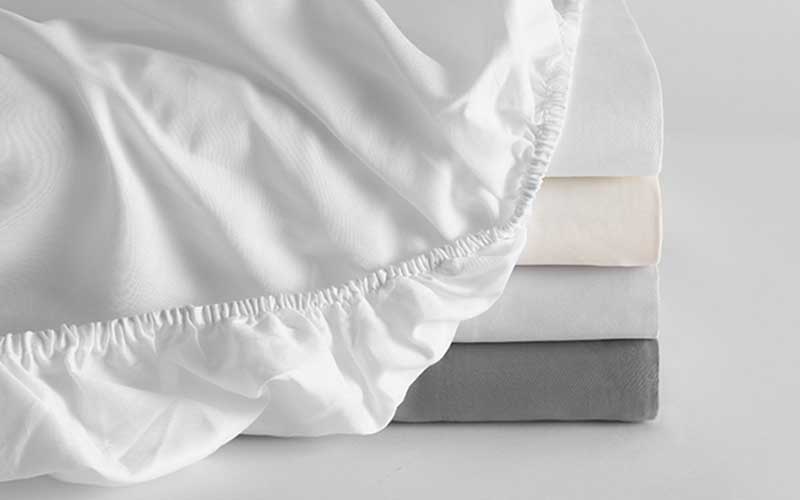 How To Properly Fold A Fitted Sheet?
To start, you should take the long end of your sheet and put both your hands in each corner so that the top is facing inside out and the seems are out. At the bottom, your sheet should be right side up, so the top of the sheet is facing out.
In the next step, you will have to put your hands together, like you're going to clap and take one corner over the other. After that, you're going to take your right hand, slide it in, and this will free your left hand. That way, you can slide it down the elastic to find the other two corners.
By this time, your sheet is pretty much folded in half, and all you have to do is simply repeat the previous step. Put your hands together again, like you're going to clap, throwing one corner over the other.
At this point, all the elastic should be perfectly lined up, and you'll need to lay the sheet down on a flat surface. A helpful tip that will indicate that you've done the steps correctly will be the elastic's shape. It will look similar to the letter L, and your fitted sheet will have a square shape.
So from here on out, you would want to take the fluffy side (with the elastic) and fold it in a third of the way while keeping it nice and neat. Then you are going to take your other side and fold it in over that.
By now, your sheet should be like a rectangle, and from here, it's up to you to decide what your preference is and fold it in half, a third or a quarter.
If you've followed all the steps mentioned above, you will end up with a simple way to fold a fitted sheet! All you will have to do now is to put it away in your closet!
The steps we explained above can be visualized with this incredibly useful video from Bath & Body Works, so you never have to be frustrated by a fitted sheet again!
Bottom line
For some people, folding a fitted sheet may not seem like a high-priority skill, but it can do a lot to keep your sheets neat and feeling refreshed. If you're someone that has invested their money in high-quality fitted sheets, you'll want them to last as long as possible.
That can only happen if you take proper care of them, which starts by learning how to fold them and neatly put them away because balling them up in the back of your closet just asking for a tear or dust pile-up.
If you think we missed something on the subject or if you have any questions and concerns, please drop us a line in the comments below, and we'd try to respond as soon as possible!
Alternatively, you can see what we think are the best UK fitted sheets on the market today!