Hypnos is a brand that designs excellent mattresses with natural materials that let you experience gravity-defying comfort with layers upon layers of support and comfort. They are crafted with high-quality materials, have glowing reviews worldwide, a risk-free trial period and a solid manufacturer's warranty. But is there a catch?
Check out our Hypnos mattress review below and see if it's the right choice for you!
Pros
Natural materials
10-year guarantee
100-night risk-free trial
Multiple firmness options
The secret behind a great night's sleep is the right mattress, which is why we are here to help you find the one. Today's article is about the brand that was able to find the perfect balance between price and quality.
Hypnos is a family-run bed making company, loved around the UK, which has held Royal Warrants since 1929. Royal Warrants have always been regarded as demonstrating the highest standards in excellence, quality, service, and innovation, hence the higher price tag.
People have different body types, and they sleep in different positions. That's why we would discuss all models the brand has to offer to suit everyone's needs and preferences.
Let's go over Hypnos's details and see whether one of the options is a good fit for your specific needs. We'll cover build quality, design, pricing, sleep performance and see if there are any downsides that you should know about.
Which Hypnos should I choose?
In this guide, we'll take a look at all the Hypnos mattresses in the eight categories they offer. They are the Origins, Pillow Top, Luxury No Turn, Royal Comfort, Regal, Regency, Orthos Support and E-Motion collections.
This company has been creating bedding for over a century, which is handmade in Buckinghamshire workshops for some of the finest palaces and hotels in the world. Hypnos is currently the only bed maker to supply all of the Royal residences, and that on its own is a testament to the highest standards.
All Hypnos models use a mixture of natural and sustainable fillings and their unique pocket spring system. However, depending on the mattress, it's slightly different to offer various comfort and firmness options. Let's take a closer look at all categories:
1. Hypnos Origins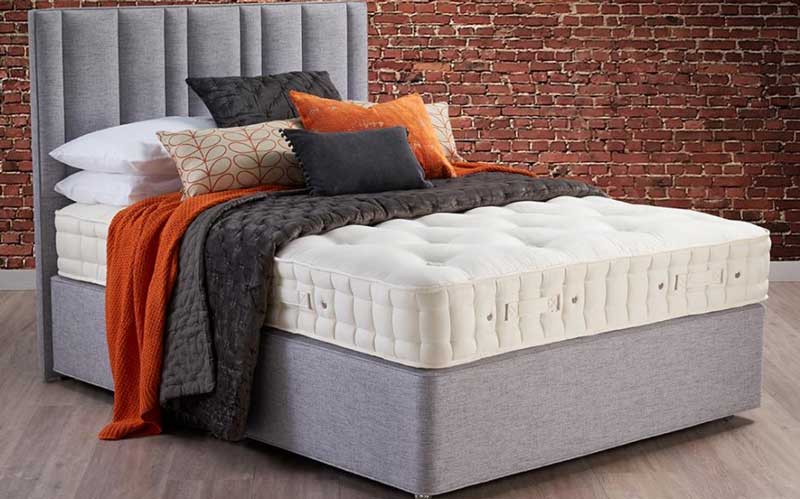 First on our list is the Origins collection, which represents the sustainable products and the value of places, animals and people. In this category, we have six options, they are Cotton (6, 7 & 8) and Wool (6, 8 & 10).
All items are hand build for comfort, relaxation and pleasure. The brand works closely with Red Tractor, UK's biggest farm and food standards scheme, covering the whole farm supply chain, including animal welfare, food safety, traceability and environmental protection.
Hypnos Origins mattresses are made from 100% British wool and responsibly sourced cotton. The company is involved in various certified climate projects, including planting trees in both the UK and the Amazon plus providing clean water in Uganda.
All the products in this collection come with a unique combination of supportive and expertly engineered pocket springs, with several genuine hand side-stitching rows.
2. Hypnos Royal Comfort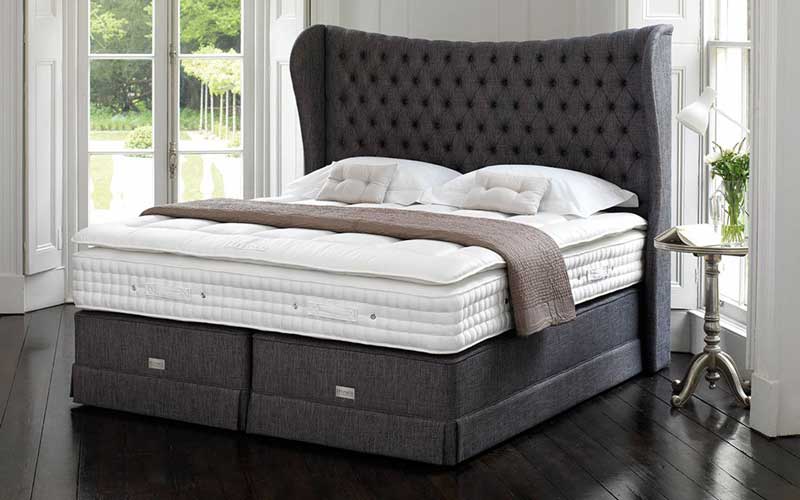 Next, we have the Hypnos Royal Comfort collection, inspired by their Royal archive of designs and commissions. This profoundly luxurious collection is a legend in elegance and comfort with two premium products: the Sovereign and the Eminence.
Both mattresses are hand-built with an exquisite design and function. They feature latex, lambswool and hand-teased wool wrapped around an hourglass-shaped pocket spring system that provides seamless support. Because of the natural materials used in the craftsmanship, the Sovereign and the Eminence mattress offer superb comfort and impeccable temperature control.
The Royal Comfort collection offers excellent edge-to-edge support with three rows of genuine hand side-stitching for durability and longevity. We can safely say that these two options are the jewel in the crown that will provide you with sleep perfection like no other.
3. Hypnos Pillow Top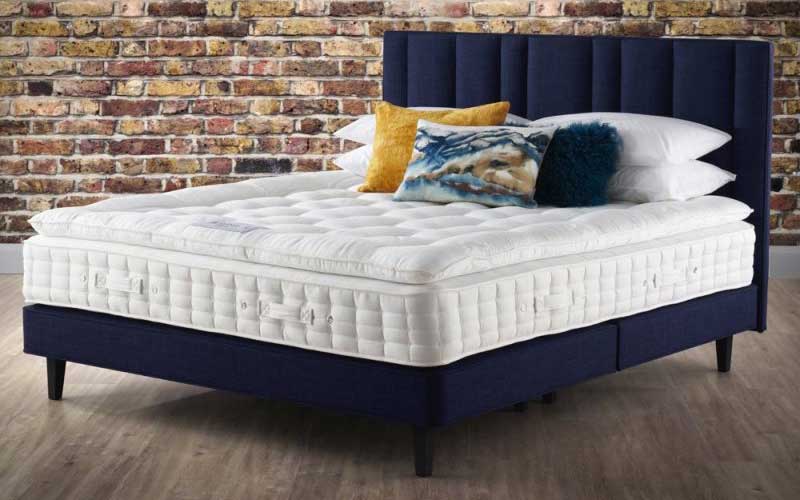 If you want a cloud-like feeling, the Hypnos Pillow Top collection is the one for you. It offers non-allergenic, no-turn mattresses that will provide you with the ultimate relaxation, so you're continually refreshed and energised
This category consists of four products: the Celestial, the Stellar, the Aurora and the Astral. All four come with the cocooning comfort of a pillow top mattress layer hugging your body as you sink into a blissful night's sleep.
The Aurora mattress is made from a breathable cushion of wool and features a patented 37.5® active technology that will aid with temperature regulation while keeping your body in a perfect comfort zone, whatever the season.
The other three items are designed with a sumptuously soft and cushioning layer of wool, natural Talalay latex and Solotex™ together with Adaptiv™ springs. Those springs sense and flex to your shape to properly support your back, neck, shoulders and hips.
4. Hypnos Regal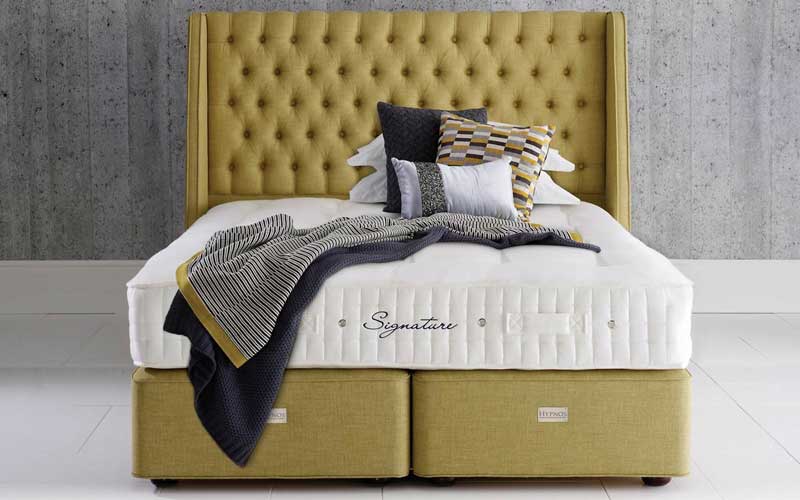 Another excellent suggestion is the Hypnos Regal collection, tailored to suit your individual needs for your ultimate well-being. With over 100 years of experience in hand-crafting beds, this brand has designed a collection, which is individually handmade by master craftsmen, customised to personal tastes and needs.
Both mattresses (Signature & Elegance) in the Regal Collection can be made to fit your bespoke needs, in which you can choose either a medium, firm or extra firm comfort level, ensuring a great night's sleep.
The Signature mattress is made from luxuriously upholstered with naturally soft and breathable cashmere layers, pashmina, grey hair, British wool, bamboo and silk. Whereas the Elegance mattress is crafted with a blend of cashmere, camel hair, and mohair, creating a supportive and snug bed to enhance your rest.
The brand understands that everyone has unique design and style preferences. Thus the Hypnos Headboard Collection enables you to tailor your bed to match your bedroom décor. You get to pick the headboard, style accents and fabrics to reflect your interior and personality.
This category brings individual comfort to another level, with the upholstery cells in a matrix pattern supporting you and your sleeping partner separately (if you have one).
5. Hypnos Regency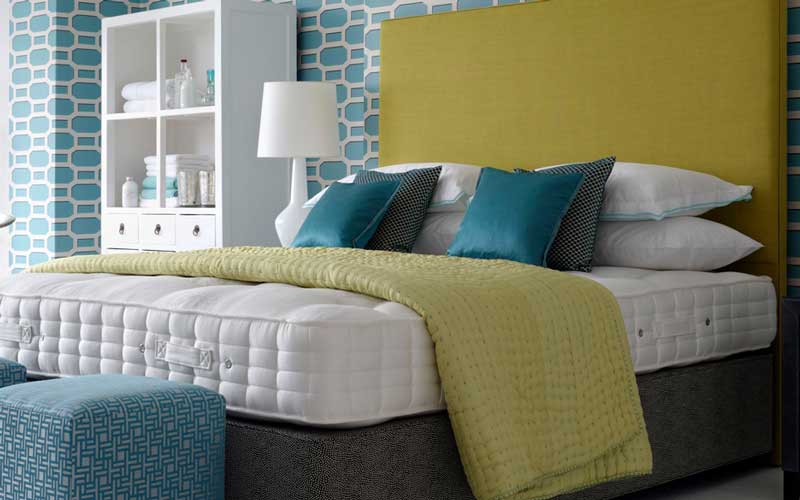 Inspired by the brand's bed-making heritage, the Regency collection offers heavenly comfort and support, featuring their signature "God of sleep" mattress design. This category includes four items: the Clarence Sublime, the Sandringham Sublime, the St. James Sublime and the Hampton Sublime.
All options are hand-built and carefully constructed with responsibly sourced wool from New Zealand, bamboo yarn, alpaca and camel hair. You will receive a double-sided mattress with sumptuous layers of soft, natural fillings for twice the luxury, comfort and support.
The Clarence Sublime is a luxurious top quality pocket sprung mattress with naturally soft and breathable pashmina layers, organic wool, bamboo yarn and alpaca for blissful sleep comfort. With the Sandringham Sublime, you will enjoy deep relaxation with intelligent pocket springs and naturally breathable layers of organic wool and camel hair upholstery for the optimum overnight temperature.
If that's not enough, you can always take a look at the St. James Sublime with its naturally soft and breathable layers of wool, luxurious cashmere and alpaca, which help regulate body temperature and provide you with a refreshing night's sleep.
Finally, we have the Hampton Sublime mattress, made from wool, hair, bamboo yarn, and luxurious cashmere, for a fresh and comfortable rest, no matter the season.
6. Hypnos Orthos Support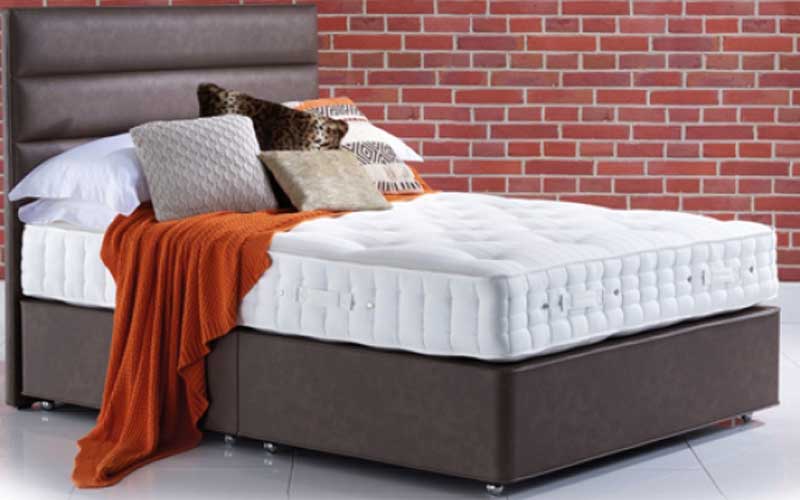 This next range is the Hypnos Orthos Support, designed with luxury materials to provide premium comfort. It includes four choices: the Orthos Elite Alpaca, the Orthos Elite Cashmere, the Orthos Elite Wool and the Orthos Elite Silk.
The Orthos Support collection is crafted by Hypnos' sleep specialists to offer delightfully firm support and comfort, which blends the latest pocket spring technology with traditional hand-crafting to create the perfect mattress.
First, we'll discuss the Orthos Elite Alpaca with the ReActive™ 9 pocket spring system, made layers of alpaca, wool, cotton, and Solotex™, which helps regulate your body's temperature. Then we have the Orthos Elite Cashmere, which is beautifully tailored with cashmere, wool, cotton and Solotex™, also accompanied by the ReActive™ nine-turn pocket spring system.
Next is the Orthos Elite Wool mattress that is incredibly supportive with in-built comfort and firmness, designed with naturally breathable wool, complementing the ReActive™ seven-turn pocket spring system. Lastly, we have the elegant Orthos Elite Silk option, crafted with silk and wool, featuring the responsive ReActive™ eight-turn pocket system.
7. Hypnos Luxury No Turn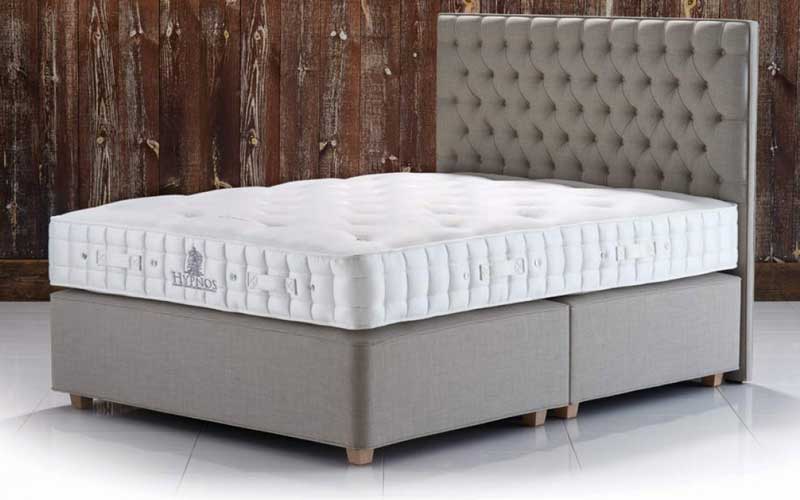 The Luxury No Turn range features three premium, hand-built mattresses: the Luxury No Turn Superb, the Luxury No Turn Supreme and the Luxury No Turn Deluxe.
All three are no turn mattresses featuring the ReActive™ pocket spring system, where every spring independently senses your shape and weight distribution to provide total spinal and body support. These beautiful options are tailored with two rows of genuine hand side-stitching for edge-to-edge support and hand-tufted for longevity by Hypnos' craftsmen.
Every premium product in this collection is bespoke to you and is meticulously hand-built to bring you comfort, relaxation and pleasure. They are designed with breathable layers of latex, wool and Solotex™ luxury cushioning to create durable yet comfortable items.
8. Hypnos E-Motion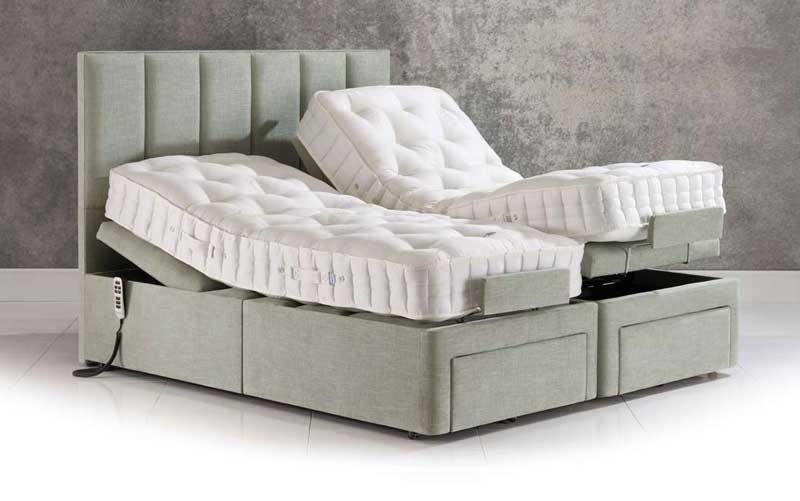 Last but not least, we have the E-motion Adjustable collection. This is a range of adjustable beds, made to the same exacting standards as the company's non-adjustable beds, with a fully adjustable spring base, pocket sprung mattress and a handset with which you can position yourself while sleeping or sitting.
It includes two lavish options: the E-motion and E-motion Plus. This category is the latest addition to the Hypnos family, with adjustable divan and mattresses.
The mattress itself is made with naturally soft and breathable layers of alpaca, wool, Solotex™ and polycotton. They help regulate body temperature and ensure a fresh and hygienic night's sleep. However, what makes them stand out are the controllers with which you can effortlessly adjust the inclination from the comfort of your bed.
The E-motion divan base has spacious drawers for storage and a high-quality mattress, the same standards as the non-adjustable Hypnos mattresses.
How firm is the Hypnos mattress?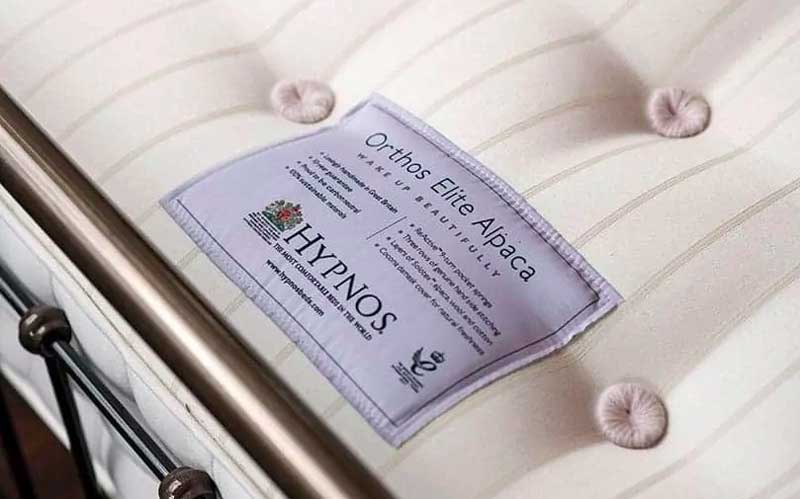 Mattress firmness is a crucial aspect to consider when purchasing a bed. Overall, Hypnos's mattresses range from medium to extra firm, meaning they stay between 3 and 8 from a range of 1 to 10, with one being the softest and ten the firmest. Here is where each range places on a firmness level:
Origins – 6
Royal Comfort – 6
Pillow Top – 3 to 5
Regal – 7
Regency – 4 to 5
Orthos Support – 7 to 8
Luxury No Turn – 4 to 5
E-Motion – 6
Design
Hypnos mattresses have an elegant white design all-around. The mattress covers on the different ranges can vary. The brand has kept a consistent design for over a century and was able to keep it lavish and classy through and through. Also, Hypnos products come with handles on the sides for easy movement and handling.
How long is the free trial period?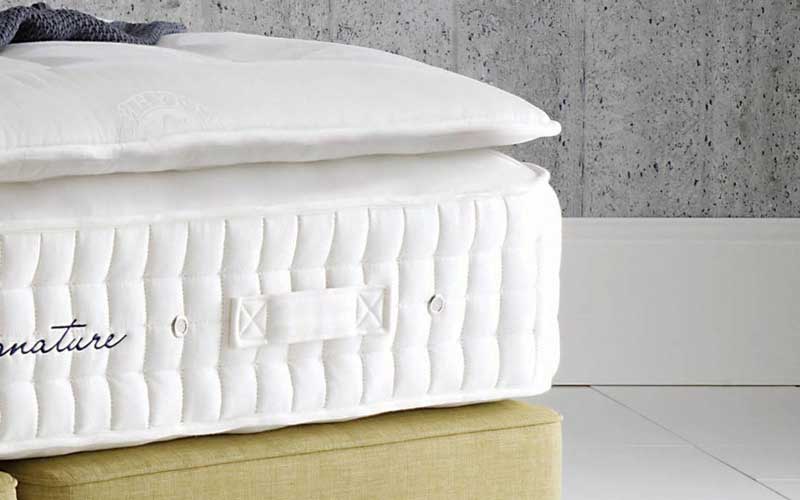 The brand offers a 100-night trial period in which you can check their mattress at home, give it some time to adjust and decide for yourself if it's the right choice for you. We strongly recommend you give this excellent option a "test drive" and see for yourself.
If you don't fall in love with it for some reason, you can return it with no shipping charges and receive a full refund on all Hypnos collections.
How long is the warranty?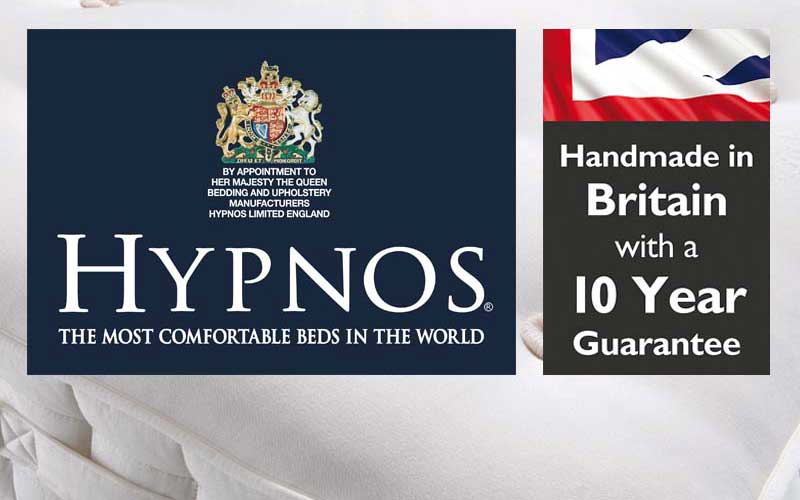 All Hypnos mattresses come with a 10-year full guarantee from the date of purchase to give you further peace of mind. However, the company reserves the right not to honour claims under this guarantee at their discretion. Let's talk about the situations in which it applies and when it doesn't:
What defects does the warranty cover?
In the event that a defect arises through proven material failure or faulty workmanship
Any claim must be submitted in writing by the original purchaser to the supplying retailer within one month of the apparent defect becoming evident
The claim must be supported by proof of purchase – original invoice or sales receipt
What defects doesn't the warranty cover?
If not purchased by an authorised retailer
If the product has been re-purchased
If Hypnos' bed care instructions have not been followed
Where there is evidence of inappropriate usage or abuse of the product
If the products are soiled or are unhygienic
Where a mattress has been used with an unsuitable base
What sizes does Hypnos come in?
The company wants you to find your perfect match with one of their nine available size options. Hypnos has tried to simplify that by concentrating on nine sizes to create a straightforward, no-nonsense guide with which you won't be overwhelmed or confused.
Here are the available sizes for their models:
Single – 90 x 190 cm
EU Single – 90 x 200 cm
Small Double – 100 x 200 cm
Double – 135 x 190 cm
EU Double – 140 x 200 cm
King – 150 x 200 cm
EU King – 160 x 200 cm
Super King – 180 x 200 cm
Emperor – 200 x 200cm
Awards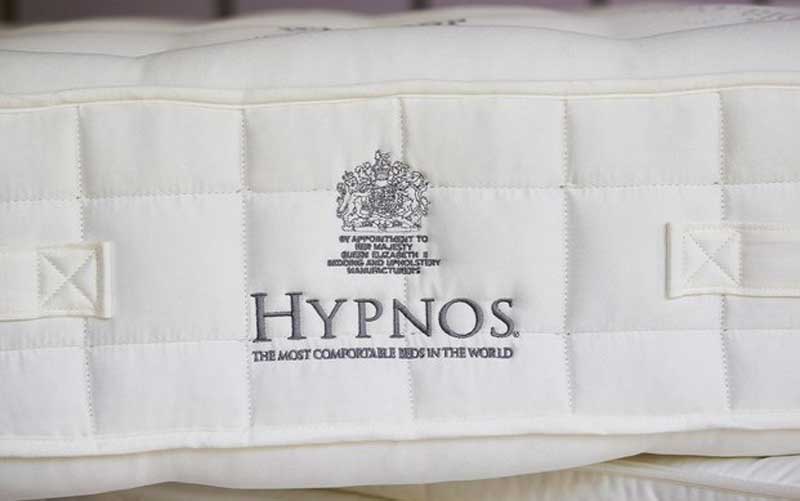 The awards a company has won speak to the quality of the products they put out, and when we talk about Hypnos, there is no competition. They have won many accolades during the years, but what makes them stand out are the many awards they've earned from the crown.
Here are some of their most recent awards:
Queen's Award For Enterprise For Sustainable Development
Queen's Award For Enterprise For International Trade
Royal Seal Of Approval
National Bed Federation's (NBF) "Bed Manufacturer of the Year Award"
Alternatives
If you want to take a look at other similar options, here are our recommendations:
Bottom Line
To sum up this Hypnos mattress review, we would like to say that if the queen sleeps on a bed made from this brand, so can you!
Overall, the brand has designed hand-crafted quality mattresses, made from premium materials, suitable for most sleeping positions and body types. You get a ten-year warranty, a pretty decent trial period and a huge variety of comfort levels.
It isn't the cheapest by any means, so this is something to consider. There are more affordable options out there, but, as we all know, you often get what you pay for. We hope you enjoyed the read, and if you have any questions, don't hesitate to drop us a comment below.