We all have our own preferences when it comes down to mattress softness, but you have to consider a few things before you dive into the world of soft mattresses just because you prefer to sleep on a softer surface. Soft mattresses are not a one-fit-all solution. They are much better suited towards lighter individuals and by lighter we mean usually people who weigh under 6 stones.
Why are saying this? Well, we just want to prepare you in advance and help you make the best choice for your and your specific circumstances. If you weigh over 8 stones you might be better off looking into medium firm to firm mattresses instead.
Having said all that, how do you choose?
Today the UK market is overflown with products. However, not all manufacturers and models provide appropriate support and comfort. That's why making a decision can sometimes be overwhelming if you don't know where to start.
That's why we created LightSleeper – to help you choose the product that is right for you and you alone, and help you make that choice along the way. Companies can never pay to feature their products on LightSleeper, nor we are getting paid to recommend one product over the other – we are an independent resource and we only recommend products that have passed our tests and we feel that they are the best in their category.
So let's see what we think are the best soft mattresses in the UK today and why.
1. REM-Fit Sleep 600 Lux – Editor's Pick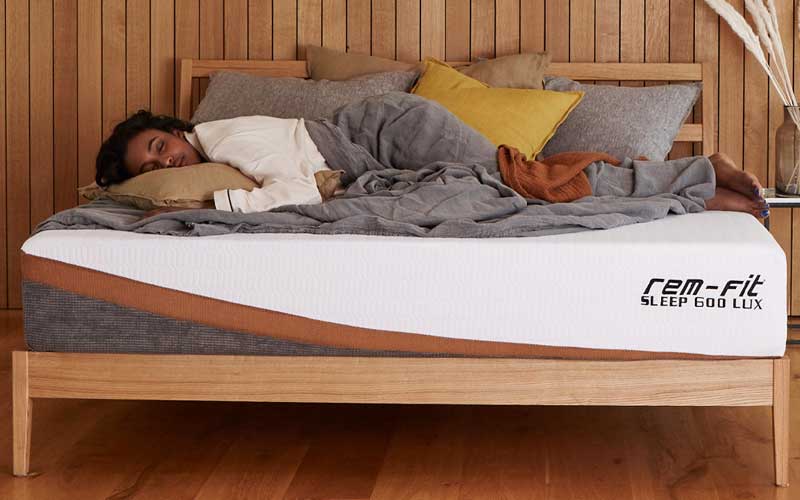 First, on our list, today is the REM-Fit 600 Lux, which is an award-winning multi-layered hybrid mattress that easily won the Editor's pick in this category. REM-Fit cradles your body, providing a soft and sumptuous feel while delivering great support.
This fantastic product comes with six innovative layers for the ultimate cloud-like feel. On top, we have a Re-Ax thermos-regulating hypo-allergenic knitted cover, which provides a fully breathable sleeping surface. After that comes zoned memory foam for pressure relieving comfort and a 60mm open-cell memory foam comfort layer.
Next are 2500 (2.5cm high) encapsulated mini pocket springs for gentle contouring support and 1000 (12.5cm high) encapsulated premium pocket springs, creating a total of 3500 springs that work together to produce a uniquely supportive item.
Finally, foam encapsulated sidewalls deliver strong edge-to-edge support so you can take advantage of the entire bed. REM-Fit's deep layer of high-density foam provides a robust and solid foundation, which will last at least 15 years.
The REM-Fit 600 Lux has a revolutionary construction, proven to wick moisture and dissipate heat away from your body. You get to choose from three available sizes that have a 100-night free trial and a free next day delivery in the UK.
2. Tempur Cloud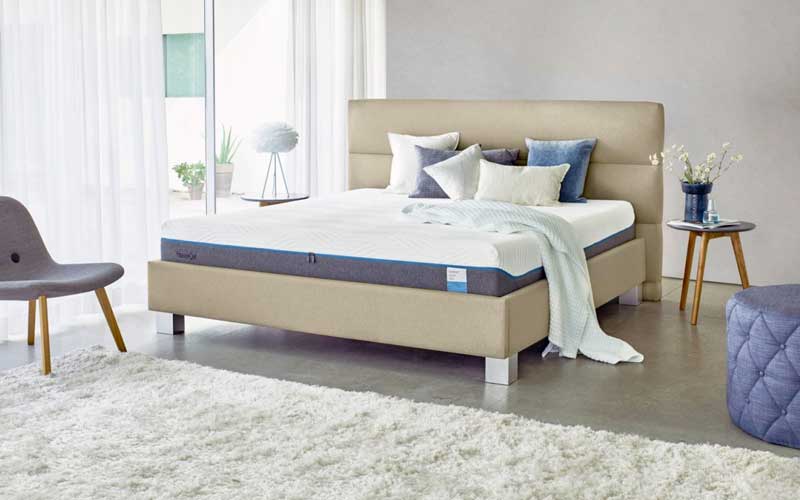 Our luxurious suggestion is the Tempur Cloud mattress, which is the perfect combination between softness and support. Tempur is a well-known brand in the mattress industry, which uses its own TEMPUR® material.
The Tempur Cloud features TEMPUR® Extra Soft™ Material, designed to cushion you in an innovative combination of softness instantly. It is constructed from Tempur® Extra Soft Material, Tempur® Support Material and Durabase™ Technology.
Tempur's Cloud Collection is available in 3 ranges: Supreme, Elite, and Luxe. The Supreme (21cm depth) version is a balance of softness and support, the Elite (25cm depth) comes with a deeper Tempur® Support layer, and the Luxe (30cm depth) lets you feel luxuriously enveloped in the brand's softest and deepest mattress.
All three ranges can be purchased in ten different sizes and come with a QuickRefresh™ cover, which is easily unzipped for washing at up to 60°C.
Overall, the Tempur Cloud instantly cushions you with an enveloping feeling, without forgetting about support. The brand believes in its products, and that's why they offer 100 days trial period, a ten-year warranty and free delivery for all mainland UK orders.
3. Brook + Wilde Lux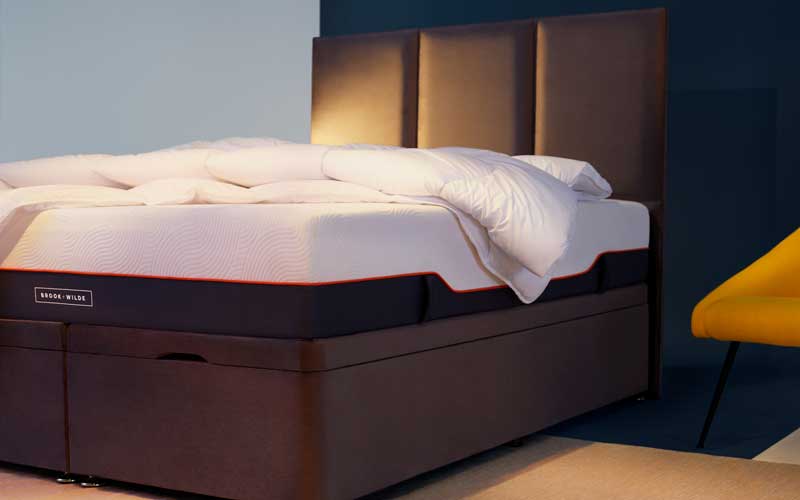 Today, our reasonably priced option is the Brook + Wilde Lux mattress, which will provide deep comfort and zoned support for better spinal alignment.
This mattress is constructed from 6 layers of quality. First, we have a breathable softcover, which is the perfect wrapping. Second, comes a cooling memory foam layer, designed to mould your body and eliminate motion transfer.
Next, are 2,000 mini springs, that are engineered to move with you as you turn and reduce pressure points. After that is an additional layer of support foam that uses Brook + Wilde's unique 'wave technology' and 1,000 more 135 mm pocket springs that give you the extra bounce and push back.
Lastly, we have the specialised support foam base, giving the mattress structure and solidity.
Each Brook and Wilde Lux is ergonomically engineered to provide improved support, so you'll wake up free of aches and pains. This product can be purchased in four sizes: single, double, king and super king. It also comes with a 100-night comfort trial, a ten-year guarantee and premium delivery in which two-person delivery service will bring your purchase to your room of choice.
4. Dormeo Octasmart Deluxe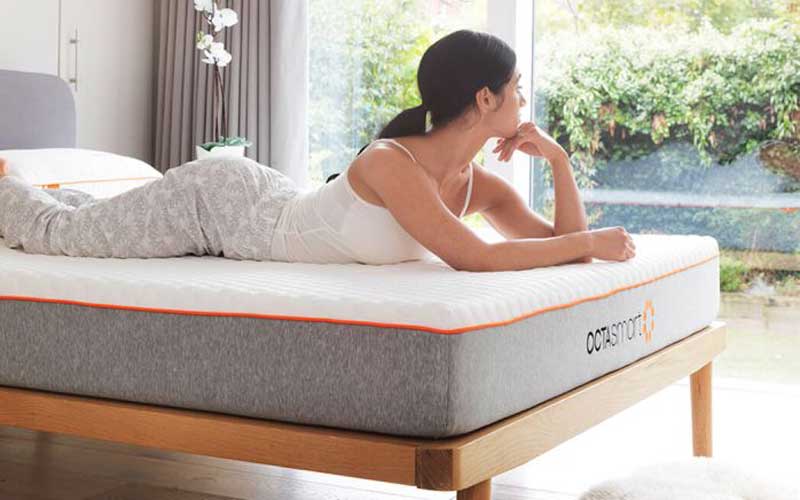 Dormeo has used the latest innovation in sleep technologies, to create a multi-award winning Octaspring® aerospace technology, which will transform your bed into one of your dreams.
Octasmart Deluxe Memory Foam mattress is the smartest mattress Dormeo has created. The combination of technologies and innovative materials creates outstanding performance and comfort in three layers of smart technology.
On top, we have a luxurious memory foam top layer that will give you the most comfortable and supportive night's sleep imaginable. Next is the Ecocell base layer with a 3-dimensional permanent cell structure, and smart Octaspring® layer at the heart, where every single Octaspring® comfort point adapts to your body weight and releases pressure.
The Octasmart Deluxe is arranged in three body zones to provide customised support and keep your spine in its natural shape. Dormeo also has unique ventilation that is eight times more breathable than a traditional mattress with constant airflow, which will keep you cool.
For extra freshness Dormeo has designed the smart performance anti-allergenic cover with hundreds of comfort pockets built into it. This option will protect you from dust mites, mould and bacteria while keeping your bed fresh and clean.
Finally, the Octasmart Deluxe comes in four sizes and includes free delivery, a 60-night sleep trial and an 18-year warranty.
5. Sleepeezee Jessica 2200 Pocket Plush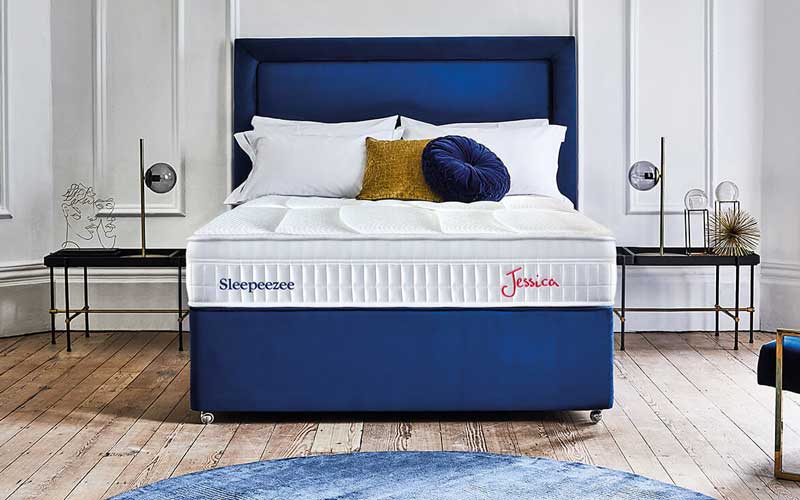 If you have always appreciated plush comfort and fancy-looking hotel mattresses, the Sleepeezee Jessica 2200 Pocket Plush can be your peace of heaven. For us, this is luxury at its finest!
The Jessica Collection has only one mattress but is still one of the brand's flagship products. The Jessica mattress has been Which? Approved due to the various technologies used in it to ensure people's plush comfort and support.
This item was crafted with a unique foam that goes from edge to edge, preventing the roll-off feeling and the hardship of getting out of bed. The Jessica is a uniquely created foam encapsulated mattress with a deep Staycool Gel layer that is excellent in regulating body temperature while offering pressure sensitive support.
In terms of comfort, the brand offers a quilted finish which also adds to its design. But what makes it truly remarkable is its hypoallergenic white fibre filling that cushions spring movement and reduces allergens.
How to choose a soft mattress?
Nowadays, lots of brands will say many things about their products to distract you so that you buy what they are offering. For example, a company may say that their mattress is "the most comfortable" or "the most supportive", but that doesn't necessarily mean it's true.
Understand that there are advantages and disadvantages of purchasing softer beds, but overall people look for different features, meaning all of this can be subjective. However, there are some factors you'll want to focus on to receive a good night's sleep. They are the following:
Support
One of the first things that you should take into account when making this type of purchase is support. You shouldn't mistake firmness for support because a softer option can still be supportive.
The level of support determines your spine alignment and the pressure points between your body and the bed. When you're looking for options, take a look at the supportive properties a mattress offers. Making the right choice can provide you with a restful night's sleep, and it can even alleviate back hip or shoulder pain.
Materials
The materials used in a mattress can significantly affect the quality of your sleep. They should play a significant role in your choice.
Construction matters, which is why softer beds often use firmer materials. If you're looking for a softer mattress, you'll have to make sure the materials it is crafted from are durable and long-lasting. That's because your choice may affect the performance across all other categories such as pressure relief, motion isolation, edge support etc.
Cooling Properties
Some materials used in the crafting of a bed tend to trap heat, while others wick it away.
When it comes down to temperature, you should think about your preferences. If you always need a ton of blankets that will keep you warm, you are a cold sleeper, and memory foam mattresses might be a good option. Whereas if you're a hot sleeper, you'll need a product with ample airflow of cooling properties.
If you're somewhere in between, make sure your purchase is breathable, so that you are comfortable during all four seasons.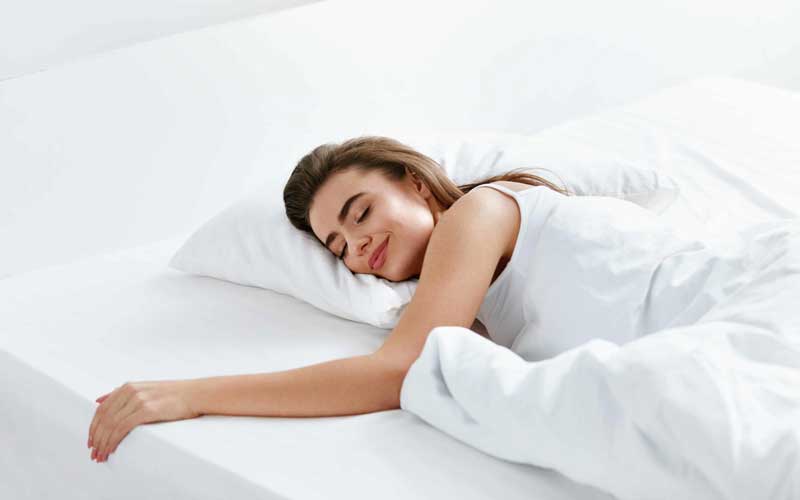 Motion Isolation
This is a feature that can be extremely beneficial if you're sharing the bed with someone. Motion transfer usually occurs when movements from one part of the bedspread across the entire surface. Some mattresses absorb motion better than others.
Look for options that might prevent a sleeper from feeling the movement when their loved ones toss and turn in their sleep.
Pressure Relief
Pressure points occur regularly when you make contact with a mattress. However, products with more contouring may relieve these pressure points. They can do that by cradling your body for even support and cushioning so that you get pain relief in your neck, shoulders, back and hips. If you are worried about the softness of your bed and if it's the reason for your bad back, check our guide on 'Can a soft mattress cause back pain?'
Edge Support
Not all mattresses provide good edge-to-edge support. What we refer to is the sturdiness of a bed's perimeter. For example, if you get closer to the edge, you may feel like you could accidentally roll off. Sometimes you can even have trouble getting into or out of your bed due to weak edges. However, a sturdy, reinforced edge will allow you to use the whole sleeping surface.
Price
Mattresses can range from a few hundred dollars to several thousand dollars. Depending on your budget you can find quality options in most price ranges. However, the cheaper the mattress, the more you'll have to spend on other sleep accessories like toppers and pillows to get a comfortable night's sleep.
We advise you to look at options before setting a budget because you want to find the perfect balance between the price point and all the benefits that come with it.
Why mattress toppers are a good choice?
Are you wondering if this is a bedding item you need? The answer is yes, yes and yes! A mattress topper is always an excellent suggestion because it can soften many different types of mattresses. If your older bed is already starting to lose its integrity, this can be a good solution for you to get a good night's rest without breaking the bank.
However, a topper should be matched with reliable support below, which means it's essential to account for the capabilities of your own mattress. Generally speaking, mattress toppers are recommended for firmer beds to help compensate for comfort while not jeopardising the support.
Final Words
Finding a supportive soft mattress can be challenging, but you have to remember to find the right balance between support and softness to get a refreshing and peaceful night's sleep. Think about the materials, support, motion isolation and cooling properties so that you can find the right bed for you.
We might not be professionals, but we've tested, researched and commented on every product we've put on this list. With that said, we hope that this article was helpful, and that you were able to find what you are looking for.
Mattress brands frequently change, and so do the products they offer, which is why we will continue to provide you with the most up to par information and try to shed some light on the best soft mattress in the UK today. Alternatively, you can check out our best mattress selection as well.