There are multiple studies on the Influence on human sleep patterns of lowering and delaying the minimum core body temperature by slow changes in the thermal environment and how that promotes better sleep at night. Overall, being too hot can disrupt your sleep and make it harder for you to fall asleep.
There are multiple ways to create a cool and relaxing sleeping environment, but today we will discuss cooling mattresses and the difference between a good night's sleep and a full night of tossing and turning. We'll talk about mattresses at different price points constructed with various materials and multiple positive impacts on the quality of your sleep.
But how can you choose a good mattress that fits the bill and checks all the boxes? There are many products on the market – from excellent quality to cheap Chinese knockoffs that we wouldn't recommend to our worst enemy.
That's why we created LightSleeper – to help you choose the product that is right for you and you alone and help you make that choice along the way. Companies can never pay to feature their products on LightSleeper, nor we are getting paid to recommend one product over the other – we are an independent resource, and we only recommend products that have passed our tests, and we feel that they are the best in their category.
So let's see what we think are the best cooling mattresses on the market today and why.
1. Silentnight Geltex Ultra – Editor's Pick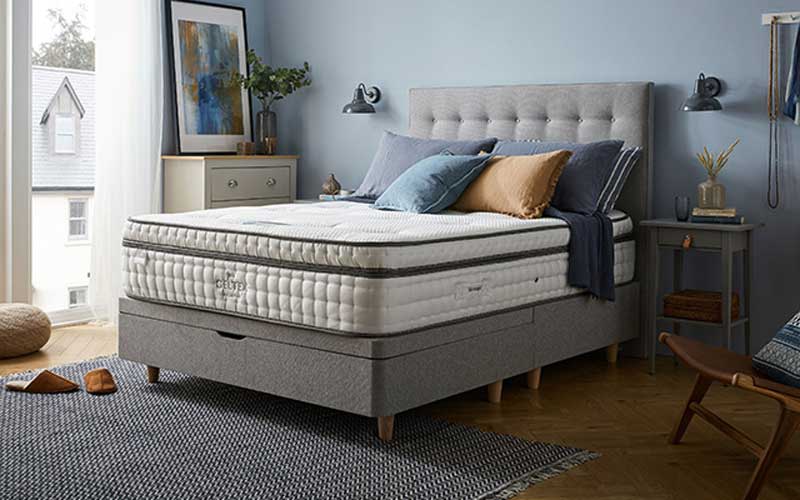 First on our list is the Silentnight Geltex Ultra 3000, a mattress that combines unrivalled support, luxurious comfort and greater breathability to ensure a cooler, fresher night's sleep, easily winning the Editor's pick in this category.
Silentnight's Geltex combines a layer of the brand's trademark Mirapocket spring system of 2,000 individually nested pocket springs that deliver tailored support with an extra layer of 1,000 responsive mini springs, which actively respond to your movement, so you're undisturbed through the night.
The Mirapocket spring system is encased in an intelligent Geltex gel-infused comfort filling for enhanced breathability that helps prevent overheating due to its unique open cell structure. While Purotex fibres actively protect against dust mites and allergens to ensure your sleeping space stays fresh.
This Silentnight mattress can be purchased in four sizes, from single to super king, with a depth of 38cm and a comfort level that's considered to be medium-firm.
In general, Silentnight is somewhat affordable with free delivery in the UK, a 60-night trial period and a 5-year warranty.
2. Tempur Original Elite CoolTouch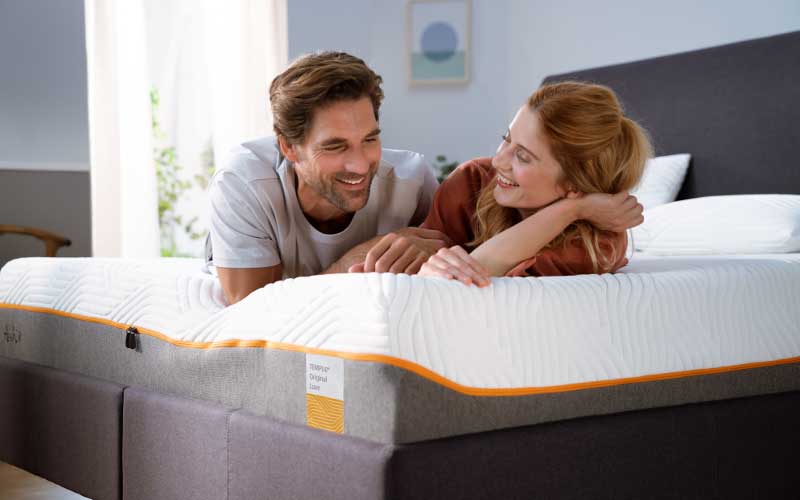 Next, we have our premium suggestion, and that's the TEMPUR Original Elite CoolTouch. the Tempur is a luxurious mattress with a five layers construction.
On top, we have the Exclusive CoolTouch cover designed to manage excess heat through the night, followed by two layers of TEMPUR® Comfort Material. It allows you to enjoy weightless comfort and support for your entire body with its open cell structure. After that, you'll find the two layers of DuraBase™ Technology, putting the mattress at a total depth of 25cm.
Tempur offers the Original in five sizes, varying from single to a super king with a medium comfort grade. Right now, the brand offers two pillows for free if you purchase this item, so waste no time and jump on Tempur's offer!
Overall, TEMPUR® mattresses are no turn, so there is no need to flip or rotate them. They come with free delivery on all orders, a 100-night trial period and a 10-year warranty to further prove their quality.
3. Nectar Memory Foam Mattress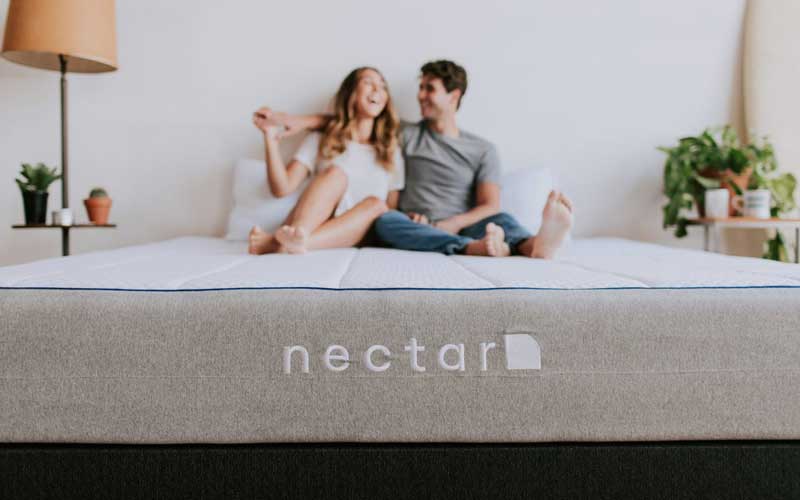 This excellent mattress has five unique foam layers that will help keep your spine in perfect alignment through your sleep while providing you with a cool and breathable sleeping surface due to the poly-blend cover featuring heat wicking, and cooling technology.
Nectar has a cooling top high-density, pressure-relieving gel memory foam, neither too firm nor too soft. It is packed in an item where the contouring gel memory foam will meet the body's natural curves, available in six sizes with a total depth of 30cm.
The dynamically adjusting foam follows it and the stay-stable base layer ensures the comfort and support layers above it perform at their best. Finally, we have the shift-resistant lower cover that will help your bed stay together, no matter how much you jump on it.
The Nectar mattress comes at a reasonable price, a 365-night trial period and a lifetime guarantee. Not only do you get a fantastic bed, but this company has included a bundle with two cooling pillows, a sheet set and a mattress protector.
4. TheraPur ActiGel Response 1600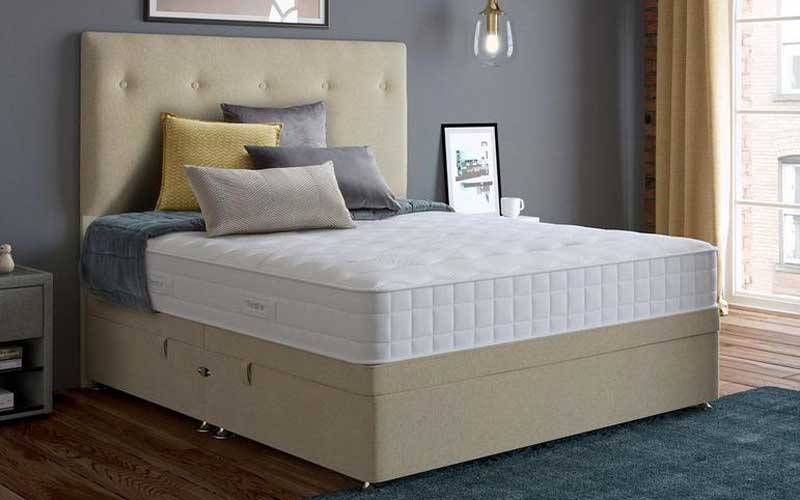 TheraPur's ActiGel Response 1600 is a hybrid mattress, which features revolutionary sleep technology layers. The ActiGel comes with overwhelmingly positive reviews from customers that have purchased the bed.
You get a product with five internal layers, where the base one features 1,600 individually wrapped springs that respond to each sleeper's movements separately. If you are sharing the bed with a partner, this means that your movements won't disturb them whatsoever.
The other layers are designed to mould to your body while keeping you cool and aiding in pressure relief and comfort, which is everything you can want from a mattress. Heavy people need to look for a model that will keep their spine correctly aligned without compromising comfort, and the TheraPur mattress is just that!
Lastly, you receive a 40-night in which you can decide if the TheraPur is right for you. However, keep in mind that you can't really return it, you can only exchange it for another comfort level. It can be purchased in five different sizes and comes with a one-year guarantee.
5. Emma Original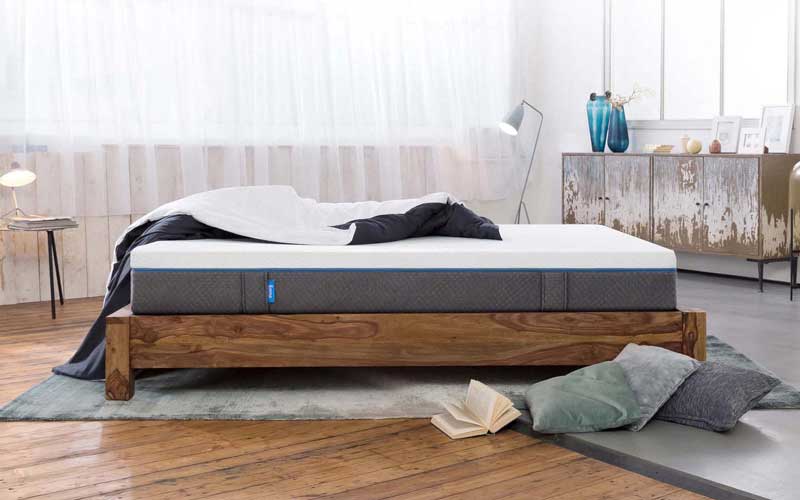 The Emma Original is UK's most awarded mattress that is sure to give you the most restful and energising sleep imaginable. Emma's products are proudly made in the United Kingdom and undergo strict testing to ensure they meet the highest quality standards.
This medium-firm mattress is constructed from three layers. First, you will see Emma's UltraDry cover that is excellent at temperature regulation can be easily removed and washed. Next, we have the Halo™ memory foam layer that adapts to your body shape for targeted spinal alignment, enhanced pressure relief and body-hugging comfort.
It's followed by the Emma's Point Elastic Airgocell® technology, enhancing breathability and regulating temperature by absorbing and then evaporating sweat. Lastly, you'll find the HRX (High Resiliency Extra) Supreme ™ foam that is engineered to last for years without losing its durability due to the adaptive cut-outs zone, distributing your body weight evenly to reduce pressure.
You get to pick from five different sizes with a depth of 25cm and discover what it means to wake up feeling truly epic. Emma gives you a 200-day trial period for your body to adjust to the new mattress, ten years of guaranteed quality and free delivery!
How to choose a cooling mattress?
When you're a hot sleeper, finding a cooling mattress might be your top priority, but that doesn't mean you should ignore the other features a product has to offer. A bed that keeps you cool isn't worth much if it's uncomfortable or not in your budget. Let's discuss what factors you have to consider before making a purchase:
Cover & Temperature Regulation
One of the most critical factors, if you are worried about overheating, is the breathability of your mattress cover. Some covers are made from materials and fabrics that have excellent temperature regulation properties and wick away moisture, while others, do not as much.
There are multiple options for materials, which can vary from natural to synthetic fabrics. Natural materials such as cotton will work better than polyester or viscose (synthetic) since they are more breathable, have moisture-wicking capabilities and prevent you from waking up in a puddle of sweat.
With that said, all layers can contribute to temperature regulation. For example, coil layers will provide better airflow, gel-infused options will help regulate temperature by absorbing body heat, and so much more.
Materials
Overall, the material a mattress is constructed out of dictates its properties and longevity. For example, low-quality memory foam will most likely develop permanent body indentations for less than a year. In comparison, a high-density polyfoam or traditional memory foam will last longer (around four or five years) and trap more heat. If you prefer fiberfill or feather, know that they have higher maintenance and require regular fluffing. They will usually last around 2 to 3 years.
For each type of cooling mattress material, there are varying levels of quality available. The higher density of polyfoam, the higher rate the foam tends to be. Higher quality polyfoam will be more durable and not as prone to developing body impressions. Natural mattresses made of latex tend to be of higher quality than synthetic ones.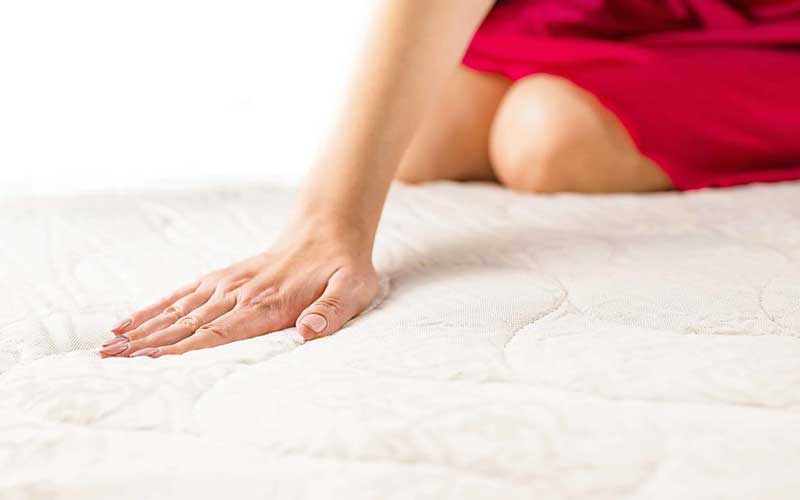 Firmness
In general, comfort levels range from 1 to 10, with one being the softest and ten being the firmest. The firmness scale of a product isn't usually related to its cooling ability, but it's still essential for the quality of your sleep. The industry standard varies between 6 to 7 on the scale, which is considered a medium to medium-firm.
For example, light sleepers and side sleepers are best suited for a softer choice, whereas stomach sleepers and heavier individuals should choose a firmer item. Put simply, the heavier the sleeper, the more it will sink, leading to increased heat retention, which is the opposite of what you want, so make your choice wisely.
Type
There are many types such as memory foam, innerspring, latex, hybrid, pillow top and even natural wool mattresses. Memory foam tends to trap heat, if not infused, whereas pocket sprung, wool and hybrid mattresses provide a more temperature neutral atmosphere because of the airflow passing through the coils.
Pressure Relief
Pressure relief is usually associated with memory foam due to its close-conforming abilities. However, foams can often contribute to your body overheating. If you want to stay away from memory foam, you can try latex since it has pressure-relieving properties similar to it while being more breathable.
Edge Support
Edge support generally refers to the firmness of a mattress's edges when a person gets in and out of bed. By having strong edge support, you can take advantage of the whole surface of your bed without feeling like you will fall off.
Price
Just like anything else, the price can vary widely depending on the materials and quality of a mattress. High-quality products will start at a few hundred pounds and get up to a few thousand. The saying you get what you pay for is often true, which is why you should look at all the possible products before setting a budget. With added price comes higher quality and better longevity.
Typically, mattresses sold online are less expensive since the manufacturer doesn't have to pay for showrooms and additional staff.
Bottom Line
If you're a hot sleeper, attempting to be cool shouldn't be a task you have to conquer every night. There are many cooling options at different price points that may help you with temperature regulation while providing excellent comfort and support.
Brands in the bed industry frequently change, and so do the products they offer, which is why we will continue to provide you with the most up to par information. We hope that this article was helpful, and you could find what you are looking for. Alternatively, you can check out our best overall mattresses too!
Now it's our turn to hear from you if any questions regarding the subject were left unanswered. If you want to share some information, we would gladly hear about it in the comments below.