Casper is a well-known brand with premium mattresses that let you experience gravity-defying comfort and support with their innovative materials and build quality. They are well designed, all have glowing reviews and a long free trial. But is there a catch?
Check out our Casper mattress review and see if it is the right choice for you!
Pros
Zoned Support
CertiPUR-US® certified
Glowing customer reviews
10-year warranty
Cons
Motion isolation not great
In today's article, we will discuss the Casper brand in-depth and the different mattress models they offer. The company has expanded into the UK market due to its impressive success around the world.
Let's go over the details and see whether Casper might be a good fit for your specific needs. We'll cover build quality, design, pricing, sleep performance and see if there are any downsides that you should know about.
It's time to find out if Casper is a good choice for many and dig right in!
Casper Models

Casper has come up with four unbelievable mattresses at different price points in order to fit everyone's needs and preferences. All mattresses are made in the United Kingdom and comply with the health and safety requirements here. They are the following:
Original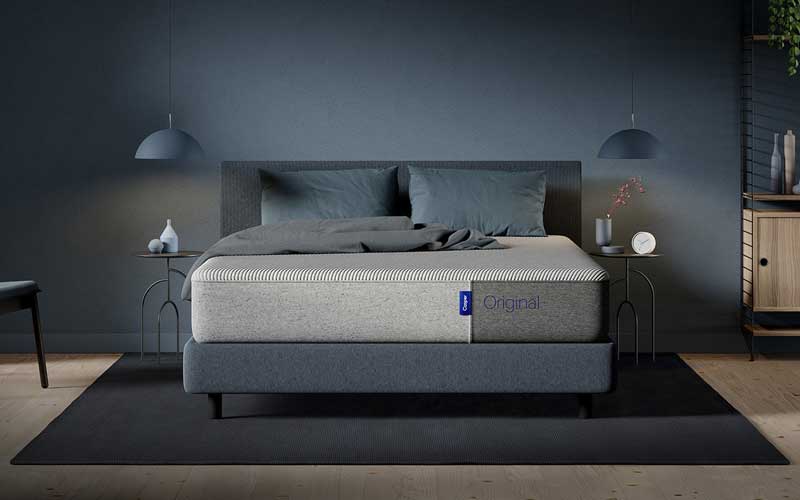 Casper's Original mattress can be purchased in two different options: all foam or foam + springs (hybrid). It is one of the more affordable models the brand offers, and it can be purchased in sizes from twin to California king.
This model's foams are all CertiPUR-US® certified, and so is all the foam they put in their other mattresses. The Original mattress is made without ozone-depleting chemicals with breathable polyurethane foam as a top layer, a zoned memory foam for a second layer and either a durable base of polyurethane foam (Original) or a durable base of polyurethane foam with encased springs (Original Hybrid).
Element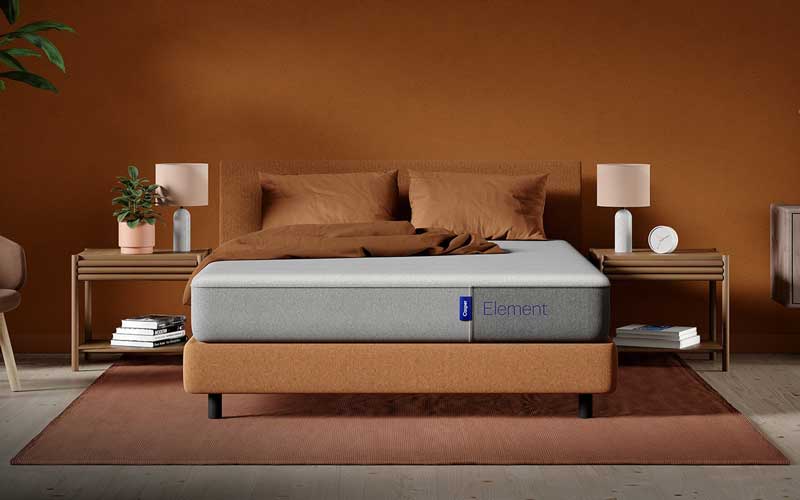 The Element mattress is the cheapest Casper model. This budget-friendly option is also made without ozone-depleting chemicals. It is also regulated by the Consumer Product Safety Commission Low VOC (Volatile Organic Compound) emissions for indoor air quality (less than 0.5 parts per million).
This product comes in six different sizes and is designed with two layers of breathable polyurethane foam. Crafted from planet-friendly textiles, the Element model has a durable base that prevents sinking and sagging and an AirScape™ layer, which lets air circulate to keep you cool
Nova Hybrid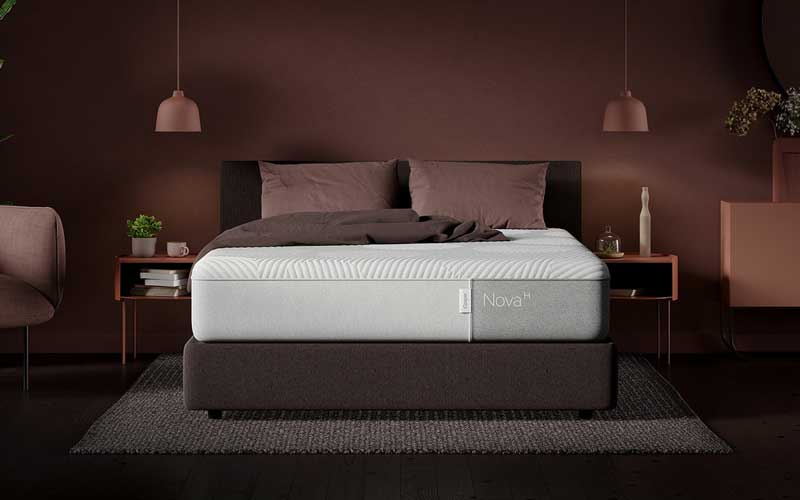 The Nove Hybrid mattress is one of the brand's luxury options. First, we have a premium foam top layer with a plush, velvety soft feel with small perforations that increase airflow, so you don't get overheated. Next is the second layer of AirScape™, made from supportive foam with three ergonomic zones to help align your spine.
The third layer is made for contoured memory foam with seven support zones and cuts to provide support under the waist, lower back, and hips. Lastly, you will find the durable base of polyurethane foam with encased springs offering a firmer border with excellent edge support to quickly help you get in and out of bed.
Wave Hybrid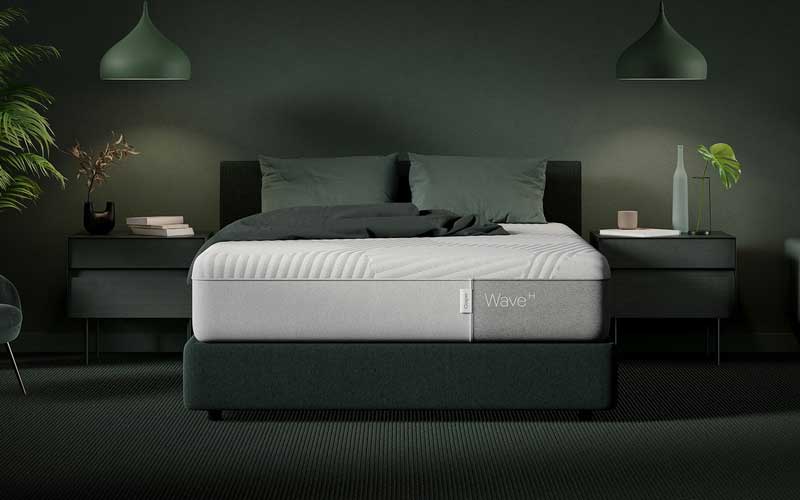 The Casper Wave Hybrid mattress is the one we will be discussing in further detail since it's the brand's most popular and advanced choice. This is the brand's most supportive mattress and the best one for back pain.
It has five innovative layers of construction, excellent cooling properties, zoned support, and so much more. To learn more about this unbelievable product, continue reading.
How is the Casper Wave Hybrid constructed?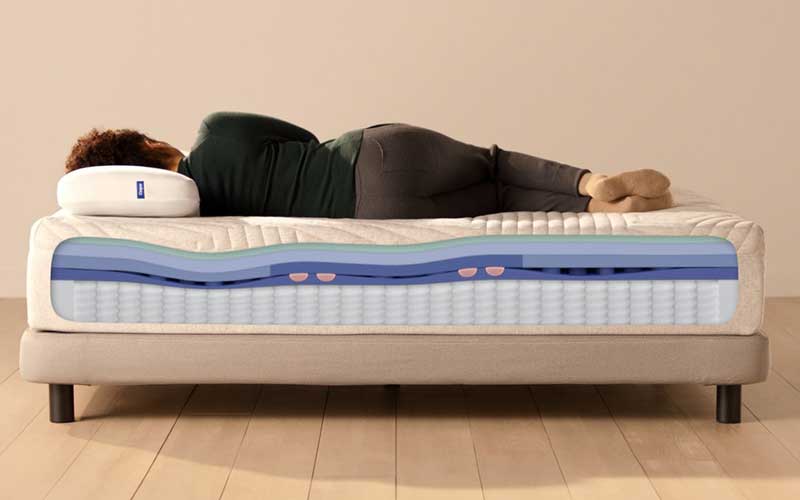 This model is designed with responsive memory foam and coil springs that ensure the mattress's stability. Casper's foam is all CertiPUR-US® certified (voluntary testing, analysis and certification programme for the environment), without ozone-depleting chemicals. They are also regulated by the Consumer Product Safety Commission Low VOC (Volatile Organic Compound) emissions for indoor air quality (less than 0.5 parts per million).
All mattresses are designed in Silicone Valley but manufactured right here in the UK and comply with BS 7177, meaning that the components used are a low fire hazard.
What is in Casper's layers?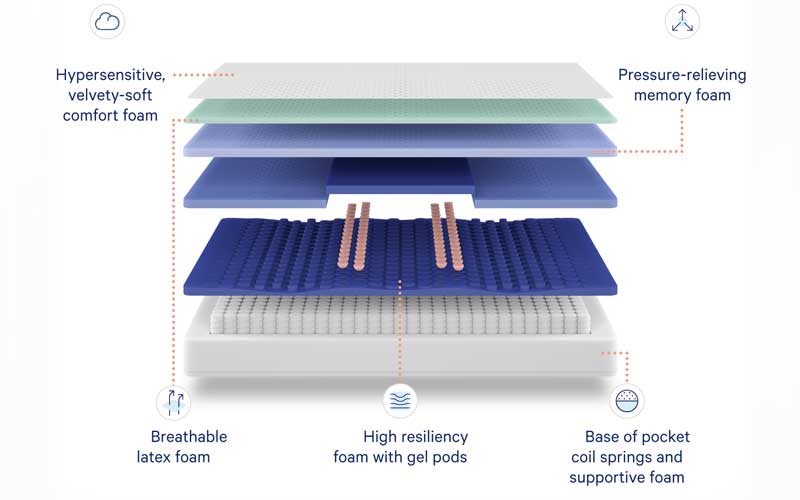 Casper's mattresses have a 5-layer sleep system design, consisting of premium materials working in harmony to create the most advanced product on the market today. Let's take a look under the covers, where we will find a thin coating of cooling gel on a layer of AirScape™ perforated breathable foam that conforms to your body to relieve pressure.
Then we have another layer of Airscape™ that helps you stay at the perfect temperature all night due to the thousands of precision drilled perforations. Next is the third layer of AirScape™, giving a deeper route for air to flow with three areas of Zoned Support™ Max, which helps ergonomically align your spine for head-to-toe comfort and support.
As a fourth layer, you will find the gel pods under the waist and lower back, helping keep your spine stay perfectly aligned in any sleeping position. Finally, you will find the foundation and base of the whole Casper Hybrid mattress. That's the resilient springs that add a little lift, support, and airflow with a firmer border providing edge support to help you get in and out of bed with ease.
What makes this model stand out from its competition are the zoned springs. You will have firmer springs under the hip area and softer springs under the shoulders for proper body alignment and maximum support.
How thick is the Casper mattress?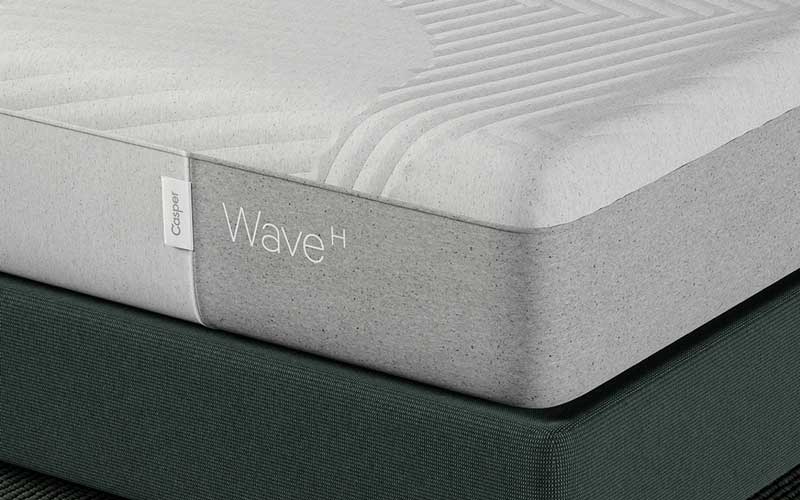 All four Casper mattresses come with different thicknesses. The Original model is 27cm thick, the Element one is 25cm, the Nova Hybrid is 30cm, and our personal favourite, the Wave Hybrid, stands at 33cm tall. The hybrid mattresses can hold up to 140kg per person (based on two people).
How firm is the Casper mattress?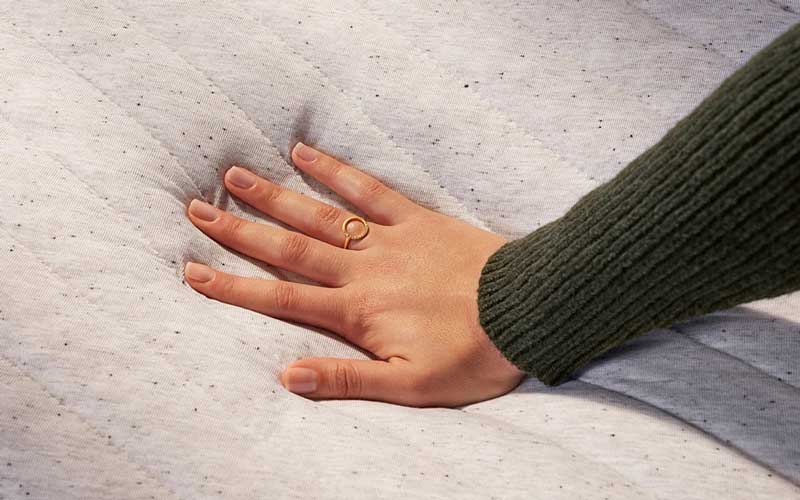 The Wave hybrid stands at a 6 out of 10 on the firmness scale, with one being the softest and ten the firmest, which is surprisingly less firm than the Casper Original.
This puts the set model on the softer side of the medium-firm bed-in-a-box products and the standard 6.5. However, this doesn't mean that the mattress isn't supportive. The top layers don't drown out the coils' support, making this a perfectly balanced option for most sleepers.
What about the cover?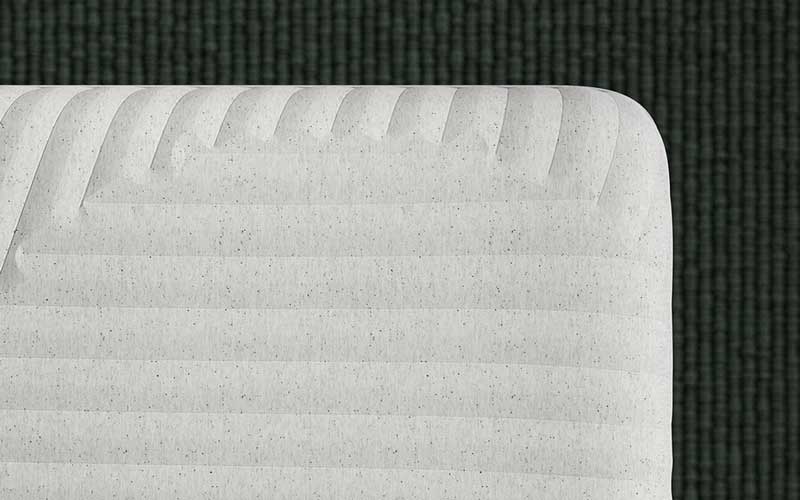 Each Casper mattress cover is made with up to 121 recycled bottles (99% polyester and 1% elastane). Not only is it environmentally friendly but, it's also stretchy and durable, creating a soft texture like no other. Because the company thinks of its consumers, the cover is removable and washable at up to 40 degrees Celsius. It also includes handles for ease of movement (on hybrid models).
Design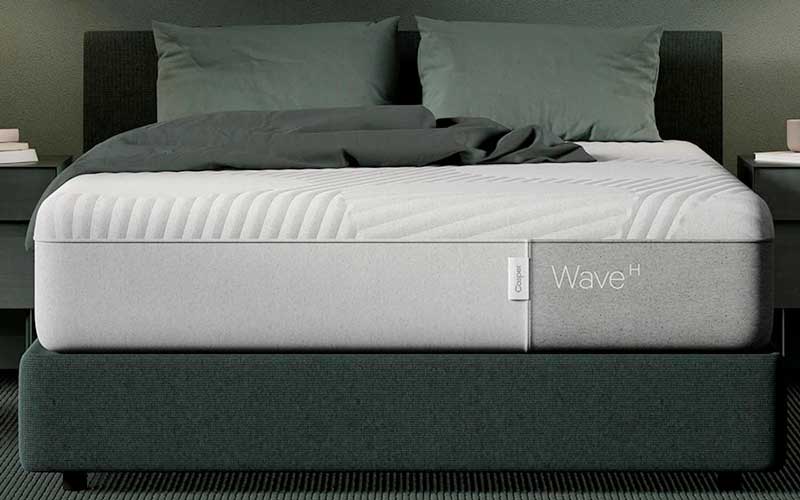 Most mattress brands don't put much effort into the design of their products because we cover them with mattress toppers, sheets, pillows, blankets, duvets and more. However, Casper has nailed it on the head in this aspect and every other one.
The Wave Hybrid has multiple grey colours that create a neutral, simple and neat atmosphere. On top, you can see a very stylish and elevated pattern design that further improves this model's looks. Overall, we consider this mattress a great addition to any room with nearly any colour scheme.
How long is the free trial period?
In general, your body needs between four and six weeks to adjust to a new mattress. This manufacturer offers you a lot more with their 100-night trial period in which you have plenty of time to test it out. If for some reason, you don't end up liking it, the brand will organise a pick up at zero cost for you and a full refund for the purchase amount.
Warranty
Casper provides a 10-year warranty on all mattresses to also satisfy any potential concerns in the long run. This guarantee is only valid if purchased directly from Casper or Casper's authorised retailers. It will cover deterioration and/or any physical flaw in the mattress that causes the foam material to split or crack.
However, the brand reserves the right not to honour claims under this guarantee at their discretion. Let's talk about the situations in which it applies and when it doesn't:
What defects does the warranty cover?
Against the defects in material and workmanship
Deterioration causing the mattress to have a visible indentation greater than 4cm
Any physical flaw in the product that causes the foam material to split or crack, despite normal usage and proper handling
Any manufacturing defect in the zipper assembly of the mattress cover
Extends only to the original purchaser
Retaining a copy of your receipt as proof of purchase to receive it
What defects doesn't the warranty cover?
A normal increase in softness of the foam pressure-relieving material
Comfort preference
Physical abuse or damage to the structure such as burns, cuts, tears, liquid damage, or stains
Damage caused by commercial use, such as in a hotel or store
Replacement of any non-defective pieces in the Casper sleep system
Any mattress sold by resellers who are not authorised retailers
Not used for intended purposes and on a suitable bed base
An incompatible manner with the intended design
Doesn't extend to Clearance Mattresses
What sizes does it come in?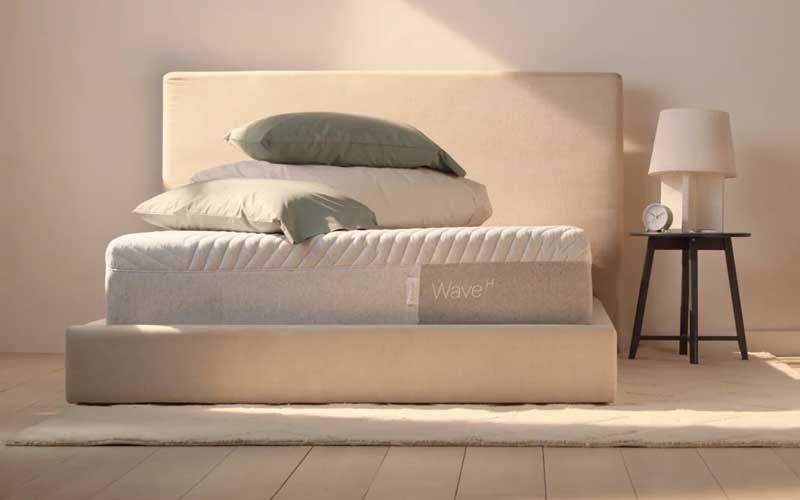 The company wants you to find your perfect match with one of their six available size options. Casper has tried to simplify that by concentrating on six sizes to create a straightforward, no-nonsense guide with which you won't be overwhelmed or confused.
Here are the available sizes for the Casper Wave Hybrid:
Twin: 190 x 96 x 33cm
Twin XL: 203 x 96 x 33cm
Full: 190 x 134 x 33cm
Queen: 203 x 152 x 33cm
King: 203 x 193 x 33cm
Cal King: 213 x 182 x 33cm
Delivery terms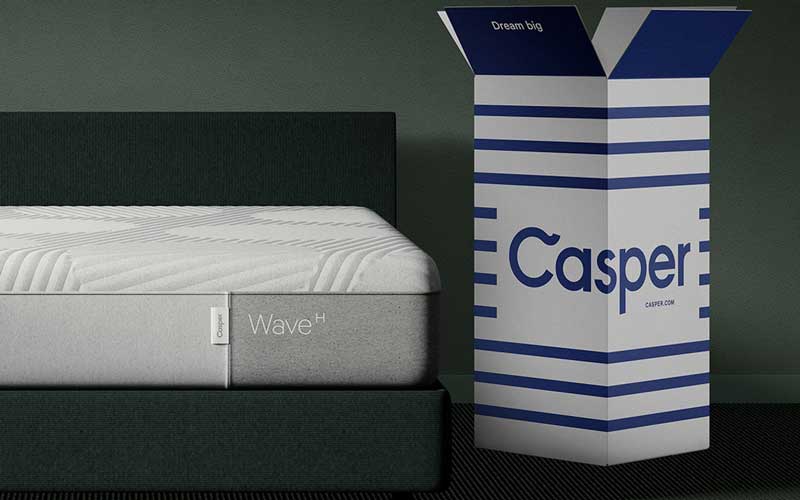 This manufacturer offers a free delivery service with UPS for the UK. The mattress will arrive rolled and vacuum-sealed in a box with set measurements: 47 x 47 x 108 cm. Usually, the ordered product will be delivered within 1-3 business days, which is a concise delivery date compared to other mattresses in the industry.
The brand also offers Planned Delivery white-glove service, which essentially means you can schedule your order, even for next day delivery (with the cut-off time being 2 pm). Casper old gives you the option of getting rid of your old mattress for a small fee (2 previous mattresses upon delivery).
There are three delivery options at checkout:
Free standard delivery, as outlined above
Premium 2 man delivery to your room of choice (subject to change)
Premium 2 man delivery to your room of choice + Old mattress removal (subject to change)
Awards
We see Casper as a brand that constantly raises the bar for itself and are seeks new awards. Over time they've won multiple awards. Here are some of their most recent awards:
Which? Best Buy
Product of the Year Consumer Survey
Good Housekeeping Institute Approved
Real Homes Loves
Evening Standard Approved
Alternatives
If you want to take a look at other similar options, here are our recommendations:
Bottom line
If you're looking for a high-quality hybrid mattress that will be both supportive and comfortable while still being aesthetically pleasing, the Casper Wave Hybrid is your best bet. Casper's models are designed with innovative layers suitable for most sleeping positions and body types.
The brand offers quick and free delivery, with the option of them picking up and disposing of your old mattress. You also get a long trial period and a 10-year guarantee. This well-zoned option will provide you with comforting pressure relief and a medium to medium-firm feel.
Casper has won many accolades over the last few years, so it should be on the radar for anyone looking for a top-quality hybrid mattress with excellent pressure relieving properties. It is not the cheapest mattress by any means, so this is something to consider. There are more affordable options out there, but, as we all know, you often get what you pay for.
We hope you enjoyed the read, and if you have any questions, don't hesitate to drop us a comment below.