Having a bad back can seriously impact numerous aspects of your life, but probably the most important one is your sleep pattern. A good night's sleep is imperative to our well-being, especially as we get older. According to a popular sleep survey, 90% of adults require seven hours or more in order to feel refreshed and alert. But we all know having a bad back can lead to a lot of tossing and turning, especially while sleeping on a mattress that doesn't support your body properly. So naturally, we ask the question – what kind of mattress can offer adequate support? We might have the answer!
We tested over 20 different mattresses that claim to be supportive and reduce back pain during the night. Some of them were great and felt just right, while others were not so much. We'll spare you the details of the "no so much" ones and we'll jump straight to our winners.
Without further ado, here are the five best mattresses for people with a bad back in the UK:
1. Brook + Wilde Lux Mattress – Our Pick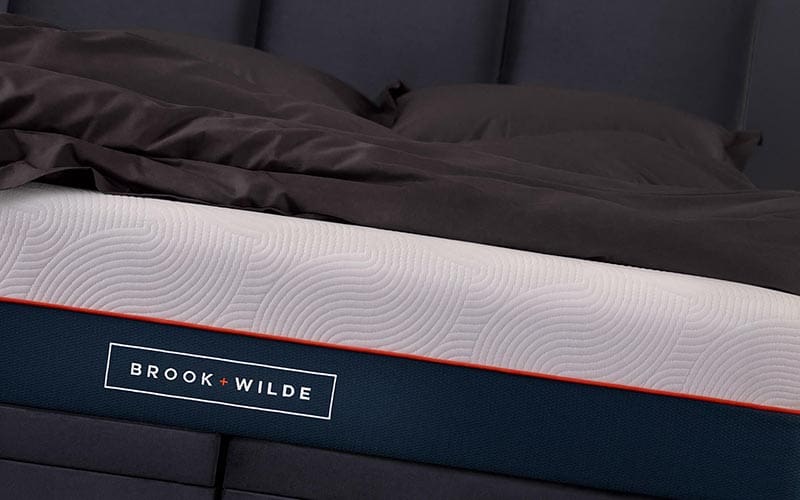 Today, our favourite mattress for bad back is the Brook + Wilde Lux mattress. It offers superior comfort and zoned support for better spinal alignment.
The Lux features a six layers construction. First, we have a breathable soft cover, which is an excellent wrapping. Second, comes a cooling memory foam layer, designed to mould your around body and eliminate motion transfer. Next, we have 2,000 mini springs, that are engineered to move with you as you turn to reduce pressure points. After that is an additional layer of support foam that uses Brook + Wilde's unique 'wave technology' and 1,000 more 135 mm pocket springs that give you the extra bounce and push back. Lastly, we have the specialised support foam base, giving the mattress structure and solidity.
Each Brook and Wilde Lux is ergonomically engineered to provide improved support, so you'll wake up free of aches and pains. The mattress can be purchased in four sizes: single, double, king and super king. It also comes with a 100-night comfort trial and a ten-year guarantee. They also offer a premium delivery service where they will take the mattress directly to the room.
Key Features:
6 comfy layers
Unique "wave technology"
Removable & washable cover
Free trial: 100 days
Warranty: 10 years
2. Silentnight Comfort Pocket 1400 Ortho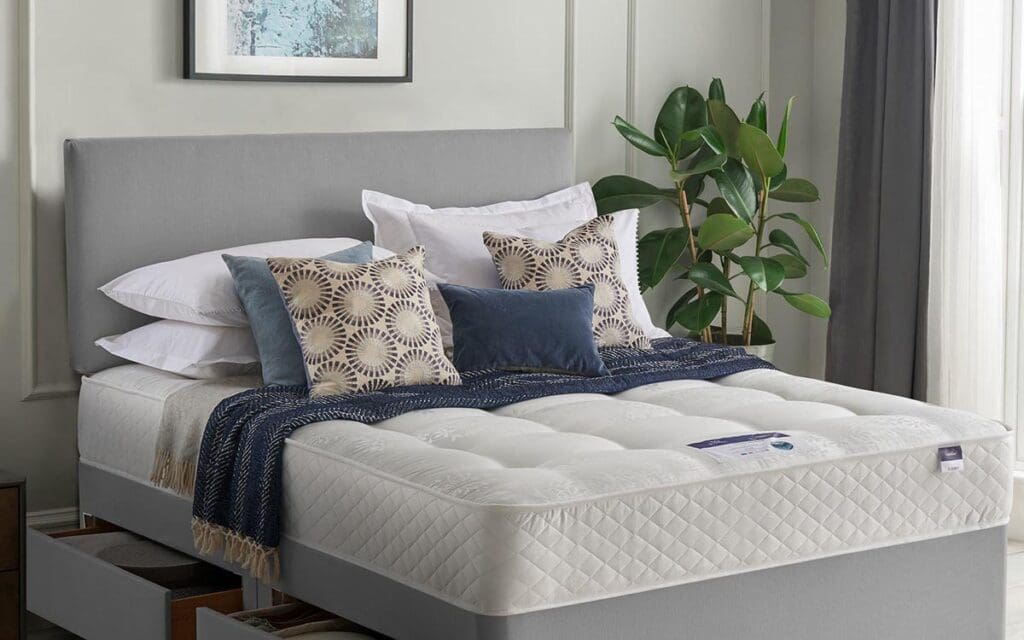 Last but not least, let's talk about the Silentnight Ortho Mattress. It has 1,400 springs, which are one of the most common mediums to ensure firm tension. Silentnight has engineered their "Mirapocket technology" springs in a way that helps alleviate pressure and pain.
No more uncomfortable moments and build-up ache in sensitive areas while you are sleeping during the night! the Silentnight Ortho features orthopaedic fillings, which ensure a firm tension that helps with back support and spinal alignment.
Since Silentnight is keen on keeping keep things hygienic, they've treated the Ortho cover with Purotex, which decreases moisture and reduces dust-mite allergens. The Silenthignt Ortho is also hypoallergenic and it has a market-leading 60-night comfort exchange where you can decide for yourself if this is the right mattress for you. It is also covered by a 5-year guarantee for an extra piece of mind.
Key Features:
Orthopaedic mattress
"Mirapocket technology"
Hypoallergenic
Trial Period for Returns: 60 days
Warranty: 5 years
3. Nectar Memory Foam Mattress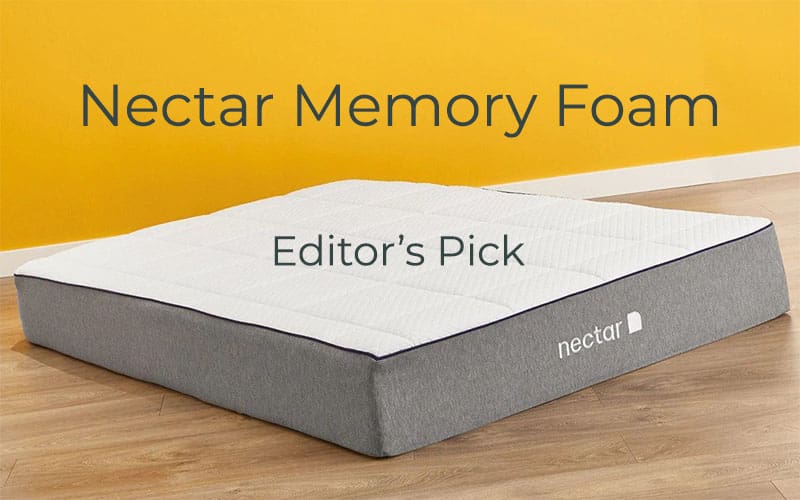 If you're someone that continually struggles with back pain, the Nectar memory foam mattress might be the right choice for you. It has five unique foam layers of construction that will help keep your spine in proper alignment throughout the night.
This fantastic product has a breathable cooling top layer that's neither soft nor too firm. You get five layers of perfection packed in the Nectar memory foam mattress, where the contouring gel memory foam will meet the natural curves of your body.
The Nectar can be beneficial for your back pain because of the adaptive memory foam layer, which may relieve common pressure points beneath your shoulders, hips, and legs for better spinal alignment. Not only that but the Nectar memory foam model comes at an affordable price and has a lifetime warranty.
Last but not least, getting the Nectar product means getting the full package because the manufacturer has included an incredible offer that includes two cooling pillows, a sheet set and a mattress protector.
Nectar Memory Foam Key Features:
Five layers of construction
Gel-infused foam
Breathable Cooling Action
Trial Period for Returns: 365 days
Warranty: Lifetime
4. Casper Wave Hybrid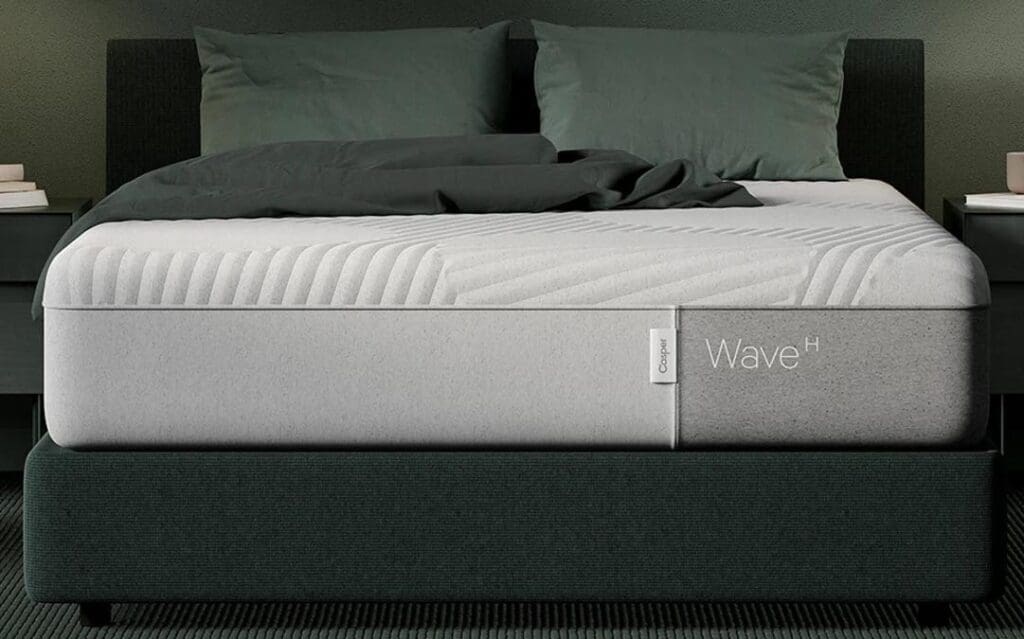 If you're a hot sleeper that tends to have back pains, the Casper Wave Hybrid is the solution for both of these problems. This beauty has an innerspring base layer with two layers of memory foam. The top one is a highly breathable foam that disperses body heat and keeps you cool, and the bottom layer relieves back pain with its support foam.
The Casper Wave Hybrid is what you've been looking for and more with medium-firm support that works exceptionally well for side sleepers. You receive an item that It cools, supports, and aligns with your body perfectly.
With a stellar shipping policy and 100 days trial period, Casper Wave Hybrid scores high in several other areas as well. Coming with a 10-year warranty Casper's Wave Hybrid guarantees a frictionless and peaceful experience
Key Features:
Hybrid – memory foam and pocketed coils
Medium-firm support
Highly breathable
Trial Period for Returns: 100 days
Warranty: 10 years
5. Dunlopillo Royal Sovereign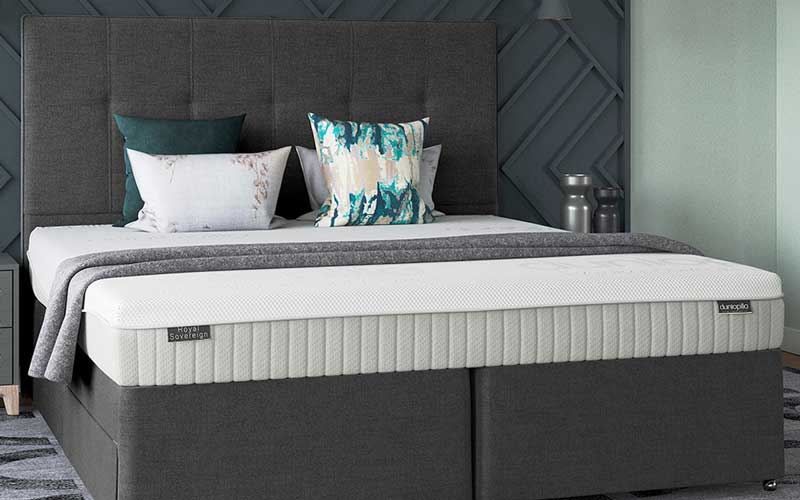 The Dunlopillo Royal is a timeless classic for a fantastic night's sleep! It is crafted from 21cm of 100% pure latex with a balanced medium firmness, which ensures a restful slumber.
Dunlopillo Sovereign comes with seven comfort zones that can be incredibly beneficial for people with back, neck or hip problems. The firmer zones align your spine while the softer ones cushion your shoulders.
This Dunlopillo item uses a revolutionary open cell structure with superior breathability with pressure-relieving properties. It is single-sided, so you don't have to flip or rotate it. The Dunlopillo Royal comes with an allergenic soft-touch, knitted cover that is infused with Actipro Technology.
Key Features:
100% pure Dunlopillo latex
7 comfort zones
Actipro™ Technology
Noise-free
Warranty: 8 years
How to choose a mattress for a bad back?
When it comes down to choosing the right mattress for you, there are three key things to consider before buying one. You have to think about its firmness, your sleeping position and the materials it's made out of.
You need a product with a great support system and a comfort layer. Look at it this way, the comfort layer helps to tailor the mattress to your sleeping habits whereas the support system makes up the core of the mattress, which provides you with the comfort and support you want and need.
Let's take a closer look at the aspects you need to think about before buying a mattress for a bad back: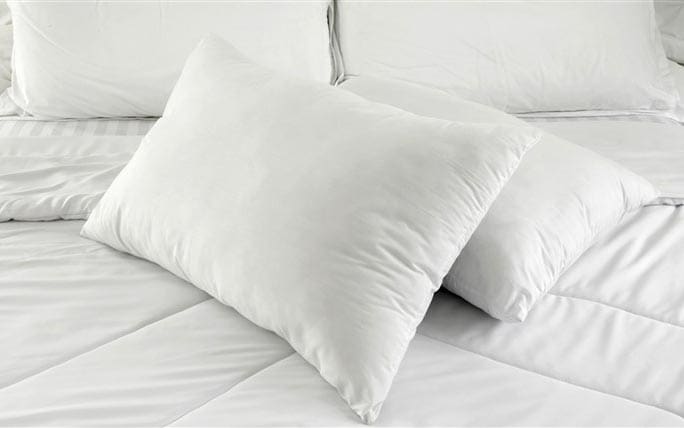 Firmness
This is the million-dollar question when we talk about mattresses. Even though you have something that's more firm than soft, you have to think about exactly how firm it should be.
Your body weight can determine that. The higher your body weight is, the firmer of a mattress you may need. Keep in mind that it depends on the individual since everyone's sleep preferences differ from one to the other.
Sleeping position
Said simply, the way you sleep can determine what areas you put the most pressure on. What do we mean by that you ask?
Back Sleepers
Well, let's say you are a back sleeper, you will most likely prefer a product, which will alleviate pressure points in the lower back area. Therefore you should consider a medium-firm mattress because they provide excellent spine support. However, if you are a back sleeper, avoid the extra-firm options since they may fail to adjust to the lumbar curve.
Stomach sleepers
Usually, stomach sleepers put pressure on their neck and lumbar area. The best option in this situation will be a firm mattress since it's ideal for spine support. Not only that, but it also helps alleviate neck tension by preventing the lower body from sinking. This way, you avoid putting your neck at an intense angle, which can bring you discomfort.
Side sleepers
Side sleepers tend to put pressure on their shoulders and hips. With these pressure points, we recommend picking a medium-firm mattress, just like the one for back sleepers. The reason for set firmness is the fact that it will be ideal for this sleep position since it's still flexible to the body curvature.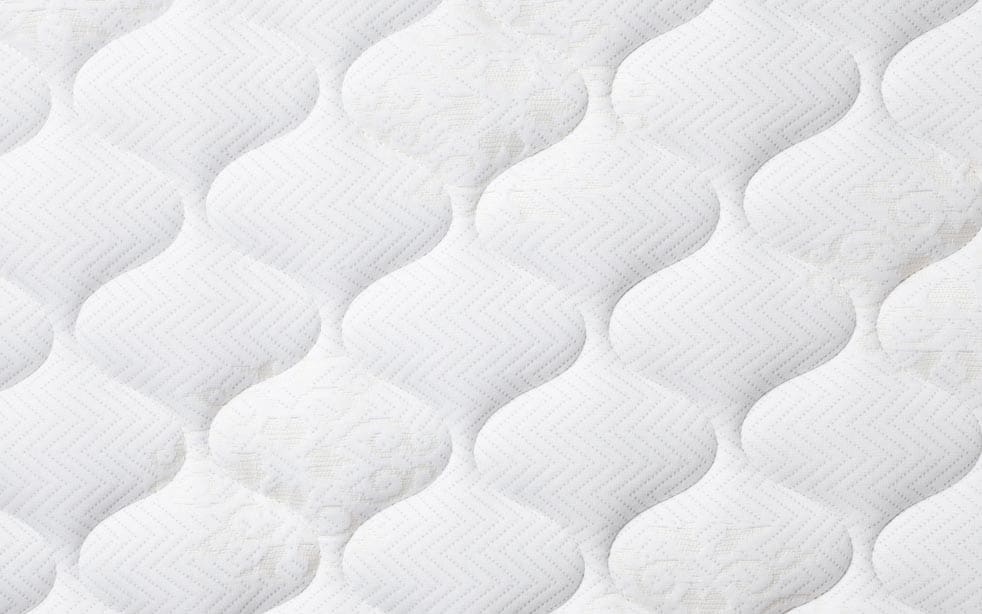 Options
Let's be honest, there is no one-size-fits-all answer when we talk about materials. For example, memory foam mattresses are great, but only when used on a firm or medium-firm core. Memory foam tends to deform and take the body's shape, which can increase pressure in sensitive areas if the mattress is too soft.
Next on our list are the spring options. Even though many find them old-fashioned, they can actually be a good source of support, especially when they're paired with a layer of foam. These products have been on the market for a very long time because they can be comfortable and long-lasting.
Last but surely not least, it's the hybrid mattress. They are designed with two layers that offer a different level of firmness. With growing popularity, these products promote excellent support because of the innerspring core and the comforts of an ideal top layer.
Frequently Asked Questions
What are the best sleeping positions for a bad back?
Different people sleep in different positions. You might find one more comfortable than the other, which is why we've made a shortlist of the three best sleeping positions for a bad back: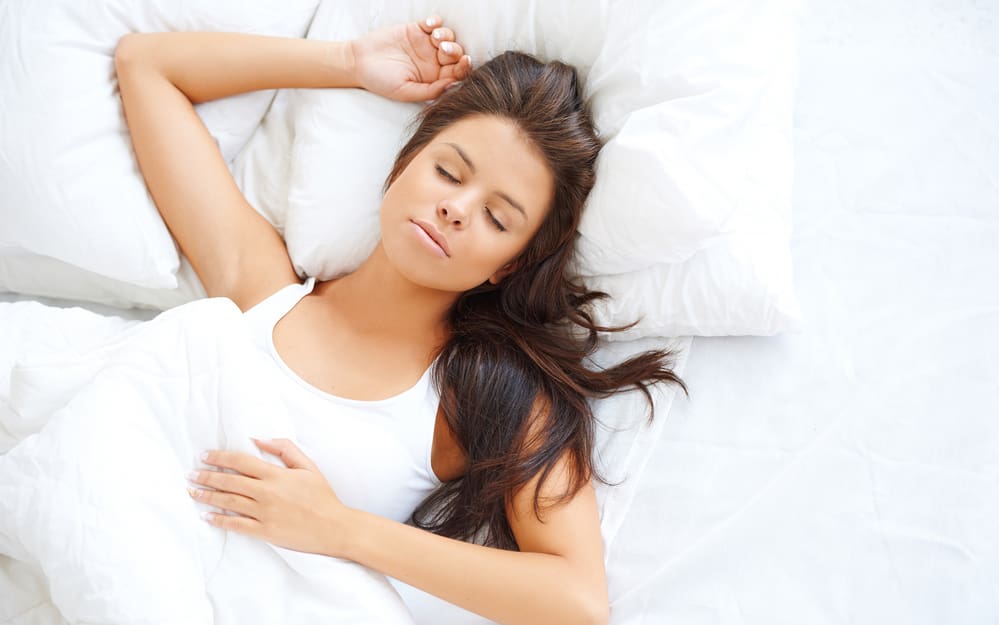 For back sleepers
If your preferred position is sleeping on your back, you should try placing a pillow underneath your knees. That way, you will keep your spine correctly aligned and have a good night's sleep.
For side sleepers
When it comes down to side sleepers, you can try to keep your knees drawn up. This will help you with alleviating the pressure on your spine. Something to consider is a thicker pillow so that your head gets enough support.
For front sleepers
Sleeping on your front is not generally a good idea if you have back pain. It can flatten the natural curve of the spine, placing unwanted strain on your back muscles. It also means your neck is rotated, which can exacerbate pain between the shoulders.
Can the wrong type of mattress cause back pain?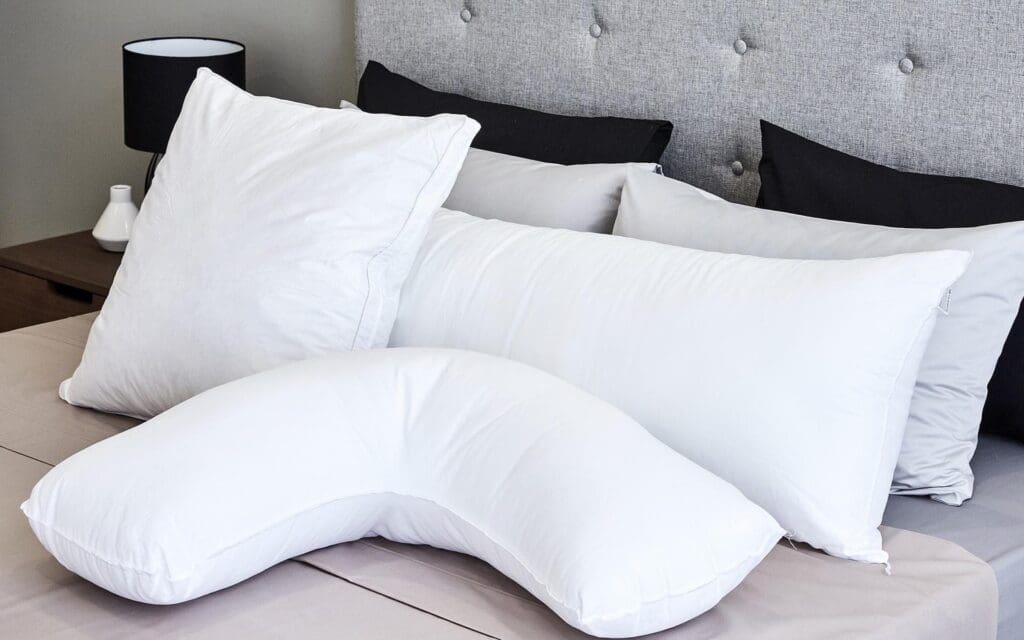 First, we want to say that we are not medical professionals and if you suffer from chronic back pain, you should consult a doctor as soon as possible. However, the wrong mattress when having back pain might be one of the reasons why your back is hurting.
You need a product that can support your weight without sagging in the middle, which is why you need to think of its firmness. If the option you want is too soft, it can distort your spine, and you will feel the repercussions of it the next day.
Some things get better with age, but this is not whiskey. Every mattress will start to lose its ability to support you effectively in time, which is why you should replace yours every 7 or 8 years. Understand that inadequate support means more pressure on your muscles, which leads to familiar aches and pains.
How can a bad back affect your sleep?
Two in five people are affected by lower back pains at some point in their lives. Some are caused by strain on the muscles and joints of the back, but others can be quite serious like a slipped disc and sciatica. If your pain doesn't go away within a week or so, it can have a severe impact on your sleep.
There are three natural curves of the spine, and the first one is the cervical, which curves outwards to support the head. Then there is the thoracic which is in the middle and supports the upper body. Lastly, we have the lumbar spine, which is at the bottom, and it helps you back.
You want these three curves to be maintained at all times, no matter your position, and ideally, you should spend eight hours a night in bed.
Bottom line
Finding the appropriate mattress for a bad back can be overwhelming, but we hope that our guide was useful and full of insightful information. Don't forget that we are non-professionals in the medical field and these are only our recommendations.
The good news is that you can try and decide for yourself since all of the selected mattresses come with a free trial period. Don't be afraid to "Test Drive" different products before you buy one.
Remember to choose a mattress that allows you to sleep comfortably and replace your old one if it's been more than 7 years. If there are a lot of sags in it, you won't get the optimal support you need. If any questions regarding the subject were left unanswered, feel free to ask them in the comments below.